This Neopolitan Baked Alaska Pie is an impressive dessert that is quite easy to make! It starts with a chocolate chip cookie pie base, with layers of store-bought ice cream and it's finished off with a toasted Swiss meringue top.
Baked Alaska Pie Recipe
This Neopolitan Baked Alaska Pie is summer dessert perfection! This impressive dessert is simple to put together, despite it's name; it does not necessarily require any baking if you've got the right tools. This dessert is primarily prepared using store-bought ingredients, hard to believe isn't it? The pie crust is made up of chocolate chip cookies. Ice cream is layered in the crumb crust to create a Neopolitan look. You could swap out any flavor of ice cream you'd like to personalize this recipe. Finally, the whole sha-bang is topped with a pillowy Swiss meringue and torched / baked for a dramatic effect. It's sure to turn heads!
What is a Baked Alaska?
In case you are new to the frozen dessert world, a traditional Baked Alaska is made up for three components:
A layer of sponge cake
A layer of ice cream
A meringue topping that is toasted or baked briefly to caramelize the sugar and make it look glamorous.
The finished product can be such an impressive dessert, with such rich flavor! This Baked Alaska pie substitutes the traditional sponge cake with a chocolate chip cookie crumb crust to make it incredibly simple. It's layered with chocolate, vanilla and strawberry ice cream and finished off with a glossy, pillowy Swiss meringue that is torched to eye pleasing perfection.
Steps for Making a Baked Alaska Pie
Make your cookie crust and pat it into a 9" pie plate. I used a deep dish 9" tart pan for dramatic effect, but a regular pie plate works the same. Don't use a regular fluted tart pan as it will be too small. You can either bake the cookie crust for a deeper flavor, or freeze it until ready for use. Click here for a great Chocolate Chip Cookie Pie Crust.
Next, you'll want to soften the ice cream a bit, until it's easily spreadable. Depending on the heat of your kitchen, this should take about 10 minutes. You can adjust the amount of ice cream you use for each layer as well, or just make it one type of ice cream and ditch the layer effect all together. I used roughly 3 pints of ice cream for this pie.
Once you've layered your ice cream, you'll want to freeze the whole dessert. You can do this at minimum 3 hours ahead of time, or at maximum up to a month! That makes this a great dessert to prepare ahead of time, minus the meringue of course.
Speaking of meringue-- Here is how to make one! There are many different types of meringue techniques out there, but I prefer to make a "cooked" meringue, where the egg whites have been cooked to at least 160ºF because I feel safer about serving it to others that way. I tend to opt for the Swiss Meringue technique, but feel free to top this pie with your own favorite meringue recipe. You can pipe the meringue on top of the frozen pie, or you can swirl and swoosh it as desired.
Finally, you'll want to do the "bake" part! You can broil the pie until the meringue is lightly caramelized, or you can use a kitchen torch like I did to give it that nice toasted effect. Fire away!
How to Cut a Baked Alaska
The trick to serving this pie is to have a cold pie, but a hot knife! After the meringue has been torched you should serve right away. Take a big heavy knife and run it under hot water, then dry it off. Carefully slice into the pie. With each slice, run it under hot water, dry it off and repeat.
If you have leftovers, they too should be stored in the freezer. If made properly, the Swiss meringue will keep for a little while frozen, but not for very long so eat up as soon as possible.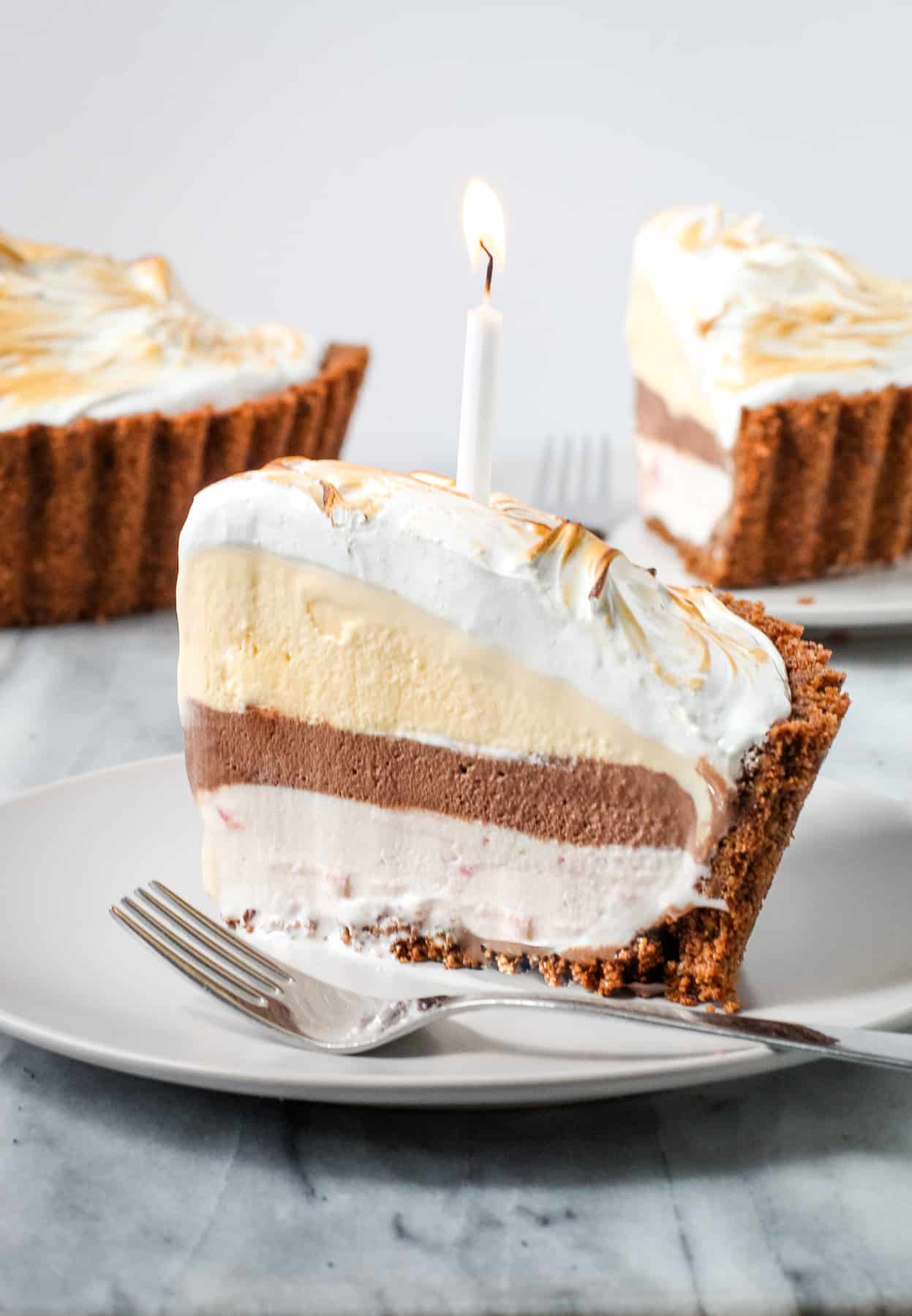 MAKE SURE TO TAG @EVERYDAYPIE ON INSTAGRAM AND COMMENT BELOW IF YOU MAKE THIS Baked ALASKA PIE OR IF YOU HAVE QUESTIONS ABOUT THIS RECIPE!
Print
Baked Alaska Pie
This Neopolitan Baked Alaska Pie is an impressive dessert that is actually quite easy to make! Make sure to check through the entire post if you have any questions, or want more details.
Author: Kelli Avila
Prep Time:

00:20

Total Time:

20 minutes

Yield:

10-14

Category:

Dessert

Method:

No Bake

Cuisine:

Sweet Pie
16 ounces

vanilla ice cream

16 ounces

strawberry ice cream

16 ounces

chocolate ice cream

1

batch of Swiss Meringue
Special Tools:
9

" pie tine
Kitchen torch (can use a broiler instead)
Instructions
Prepare Cookie Crumb Crust in a 9" pie plate and freeze until hard, at least 1 hour.

Soften the ice cream until it's easily spreadable, roughly 10 minutes.

Layer the ice cream in the pie crust.

Freeze the pie for a minimum of 3 hours, or until hard.

Make Swiss meringue and either pipe it on top of the frozen pie, or swirl and swoosh it as desired.

Either torch the meringue with a kitchen torch, or preheat the broiler on high and broil until it is lightly caramelized.

Serve immediately.
Keywords: Baked Alaska Pie, Neopolitan Baked Alaska
Some of the links on this page may be affiliate links. Everyday Pie is a participant in the Amazon Associates Program. As an Amazon Associate I earn from qualifying purchases, at no extra cost to you.