Capture the magic of peach season all-year long with this tutorial on how to freeze peaches.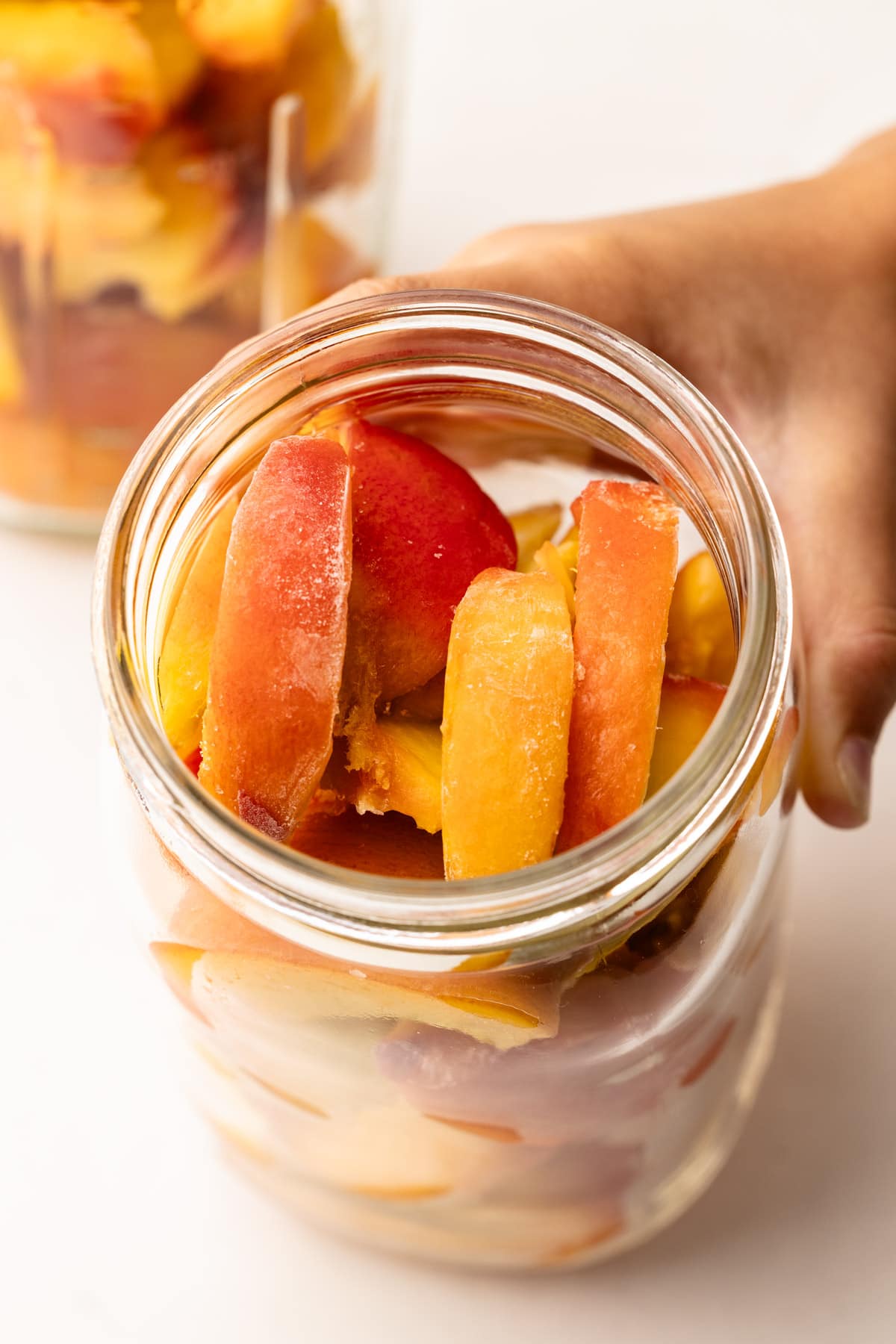 How to Freeze Fresh Peaches
Even though peaches are virtually available year-round, we all can taste the difference between an out-of-season peach that has traveled a long distance from industrial farms and locally grown in-season peaches.
Maybe you are lucky and have a peach tree in your backyard, or if you're like me, you tend to magically accumulate bushels of peaches when they're available locally. And if you're also like me, you've considered taking advantage of your freezer space to preserve some of those peaches for later, less bountiful times.
The truth is I love my freezer for preserving, though I feel "frozen food" has gotten an underserved bad reputation. I use it regularly as a means of storing in-season fruits and veggies, as well as whole meals. It's an easy way to preserve the seasonal food without having to go through the canning process. Canning was for my pre-child days when I had so much more extra time. These are not those days.
This article is a quick guide on properly freezing in-season peaches (or other stone-fruit) so you can enjoy their goodness all year round.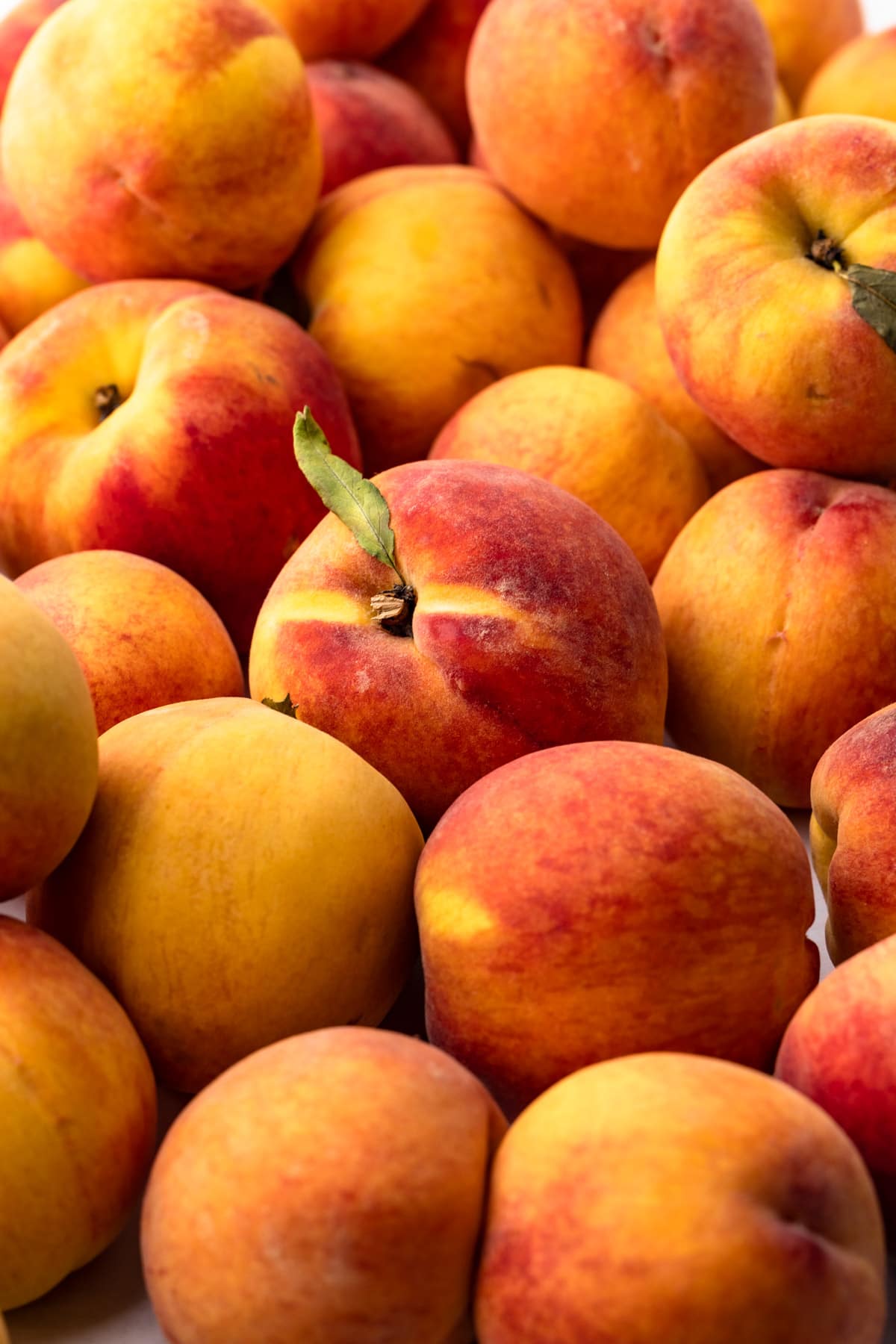 Best Way to Clean Peaches
Even though the peaches might get a dunk in a bath of boiling water (more on that below), it's still ideal to clean the peaches, especially when you plan on preserving them for an extended period of time.
The best way to wash them is to fill up a very big bowl full of cold water. Add a few big glugs of distilled white vinegar. The exact solution is supposed to be 1 parts vinegar to 3 parts water, but I usually eyeball it. The acidity in the vinegar helps break down the dirt and any possible pesticides on the surface of the fruit. Either using your hands, a soft cloth or a soft brush, clean away any visible dirt on the surface, and let the peaches sit for a few minutes.
Pull them out of the water and into a colander, and rinse well.
After going through the servsafe certification in culinary school, I know how easy it is for bacteria and dirt to spread, even if the fruit will be peeled! So cleaning my produce is a step I always take and recommend you do as well.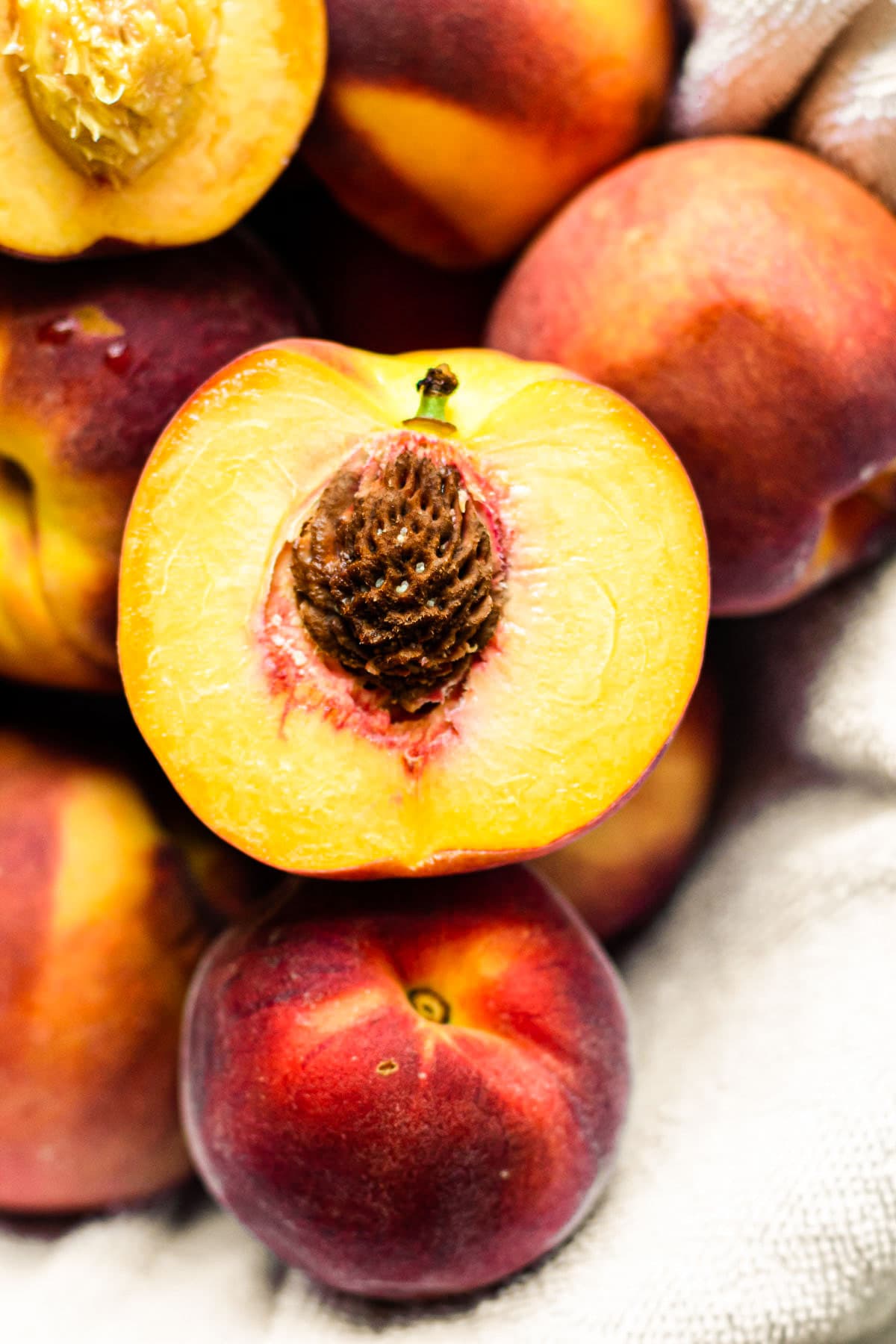 Let's Talk Peaches
Before we go into how to freeze peaches, it must be said that the quality of peach you put into the freezer will be the quality of peach you get out. Meaning, if you put an unripe flavorless peach in the freezer, those factors won't magically change when frozen. If anything, they'll get worse.
Choose the best quality peaches you can, and ensure they are just ripe.
A good way to ensure you have a quality peach, aside from buying it in-season and from a reputable source, is to smell it and feel it. The peach should smell peachy! And it should give in easily with a little gentle squeeze.
How to Ripen Peaches AKA "Conditioning"
If you have local peaches that are in season, but they aren't quite ripe, that's ok! You can "condition" the peaches by leaving them at room temperature, stem side down. I usually leave them on a kitchen towel lined sheet tray. Depending on the peach, it can take 1-3 days. Check them every day.
Once they are fragrant and just soft, they are ready to use.
They can stay on the counter but will continue getting riper and eventually overripe. Or place them in the refrigerator to extend the shelf life until they're ready to use.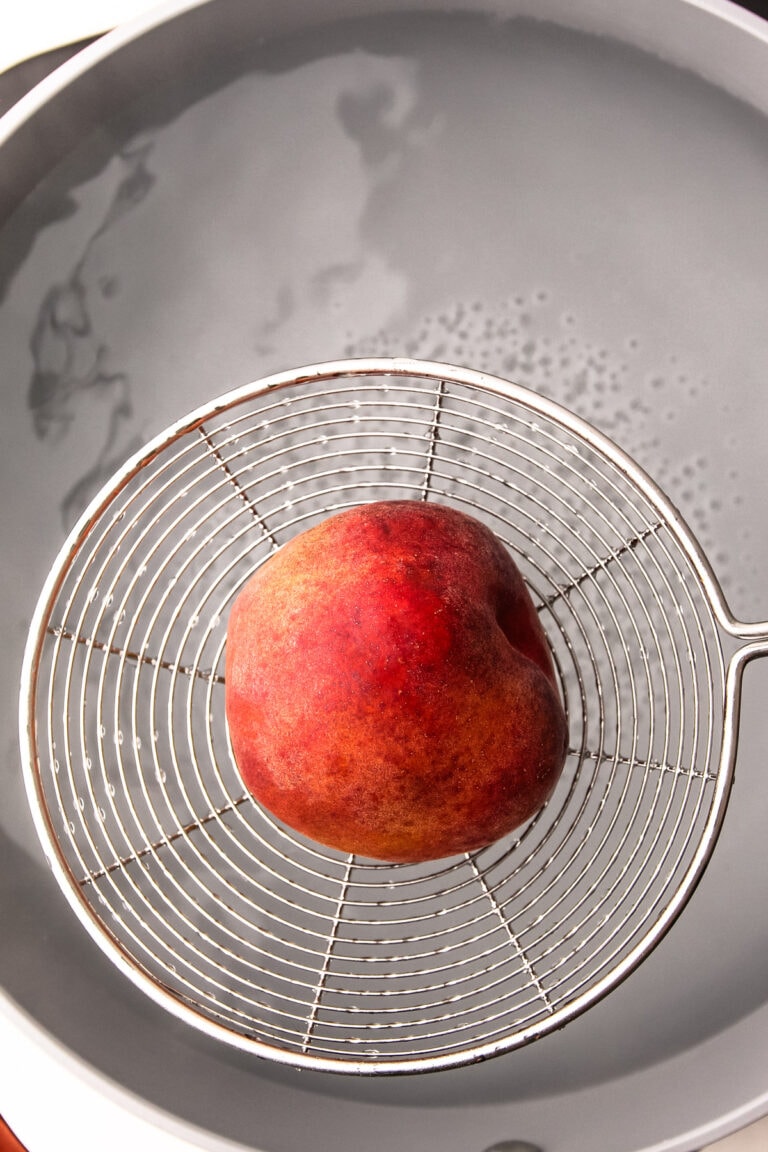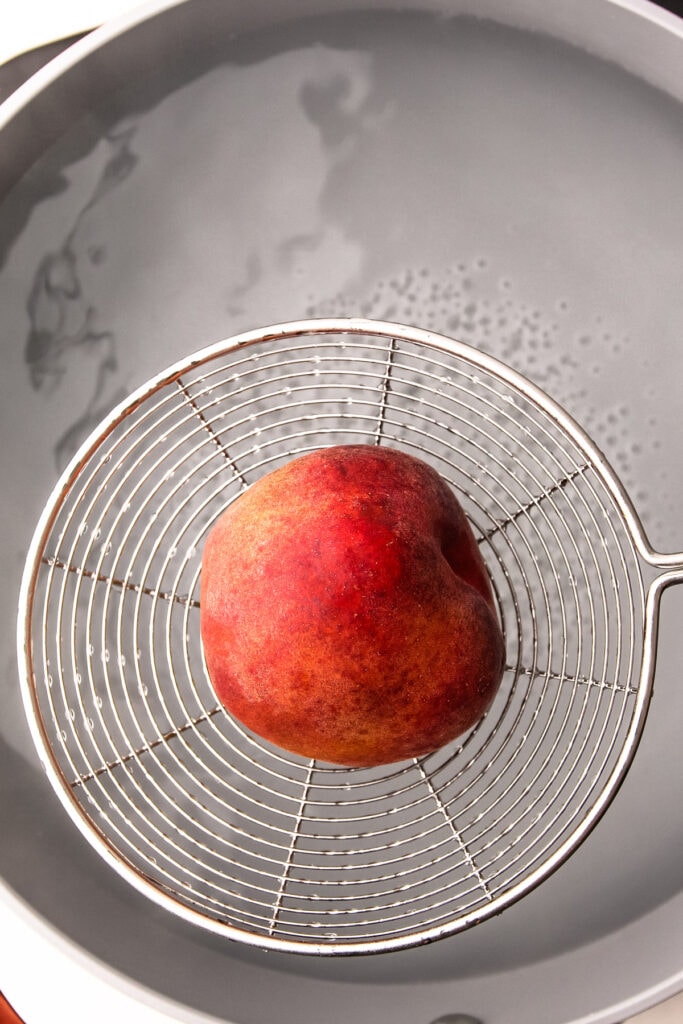 Leaving the Peel On or Not
Ultimately whether to peel the peach is a matter of personal preference.
The skin of a peach contains nutritional value, including fiber, vitamins and minerals.
It is pretty soft, and easy to chew, however that may not be your desired goal. It does add another textural component, and depending on the dish you plan to make with them, it might not be a good thing.
I usually leave the skins on, because I don't mind the texture.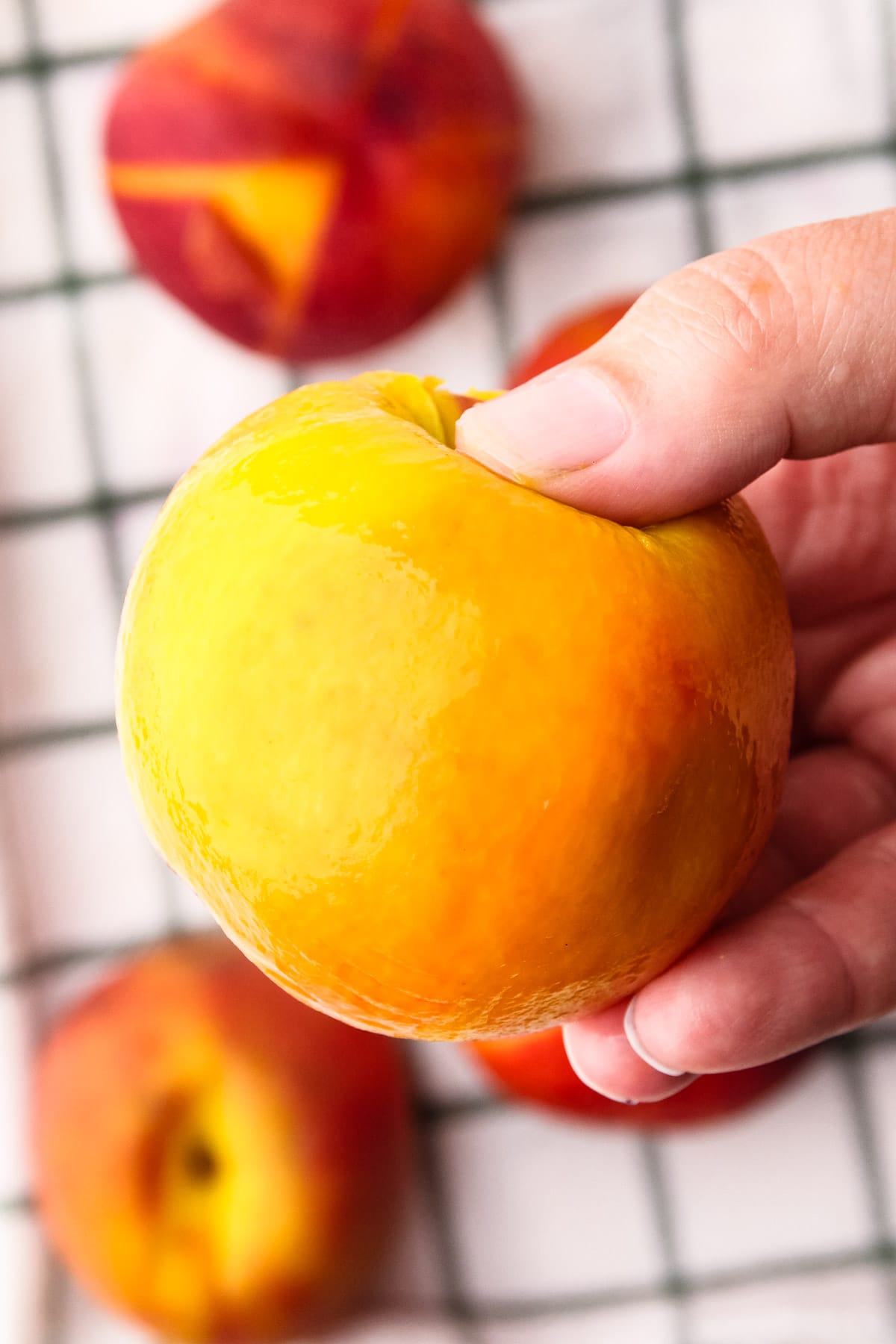 How to Peel the Peach
I wrote an entire Guide to Peeling Peaches if this is new to you. You can check that out. Or, I include a tl:dr section about it right here below.
The easiest way to peel a peach is through the blanching method. Blanching is a cooking technique that involves briefly submerging a food item in boiling water and then immersing it in ice water to halt the cooking process rapidly.
Blanching the peach helps loosen the skin so it easily peels off, and in my opinion, is the best way to peel a peach.
Here are the brief instructions:
Boil a large pot of water
Clean and dry the peaches
Slice a very thin "x" on the bottom of the peach
Place the peaches in the water for about 30-60 seconds
Immediately transfer the peaches to an ice bath
Once cooled, transfer to a towel to dry
Carefully peel off the skin in four sections.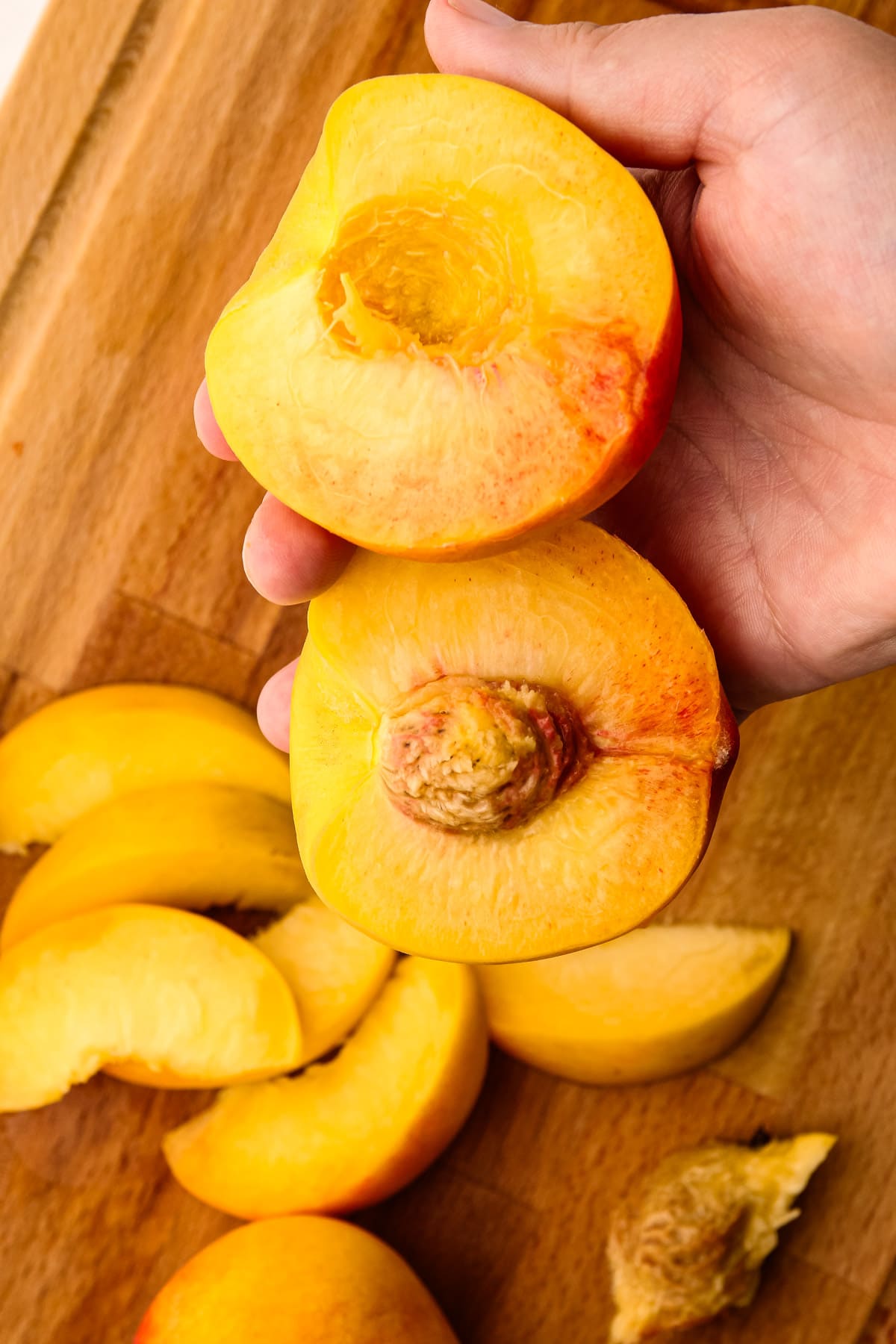 Clingstone vs. Freestone Peaches
There are many different varieties of peaches out there, but two distinctions worth noting are clingstone and freestone peaches. As their name suggests, clingstone peaches have flesh that clings to the pit in the center, making it difficult to "cleanly" get the pit out.
Freestone peaches on the other hand, also as the name suggests, has flesh that easily separates from the pit. These are the peaches where if you slice through the center you can then gently twist and the two halves will cleanly separate.
It's unlikely your peach will be labelled, but a quick test of knowing which is which is to slice in half and twist. If it easily comes out, it's a freestone.
If it resists, don't force it! Clingstone peaches can be easily removed in segments, just in a different manner.
Clingstone peaches are more likely to be found earlier in peach season, with freestone peaches being common towards the end of the season.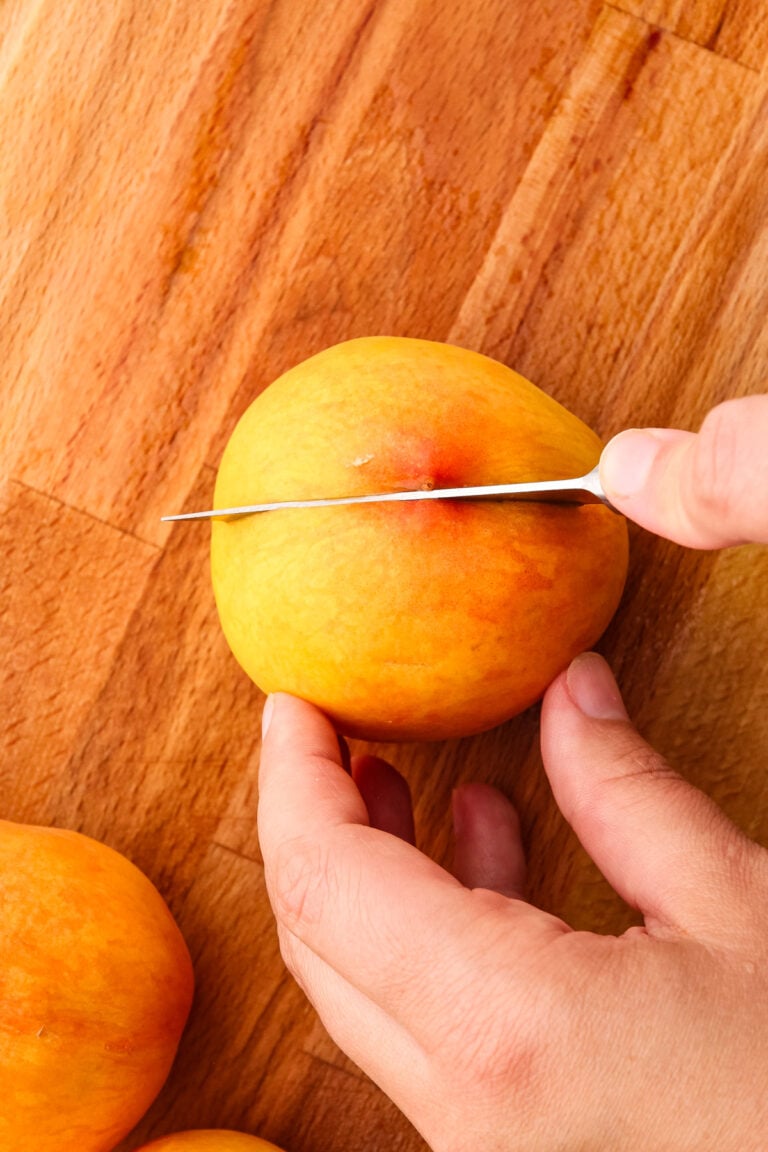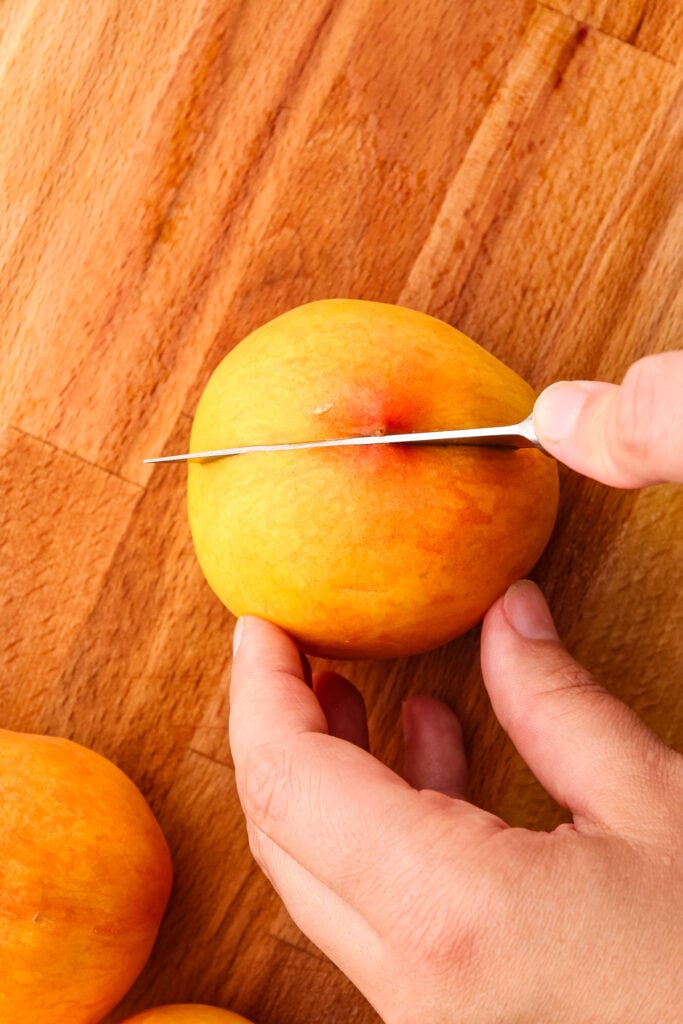 Cutting Clingstone Peaches
To cut a clingstone peach into segments:
Start by slicing vertically through the entire peach, beginning at the stem and ending at the opposite side.
Then, carefully hold the peach and slice a segment off from the first cut mark. Using your knife, gently pop out that first segment. This step can be the most challenging, but once it's done it's easy breezy to cut the remaining segments.
Continue to slice 7 more segments, and twist off each one. This method is gentler and easier than separating the halves of a clingstone peach.
Cutting the Peaches for Freezing
Once you've decided whether or not to leave the skins on, decide how you want the peaches to be sliced. You can freeze them in segments, or diced.
Decide what makes the most sense for what you plan to use them for in the future. If you have a lot of peaches, they can be prepared in various ways.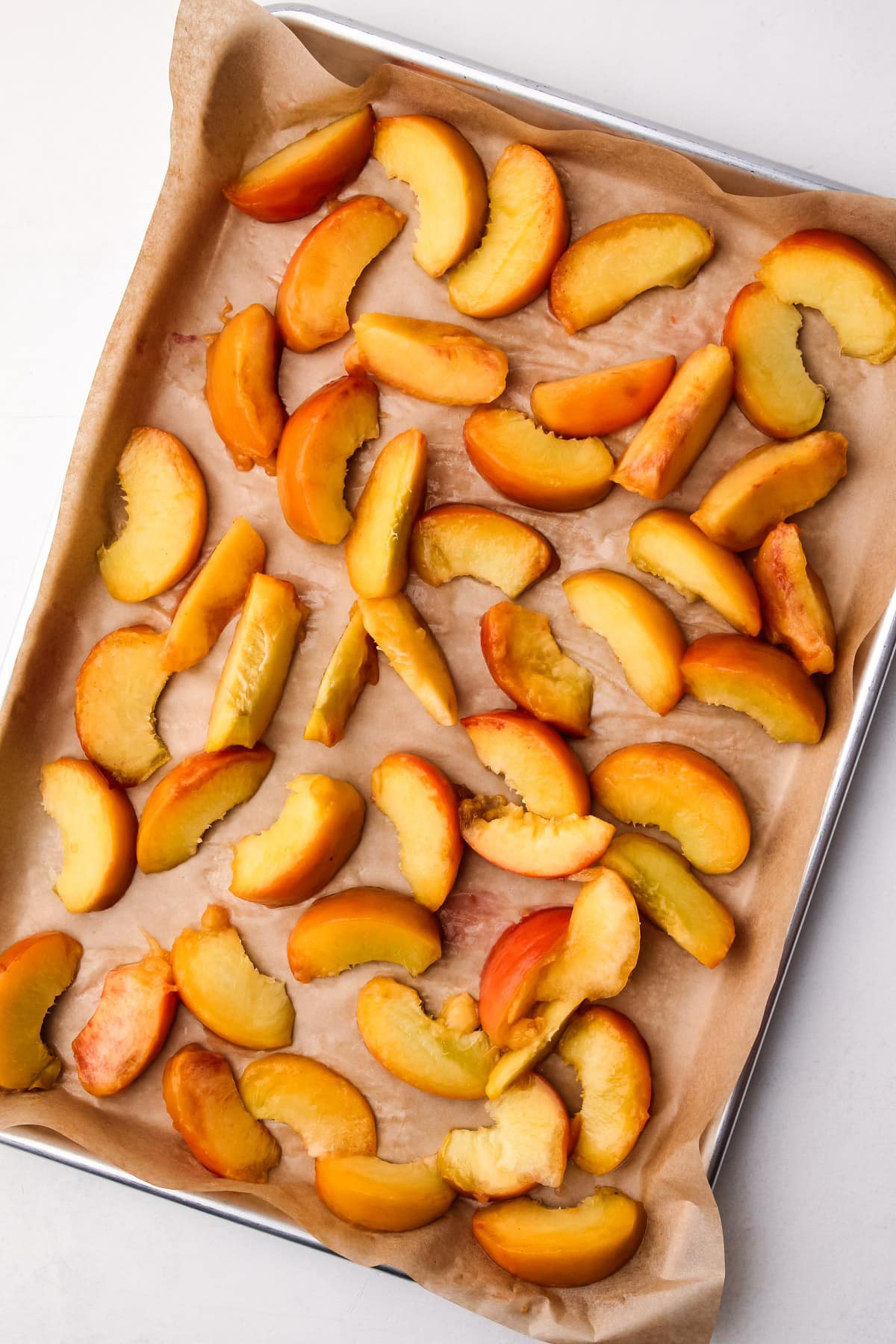 How to Freeze the Peaches
The full directions are listed below, but here is a brief overview:
Clean and dry peaches
Prepare peaches: either with skin off or on, segmented or diced
Place the peaches on a parchment lined sheet tray, with space in between each and freeze until solid, at least 4 hours
Once frozen, transfer to long term air tight storage.
Freezing them spaced apart on a sheet tray is important so they don't get stuck together. If you just toss them in a bag and throw them in a freezer, you'll have one big hunk of peaches.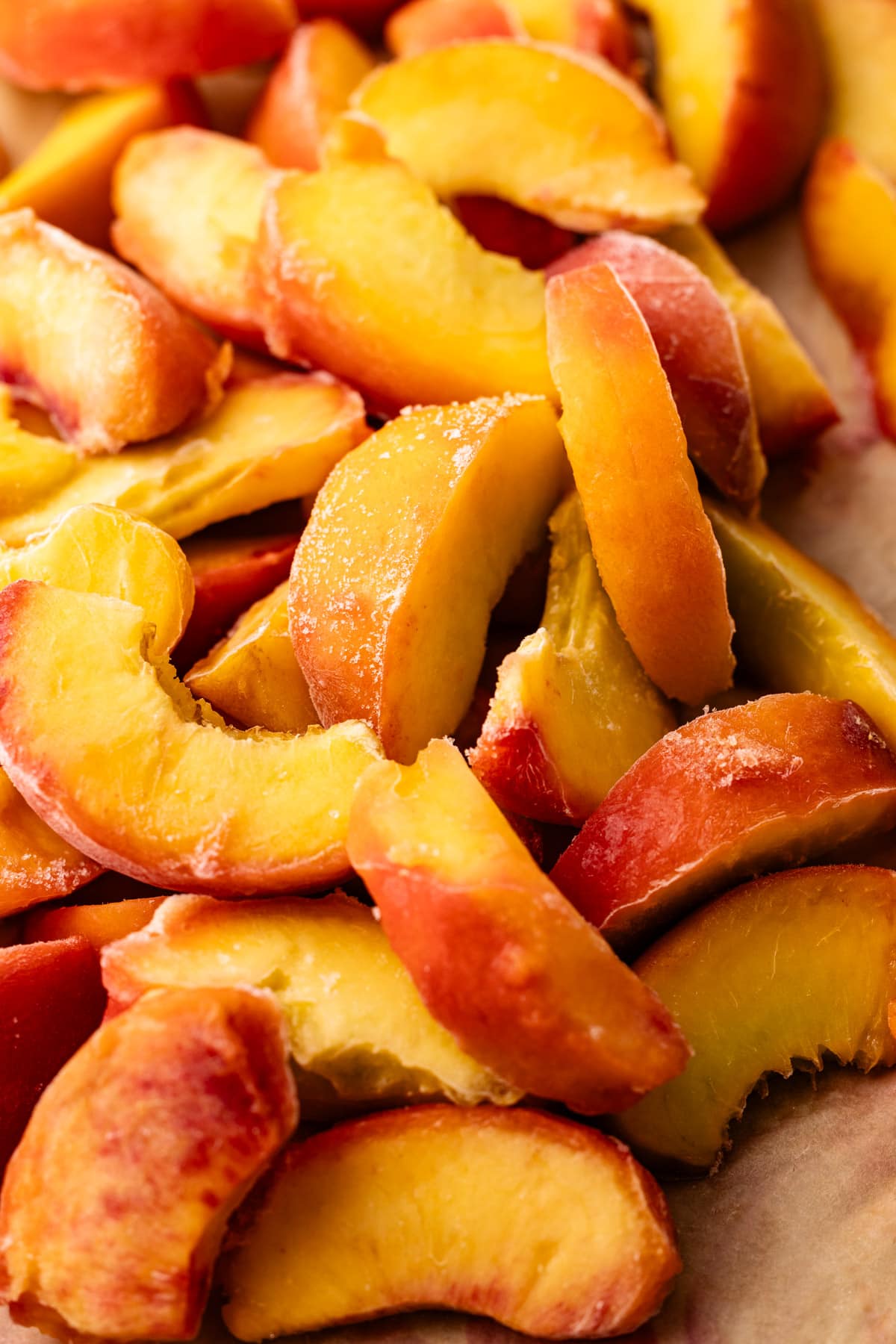 Best Storage Ideas for Frozen Peaches
Store the peaches in an air tight container. Plastic bags or silicone bags are good. Try to remove as much air from them as possible. Obviously, if you have a vacuum sealer, that would be the best way to preserve them for longer.
Mason jars are also useful, and it's often how I store them, but they won't last as long since removing air from them is hard and ice crystals tend to form. This isn't the worst thing to happen, but it's not ideal.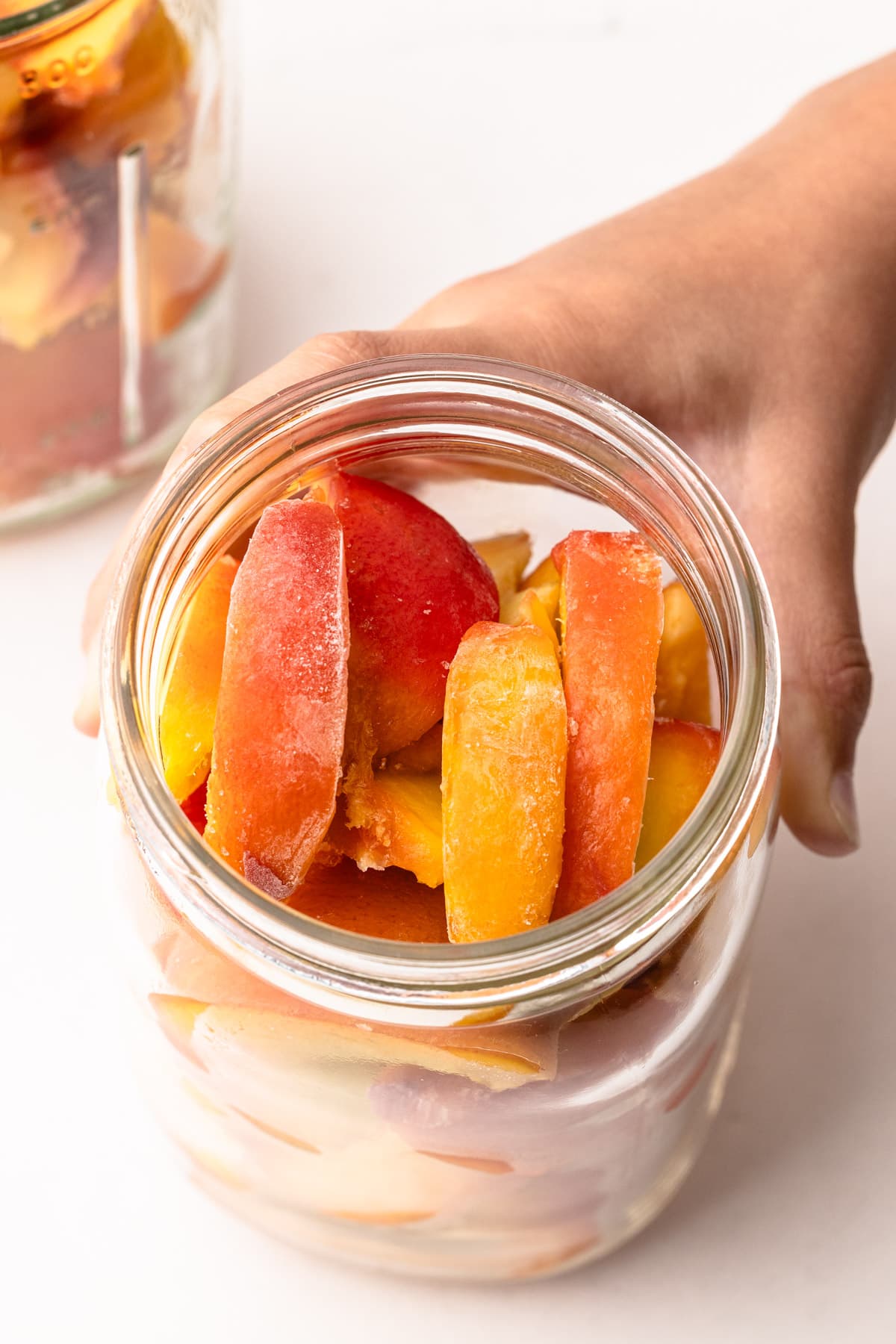 Using Frozen Peaches
Once the peaches are frozen, they can be used as desired.
Use them straight from the freezer in smoothies.
Or defrost and use in your favorite recipes.
The best way to defrost is by thawing them slowly overnight in the refrigerator. They will naturally change texture and lose some liquid. But it's all delicious, and you might even enjoy having that peach syrup that naturally comes out.
More Kitchen Tutorials
I am so honored when you use a guide from my site! If you found this tutorial helpful, please leave a comment and a star rating with your experience! If you have any questions about it, feel free to comment here, too!
Print
Full Recipe
How to Freeze Peaches
Capture the magic of peach season all-year long with this tutorial on how to freeze peaches.
Author: Kelli Avila
Prep Time:

00:10

Freezing Time:

04:00

Total Time:

4 hours 10 minutes

Yield:

As desired
Fresh, in-season ripe peaches
Water
Distilled White Vinegar
Instructions
Wash the peaches: fill up a big bowl of cold water. Add a few big glugs of distilled white vinegar. Either using your hands or a soft cloth, wipe away any visible dirt on the surface, and let the peaches sit for a few minutes. Pull them out of the water and into a colander, and rinse well. Transfer the peaches to a towel to dry.
Prepare the peaches as desired, either blanched and skin removed, or with skin on, and either segmented or diced. See the body of the article above for tips on this.
Place the peaches on a parchment line sheet tray, spaced in between each piece. Use multiple trays if needed. Freeze until solid, at least 4 hours
Once frozen, transfer to long-term air-tight storage, such as plastic bags. Remove as much air as possible to help prevent ice crystals forming on the peaches.
Frozen peaches will last 6-12 months in the freezer, but are best consumed within the first 3 months.
Notes
See this post for how to Peel Peaches.
The above article has a lot of detail and tips for freezing peaches.
Keywords: How to Freeze Peaches
Pin it for later: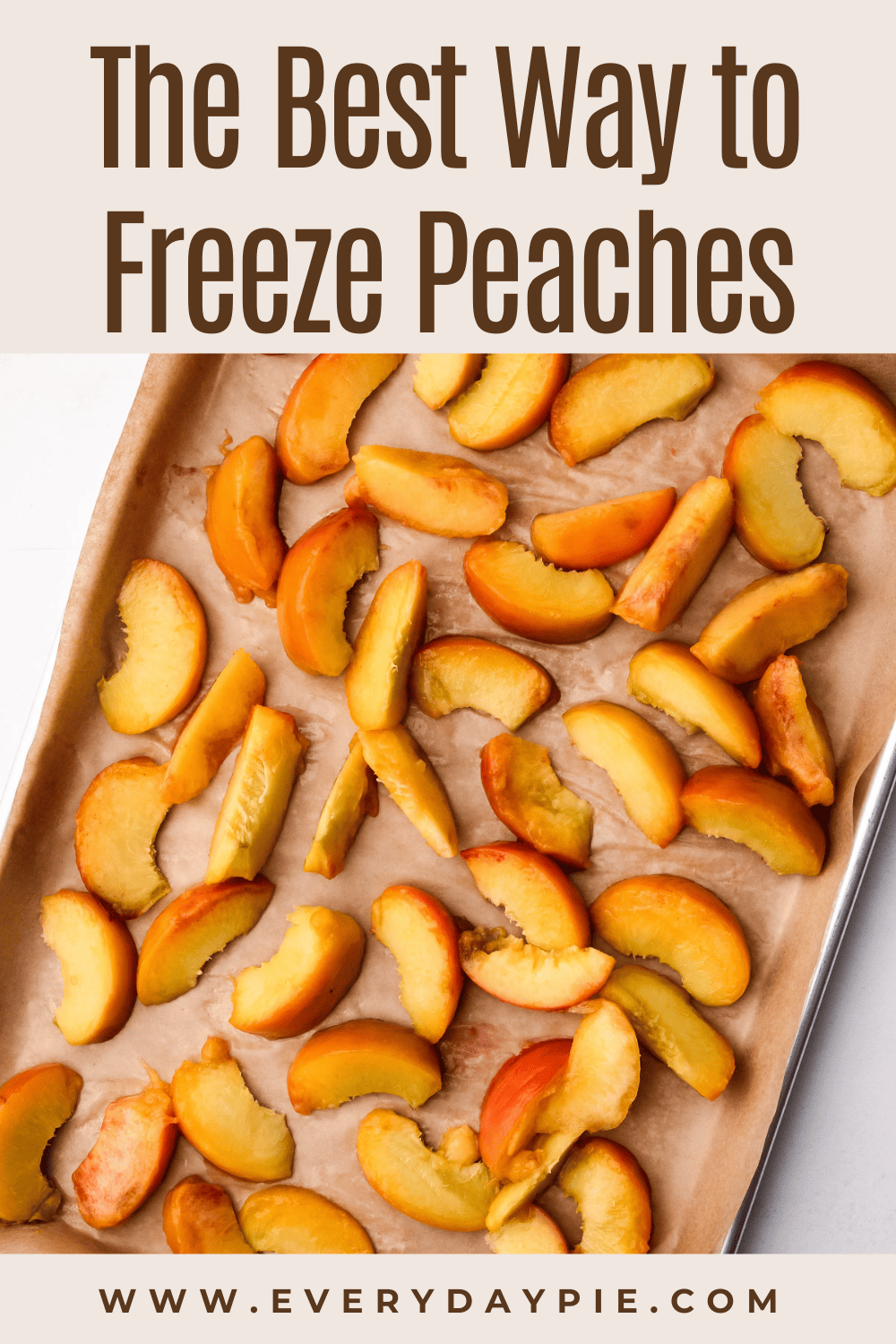 Some of the links on this page may be affiliate links. Everyday Pie is a participant in the Amazon Associates Program. As an Amazon Associate I earn from qualifying purchases, at no extra cost to you.