Calling all Blueberry lovers, this one is for you! This Classic Blueberry Pie features fresh or frozen berries, with a subtle hint of orange and cinnamon essence, and tucked inside a flaky buttery pie crust.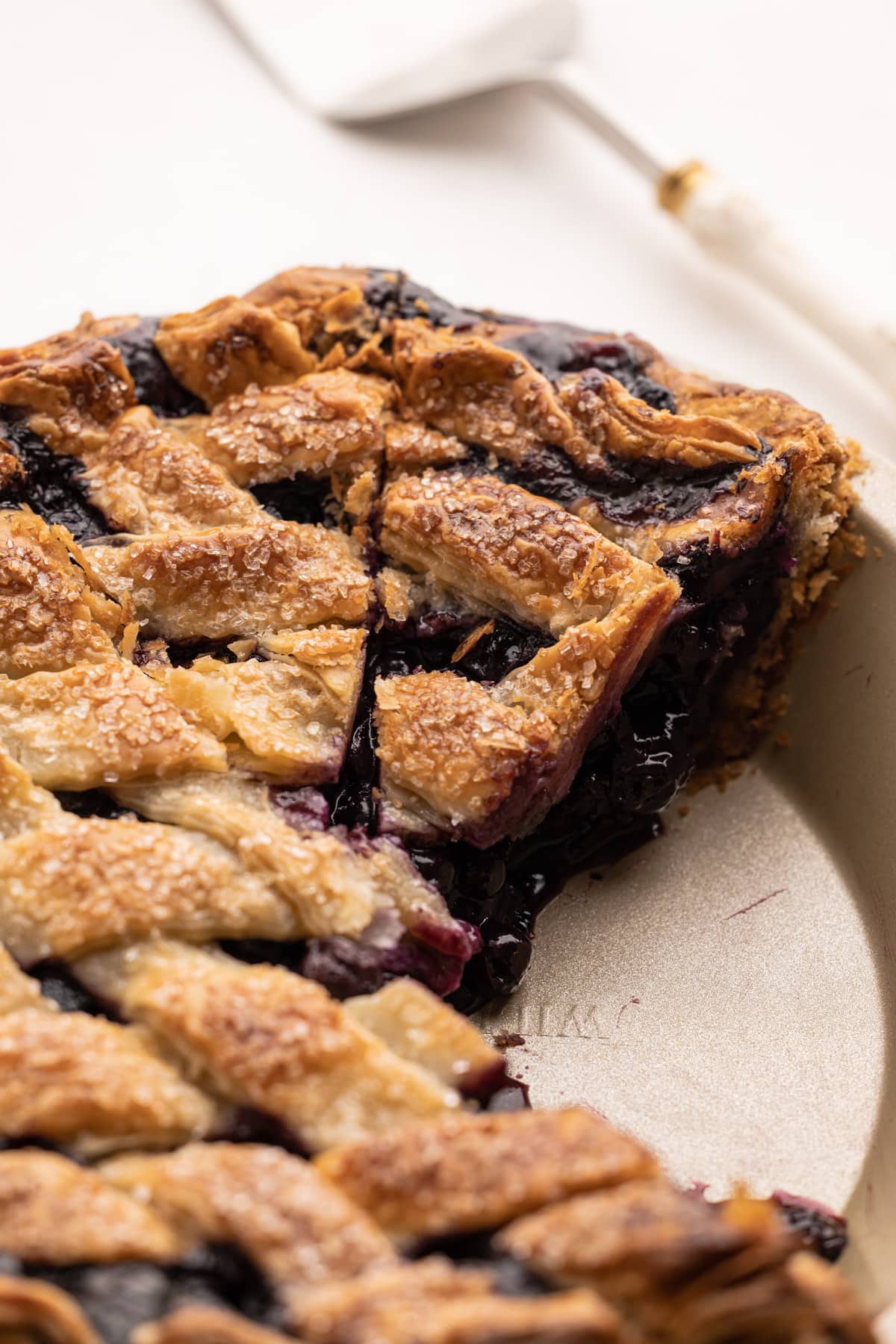 The Blueberry Pie Recipe
Blueberry season is upon us and if we're lucky, we may find ourselves with plenty of blueberries to turn into a blueberry pie.
Or, maybe it's the dead of winter and you are a year-round blueberry pie fanatic and you need your fix. As it turns out, frozen blueberries also work nicely with this recipe, no matter what time of year.
This pie is truly all about the blueberries, with very little interference from other flavors. There is a hint of orange that goes well with and accentuates the blueberry and a pinch of cinnamon to give a touch of nuanced warmth. It's baked inside of a classic flaky pie crust that is crisp and buttery.
All in all, this recipe is for the classic blueberry pie lovers. Sweet, crisp and destined to win blue ribbons... or at least garner a pat on the back from everyone who gets a slice.
So, let's get to making it, shall we? The text below offers tons of tips and helpful notes, or you can scroll to the bottom to grab the recipe and get started!
More of a visual person? Check out the video of me making it below, located right above the recipe!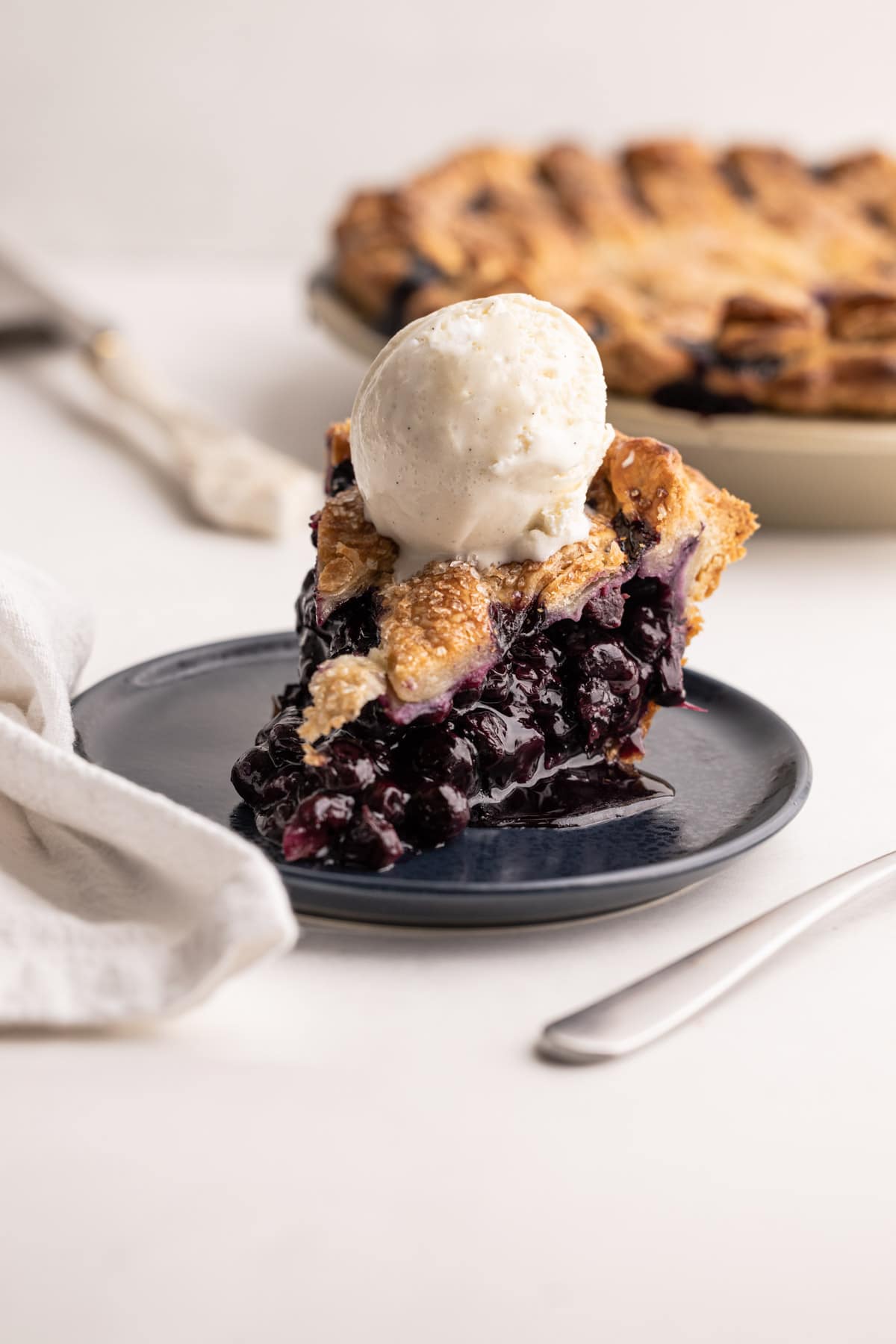 Ingredients Needed
Here is an overview of the ingredients needed for this recipe. The full recipe is listed below in greater detail.
blueberries (fresh, frozen or wild--see note below)
cornstarch
granulated sugar
fresh orange juice (as in--from an actual orange)
orange zest
cinnamon (just a pinch)
salt
vanilla
butter
flaky pie crust (there is a full recipe dedicated to this, but everything you need to make it is listed below in the recipe)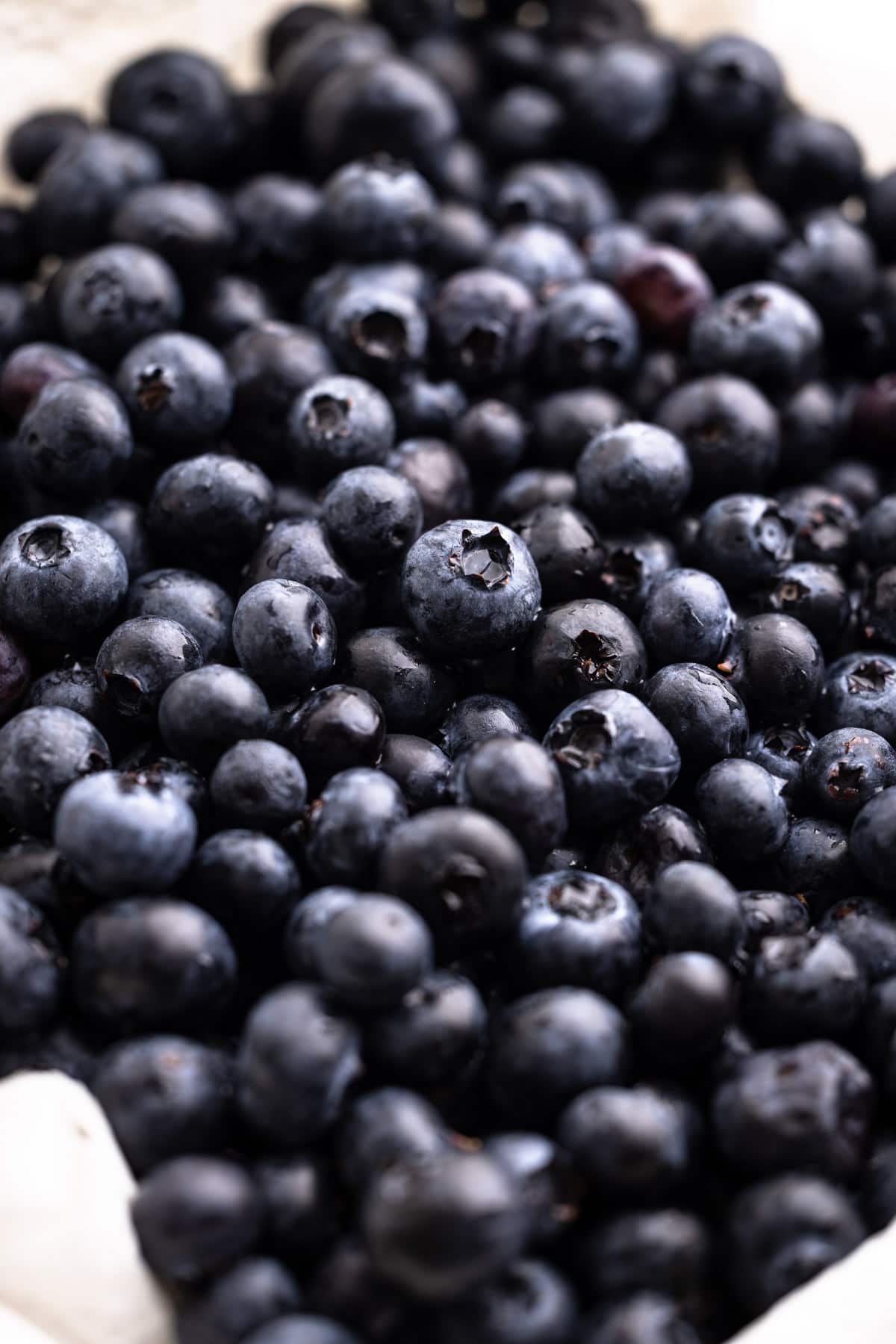 Types of Blueberries to Use
Without a doubt, my favorite type of blueberries to use is frozen wild blueberries. I almost always have a big bag of frozen wild blueberries in my freezer. They are available year-round in the store, or if you time it right, you can get a large crop of them in the summer and freeze them.
I love using frozen wild blueberries because they have excess juice that makes the blueberry pie filling nice and lush, which I think creates a better flavor than that of standard blueberries.
But of course, regular blueberries (either picked fresh or store-bought) are perfectly fine too! Frozen or fresh are fine.
Bottom line, this recipe is versatile depending on what blueberries you like or have on hand!
Useful Tools
Here is a list of some of the primary tools I used in this recipe. You won't necessarily choose to use them all, but they are exactly what I used here. Any links may contain affiliate links.
stand mixer (to make the pie dough, or you can make it by hand or in a food processor)
pie plate
rolling pin
knife or pastry wheel
ruler (if planning to make a lattice)
kitchen essentials: baking scale, bowls, measuring cups and measuring spoons
pie shield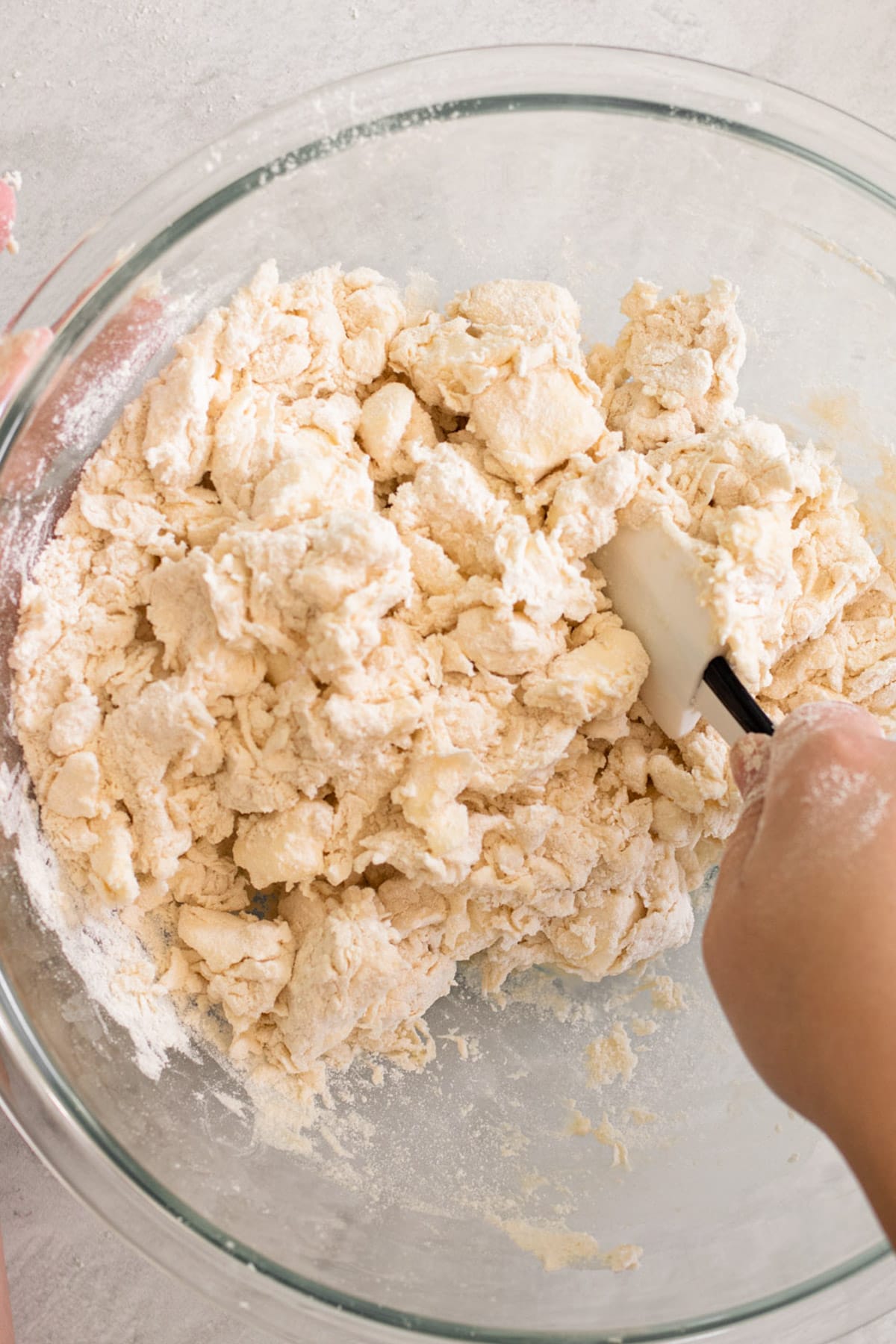 Pie Crust Options
This pie tastes best with a homemade buttery pie crust.
Here is a list of the pie crusts that will work with this blueberry pie:
Whatever pie crust you use, you'll need a top crust and a bottom crust.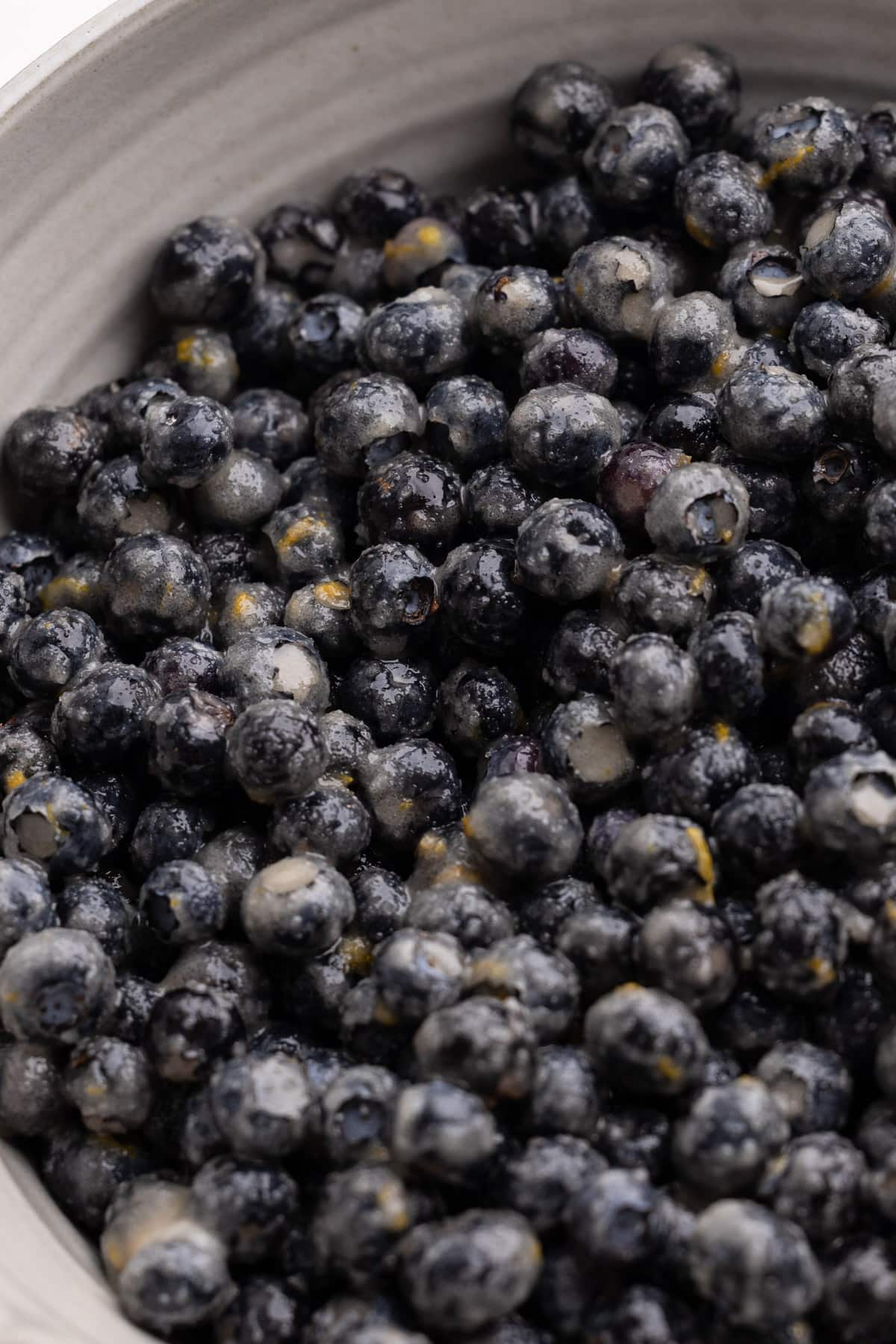 How to Make a Blueberry Pie
As with most pies, there are a few steps you need to complete to get to the finished product. Many of these components can be broken down into steps and done days (or weeks) in advance.
Steps for making blueberry pie:
Make the pie dough: you can prepare the dough up to 2 days ahead, or up to 3 months in the freezer.
Roll out the pie dough: this can be done up to 1 day ahead of time. Roll out the bottom crust and place in a pie plate. Keep in the refrigerator, covered completely, until you are ready to make the pie.
Make pie filling and assemble the pie.
Bake!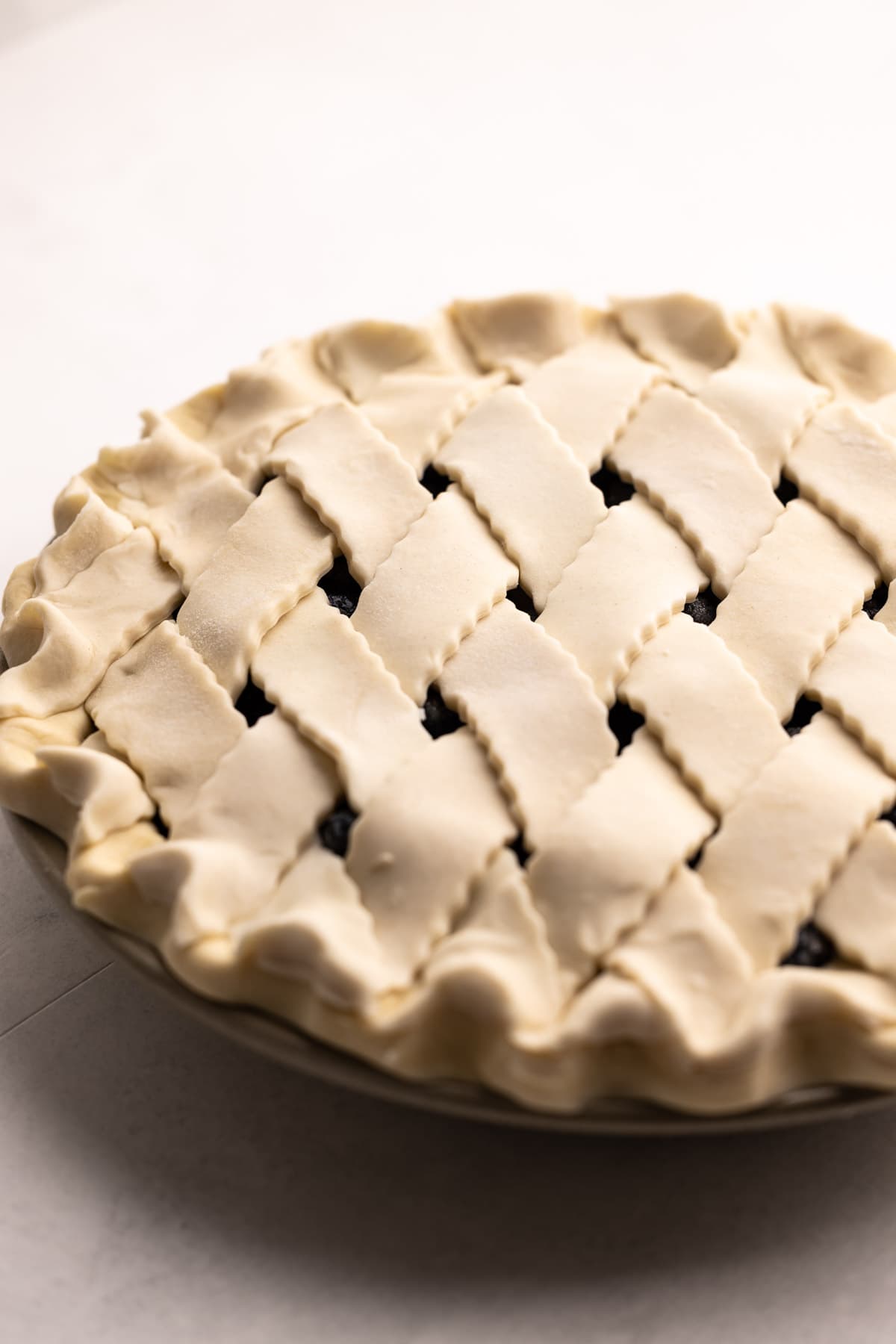 Double Crust Vs. Lattice
What type of top crust you choose is a personal preference!
If you want that classic Americana finish to your blueberry pie, a lattice will undoubtedly do the trick. Many people are intimidated by making a lattice pie crust, but it's pretty simple to do if you follow a few easy tips and tricks. Here is a complete Guide to Making a Lattice Pie Crust if you are unfamiliar with the technique.
Aside from being extremely beautiful, a lattice does serve a purpose! Some pies (especially fruit pies) need to have a means for the built-up steam from baking to escape. A lattice pie is essentially built-in ventilation.
However, a full top crust is much easier to put on a pie. All you have to do is roll out pie dough to about a 10" to 11" circle and place it on top of the pie. Tuck the edges underneath the crust and crimp as desired. Do not forget to poke steam holes. Do this after you egg wash, so the steam holes don't get sealed.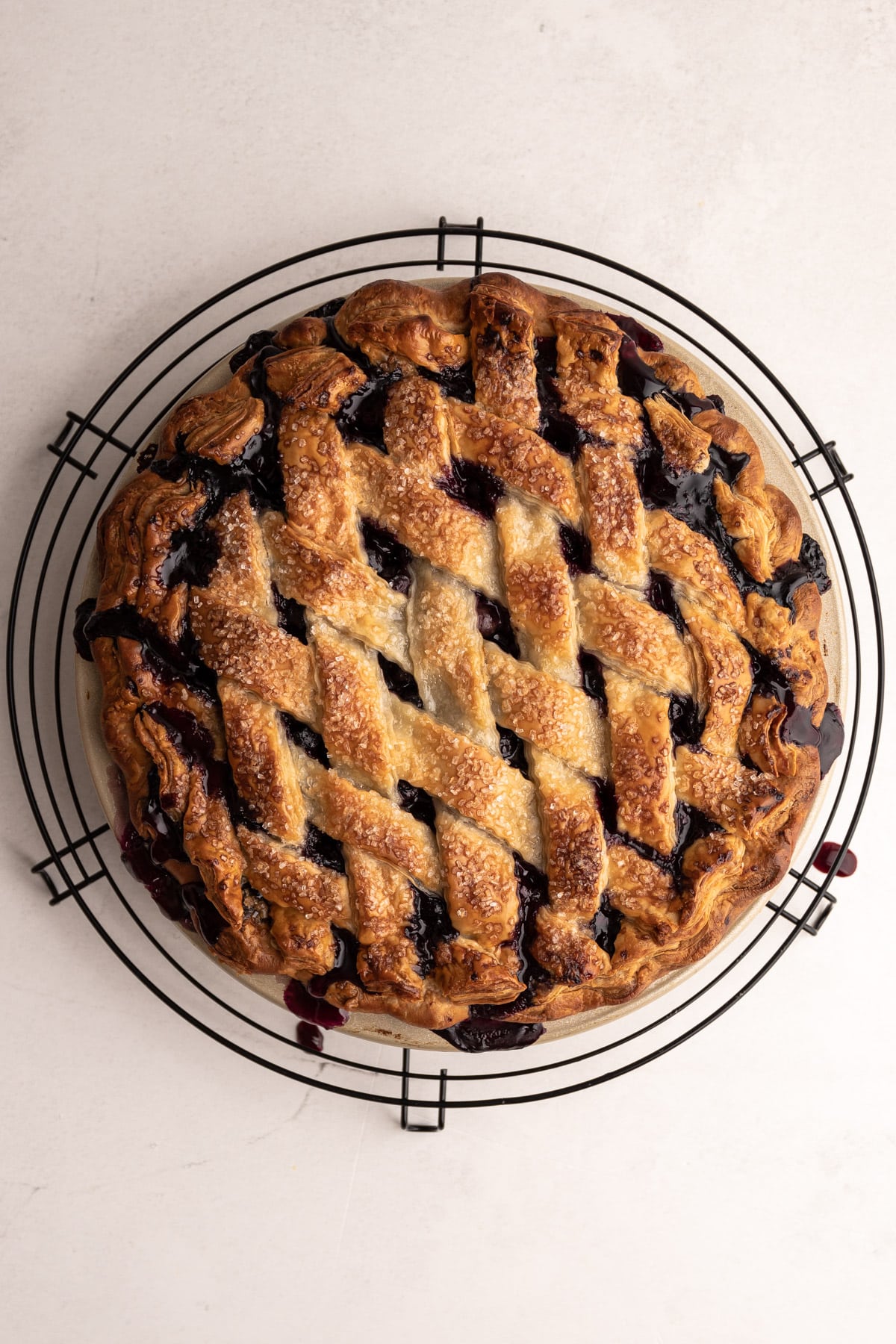 How to Tell When It's Done
It's important to make sure that a fruit pie is cooked long enough so that it reaches a high enough temperature to activate the thickening agent.
There are two main ways to tell when a blueberry pie is done. The first is by sight.
Visually look for the pastry to be golden and the pie to be puffed up nearly all the way through. It puffs up because the fruit has reached the temperature needed for it to "boil". As it cools, it will deflate.
Another way to tell if the pie is ready is to look for the filling to be bubbling from the middle of the pie. The bubbling doesn't need to be rapid, just look for at least one bubble while checking the pie.
The most fool-proof way to make sure your pie is baked properly is to use an instant-read thermometer. I always use one to check the temperature of each and every pie that I bake. For a blueberry pie, you want the internal temperature to be above 200ºF.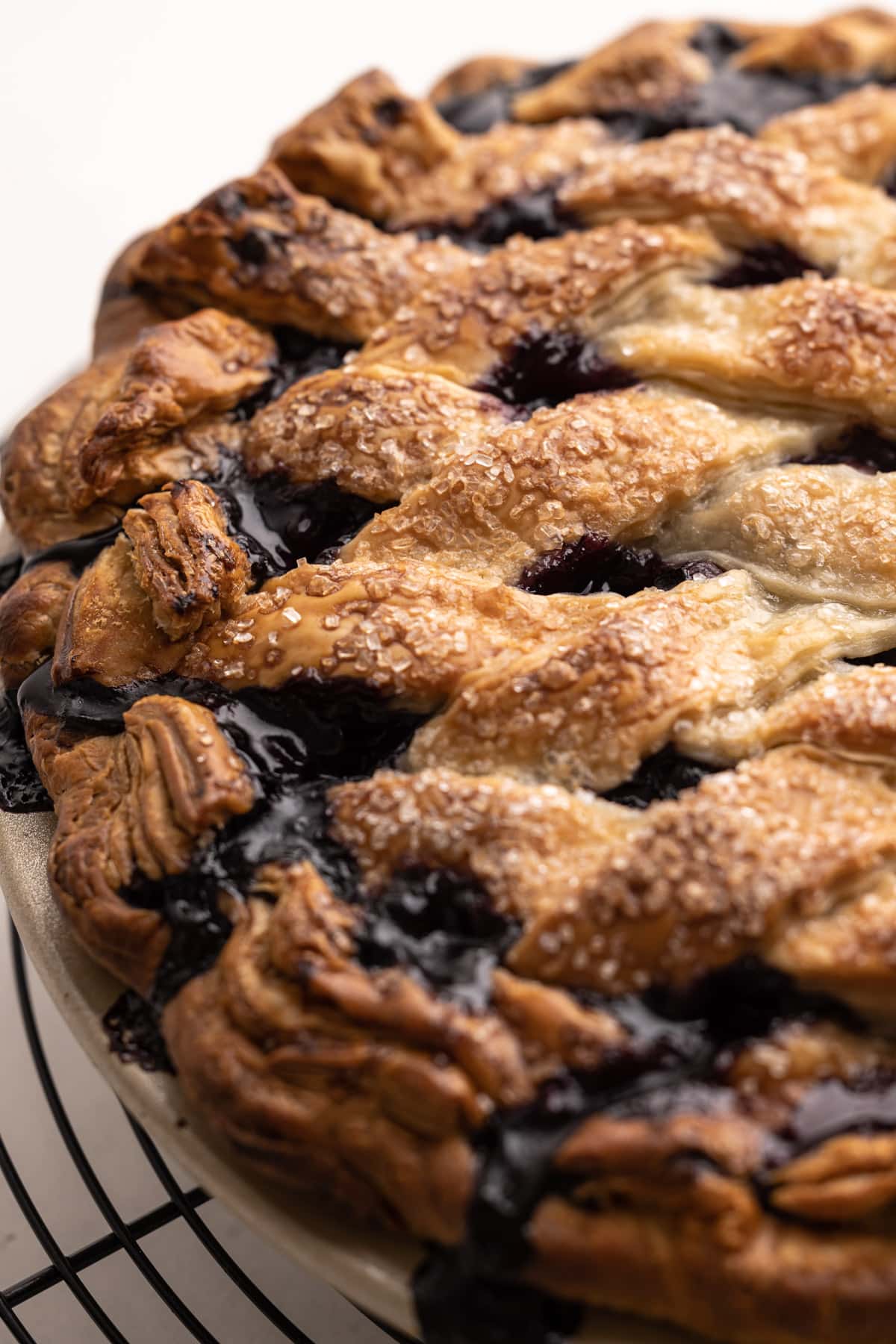 Serving and Storing
Serve the baked pie just slightly warm or at room temperature. It can be served as is or with ice cream.
If you serve it while it is hot, it will be soupy and won't stay in a clean slice (you won't catch me saying don't do this--as it's truly delicious, but do know it will be messy).
A baked blueberry pie can be stored at room temperature, covered, for 1 day. If you are storing it longer, cover it and place it in a refrigerator. It can always be reheated later to take the chill off of it and to crisp up the pastry.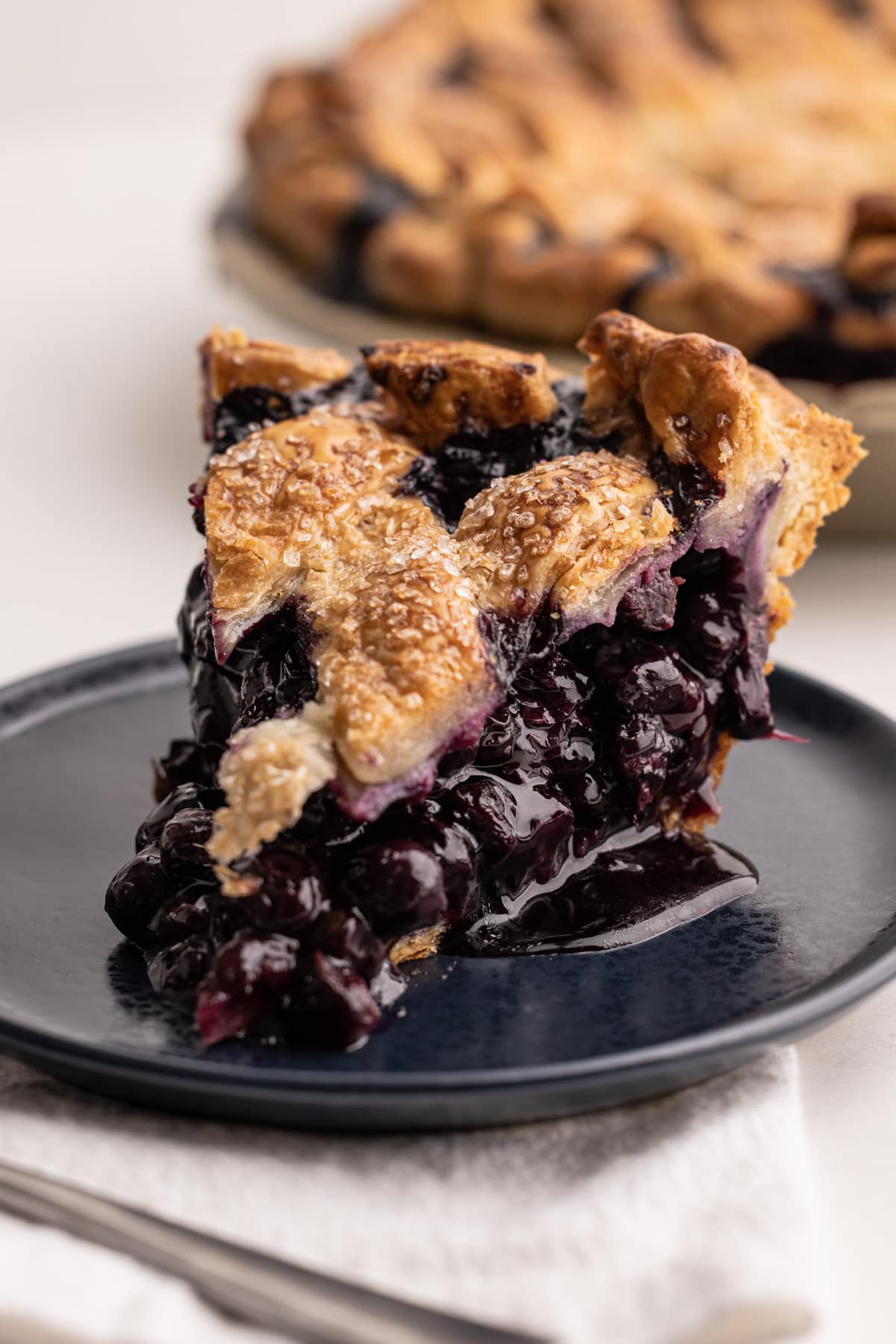 More Fruit Pie Recipes
I am so honored when you make a recipe from my site! If you make this Blueberry Pie, please leave a comment and a star rating with your experience! If you have any questions about this recipe, feel free to comment here, too!
Print
Classic Blueberry Pie
This one is for the blueberry lovers! This Classic Blueberry Pie features fresh or frozen berries, accented by orange and cinnamon and tucked inside a flaky buttery pie crust.
Author: Kelli Avila
Prep Time:

00:25

Cook Time:

00:60

Total Time:

1 hour 25 minutes

Yield:

Serves 8

Category:

Sweet Pie

Method:

Bake
6 cups

(about

28 ounces

) fresh blueberries (see note)

¼ cup

cornstarch

¾ cup

(

150 grams

) granulated sugar
Pinch cinnamon
Pinch salt

1 tablespoon

fresh orange juice

1 teaspoon

orange zest

1 teaspoon

vanilla extract
Coarse sugar (optional)
Instructions
Prepare the pastry, let it rest overnight, if possible.
Preheat oven to 425ºF and place an oven rack in the lower part of the oven.
Roll out the pastry: Roll out one pie pastry to an 11″ circle. Fit the pastry in a 9" pie plate, making sure to press the pastry into the sides and the bottom. Roll out the second pastry and cut strips to make a lattice, if desired. Or just roll out the top for a full crust. Place in the refrigerator until ready to use.
Make the filling: Add blueberries, sugar, cornstarch, cinnamon, salt, and vanilla extract to a large bowl and toss to coat. Mix in orange juice and zest. Let sit until the sugars have started to dissolve, about 5-10 minutes.
Place the blueberry pie filling and all the juices inside of the pie plate fitted with pastry. Gently press down on the filling to eliminate any gaps between the fruit.
You can top the pie with a lattice or top with the rolled-out pie dough with a few slits or small shapes stamped out of it to let steam escape.
Brush the crust with an egg wash and sprinkle with coarse sugar, if desired.
Bake on the lowest rack for 25 minutes.
Lower the oven temperature to 400ºF. If the crust is browning, cover the outer edges with aluminum foil or a pie shield, leaving the middle of the crust exposed. Bake for another 35-40 minutes, or until the juices are bubbling and the temperature of the middle of the pie reaches above 200ºF.
Let the pie cool for at least an hour to set the juices up.
Notes
Have a question or looking for tips? The text written above the recipe is always a great first place to start! This Blueberry Pie was developed with lots of love, and I always include loads of explanations, tips, step-by-step photos and technical advice shared before the recipe. And be sure to check out the video, too!
Weighing your flour is the most accurate way to measure. If you aren't going to weigh it, spoon it into the cup, and then level it off. If you scoop the flour out with the measuring cup and then level, it could change the outcome of the final product.
Frozen or fresh blueberries will both work fine here. Do not thaw any frozen blueberries before you begin preparing the recipe.
A baked blueberry pie can be stored at room temperature, covered, for 1 day. If you are storing it longer, cover it and place it in a refrigerator. It can always be reheated later to take the chill off of it and to crisp up the pastry.
Some of the links on this page may be affiliate links. Everyday Pie is a participant in the Amazon Associates Program. As an Amazon Associate I earn from qualifying purchases, at no extra cost to you.