This Spiced Blackberry Pie merges the best of two seasons. Delicious, juicy blackberries are tucked inside a flaky crust and spiced just right with cinnamon, allspice, ginger and a touch of cloves.
Spiced Blackberry Pie Recipe
After eating this Spiced Blackberry Pie for the first time, I wondered why I had waited so long to use the warm spices of fall for a summertime pie. Traditionally, warm spices such as cinnamon, ginger, and clove are reserved for distinctly fall or winter baking. Pumpkin usually stars as the lead role with that spice lineup. However, when paired with this summer fruit pie, it works just as well. It plays off the sweet and tart blackberry flavor and makes this pie really unique.
Like most fruit pies, the main attraction here is the blackberry. Take care to use the best quality you can find.
Ingredients Needed For Blackberry Pie Filling
Blackberries (fresh or frozen)

White Granulated Sugar

Flour or Cornstarch 

Fresh Orange Juice

Ground Cinnamon

Ground Allspice

Ground Ginger

Ground Cloves

Salt

What type of berries to use
You can use either frozen or fresh berries in this pie. While it's nice to use fresh ripe berries in the summer, there is nothing wrong with using frozen berries anytime of year! These days, frozen berries can be superior to some of the fresh super market berries you find, especially in the dead of winter. If using frozen berries, look for a good brand like Wyman's or Cascadian Farm.
If you are using frozen, let the berries macarate in the bowl with the sugar and spice for about 15 minutes. Whether frozen or fresh, make sure that the cornstarch/flour and the sugar has dissolved into the berries. You do this to ensure that there are no lumps of thickener in the pie. No matter what the time of year, lumpy pies are not in season.
Make Ahead Steps
As with most pies, there are a few steps you need to complete to get to the finished pie. A lot of these components can be broken down into steps and done ahead of time. As always, I encourage you to make the pastry and roll it out beforehand. The more time you give the gluten to chill out, the better your pie will be.
Make ahead options:
Make the Pie Dough ahead of time. You can also make this gluten free with this pie crust, here. This pie needs a double crust. You can make it up to 2 days in the refrigerator or up to 3 months in the freezer.
Roll out the pastry. This can be done about 1 day ahead of time. Roll out the bottom crust and place in a pie pan. Roll out the top crust and lay it flat on a baking sheet. Keep both in the refrigerator, covered completely, until you are ready to make the pie.
Assemble the pie: The entire pie can be assembled and frozen before being ready to bake. You can bake it straight from frozen, following the instructions below.
COOKING INSTRUCTIONS FOR BAKING A FROZEN PIE
Unwrap the frozen pie and let sit at room temperature until the oven is preheated. Pre-heat the oven to 425ºF.
When the oven has reached 425º put an egg-wash on the crust and sprinkle with sugar, if desired.
Bake on the middle lower rack for 20 minutes.
Lower the oven temperature to 400º and put a piece of aluminum foil around the outer edges of the pie to prevent it from burning. Cook for another 40-50 minutes, or until the middle of the pie is bubbling and the crust is golden brown.
How to Tell When a Fruit Pie is Done
It's important to make sure that a fruit pie is cooked long enough so that it reaches a high enough temperature to activate the thickening agent. Most thickeners, such as cornstarch and flour, need to come close to the boiling point to activate. There are two main ways to tell when a fruit pie is done.  The first is by sight. Look for the crust to be golden and crispy. More importantly, look for the filling to be bubbling from the middle of the pie. The bubbling doesn't need to be rapid, but look for at least 1 bubble while you are checking the pie. This ensures it has reached the proper temperature and the thickener is activated.
The second and most fool proof way to make sure your pie is done, is to use a thermometer. I always check the temperature of each and every pie that I bake with an instant read thermometer. For a fruit pie you want the internal temperature to be above 200ºF.
HOW TO SERVE AND STORE BLACKBERRY PIE
Serve this pie slightly warm or at room temperature. It can be served as is, with whipped cream, or a la mode.
This pie can be stored fully baked at room temperature, covered, for 1 day. If you are storing it longer than a day, cover and place in a refrigerator.
If you like this sweet pie recipe, check out these others:
MAKE SURE TO COMMENT BELOW AND TAG @EVERYDAYPIE ON INSTAGRAM IF YOU MADE THIS SPICED BLACKBERRY PIE OR IF YOU HAVE QUESTIONS! HAPPY BAKING!
Print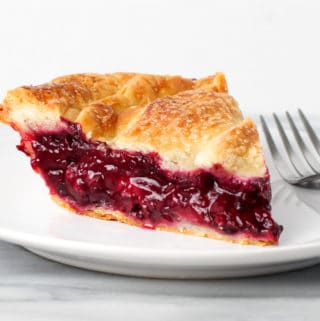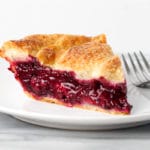 Spiced Blackberry Pie
Author:

Kelli Avila

Prep Time:

00:30

Cook Time:

01:00

Total Time:

1 hour 30 minutes

Yield:

8-12 servings

Category:

Fruit Pie

Method:

Oven

Cuisine:

Sweet Pie
---
Description
This warmly Spiced Blackberry Pie is simple yet so flavorful. Delicious blackberries are tucked inside a flaky crust and spiced just right with cinnamon, allspice, ginger and a touch of cloves. You can use frozen or fresh blackberries. And like all fruit pie, if you wanted you could assemble this pie completely and store in the freezer before baking it off. Check out the directions on how to do this inside of the post.
---
1

batch Pie Pastry (or GF Pie Pastry)

5 cups

(20 ounces) blackberries, fresh or frozen

 3/4 cup (150 grams) granulated sugar

⅓ cup

(40 grams) all purpose flour (or

¼ cup

cornstarch for gluten free)

½ teaspoon

cinnamon

½ teaspoon

allspice

Pinch ginger

Pinch cloves

Pinch salt

2 tablespoons

fresh orange juice
Eggwash (1 egg whisked with splash of water) for pie crust
Coarse sugar, for pie crust
---
Instructions
Prepare

pie dough

, preferably a day ahead.

Pre-heat the oven to 425ºF.

In a large bowl add the blackberries, sugar, flour, spices and mix to combine until no white remains. Add the orange juice and mix. Let sit to macerate for 10 minutes.

Roll out two disks of pie dough. Line a 9″ pie plate with dough and and place the blackberry pie filling inside of it. Gently press down on the filling to eliminate any gaps between the fruit. 

You can top the pie with a lattice, or top with the rolled out pie dough with a few slits or small shapes stamped out of it to let steam escape.

Brush the crust with an egg-wash and sprinkle with coarse sugar, if desired.

Bake on the middle lower rack for 20 minutes.

Lower the oven temperature to 400ºF. If the crust is browning, cover the outer edges with aluminum foil, leaving the middle of the crust exposed. Bake for another 35-40 minutes, or until the juices are bubbling and the temperature of the middle of the pie reaches above 200ºF.

Let the pie cool about at least an hour, to let the juices set up.
---
Notes
You can use frozen or fresh blackberries. If using frozen, let the berries macerate for a few minutes longer, until they are starting to soften.
Store the pie at room temperature, covered for up to 1 day. If storing longer, store covered in the refrigerator.
Some of the links on this page may be affiliate links. Everyday Pie is a participant in the Amazon Associates Program. As an Amazon Associate I earn from qualifying purchases, at no extra cost to you.