Caramelized onions are a great addition in many recipes, or for use as a condiment. They aren't tricky, but they do take time to make! Follow the tips below for How to Make Caramelized Onions!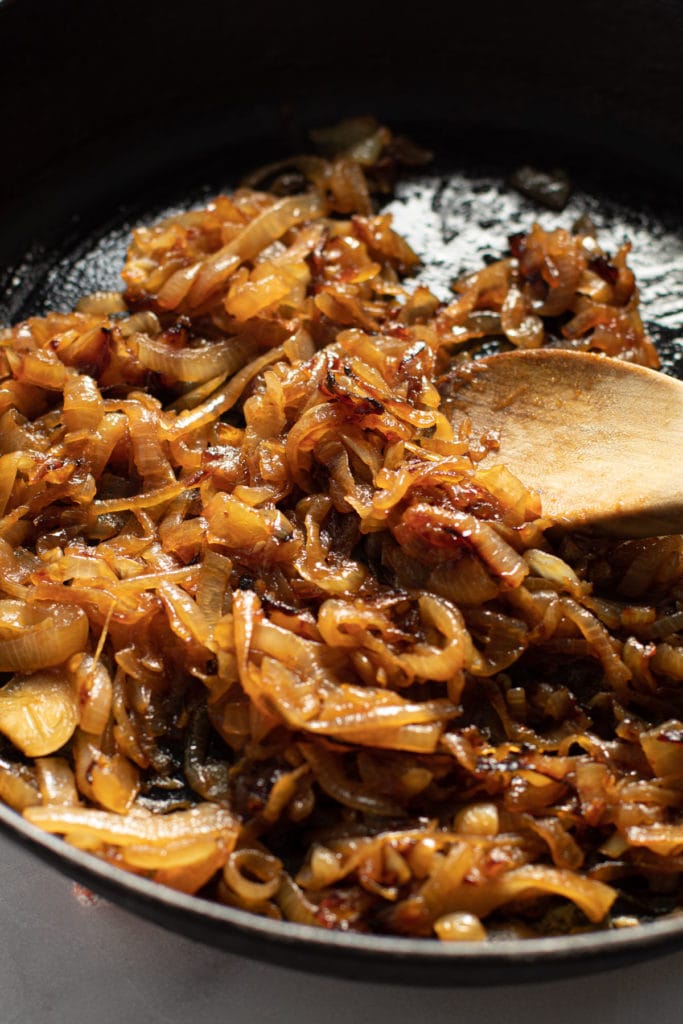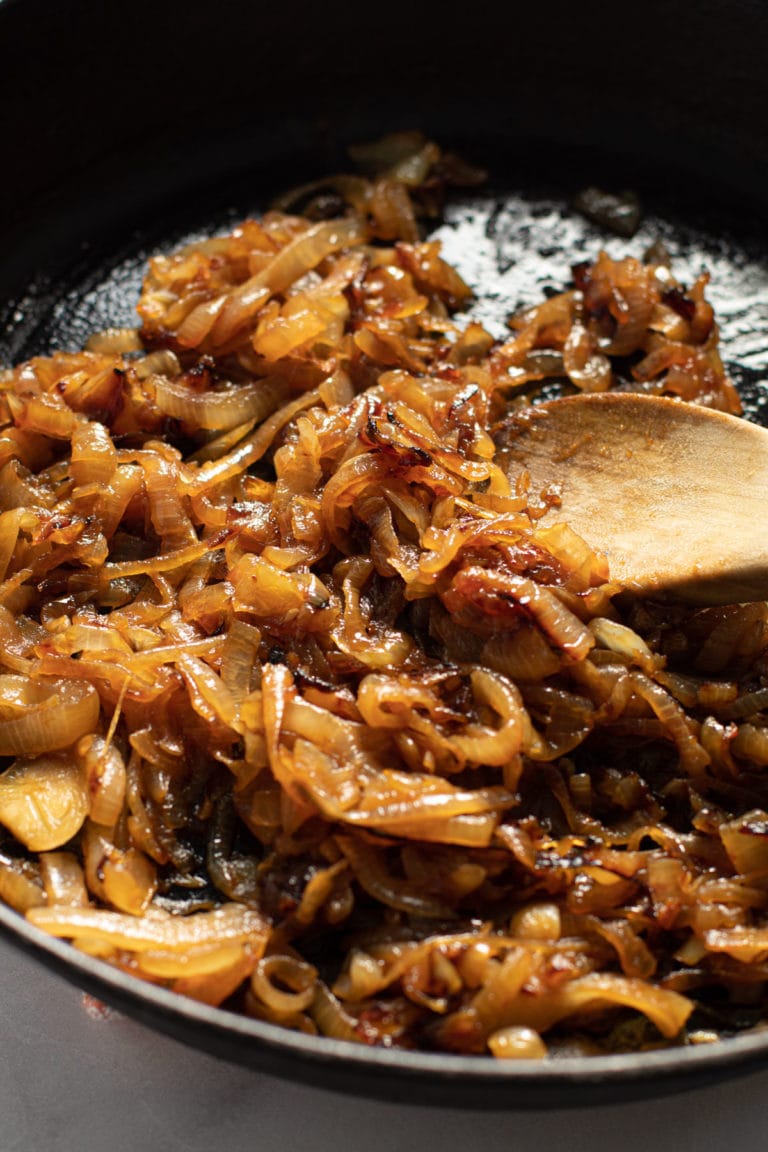 Caramelized Onions Recipe
Making caramelized onions are one of those essential cooking skills that will serve you well in life! Caramelized onions are a sweet, yet savory way to amp up the flavor in so many dishes. And of course, here at this website, we think that adding them to savory pies is a great way to use them!
So what does it mean to caramelize onions?
First, you need to know, onions are full of naturally occurring sugar. While some onions definitely have more sugar than others (think Vidalia onions or Walla Walla onions) they all have high sugar content.
When you cook onions slowly, the moisture is released and cooked off, leaving behind the concentrated sugars of the onion. Think of making caramelized onions just like you would making caramel!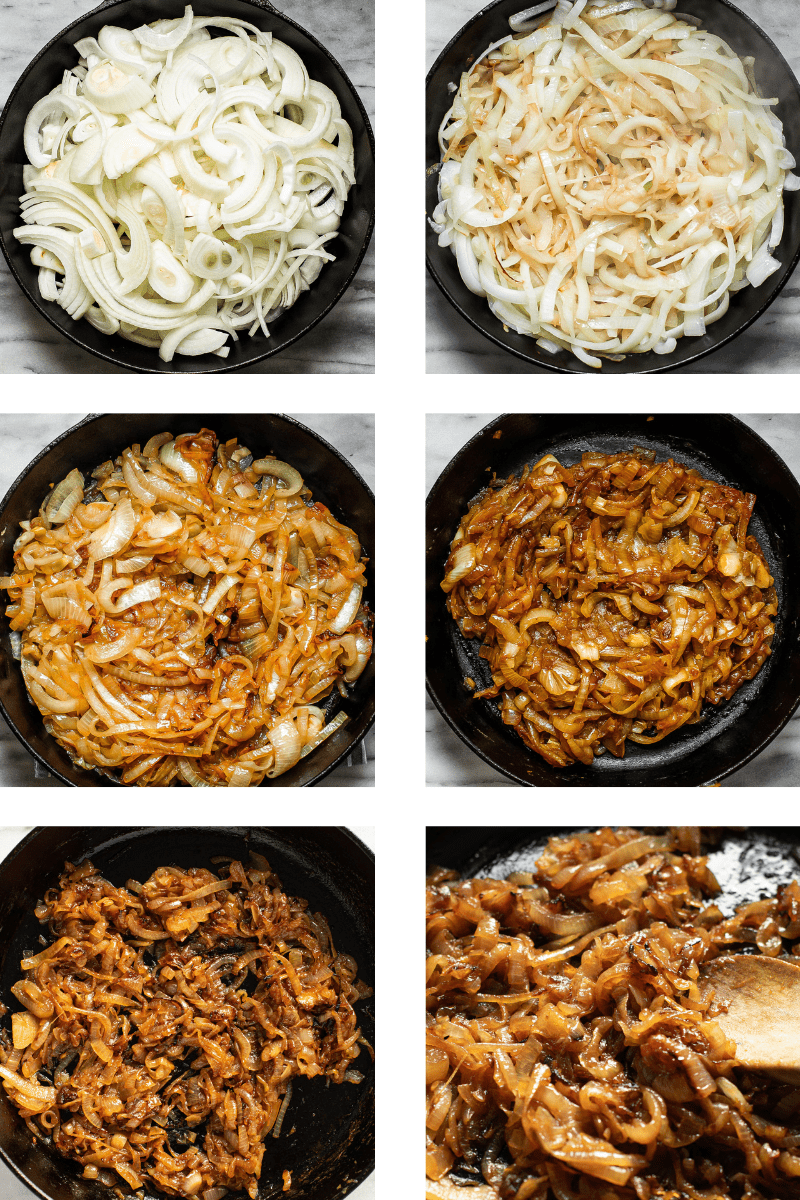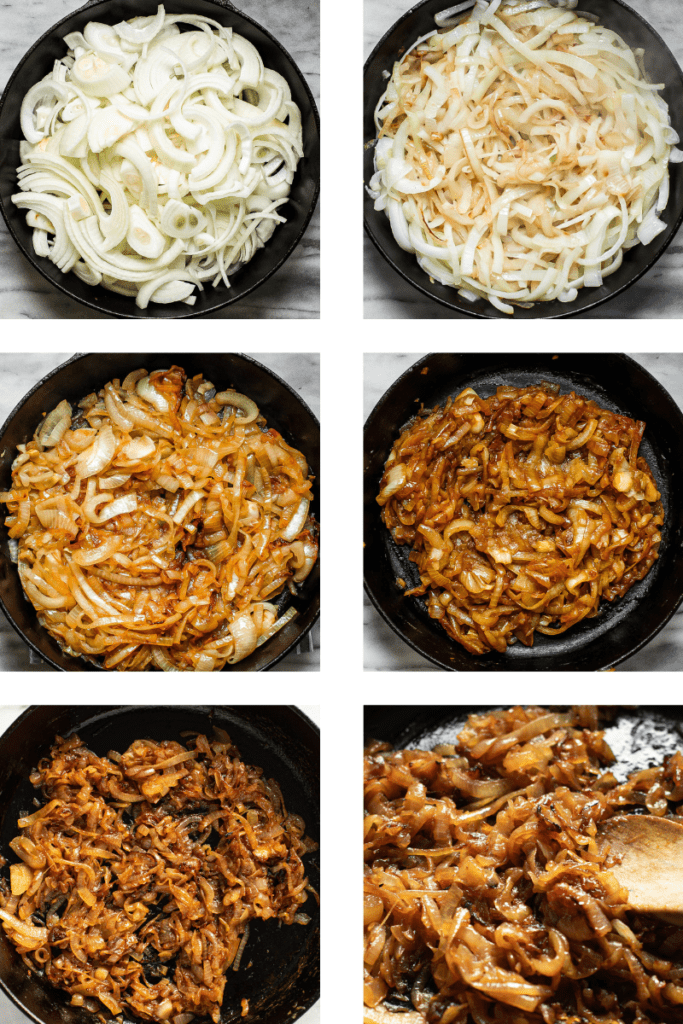 How Do You Make Caramelized Onions?
This is super simple: you cook the onions on low heat for a long period of time, roughly about 45 minutes to an hour. The longer you cook your onions, the sweeter and jammier they get.
This isn't a process that should be rushed, or doctored. Some cooks recommend adding sugar or baking soda to make the process go faster, but truely caramelized onions have the best flavor.
How long you cook your onions for can be a matter of preference. I prefer to leave some body left to my caramelized onions, with a slight bite to it. But if you like your onions to be super jammy, you can cook them longer until they have reduced to your liking.
This recipe includes the addition of some balsamic vinegar towards the end of cooking. This addition serves two purposes. The first is that it gives a touch of acid that really helps balance out the sweet and savory flavors. The other benefit is that it added a touch of liquid to the pan, which helps get up some of the fond that has formed on the bottom of the pot. You don't want to leave behind any of the flavor.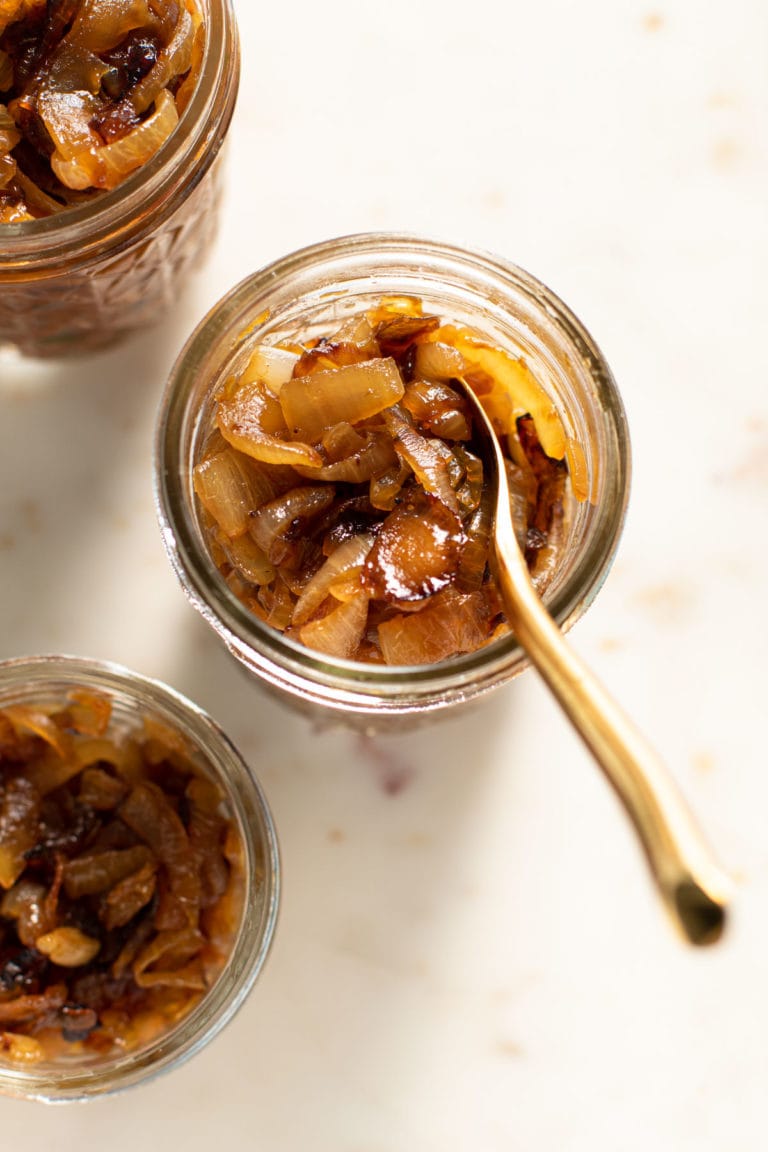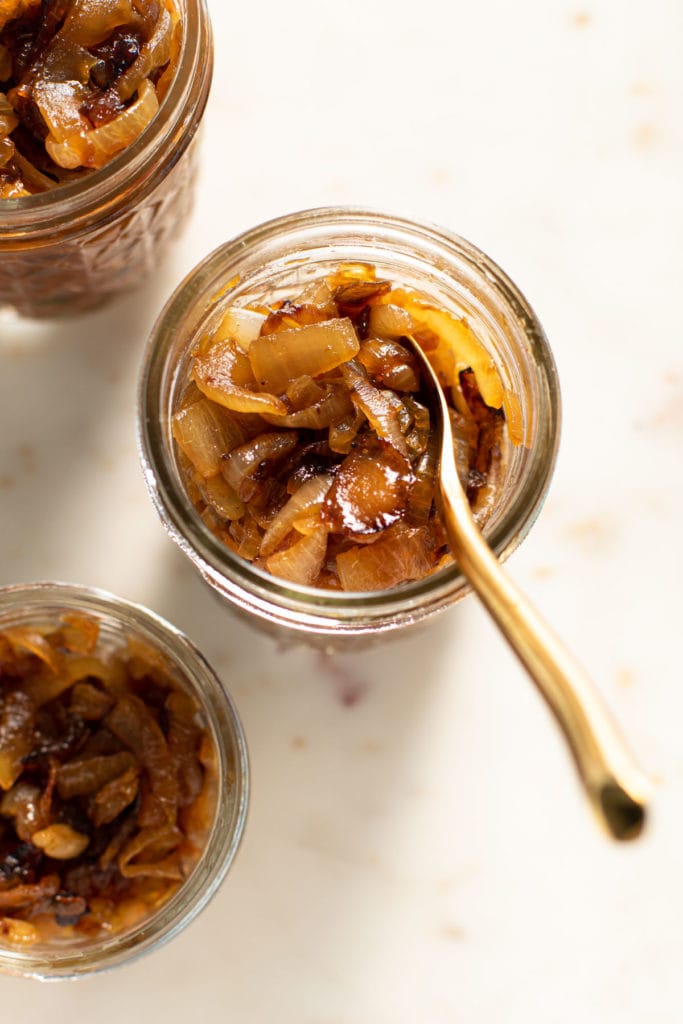 How to Store and Freeze
Caramelized onions keep well in the refrigerator for about 5 days. This recipes makes about 4 cups. Freezing is a great option to make sure you always have some on hand. You can store them in any air tight container or plastic bag. Defrost in the refrigerator overnight before ready to use.
How to Use Caramelized Onions
Any way you can! But really! They're good on top of toast, in pies (such as this Savory Butternut Squash Pie), on pizza, in sandwiches, in soup, or in a dip!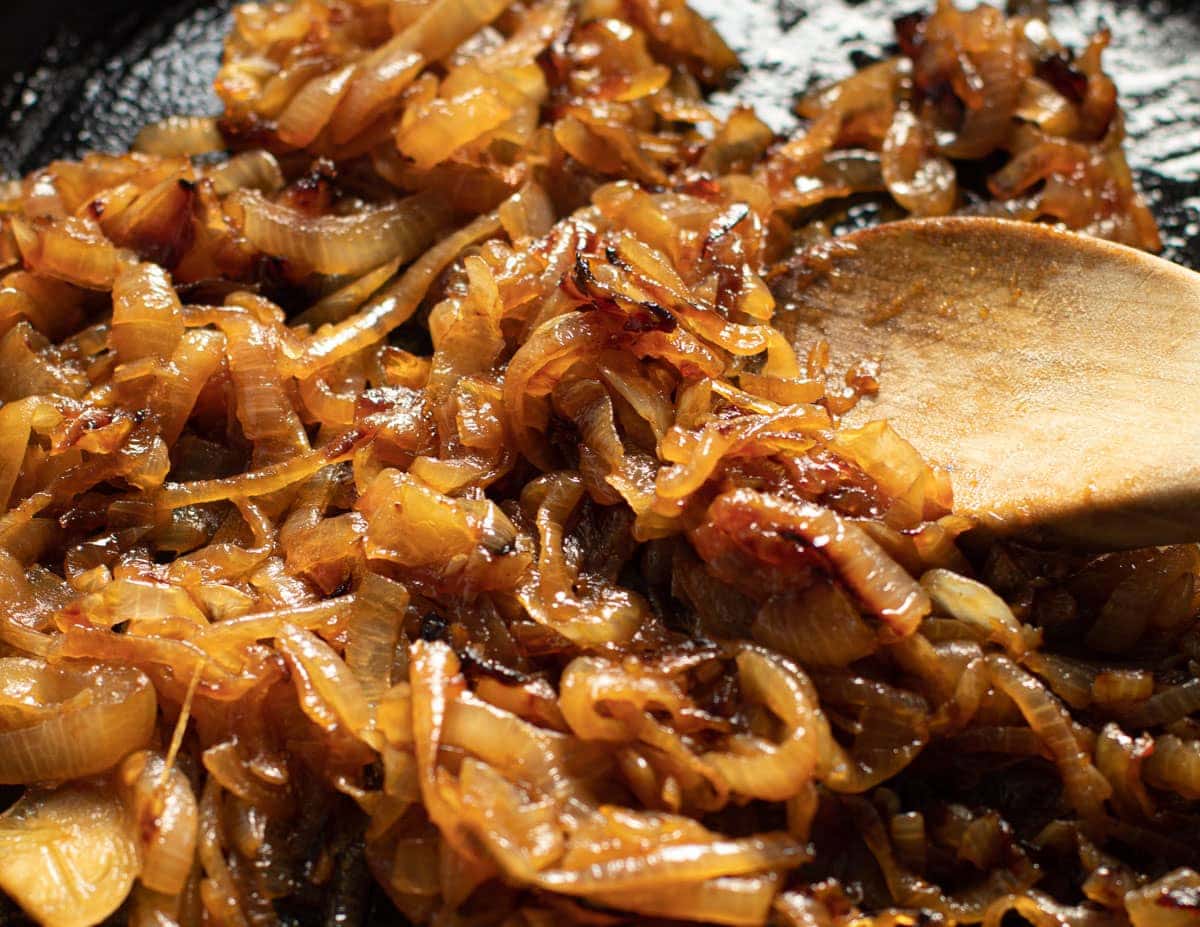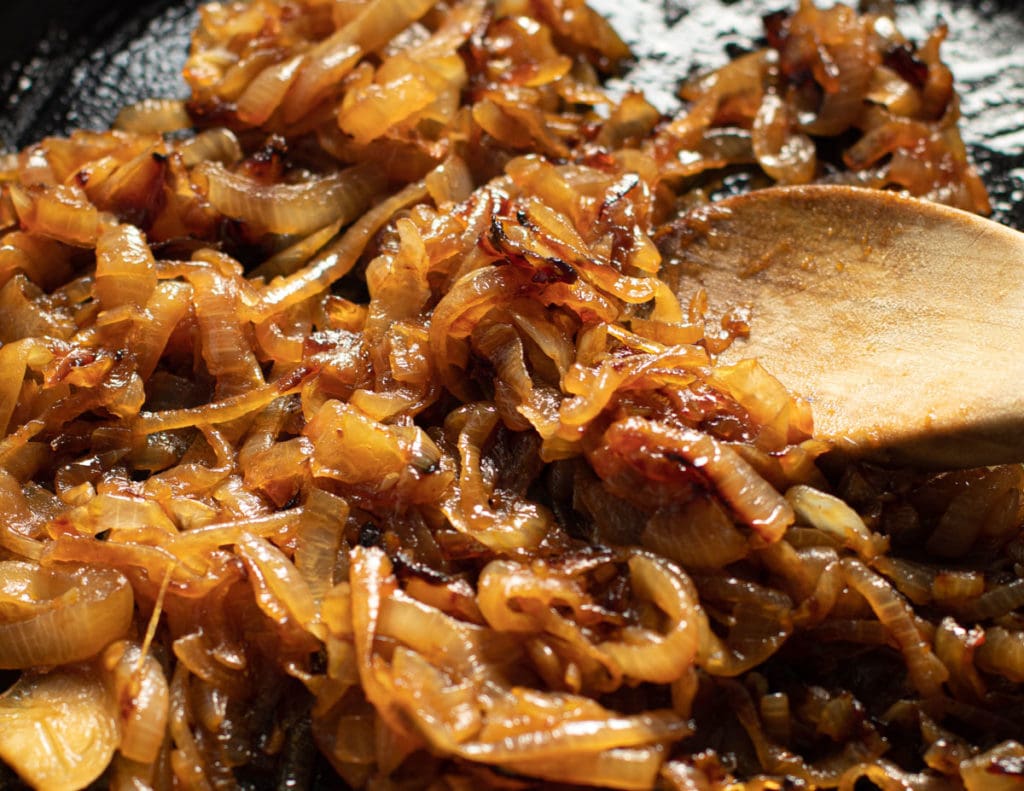 Print
Full Recipe
How to Make Caramelized Onions
Caramelized onions are bursting with sweet and savory flavor and are a great addition to many recipes or as a condiment.
Author: Kelli Avila
Prep Time:

00:10

Cook Time:

00:50

Total Time:

1 hour

Yield:

4 cups

Category:

Cooking Skills
3

large onions (about

3

lbs. onions)

2 tablespoons

of oil

¼ teaspoon

salt

1 tablespoon

balsamic vinegar
Instructions
Heat oil in a wide, heavy bottomed pan on medium heat. Add onions and cook for 10 minutes, stirring a few times to make sure all of the onions get contact with the pan and start to soften.

Add pinch of salt and stir to combine. Lower the heat to medium low and let onions sit undisturbed for 20 minutes.

Continue to cook for 15 more minutes at this point, stirring the pan every 5 minutes for a total of 3 times.

Stir in balsamic vinegar and cook for about 5 more minutes. This is the point where the onions have the optimum texture and taste.

If you'd like your onions to be completely reduced and jammy, cook for another 10-15 minutes, but this is optional!
Notes
Caramelized onions keep well in the refrigerator for about 5 days or so. They also can be frozen for up to 3 months. When ready to use defrost overnight.
Keywords: how to make caramelized onions
Some of the links on this page may be affiliate links. Everyday Pie is a participant in the Amazon Associates Program. As an Amazon Associate I earn from qualifying purchases, at no extra cost to you.