This Savory Butternut Squash Pie with Caramelized Onions and Feta is bursting with flavor! It's sweet, it's savory, and salty and should be your next baking project!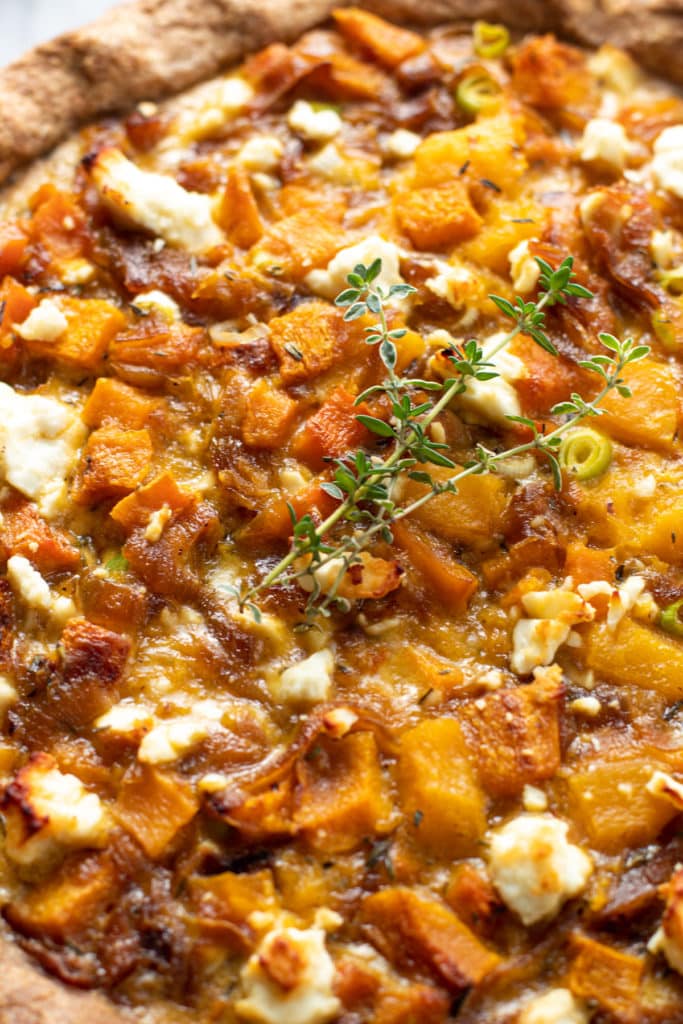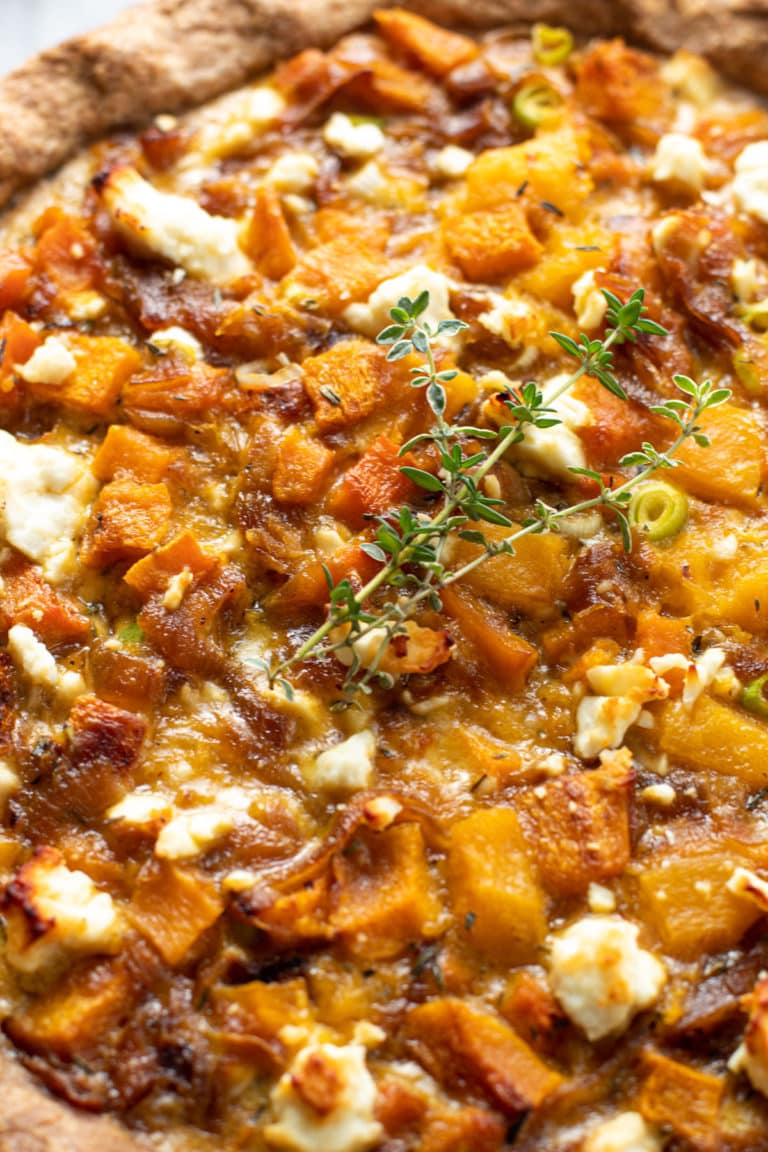 Savory Squash Pie
This Savory Butternut Squash Pie recipe was a fan favorite from my former pie company, Shoofly Pie Baking Co. This pie has such a unique flavor with the hint of sweetness from butternut squash and the caramelized onions, that is balanced by the savory elements.
I was hesitant at first to share it because there are a lot of steps to make it. When you are baking pies for sale, those recipes don't always translate well when you are instructing others to replicate them because not everyone wants to spend hours in the kitchen for one pie! But, I'll just start by saying: this one is worth it. Truly! The flavors are so deep and nuanced that you're going to feel the same.
So what's the best way to tackle a baking project that takes a few steps to make? Break it down and spread it out over a few days!
To assemble this pie, you'll need to:
Are you still with me? Please...still be with me, it's worth it!
Here are some ways to prep ahead:
Many of the steps needed to complete this pie can be done several days ahead. The pie dough, roasted butternut squash and caramelized onions can all be done 3 days ahead if not more. But I find the easiest way to make this recipe is to do it in two steps.
Day 1:
Day 2: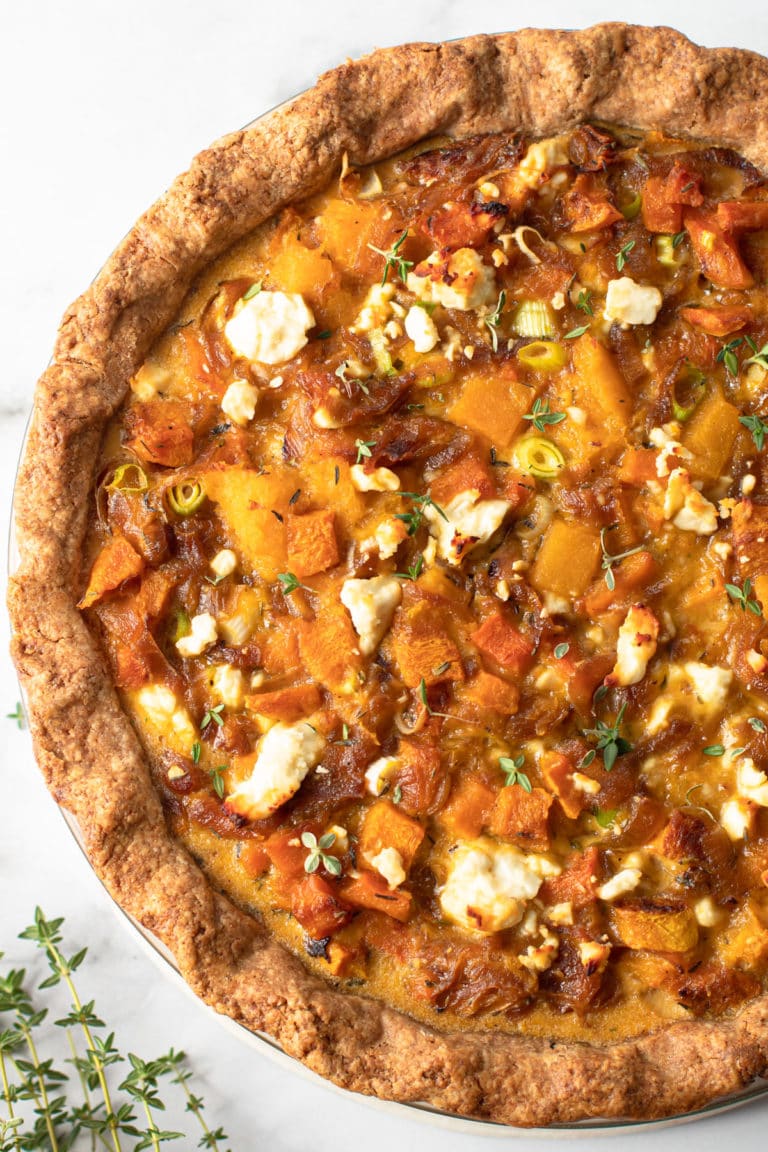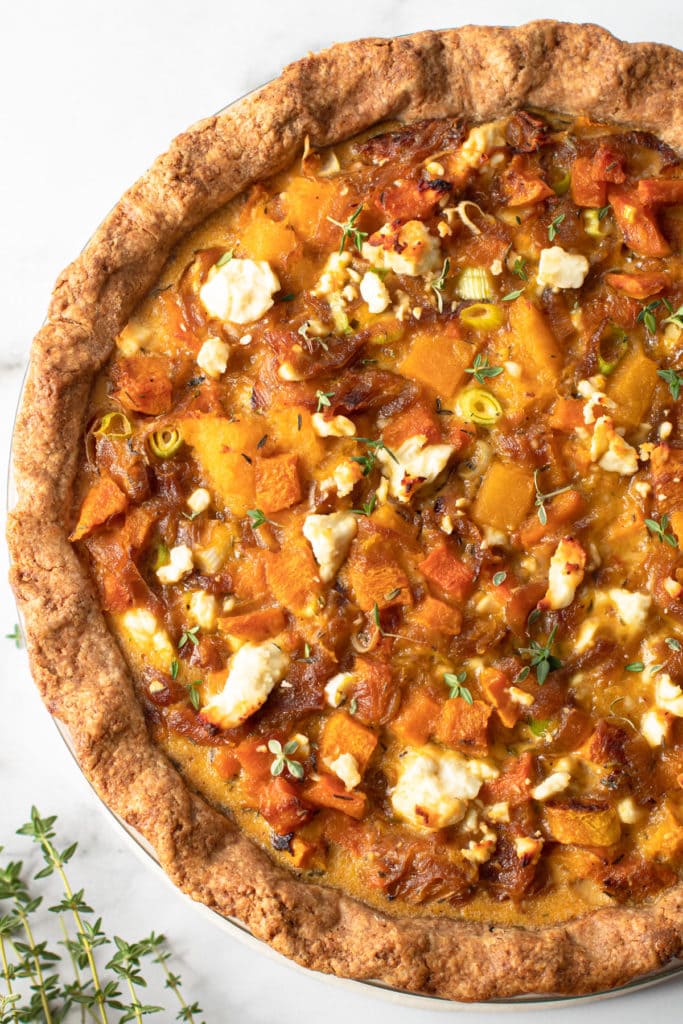 Pie Crust Options
There are a few different options to choose from to make this pie with. You can go classic with a butter pie crust, or go a little more savory with a spelt pie crust (my favorite) or whole wheat pie crust. See all the options below.
What to serve with this pie:
This pie is rich, in a good way of course! But anything that is rich in taste is complemented well by adding in some acid, so if it were me (and it often is) I'd serve this pie with a green salad with a nice tangy dressing! This pie would be great as a vegetarian option at a holiday meal or served a special dinner.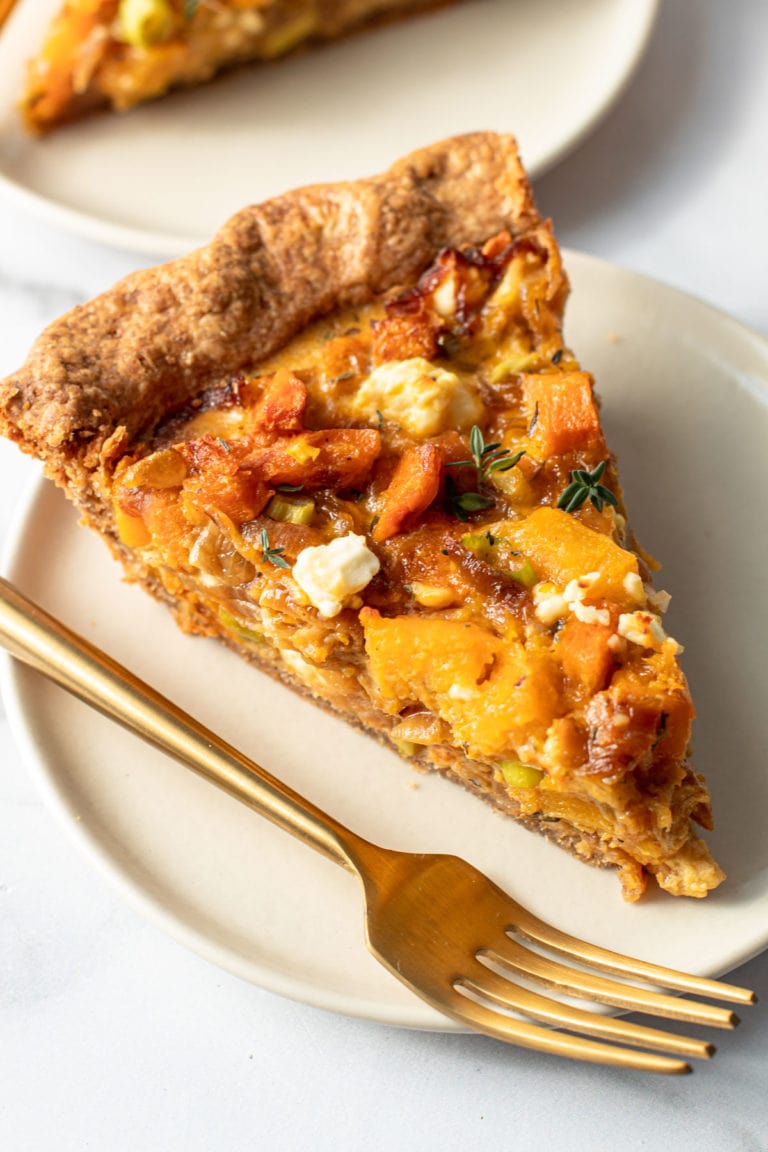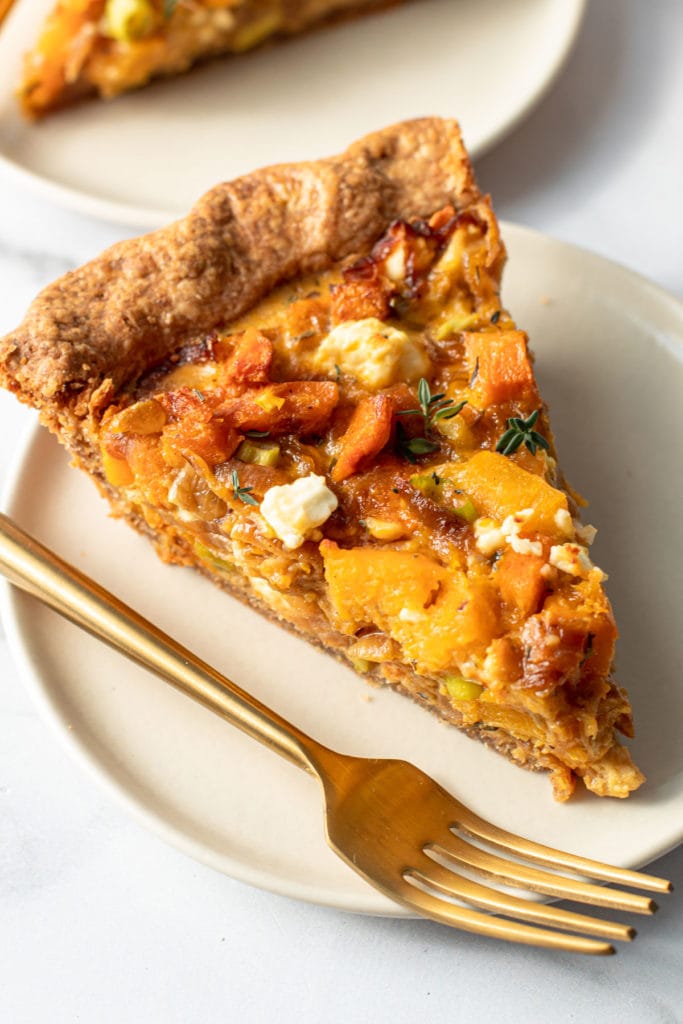 If you like this savory pie, check out these others:
Print
Full Recipe
Butternut Squash, Caramelized Onion and Feta Pie
This Savory Butternut Squash Pie with Caramelized Onions and Feta is bursting with flavor! It's one of those pies that you take a bite out of and just marvel at how flavorful it is! It's sweet, it's savory, and salty and should be your next baking project!
Author: Kelli Avila
Prep Time:

01:00

Cook Time:

01:00

Total Time:

2 hours

Yield:

1-9" Pie

Category:

Dinner

Method:

Bake

Cuisine:

Savory Pie
1

-

9

" Spelt Pie Crust or Butter Pie Crust or Gluten-Free Crust

1 tablespoon

olive oil

2.5 cups

(about

20 ounces

) butternut squash, diced to ¼" pieces

1 cup

caramelized onions

2

eggs

¾ cup

half and half (or sub in ½ milk and ½ cream)

2 teaspoon

lemon juice

1 teaspoon

salt

1 teaspoon

fresh ground black pepper

½ cup

feta cheese

1 teaspoon

fresh thyme leaves

2

green onions, sliced thin
Instructions
Preheat oven to 400ºF.

Roast squash:

Place diced butternut squash on a rimmed baking sheet with 1 tablespoon oil and season with salt and pepper, and toss to evenly coat. Roast in the oven, tossing half way through for 30 minutes. Remove and let cool slightly.

If you haven't done so already, caramelize the onions now. Check out this post for recipe.
Prepare pastry:

Roll out your pie pastry into a 11" circle. Place the pastry inside of a 9" pie pan and prick the bottoms and side with a fork to help steam escape. Crimp or decorate the edges as desired. Line the pastry with a parchment round piece of paper and then add pie weights (or dry rice or beans or lentils). Bake for 20 minutes, then remove from oven and remove the parchment and pie weights. Return to oven and bake for an additional 10 minutes. Set aside until ready to use.

Make filling:

In a large bowl whisk together the eggs, half and half, lemon juice, salt and pepper until completely combined. Then fold in the feta, thyme leaves, green onions, 1 cup of caramelized onions and butternut squash.

Turn the oven temperature down to 375.

Bake pie: Pour filling into the par-baked pastry and bake for 35-40 minutes or until the eggs are set throughout the pie. Cover the pie crust edges with aluminum foil if they are browning too quickly.
Let pie cool for about 10 minutes before slicing.
Notes
You can complete many of the steps to this pie ahead of time. You can make the pie dough up to 3 days ahead of time (or longer if you freeze it, read more about that here) and caramelize the onions and roast the squash 3-5 days ahead of time. The entire pie can be made up to 1 day ahead of time and reheated in 350ºF until warm.
Keywords: Savory Squash Pie
Some of the links on this page may be affiliate links. Everyday Pie is a participant in the Amazon Associates Program. As an Amazon Associate I earn from qualifying purchases, at no extra cost to you.