Made with eggs, gruyere, and jammy sweet onions, this Caramelized Onion Quiche is a rich and flavorful savory pie perfect for any meal of the day, and any day of the week.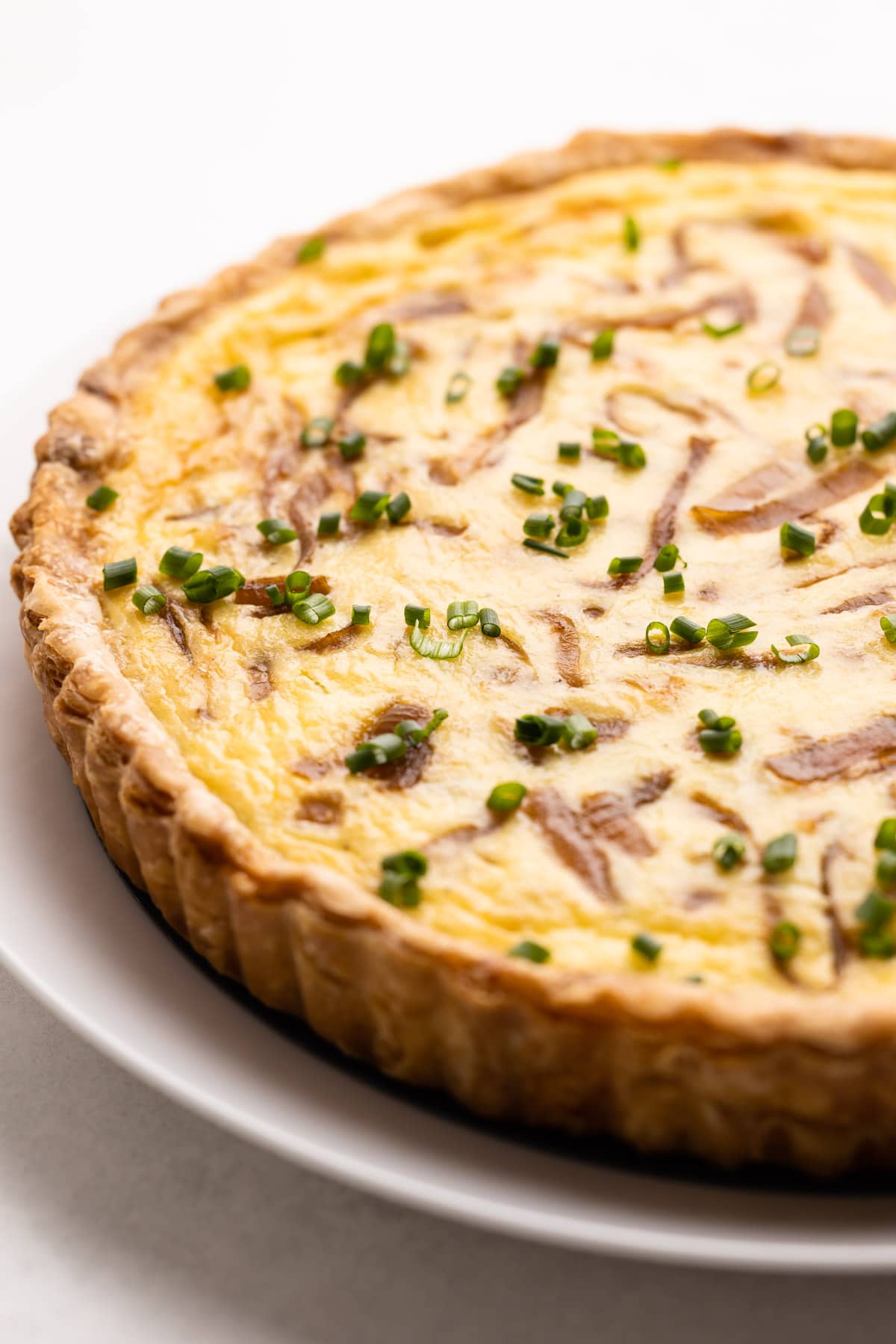 Caramelized onions are so addictive because they have a perfectly balanced sweet and savory flavor that really sends our taste buds into overdrive. And, they feel right at home nestled among savory gruyere cheese, a rich custard and a flaky buttery pie crust in this Caramelized Onion Quiche. A match made in meal-time heaven.
It's perfect to serve for a lazy Sunday brunch, yet fancy enough to serve at a party.
So, let's get to making it, shall we? The text below offers tons of tips and helpful notes, or you can scroll to the bottom to grab the recipe and get started!
More of a visual person? Check out the video of me making it below!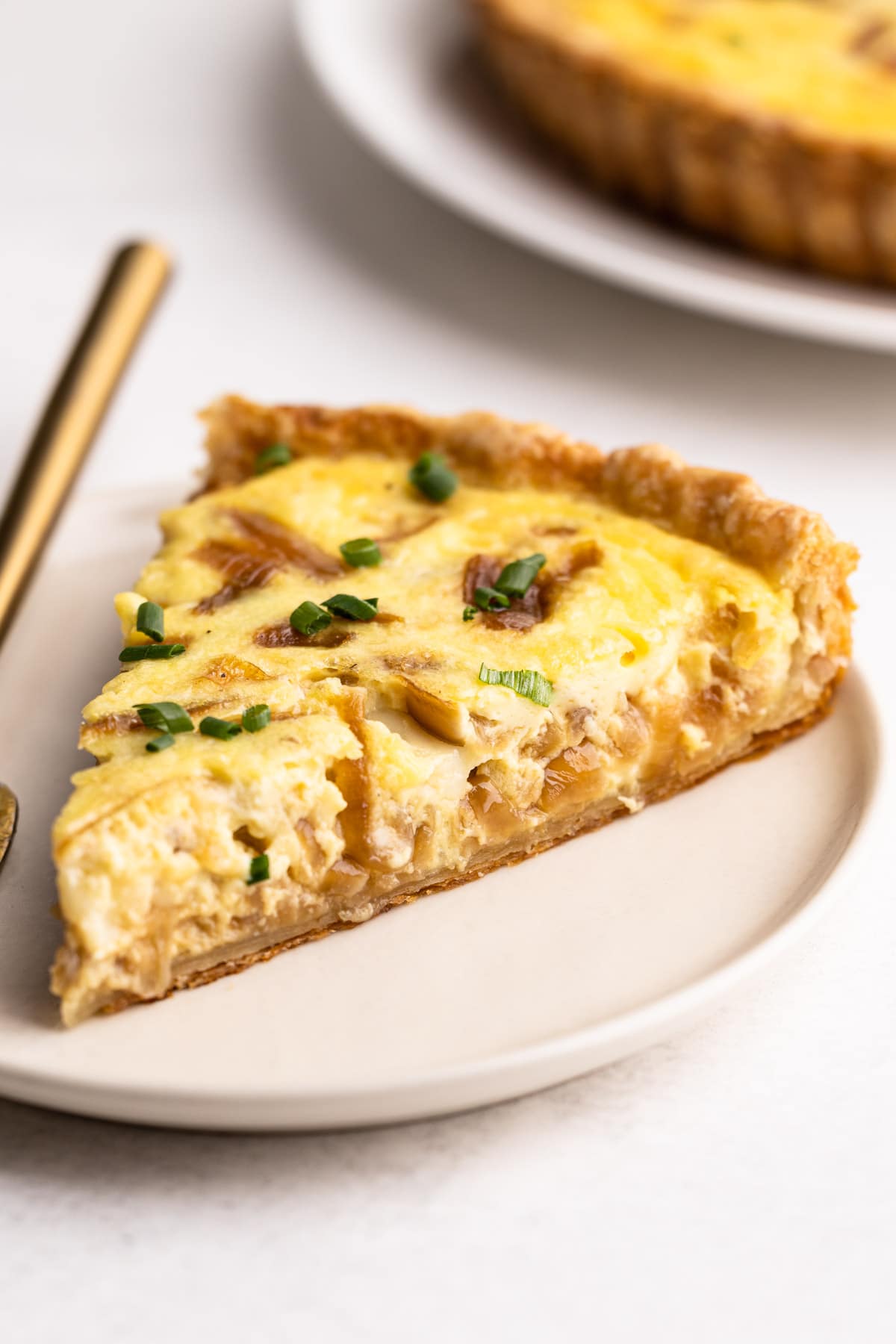 Ingredients Needed
Here is an overview of the ingredients needed for this recipe. The full recipe is listed below in greater detail.
onions
eggs
all-purpose flour
salted butter
oil
salt + pepper + nutmeg
balsamic vinegar
whole milk
heavy cream
gruyere or swiss cheese
Tools Needed
9" tart pan (or a pie plate)
heavy-bottomed skillet (cast iron works great here)
kitchen essentials: scale, bowls, whisks, spatulas, measuring spoons, etc.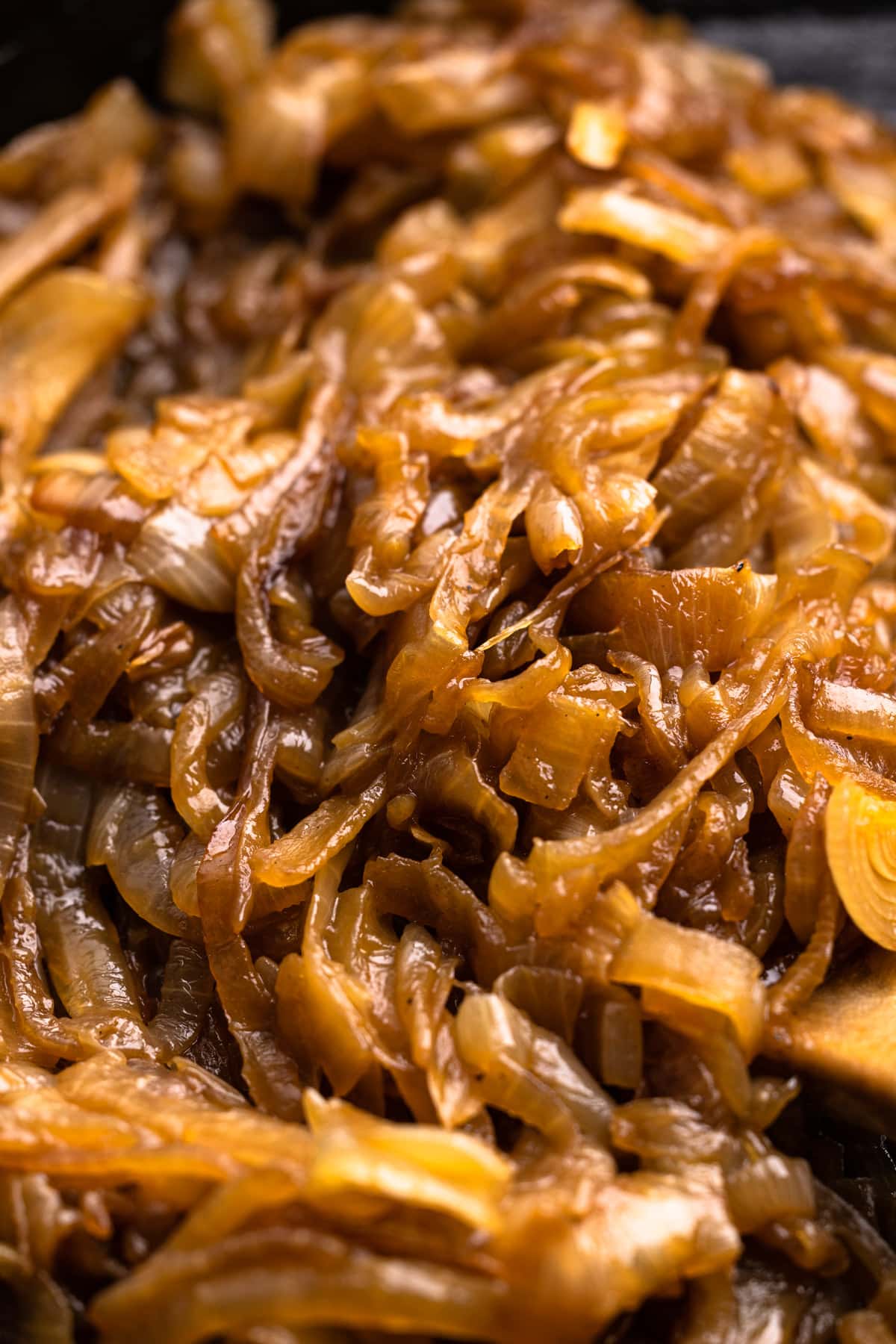 All About the Onions
Caramelized onions are a sweet/savory ingredient element with somewhat addicting qualities. When you cook onions slowly, the moisture is released and cooked off, leaving behind the concentrated sugars of the onion. While it does take a long period of time for this to happen (about 45 minutes), the process itself is quite simple: The longer you cook your onions, the sweeter and jammier they get.
This recipe includes the addition of some balsamic vinegar towards the end of cooking. This inclusion serves two purposes. The first is that it gives a touch of acid, which helps balance out the sweet and savory flavors. The other benefit is that it adds a touch of liquid to the pan, which helps get up some of the nitty-gritty that has formed on the bottom of the pot. You don't want to leave behind any flavor!
The recipe calls for you to make the caramelized onions, but only add ¾ cup into the quiche. You will likely have more caramelized onions than you need for the quiche, so any leftovers you can set aside for another use. They keep for a few days in the refrigerator or freeze for a few months.
Want to dive deeper into learning about caramelized onions? Check out this Caramelized Onion recipe.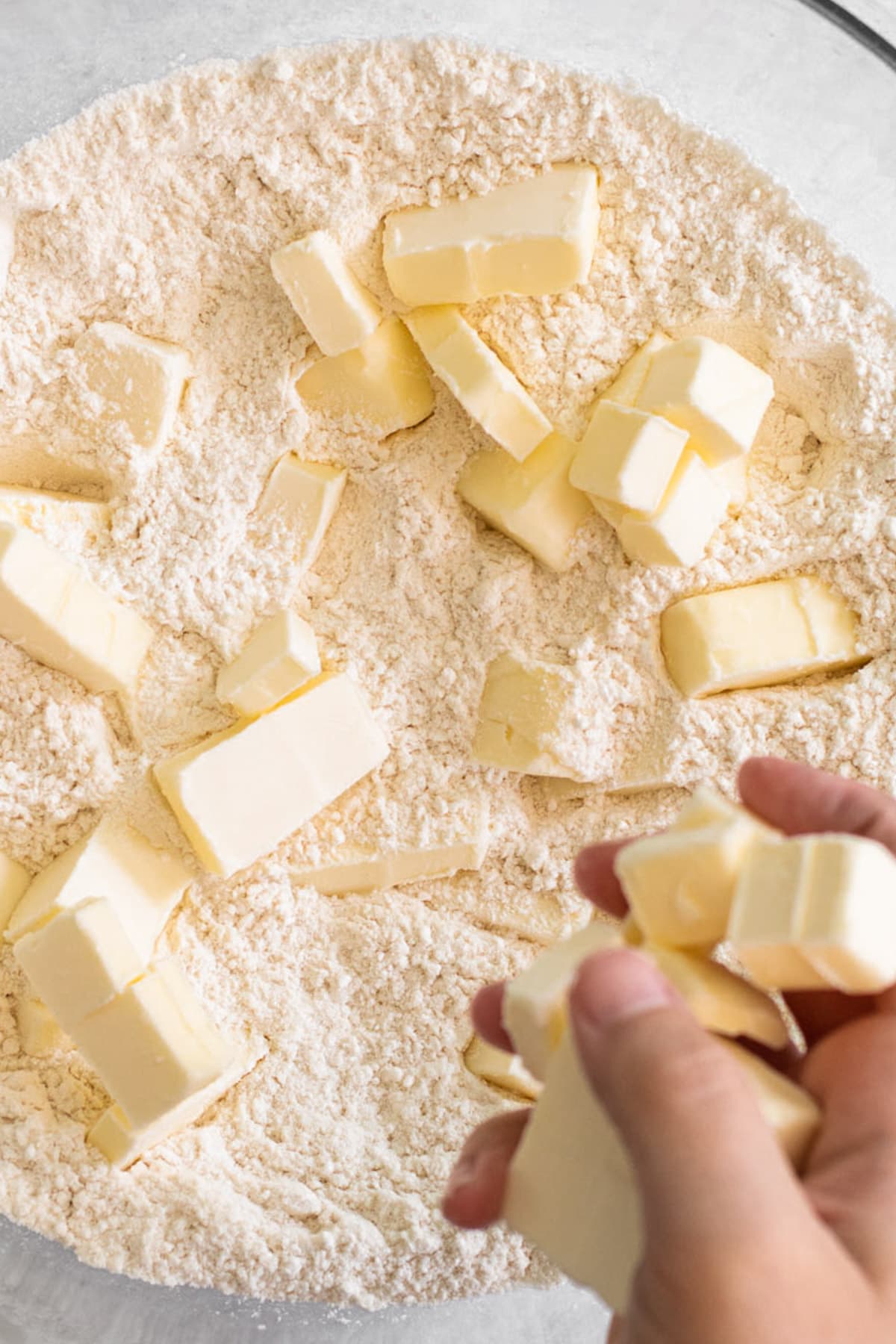 Pie Crust Options
Included in the recipe below is a simple homemade pie crust for a quiche, and it's made up of only three ingredients.
However, as this is a pie website, I have many different crusts you could pair with this quiche, depending on what you were looking for. This Sour Cream Pie Crust is amazing and will work well here, or this Cream Cheese and Butter Pie Crust for an enriched flavor.
You could also make the flavor a little bit more interesting by baking it in a Whole Wheat Pie Crust or a Spelt Pie Crust which are both super delicious.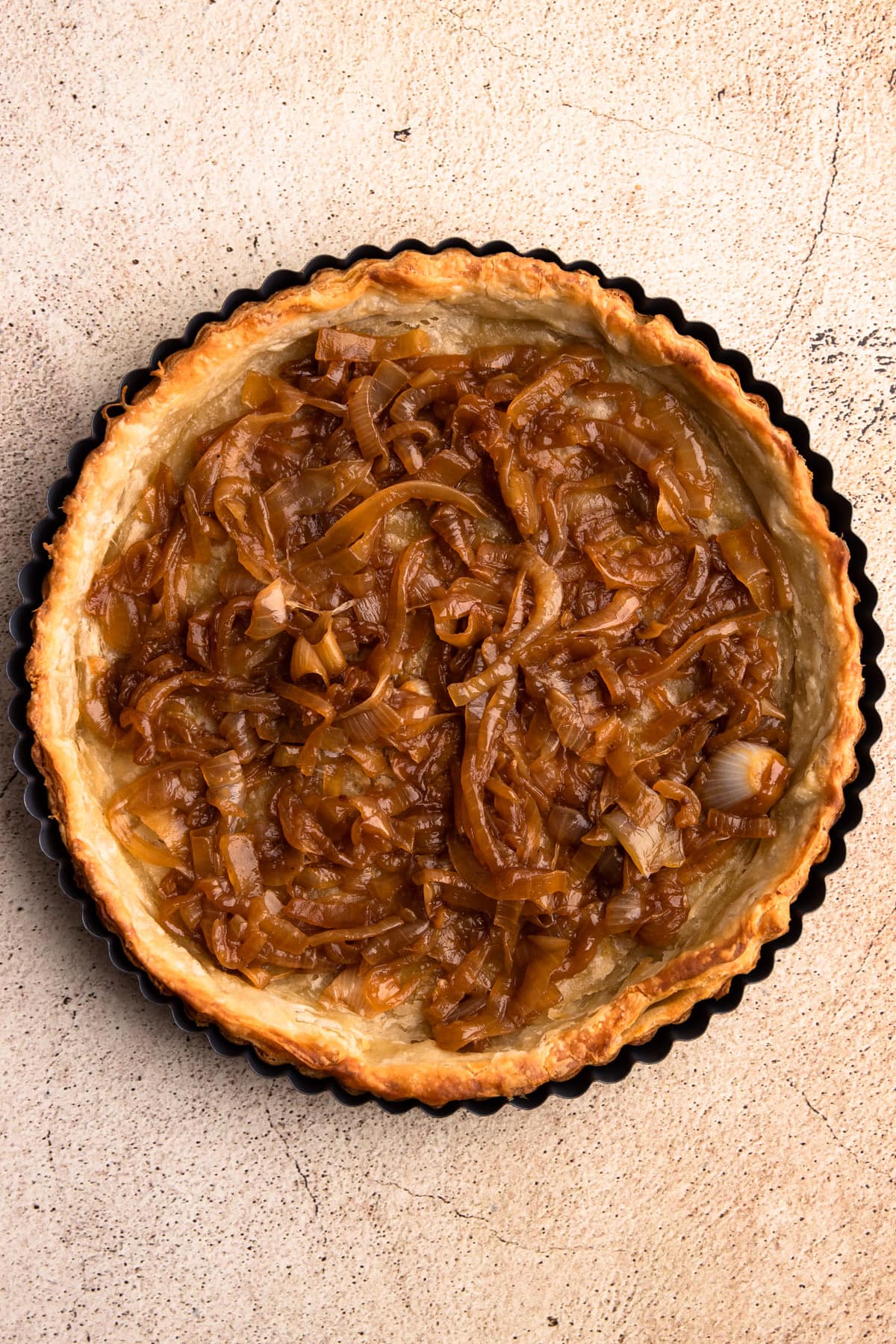 Why Blind Baking Is Essential
Nobody wants a soggy pie crust, so it's a good move to blind bake the pie pastry for this recipe. Blind baking or parbaking simply means you cook the pie crust first before adding the filling.
The recipe includes instructions on how to do it below, but if you are new to blind baking, check out this Blind Baking Tutorial.
Make-Ahead Tips
There are quite a few steps needed to complete to make this quiche. It is best to break down the steps over two days.
On the first day, make the pie crust and make your caramelized onions.
On the second day, roll out the pie crust, blind bake it, put together the filling and bake!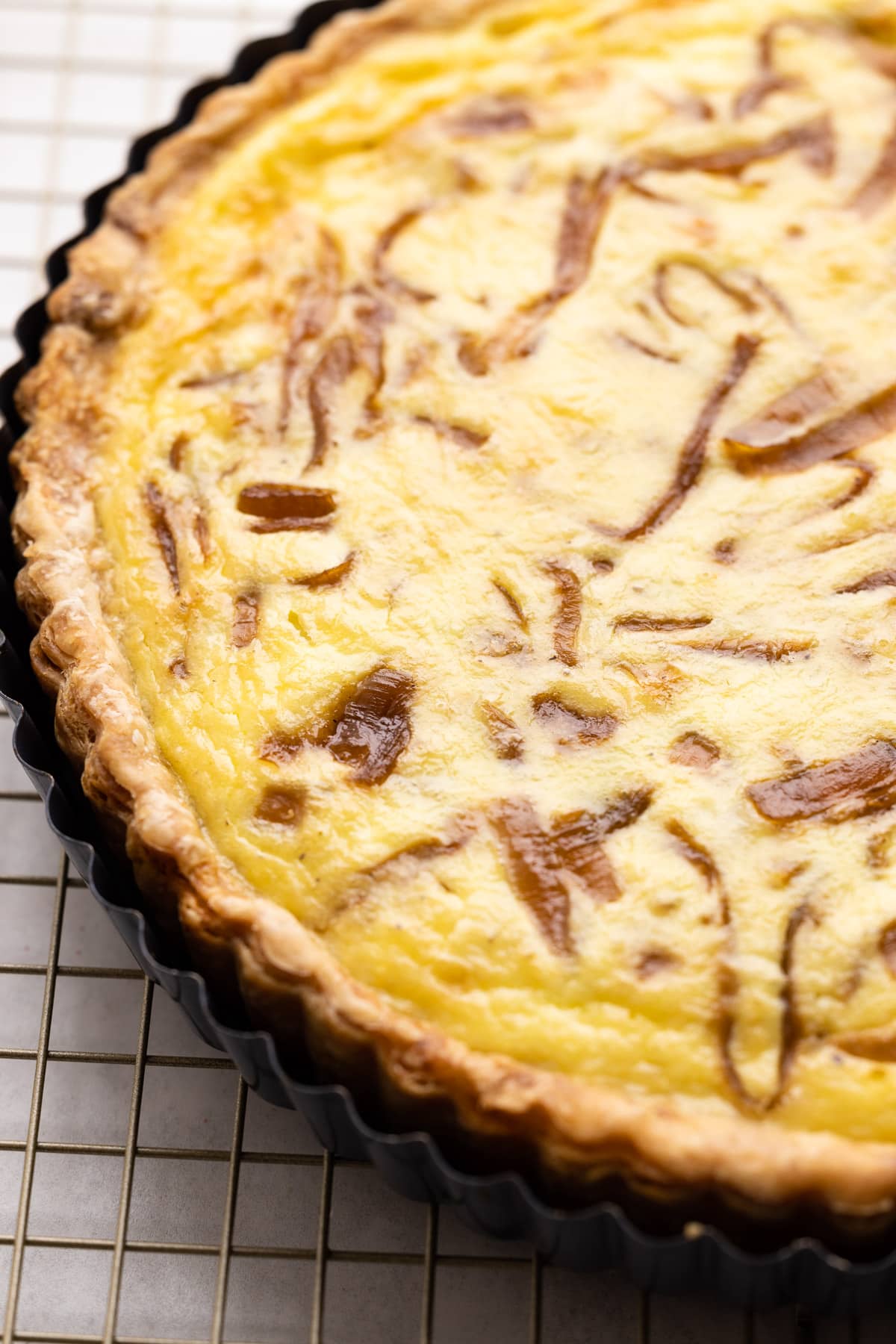 How to Tell When It's Done
You'll know the quiche is done when the filling has completely puffed up, and the top has started to turn golden.
It cooks quite quickly, so you'll want to check on the pie starting at 35 minutes.
Serving and Re-Heating Helpful Tips
Quiche, whether served at breakfast or lunch (or dinner!), should be served either warm or at room temperature. Pair it alongside a green salad with a bright dressing for the perfect meal.
Like many pies, a quiche is at its absolute best when fresh. However, a quiche is fine to be frozen. Let it cool completely before storing it in the freezer wrapped twice in plastic wrap.
Thaw overnight in the refrigerator and then place the defrosted quiche back in the 350ºF oven to warm back up. The quiche filling should reach an internal temperature above 160ºF.
More Quiche Recipes:
I am so honored when you make a recipe from my site! If you make this Caramelized Onion Quiche, please leave a comment and a star rating with your experience! If you have any questions about this recipe, feel free to comment here, too!
Print
Caramelized Onion Quiche
Made with eggs, gruyere and jammy sweet onions, this Caramzelied Onion Quiche is a rich and flavorful savory pie perfect for any meal in the day. Be sure to watch the video to see me make it!
Author: Kelli Avila
Prep Time:

00:15

Cook Time:

01:50

Total Time:

2 hours 5 minutes

Yield:

Serves 8-10

Category:

Savory Pie

Method:

Bake
For Pie Crust:
1

-

½

cups (

180 grams

) all-purpose flour

½ cup

) cold salted butter, diced into

½

" pieces

¼ cup

(

120 grams

) ice water
For Caramelized Onions:
2

large onions (about

2

lbs. onions)

2 tablespoons

of oil

¼ teaspoon

salt

1 tablespoon

balsamic vinegar
For Quiche:
¾ cup

(

170 grams

) prepared caramelized onions

3

large eggs

½ cup

whole milk

½ cup

heavy cream

½ teaspoon

kosher salt
Pinch ground black pepper
Pinch of nutmeg

½ cup

(

60 grams

) shredded gruyere or swiss cheese
Instructions
Make the Pie Crust:
Add the flour and the butter to a large bowl. Toss in the cold butter pieces and coat with flour. Using your fingertips, start working the butter into the flour. Continue until the butter is broken down into small pieces, no bigger than the size of a pea. You can also do this with a pastry blender.
Drip the ice water around the edge of the bowl, and use a rubber spatula to make sure the dough is largely hydrated. If there is enough water the dough should easily squeeze together with your hands. If needed, you can drip in more water into any dry spots (especially check the bottom of the pile), just enough to bring the dough together.
Gather the dough together and wrap it tightly in plastic wrap. Using a rolling pin, roll the wrapped dough out until it stretches to the corner of the plastic wrap. Refrigerate for at least 2 hours, or up to two days.
Make the Caramelized Onions:
Heat oil in a wide, heavy-bottomed pan on medium heat. Add onions and cook for 10 minutes, stirring a few times to make sure all of the onions contact the pan and start to brown slightly.
Add a pinch of salt and stir to combine. Lower the heat to medium-low and let onions sit undisturbed for 20 minutes.
Continue to cook for 15 more minutes at this point, stirring the pan every 5 minutes for a total of 3 times.
Stir in balsamic vinegar and cook for about 5 more minutes. This is the point where the onions have the optimum texture and taste. Let cool to room temperature before using, but it's best to do it the day before.
Blind Bake the Pie Crust:
Preheat the oven to 425ºF with an oven rack set on the lowest rack and one on the middle rack.
Remove the pie crust from the refrigerator and let it sit for about 5 minutes, so it is easier to roll.
Roll out the pie dough to an 11″ circle and line a 9" tart pan with a removable bottom. Prick the bottom of the dough all over with a fork. Place the pie in the freezer for 10 minutes.
Once chilled, line the pie dough with a parchment round piece of paper and then add pie weights (or dry rice or beans or lentils) to fill, making sure to push the pie weights to the edges, too.
Bake for 20 minutes, then remove from the oven and carefully remove the parchment and pie weights. Return to the oven and bake for an additional 5-7 minutes.
Make and Bake the Filling:
Place the blind-baked tart crust on a rimmed baking sheet until ready to use and lower the oven temperature to 375ºF.
Crack eggs into a large bowl, and whisk together with the milk, cream, salt, pepper and nutmeg.
Sprinkle the ¾ cup of the caramelized onions in the bottom of the baked tart shell. Then sprinkle the cheese on top of the onions.
Pour in the egg mixture, taking care not to overfill it. You may have some egg mixture leftover, depending on if your crust shrank at all during the blind bake. Optionally, you can add some caramelized onions on top of the egg mixture for visual appeal.
Bake the quiche in the middle oven for 35-40 minutes, or until the top has fully puffed up and is lightly golden all over.
Let the quiche sit for 5-10 minutes before slicing it.
Serve the quiche warm or at room temperature.
Notes
Have a question or looking for tips? The text written above the recipe is always a great first place to start! There are always loads of explanations, tips and technical advice shared before the recipe.
Weighing your flour is the most accurate way to measure. If you aren't going to weigh it, make sure to spoon it into the cup, and then level it off. If you scoop the flour out with the measuring cup and then level, it could change the outcome of the final product.
If you don't have salted butter, add ¼ teaspoon kosher salt to the flour.
I recommend making the caramelized onions and the pie crust one day. And baking the quiche the next day.
Only use ¾ cup of the caramelized onion mixture. Reserve any remaining for another use.
Keywords: Caramelized Onion Quiche
Some of the links on this page may be affiliate links. Everyday Pie is a participant in the Amazon Associates Program. As an Amazon Associate I earn from qualifying purchases, at no extra cost to you.