This Olive Oil Pie Crust recipe is a great option for savory pies that is both easy to make and really delicious! It also is naturally dairy-free! There is no need to chill this dough, so it makes it a great option for quick, weeknight dinner pies.
Olive Oil Pie Crust Recipe
Olive oil pie dough is a great option for easy, fuss free weeknight baking. Or, a great option if you just really love delicious pie crust. This pie crust compliments savory pies really well.
I love this pie dough for so many reasons! First, it has a really great taste. I use a light or medium olive oil to make this so that you can still tell it's different than butter, but not so heavy that it overpowers the pie. Second, it's so easy to make! All you need is a bowl, a whisk and a spatula to make it! No need to get a food processor or mixer dirty with his recipe. Third, it doesn't need to be chilled after it's made! This dough works best when it's rolled out after a brief rest at room temperature.
Ingredients for Olive Oil Crust
all-purpose flour

salt

baking powder

olive oil

eggs
What kind of pie can you make with it
The olive oil pie crust is perfect for savory pies! It is obviously especially delicious with pies made with italian ingredients, but it's good for any savory pie. To use this as a base for sweet pies, I'd recommend adding in at least ¼ cup granulated sugar.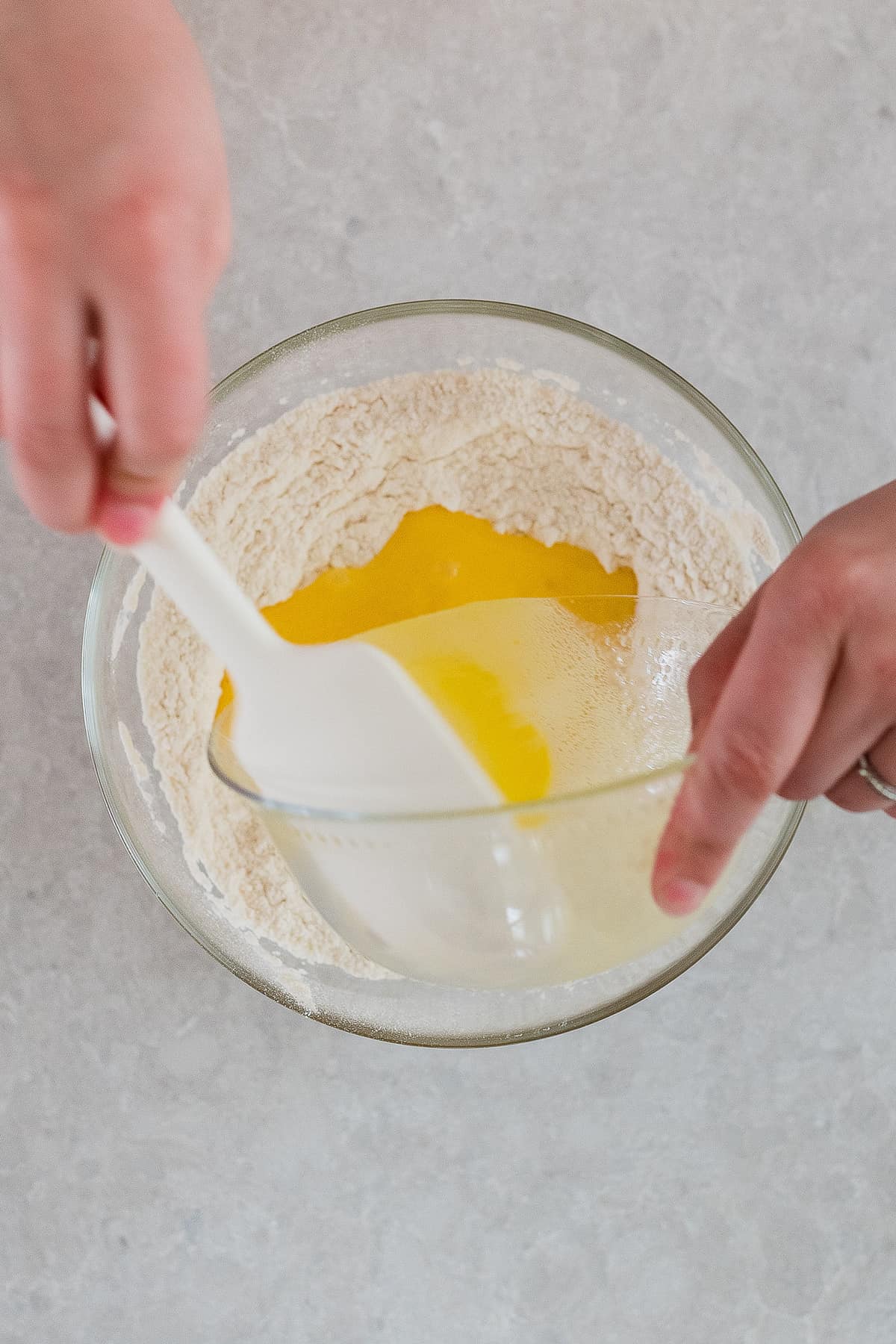 How to Make Pie Crust with Olive Oil
This dough is basically adding the liquid ingredients into the dry ingredients and mixing!
Whisk together the dry.

Whisk together the wet.

Add them together.

Using a spatula to combine them.

Briefly knead the dough, then let it rest for 10 minutes.

Roll out and bake as directed.
Can it be made ahead of time?
This crust is best when made and rolled out all at the same time. I have made it 1 day ahead of time, but it's not ideal because the olive oil starts to leak out of the pie dough.
Can it be made gluten free?
Unfortunately not at this time. I've tried making this with a gluten free flour blend for an easy GF substitute but it just didn't work. I'm going to keep trying to come up with a gluten free olive oil crust, but for right now this can only be made with all purpose flour.
Tips for Making Olive Oil Pie Crust
Make sure to whisk together the baking powder into the flour really well so there aren't parts of the dough that have more baking powder than others.
Use a light or medium flavored olive oil for the best crust. You want the flavor to shine through, but not to overpower the pie crust or finished pie. I prefer the taste of "light olive oil" in this crust.
Knead the dough just enough so that it comes together, but not so much that the olive oil starts to leak out. Overworking it has a bad effect on this dough.
Let the dough rest at room temperature for 10-30 minutes after you make it. This helps relax the gluten, and gives the baking powder time to activate so that it is easier to roll out the dough.
Crimp the edges of the crust. It holds the shape of the dough very well once it's baked, so go ahead and make it pretty!
How to Roll it out
This pie dough is much softer than a butter pie crust. The dough needs to rest for at least 10 minutes after it is kneaded, to help relax the gluten. After the 10 minute period the dough is soft and pliable and easy to roll out.
Tools needed to roll out pie dough:
Rolling Pin
Flour
Bench Scraper
Liberally flour a work surface, as well as the rolling pin.
Place the dough on top of the flour and then sprinkle some flour on top of it.
Starting from the center of the pie dough evenly press down and gently roll out the crust, easing up on the pressure as you reach the end of the dough.
Pick up the rolling pin (as opposed to rolling it back towards the center) and place it back in the center of the pie and roll it in the opposite direction.
Use your bench scraper to lift up the pie dough from time to time to check to make sure there is no sticking. Dust more flour underneath and on top of the pie dough as necessary.
Continue using this technique until you've moved around the center of the pie and have rolled out your pie dough large enough for your pie plate.
How to Blind Bake it
It is not absolutely necessary to chill the pie dough before baking or par-baking the pie, but I find that it keeps it's shape that way. I chill it for about 15 -30 minutes in the refrigerator.
To blind bake it:
Line the pie dough with a circle of parchment and fill it with pie weights or dried rice or beans.
Bake in a preheated oven at 375ºF for 20 minutes.
Remove the parchment and set aside. Take a fork and dock the bottom of the pie crust and up the sides.
Return to the oven to bake for an additional 5 minutes.
Print
Full Recipe
Olive Oil Pie Dough
This Olive Oil Pie Crust recipe is perfect for savory pies and so easy to make. The best part is that you don't need to chill it, so it's a great option for easy weeknight dinner pies. It also happens to be dairy free!
Author: Kelli Avila
Prep Time:

00:08

Cook Time:

00:00

Total Time:

8 minutes

Yield:

1 9" pie dough

Category:

Basics

Method:

Easy
1

-

¾

cups (227 grams) all-purpose flour

1 teaspoon

salt

1

-

½

teaspoon baking powder

⅓ cup

+

2

tablespooons (84 grams) olive oil

2

eggs
Instructions
In a large bowl whisk together flour, salt and baking powder.

In a separate small bowl whisk together the olive oil and eggs.

Make a well in the center of the dry ingredients and pour in the olive oil mixture.

Using a spatula combine it together until a shaggy dough forms.

Dump the dough out onto a well floured surface and knead together gently a few times until the dough is cohesive. Let the dough rest for 10 minutes at room temperature.

Roll out and bake as directed.
Notes
See the post for more details and FAQ about this pie crust.
Keywords: olive oil pie crust
Some of the links on this page may be affiliate links. Everyday Pie is a participant in the Amazon Associates Program. As an Amazon Associate I earn from qualifying purchases, at no extra cost to you.