This Kale Pie with Asiago and Potato is a hearty dinner pie, or a great vegetarian option for the holiday table. Quick braised kale is paired with cheesy mashed potatoes and tucked inside an easy olive oil pie crust.
Kale Pie with Asiago and Potato
This savory Kale Pie with Asiago Cheese and Potatoes has all the warm and hearty flavors of fall. Though the truth is, I actually started working on this recipe back in the spring. I had heaps of greens from the farm and I was looking for a way to use them all up. Now that it's mid-October and I've finally finished tweaking the recipe, I've realized this too is a great time to bake this pie up! This recipe works just as well with hearty fall greens as it does with vibrant spring greens. To make this pie, greens are quickly cooked down with onions, before being combined with asiago-laced mashed potatoes and tucked inside of an olive oil pastry dough. Enjoy it for a special dinner or as a vegetarian holiday meal option.
While the recipe calls for kale specifically, this has been tested with chard and collard greens as well. You can use one or a mix of all three.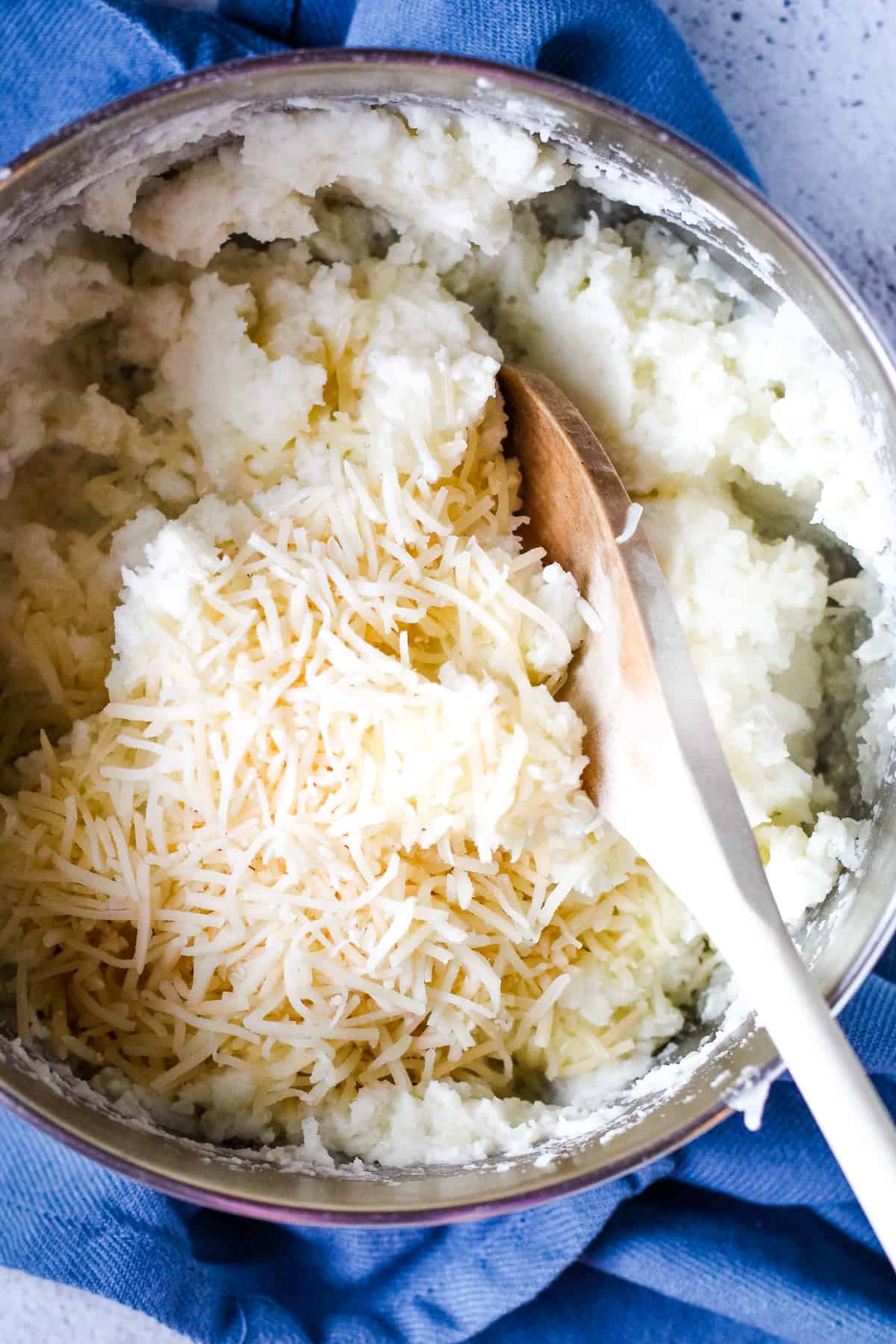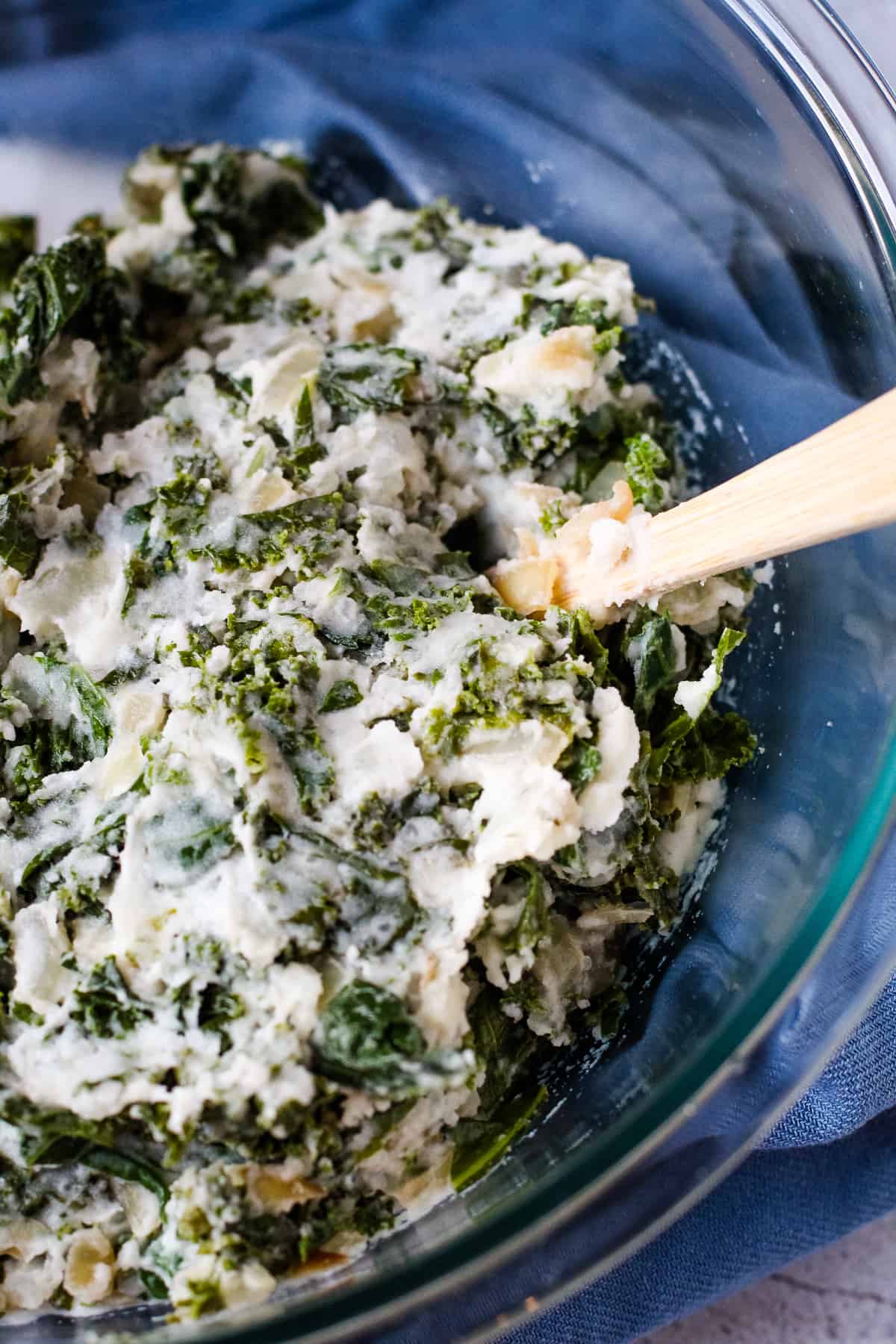 Ingredients Needed
2 batches Olive Oil Pie Crust

Russet potatoes

Onion

Garlic

Vegetable Broth

Kale (or your choice of suggested greens)

Sour Cream

Whole Milk

Asiago Cheese

Salt and Pepper
Chives
How to Clean Leafy Greens
Leafy greens can be notoriously gritty. Nothing is worse than making a meal only to later discover there was grit in the greens that didn't get washed out. It's always a safe bet to wash any greens you buy at the store or the farm very well. To wash leafy greens:
De-stem the greens.
Fill a large bowl with cool water.
Submerge the leaves in the water and swish around for 10 seconds.
Let the greens sit for 1 minute in the cool water, which allows any grit to sink to the bottom of the bowl.
Without agitating the water too much, quickly pick up the leaves directly out of the water, leaving behind any sand or dirt.
Empty the water and rinse out the bowl; repeat this wash step until the water is clear after removing the greens.
Make Ahead Instructions
This pie has multiple steps to complete, but luckily some can be done ahead of time. You can make the entire filling, up to the point of being placed in the pie dough, up to 2 days ahead of time. However, the pie dough itself must be made right before baking.
The entire pie can be assembled and baked two days before you plan to serve it and eat it. To reheat, place in a preheated 350ºF, lightly covered with aluminum foil and cook until heated through. You'll know a pie has been heated by taking an internal temperature reading with an instant thermometer: it should be above 160ºF. Or, you can stick a butter knife in the middle of the pie and remove it and feel the knife: if the knife is hot, the pie has been warmed through. If the knife is cold, so is your pie filling.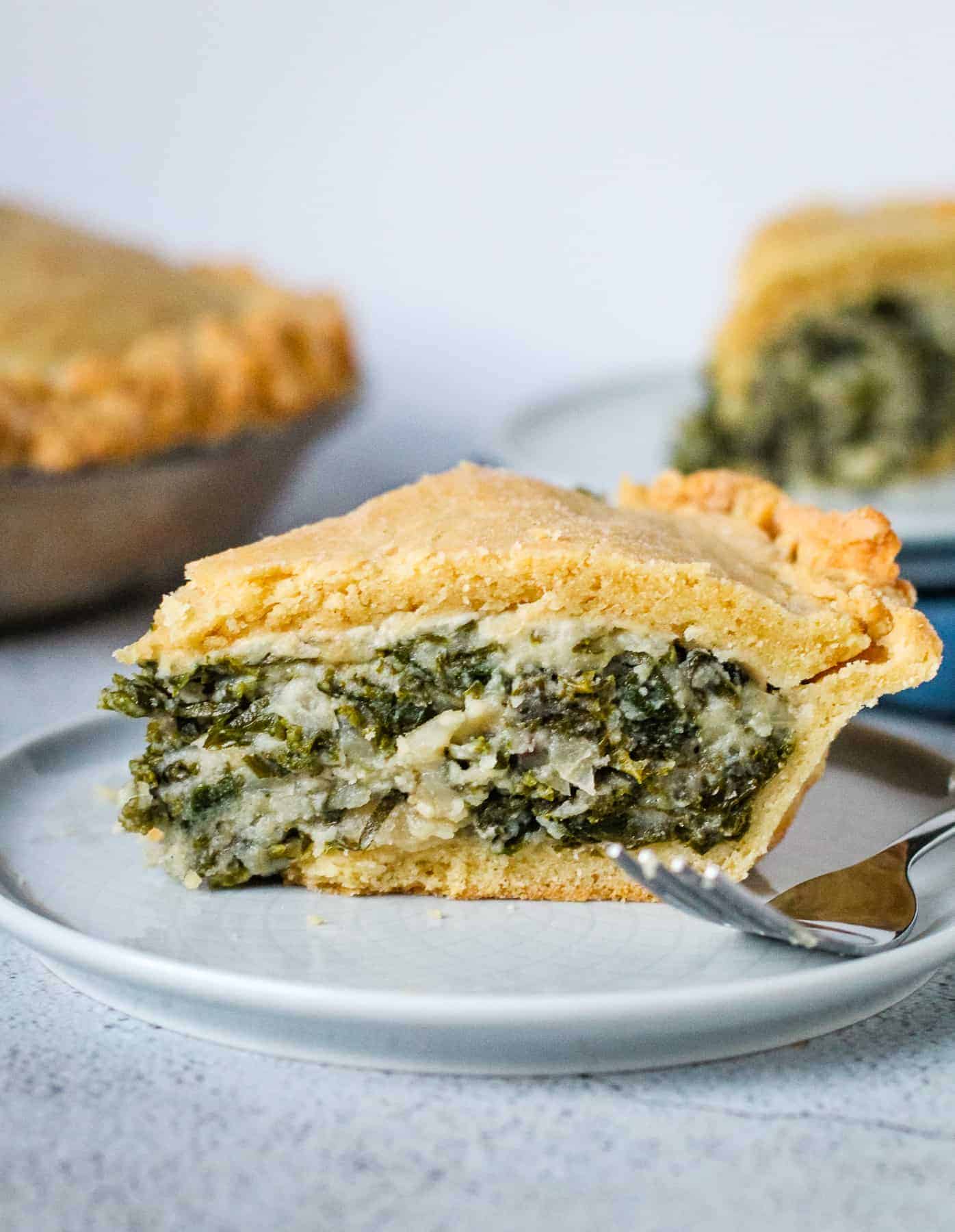 If you like this savory pie, check out these others:
MAKE SURE TO COMMENT BELOW AND TAG @EVERYDAYPIE ON INSTAGRAM IF YOU MADE THIS Kale, Asiago and Potato Pie OR IF YOU HAVE QUESTIONS! HAPPY BAKING!
---
Print
Full Recipe
Kale, Asiago and Potato Pie
This Kale Pie with Asiago and Potato is a hearty dinner pie, or a great vegetarian option for the holiday table. Quick braised kale is combined with cheesy mashed potatoes and tucked inside an easy olive oil pastry to make for one delicious savory pie. The kale and potato filling can be made up to 2 days ahead of time, but the olive oil pie crust must be made right before baking.
Author: Kelli Avila
Prep Time:

00:20

Cook Time:

01:05

Total Time:

1 hour 25 minutes

Yield:

8 slices

Category:

Vegetables

Method:

Oven

Cuisine:

Savory Pie
For Pie Crust:
For Kale and Potato Filling:
2

large (about

1

-

½

pounds) russet potatoes, peeled and diced small

1 tablespoon

olive oil

1

onion, diced

2

cloves garlic, minced

½ cup

(125ml) vegetable broth, or water

2

bunches kale (or other leafy greens), de-stemmed and diced

½ cup

(125 grams) sour cream

¼ cup

(60ml) whole milk

1 cup

(125 grams) asiago cheese, shredded

1 teaspoon

salt

1 teaspoon

pepper

Big pinch of red pepper flakes

4

chives, sliced
Instructions
Make 2 batches of Olive Oil Pie Dough and let rest at room temperature for 20-30 minutes while making the pie filling.

Add potatoes to a medium pot with enough water to cover them by 2". Boil the potatoes until tender, about 20-25 minutes.

While potatoes cook, heat oil in a large saute pan over medium-low heat. Once hot, add onions and cook until beginning to soften, about 6 minutes. Then add garlic and cook for 30 seconds. Next add in the broth and the kale, in batches if necessary, and cook until dark green in color and tender, about 10-15 minutes.

Once the potatoes are tender, drain them, return them to the pot and mash with a potato masher. Add sour cream, milk, cheese, salt, pepper, red pepper flakes, chives and mix until just combined. Taste and adjust seasoning, if necessary.

Place the cooked kale mixture and mashed potatoes in a large bowl and mix together until combined. Set the filling aside to cool slightly.

Preheat oven to 375ºF.

Roll out one of the olive oil dough pieces to a 13″ circle. Fit pastry in a 9" pie plate, making sure to press the pastry into the sides and the bottom.

Place the kale and potato filling inside of the pie crust and smooth over the top.

Roll out the top crust to a roughly 10" circle and place on top of the filling. Seal the edges of the pie dough together by bringing the outer pieces of the bottom crust inward to meet the top of the pie dough and crimp as desired. Pierce a few steam holes in the center of the pie, and brush the top with a thin layer of olive oil.

Bake in the preheated oven on the middle lower rack for 30-40 minutes, until the crust is light golden brown and the filling is completely heated through.
Keywords: Kale Pie, Kale and Potato Pie
Some of the links on this page may be affiliate links. Everyday Pie is a participant in the Amazon Associates Program. As an Amazon Associate I earn from qualifying purchases, at no extra cost to you.