Pâte Sablée is one of the three basic French pastry dough recipes. It's sweet, crisp, and tender and is most commonly used for sweet tart dough. Scroll down for all you need to know to become a Pate Sablee master!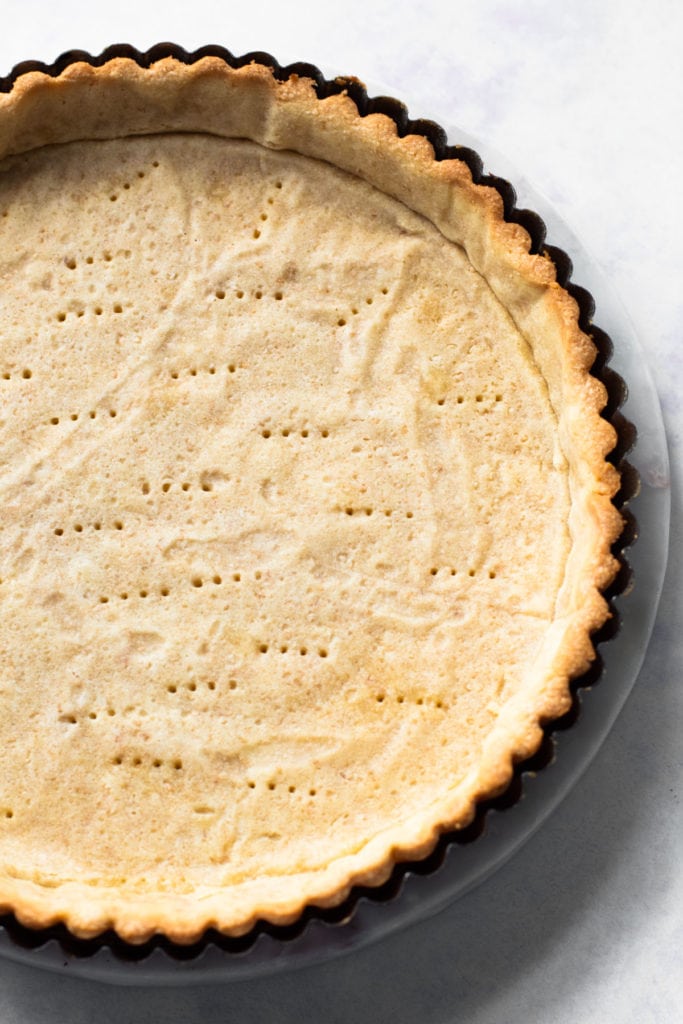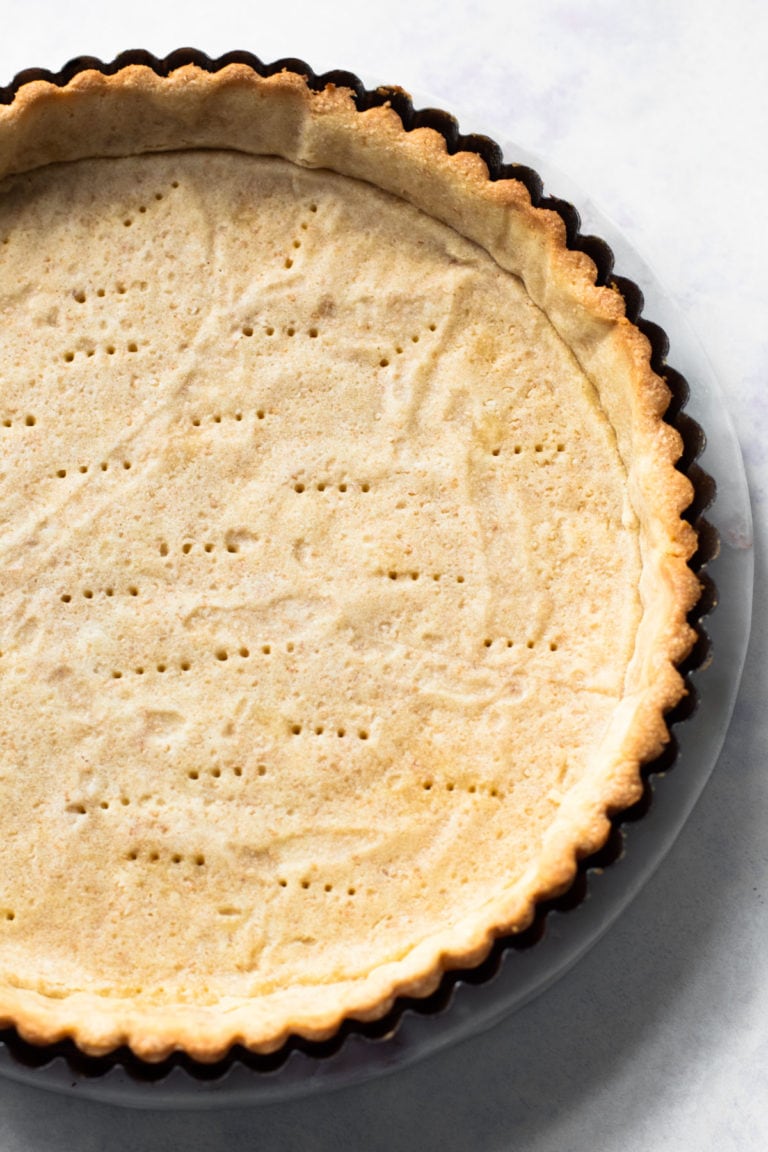 Pate Sablee Recipe (Tart Dough)
The name itself may be intimidating, but Pâte Sablée (pronounced pat sah-BLAY) simply put, is sweet crumbly tart dough. It is sturdy so it holds up to a heavier tart filling, but delicate enough to have that light buttery crispness to it. It's made in a food processor–though you can make it in an electric mixer if you don't have a food processor– and comes together quickly.
Using a dedicated pastry just for tarts is good for a few reasons. Often tarts, especially fruit tarts, are served cold. Choosing the right pastry when it comes to pies or tarts that need to be chilled or ones that are meant to be served cold is important.
Butter-based flaky pie dough, when made right, tastes like a puff pastry or even a croissant. In my opinion, this type of pie dough should not be made to be refrigerated. It can taste stale.
For a pie or tart that needs to be served cold, this crumbly pie crust is a better option. The pastry is almost cookie-like due to its sweetness and much crisper. It holds up well with chilled pies and still has it's integrity when refrigerated.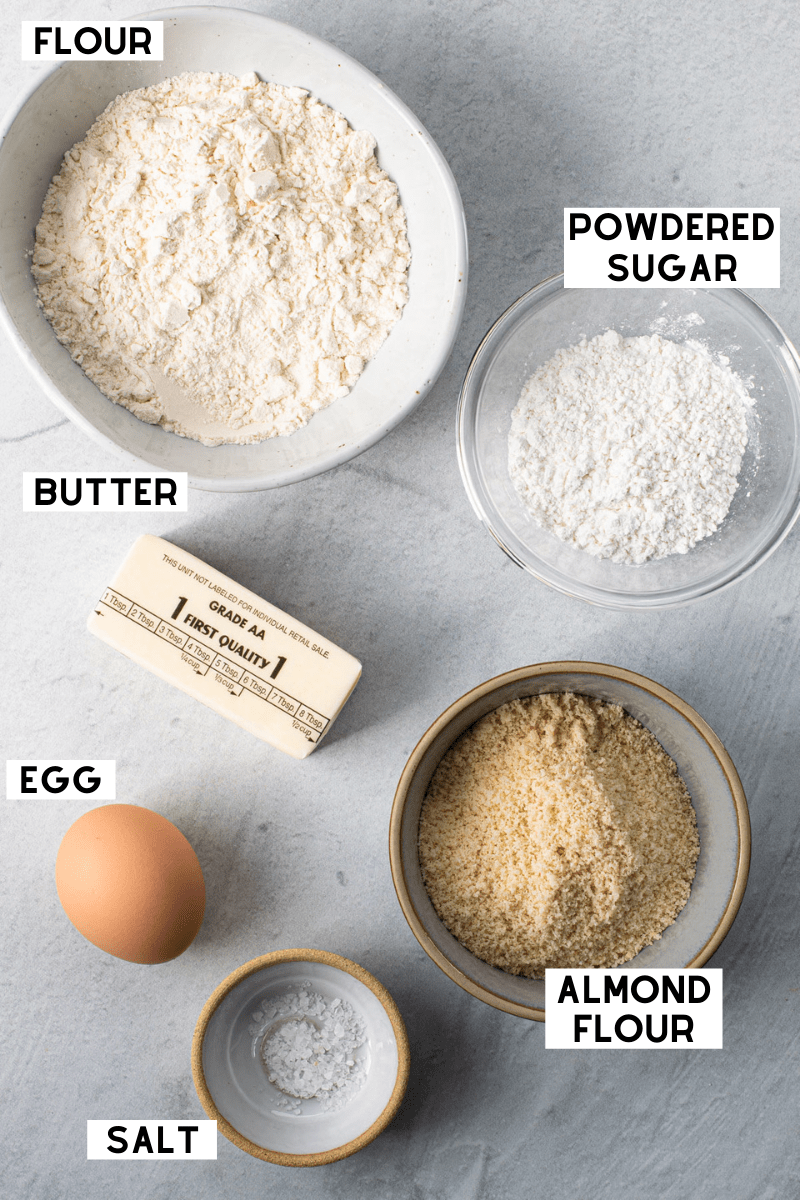 Let's Talk French Pastry
This Pate Sablee is the final addition to my trilogy of french pastry recipes. Let's take a basic look at all of them to discern the differences!
Pâte Brisée: This dough can be used in sweet and savory applications and is the most basic of all pastry recipes. It is also the pastry that most closely resembles American-style flaky pie crusts, but in all reality, it is much easier to make. It is a lot harder to mess up pate brisee, since the goal here is to blend together the butter and flour a bit more than standard flaky pie crust.
Pâte Sucrée: This is also known as sweet pie crust. This pastry uses similar ingredients to flaky Pâte Brisée, with one big exception: granulated sugar. The added sugar not only makes the pie dough sweet, but it also makes it crisper and more tender because of the granulated sugar cuts through the gluten formation. It has some flake to it, but not as much as a flaky pie dough without sugar. It's great if you want a classic pie crust, but for a pie that needs to be refrigerated before serving, such as a chocolate cream pie.
Pate Sablee: This has some of the same ingredients as the previous two, but with some added fat in the form of an egg, and almond flour. In addition to adding extra fat in the form of almond flour, it also adds a nice crisp textural component to the pastry. And powdered sugar is added, instead of granulated sugar
Ingredients Needed for Pate Sable
all-purpose flour

almond flour

powdered sugar

unsalted butter

egg

salt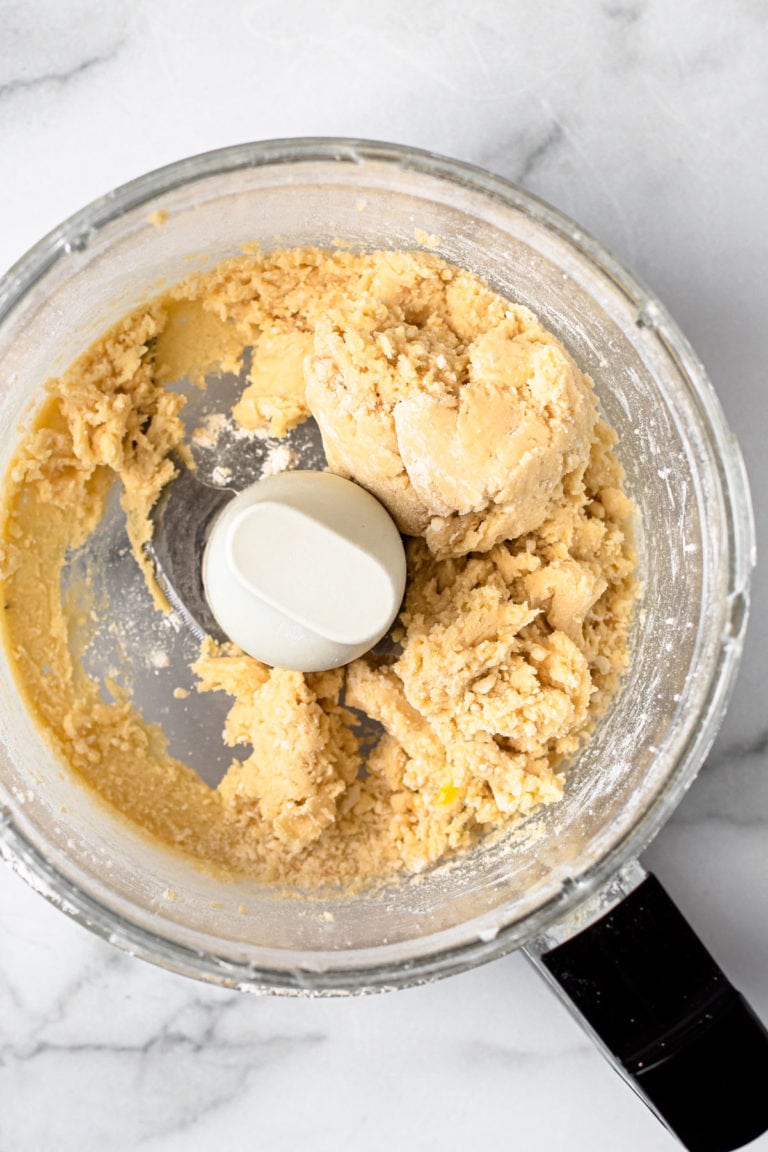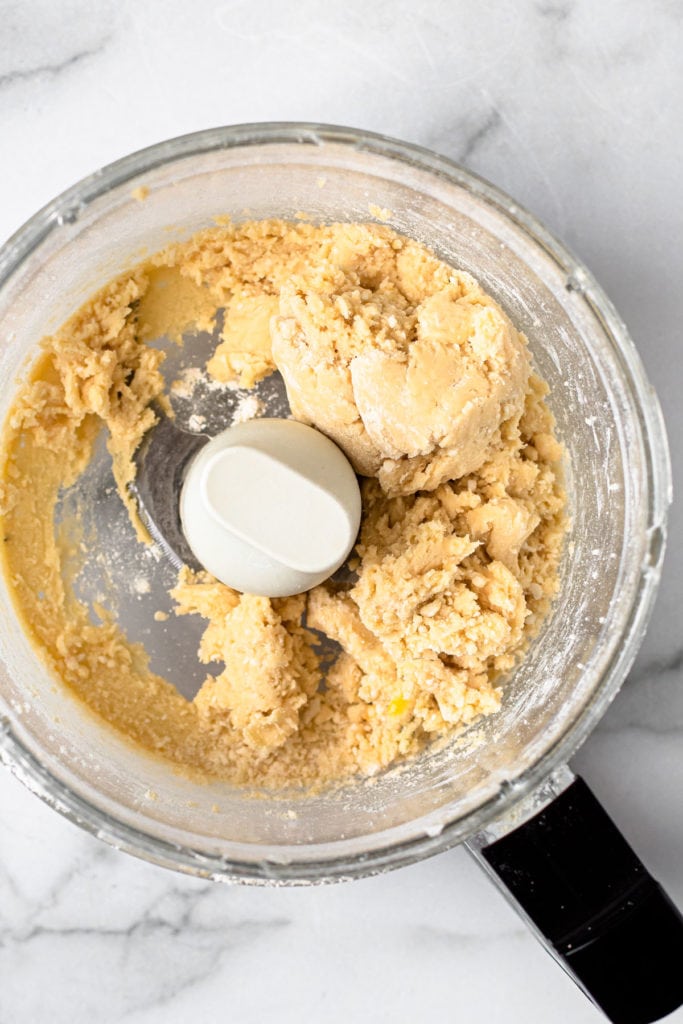 How to Make Pate Sablee Pastry:
These are the essential steps to making this sweet tart dough:
Pulse together the flour, salt and sugar.
Add in the butter pieces and pulse until it is well combined, but the mixture still looks sandy. You'll notice a difference in sound in the processor once all the butter is broken down.
Whisk together the egg in a bowl. While the processor is running, add in the egg in a steady stream. Be careful not to pour it directly on to the bottom of the processor bowl, but into the flour instead. Continue to process until the dough comes together around the blade of the food processor. It can take a minute or two.
Remove the dough from the bowl and place in plastic wrap and wrap tightly.
Roll out the dough while it is in the plastic wrap to help to create an airtight seal and then let rest at least 2 hours, or better overnight.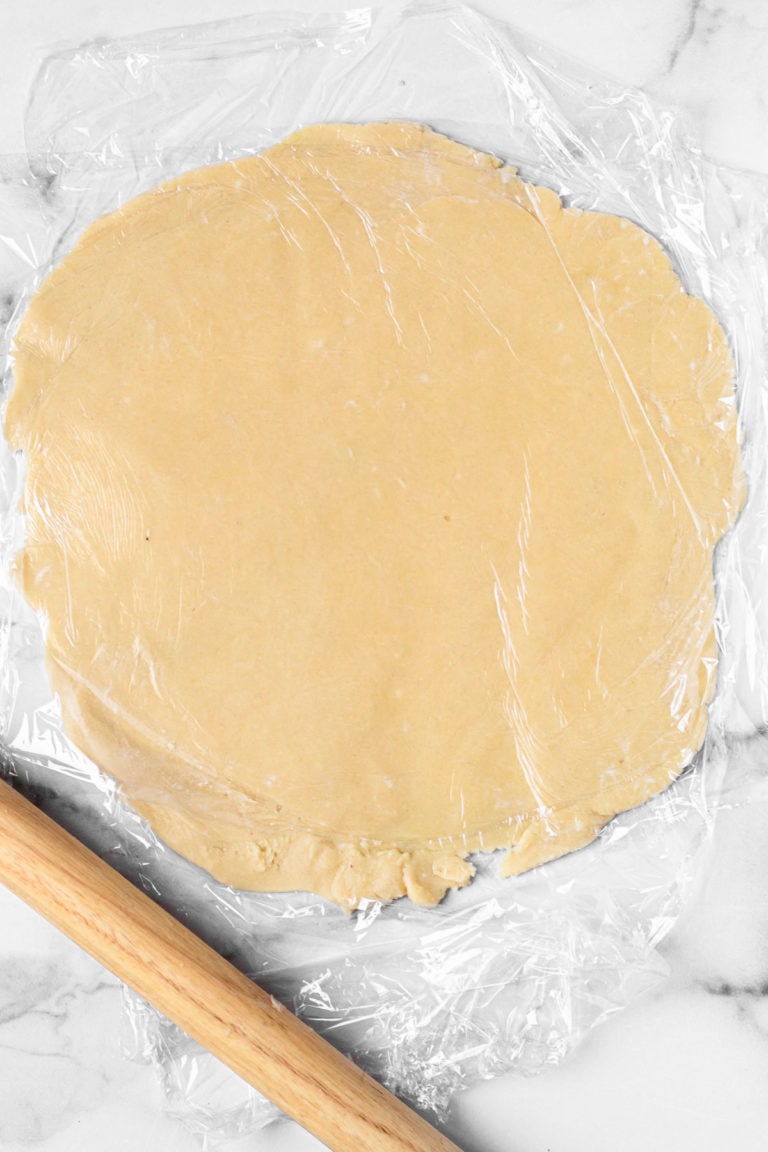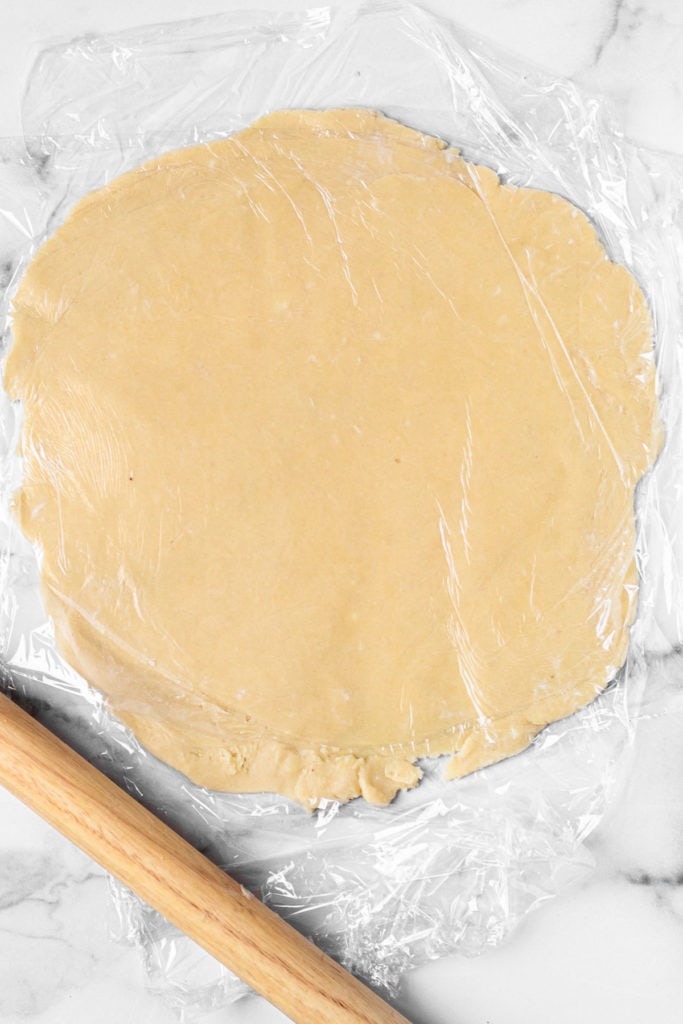 Tips for Working with Sweet Tart Dough
Let the dough chill briefly. This dough has a high fat content and very little added water. That means that you do not need to worry too much about letting it rest to relax any gluten or worry about hydration levels like you do in flaky butter pie pastry. But it does need to chill in the refrigerator for about 30 to 60 minutes. If you try to roll it out right after you make it, it will be too soft.
Weigh your ingredients! An electronic kitchen scale is not a huge investment. You can get one for around $25. I can't recommend enough that if you want to get good at baking, get a scale.
This dough is stickier because of the sugar. You can either roll it on in plastic wrap, which I find useful. Or roll it out as you normally would, but you'll need to use a bit more flour on your work surface so it doesn't stick. If there is a lot of excess flour on your dough after it has been rolled out, you can brush some of it off with a dry pastry brush.
Bake this crust at a lower temperature. This pastry has a high sugar content and almond flour, so I recommend baking it at 375º to ensure it doesn't burn. If you want to use this crust with a pie recipe that requires high temperature for a long time, it probably isn't the best choice. Cover the edges of the pastry if they're are browning too quickly.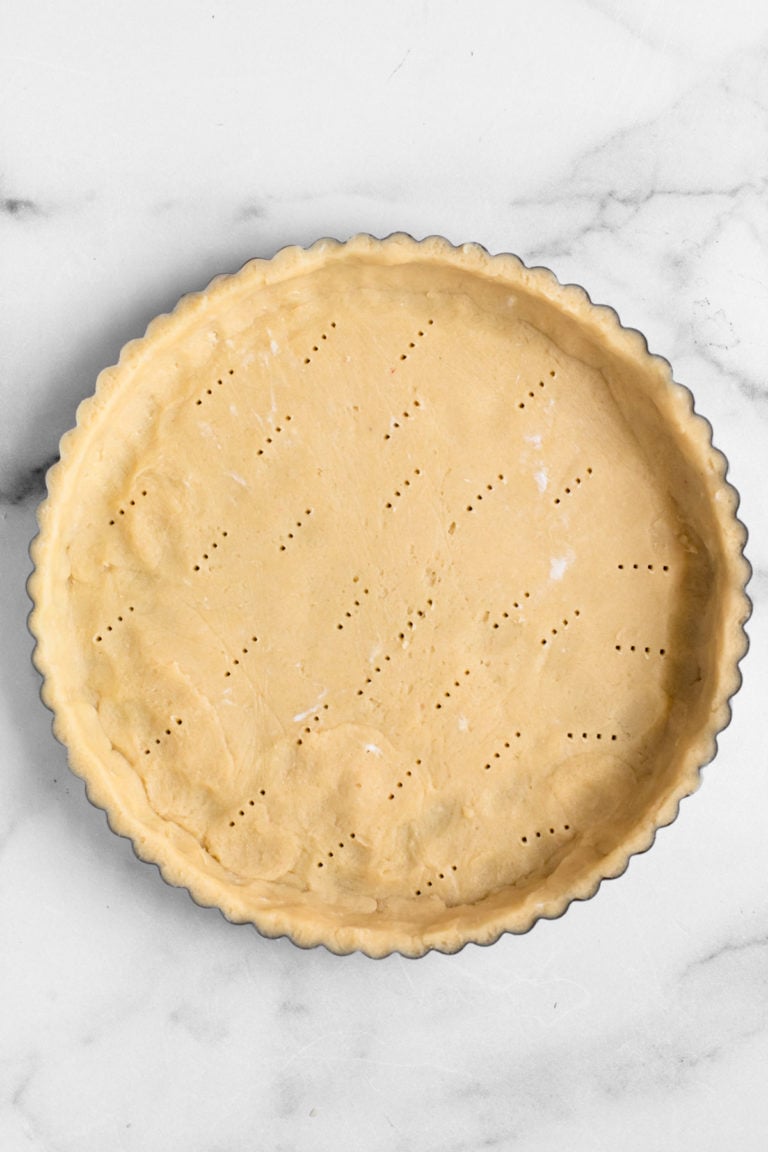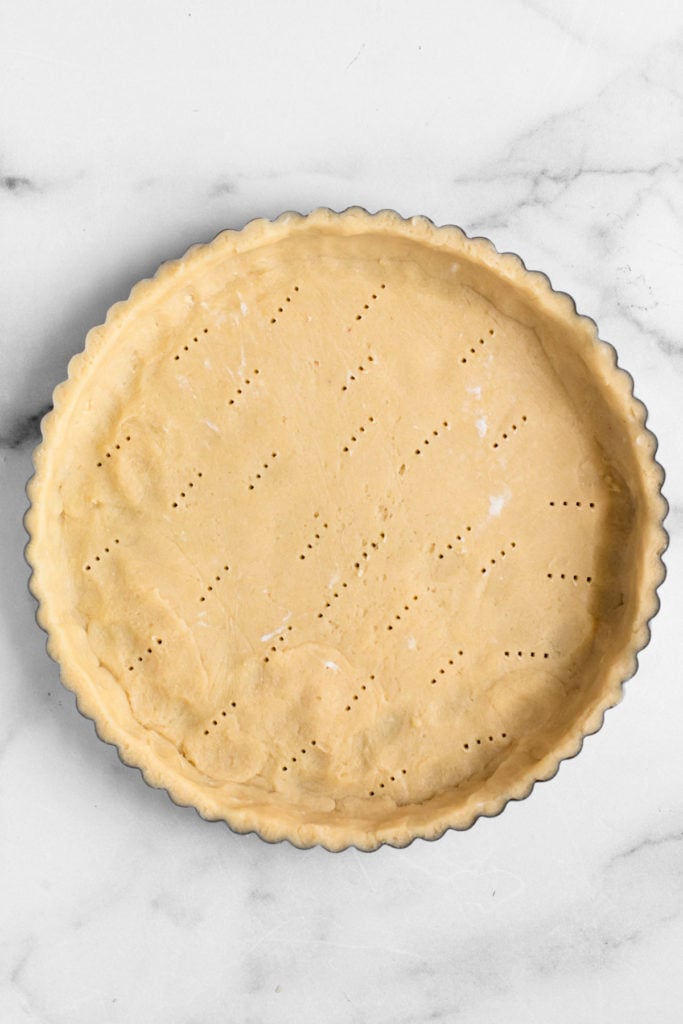 How to Blind Bake Tart Dough
Blind baking means to bake the pie crust empty, without any filling in it. There are a few reasons you would need to blind bake a crust, but the main one is that the pie has a no-bake filling! In that case, you'll need to fully bake the pie crust before adding in the filling.
To achieve the blind bake, start with rolling out the tart dough and placing it in the tart pan. Pierce the bottom of the pastry with a fork to allow the steam to escape when baking.
Place the pastry in the freezer for 10-30 minutes, while the oven preheats to 375ºF. Line the pastry with a parchment round piece of paper and then add pie weights to fill (or dry rice or beans or lentils), making sure to push pie weights to the edges.
Bake for 20 minutes on the lower rack, then remove from the oven and remove the parchment and pie weights. Return to the oven and bake for an additional 5 minutes for a partial blind bake or about 10 minutes for a full blind bake. If the edges start to brown at any point cover them with pieces of aluminum foil.
For more information about blind baking pie crusts, check out this Guide to Blind Baking.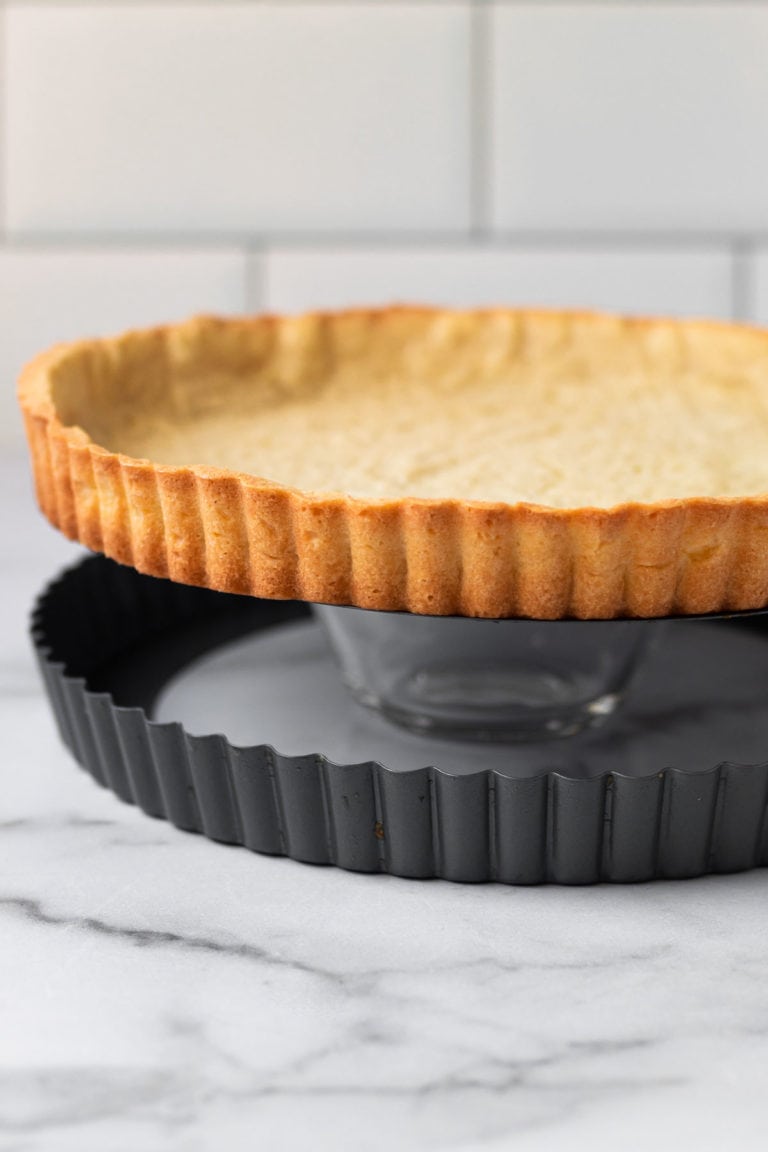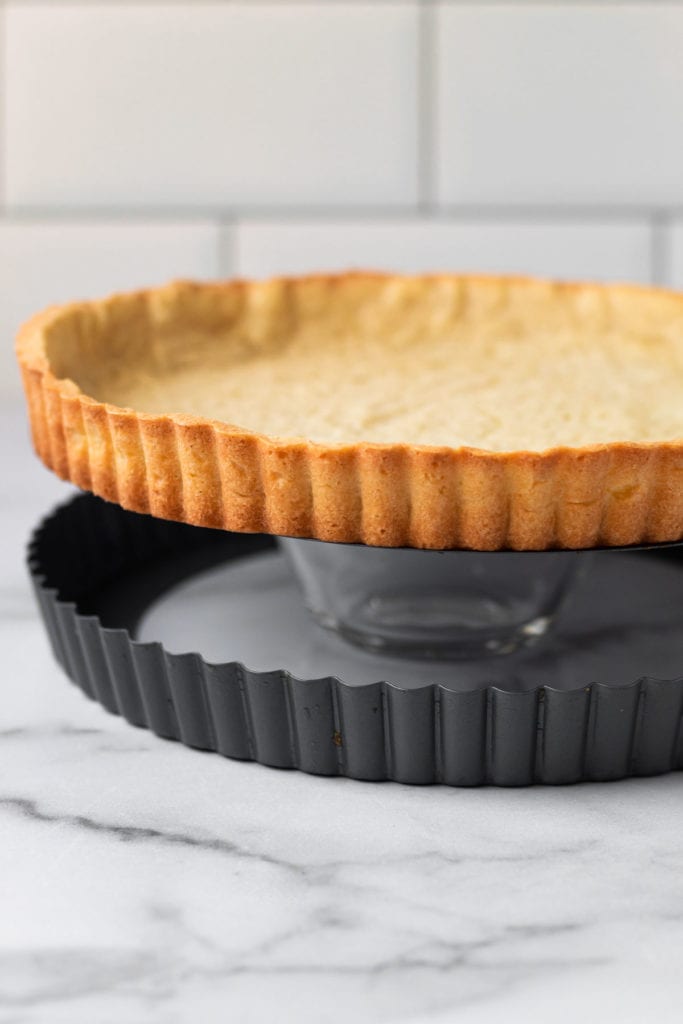 More Pastry Recipes:
Make sure to comment below and tag @everydaypie on Instagram if you make this Pâte Sablée or if you have any questions!
Print
Pâte Sablée (Sweet Tart Dough)
Pâte Sablée is one of the three basic French pastry dough recipes. It's sweet, crisp, and tender and is most commonly used for sweet tart dough.
Author: Kelli Avila
Prep Time:

00:10

Total Time:

10 minutes

Yield:

1 Tart Crust

Category:

Pie Crusts
1 cup

(120 grams) all-purpose flour

½ cup

(50 grams) almond flour

⅓ cup

(40 grams) powdered sugar

½ teaspoon

salt

½ cup

(113 grams) unsalted butter, softened

1

large egg, whisked together
Instructions
Add the all-purpose flour, almond flour, powdered sugar and salt to the bowl of a food processor.
Process for 30 seconds to combine.
Add in the butter and pulse 5 times.
With the motor running pour in the egg and let the dough process until the dough forms together into a cohesive ball around the blade.
Scrape the dough from the bowl and place it in a piece of plastic wrap and form into a disk and wrap tightly.
Using a rolling pin, roll the dough out until it stretches to the corner of the plastic wrap to ensure a tight seal.
Refrigerate for at least 2 hours, but preferably overnight, before use.
Notes
See the body of the post for tips for working with this dough, including baking it and rolling it out.
Some of the links on this page may be affiliate links. Everyday Pie is a participant in the Amazon Associates Program. As an Amazon Associate I earn from qualifying purchases, at no extra cost to you.