Pâte Brisée is a crisp, tender, and buttery pie pastry that can be used for savory or sweet recipes. It can be made by hand, or in a food processor. Scroll down for all you need to know to become a pate brisee master!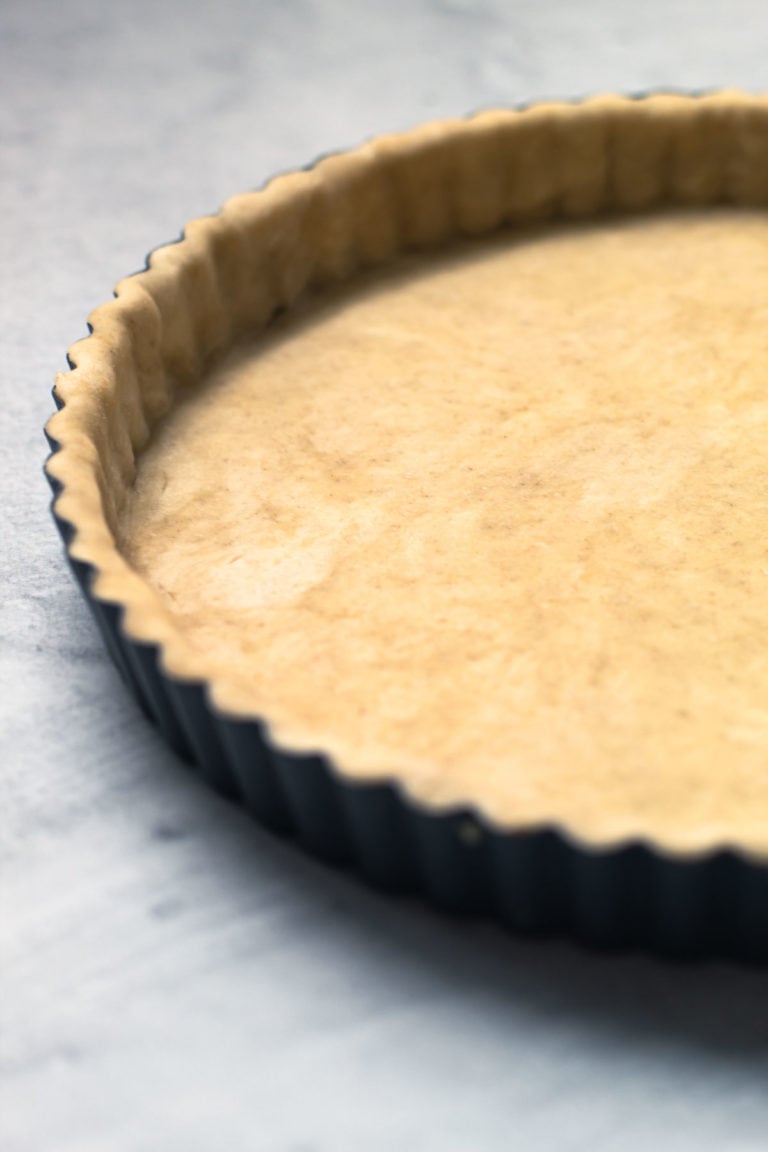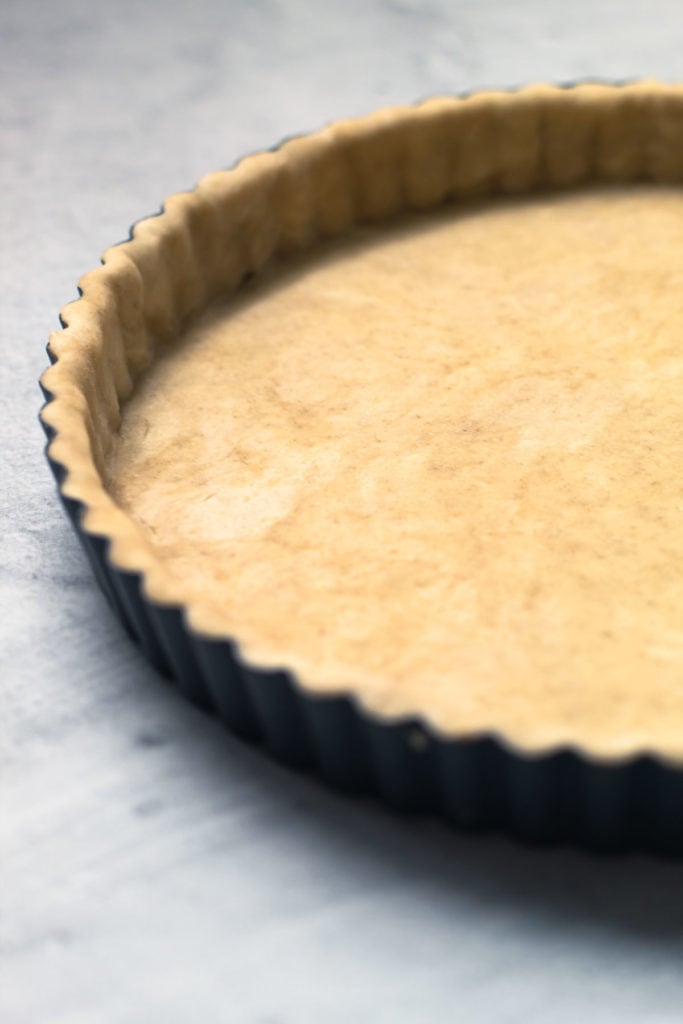 The name itself may be intimidating, but Pâte Brisée (pronounced pat bree-ZHAY) simply put, is buttery pie dough. However, it's not quite the same as the pie dough we come to think of here in the US. In the US, we love to think of having the flakiest pie dough as the ultimate goal. With that said, many of the recipes coming from American bakers, including my own staple all-butter pie dough on this site, use techniques to achieve the flakiest pie crust possible.
But, I've always had an issue with flaky pie dough being an all-purpose dough. The main reason for that is that super flaky pie dough, in my very humble opinion, contains a lot of butter, and in order to be light and tender, that pie crust must be at room temperature.
Once it goes into the refrigerator the butter solidifies, and the crust becomes hard and it loses that ethereal softness to it. Cold buttery flaky pie dough can taste stale when served straight from the refrigerator, the same way a croissant or puff pastry might taste stale when very cold. But, pâte brisée is a bit different!
So what makes pâte brisée different? Well, it's definitely buttery, and it is flaky, but not in the same way. This standard French-style pie crust is a bit more sturdy, with tighter "crumb" to it, and resembles what they call a shortcrust pastry across the pond in the U.K. The butter is worked into the dough just a bit more, and a final blending of the fat into the flour is performed at the end using a french technique known as fraisage. This final blending results in crumbly and flaky pastry, which is really delicious.
Because the butter is worked in the dough just a bit more, I find this recipe holds up well even after it has been refrigerated. And, it's a bit less precarious to make than standard flaky pie pastry. So that's good news all around!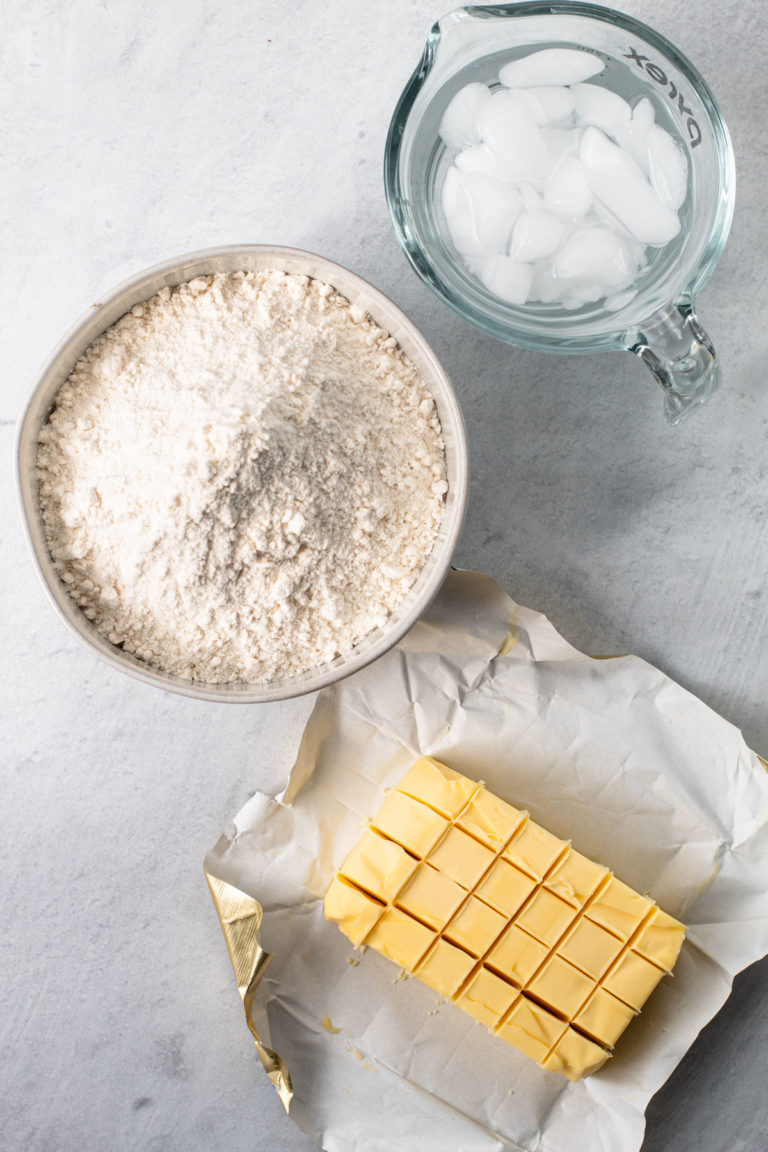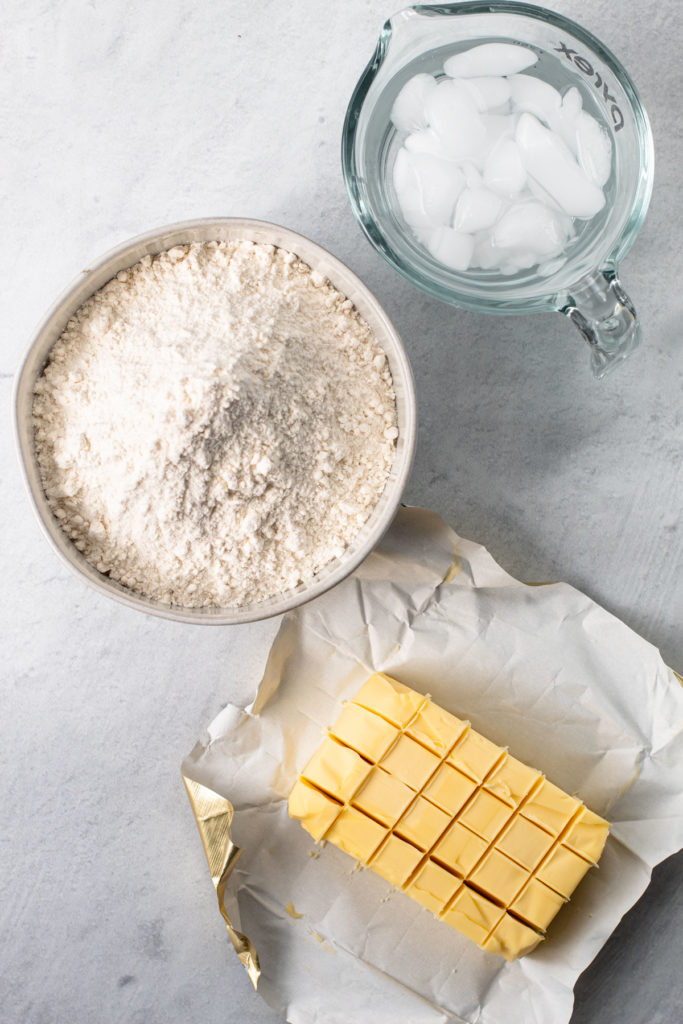 Let's Talk French Pie Pastry
There are three main French pie pastry recipes. Let's take a basic look at all of them to discern the differences!
Pâte Brisée: This dough can be used in sweet and savory applications and is the most basic of all pastry recipes. It is also the pastry that most closely resembles American-style pie crusts (see below for more on that), but in all reality, it is much easier to make. It is a lot harder to mess up Pâte Brisée since the goal here is to blend together the butter and flour a bit more than the standard flaky pie crust.
Pâte Sucrée: This is also known as sweet pie crust. This pastry uses similar ingredients to Pâte Brisée, with one big exception: granulated sugar. The added sugar not only makes the pie dough sweet but also makes it crisper and more tender because the granulated sugar cuts through the gluten formation. It has some flake to it, but not as much as a flaky pie dough without sugar. It's great if you want a classic pie crust, but for a pie that needs to be refrigerated before serving, such as a chocolate cream pie.
Pâte Sablêe: This has some of the same ingredients as the previous two, but with some added fat in the form of an egg and almond flour. In addition to adding extra fat in the form of almond flour, it also adds a nice crisp textural component to the pastry. Lastly, powdered sugar is added, instead of granulated sugar. This is most often used for sweet-tart shells.
(American) Flaky Butter Pie Crusts: If you are in any way interested in baking in the US, you know that flaky pie crust is hailed as the very best. It should be light, flavorful and with maximum flakiness. I like to think of American-style pie crust as a cross between a pie crust and rough puff pastry, at least when it's done right. It's slightly different from Pâte Brisée in that you leave the butter in larger chunks in order to achieve those flaky layers. There are a bit more rules about making this dough, in order to maintain that cold butter and the right proportion of ingredients.
How to Make Pâte Brisée
There are a few different methods you can use to make Pâte Brisée, though this recipe primarily focuses on making it by hand.
To make it by hand, in terms of tools, you'll only need a bowl and a spatula. Some people like to use a pastry cutter to combine the butter into the flour, but I find if you work quickly, rubbing the butter into the flour with your finger works more efficiently. Follow the directions in the recipe below for easily making this by hand.
Can this be made in a food processor?
If you want to skip the slight manual labor involved in making Pâte Brisée by hand, you can easily make this in a food processor. Though using the food processor here results in slightly less flakiness.
To make it in a food processor:
Add the flour and sugar to the food processor and pulse to combine.
Add in the butter and pulse until it is broken down into pieces no bigger than the size of a pea.
With the motor running, add in the water and let the machine run until the dough comes together as a cohesive around the blade.
You'll be skipping the step of "fraisaging" the dough (see more on that technique below) since the food processor does the work of bringing it together for you. Because of this though, it won't be quite as flaky.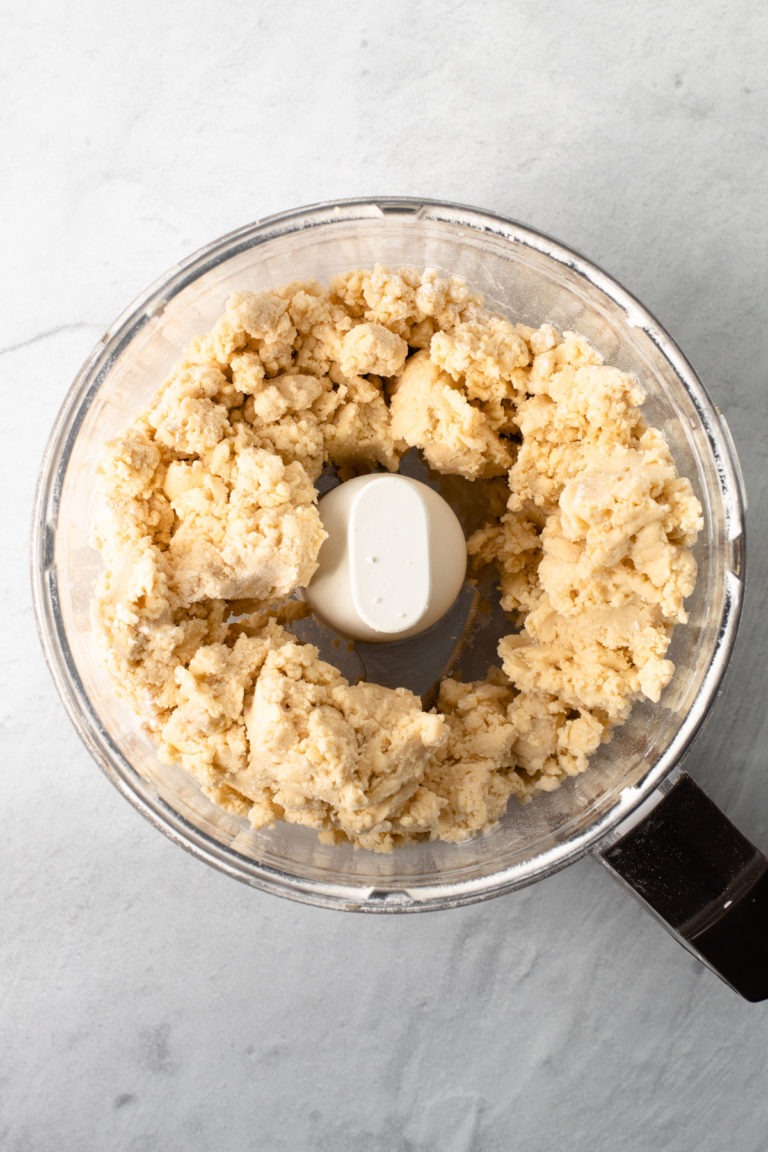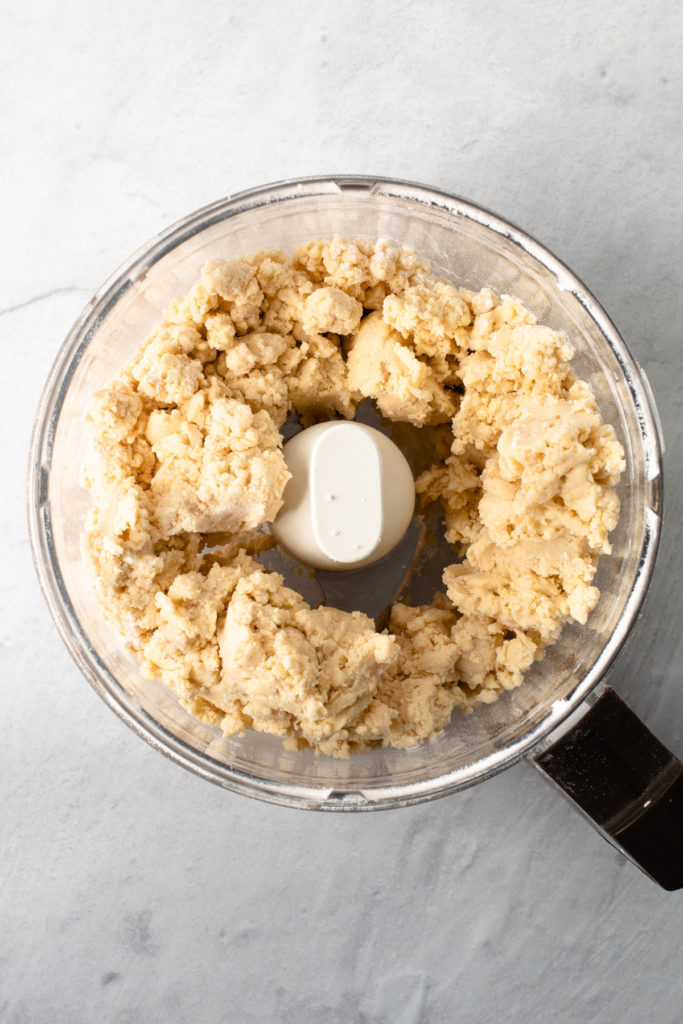 What is Fraisage and Why It's Done Here
Fraisage is a French technique of blending the fat into flour. You use the heel of your hand to spread the fat into the flour to create long, thin streaks of butter. This technique is the final blending of the butter into the flour and helps create those nice crumbly flaky layers.
To fraisage, you want to make sure you start out with properly made dough. The dough should not be fully blended (that would mean you have overworked the dough) but instead, it should be crumbly.
Next, you want to transfer the dough to a work surface. I like to lay it out in a horizontal line. Using the heel of your hand, quickly press forward and down on a small pile of dough, streaking the butter against your work surface as you go. Fraisage your way down the line. Once you have worked most of the dough, quickly use a bench scraper to gather it all up together.
This pastry recipe makes enough for two pie doughs. So you'll divide the dough in half, and place it in plastic wrap to chill/rest.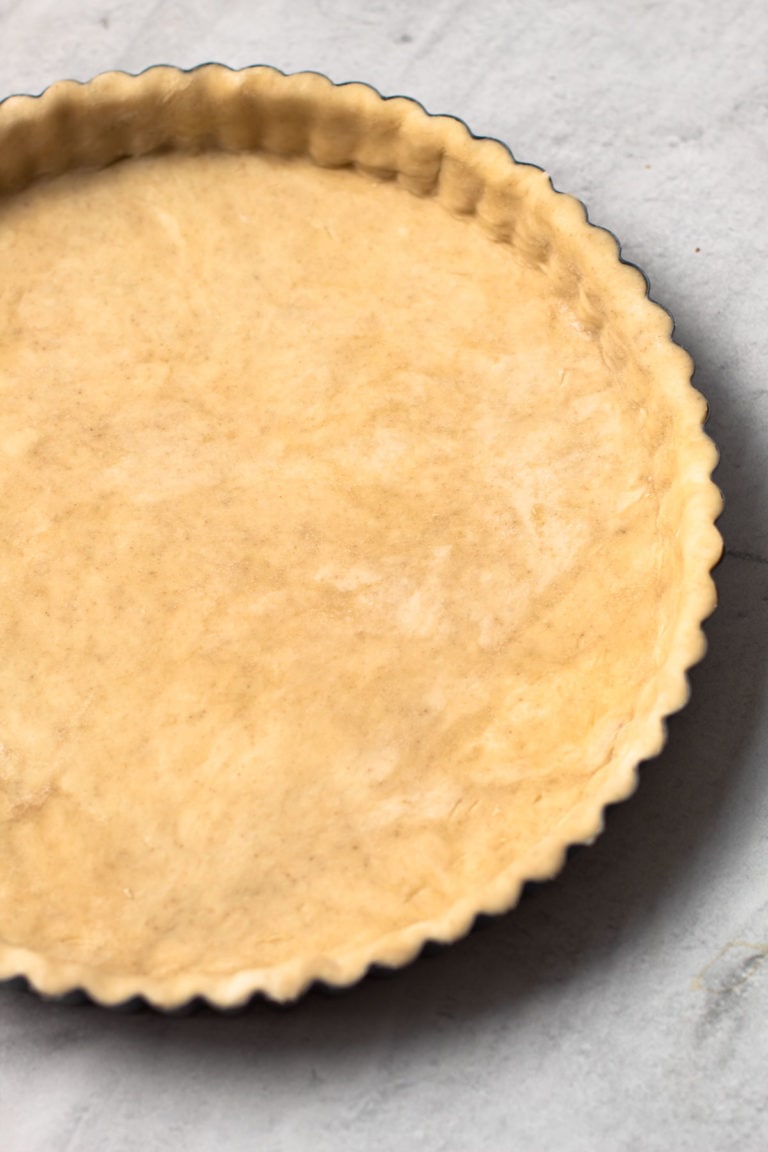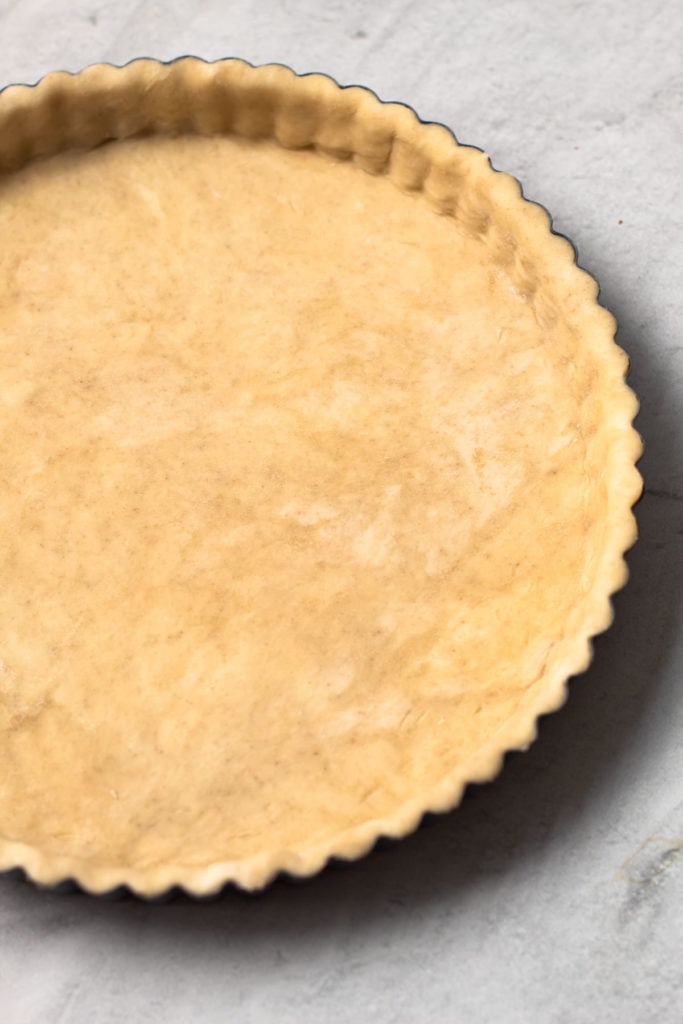 Tips for Making Pâte Brisée
Follow these tips for making and baking Pâte Brisée successfully.
Weigh your ingredients! An electronic kitchen scale is not a huge investment. You can get one for around $25. I can't recommend enough that if you want to get good at baking, use a scale.
Use good quality butter and flour. Both of these ingredients can vary wildly in quality. Poor quality butter is going to have higher water content and less fat. Lower quality flour can vary in the protein structure and that can affect your final pie crust. I also suggest salted butter for this recipe--salted Kerrygold butter is my favorite for this recipe.
Let the dough rest. If you can, the dough should rest at least overnight. If you absolutely need to, you can make the dough and bake it all on the same day, but you must let it rest at least 2 hours before you roll it out.
Work quickly, especially if your kitchen is hot. If the kitchen is hot, utilize the freezer or refrigerator through the pastry-making process to ensure the butter doesn't turn soft. If it's very hot in the kitchen, freeze the butter for 15 minutes before working with it, especially if you are using the food processor. Very soft butter will make it harder to properly make the pastry.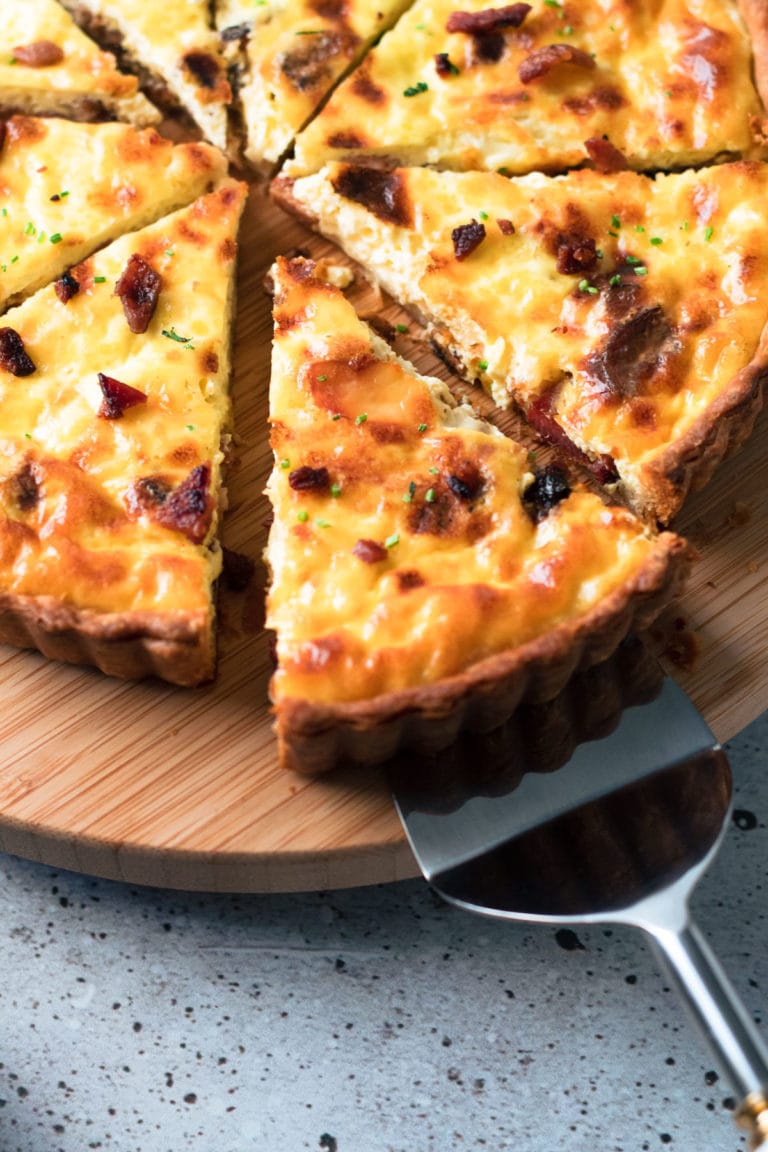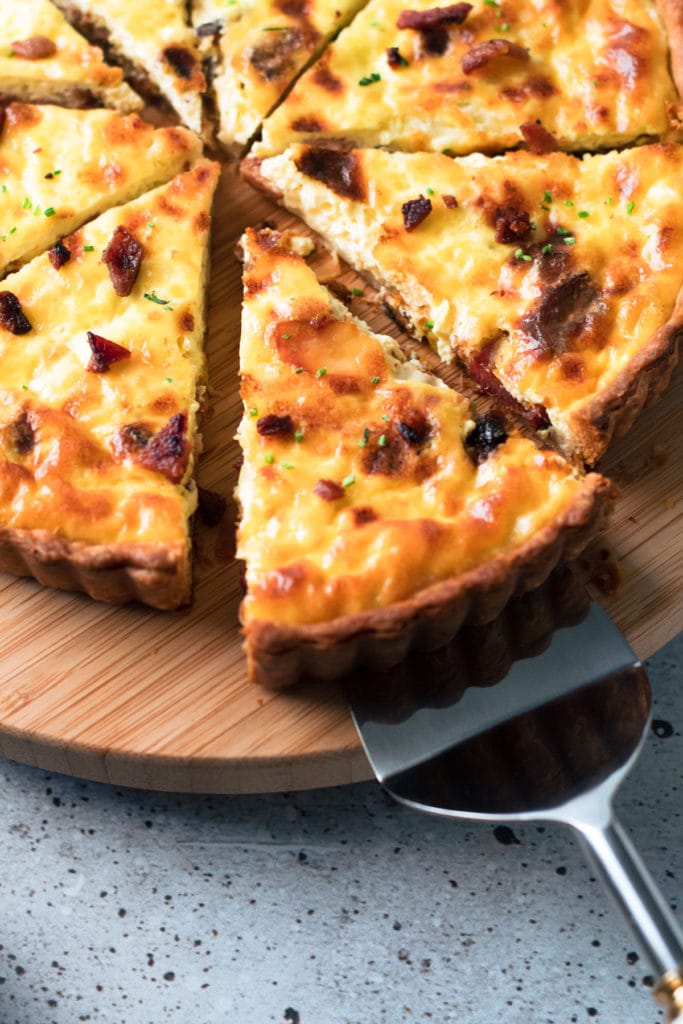 Recipes to use Pâte Brisée:
I am so honored when you make a recipe from my site! If you make Pâte Brisée, please leave a comment and a star rating with your experience! If you have any questions about this recipe, feel free to comment here, too!
Print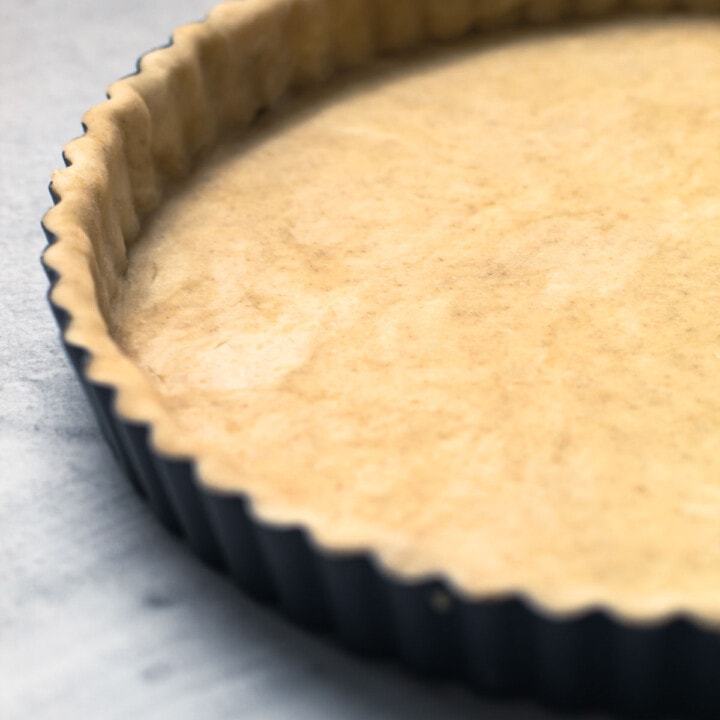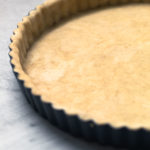 Pâte Brisée (Shortcrust Pastry)
Author:

Kelli Avila

Prep Time:

00:10

Total Time:

10 minutes

Yield:

2 Pie Crusts

Category:

Pie Crust

Method:

By Hand
---
Description
This dough can be used in sweet and savory applications and is the most basic of all french pastry recipes. It is a bit more sturdy and resembles what they call a shortcrust pastry in the UK. The butter is worked into the dough just a bit more, and a final blending of the fat into the flour is performed at the end using a french technique known as fraisage. 
---
3 cups

(

360 grams

) all-purpose flour

1 cup

(

224 grams

) cold salted butter, diced into ½" pieces

½ cup

(

120 grams

) ice water, more if needed
---
Instructions
Add the flour to a large bowl.
Toss in the cold butter pieces and coat with flour. Using your fingertips, start working the butter into the flour. Continue until the butter is broken down into small pieces, no bigger than the size of a pea.
Drip the ice water around the edge of the bowl, and use a rubber spatula to evenly distribute the water into the flour. If there is enough water the dough should easily squeeze together with your hands. If needed, you can drip in more water into any dry spots (especially check the bottom of the pile), just enough to bring the dough together.
Empty the dough mixture onto a large work surface to prepare to fraisage the dough for the final blend of butter and flour. Spread the mixture out roughly into a horizontal line in front of you. Taking the heel of your hand, rapidly press the dough onto the board and streak it forward about 3-5 inches into a thin line. Repeat this process until most of your dough has been worked.Using a bench scraper, scrape up the dough in chunks and stack it into two piles.
Form each dough pile together.
Place each in a piece of plastic wrap and wrap tightly. Using a rolling pin, roll the wrapped dough out until it stretches to the corner of the plastic wrap. 
Refrigerate for at least 2 hours, or up to two days.
---
Notes
If you don't have salted butter (even though I really recommend it here) you can add in ½ teaspoon of kosher salt to the flour.
This recipe makes enough for two pie crusts. It can easily be halved, if necessary.
Some of the links on this page may be affiliate links. Everyday Pie is a participant in the Amazon Associates Program. As an Amazon Associate I earn from qualifying purchases, at no extra cost to you.