When brownies meet pecan pie, this rich, dark chocolate pie is born. Eat it slightly warm and topped with vanilla ice cream for the ultimate comfort food.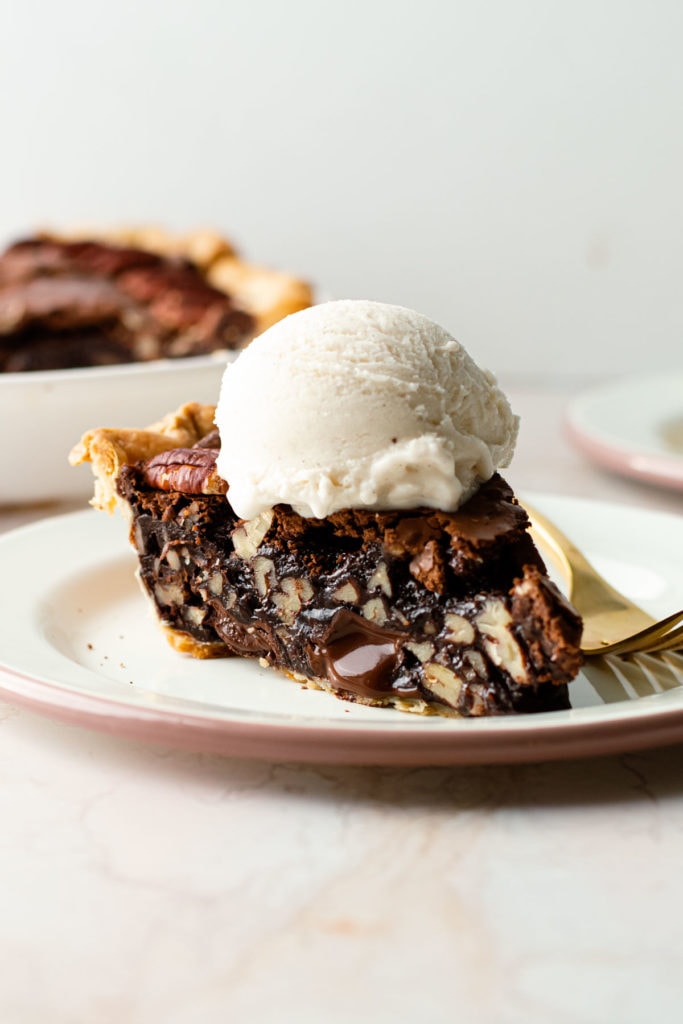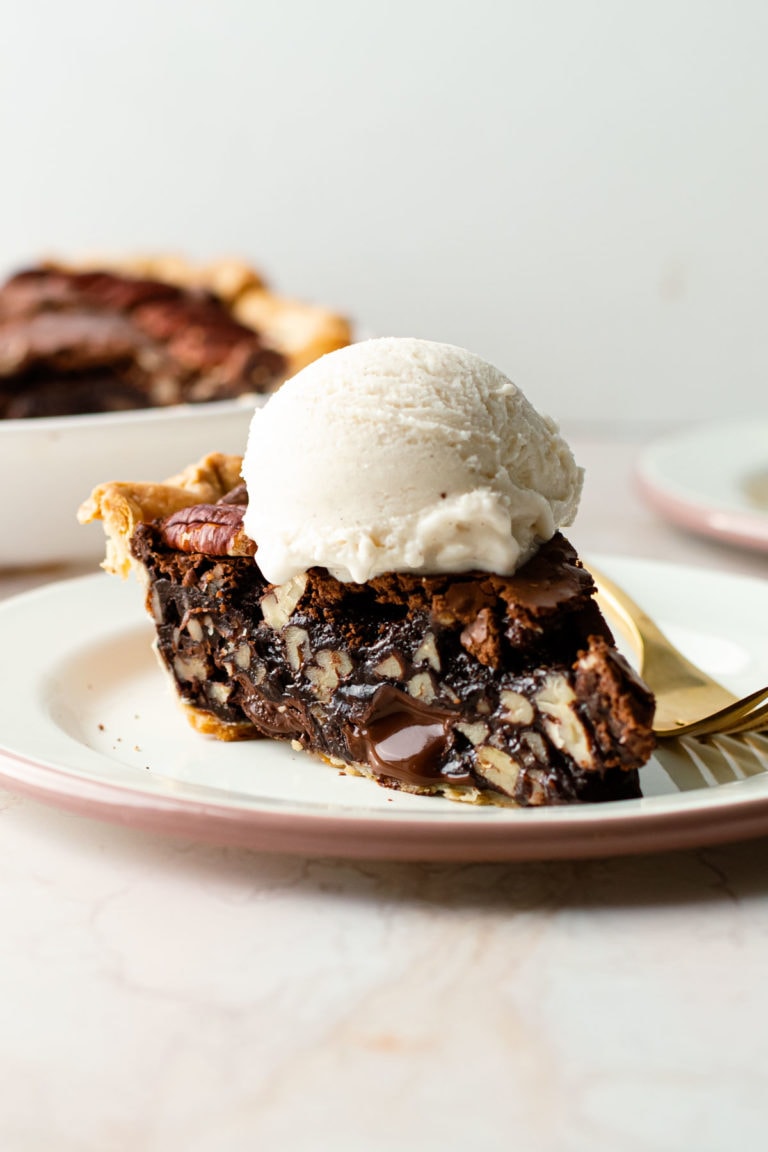 This is THE ultimate chocolatey pecan pie. It's as if a pecan pie was baked in a super fudgy brownie with a pie crust wrapped around it. It's indulgent and decadent in all the best ways. Plus, it's made with simple ingredients you likely already have on hand (for the most part) and it's a pretty straight-forward recipe.
Be sure to check out the video below of me making this! It's located right above the full recipe.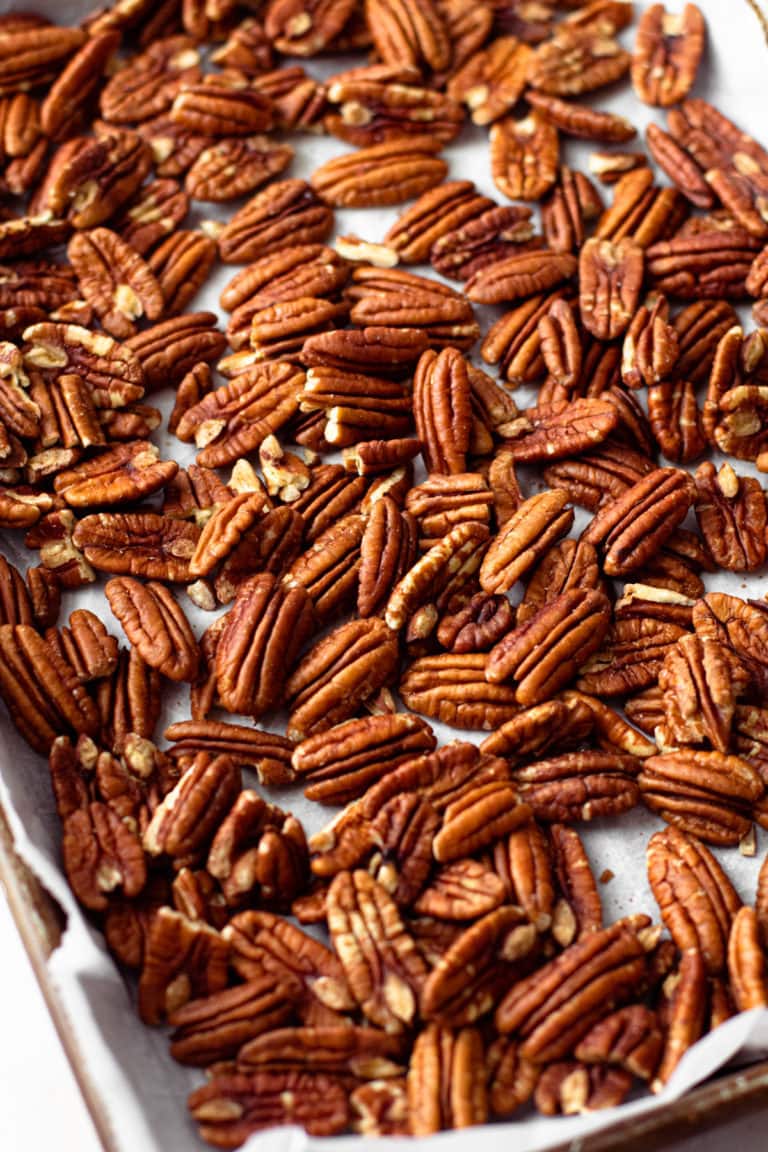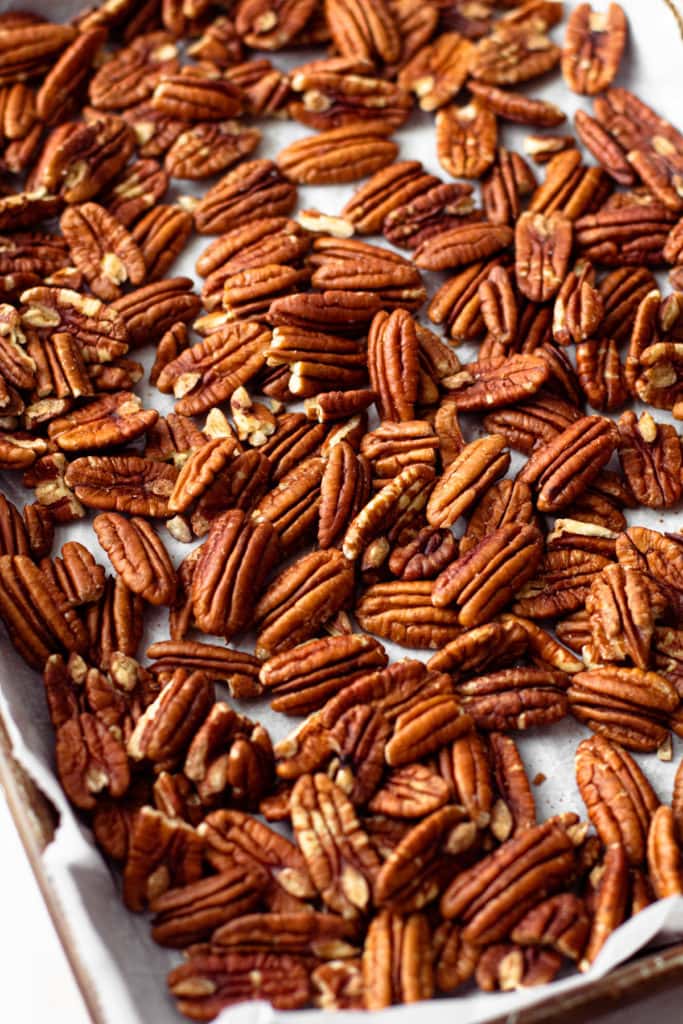 Overview of Ingredients Needed
Here is an overview of the ingredients needed for this recipe. The full recipe is listed below in greater detail.
single pie crust
pecans
unsalted butter
salt
light brown sugar
granulated sugar
vanilla extract
eggs
all purpose flour
natural cocoa powder
chopped chocolate or chocolate chips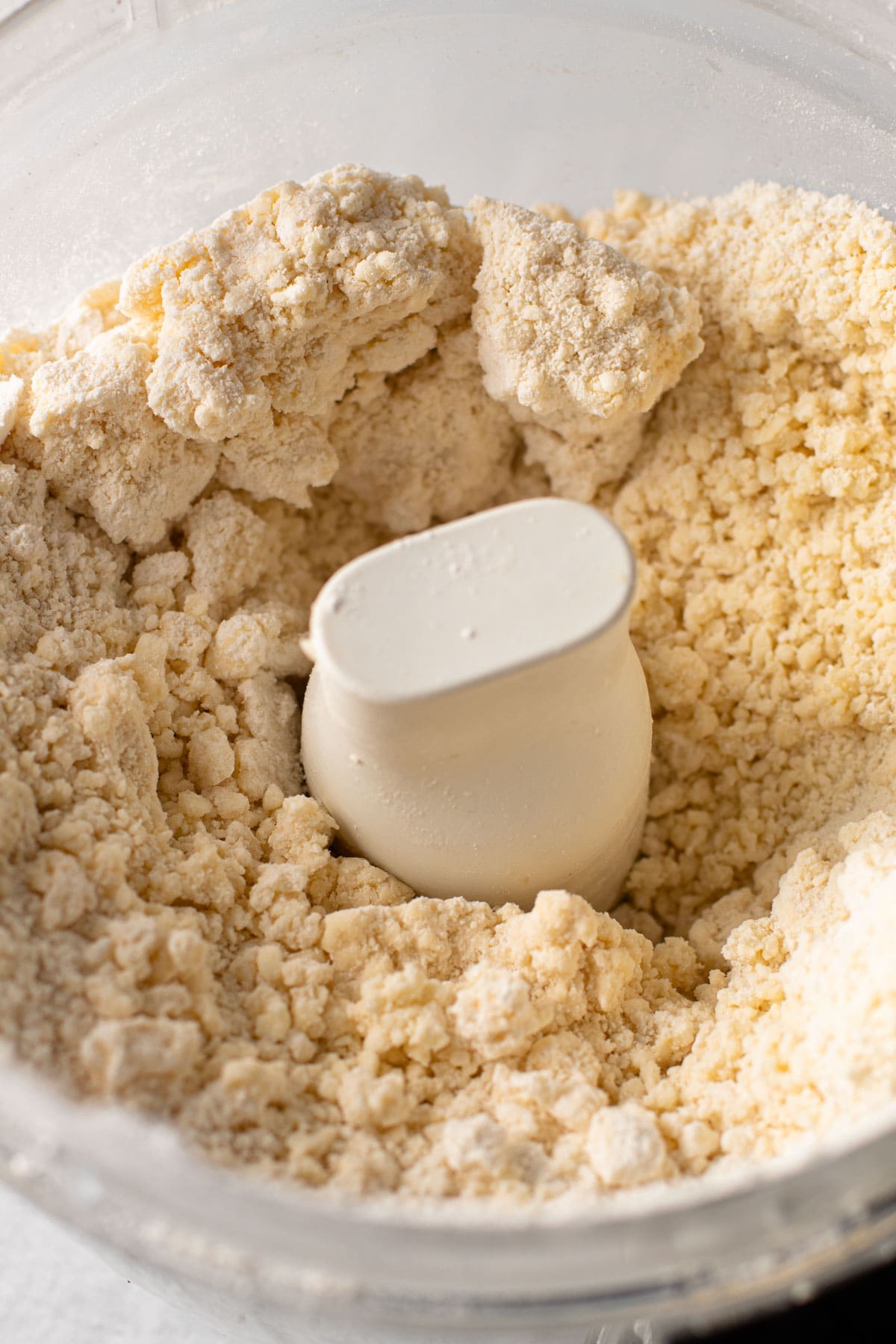 Other Pie Crust Options
This pie tastes best with a homemade buttery pie crust. This All Butter Pie Crust or Cream Cheese Pie Crust is perfect here. If you like things a little sweet, you can bake it in this Pâte Sucrée. This would also be pretty darn delicious in a Chocolate Pie Crust.
To Blind Bake or Not
This pie actually lives on the edge of whether or not you need to blind bake. You might be able to get away with not blind baking it, and still getting a crust that is fully cooked through, but there also is a chance, depending on how cold your pie crust is, and how hot your oven is, that there might be a bit of a soggy bottom directly in the middle of the pie.
So, I ultimately recommend you partially blind bake the pie crust, before adding in the brownie pecan batter.
Blind baking simply means, baking the pie crust before adding in the filling. Check out this Blind Baking Guide for more info, though the directions for how to do it are listed below.
How to Make a Brownie Pecan Pie
If you are making a homemade pie crust, I always suggest making it ahead of time, by a day. Check out this extensive recipe for the pie crust for more information.
Once you have your pie crust blind baked, you can make the filling in an electric mixer.
First, you'll cream together the butter, sugars and vanilla until very light and fluffy. This takes about 3 minutes to achieve, so don't be tempted to shorten this process.
Then, add the eggs, one a time, and beat until fully combined, scraping down the sides of the bowl in between.
Next, add in the dry ingredients and slowly mix together either on a low speed or by hand.
At this point, all that is left to do is add in the pecans and chocolate chunks!
Finally, transfer the batter to the prepared pie crust, and bake.
I decided to add pecans to the top of the pie, to give the signal as to what is actually in the pie. However, you can't add them before you bake, because they'll sink in! Instead, I pulled the pie out of the oven 15 minutes after it started baking, and placed them on top of the batter then. This is completely an optional step. Skip it if you don't care about that minor detail.
The pie is going to puff up significantly during baking. It will collapse a bit after cooling, which just means the perfect space for putting a big scoop of ice cream!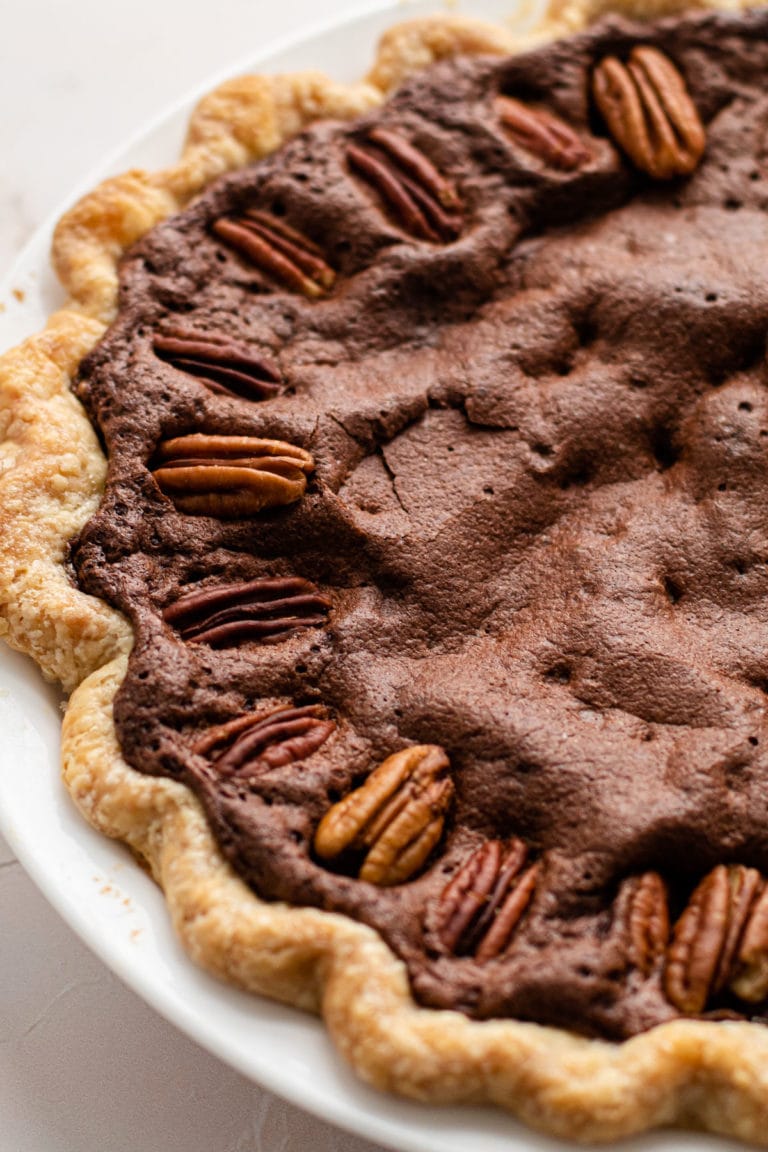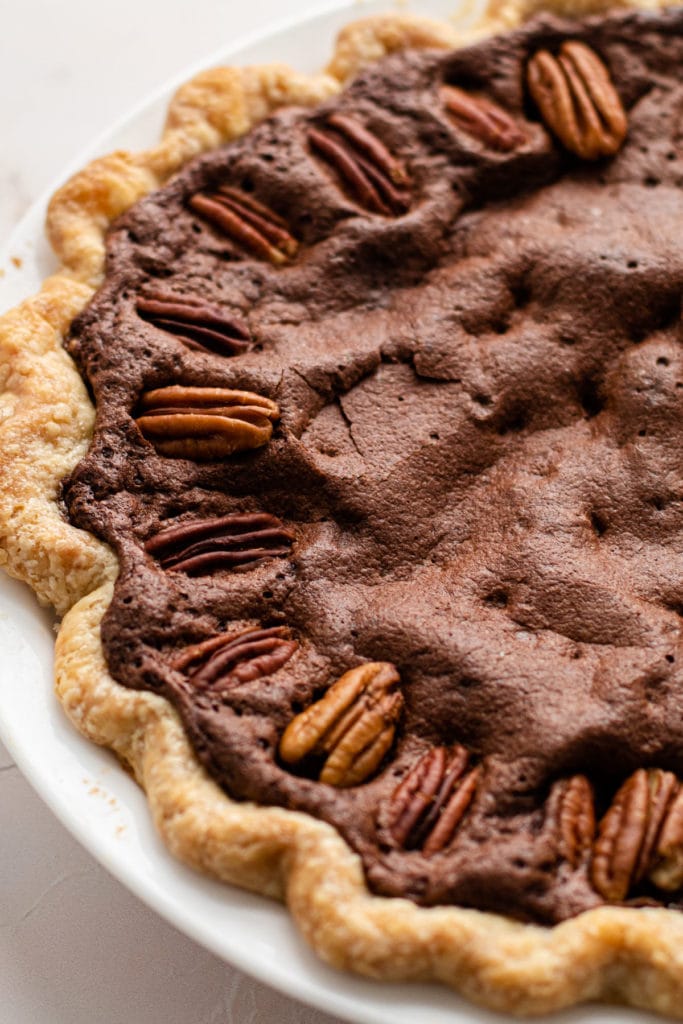 How to Serve It
There is no doubt, this pie needs to rest before you slice into it. I actually advise you bake this pie the day before you plan to serve it. It needs time for the chocolate to cool and firm up. If you slice into it directly from the oven, you'd get more of a warm chocolate pudding in a pie crust. I won't lie, it's delicious that way too....but not exactly pie.
Want to eat it warm, though? You still need to let it rest, and then once it's set up, you can place it back in the oven (or place an individual slice in a toaster oven) to briefly warm back up that chocolate. It'll only need a few minutes.
Serve as is, or with whipped cream or a big scoop of vanilla ice cream for a pretty fabulous dessert.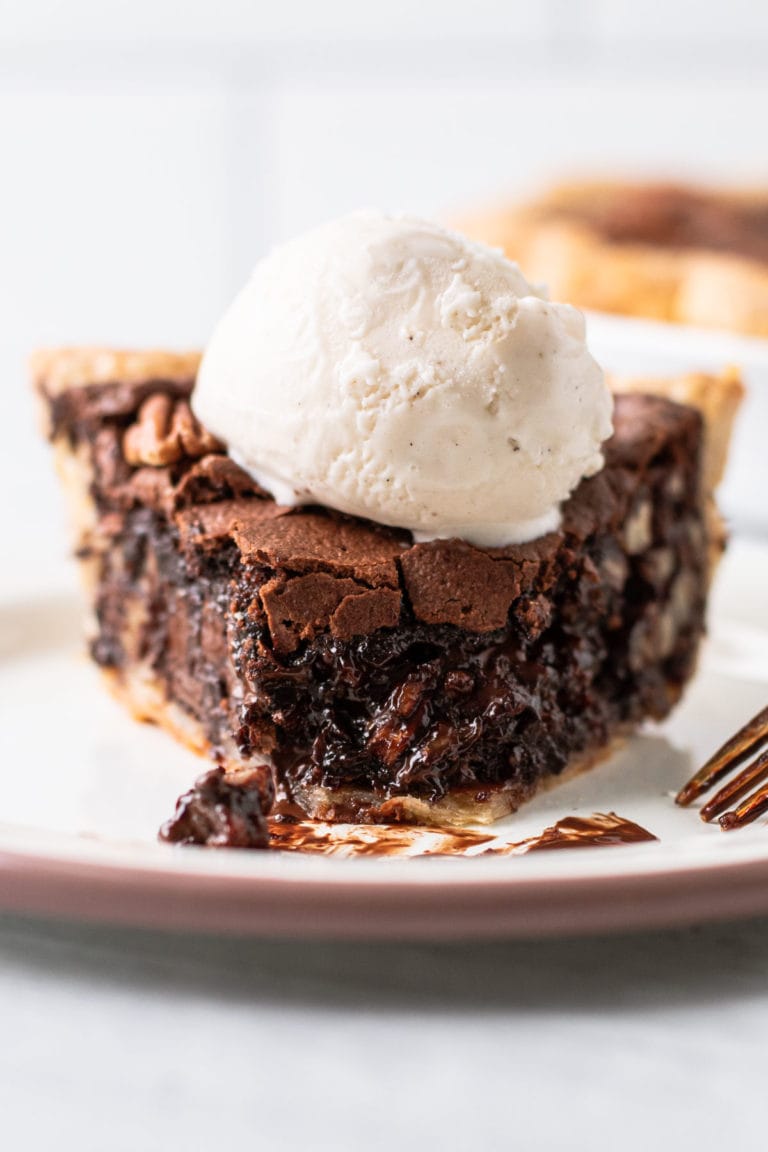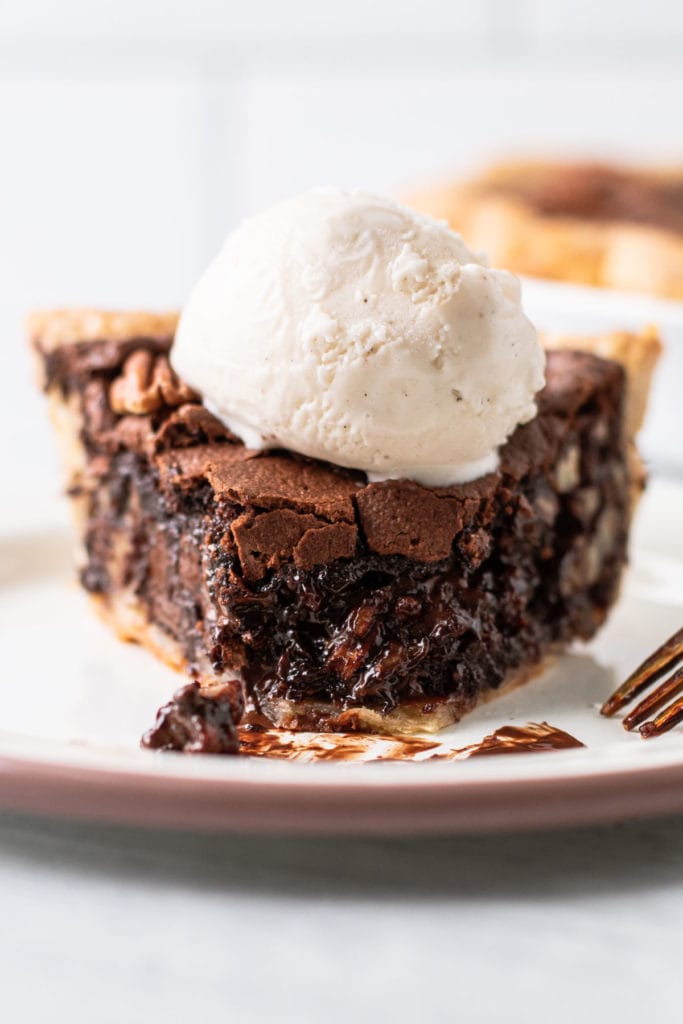 Storing Instructions
This Brownie Pecan Pie can be made up to 3 days ahead of time, but will likely last up to 5 days. Store the pie covered, at room temperature.
The pie can also be fully baked, and frozen, for up to 3 months. Defrost at room temperature overnight, and briefly place back in a 350ºF oven to warm up for about 10 minutes or so.
Brownie Pecan Pie Video Tutorial
More Sweet Pie Recipes:
I am so honored when you make a recipe from my site! If you make this Brownie Pecan Pie, please leave a comment and a star rating with your experience! If you have any questions about this recipe, feel free to comment here, too!
Print
Brownie Pecan Pie
When brownies meet pecan pie, this rich, dark chocolate pie is born. Eat it slightly warm and topped with vanilla ice cream for the ultimate comfort food.
Author: Kelli Avila
Prep Time:

00:40

Cook Time:

00:65

Total Time:

1 hour 45 minutes

Yield:

Serves 8-10

Category:

Sweet Pie

Method:

Bake
1

–

9

″ single Butter Pie Crust or Pâte Sucrée, prepared

3 cups

(

280 grams

) pecans, chopped, plus more for garnish

4 ounces

(

113 grams

) unsalted butter, softened

½ teaspoon

salt

¾ cup

packed (

150 grams

) light brown sugar

½ cup

(

100 grams

) granulated sugar

1 teaspoon

vanilla extract

3

large eggs, room temperature

2 tablespoons

(

15 grams

) all-purpose flour

⅓ cup

(

30 grams

) cocoa powder (dutch or natural)

½ cup

(

85 grams

) chopped chocolate or chocolate chips
Instructions
Prepare Pastry and Toast Pecans:
Preheat oven to 400ºF.
Roll out the pie dough to an 11″ circle and line a 9" pie plate, crimp the edges as desired. Prick the bottom of the dough all over with a fork. Place the pie in the freezer for 10 minutes.
Once chilled, line the pie dough with a parchment round piece of paper and then add pie weights (or dry rice or beans or lentils), making sure to push pie weights to the edges.
Bake for 20 minutes, then remove from the oven and carefully remove the parchment and pie weights. Return to the oven and bake for an additional 5 minutes. Set aside until ready to use.
Meanwhile, place pecans on a lined rimmed baking sheet, and bake in the oven until fragrant and toasted, about 10-12 minutes. Set aside to cool.
Prepare Filling and Bake:
Using an electric mixer fitted with paddle attachment, cream together the butter, salt, brown sugar, granulated sugar and vanilla until very light, about 3 minutes.
Add eggs, one a time, and beat until fully combined and fluffy, scraping down the sides of the bowl in between.
Add in flour and cocoa powder and turn the mixture to low speed until incorporated.
Add in pecans and chocolate chunks and slowly mix together until fully combined.
Transfer the filling to the prepared pie tin and smooth over the top.
Bake in the preheated 400º oven on the lowest rack for 15 minutes. Carefully remove the pie and place whole pecan halves on the outer edges of the barely set batter for decoration (this step is optional), and return to the oven to continue to bake for an additional 25 minutes, or until the pie is puffed all over and has reached an internal temperature of above 200ºF.
Let the pie cool and set, at room temperature, for a minimum of 6 hours, before slicing.
Serve with whipped cream or vanilla ice cream.
Notes
Want to add more chocolate to the pie? Bake it in a Chocolate Pie Crust instead of the Butter Pie Crust.
Adding the pecans halfway through baking ensures the pecans don't get lost in the brownie batter as it puffs up (and ultimately shrinks back down when it cools). This is an optional, but recommended step. The pecans on the outside give a hint to the filling, but also add a toasty pecan crunch to the pie.
If at any point the crust or pie filling is browning too much, cover loosely with aluminum foil.
Want to serve the pie warm? It absolutely needs to set before you slice into it. But you can serve it warm by baking it briefly at 350ºF for a few minutes (or place an individual slice in a toaster oven) to briefly heat back up that chopped chocolate.
Keywords: Brownie Pecan Pie
Some of the links on this page may be affiliate links. Everyday Pie is a participant in the Amazon Associates Program. As an Amazon Associate I earn from qualifying purchases, at no extra cost to you.