This Chocolate Pie Crust is basically a chocolate cookie baked in a pie tin. It's a chocolate variation on a classic Pâte Sucrée. Perfect for cream pies or custards!
Chocolate Pie Crust
Using a chocolate pie crust can add a unique element to your pies. This chocolate pastry is basically a chocolate cookie baked in a pie tin, and it's perfect for so many different types of pie. It's more stable and soft than a chocolate crumb crust. It also comes together quickly in a food processor, and requires only 5 ingredients.
Chocolate Pie Crust Ingredients
Here is an overview of the ingredients, but be sure to scroll down for the full recipe.
All-purpose Flour

Cocoa Powder

Powdered sugar

Unsalted Butter

Egg
Tools Needed for this Recipe
Essentials: measuring cups, plastic wrap
How to Make Chocolate Pie Crust:
Using the food processor makes putting this dough together easy. Follow these steps:
Add the dry ingredients to the food processor. Pulse until they are well combined.
Add the butter and pulse until it's broken down into small pieces, no bigger than the size of a pea. Be careful not to over-process at this point. Over-processing would look like the dough forming into one ball.
In a small bowl whisk together the egg. This ensures it evenly is distributed in the dough.
With the machine, add the egg and process until the dough comes together.
Unlike a flaky pie dough, you'll want the dough at the end to be one cohesive ball, without any large butter pieces remaining. If you do have a large piece of butter, it can create problems when rolling it out and baking. If by chance you happen to see any large pieces of butter after you've made it, you can fix it by smearing the butter into the dough, so no large chunks remain.
Tips for Rolling Out Chocolate Pie Crust
Chocolate pie crust has more sugar in it than traditional Flaky Pie Crust, so it tends to stick a bit more. There are two ways you can roll it out.
You can roll it out like a regular pie crust, but you'll need to use extra starch. Because chocolate crust is…well, chocolate, I tend to use a mix of cocoa powder and flour to keep the color intact while rolling it out. If you do not wish to waste any precious cocoa powder, you can use only flour, but make sure to dust off any excess flour because it can turn the chocolate pastry white after it's been baked.
You can roll it out between two pieces of plastic wrap. This means you don't have to use any extra flour or cocoa powder to keep it from sticking to the rolling pin or your work surface. I find plastic wrap works better than parchment or wax, but you can use those in a pinch too. Roll it out between two pieces of plastic wrap. Once it's rolled out, you can take off the top portion of plastic wrap and then place a pie tin in the center of the rolled out dough. Next, invert the pie pan with the dough on top. Place the pastry inside of the tin and finally, remove the remaining piece of plastic. If at any point your dough is too sticky or you have trouble removing the plastic, place it in the freezer for 10 minutes.
How to Blind Bake Chocolate Dough
Blind baking means to bake the pie crust without any filling in it. There are a few reasons you would need to blind bake a crust, but the main one is that the pie has a no-bake filling. In that case, you'll need to fully bake the pie crust before adding in the filling.
To blind bake, roll out the pie dough. Dock the pie crust with a fork all over the bottom so the steam escapes while it is baking. Place in the freezer for 30 minutes while the oven preheats to 375ºF. To prevent the pie dough from slipping into the tin before its fully baked, you'll want to weigh it down. Place a round piece of parchment (or you can use aluminum foil) inside of the crust. Add in some pie weights. I use dried rice and lentils, that I reuse for a few years! I find this weighs it down just enough to prevent the pie dough from slipping or puffing up while baking.
Bake at 375ºF for 20 minutes. Remove from the oven, remove the weights and parchment. Return it back to the oven to finish baking, another 5 minutes or so for a par-baked crust or 10 minutes for a fully baked crust.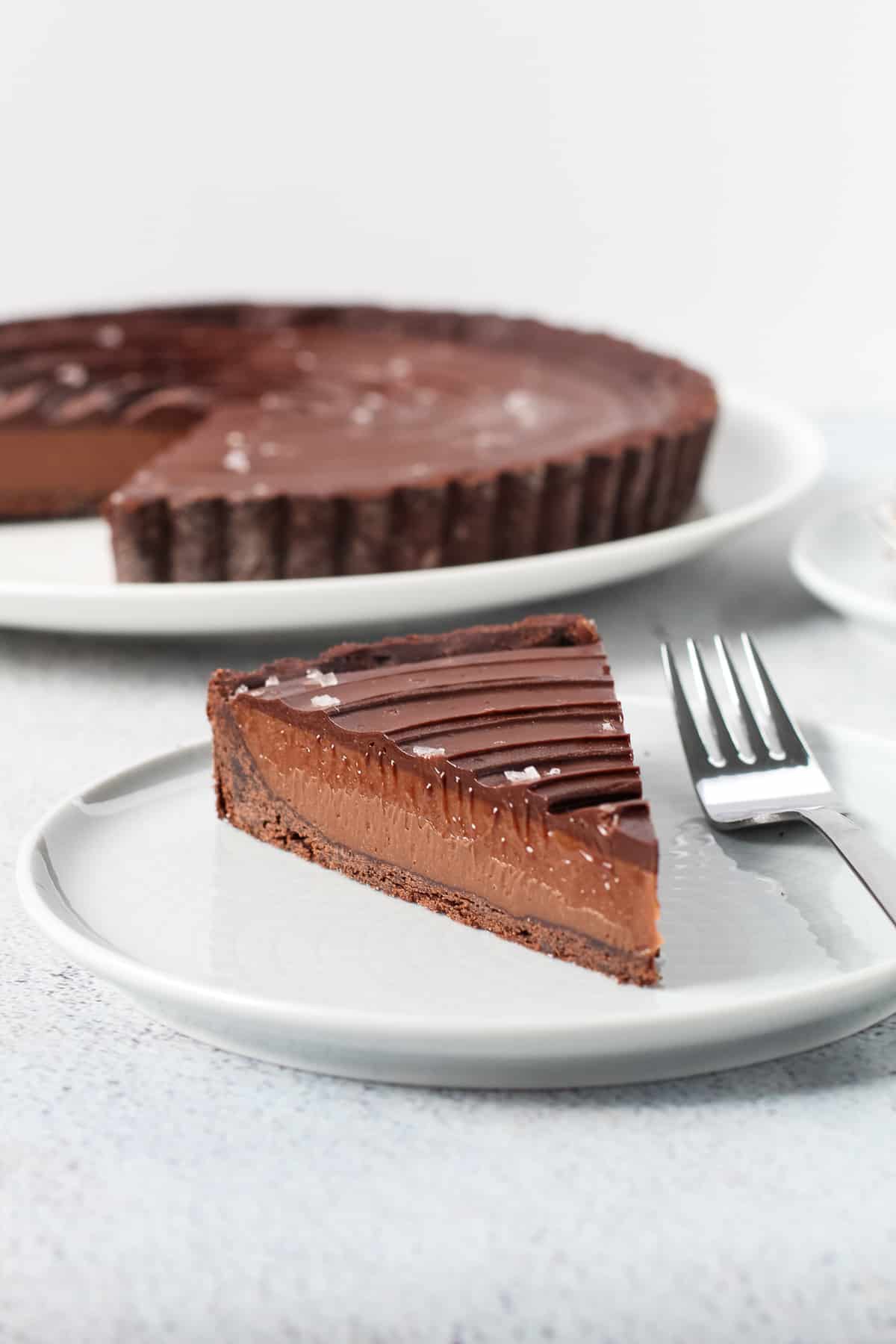 Recipes to Use with a Chocolate Pie Crust
Make sure to comment below and tag @everydaypie on Instagram if you make a creation with this Chocolate Pie Crust or if you have any questions!
Print
Chocolate Pie Pastry
Author:

Kelli Avila

Prep Time:

00:10

Total Time:

00:10

Yield:

1-9" pie
---
Description
This Chocolate Pie Crust is a like a chocolate cookie baked in a pie tin! It's a chocolate variation on a classic Pâte Sucrée. Perfect for cream pies or custards!
---
1 cup

(120) all-purpose flour 

1/4 cup

(28 grams)  unsweetened cocoa powder

1/2 cup

(56 grams) powdered sugar
pinch salt

1/2 cup

(113 grams) unsalted butter, cold

1

large egg
---
Instructions
Add the flour, cocoa powder, powdered sugar and salt to the bowl of a food processor.
Pulse until combined.
Add in butter and pulse 7 times.
In a small bowl whisk together the egg.
With the motor running pour in the egg and let process until the dough forms together into a cohesive ball.
Scrape the dough from the bowl and place in a piece of plastic wrap and form into a disk and wrap tightly.
Using a rolling pin roll the dough out until it stretches to the corner of the plastic wrap to ensure a tight seal.
Refrigerate for at least 2 hours, but preferably overnight.
---
Notes
To make gluten-free, substitute in a 1-1 All-Purpose Gluten-Free Flour with xantham gum, such as 1-1 King Arthur Flour or Bob's Red Mill
Keywords: chocolate pie crust, chocolate crust
Some of the links on this page may be affiliate links. Everyday Pie is a participant in the Amazon Associates Program. As an Amazon Associate I earn from qualifying purchases, at no extra cost to you.