This classic Oreo Cookie Crust recipe is an easy and delicious crust option! It has only two ingredients that are pressed into the pan. You can bake it before filling, or freeze it for a truly no-bake pie crust option.
Oreo Crust Recipe
Sometimes, you just need a super easy pie crust option. This Oreo Crust recipe should be your go-to! It has just two ingredients and can be either baked or frozen. Oreo Cookie crusts are a fantastic choice for when you want a chocolatey crust but don't want to make from scratch Chocolate Pastry.
Ingredients Needed
oreos, or any chocolate cream sandwich cookie (regular or gluten-free)
butter
that's it!
How to Make an Oreo Crust
Grind up the Oreos until they are fine crumbs. Do this with a food processor or you can smash the cookies in a plastic bag with a towel over it (to prevent the cookies from breaking through the plastic) with a rolling pin. You can use regular or equal portions of a gluten-free graham cracker. Just make sure if you are doing it by hand, that you are smashing them finely and evenly.
Melt the butter on the stove in a medium pot. Shut off the heat.
Add sugar and oreo crumbs to the melted butter right in that pot (no need to dirty a bowl for this) and mix it well! DONE!
The Best Way to Form an Oreo Crumb Crust
Forget everything you know about pressing in a homemade crumb crust into your pie plate because we've all been doing it wrong! While logic might tell you to place the crumb mixture in the middle of your pie plate and start pressing from there, this process makes it messy and hard to get an even crumb base all the way up the sides. The easier and faster way to do it is to start forming the edges of the pie crust first, and then press the crumb mixture down into the bottom of the plate.
Here are the steps:
Gather the crumb mixture loosely up the sides of the plate until all the edges are covered with crumbs.
Form the top edges of the crust and neaten them up by pressing them together with two fingers. It may feel like you won't have enough crumbs to fit the bottom of the pie at this point, but you will!
Start packing down the sides of the crumb crust with your thumb in an even layer. As you do this, start moving the excess crumb mixture toward the center of the pie plate.
Continue packing the crumbs from the outer edges towards the middle until you have a single layer.
Then with your fingers, a spatula or the bottom of a measuring cup pack down the crumbs until everything is tight and even.
Do You Have to Bake an Oreo Crust?
You have two options for preparing this crust. You can blind bake it or freeze it.
Baking it results in a crispy crust and a slightly deeper chocolate flavor. If you are planning to bake a pie that will be served from the refrigerator or will be left out of the refrigerator for more than 20 minutes, I recommend you blind bake the crust to ensure it holds together.
Freezing the crust works because the melted butter becomes solidified and bonds the crust together. I only recommend freezing the crust if you will be serving your pie when very cold.
What is an Oreo Pie Crust good for:
Watch How to Make this Oreo Crust Recipe
If you like this pie crust recipe, check out these others:
Make sure to tag Everyday Pie on Instagram and comment below if you make this Oreo Cookie Crumb Crust of if you have any questions about this recipe!
Print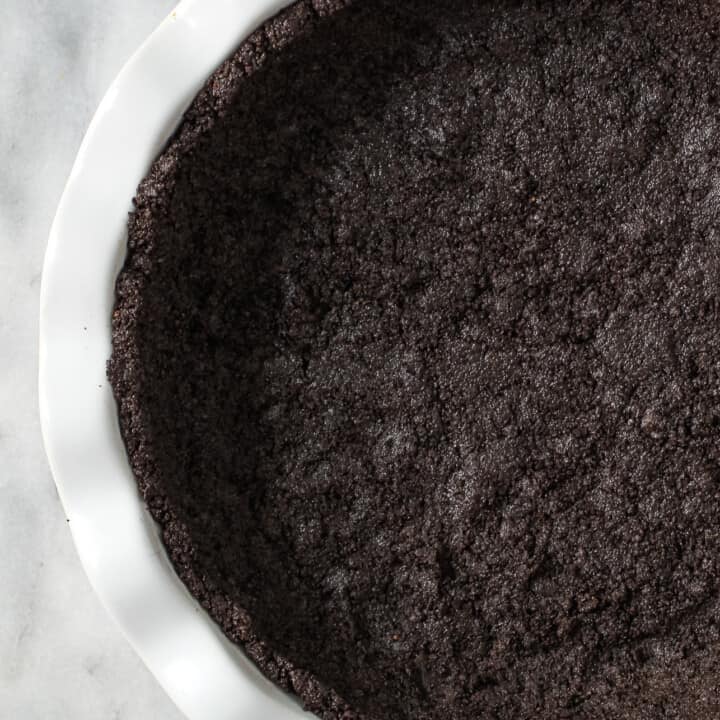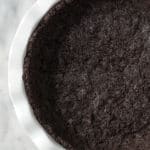 Oreo Cookie Pie Crust
Author:

Kelli Avila

Prep Time:

00:05

Cook Time:

00:10

Total Time:

15 minutes

Yield:

1-9" pie crust

Category:

Pie Crust

Method:

No-Bake

Cuisine:

Sweet
---
Description
This classic Oreo Cookie Pie Crust recipe is an easy and delicious crust option! It has only two ingredients that are easily pressed into the pan. You can bake it before filling, or freeze it for a truly no-bake pie crust option.
---
1

-

¾

cup (

255 g

) oreo cookie crumbs cookies (about 17 cookies)

3 tablespoons

(

35 g

) unsalted butter, melted
---
Instructions
Mix together the crumbs and the butter.
Pour the crumbs into the pie plate and start pressing the ingredients up the sides of the pie plate to form the edges first. Once the edges are formed work the crumbs down to evenly distribute into the bottom of the pie plate and pack it down into an even layer.
If baking: Bake in a preheated 350º for 10 minutes. If freezing, freeze for 30 minutes for a no-bake pie option.
---
Notes
You can use either traditional oreo style sandwich cookies or gluten-free style chocolate sandwich cookies. If using gluten-free you may need to use more cookie crumbs because they can shrink up after absorbing the butter.
An oreo cookie crumb crust can be frozen up to 3 months.
Keywords: oreo crust recipe
Some of the links on this page may be affiliate links. Everyday Pie is a participant in the Amazon Associates Program. As an Amazon Associate I earn from qualifying purchases, at no extra cost to you.