With a creamy chocolate base and a rich ganache topping, poured inside a salty potato chip crust, this Nutella Pie is the ultimate clash of savory and sweet.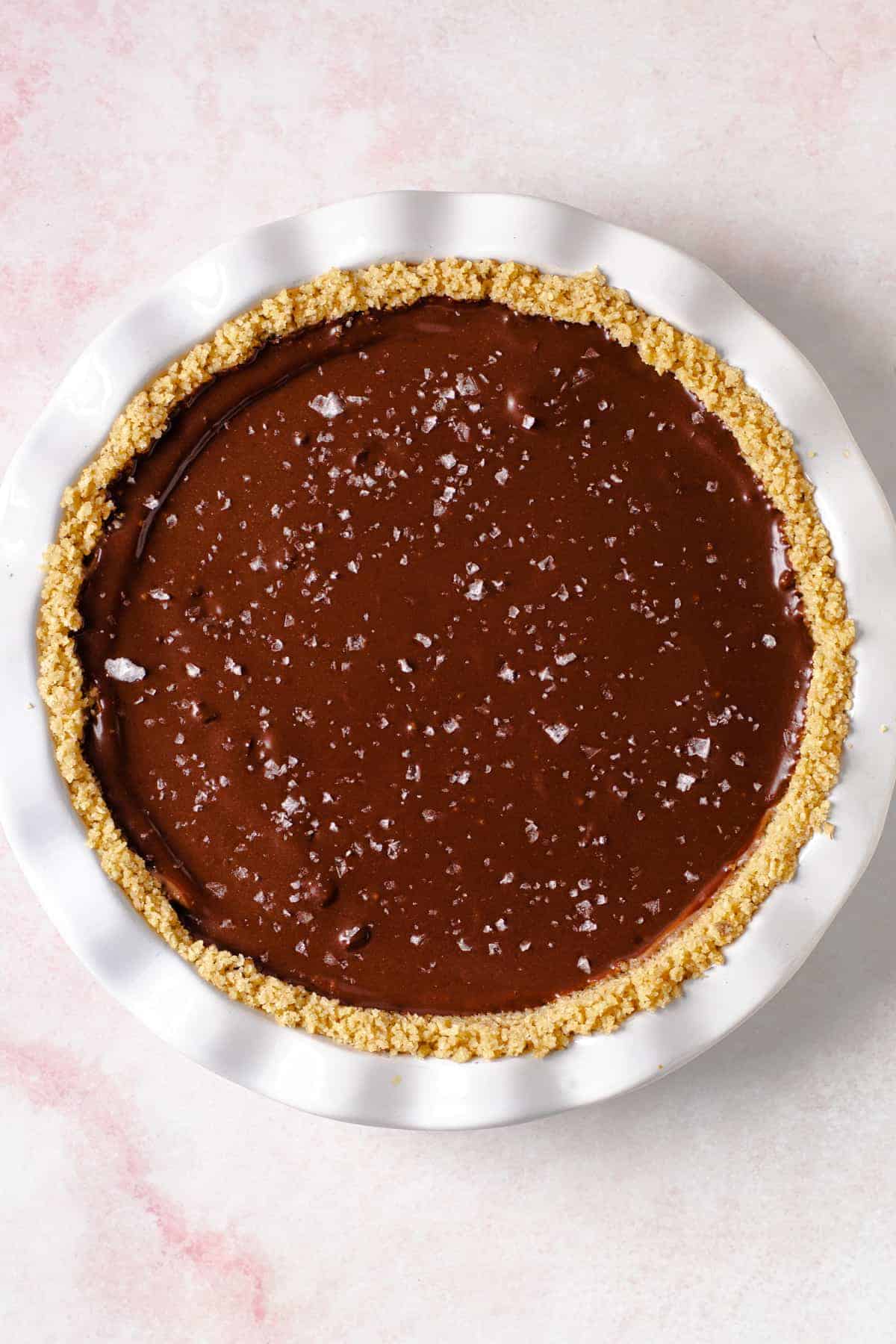 No-Bake Nutella Pie
When times are tough, people bake and make. Anything to move your hands and take your mind off your troubles is a welcome respite, but even more so if it results in something insanely delicious to eat. That is why this No-Bake Nutella Pie in a Potato Chip Crust will officially be known as Quarantine Pie. As we all collectively stay at home and do our best to keep ourselves healthy and safe, get into the kitchen--preferably with those you love and are quarantining with--and get to doing just that. Baking and making.
Alright, so let's talk about this pie. It is rich. It is chocolatey. It is salty. Get where I'm going with this? Oh, and it's also easy to make with some simple commonly found kitchen ingredients. What makes this pie so delicious? The combination of sweet and salty, which compliment each other so well. Also, a combination of textures between the crunchy potato chip crust, paired with the creamy filling and the rich chocolate ganache on top. This pie is truly, the best Nutella Pie.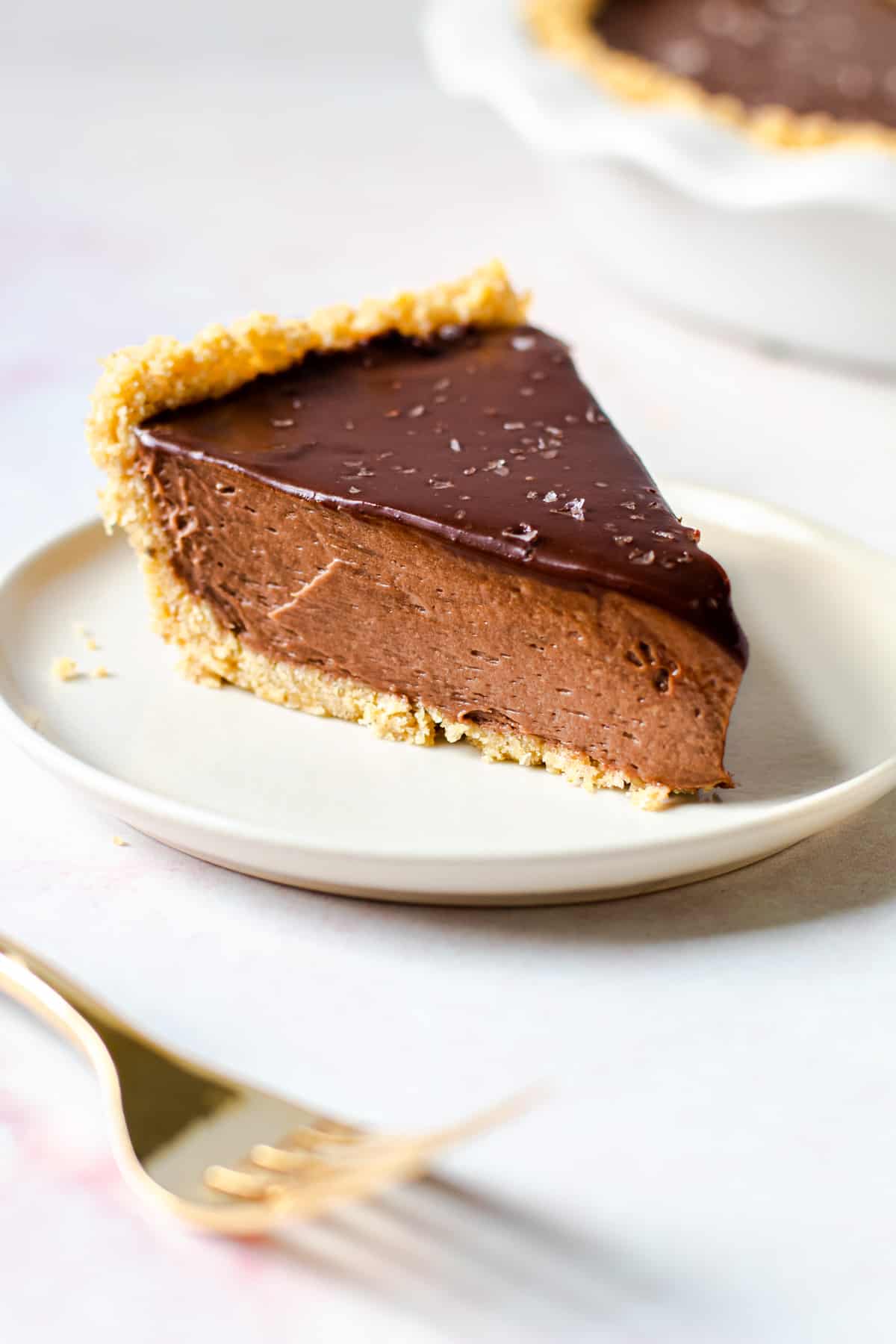 Must Have Ingredients
I tried to keep this pie as minimal as possible, as it is referred to as Quarantine Pie. I chose to use commonly found ingredients; because, who doesn't have potato chips and Nutella sitting in the pantry? Here is the full list of ingredients you need to make it:
kettle cooked potato chips

Nutella

rolled oats

granulated sugar

unsalted butter

heavy cream

cream cheese

vanilla extract

chopped chocolate
Potato Chips as a Pie Crust?
Maybe you've never heard of a potato chip pie crust. To be honest, neither did I before I dreamed up this recipe. However, it does make total sense for a pie, because it not only offers a salty kick to compliment the sweetness of a pie, but it also adds a crunch factor. Luckily, it's pretty simple to make. Start with some sea salt kettle-cooked potato chips; make sure to have enough on hand for the crust and for your casual snacking.
Potato chips can be heavy on the oil, so they need to be paired with starch that will help absorb it. Instead of turning to flour, I turned to oats. I love the idea that this could be a truly no-bake pie crust if necessary, and oats do not need to be cooked before consuming, therefore, they were the obvious choice. You can use any kind of oats you have on hand, even oat flour if you've got it.
All the ingredients (minus the melted butter) are pulsed together in a food processor, beginning with the oats until they are finely ground. Then, it's mixed together with the butter and patted inside of a pie plate, just as you would any other crumb crust.
In an ideal world, this pie crust would be baked in an oven for 10 minutes to help solidify the crust. But, it's not an ideal world right now. So, if you can't par-bake it, stick it in the freezer to firm up instead.
The final crust is a bit more crumbly than your average crumb crust, but it's entirely delicious and adds a nice touch to this Nutella Pie.
Serving Nutella Pie
This pie should be served very chilled. It can be made up to 2 days ahead of time, if stored in the refrigerator, or up to 1 month if frozen. Do not top it with the flaky sea salt until ready to serve.
If serving from the refrigerator, I recommend placing the pie in the freezer for 30 – 60 minutes before serving, though it's not necessary. It just helps you get a nice clean slice for it.
To serve from the freezer, let the pie sit at room temperature until it's easy to cut into (about 15-30 minutes, depending on how warm your kitchen is).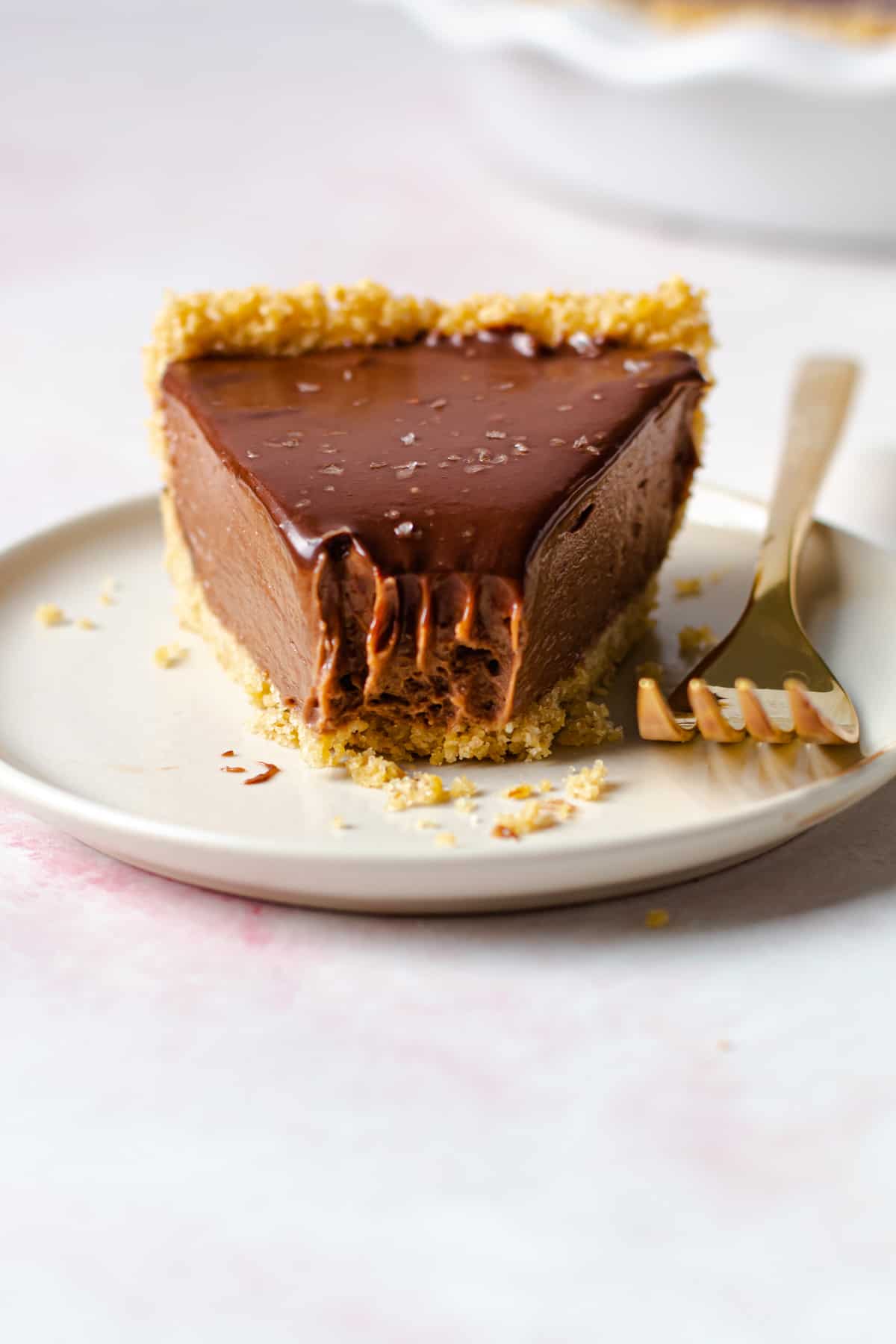 More No Bake Pies:
More Chocolate Pies:
---
I am so honored when you make a recipe from my site! If you make this Nutella Pie, please leave a comment and a star rating with your experience! If you have any questions about this recipe, feel free to comment here, too!
Print
Nutella Pie with Potato Chip Crust
With a creamy chocolate base and a rich ganache topping, poured inside a salty potato chip crust, this Nutella Pie is the ultimate clash of savory and sweet. If you're stuck at home, with a hankering for pie and without many fresh ingredients, baking a Quarantine Pie is exactly what you should be doing right now!
Author: Kelli Avila
Prep Time:

00:25

Cook Time:

00:10

Total Time:

35 minutes

Yield:

Serves 8-12

Category:

Chocolate
For Potato Chip Crust:
6 ounces

(about

5 ½ cups

or

170 grams

) kettle cooked potato chips

½ cup

(50 grams) old-fashioned oats

¼ cup

(50 grams) granulated sugar

6 tablespoons

(90 grams) unsalted butter
For Nutella Filling:
¾ cup

(170 grams) heavy cream, cold

6 ounces

(170 grams) cream cheese, softened

½ cup

(100 grams) granulated sugar

1 teaspoon

vanilla extract

1 cup

Nutella, room temperature
For Ganache Top:
⅓ cup

(60 grams) dark chocolate chips or chopped chocolate

¼ cup

(60 grams) heavy cream

Flaky Sea Salt, for garnish
Instructions
Prepare Pie Crust:
Preheat the oven to 350ºF.

Place oats in a food processor and process until finely ground. Add potato chips and sugar to the bowl and continue to pulse until chips are finely ground.

Melt butter in a medium pot. Add chip crumbs to the pot and mix together until completely combined.

Pour the crumbs into the pie plate and start pressing the ingredients up the sides of the pie plate to form the edges first. Once the edges are formed work the crumbs down to evenly distribute into the bottom of the pie plate and pack it down into an even layer.

Bake in the preheated oven for 10 minutes, until lightly golden and fragrant. Or you can freeze for 30 minutes for a no-bake pie option.
Make the Filling:
With an electric mixer using the whisk attachment, whip the heavy cream until stiff peaks form, about 3 minutes. Set aside.

Place the cream cheese, sugar and vanilla extract in the bowl for the electric mixer. Whip on medium speed until completely smooth, about 2 minutes. Scrape down the sides of the bowl and add Nutella. Beat for an additional minute until fully combined.

Add ⅓ of the whipped cream to the Nutella mixture and fold it in with a rubber spatula by hand until it is completely combined.

Add the remaining whipped cream to the bowl and gently fold it in, being careful not to deflate it.

Pour the Nutella filling in the potato chip pie crust and smooth over the top.

Place in the refrigerator to set up while you make the ganache.
Make Ganache:
Add chocolate to a heat proof glass or metal bowl.

Heat the cream on the stove top (or the microwave) until hot.

Pour the cream over the chocolate, making sure it is completely submerged. Let the cream sit for 2-4 minutes without disturbing it.

Gently whisk the cream until it is fully combined and the result is a shiny, silky chocolate ganache.

Moving quickly, pour the ganache over the nutella filling and shimmy the pie to send the ganache out to the edges of the pastry.

Transfer pie to the refrigerator (or freezer) for at least 4 hours chilling time, but preferably overnight. Keep the pie refrigerated until ready to serve. Right before serving, sprinkle with flaky sea salt.
Some of the links on this page may be affiliate links. Everyday Pie is a participant in the Amazon Associates Program. As an Amazon Associate I earn from qualifying purchases, at no extra cost to you.