Ditch the can and make Strawberry Pie Filling from scratch. It's vibrant and bright and perfect for pies, desserts, or any other sweet treat that calls for strawberry pie filling or strawberry topping.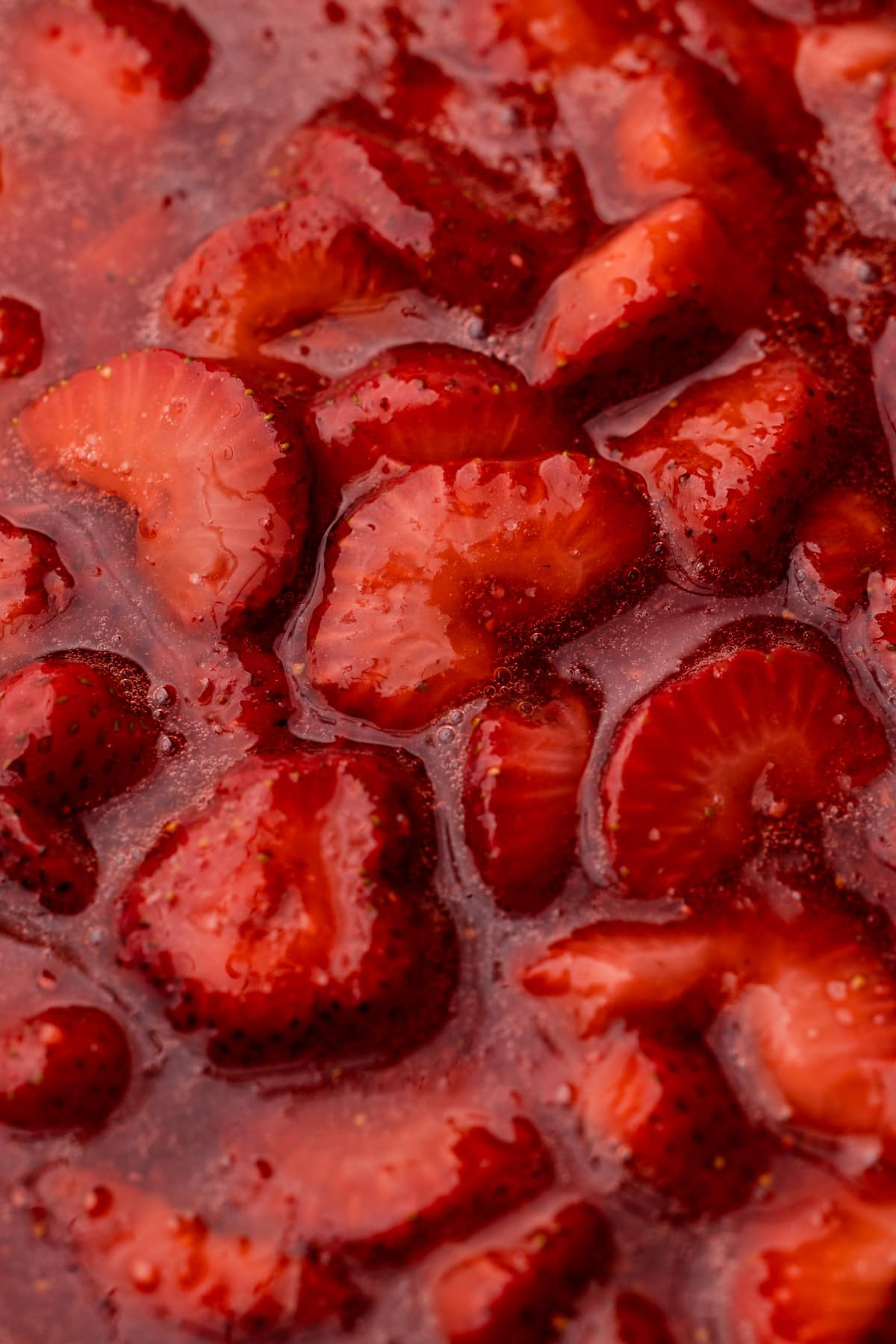 Homemade Strawberry Pie Filling / Topping
Let's just say it like it is: there is never an excuse to buy a canned strawberry pie filling when it's so easy to make and keep on hand at home, especially, and most importantly, during peak strawberry season! This recipe is all about that fresh and vibrant strawberry flavor with a perfectly thickened fruity sauce.
Like many of my other "pie filling" recipes, the intention of this Strawberry Pie Filling / Topping is to make a homemade version of the canned stuff available at grocery stores. We all know homemade is world's away better testing, and this recipe is here to show it's simple to make too!
Premade strawberry pie filling is perfect for all kinds of desserts, such as strawberry crisp, cheesecakes, strawberry puff pastries, with yogurt, and even as a cake filling. It's also delicious all by itself, or with a scoop of ice cream.
It freezes well too, so this recipe is one of the best ways to use up any large quantities of strawberries you might have when they are in season.
So, let's get to making it, shall we? The text below offers tons of tips and helpful notes, or you can scroll to the bottom to grab the recipe and get started!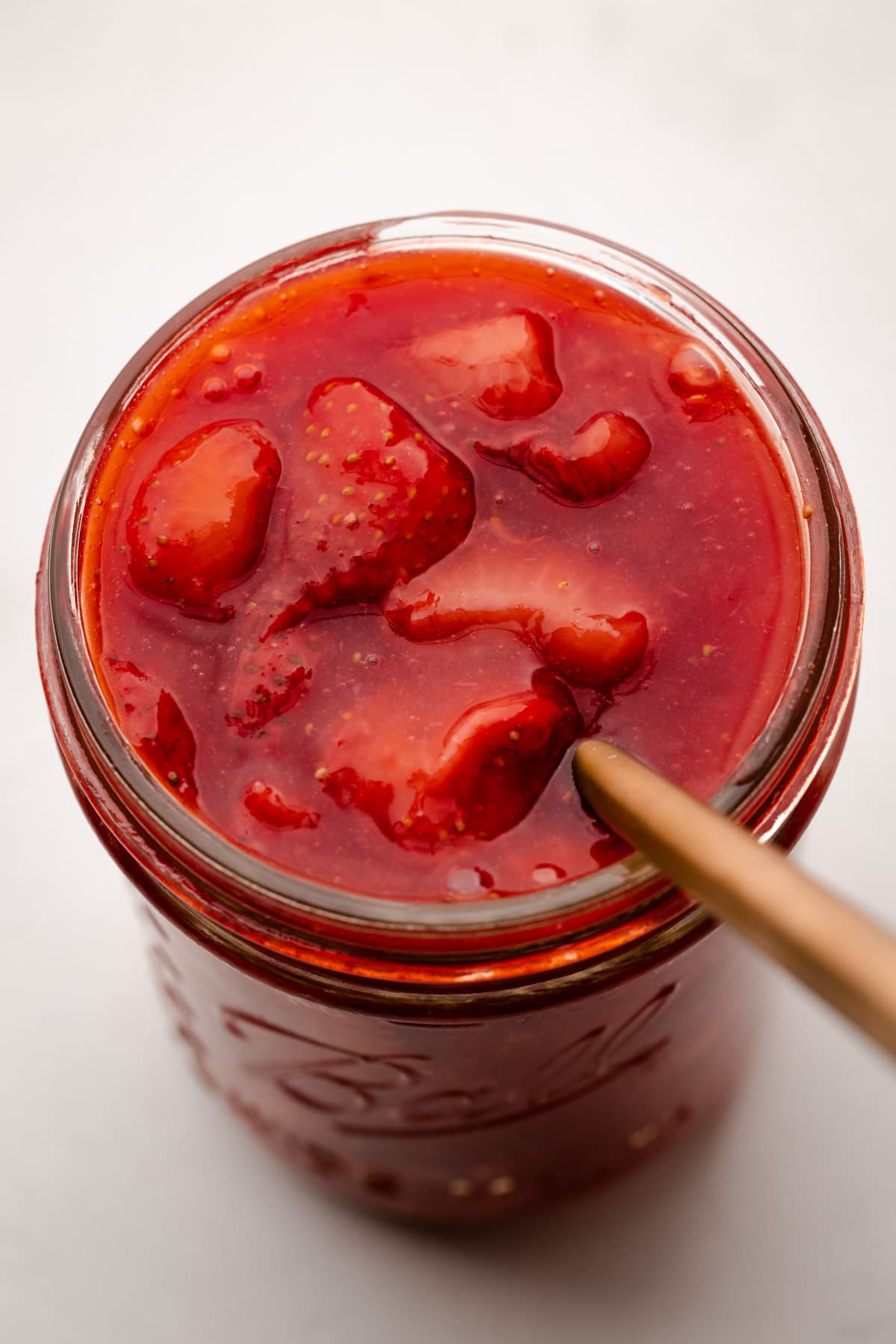 Ingredients Needed
Here is an overview of the ingredients needed for this recipe. The full recipe is listed below in greater detail.
ripe fresh strawberries
lemon juice
granulated sugar
quick-cooking tapioca (or cornstarch, see section labeled "Best Thickener for Strawberry Pie Filling" for more info on this)
salt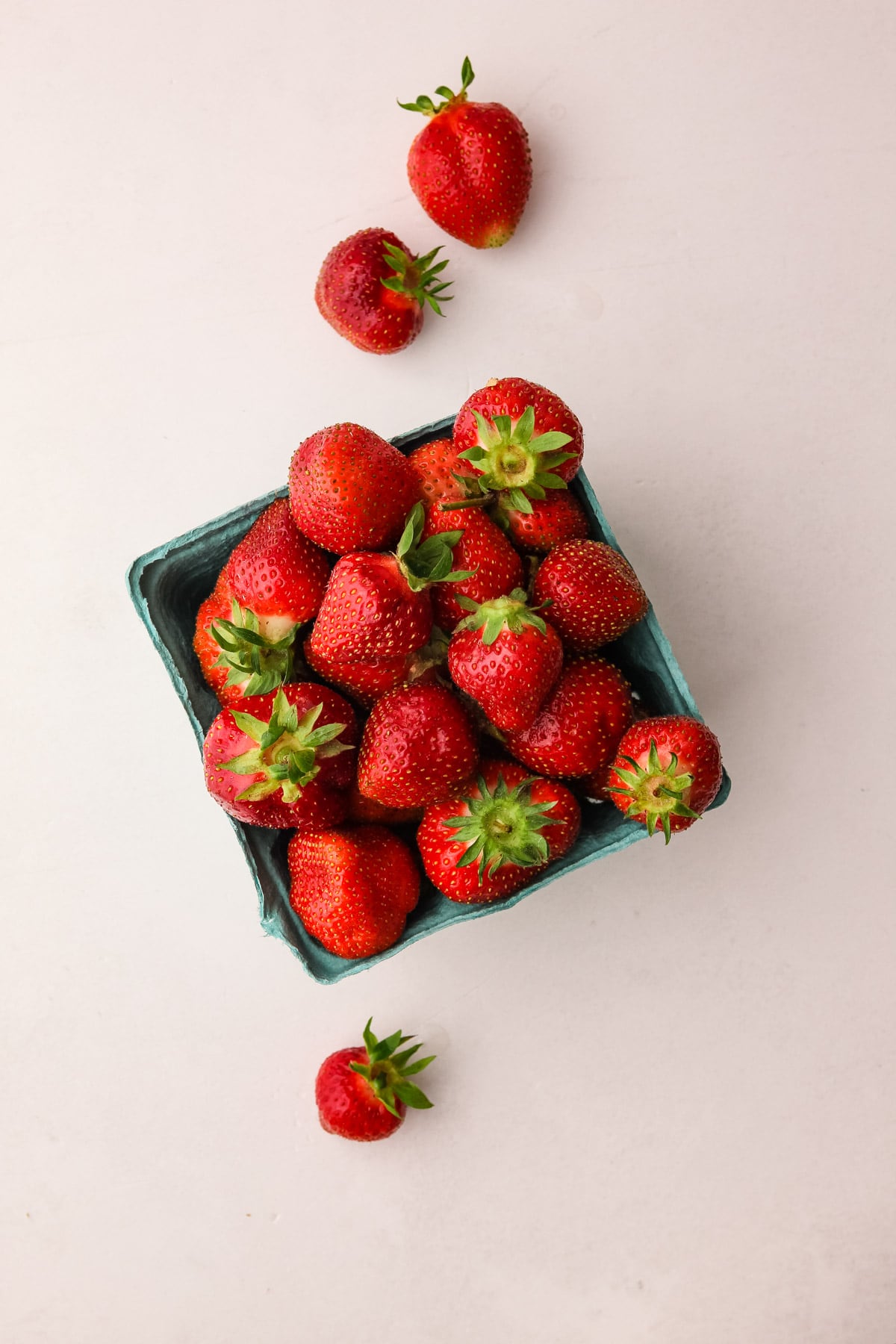 Let's Talk Strawberries
Many of us have access to strawberries year round. Depending on your eating philiosphy, you might find this to be a good thing or a bad thing.
What isn't up for debate is that out-of-season strawberries that have traveled a long distance from big agri-farms are vastly different than locally grown and harvested in-season berries.
When it comes to in-season strawberries, local varieties tend to be smaller in size, but pack so much more flavor in. These little gems also have a much brighter vibrant red color throughout the fruit. The sweetness may vary depending on the local climate during the growing season.
It's important to taste your strawberries before starting the recipe. If they are tart, a higher amount of sugar will be needed, while if they are sweet, less sugar will suffice.
At the risk of pointing out the obvious, the quality of the strawberry used in this recipe will significantly impact the final outcome.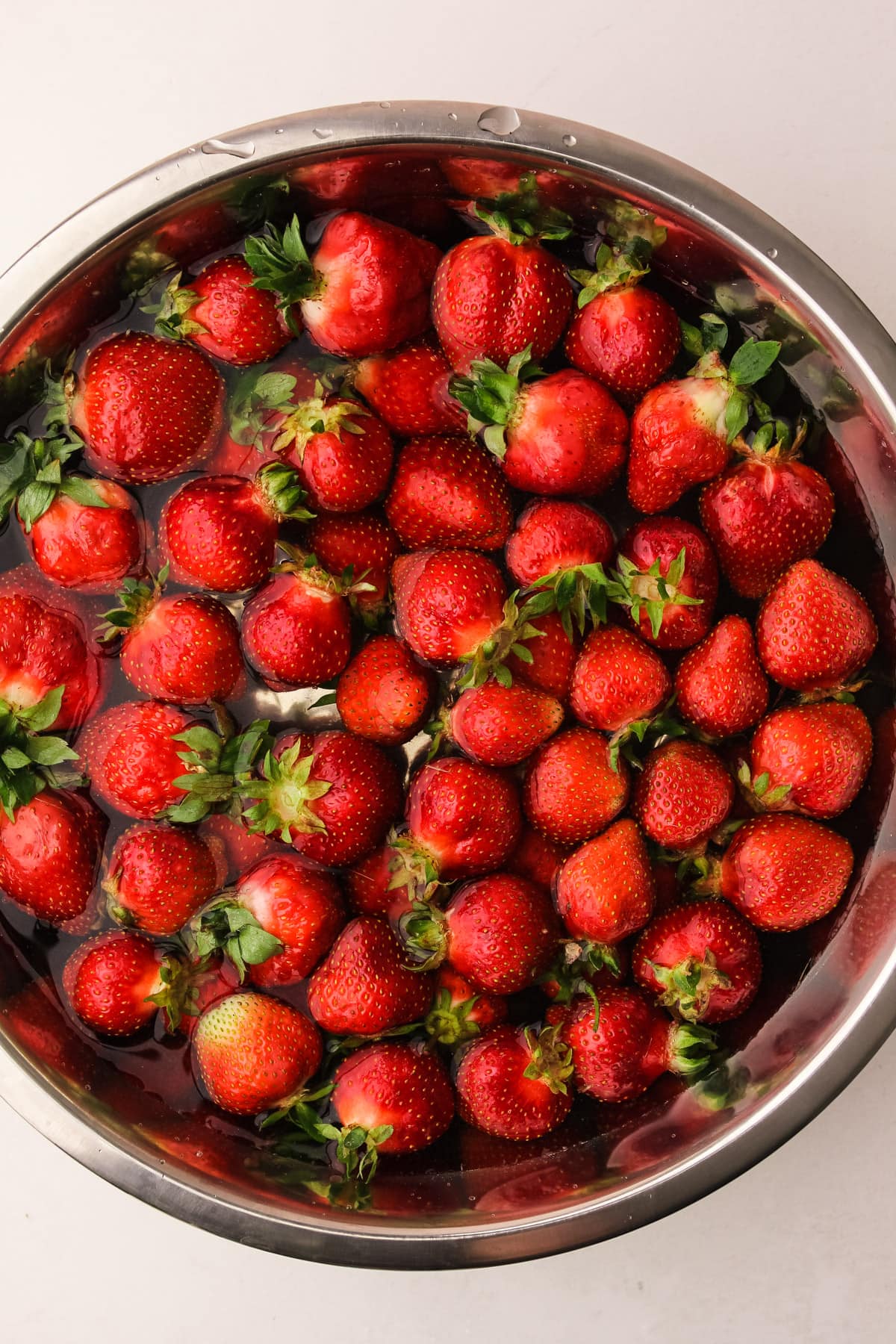 Best Way to Clean Strawberries
It is recommended to wash your strawberries, even if they appear to be clean. Sometimes, you may not be aware of the amount of dirt on the fruit until you clean them and notice the grit at the bottom of the bowl.
The best way to wash them is to fill up a very big bowl full of cold water. Add a few big glugs of distilled white vinegar. The exact solution is supposed to be 1 parts vinegar to 3 parts water, but I usually eyeball it. The acidity in the vinegar helps break down the dirt and any possible pesticides on the surface of the fruit. It also has some mild antibacterial properties which can help prolong the life of the strawberry.
Add the strawberries into the water/vinegar solution and give the strawberries a good swish around. Then let them sit for a few minutes, but no more than five.
Don't pour the strawberries out, instead, pick the strawberries out with your hands from the water, working not to disturb any of the dirt / debris that has fallen off and sunk to the bottom of the bowl. Then transfer the strawberries to a strainer. Rinse them well, and then place them on a lint-free towel to dry off.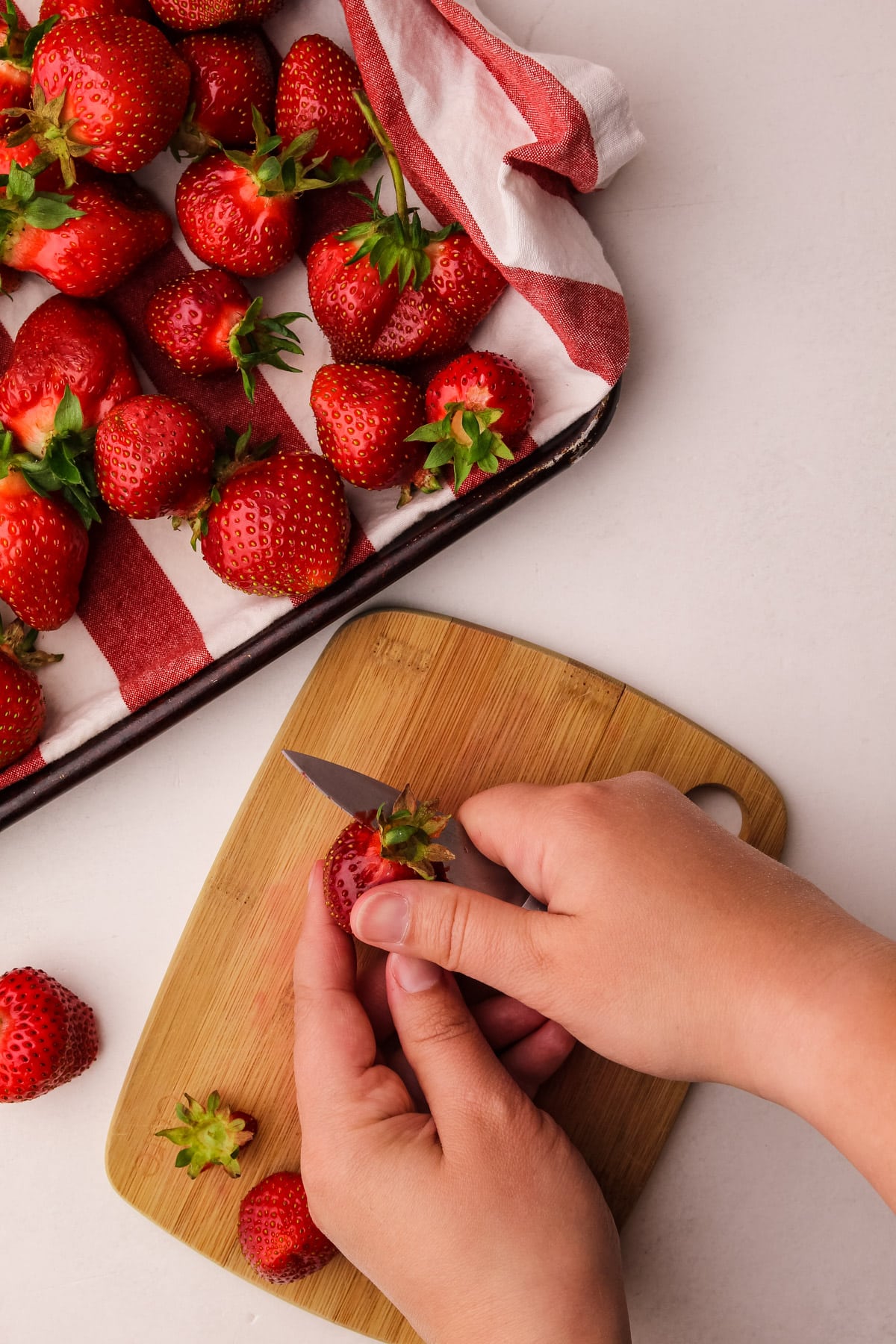 Best Thickener for Strawberry Pie Filling
I've made a lot of "pie filling" recipes on this website, but this strawberry one was perhaps the trickiest. And that's because strawberries are so juicy, so delicate, and their flavor can change when cooked for too long.
When it comes to thickening juicy fillings, I prefer to use quick-cooking tapioca, which is also known as instant tapioca or minute tapioca. Tapioca is made from the cassava plant, and it's similar to tapioca pearls and tapioca starch, but it is processed into small granules that cook quickly.
Quick cooking tapioca works by absorbing the juicy filling into the granules, which then creates a thick, clear filling. If you look closely in the filling you can see the very tiny beads of tapioca, but it is not something you will taste or notice unless you are looking for it.
Using quick cooking tapioca is ideal as it thickens the strawberry juice to the right consistency without making the filling cloudy or too gummy. It allows the clean and bright strawberry flavor to shine through.
Quick cooking tapioca (QCT) is available in all major grocery stores, usually in the baking aisle near the cornstarch.
However, QCT isn't for everybody. So cornstarch can be a substitute if needed. The main recipe is based on using QCT, but it can be modified to use cornstarch instead by using the instructions in parenthesis in the spots where it is needed.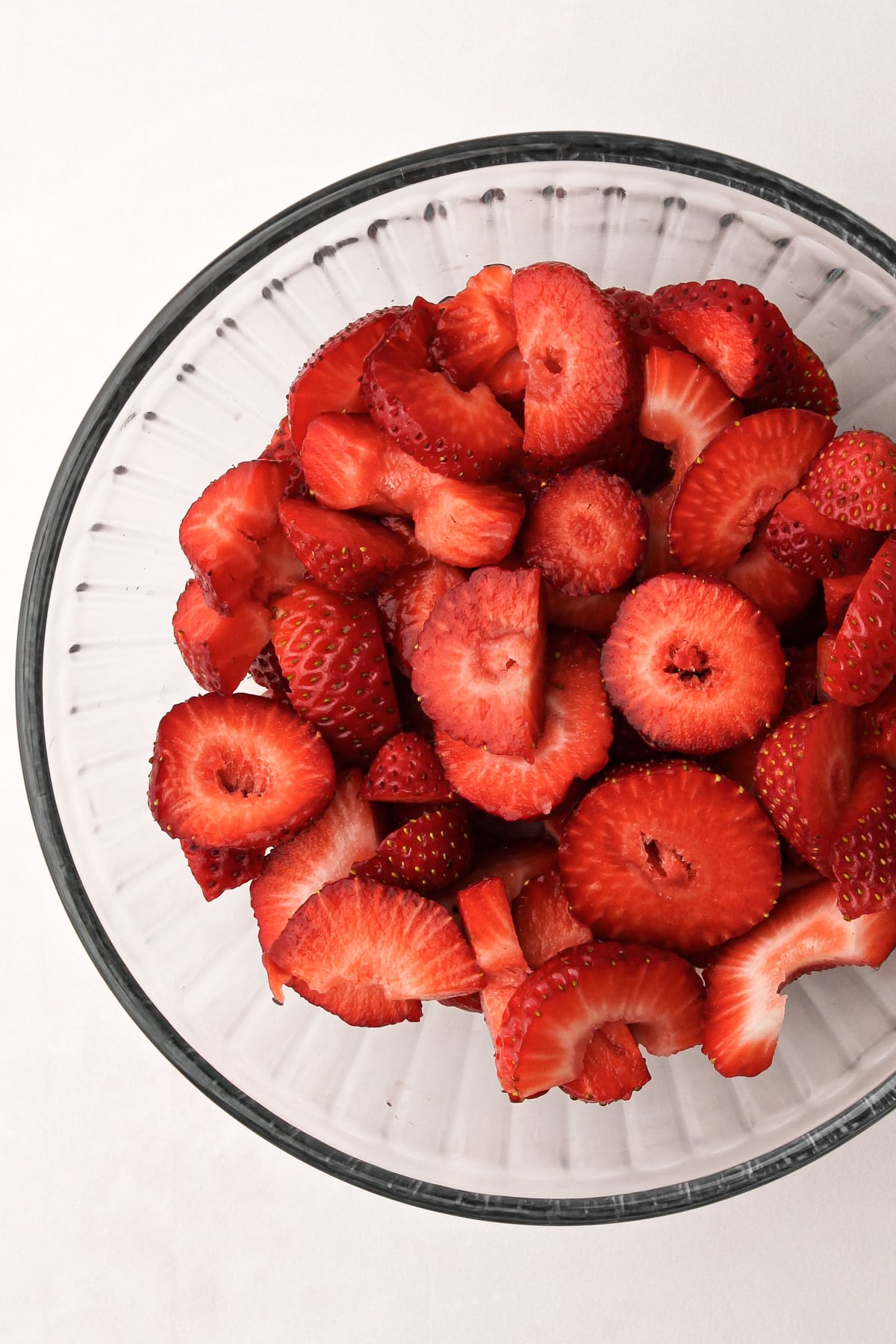 Brief Recipe Overview
This recipe is pretty simple to make, but I recommend reading it through a few times as the steps can move quickly, and all prep should be done before beginning.
Here are is a brief overview of the recipe:
Prep the strawberries and puree some of them with lemon juice and water
Add that strawberry juice to a pot with sugar and the thickener and cook
When the juice has thickened, add the sliced strawberries, and cook just until the juice comes back to a boil
Immediately remove the strawberry filling from the pot and cool
The strawberry filling is essentially cooked until it's the proper consistency and then the strawberry slices are added in and briefly cooked. If you are concerned they are not cooked enough after they come up to a boil, know that the residual heat will continue to cook the strawberries, which is why it's important to take them off the heat right away.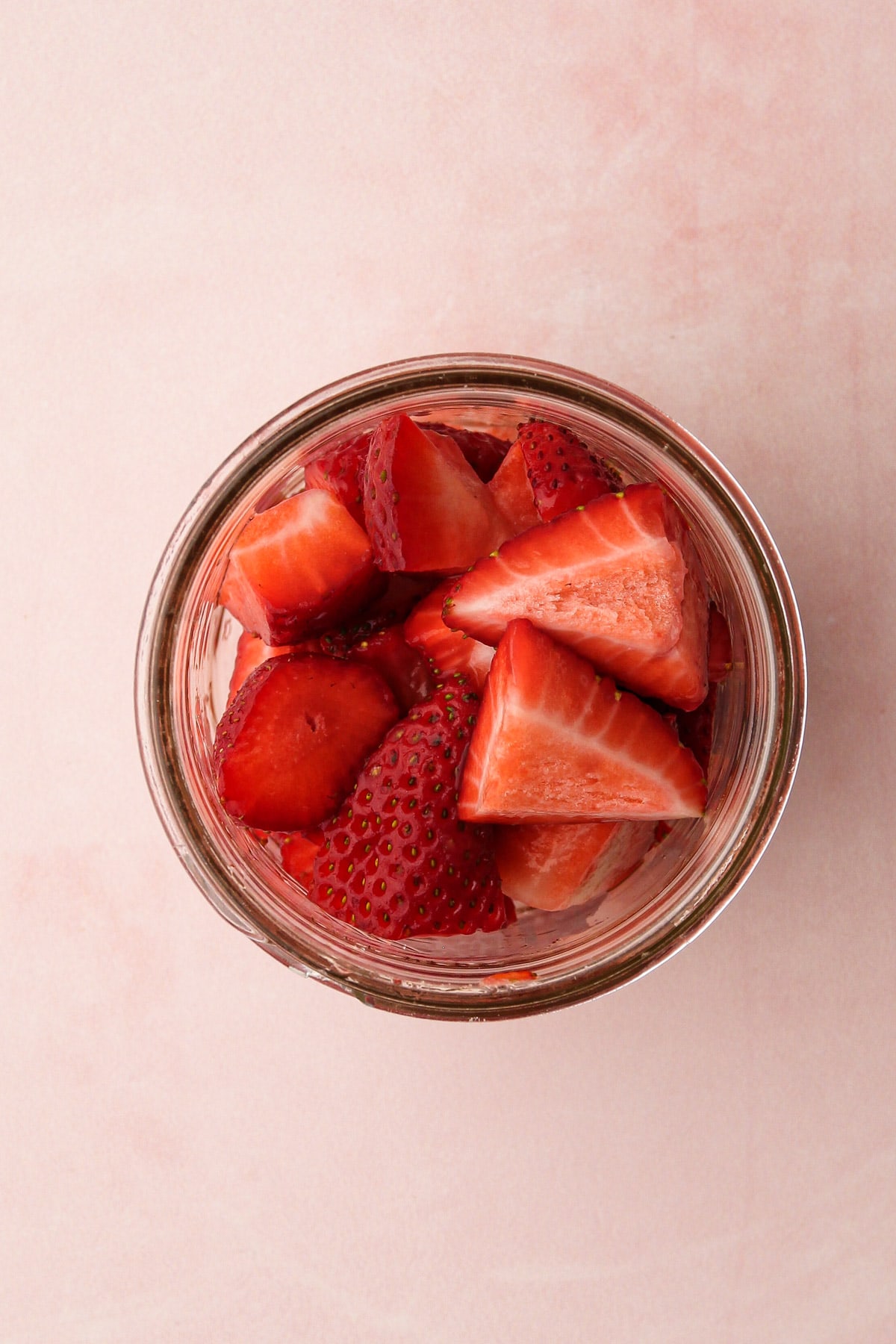 Ways to Use Strawberry Pie Filling
Okay, now you've got your strawberry pie filling. What should you use it for?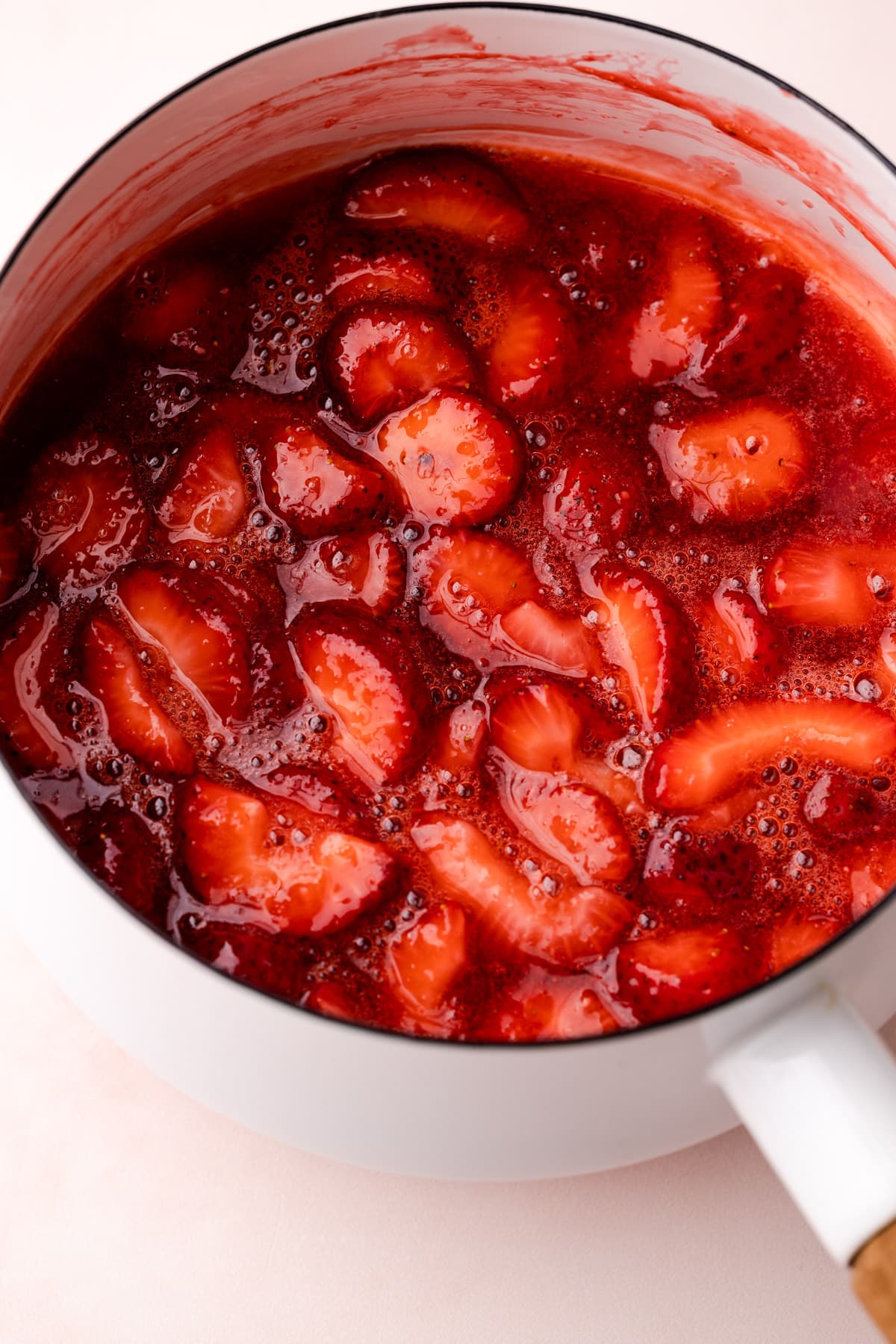 Thoughts on Turning this Into a Pie
Since publishing this recipe, and some of my other fruit pie filling recipes, I've gotten the question: well how do I bake it as a pie? And the truth is, my intention when making this recipe wasn't, first and foremost to be baked as a pie.
However, maybe you've found this recipe on google and you are actually looking to make a double crust fruit pie and are confused of why I don't have instructions to make this into a pie. That's because this is a recipe for cooked filling, as an alternative for canned strawberry pie filling that is store-bought.
If I'm making a fruit pie, baking a raw fruit filling would be my number one choice in most instances, not using a precooked filling. This is because double-crust fruit pies need to be cooked for a long time to ensure a crisp bottom pastry, and raw fruit will hold up better with a long bake. So if you googled strawberry pie filling hoping to make a strawberry pie, I'll say you can check out this Strawberry Rhubarb Pie or Cherry Strawberry Pie.
If you still prefer to make a strawberry pie out of this filling, I suggest you check out this detailed post about baking a double crust fruit pie.
Or if you want the shortened instructions for making a strawberry pie with precooked filling I'll say: bake it at 425ºF on the lowest shelf for 50-60 minutes or until the crust is deep golden. The recipe must be doubled to get enough filling for a pie.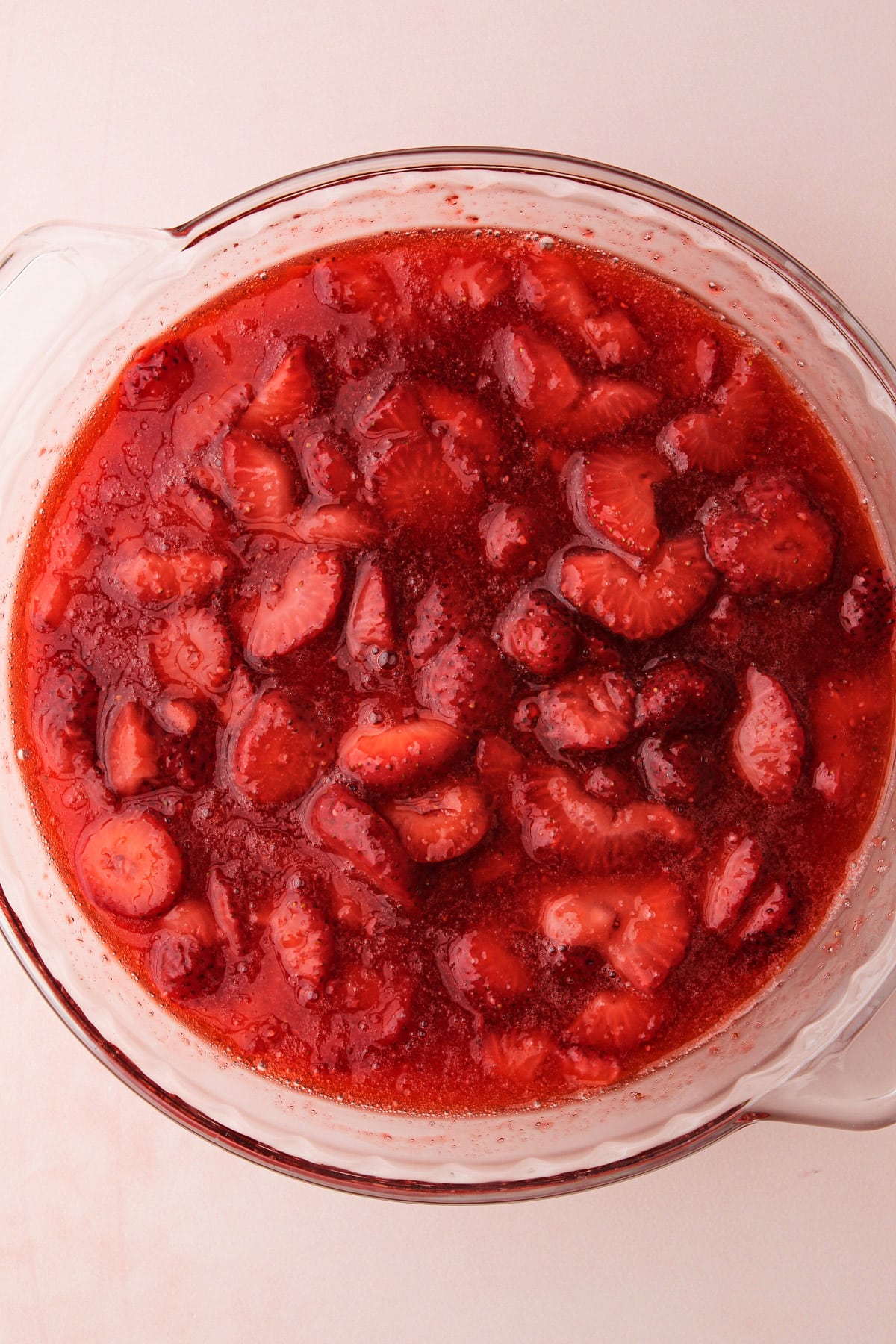 How to Store Strawberry Pie Filling
Mason jars are a great way to store the filling. This recipe makes approximately one full pint.
Because it has a high water content, strawberry pie filling doesn't keep as long as other pie fillings. It's best used within 3-4 days after storing in the refrigerator.
However, it freezes well and will last for about 3 months in the freezer. After three months, it will start to lose some of its potent flavor, but it's still technically safe to eat for up 12 months, though it's not ideal.
I don't recommend canning this. Canning is so specific and I have not tested this to make sure it passes the amount of sugar and acidity needed to make it safe for canning. I'd recommend freezing it instead, for long term storage.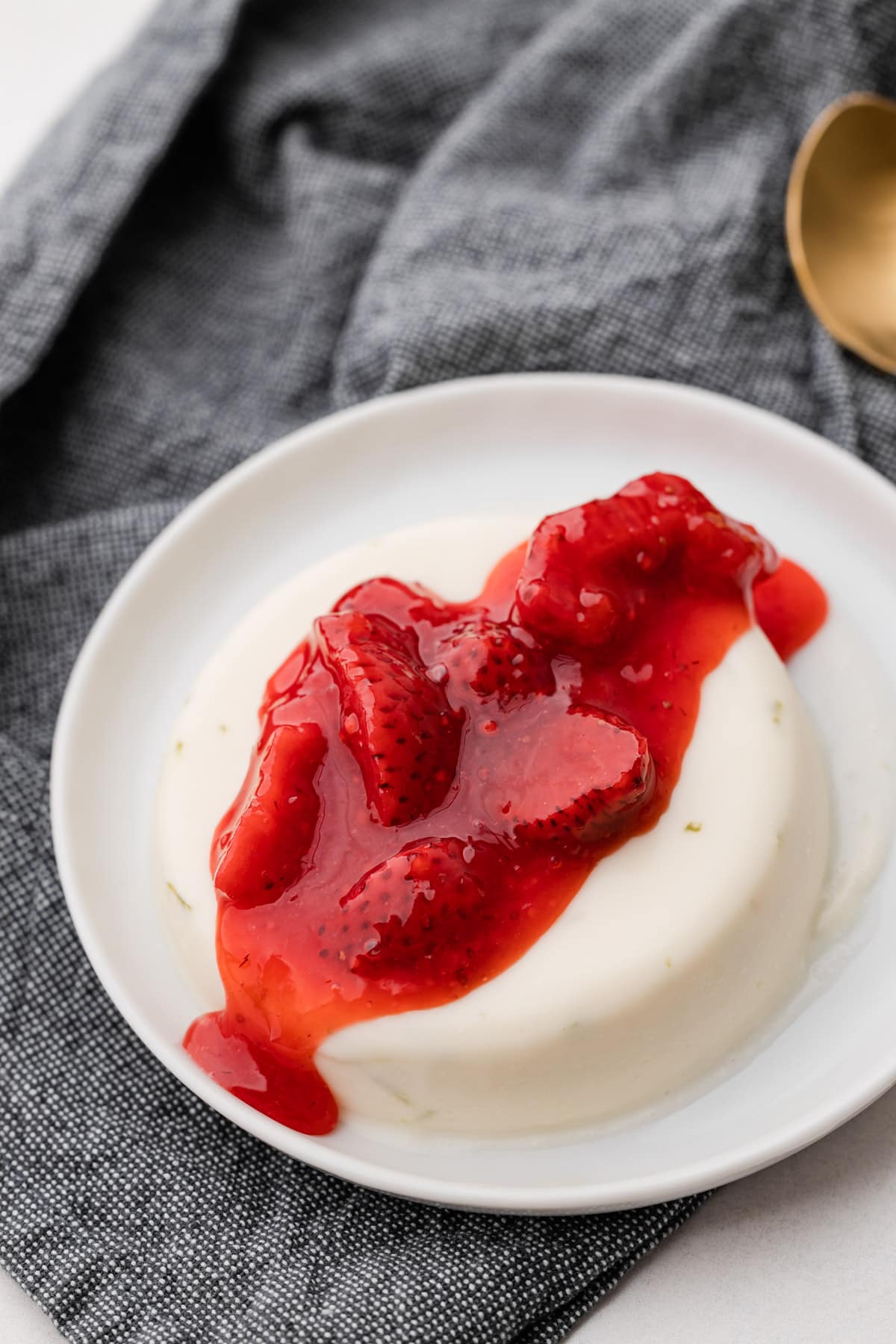 More Strawberry Recipes:
I am so honored when you make a recipe from my site! If you make this Strawberry Pie Filling, please leave a comment and a star rating with your experience! If you have any questions about this recipe, feel free to comment here, too!
Print
Full Recipe
Strawberry Pie Filling
Ditch the can and make Strawberry Pie Filling from scratch. It's vibrant and bright and perfect for pies, desserts, or any other sweet treat that calls for strawberry pie filling or strawberry topping. The preferred thickener to use for this pie filling for the most vibrant flavor is quick-cooking tapioca. If you prefer to use cornstarch, there are alternative instructions for this within the recipe. Note the differences before beginning the recipe.
Author: Kelli Avila
Prep Time:

00:10

Cook Time:

00:10

Total Time:

20 minutes

Yield:

1 pint

Category:

Pie Filling

Method:

Stovetop
1 quart

(

16 ounces

) ripe strawberries, washed, hulled and sliced

1 tablespoon

lemon juice

⅓

to

½

cup (

70

-

100

grams) sugar (depends on how sweet the strawberries are)

1 tablespoons

quick-cooking tapioca or 1 tablespoon cornstarch (see notes)
Pinch salt
Instructions
Add ½ cup (3 ounces) of sliced strawberries to a blender with lemon juice and ½ cup water (omit the water if using cornstarch), and blend until completely smooth.
Add the sugar to a pot with quick-cooking tapioca (or cornstarch), and salt and stir to combine. Pour in the juice and stir to combine. Heat over medium and let the juice come to a boil. Lower the heat to simmer and continue cooking to soften the tapioca pearls, stirring frequently, for about 5 minutes until the sauce is thickened. (If using cornstarch, do not simmer, instead once it thickens up from the boil, move on to the next step).
Add in strawberries and cook, stirring frequently until it comes back to a simmer, then shut off the heat. Immediately transfer the filling to a wide container to cool quickly.
When cool, pour into a jar. Store in the refrigerator until ready to use, about 3-4 days. Or in the freezer, for up to 3 months.
Notes
Have a question or looking for tips? The text written above the recipe is always a great first place to start! This Strawberry Pie Filling was developed with love, and I always include loads of explanations, tips, step-by-step photos and technical advice shared before the recipe.
This recipe makes about 1 pint of filling. To make enough for a full pie, the recipe needs to be doubled. Double all of the ingredients, but keep the amount of strawberries that are pureed to ½ cup. You can precook the filling for a no-bake pie, or add the filling into a pie without cooking, see the section "Thoughts on Turning This into a Pie" for more information.
Keywords: Strawberry Pie Filling
Some of the links on this page may be affiliate links. Everyday Pie is a participant in the Amazon Associates Program. As an Amazon Associate I earn from qualifying purchases, at no extra cost to you.