These Turkey Hand Pies are handheld comfort food! They feature savory turkey pot pie filling that's packed with leftover turkey and encased in a flaky pie crust. Make some for now, and freeze the rest for later!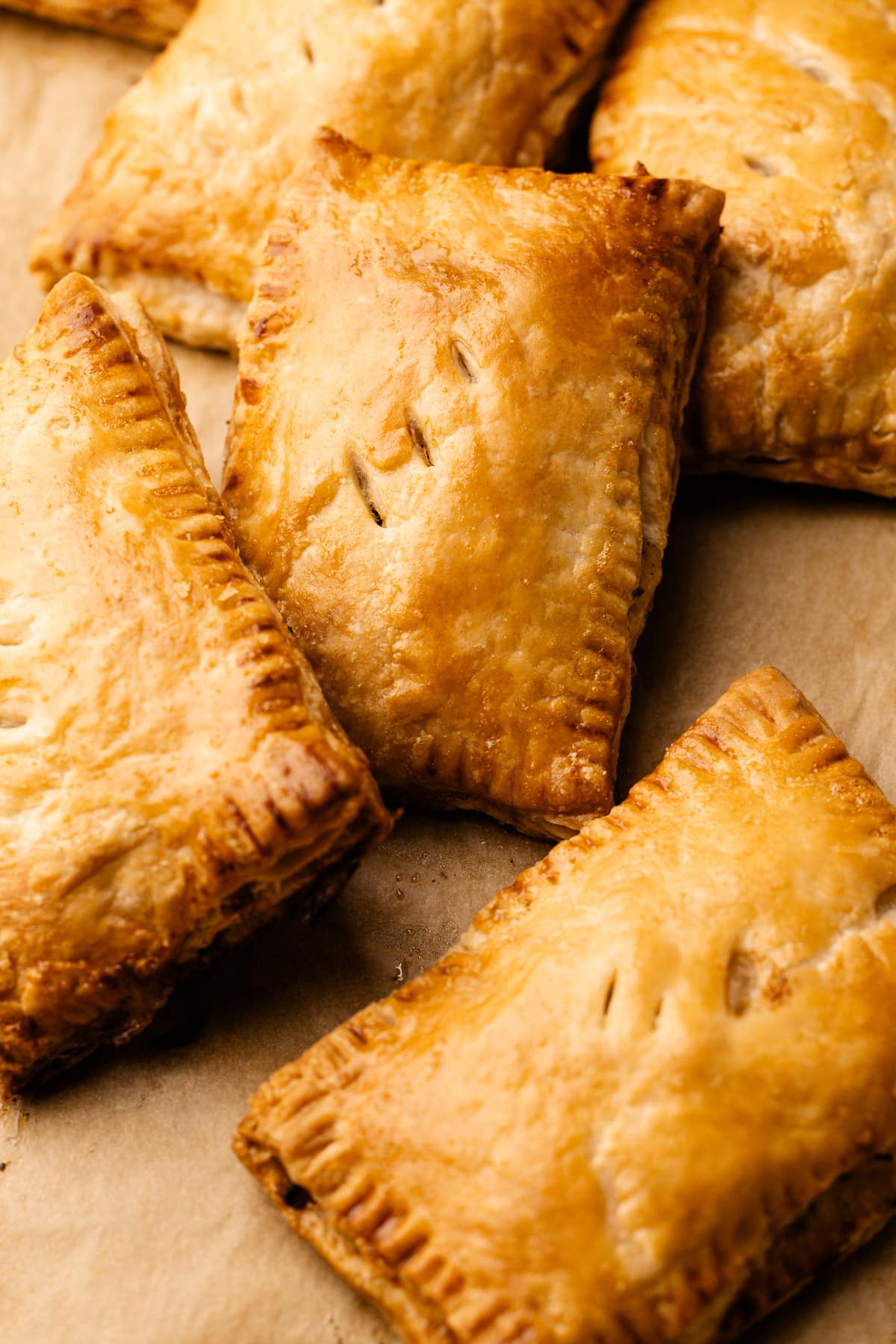 You are going to want to plan to make these after Thanksgiving, trust me. In fact, plan to make the dough ahead of time when you make all the pie dough for your Thanksgiving Pies. It will save you a big step in getting these made! These Leftover Turkey Hand Pies are exactly what post-holiday comfort food looks like. A light but savory turkey filling is tucked into a butter crust and baked into hand-held pies.
I love making this leftover recipe into hand pies because the pies can be frozen (baked or unbaked) for an easy dinner later on in the holiday season when things start to get really hectic.
If you are looking for a more family-style option, check out this Turkey Pot Pie recipe. The filling is a different recipe than this one (it has a more traditional Thanksgiving flavor) and uses leftover puff pastry or pie dough scraps. This Chicken Pot Pie is a another variation on this style of savory pie, geared less towards the holidays, but still great at this time of year.
So, let's get to making it, shall we? The article below is full of useful information. You can jump around using the menu below, or skip to the end of the article for the full recipe.
Jump to: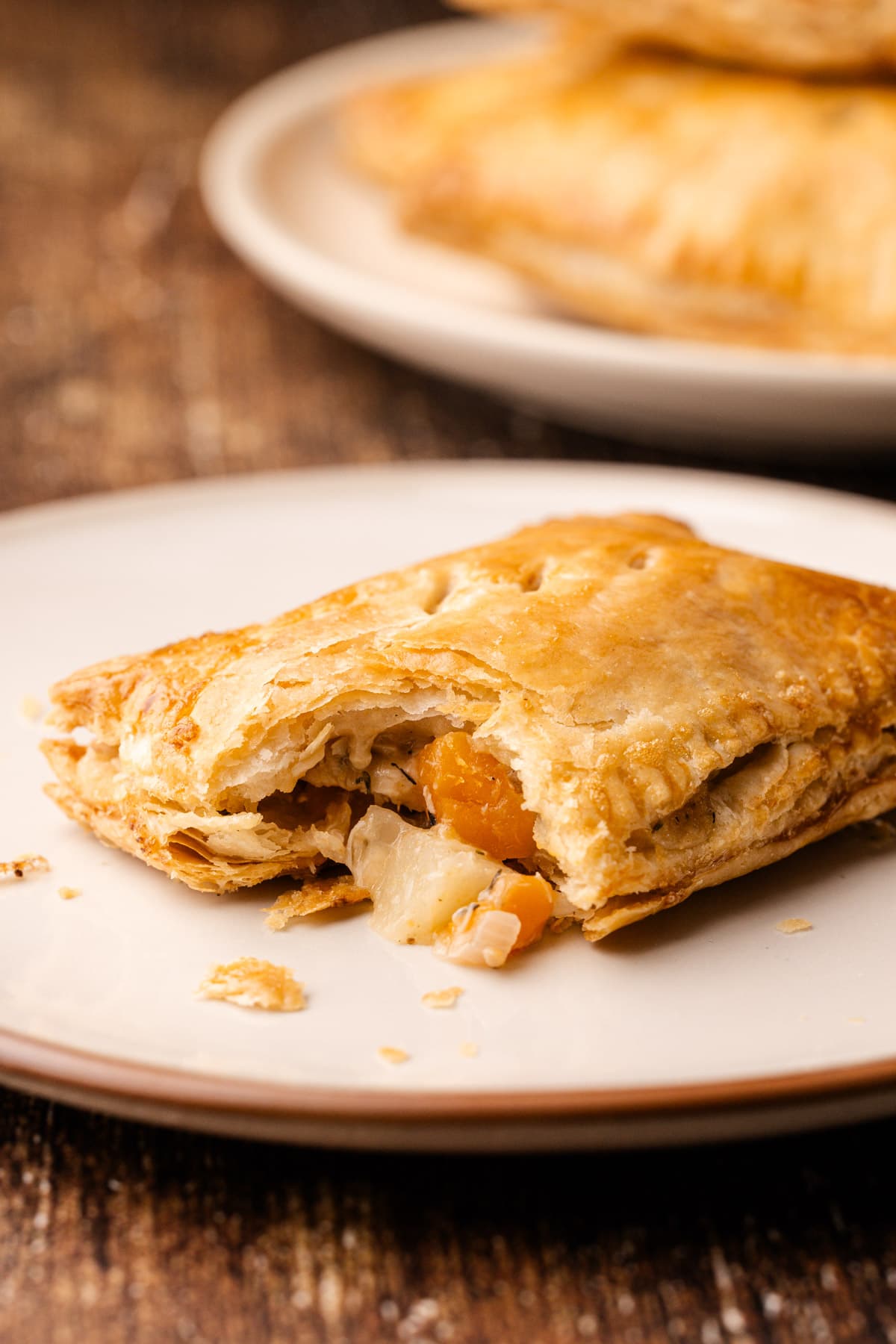 Ingredients Needed and Substitutions
Here is a brief overview of the ingredients needed for this recipe. The full recipe with quantities is listed below this text in the recipe card.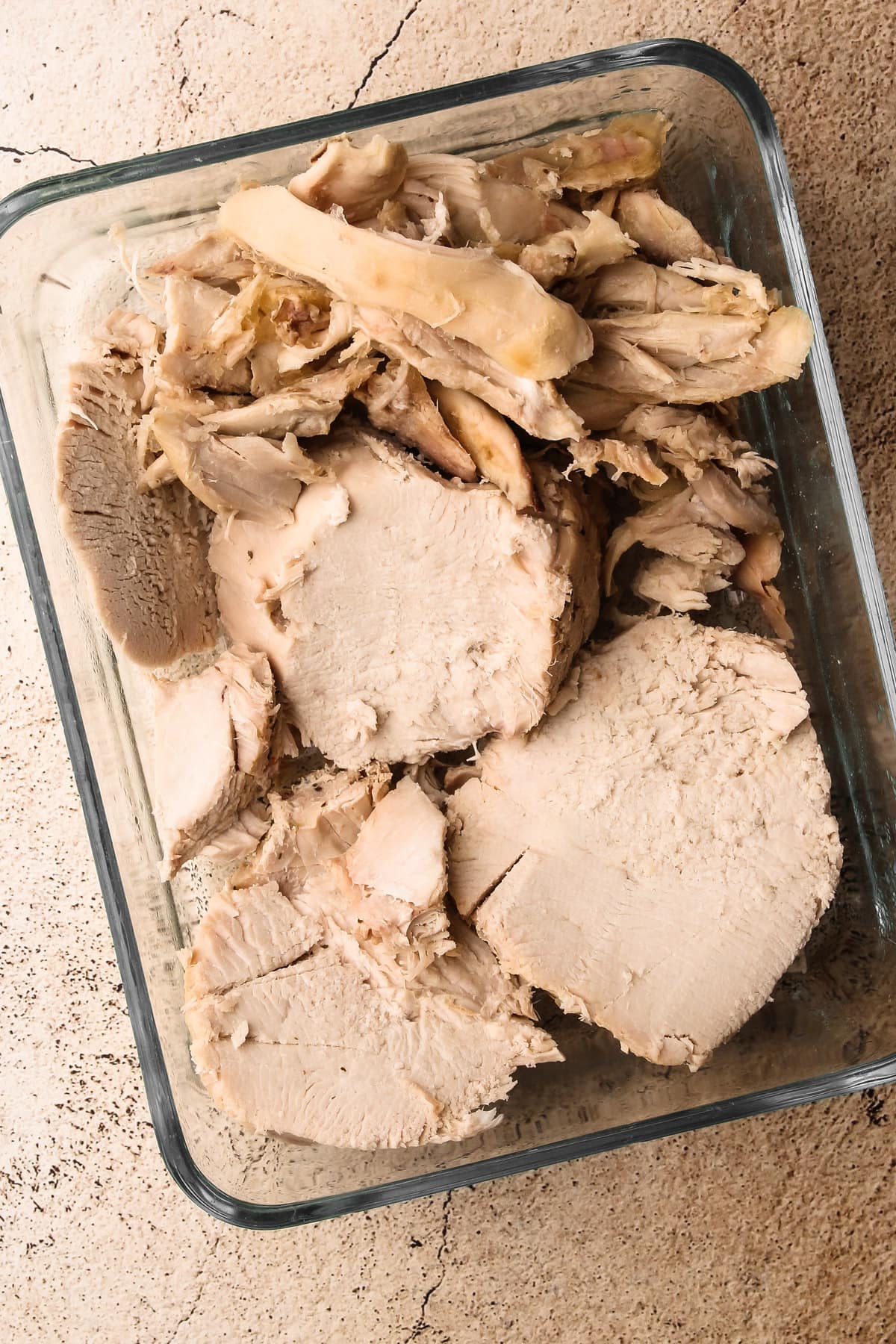 leftover turkey (of course you can also substitute chicken for this!)
leftover roasted veggies (if you don't have any of these, substitute frozen veggies such as a peas and carrots mix)
turkey or chicken stock (would be awesome if this was homemade from Thanksgiving, but store-bought is fine too)
onion
cornstarch
herbs and spices: salt, pepper and dried thyme
pie dough ingredients: butter, flour, salt, apple cider vinegar, and water
white wine vinegar (or fresh lemon juice would work here, too)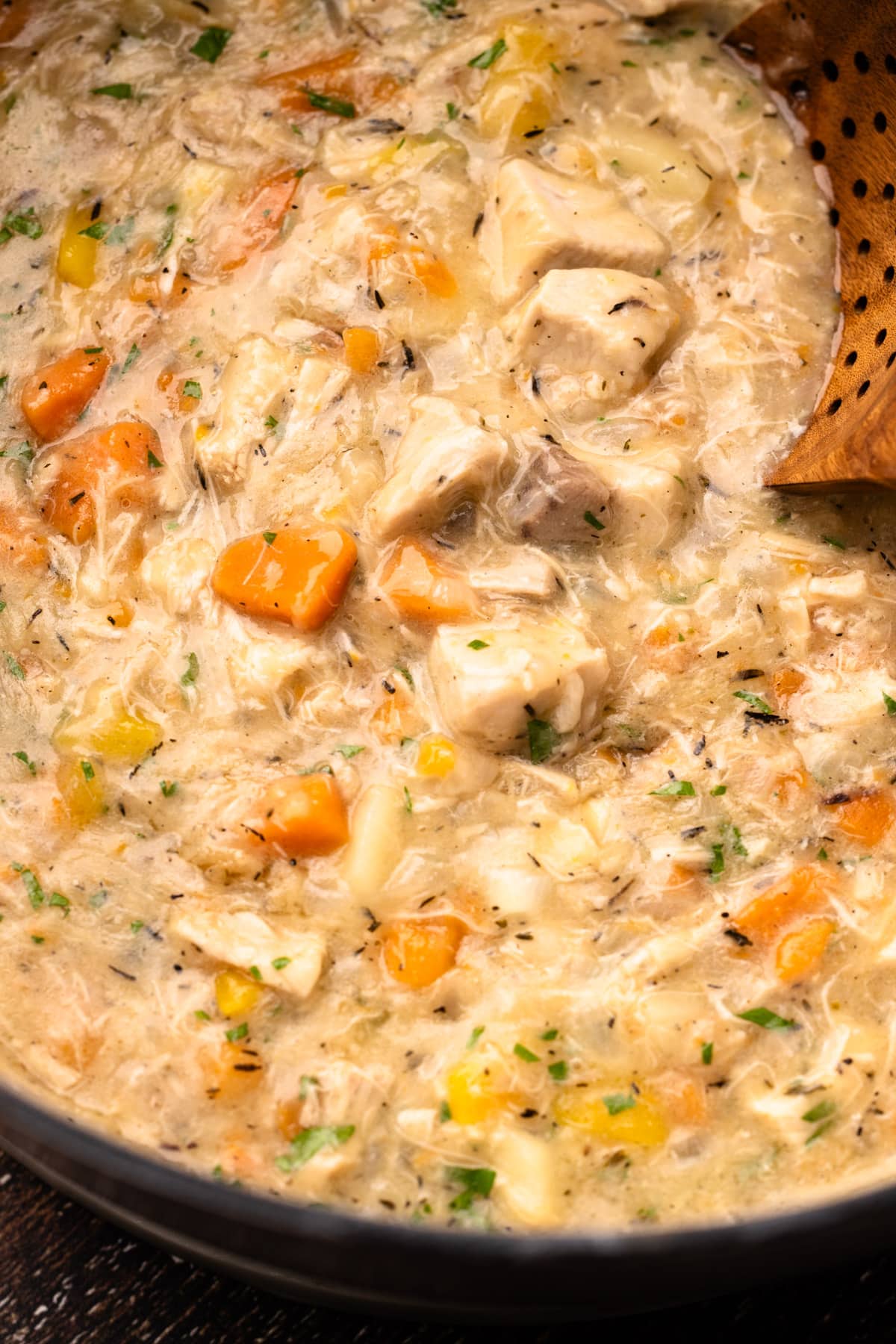 Step-By-Step Recipe Overview
This is a quick visual overview of the steps needed to make this recipe. This is not the actual recipe, which is located at the end of this article and has much greater details to ensure success.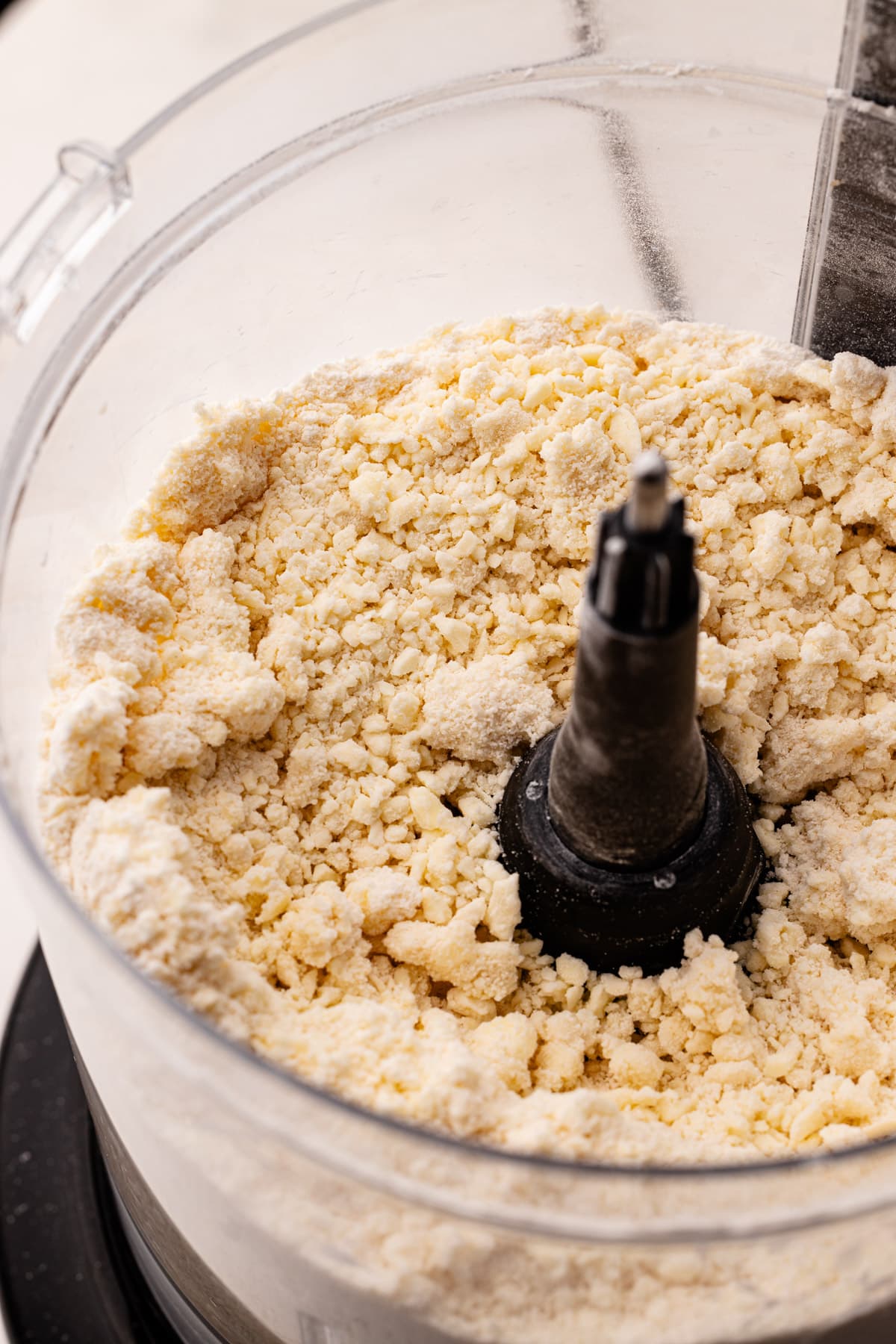 Step 1: Make the pie dough.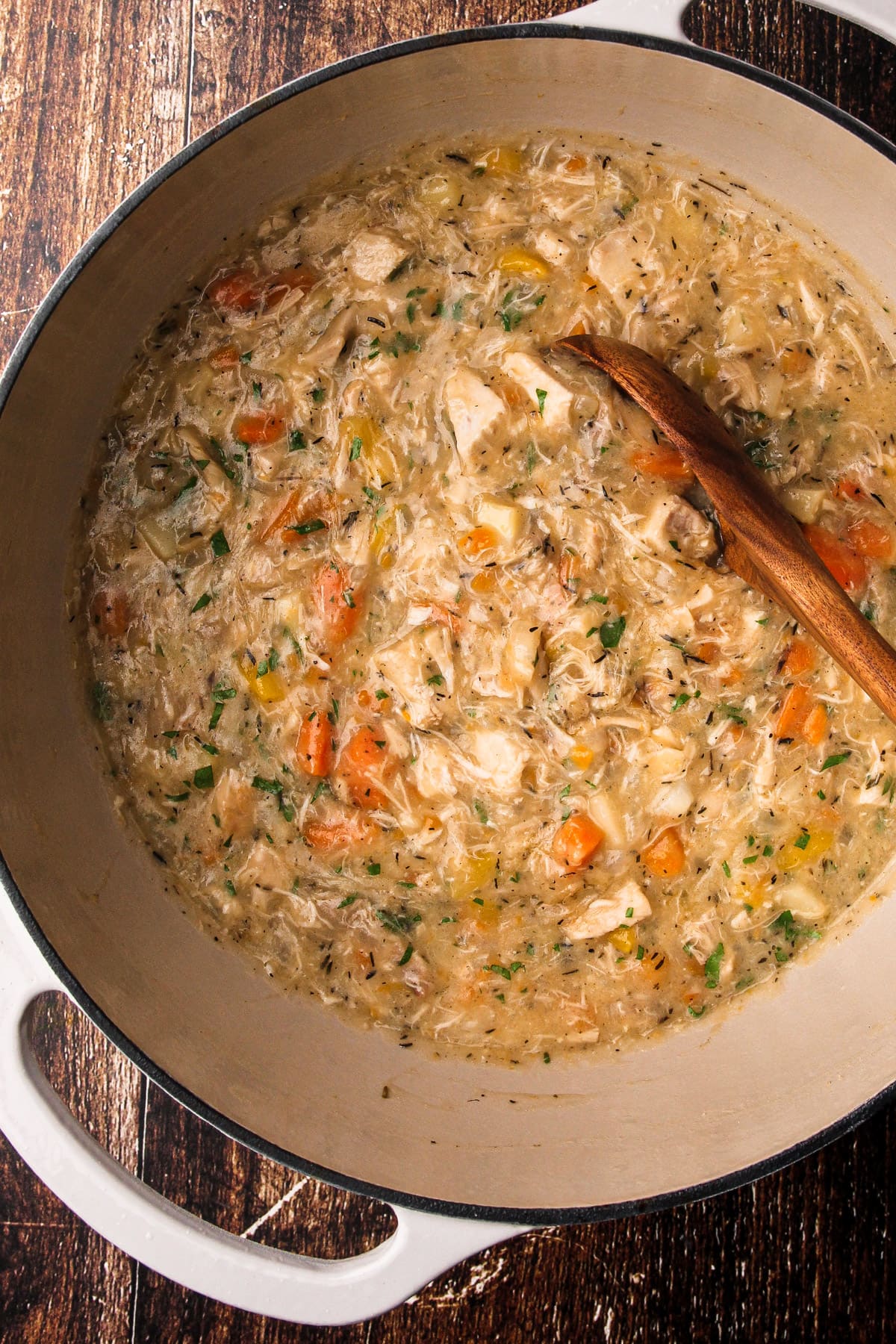 Step 2: Make the hand pie filling.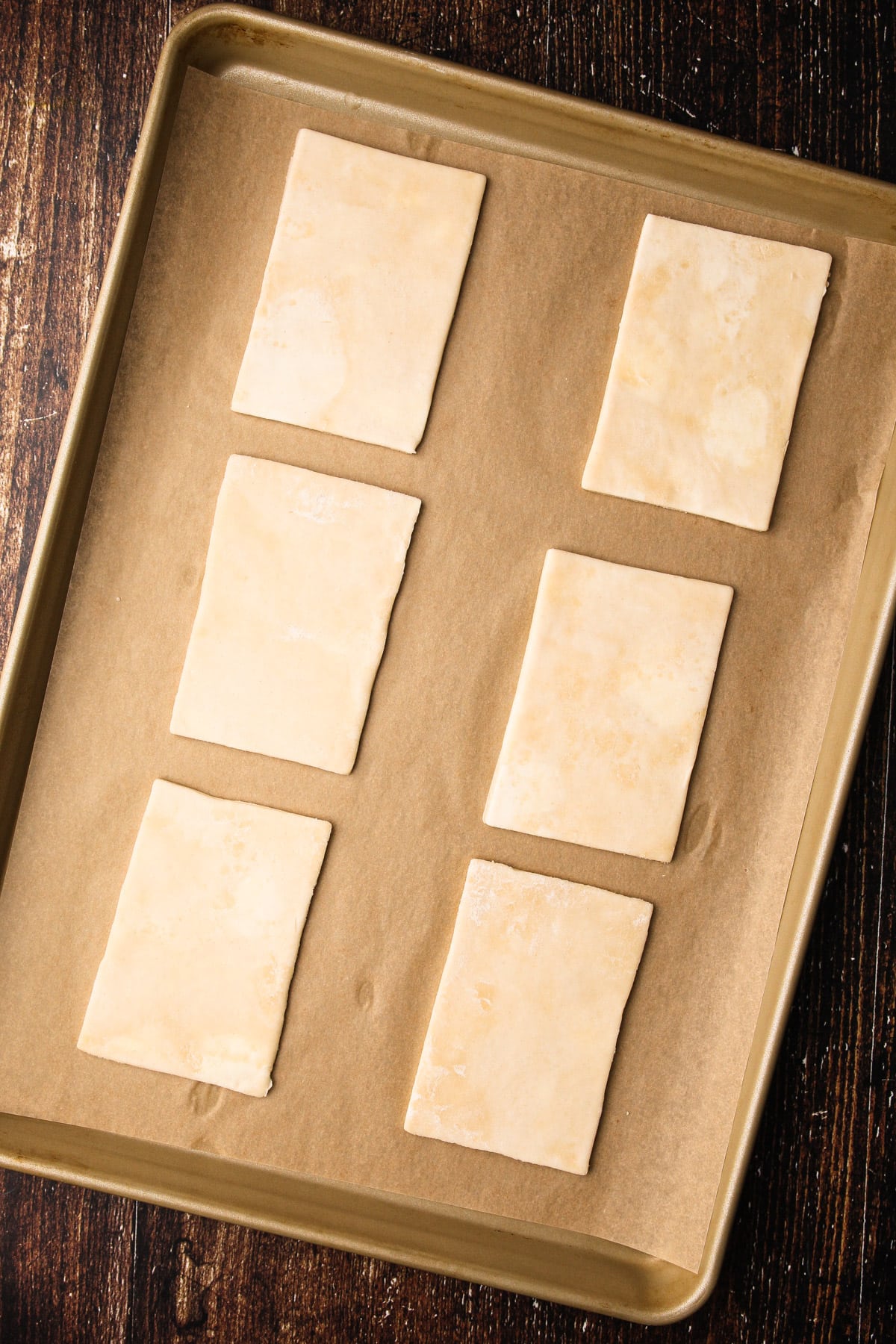 Step 3: Roll out the dough and cut it into 3x4-inch rectangles.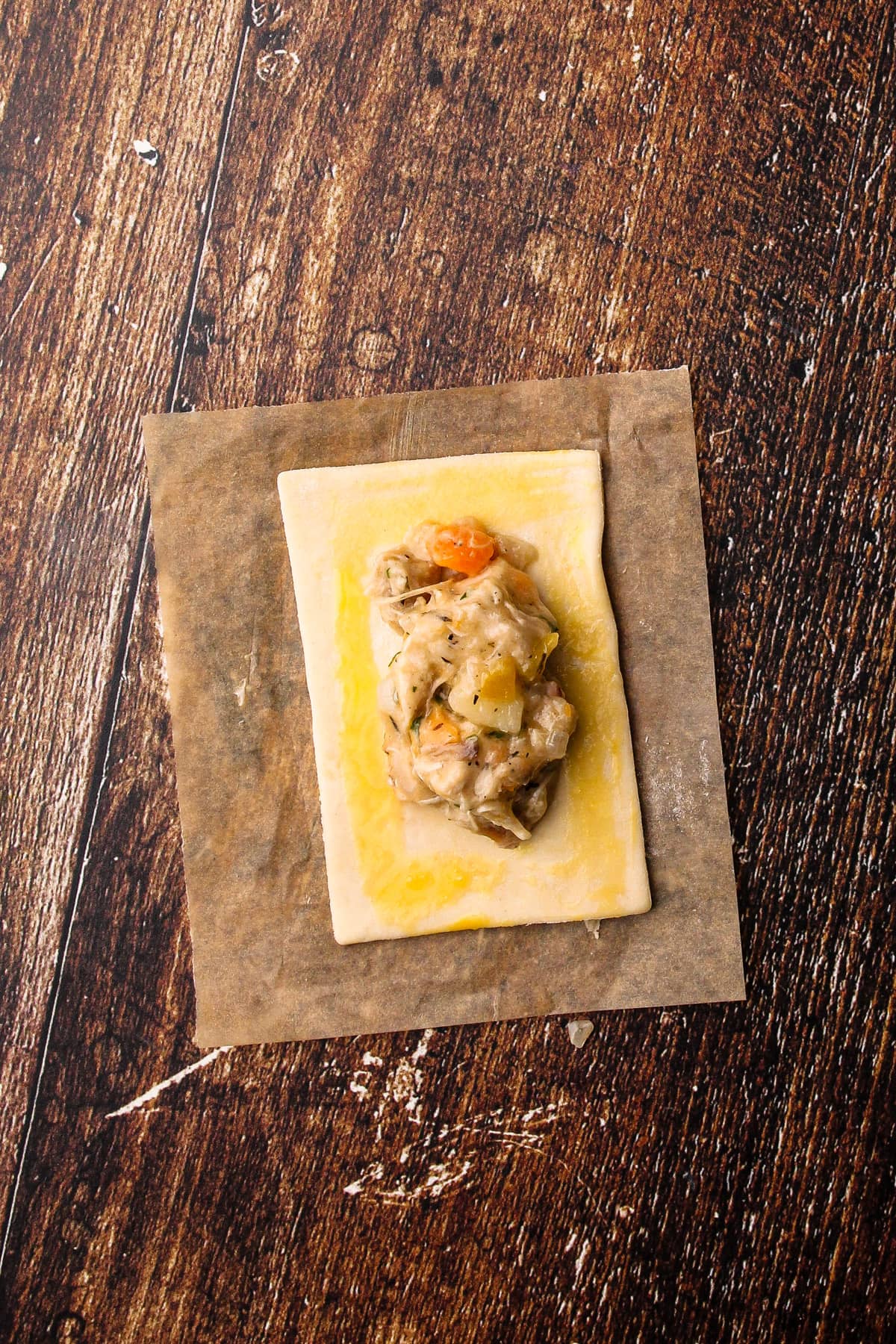 Step 4: Brush some egg wash on the edge of the pastry and place turkey filling in the middle.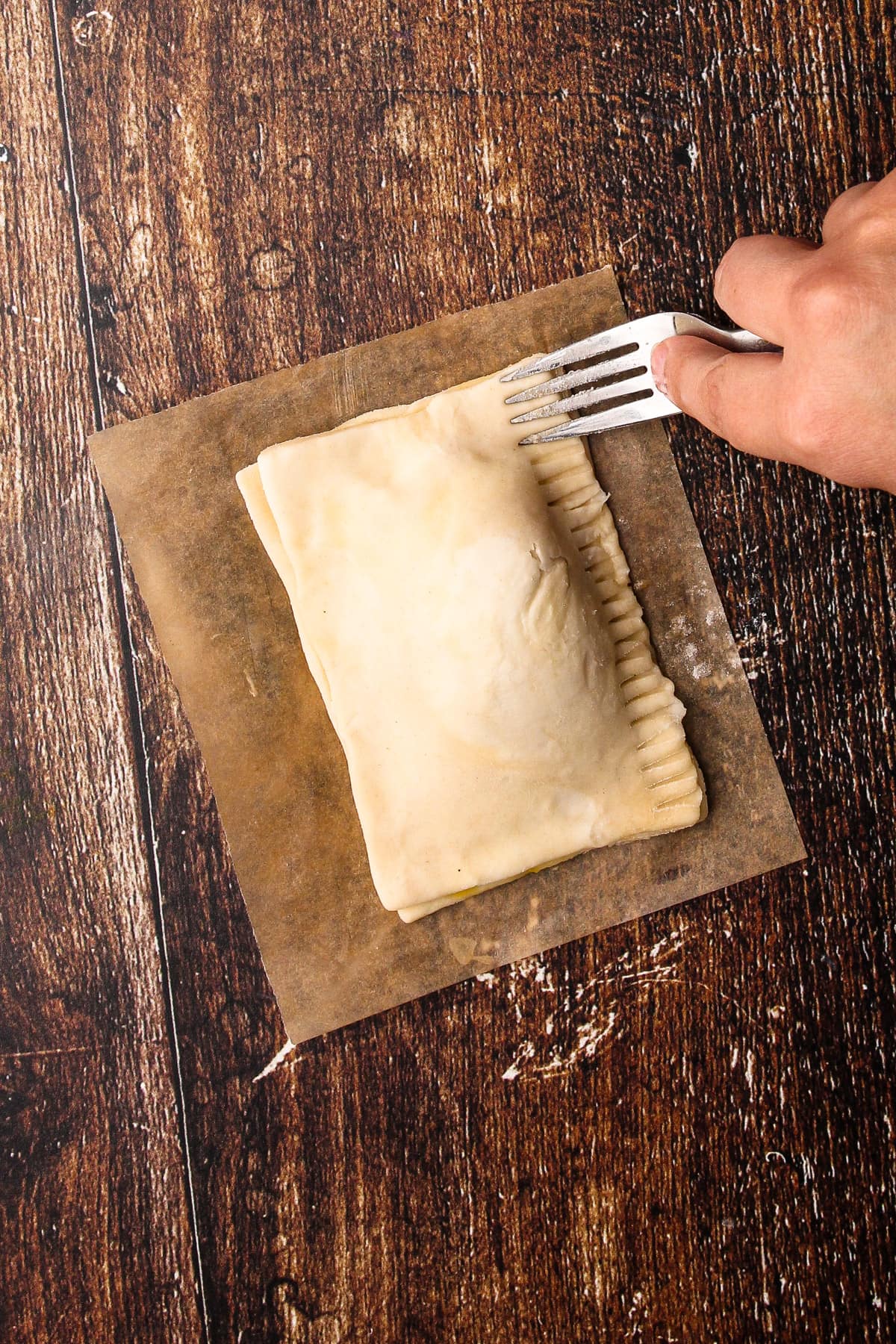 Step 5: Place another piece of dough on top and seal it with a fork.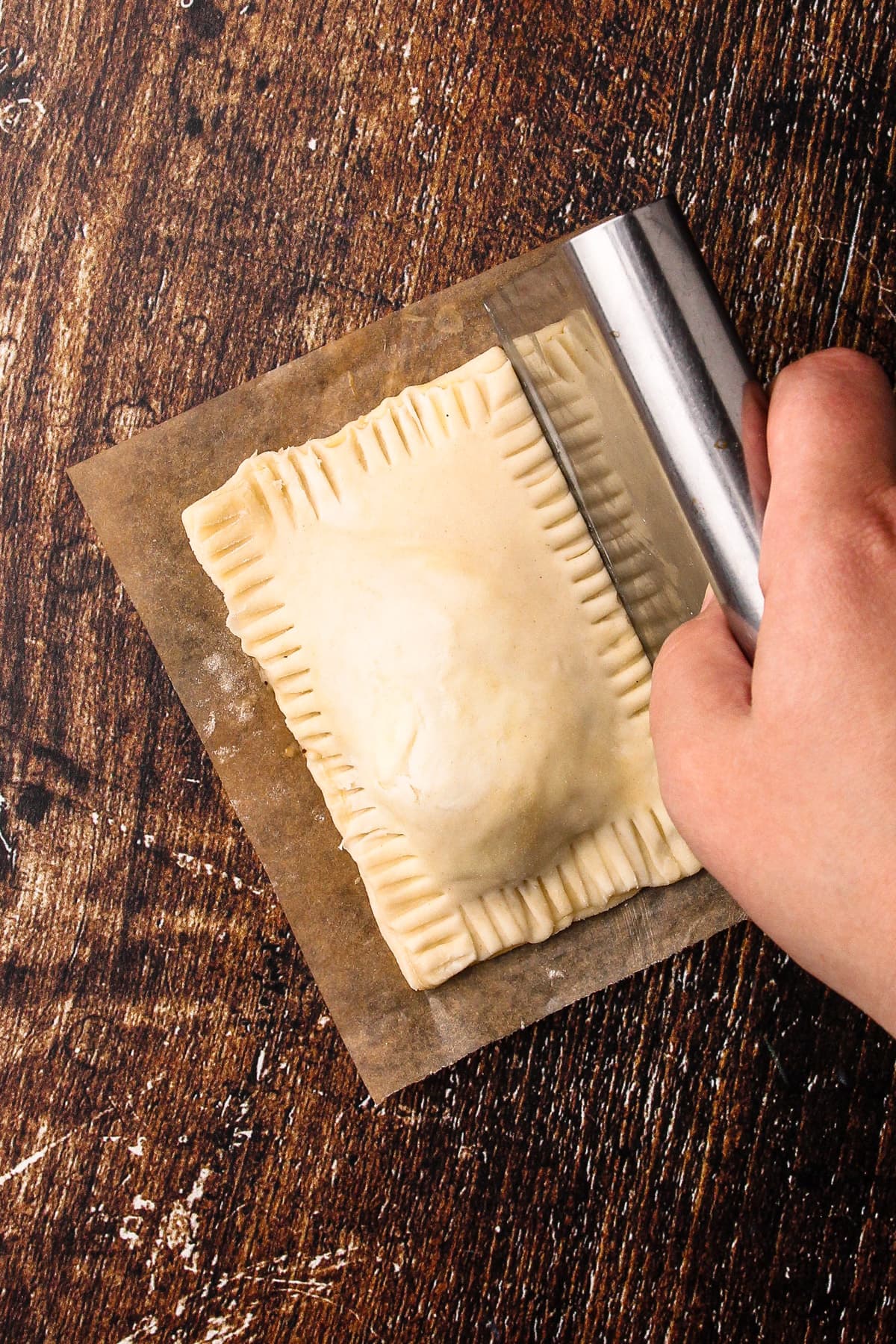 Step 6: Cut off the edges of the sealed pastry with a bench scraper.
Baking Turkey Hand Pies
The filling is already cooked in these hand pies, so when baking, the primary concern is to bake up the crust.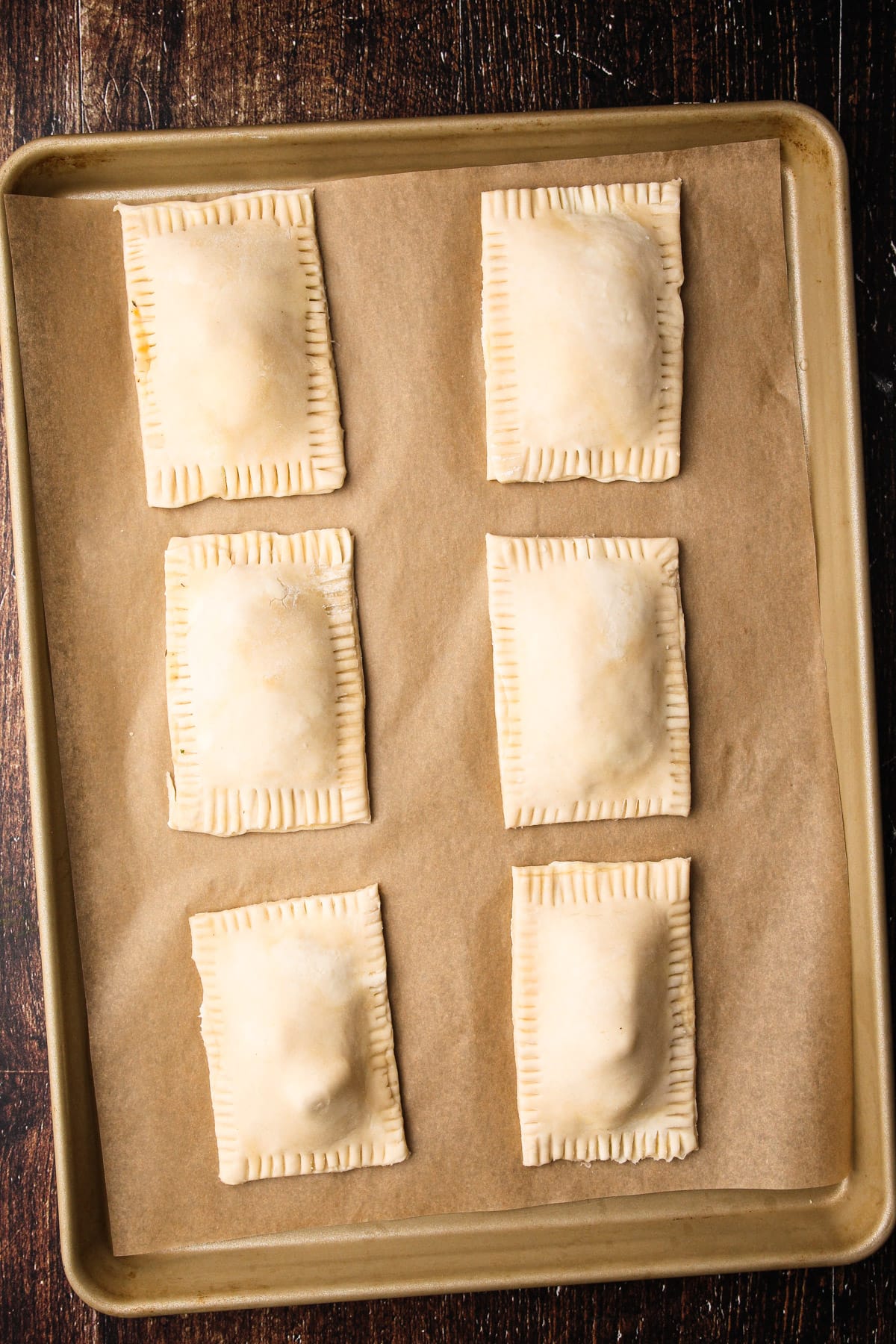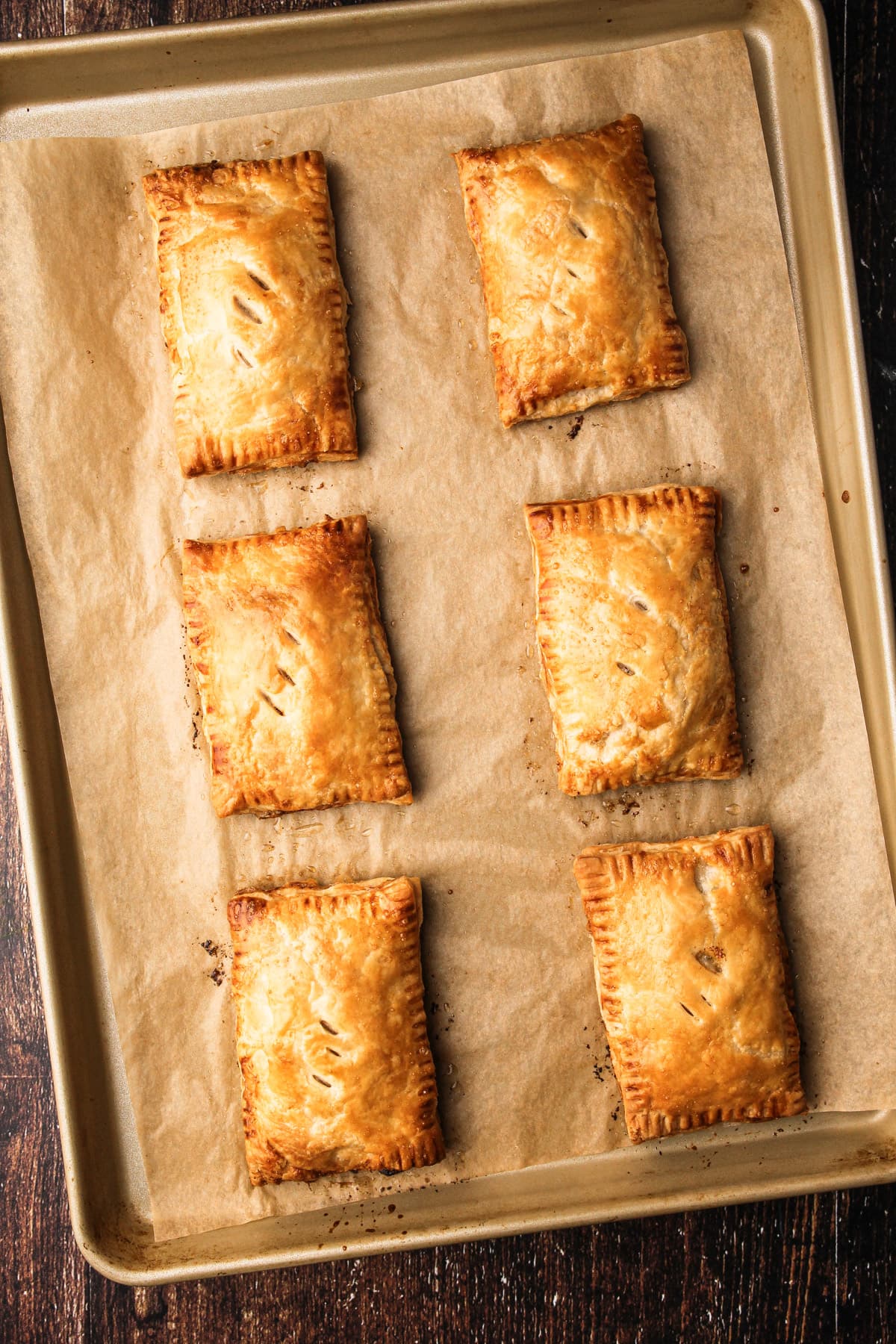 To bake, preheat the oven to 425ºF and set a rack to the second lowest position in the oven. This small step will ensure a crisp crust. Bake in the oven for 35 minutes, or until the pie dough is lightly golden all over.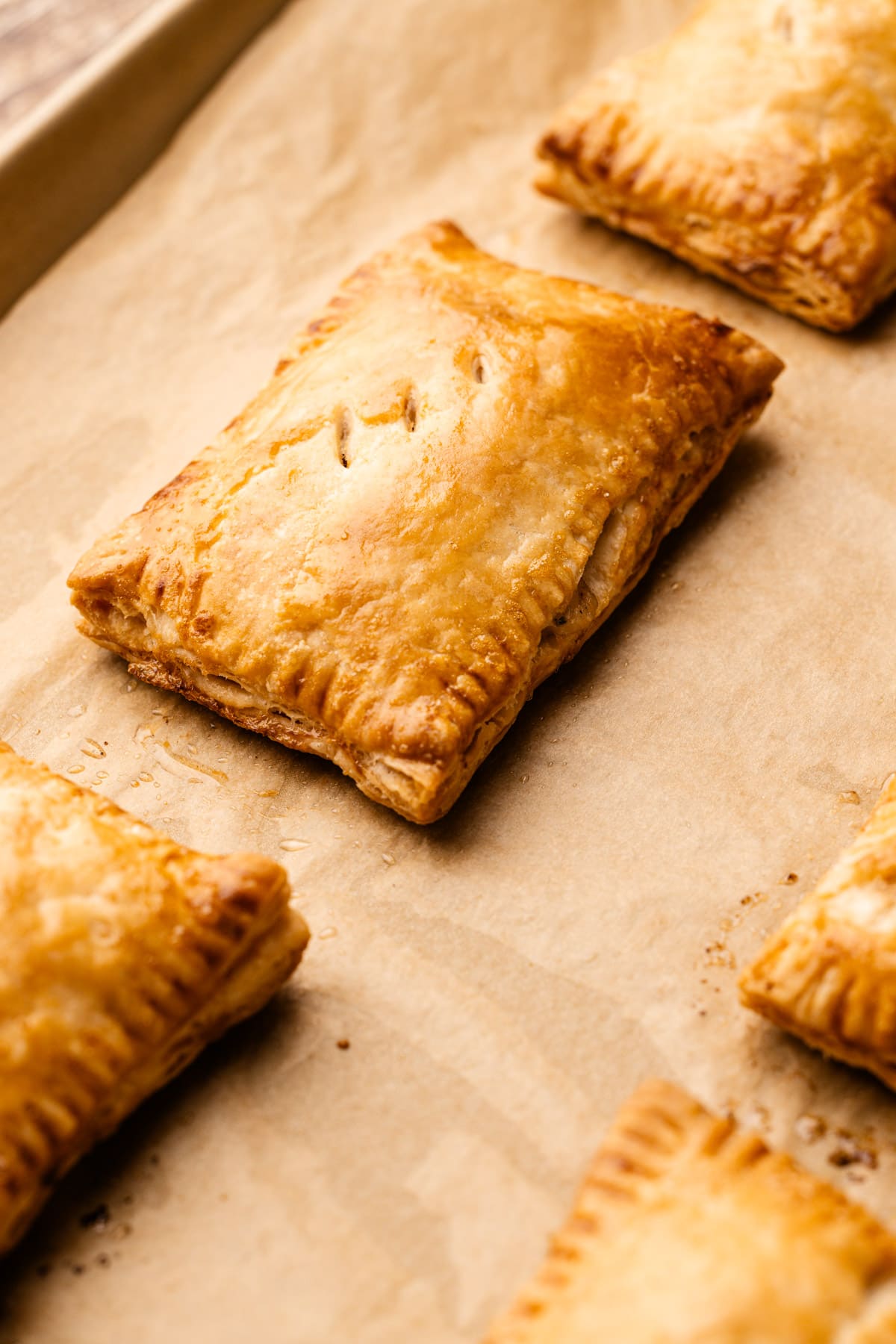 Make Ahead Options
While you can certainly eat a hand pie super fast (it's so easy because they're handheld!), it takes quite a bit longer actually to make them. Luckily, the steps can be broken down and spaced apart to make things easier.
The pie dough should be made ahead of time. That will make working with the pie dough easier, and will result in better hand pies. Pie dough keeps well for at least 2-3 days in the refrigerator, or 3-6 months in the freezer. The pie dough can also be rolled out ahead of time, too.
The turkey filling can also be made a day ahead, especially since it needs plenty of time to cool. You never want to put hot filling inside pie dough--it will melt it. Plus, making it ahead of time lets the flavors meld together, just like any good stew.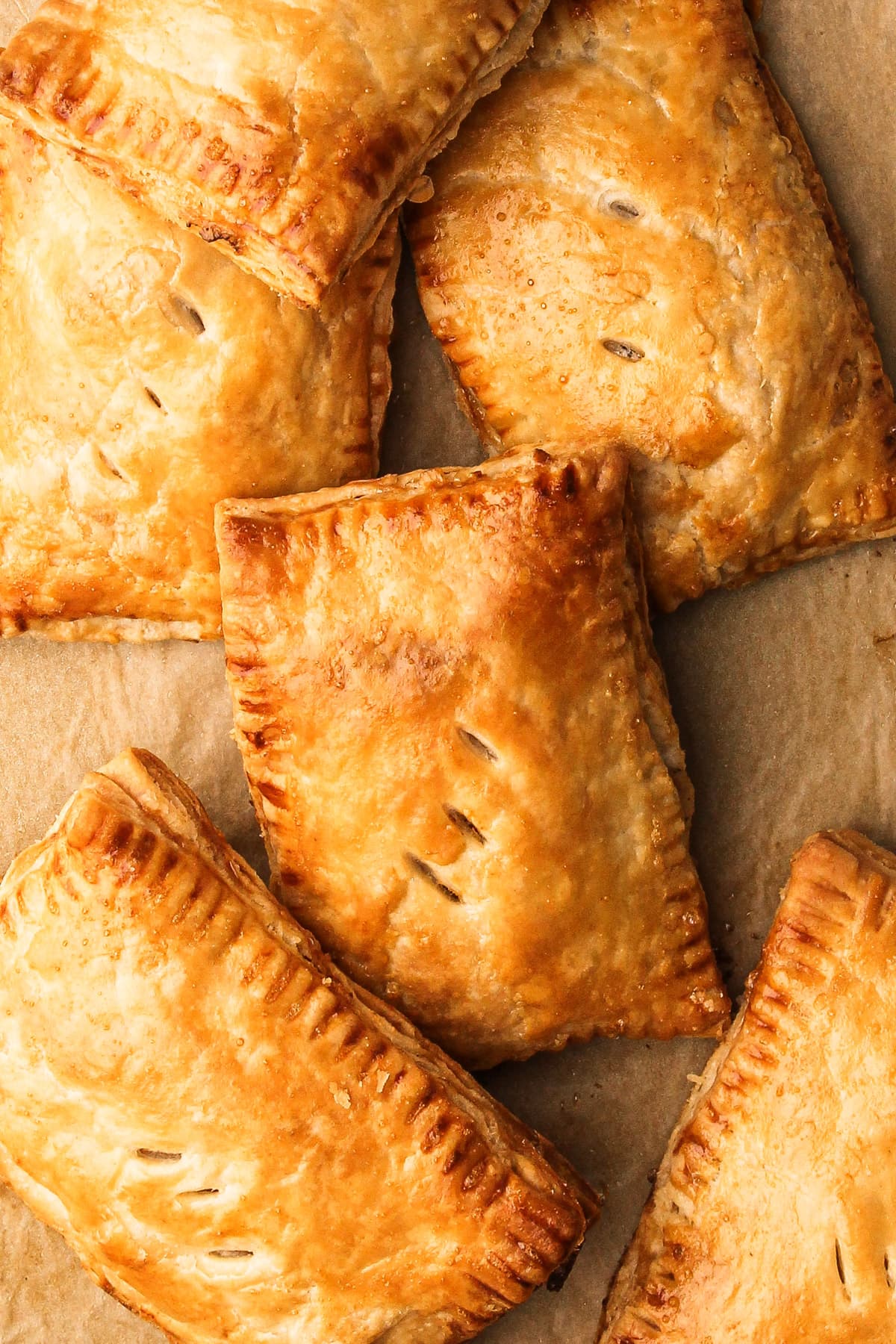 Freezing Turkey Hand Pies
These Turkey Hand Pies can be frozen, unbaked, for up to 3 months. Freeze them flat on a sheet tray for 24 hours. Then, transfer them to a bag with as much air removed as possible. The pies can be baked straight from frozen, but will require about 10 extra minutes to bake.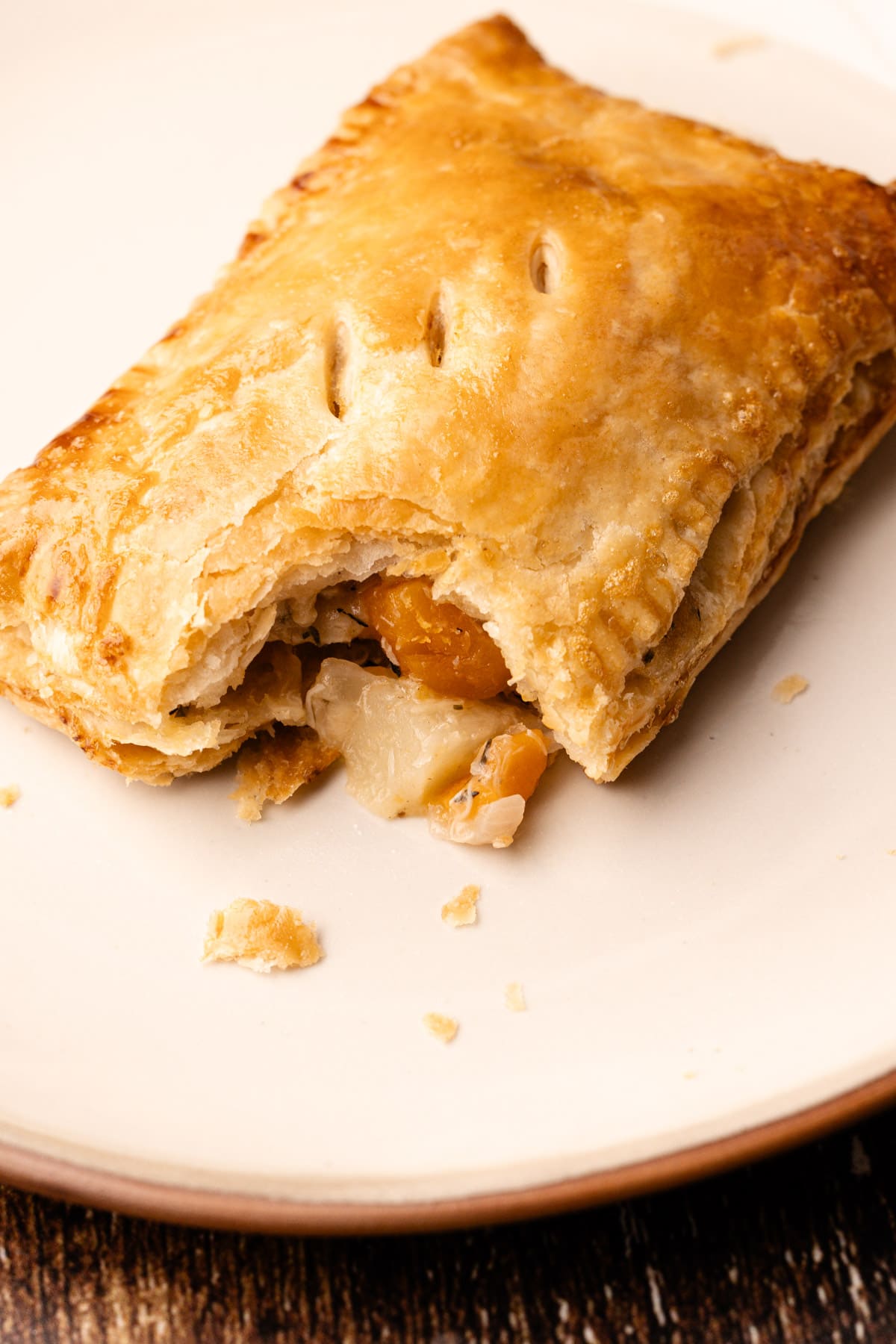 More Savory Recipes
I am so honored when you make a recipe from my site! If you make this Leftover Turkey Hand Pie recipe, please leave a star ⭐️⭐️⭐️⭐️⭐️ rating with your experience! If you have any questions about this recipe, feel free to comment here, and tag me on Instagram!
Print
Full Recipe
Turkey Hand Pies
These Turkey Hand Pies are handheld comfort food! They feature savory turkey pot pie filling that's packed with leftover turkey and encased in a flaky pie crust. Make some for now, and freeze the rest for later as an easy lunch or dinner option.
Author: Kelli Avila
Prep Time:

00:35

Cook Time:

01:05

Total Time:

1 hour 40 minutes

Yield:

About 12 hand pies

Category:

Savory

Method:

Bake
For Pastry:
4

-

½

cups (

540 grams

) all-purpose flour

1 teaspoon

(

3 grams

) coarse kosher salt (see note)

27 tablespoons

(

375 grams

) cold unsalted butter, cut into 1-inch pieces

2 tablespoons

(

30 grams

) apple cider vinegar

¾ cup

(

180 grams

) ice water, more as needed
For Filling:
1 tablespoon

oil

1

medium yellow onion, diced fine

1

-

½

teaspoons (

5 grams

) coarse kosher salt

2 tablespoons

unsalted butter

2 tablespoons

all-purpose flour (or

2 tablespoons

cornstarch)

1 teaspoon

dried thyme or

2 teaspoons

fresh

½ teaspoon

ground black pepper

2 cups

stock (turkey, chicken, or veggie)

2 cups

(

425 grams

) leftover turkey, diced

2 cups

leftover veggies, diced (see note)

1

-

2

teaspoons white wine vinegar
Egg wash (1 egg whisked together with 1 tablespoon of water)
Instructions
Make Pastry:
Add the flour and salt to the bowl of a food processor. Pulse 2-3 times until combined.
Add in the butter and pulse 7-9 times, until the butter is broken down into small pea-sized pieces.
Add the vinegar to the water. With the motor running, slowly pour the water mixture into the flour mixture. When finished adding the water, the dough should be crumbly and it should hold together when squeezed. Drip in more water and toss together if needed. Do not overprocess the dough until it clumps around the blade.
Empty the mixture onto a work surface and divide it into two equal piles.
Quickly press each dough pile together. If there are any dry spots, drip a bit more water onto them and knead together if you have to.
Place each dough in a piece of plastic wrap and wrap tightly.
Using a rolling pin, roll the dough out until it stretches to the edges of the plastic wrap.
Refrigerate for at least 2 hours, but preferably overnight.
Make Turkey Filling:
In a Dutch oven, heat the oil over medium heat. Once hot, add the onion and salt and cook until the onion is beginning to soften about 5 minutes.
Add in the butter, flour, thyme, and pepper. Cook, stirring often, until the butter has fully melted. Slowly whisk in the stock, about ½ cup at a time, until it is all combined. Heat the sauce to a boil, then reduce the heat to a simmer.
Add in the leftover turkey and veggies (if using frozen veggies, wait to add them until the next step) and simmer, stirring occasionally, for 20 minutes.
Shut off the heat, stir in 1 teaspoon of the vinegar, then season to taste with more vinegar, salt, and pepper as needed. (If using frozen veggies, add them here.)
Transfer the filling to a shallow container and let cool completely at room temperature or overnight in the refrigerator.
Assemble and Bake:
Line two rimmed baking sheets with parchment paper and set aside.
Remove the dough from the refrigerator. On a well-floured work surface, roll out one piece of dough to a rough rectangle about 10-by-16 inches, or about ⅛-inch thick. Using a pastry wheel or a knife, cut out twelve 3-by-4-inch rectangles. Repeat with the second dough. Then gather the scraps together and roll out the dough in the same manner, cutting out as many 3-by-4-inch rectangles as possible. This dough should yield 24 rectangles total. If the dough is extremely warm at the end of this process, place the rectangles in the freezer briefly to firm up.
Working with one dough rectangle at a time, brush a thin coating of eggwash onto the outer edge. Place a scant ¼ cup of turkey filling in the middle. Place a second dough rectangle over the top and press down on the edges to seal the two pieces together.
Using a fork, press down to seal the edges. Finally, using a pastry bench scraper, press down to cut off the edges on all sides of the pastry. This makes the final product look neat and adds extra security to keep it sealed. Repeat filling and shaping the hand pies with the remaining dough rectangles and filling (you'll make 12 hand pies total).
Place the hand pies spaced evenly apart on the two prepared baking sheets. When finished, place the baking sheets into the refrigerator or freezer to chill while the oven preheats.
Preheat the oven to 425ºF and set racks in the middle and lower parts of the oven. Remove the pies from the refrigerator or freezer and brush the tops with the remaining egg wash.
Bake in the oven for 35 minutes or until the pie dough is lightly golden all over.
Transfer the hand pies to a wire rack to cool for 5 minutes before serving.
Notes
The idea of this recipe is to use leftover roasted veggies like parsnips, carrots, potatoes, etc. If they aren't already cut into bite-sized pieces, do that before using in this recipe. If you don't have any leftover vegetables, you can replace them in this recipe with a frozen veggie mix, such as peas and carrots. Just be sure to add them in at the end after the turkey has simmer, so they don't overcook.
Weighing your flour is the most accurate way to measure. If you aren't going to weigh it, make sure to spoon it into the cup, and then level it off. If you scoop the flour out with the measuring cup and then level, it could change the outcome of the final product.
This recipe was tested using Diamond Crystal coarse kosher salt. If you use Morton's kosher salt or fine salt decrease by about half for volume, or use the same amount by weight.
Have leftover pie dough from Thanksgiving? You'll need about 3 disks of pie dough to make this recipe, or about 36 ounces of dough.
Keywords: Leftover Turkey Hand Pies
Pin it for Later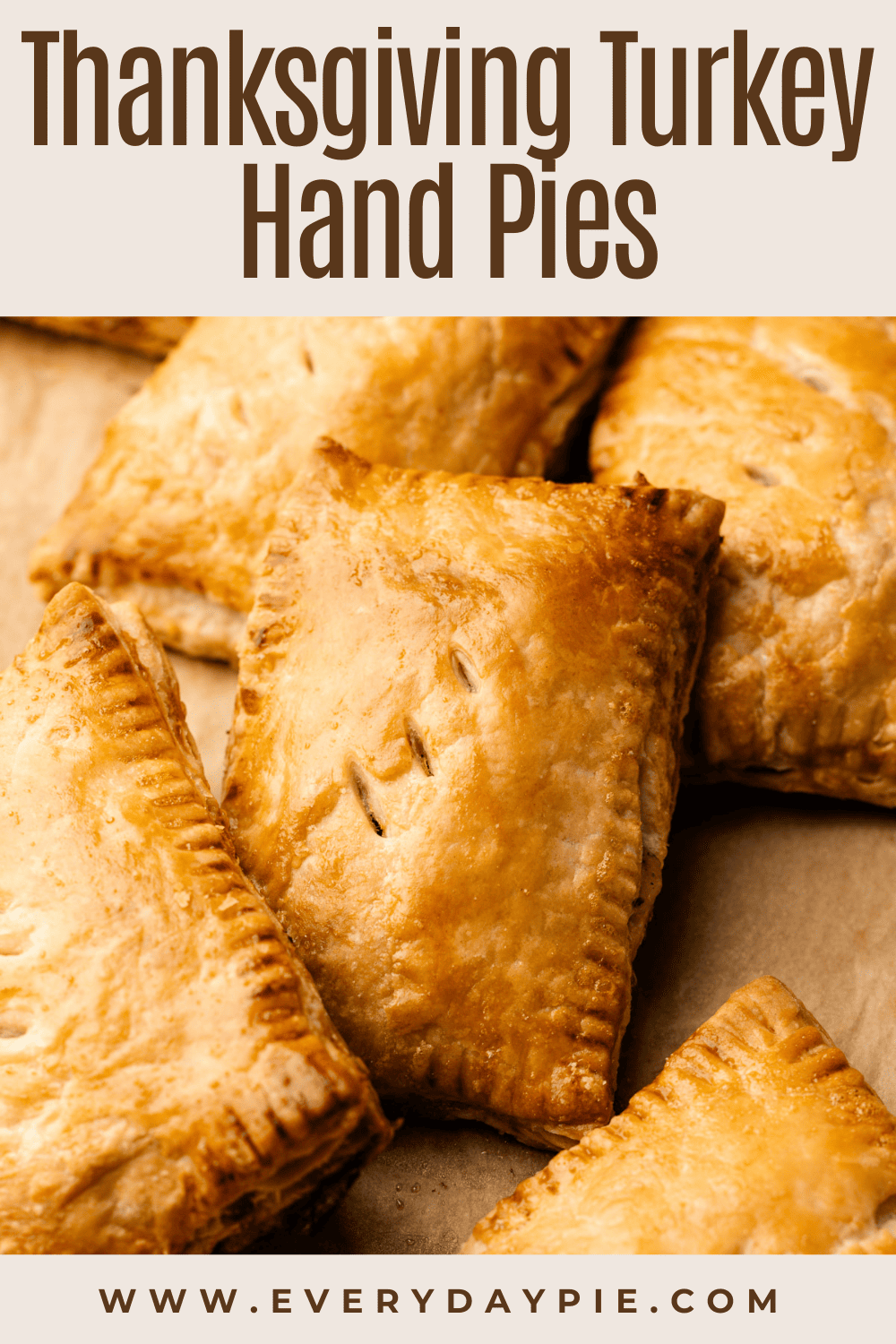 Some of the links on this page may be affiliate links. Everyday Pie is a participant in the Amazon Associates Program. As an Amazon Associate I earn from qualifying purchases, at no extra cost to you.