Cherry pie filling is super easy to make at home, and perfect to have on hand or stored away in the freezer for whenever you need it. This recipe is perfect for pies, desserts, or any other sweet treat that calls for cherry pie filling.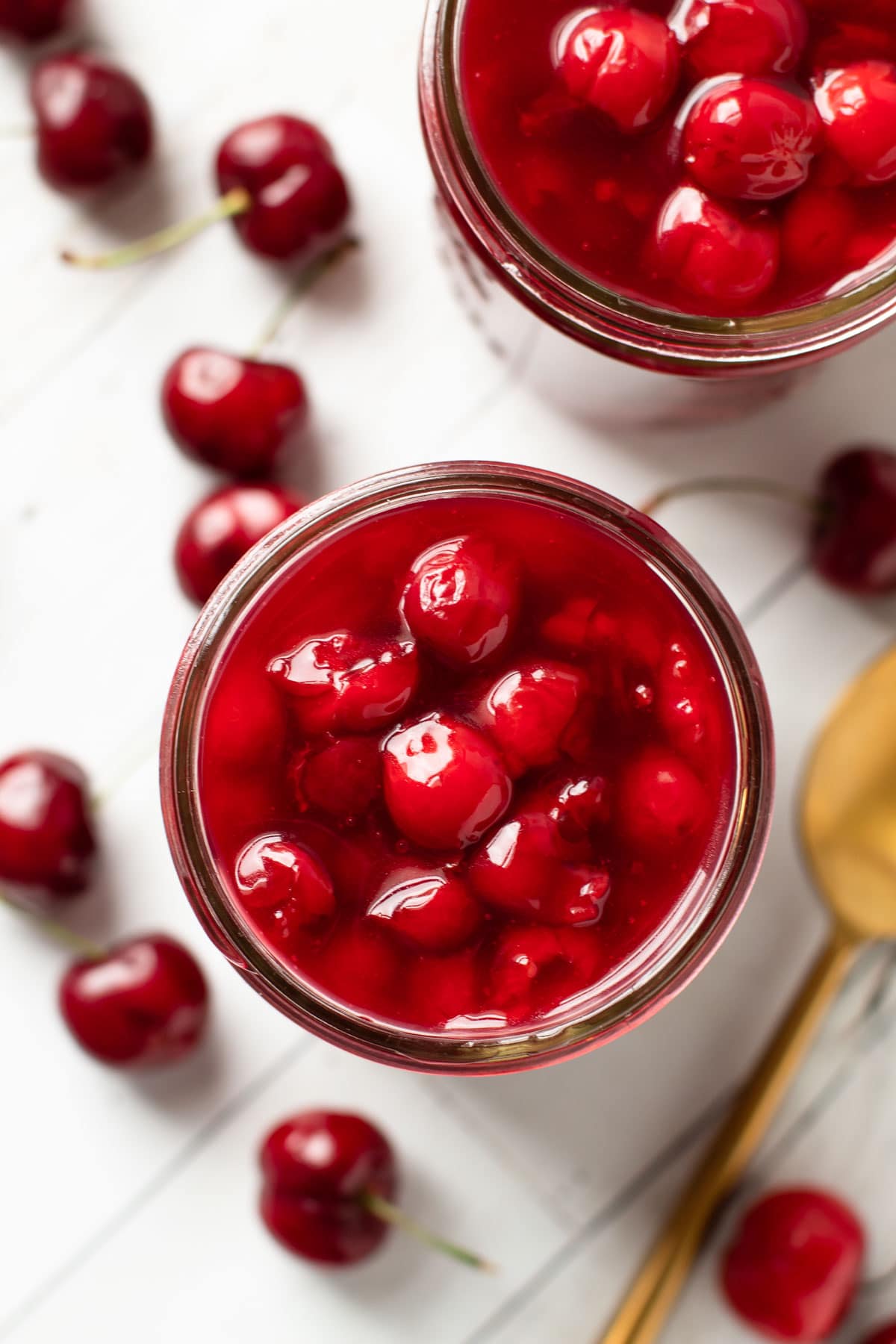 Homemade Cherry Pie Filling
Let's just say it like it is: there is never an excuse to buy a canned cherry pie filling when it's so easy to make and keep on hand at home, especially during cherry season! This recipe is made with sour cherries, so it has that sweet and sour thing going on that makes it so good!
Premade sour cherry pie filling is perfect for all kinds of baked goods, such as cherry crisp, cherry puff pastries, pies, a cherry galette or, even as a cake filling. It's also delicious all by itself, or with a scoop of ice cream.
It freezes well too, so this recipe is one of the best ways to use up any large quantities of cherries you might have when they are in season.
So, let's get to making it, shall we? The text below offers tons of tips and helpful notes, or you can scroll to the bottom to grab the recipe and get started!
More of a visual person? Check out the video of me making it below, located right above the recipe!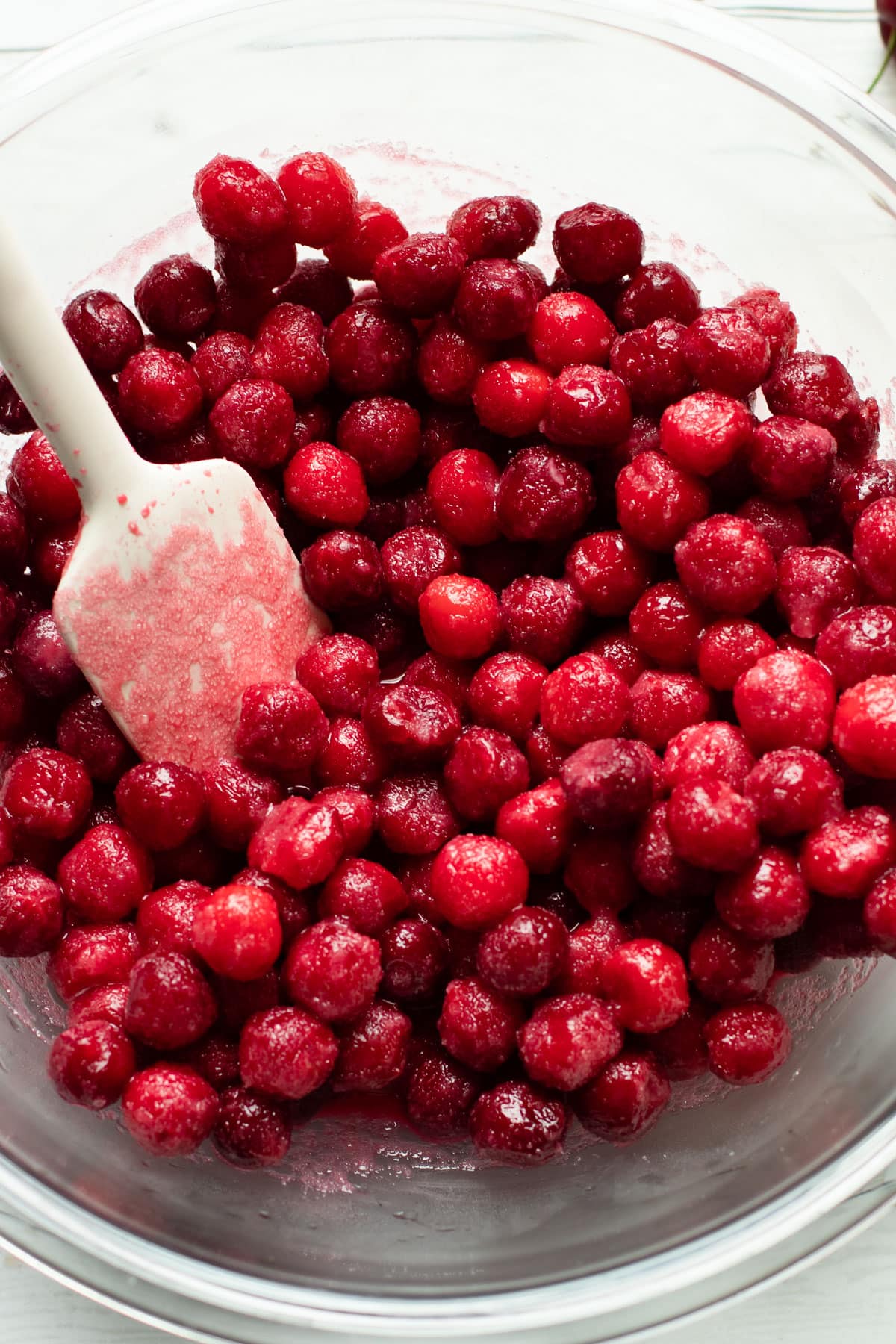 What Kind of Cherries To Use
There are quite a few types of cherries out there, and many of them will work for this recipe. Most cherries can be categorized as either sweet or sour. This recipe calls for sour cherries. The reason this matters is because the amount of sweetener called for is based on the cherries being sour.
You can use fresh or frozen sour cherries. Some common varieties that are good for pies are Montmorency or Morello. I love using frozen cherries personally, because they're already pitted and taste just as good. But this recipe is great with fresh cherries too.
Want to make this recipe but have sweet cherries? That's fine! You can use this recipe, but reduce the amount of sugar to ½ cup.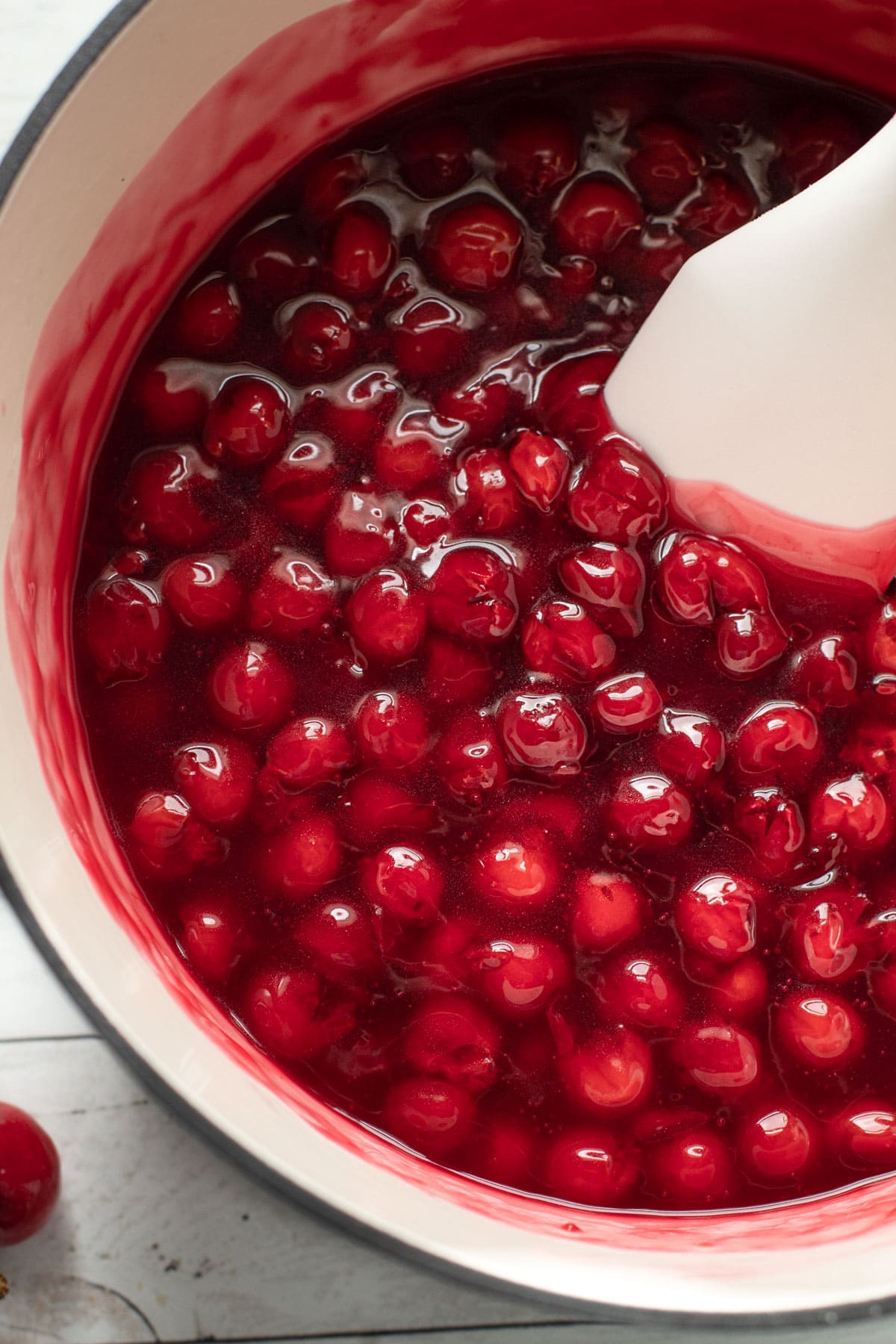 The Best Tool For Pitting Cherries
While some may not be bothered by pitting cherries, I find it quite annoying. I do not enjoy the task at all! So, years ago I purchased an inexpensive cherry pitter (affiliate link) to make the job go by quickly.
It works much faster than manually removing them with a knife. But the downside is that it still takes time.
How to Make Cherry Pie Filling
This is a very simple recipe. Essentially, cherries are mixed together with sugar, lemon juice and cornstarch and then cooked. There are a few tricks you should follow to ensure you get the best flavor in your filling.
The first is that the recipe calls to macerate the cherries for about 15 minutes. This helps dissolve the sugar before cooking. If you are using frozen cherries, let it sit for an additional 15 minutes.
Secondly, there is tart cherry juice added to the mixture. This serves three purposes. The first is that it gives some extra juice to the filling. The second is that it gives the filling another layer of flavor, and the third is that it adds a nice color to the filling.
At the very end of the cooking process, some butter and almond extract are folded into the hot mixture. The butter adds a delicious richness, and the almond adds a depth of flavor that complements the cherries very nicely.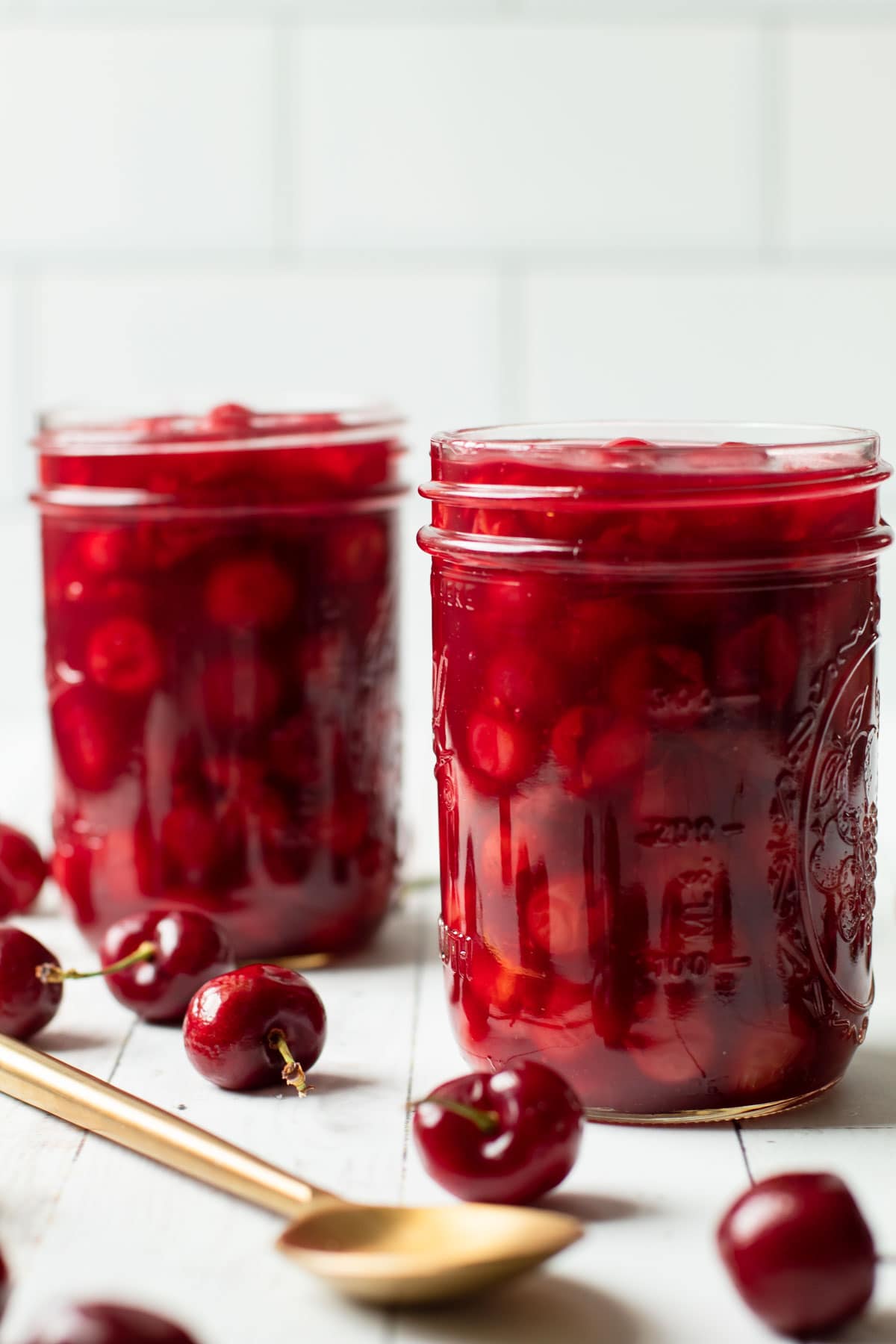 Ways to Use Cherry Pie Filling
Okay, now you've got your cherry pie filling. What should you use it for?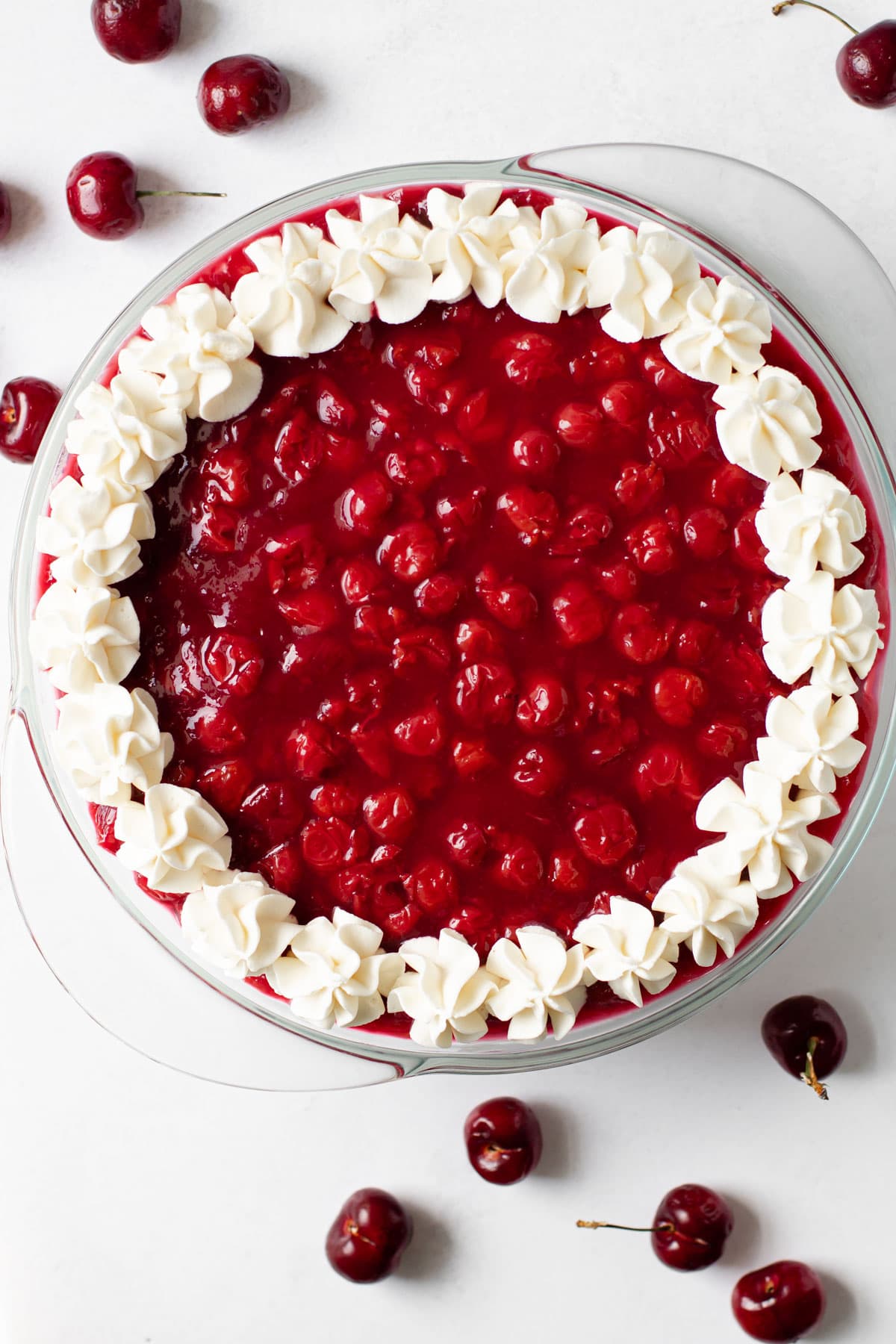 Thoughts on Turning this Into a Pie
Since publishing this recipe, and some of my other fruit pie filling recipes, I've gotten the question: well how do I bake it as a pie? And the truth is, my intention when making this recipe wasn't only to be baked as a pie. I use this "pie filling" recipe for many other purposes other than baking a double crust fruit pie.
However, maybe you've found this recipe on google and you are actually looking to make a double crust fruit pie and are confused of why I don't have instructions to make this into a pie. That's because this is a recipe for cooked filling, as an alternative for cherry pie filling you could buy premade.
If I'm making a cherry pie, baking a raw fruit filling would be my number one choice in most instances. This is because double-crust fruit pies need to be cooked for a long time, to ensure a crisp bottom pastry, and raw fruit will hold up better with a long bake. So if you googled cherry pie filling hoping to make a cherry pie, I'll say you can check out this Cherry Pie recipe.
If you prefer to make a sour cherry pie out of this filling, I suggest you check out this detailed post about baking a double crust fruit pie.
Or if you want the shortened instructions for making a cherry pie with precooked filling I'll say: bake it at 425ºF on the lowest shelf for 50-60 minutes or until the crust is deep golden.
How to Store Cherry Pie Filling
Because it has a high sugar content, it will keep for quite a while in the fridge. I've never kept it for more than 7 days, as I've always used it up, but it likely could last a little bit longer than even that.
It will last for a minimum of 6 months in the freezer. After three months it will start to lose some of it's potent flavor, but it's still safe to eat for up 12 months, though it's not ideal.
I don't recommend canning this. Canning is so specific and I have not tested this to make sure it passes the amount of sugar and acidity needed to make it safe for canning. I'd recommend freezing it instead, for long term storage.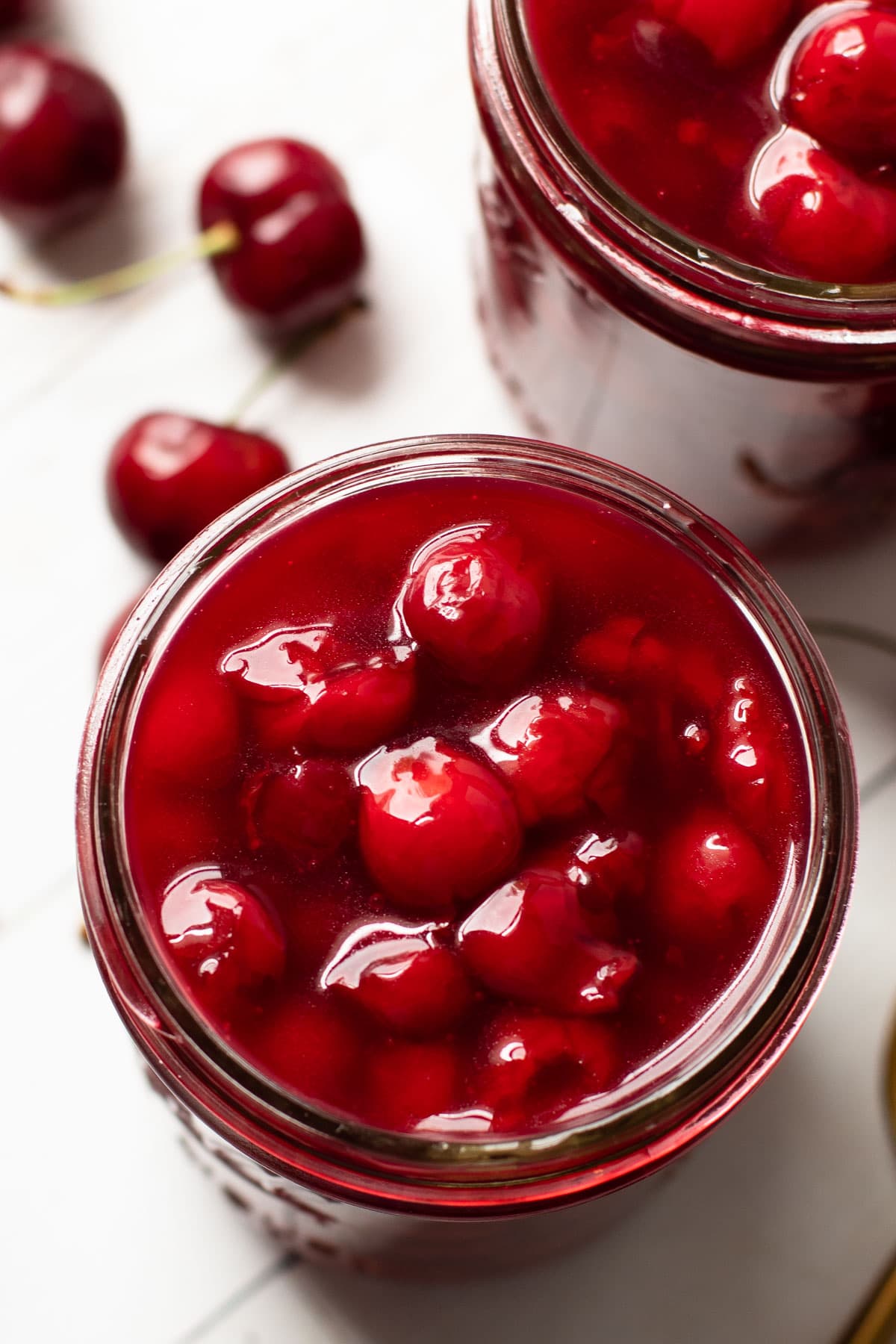 More Fruit Recipes:
I am so honored when you make a recipe from my site! If you make this Cherry Pie Filling, please leave a comment and a star rating with your experience! If you have any questions about this recipe, feel free to comment here, too!
Print
Full Recipe
Sour Cherry Pie Filling
Cherry pie filling is super easy to make at home, and perfect to have on hand or stored away in the freezer for whenever you need it. This recipe is perfect for pies, desserts, or any other sweet treat that calls for cherry pie filling.
Author: Kelli Avila
Prep Time:

00:05

Cook Time:

00:10

Total Time:

00:30

Yield:

2 Pints

Category:

Sweet Pie

Method:

Stovetop
2

pounds (32 ounces or 905 grams) pitted sour cherries (fresh or frozen)

1 cup

(

200 grams

) granulated sugar

¼ cup

(

28 grams

) cornstarch

1 tablespoon

lemon juice

¼ cup

(

60 grams

) tart cherry juice (see note)

½ teaspoon

almond extract

2 tablespoons

(

25 grams

) cold unsalted butter, diced (optional)
Instructions
Add cherries, sugar, and cornstarch to a large bowl and toss to coat. Mix in lemon juice and cherry juice. Let sit until the sugars have started to dissolve, about 15 minutes.
Transfer all ingredients to a large pot.
Turn the heat on to medium and cook, stirring frequently until the filling is bubbling throughout. Off of the heat, stir in almond extract and butter.
Pour into jars, and let cool completely. Store in the refrigerator until ready to use, up to 7 days. Or in the freezer, for up to six months.
Notes
If you don't have cherry juice, you can substitute it with water, though it will have a little less cherry flavor and will be lighter in color.
The butter is optional, but it adds a subtle richness to the filling.
Want help turning this into a pie? Check out this guide on How to Bake a Double Crust Pie to give you time, temperature and tips for doing so. Also, check out the paragraph above about turning this into a pie.
Keywords: Cherry Pie Filling
Some of the links on this page may be affiliate links. Everyday Pie is a participant in the Amazon Associates Program. As an Amazon Associate I earn from qualifying purchases, at no extra cost to you.