Despite its reputation, Choux Pastry is actually quite easy to make. It's used to make all different types of desserts, such as cream puffs, eclairs, fried crullers or churros. This guide is all about How to Make Choux Pastry so you can master that magical pastry and make endless desserts!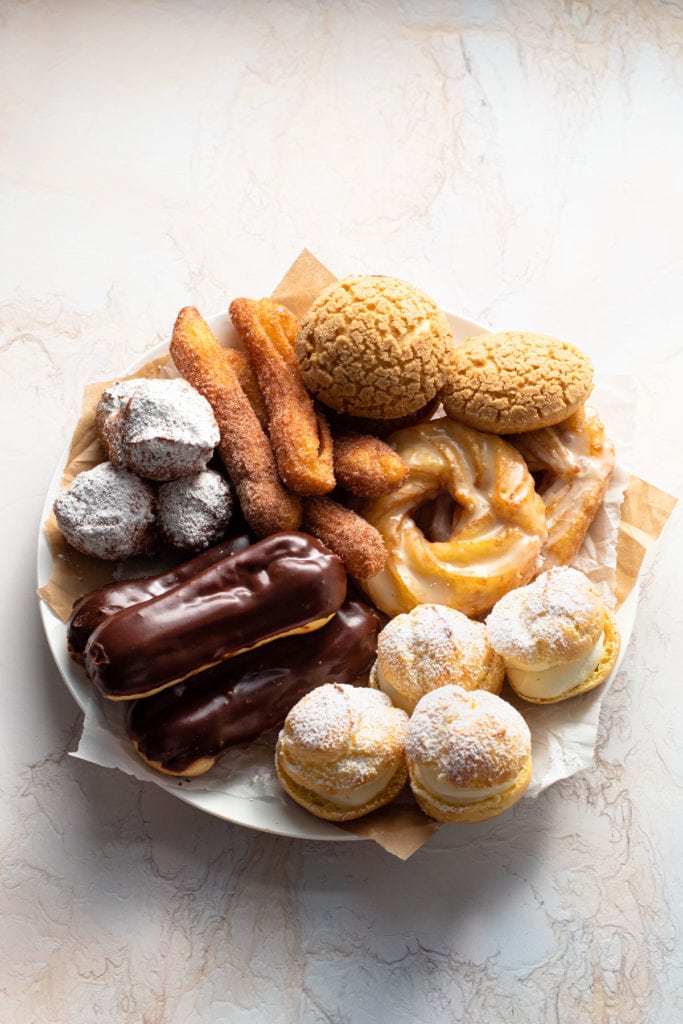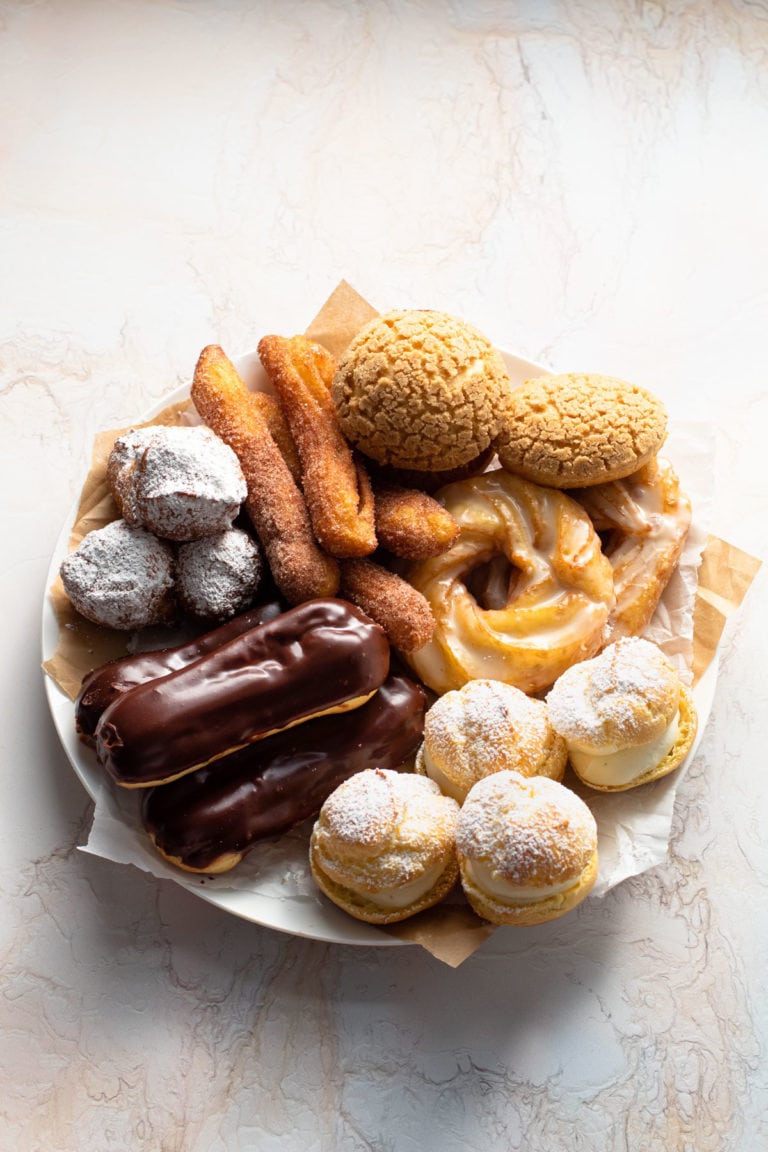 Choux Pastry, also known as pâte à choux (pronounced: "pat-ah-SHOO"), is a classic french pastry cooked up on the stove and used to make many desserts such as cream puffs, eclairs, gougères (or cheese puffs), profiteroles, and more.
When baked up in its various forms, this versatile pastry is both stunning to look at, and delicious to taste. If you've watched any Great British Bake Off season, you know this is a classic dessert to master. And, the best news for us? It's actually simple to prepare! There's no need for any fancy equipment, either.
This guide really focuses on how to make choux pastry by hand, especially if you are new to making pate a choux. Once you master it (which I truly think you can the first time you make it), you can make it in the stand mixer after that if you want.
Think of this guide as choux pastry 101: This guide is meant to breakdown what choux pastry is, what the science behind it is, and some tips for making it. Once you know all of that, you can easily make many desserts.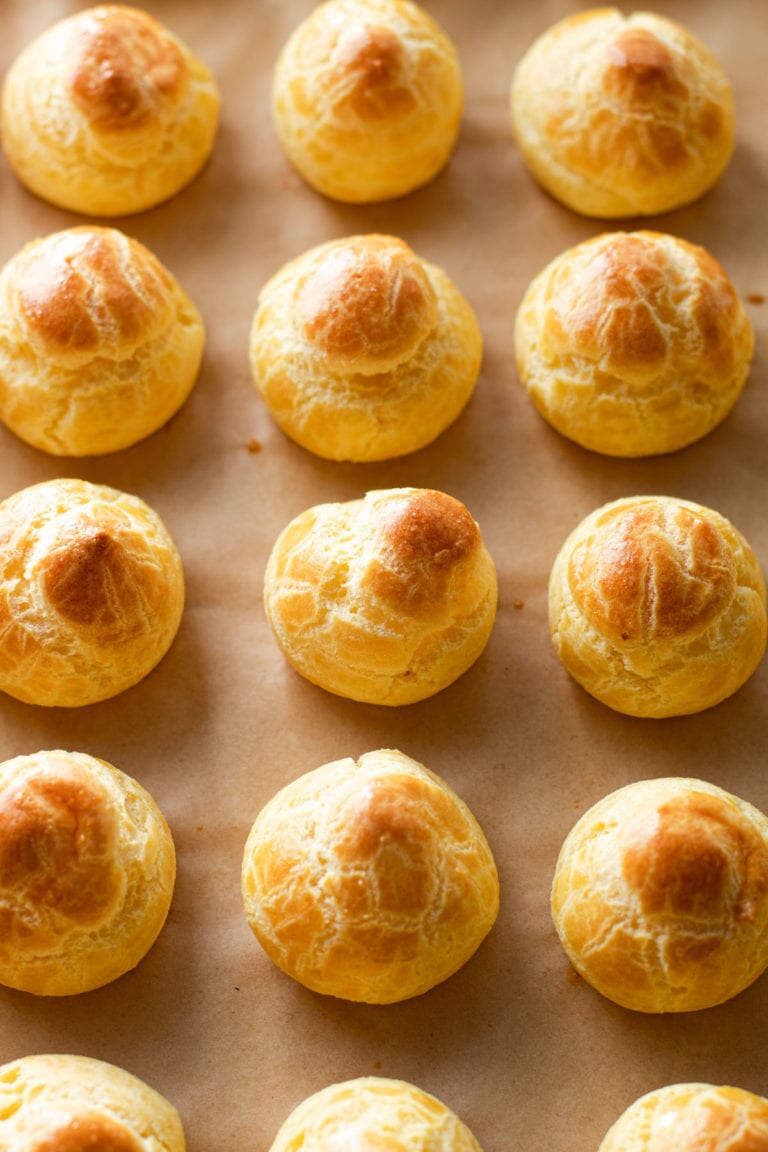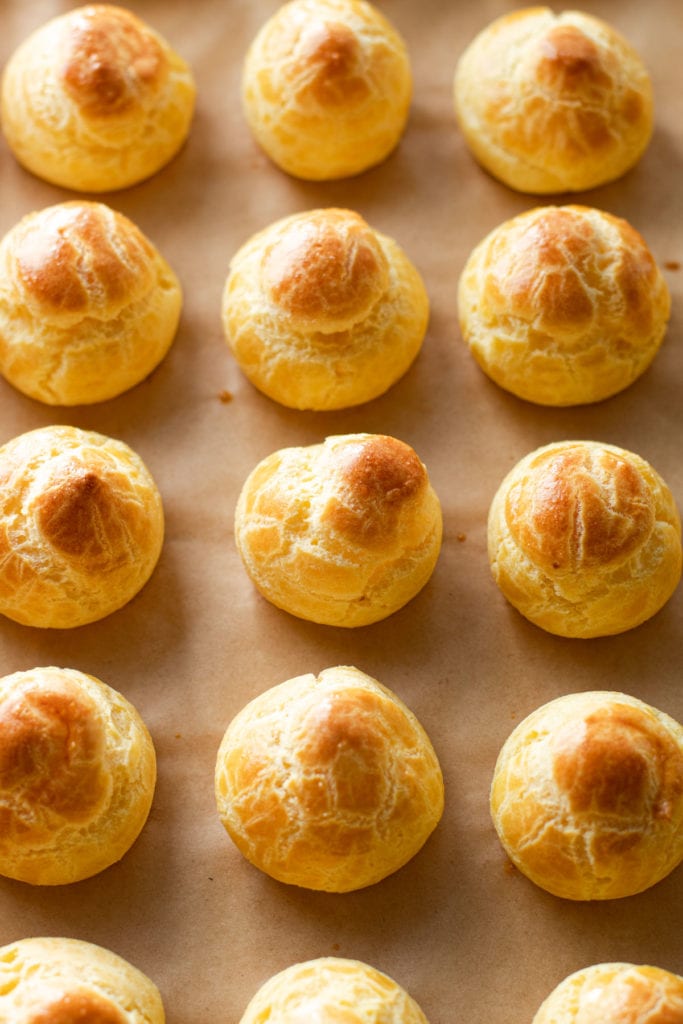 What Exactly is Choux Pastry?
Let's talk just a little bit more about what exactly choux pastry is, and a little science behind what makes this magical dough work.
When baked up properly, pate a choux has a crisp and golden exterior, with thin webs of custardy pastry on the interior that bakes up largely hollow. It makes the perfect vessel for filling with something delicious. Also, ingredients can be added to the dough to change the flavor, such as cheese, for example. It's equally as good for sweet desserts as it is for savory. It can also be fried to make other amazing desserts, too.
Choux pastry is a twice-cooked dough. The first cook occurs on the stovetop when you combine milk, water, and butter together with flour and cook until the flour absorbs much of the liquid. This is known as the panade. Eggs are then mixed in in stages until the dough reaches a pipable consistency. Then, the choux paste is ready to perform its magic trick in its final bake, either in hot oil, hot water, or in a hot oven.
What makes this dough unique is that it puffs up when cooked, yet it contains no leavening agent such as baking powder, baking soda, or yeast. Instead, this well-hydrated dough relies on the evaporation of moisture while it bakes to puff up. While that is not an entirely unique attribute in the world of baking, what does make choux pastry unique is that it doesn't need a mold to help it keep its shape, unlike other highly hydrated doughs. This dough can be piped and hold its shape before getting its final bake, despite its high moisture content.
The reason it can do that is thanks to the first cook it goes through on the stove. When the flour is heated on the stovetop, it absorbs the liquid and thickens the whole paste, much like a cornstarch slurry does when thickening a sauce. At the same time that the flour swells, it also alters the gluten-structure of the dough, making it hold its shape when piped (as opposed to it contracting, as a bread dough does with built-up gluten would). These two factors make this dough able to hold a freeform shape before hitting the heat for the second time.
Once it hits the heat for the second time, the dough puffs up as the moisture evaporates, and the added eggs help set the dough on the outside, while the inside continues to cook and dry out.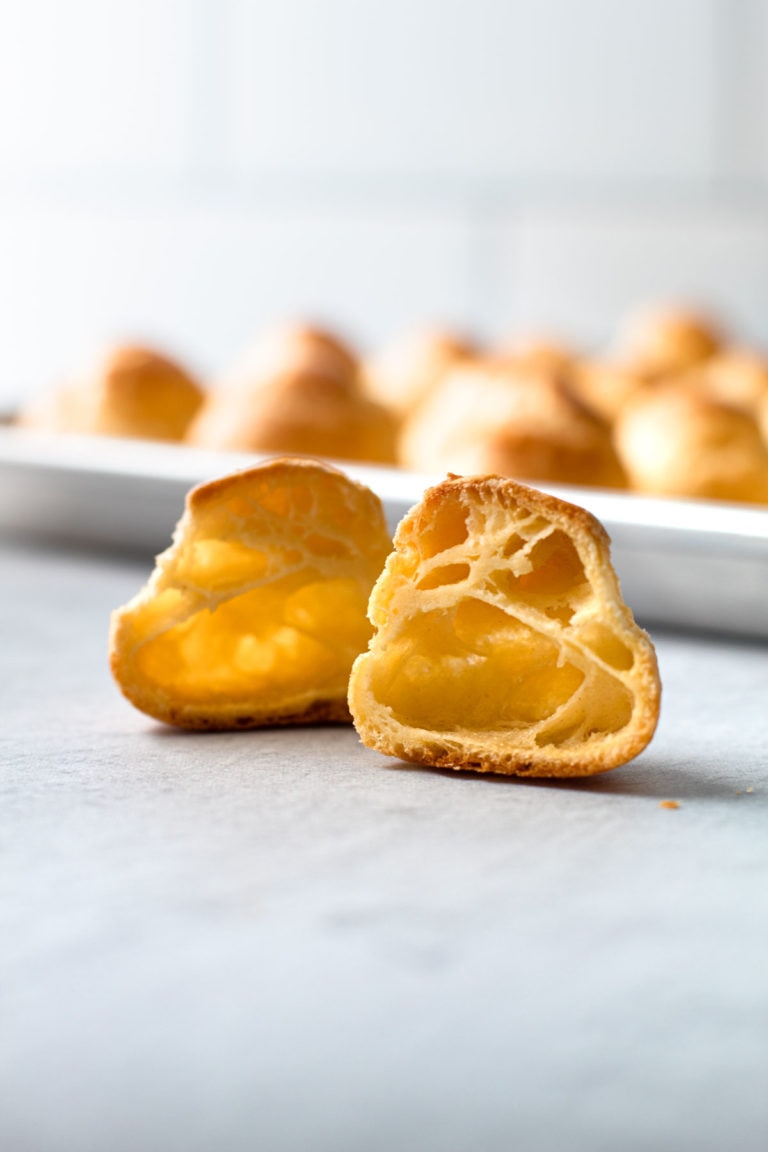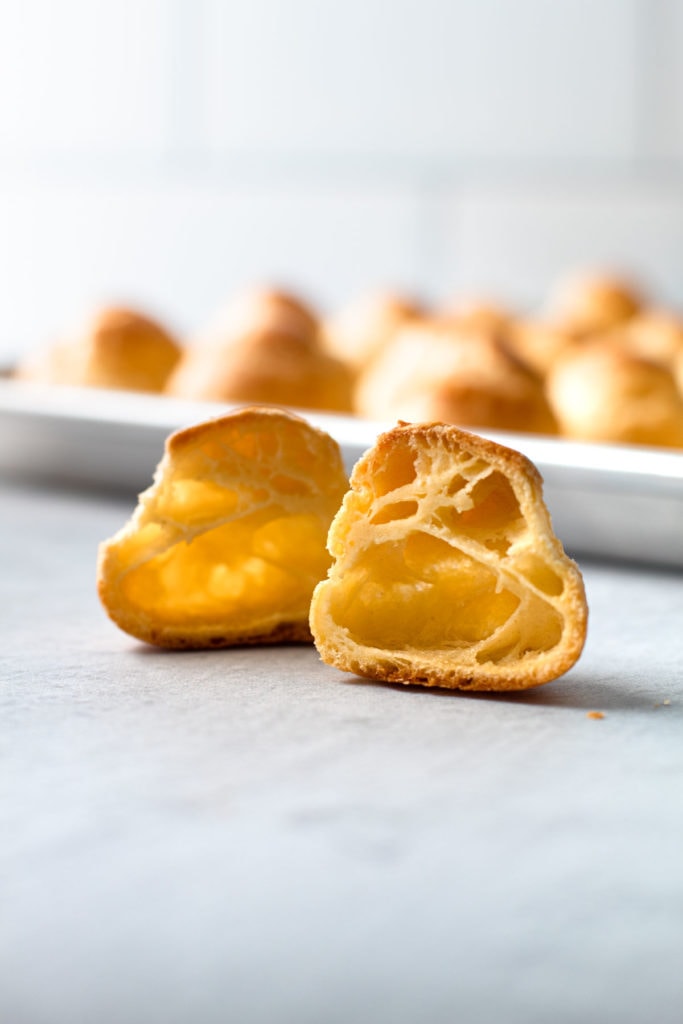 Ingredients Needed for Choux Pastry
flour
butter
water
milk
salt (and sometimes sugar)
Tools Needed
This recipe really focuses on how to make choux pastry by hand, which means that you don't need many tools! But here is exactly what you need to make it.
small pot
wooden spoon
a bowl (optional)
pastry bag and tip (if you plan to pipe the choux pastry)
If you didn't want to work out that arm muscle too much by making the choux by hand, you might want to have an electric stand mixer on hand.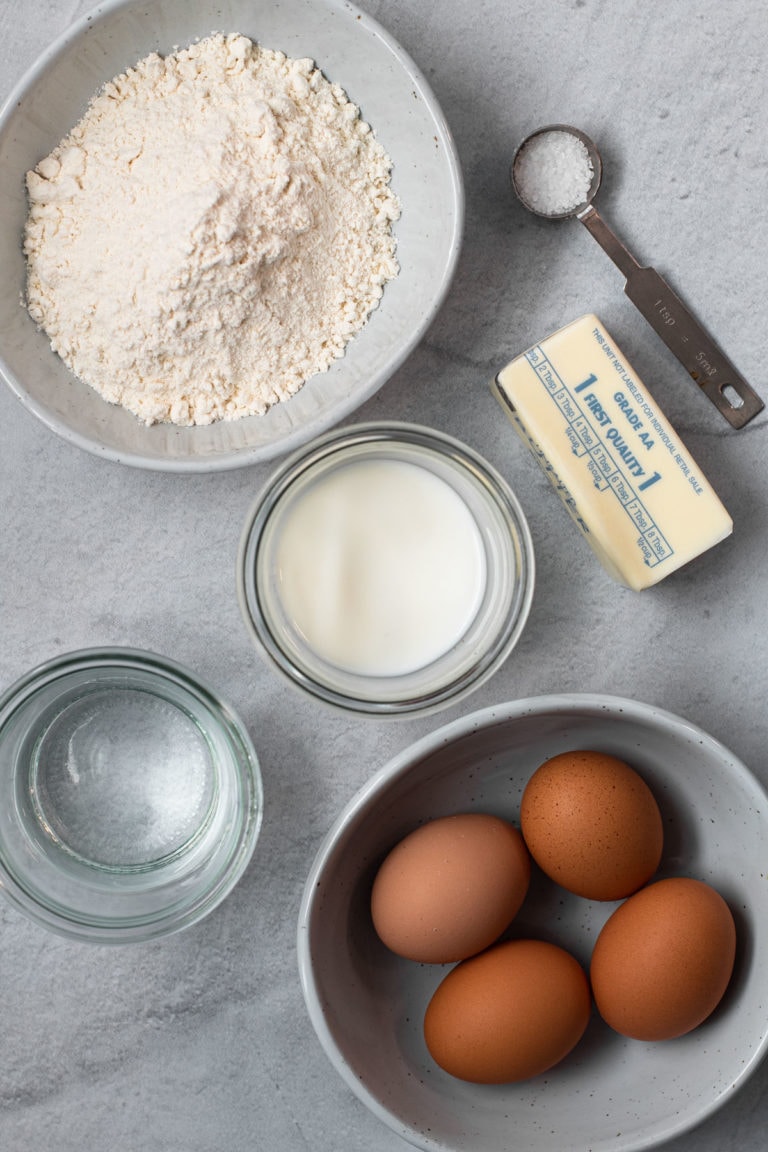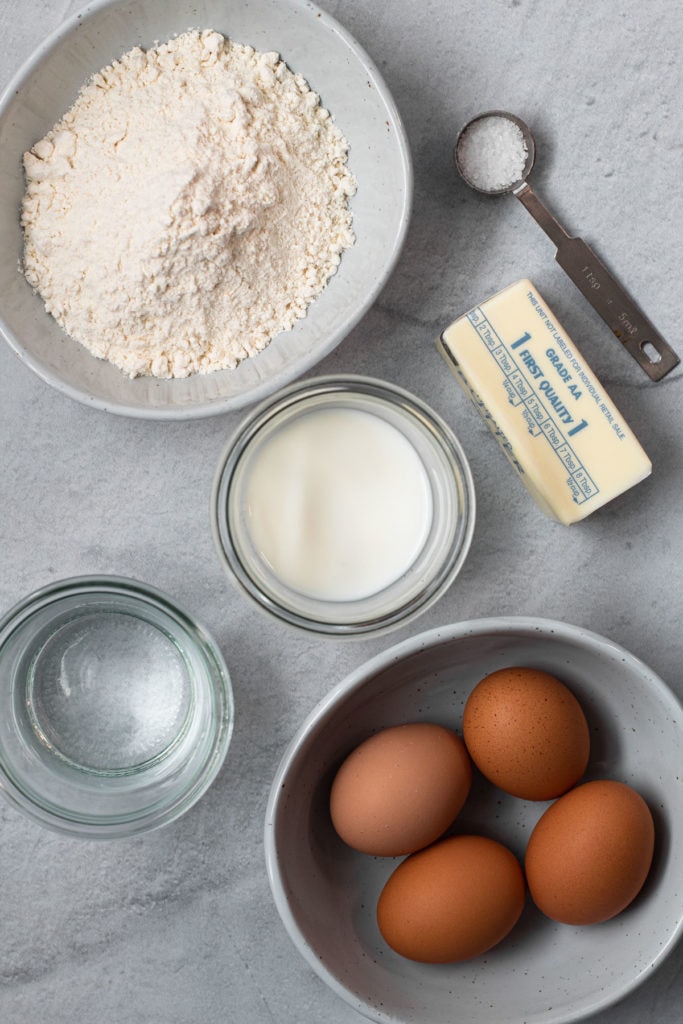 Steps to Make Choux Pastry by Hand
What I really love is how truly simple this dough is to make. Since this dough is "twice-cooked", it is a two-step process to get to your final product. For the first cook, the choux is started on the stovetop.
Butter, water, and milk is heated together, just until the butter melts. Then the flour is added in and cooked until it reaches a temperature of 175ºF. This step takes no more than 5 minutes. The dough should smell very fragrant once it's done. It actually smells a bit like playdough, and it will change color from very pale white to a more pale tan when it's reached the correct consistency. I find that measuring the temperature of the dough is the most effective method of measuring its doneness. Timing alone doesn't suffice.
If your dough has formed a thick film on the bottom of the pot (stainless steel pans typically do) I suggest then moving your panade into a fresh bowl after the panade has been cooked. I don't fuss about this though and tend to just mix the eggs directly in the pot the panade is cooked in.
The dough briefly cools, before slowly adding eggs into it. This step is where you need to make sure you add enough eggs, but not so much that you can't pipe it. This process can be done by hand, or in an electric stand mixer if you don't want to use those arm muscles.
How to Tell when the Choux Pastry has Enough Eggs Added to It
This is the trickiest part in making choux pastry--you need to make sure you add enough egg that the dough is shiny and smooth, but not so much egg that it doesn't hold its shape when you pipe it.
Why are the variables in how much egg to add? The biggest factor would be how you measured your flour. I always suggest weighing your flour with absolute accuracy.
The second variable in what amount of eggs you need to add is how long you cook your panade. The longer you cook it, the more evaporation of the milk and water, and therefore the more egg you'll need to get the correct consistency of the choux paste.
The recipe calls for whisking the eggs and then adding them into the panade in 4 batches, with the last quarter of the eggs being added in slowly until the dough is just right.
There are a few ways to tell if you've added enough egg. The first is that the paste should look shiny and mostly smooth. Once you've gotten to that point, you can check it by lifting up the dough and letting it fall back down. If it's the correct consistency, it should gently fall down into a v-shape.
If you still aren't sure, you can just go ahead and pipe it! You want it to be easy to pipe, but also hold its shape once it is piped. If it slumps a little, it is ok. But if it completely falls down into a puddle after it is piped, then you likely have added too much egg.
It is better to add too little egg than too much, so be sure to add the egg in at the end judiciously.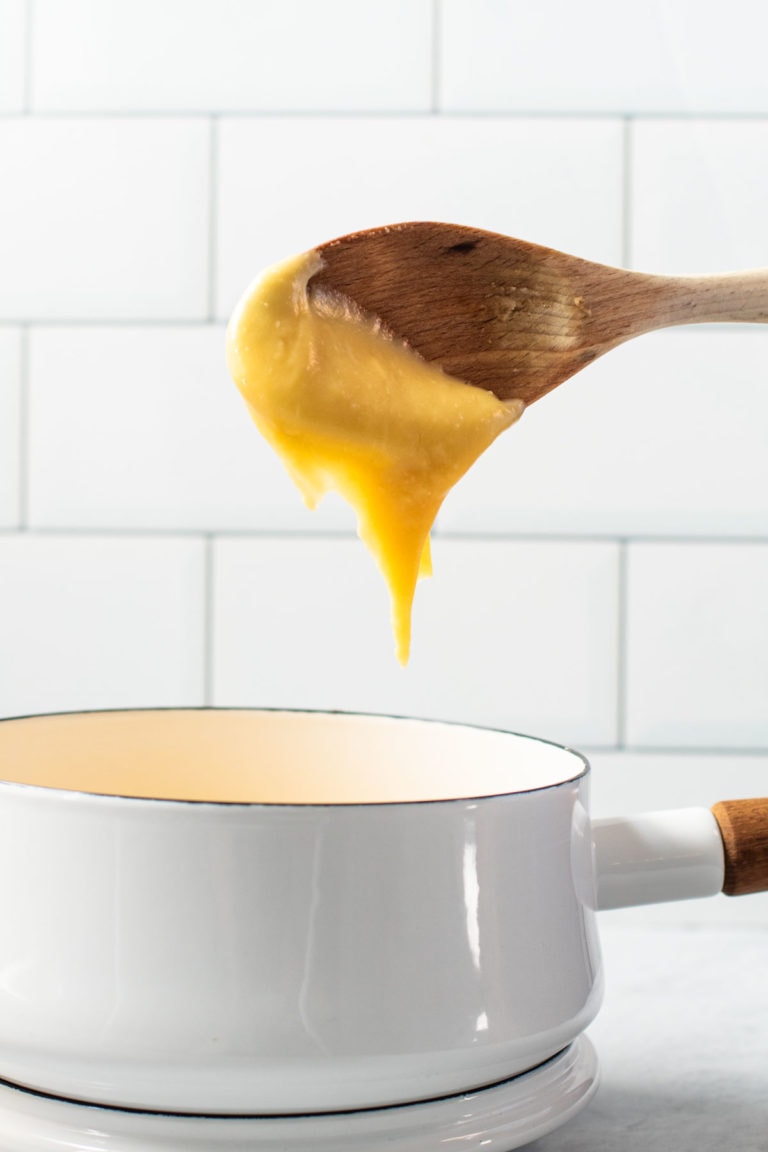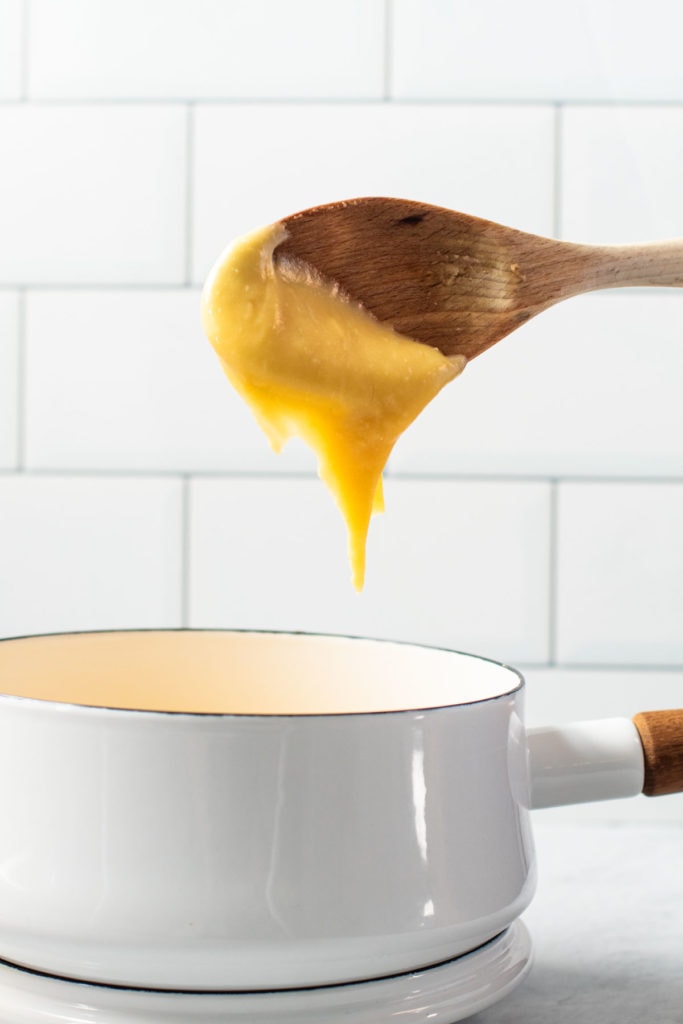 Making Choux Pastry in a Stand Mixer
If you are a beginner, I really recommend making the Choux pastry by hand the first time. It really connects you to the pastry and gives you a real sense of accomplishment after it's done. However, let it be known your arms will certainly feel the burn.
If you don't want to make it by hand, you can easily add the eggs in with an electric mixer. The process is nearly identical to making it by hand, except the mixer is doing the stirring for you.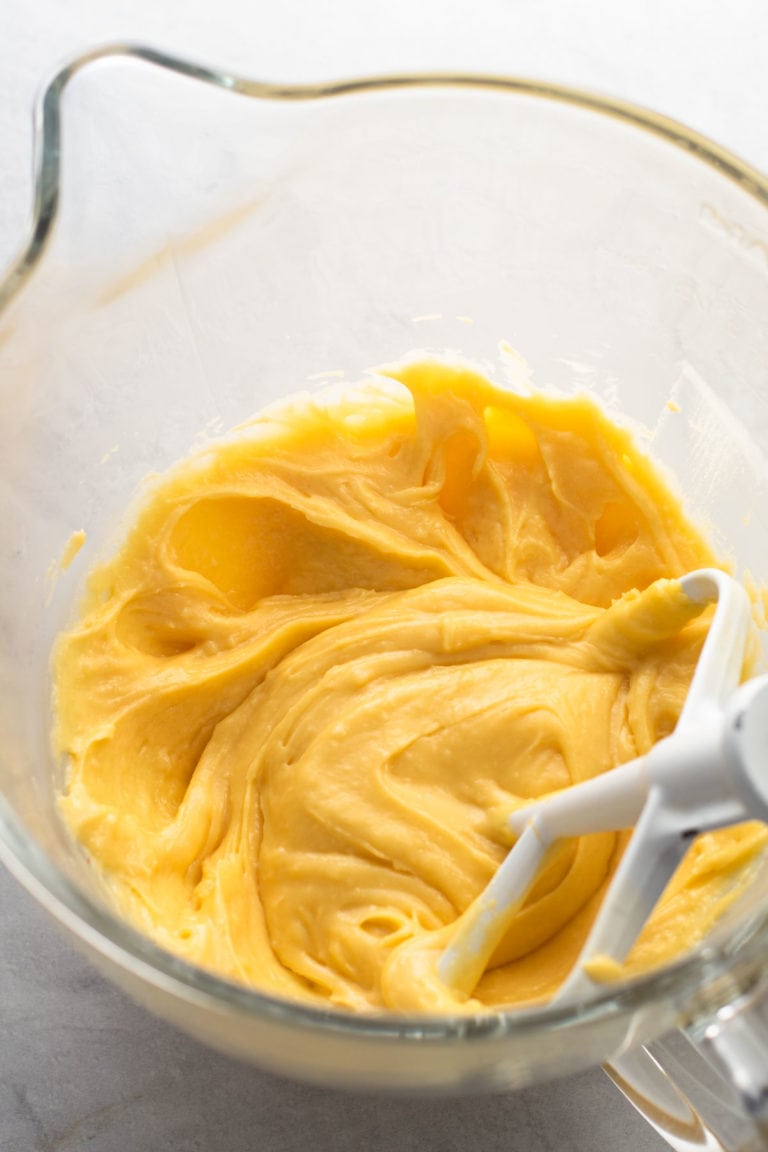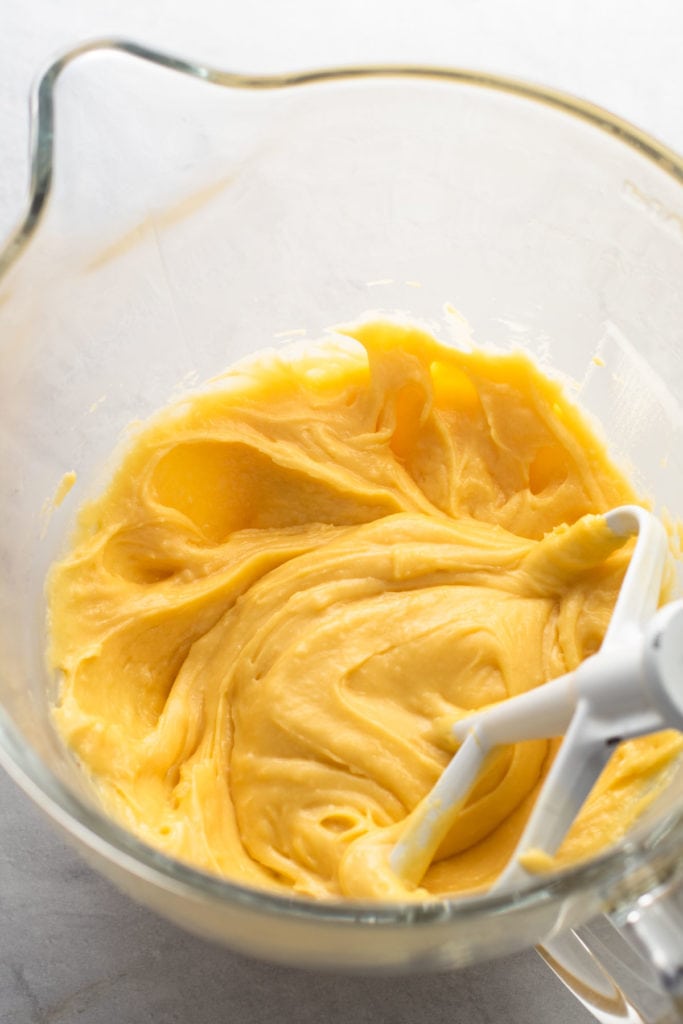 Piping Choux Pastry
The best setup for success with piping choux pastry is making sure your choux pastry is the proper consistency to start with. It should be easy to pipe, but not so thin that it won't hold its shape. The best way to tell if you have the right consistency if you are new to making choux pastry?
Just pipe it! Go ahead and give it a try and see if it's pipable. If it's too stiff you are going to need to add in a bit more egg.
If it's too thin--well, unfortunately, there isn't an easy solution for this problem. So don't add too much egg, and go slow with the eggs to begin with. I do not recommend adding raw flour to your choux paste to try to counteract the thin batter. I recommend starting over. To try to not lose those ingredients, you can make a stiffer paste the second time around, and then add the thin paste in with the thick one to achieve the correct consistency.
Once you've got the correct consistency you can go ahead and pipe your choux according to the instructions of the recipe you are making.
For choux puffs, instead of piping, you can also scoop it with a scooper! Those will be more uniformly round and they are a bit more like an irregular tall choux bun.
How to Bake Choux Pastry
How you bake your choux pastry will really depend on what you plan to do with it! But the basic idea is that you want to create a consistent source of heat, especially at the start of the bake to help that choux pastry rise up.
A trick that I recommend is to start the oven off at a higher temperature, to ensure the oven is hot and there is a big burst of heat as the choux enters the oven. Once the choux pastry is in the oven, lower the oven temperature to the temperature you plan to bake it.
As an example, I like to bake choux buns at 375ºF, but I preheat the oven to 425ºF so that when the choux enters the oven it will get a big burst of heat to help it rise. Once it's in the oven, I lower the heat to 375ºF to keep that consistent heat source for the remainder of the bake.
Once the dough is set on the outside, you want to make sure the interior of the choux dries out. Sometimes it can be useful to poke a hole in the choux at the end of the bake to allow the steam to escape. For smaller choux pastry bakes, such as 1-2" cream puffs, I do not believe that is necessary. For large shells, such as eclairs, it can be useful.
And finally, one last trick is to let the choux dry out in the oven for 15-30 minutes after the bake.
Yes, that means that there are a few extra steps needed when baking it, but these ensure that the choux bakes up successfully and so that it doesn't collapse after it is baked.
How to Fry Choux Pastry
Choux pastry is best fried in 350ºF - 375ºF oil. Much like nearly anything you fry, it's crucial you maintain that temperature as best as possible. If the temperature drops below 350ºF, the choux can absorb a lot of oil, and weigh down the pastry.
I have found that for choux pastry meant to be fried, adding in less egg than you typically would for choux makes for a lighter final product.
What to Make with Choux Pastry
Now comes the fun part! There are so many amazing desserts (and more) that you can make with choux! Probably the most common here in the US would be cream puffs! Similar to that in popularity would be an eclair. If you add cheese to the dough, you can also make gougeres, which is a savory appetizer. All three of these are baked in the oven.
As stated above, this dough can also be fried. With Choux pastry, you can make churros, crullers, or beignets.
There is a lot of room for creativity here with this magical dough.
With each pastry you plan to make with Choux, there is room to play around with the basic recipe. The recipe given below contains no sugar. If you plan to make a sweet dessert, such as a fried cruller, you may want to add in a tablespoon of sugar. I don't always find this necessary with choux, since you often are glazing or filling the pastries with something sweet.
There is also room to add in a bit less egg. I find that if I'm making churros or crullers, I prefer to make a stiffer choux paste, with fewer eggs than standard choux pastry, to have a little bit of a drier interior.
You can add in additional ingredients such as vanilla extract, citrus zest, or other flavorings, too.
I love that there is so much room for creativity and experimentation after you've mastered the basics of choux pastry.
Tips for Success with Choux Pastry
Here are some of my biggest tips for success. If you are looking for more details on any of these tips, it is contained in the text above!
Make it by hand if this is your first attempt.
Weigh your flour! Always and forever with this.
Use an instant-read thermometer if you can, to make sure the panade has been cooked enough on the stove.
Be judicious when adding the egg. It's better to add too little than too much. Honestly, there is no going back once you've added too much.
When cooking choux for the final time, assuring you have the correct temperature is very important, whether it be for frying or for baking.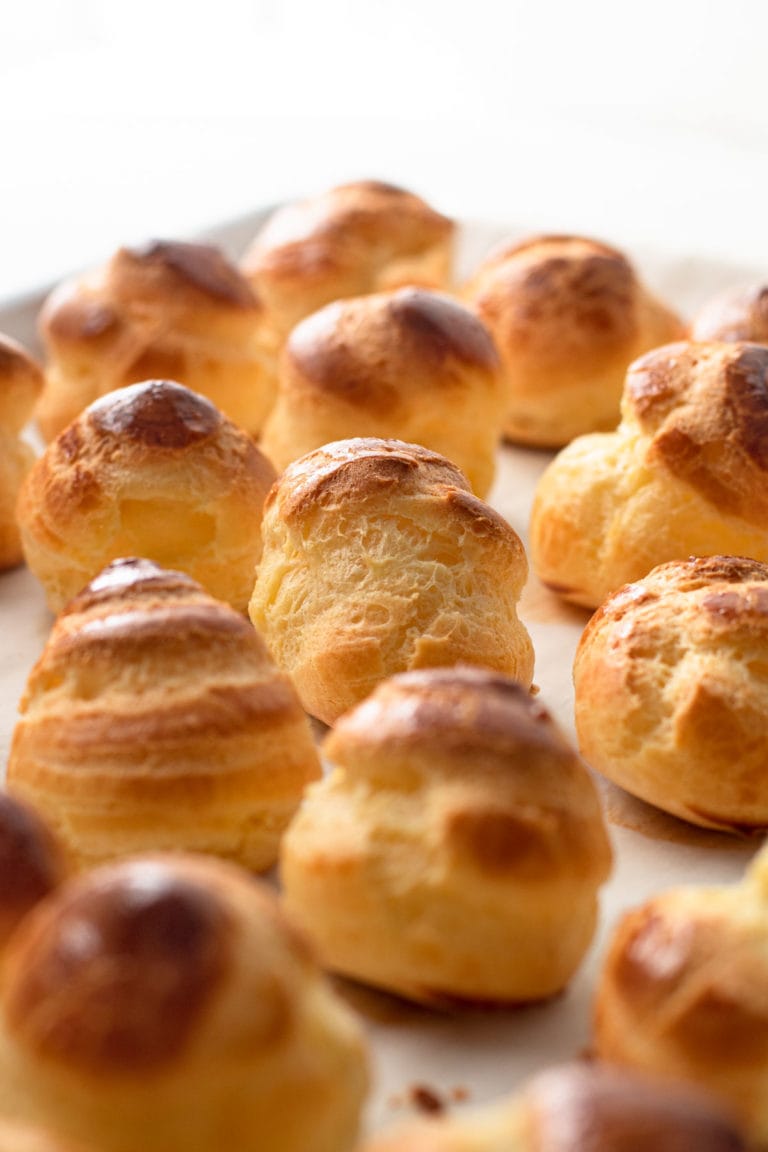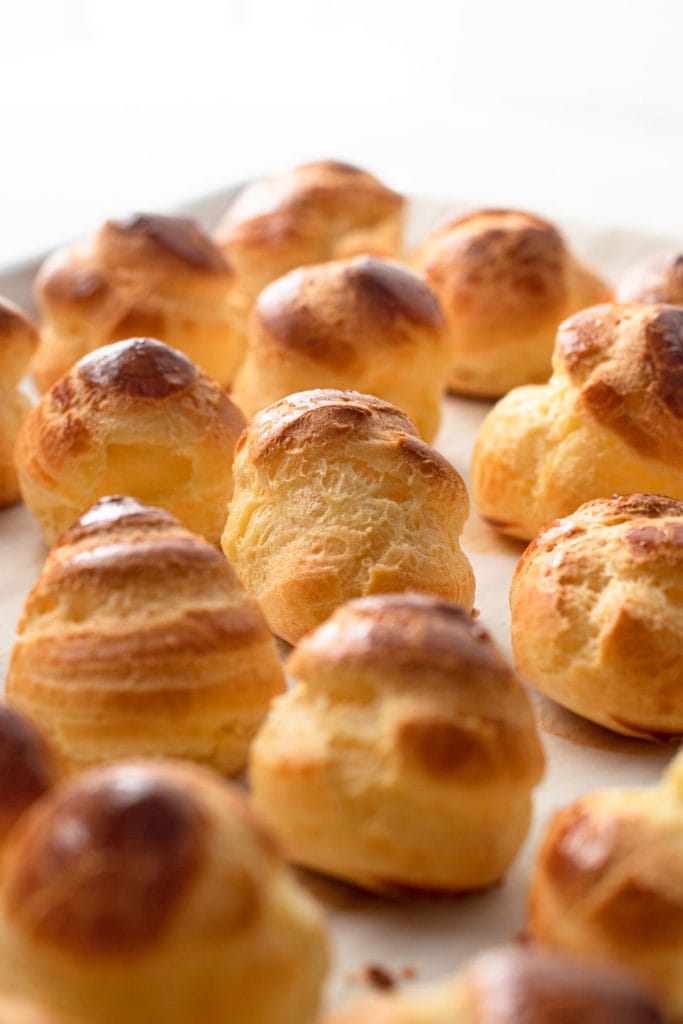 More baking basics:
I am so honored when you make a recipe from my site! If you make this Choux Pastry, please leave a comment and a star rating with your experience! If you have any questions about this recipe, feel free to comment here, too!
Print
Full Recipe
How to Make Choux Pastry
Choux Pastry, despite it's reputation, is actually quite easy to make. Use it to make all different types of desserts, such as cream puffs, eclairs, fried crullers or churros. This guide is all about How to Make Choux Pastry so you can master that magical pastry and make endless desserts!
Author: Kelli Avila
Prep Time:

00:15

Cook Time:

00:03

Total Time:

18 minutes

Category:

Pastry
½ cup

(

115 grams

) water

½ cup

(

115 grams

) whole milk

½ cup

(

112 grams

) unsalted butter, cut into 8 pieces

½ teaspoon

kosher salt

1

-

¼

cup (

150 grams

) all-purpose flour, sifted

4

large eggs
Instructions
Add water, milk, butter and salt to a medium pot. Turn the heat on to medium, and stir the mixture while the butter melts. Once the butter is melted, remove from the heat briefly to stir in the flour.
Return the pot to the heat, and cook this flour mixture while stirring and mashing the dough up against the bottom of the pot, until it forms itself into a ball, and the dough has reached a temperature of 175º, about 1 to 2 minutes.
Transfer the dough to a clean bowl, if desired (see note). Let the dough cool slightly until it is just barely warm, about 5-10 minutes.
Whisk eggs together in a liquid measuring cup. Pour about ¼ of the whisked eggs into the dough, and vigorously stir the dough together with a wooden spoon until the egg is fully mixed into the dough. Repeat this process of adding in about ¼ of the eggs, while mixing, two more times. When the last remaining ¼ of the eggs are left, add in a tablespoon of the egg at a time, and mix together until the dough looks shiny and drapes off a spoon to form a "V" shape. Do not add in so much egg that the mixture is very loose. You may not use all of the egg.
The choux pastry is now ready! Transfer the mixture to a piping bag, if desired.
Bake or fry, as desired. See this recipe here for making Cream Puffs.
Notes
You can make your choux directly in the pot you cooked it in, unless the pot has formed a thick film on the sides and the bottom during cooking. If it has, simply transfer it to a medium bowl after cooking the panade.
If there is any egg leftover after mixing in just enough egg, you can use it to eggwash any baked choux pastry.
Keywords: How to Make Choux Pastry
Some of the links on this page may be affiliate links. Everyday Pie is a participant in the Amazon Associates Program. As an Amazon Associate I earn from qualifying purchases, at no extra cost to you.