Rich Guinness braised beef is baked under a flaky pie crust to make for the ultimate dead-of-winter meal. This Beef Pot Pie can be made as four single servings or as one whole pie.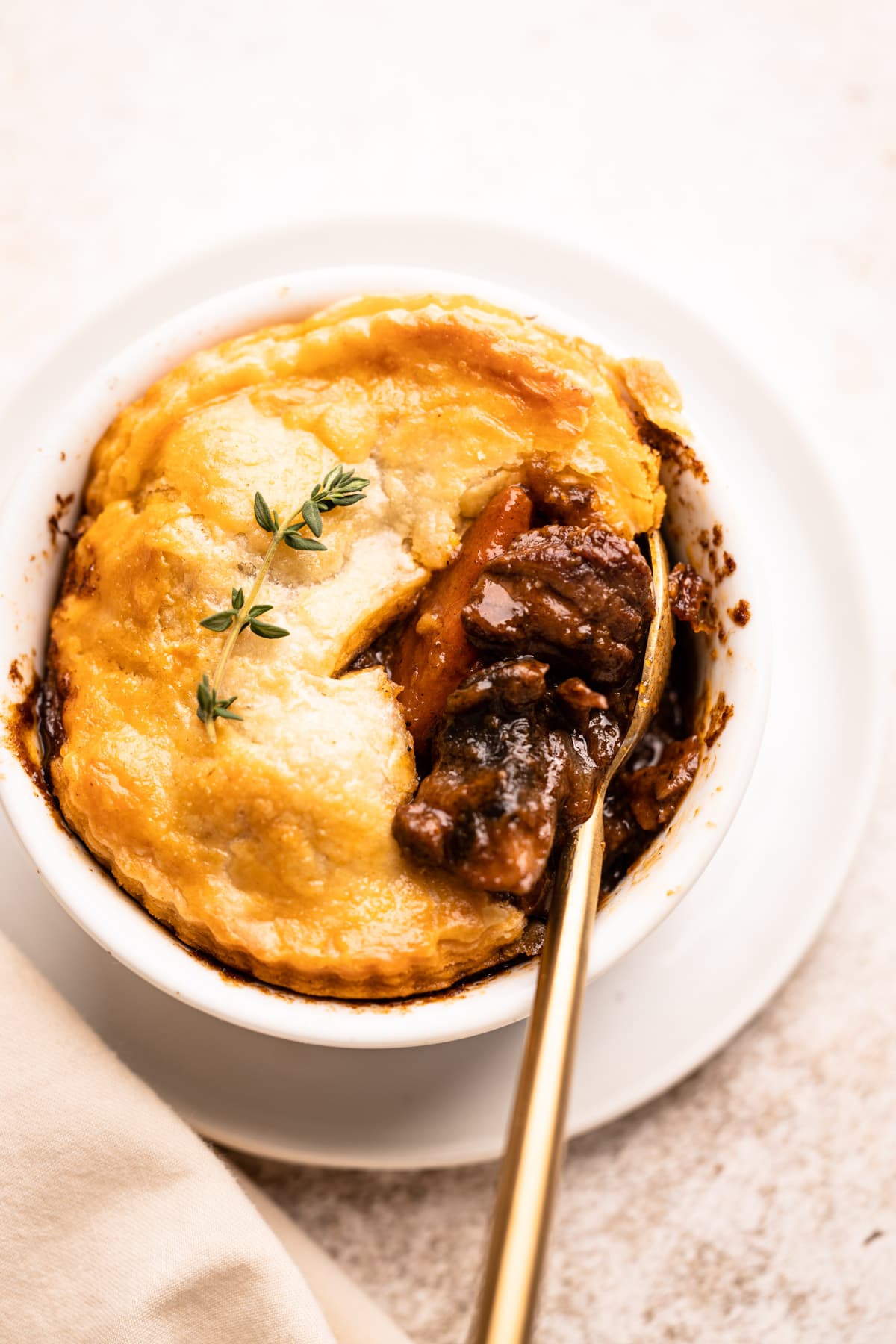 Guiness and Beef Pie
A truly hearty dinner, this Guinness and Beef Pot Pie showcases stout-braised tender beef in a rich and savory gravy, baked underneath the most delicious, buttery pie crust. Each comforting bite will warm you from the inside out.
This pot pie recipe is perfect for St. Patrick's Day, or really any day you want a comforting and filling meal. The beef pot pie can be made in individual containers for single servings or baked for a crowd in a standard pie dish.
What I love most about this type of pie is that it can be made in stages or completely assembled and then frozen. Don't worry, I'll share all the details about how to break down the steps, how to freeze it, and defrost it as well.
So, let's get to making it, shall we? The text below offers tons of tips and helpful notes, or you can scroll to the bottom to grab the recipe and get started!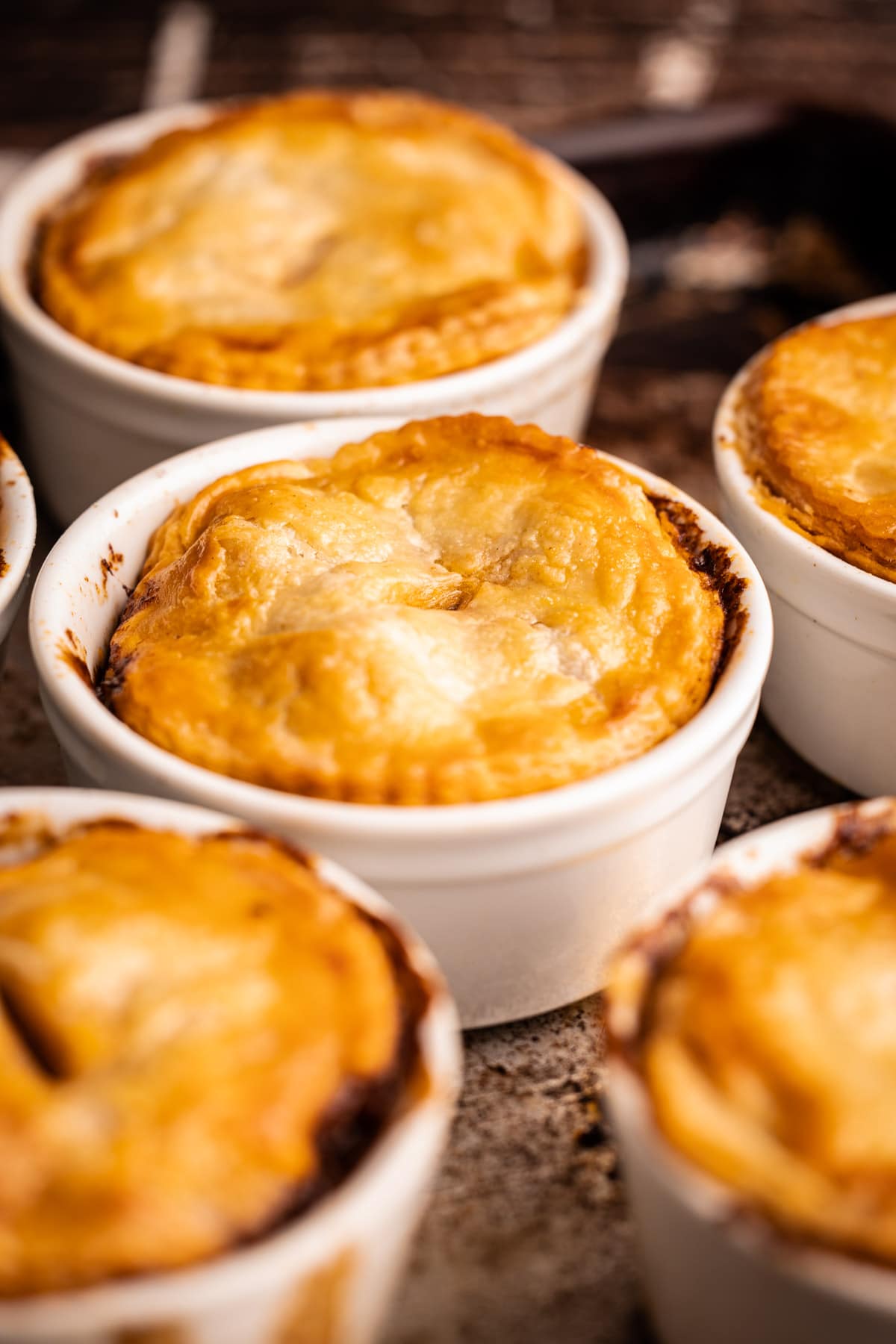 Ingredients Needed
Here is an overview of the ingredients needed for this recipe. The full recipe is listed below in greater detail.
stout beer (we're talking Guinness here!)
homemade pie crust or store-bought puff pastry (see below for pie crust recipe options)
beef that can be braised (see below for some options)
mushrooms + carrots
garlic + onion
all-purpose flour
tomato paste
fresh thyme leaves
beef broth
turbinado sugar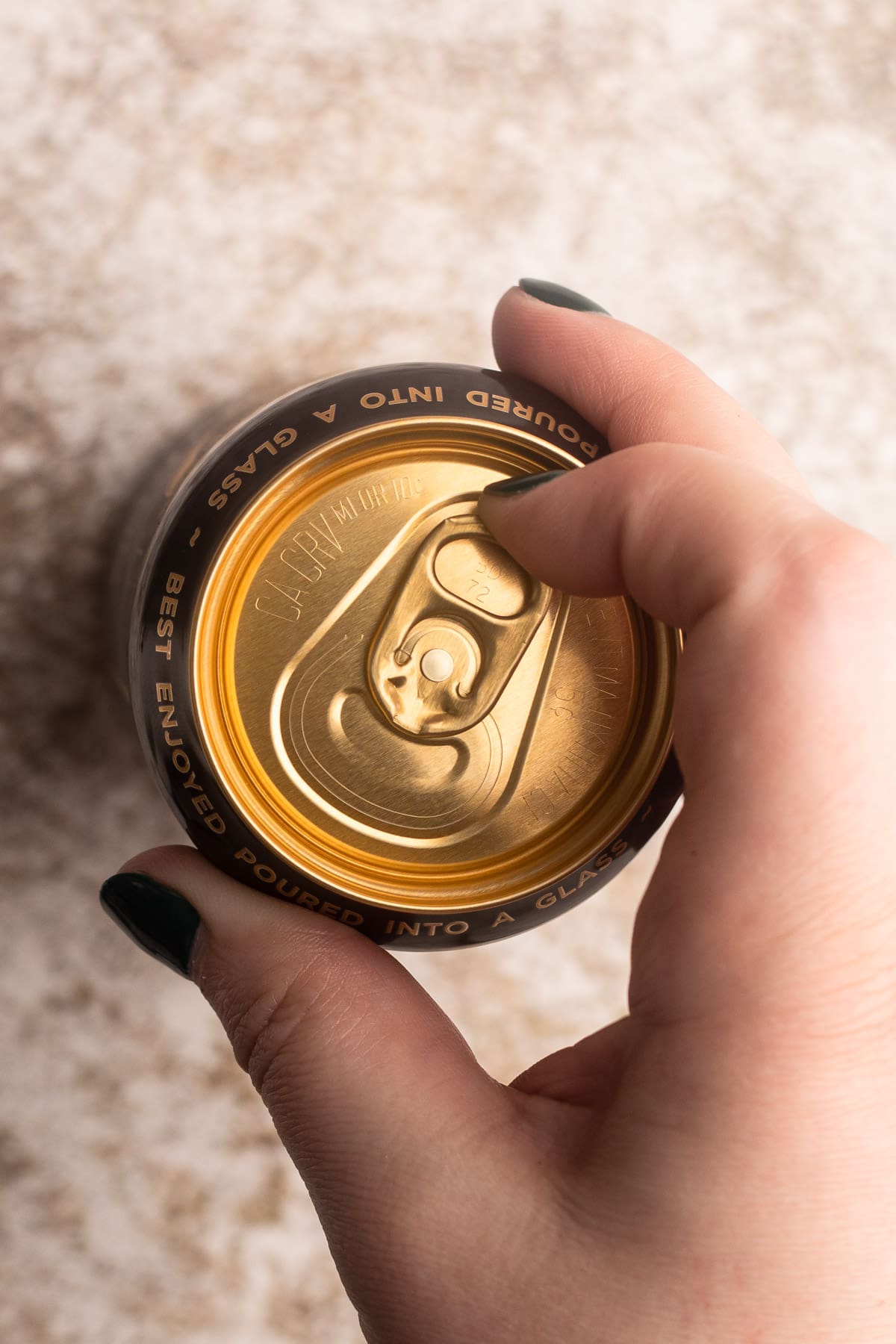 The Best Cut of Beef to Use for Beef Pot Pie
The best cut of meat for this beef pot pie is one that can withstand a long cooking time. Generally speaking, this means a tough cut of meat that will tenderize once braised. Here are my top choices in order:
brisket
chuck roast
rump roast
bottom round roast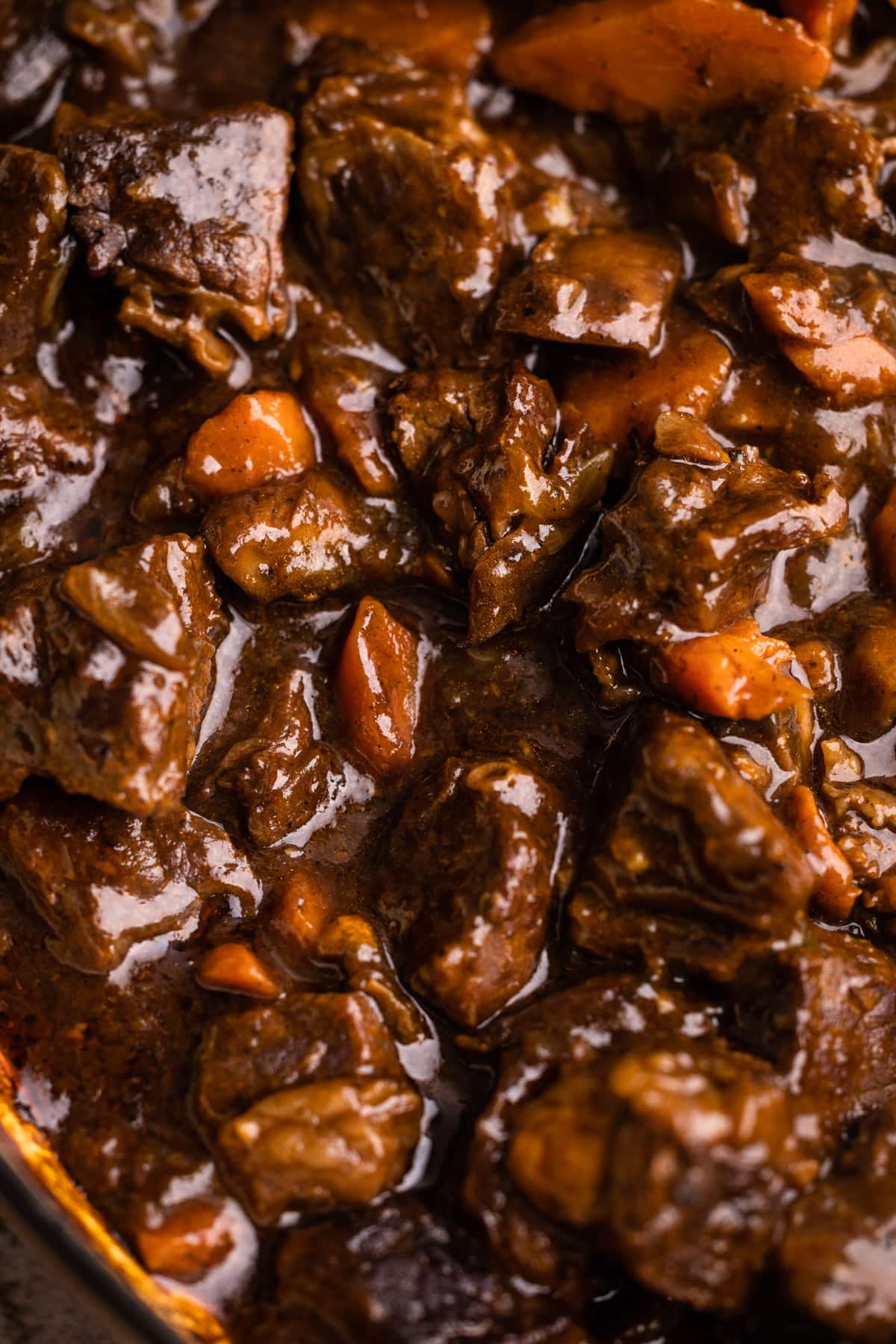 Useful Tools
Here is a list of some of the primary tools I used in this recipe. You won't necessarily choose to use them all, but they are exactly what I used here. Any links may contain affiliate links.
rolling pin
pastry blender
8-ounce ramekins or a 9" deep dish pie plate
dutch oven (for braising the beef)
kitchen essentials: kitchen scale, measuring cups and measuring spoons, wooden spoon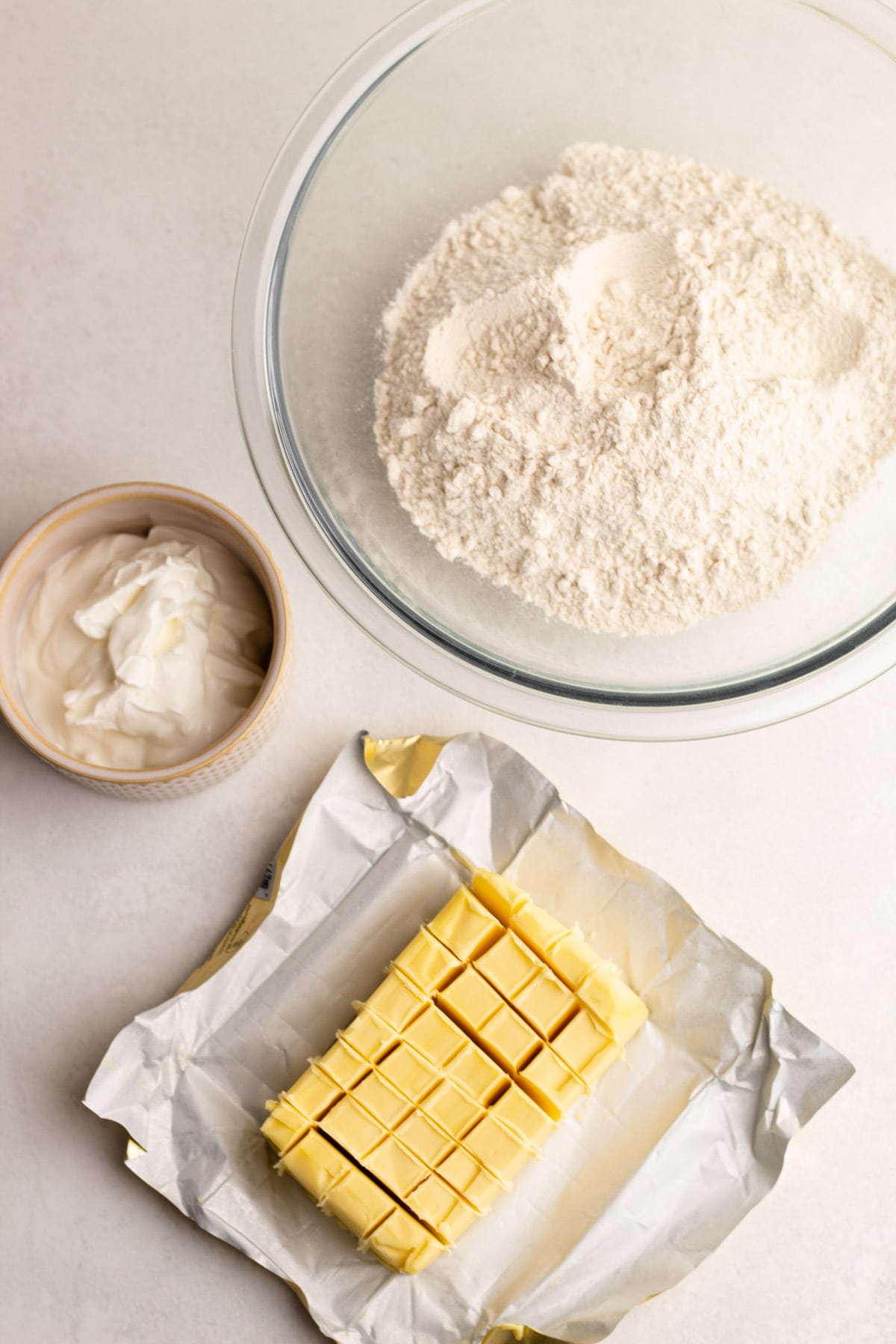 Pie Crust Options
For this beef pot pie, the recipe calls for just a top crust, since the filling is already pretty rich. That means you'll need one pie crust or one package of store-bought puff pastry. I've included a recipe below for a really delicious 3-ingredient sour cream pie crust. Don't want to make the sour cream pie crust? There are a few options here on the site you could use to make it. Here are some choices:
Best Baking Dish for Guiness and Beef Pie
There are two options for the vessel with which to bake this beef pot pie: individual ramekins or a large 9" deep-dish pie plate! It really comes down to your preference. The baking time is largely the same for both, minus a few extra minutes in the oven for a full beef pot pie.
The Number One Tip for Making Pot Pies
You aren't going to like what I have to say: for the best beef pot pie possible, you really shouldn't make the filling and bake it right away.
I recommend you make the filling and the dough ahead of time, either by a day or a few hours. Then assemble and bake.
And here is why: a hot filling and unbaked pie dough don't mix. I know, I know; lots of recipes out there tell you it's okay. I'm not going to stop you if you do it. But my opinion is that if you try to stick a perfectly made pie pastry (or store-bought puff pastry) on top of a hot filling, it's going to melt the butter and turn your pastry into something not worth all the effort.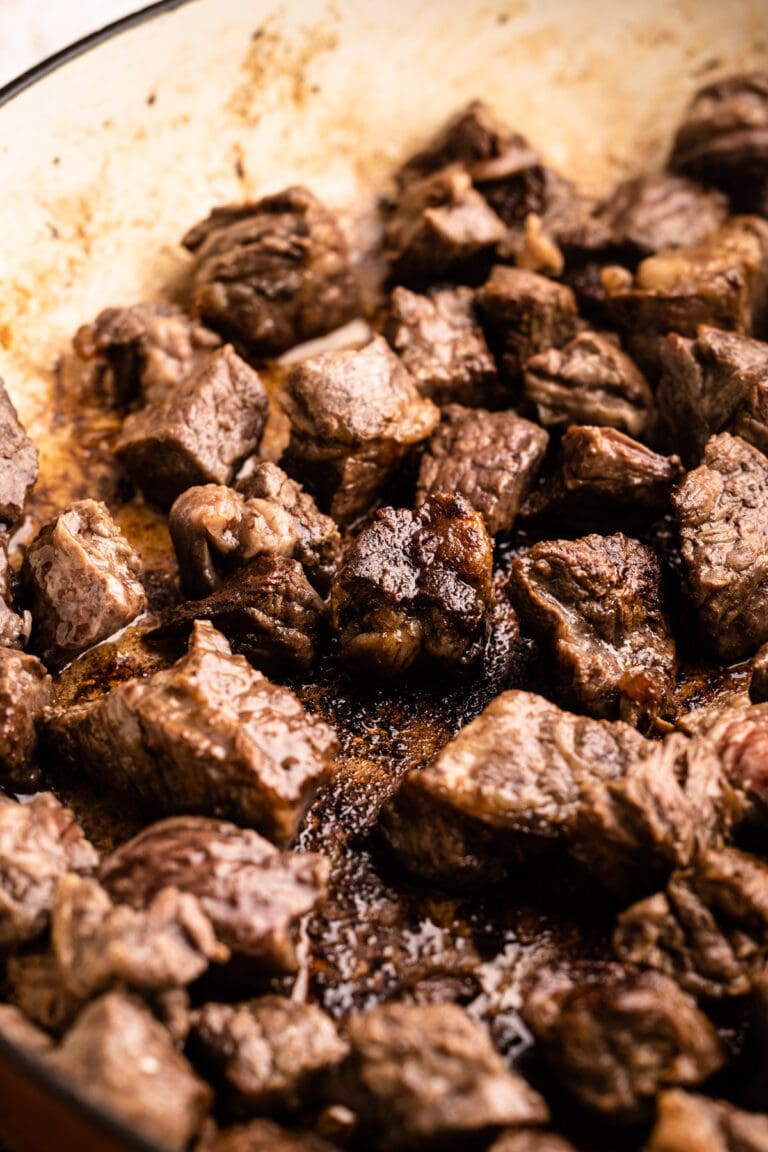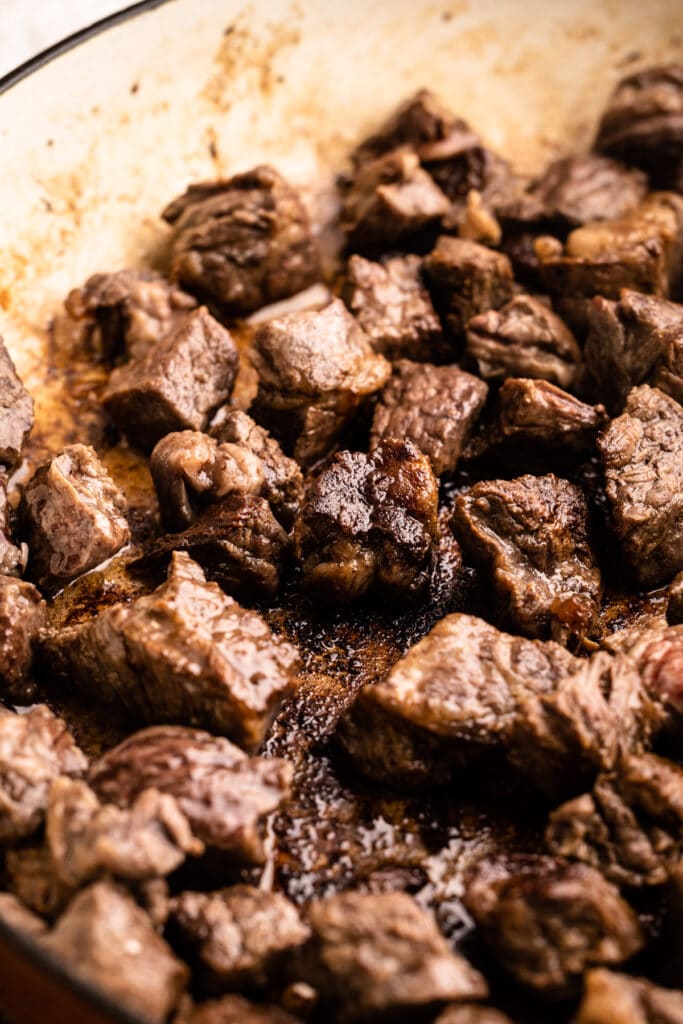 Steps for Making Beef and Guinness Pies
This savory pie is a bit more labor-intensive. Here is an overview of steps, along with some guidance for make-ahead suggestions in case you want to break up the preparation of this recipe:
make the pie crust (this can be done up to two days ahead, and it also can be replaced with store-bought puff pastry)
braise the beef (this can be done up to 4 days ahead of time)
roll out the pie crust and cut out 6 circles about the size of your ramekin
assemble the pies
bake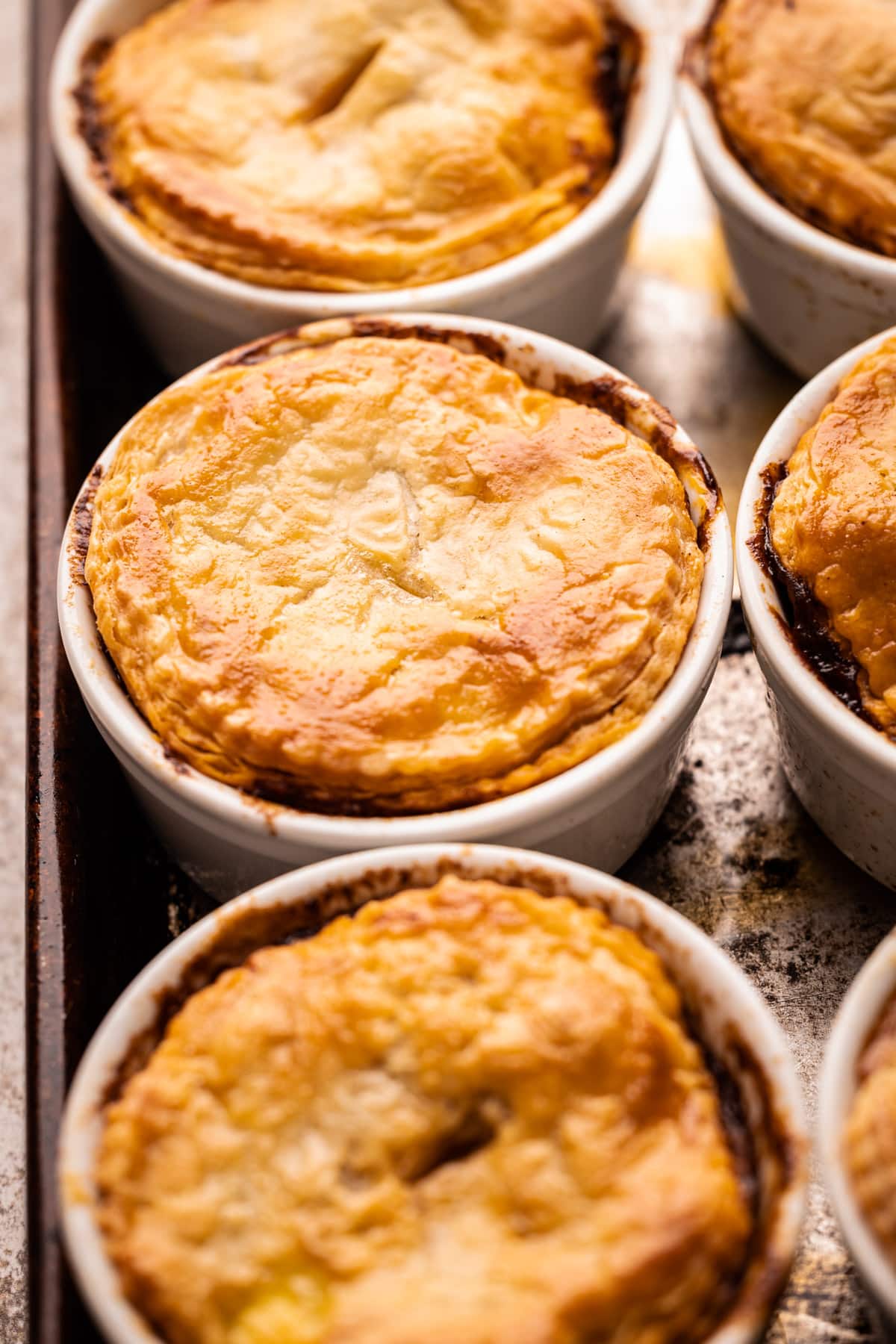 Freezing Tips
You can and should freeze this beef pot pie, your future self will thank you. You can freeze it unbaked or baked. It will last up to 3 months in the freezer either way. Just make sure you are preparing the pie in both a freezer and oven-safe container. I find pyrex pie plates to be the most freezer and oven-safe in my experience.
To Reheat it from Frozen:
The best method to reheat a fully baked frozen pie is to let it defrost in the refrigerator overnight. Then, bake the pie at 400ºF until the filling is bubbling. If possible, place an instant-read thermometer in the middle of the pie. The inside of the middle of the pie needs to be a minimum of 170ºF. If you don't have a thermometer, you can stick a knife in the middle of the pie, and then feel the metal to see if the filling is hot or not. It should be hot, not lukewarm.
If at any point the crust is getting too brown while you reheat it, cover it loosely with foil.
To Bake it from Frozen:
To bake this pie from frozen, remove it from the freezer and let it sit at room temperature until the dough is "tacky" or sticky, about 10-15 minutes depending on how warm your kitchen is.
Then bake according to the instructions of the recipe! It's that simple. The total bake time will be a bit longer. If at any point the crust is getting too brown, cover it loosely with foil. If possible, take the temperature of the middle of the pie. It should be above 200ºF.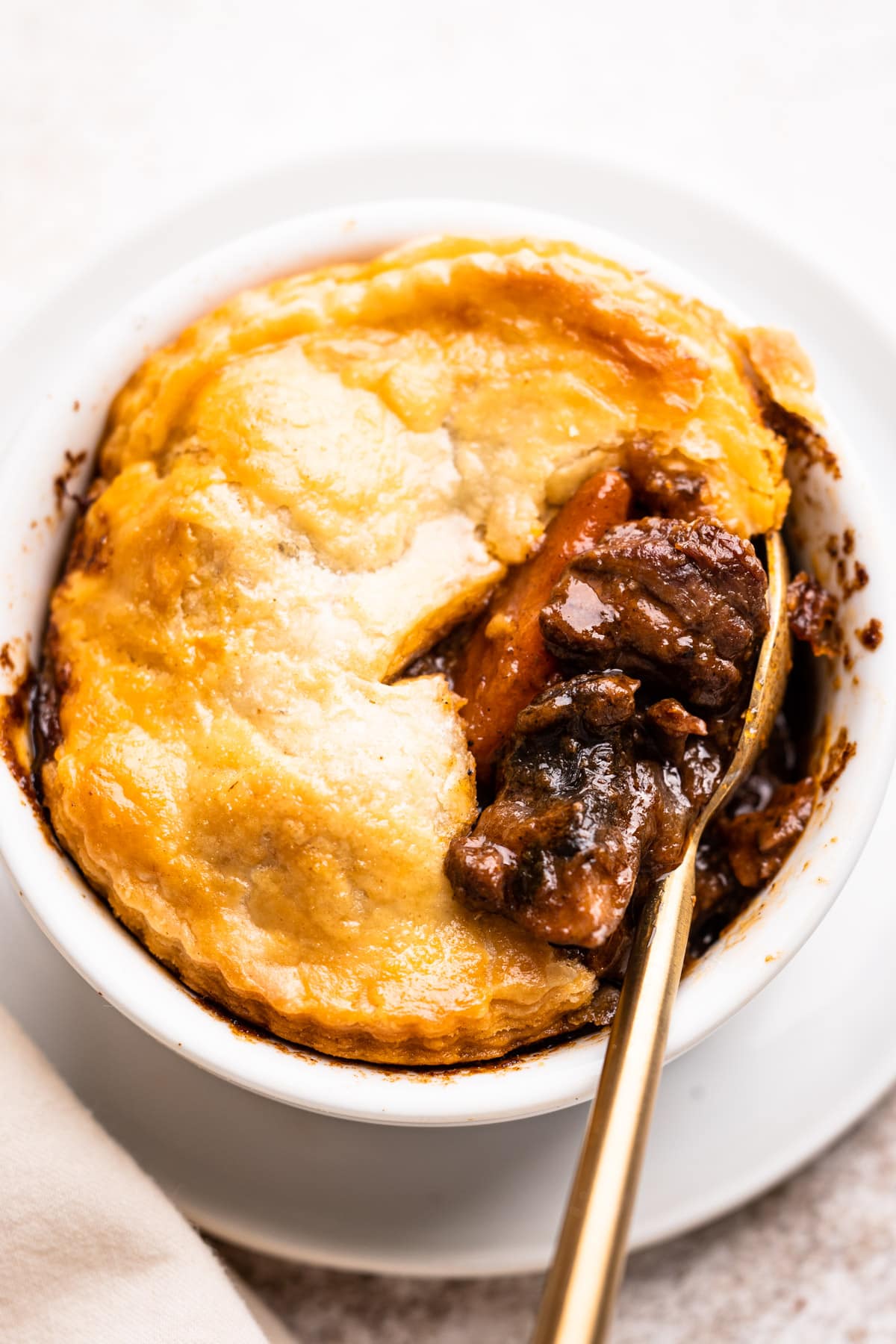 More savory pie recipes:
I am so honored when you make a recipe from my site! If you make this Guinness and Beef Pot Pie, please leave a comment and a star rating with your experience! If you have any questions about this recipe, feel free to comment here, too!
Print
Beef Pot Pie with Guinness
Rich Guinness braised beef is baked under a flaky pie crust to make for the ultimate dead-of-winter meal. This Beef Pot Pie can be made as a single serving, or as one whole pie.
Author: Kelli Avila
Prep Time:

00:25

Cook Time:

02:30

Total Time:

2 hours 55 minutes

Yield:

6 servings

Category:

Savory

Method:

Bake
For Pie Crust:
1

-

¼

cups (

150 grams

) all-purpose flour

½ cup

(

113 grams

) diced salted butter, cold

⅓ cup

(

80 grams

) sour cream
For Guinness and Beef Filling:
1 tablespoon

high heat oil

2

pounds brisket or boneless chuck roast, cut into

1

" pieces

1

large onion, diced

8 ounces

mushrooms, cleaned and quartered

1

-

½

teaspoons salt

4

medium to large carrots, peeled and sliced on the diagonal

3

cloves garlic, minced

2 tablespoons

all-purpose flour

2 tablespoons

tomato paste

2 tablespoons

fresh thyme leaves

1 teaspoon

ground black pepper

2 cups

beef broth

11 ounces

stout beer (Guinness)

1 tablespoon

turbinado or brown sugar
Instructions
Make the Pie Crust:
Add the flour into a large bowl. Add in the diced butter and toss to coat with the flour. Work the butter in the flour using a pastry blender. Or, using your fingers by squeezing the butter chunks until they're flat and then rub the butter into the flour. Some larger pieces can remain, up to the size of a marble. Continue this until the dough looks shaggy.
Make a well in the center of the flour mixture, and add in the sour cream. Using a spatula combine the sour cream in the flour.
Using your hands, knead the dough a few times to help blend the sour cream into the flour, until it just comes together as one large ball.
Transfer the pastry to a work surface, and shape into a rough disk shape. Place the dough in a piece of plastic wrap and wrap tightly. Using a rolling pin, roll the wrapped dough out until it stretches to the corner of the plastic wrap. Refrigerate for at least 2 hours, but preferably overnight.
Braise the Beef:
Place oven rack in the middle and pre-heat oven to 350ºF.
Heat oil in a dutch oven over medium-high heat. In batches, brown meat on all sides. Once done, remove the beef and set it aside.
Lower the heat to medium. Add the mushrooms and cook over medium heat until they are softened and have evaporated all of its's liquid, about 8 minutes.
Add in the onions and carrots and cook for 8 minutes, until they begin to soften.
Add the garlic, flour, tomato paste, thyme and cook for 30 seconds until the red paste has turned a rusty color. Deglaze the pot with beef broth, stout, and sugar. Return the meat back to the pot. Bring the mixture up to a boil, cover with a tight-fitting lid and transfer to the oven and let braise until the meat is tender and the sauce has thickened, about 1-½ to 2 hours. When the meat is tender, taste and adjust the seasoning, adding salt if necessary. If too much liquid has been reduced, and the sauce is salty, add water to balance it out.
Transfer the braised beef filling to a shallow container and let cool at room temperature until no longer hot, about 1 hour. Transfer to the refrigerator and let cool, at least 2 hours or overnight in the refrigerator.
Assemble and Bake:
Preheat the oven to 400ºF. Place 6 (8-ounce) ramekins on a sheet pan. Roll out the pastry thin and cut circles to fit over the top of the ramekins.
Divide the filling between the ramekins and place the pastry circles on the top. Brush the pie with egg wash and cut a slit in the crust to allow the steam to vent.
Bake the pies in the lowest rack until the crust is golden brown, about 30-35 minutes. Let cool for 5-10 minutes before serving.
Notes
Don't want to make homemade pie crust? Store-bought puff pastry is an easy store-bought solution to use with this beef pot pie.
This can easily be made into just 1 pie, instead of 6 mini pies. Place the filling into a 9" deep-dish pie plate, place one pie crust on top and follow the steps for filling and baking. A large pie can take a few extra minutes for the crust to bake fully.
Have a question or looking for tips? The text written above the recipe is always a great first place to start! There are always loads of explanations, tips and technical advice shared before the recipe.
Keywords: Beef Pot Pie, Beef and Guinness Pie
Some of the links on this page may be affiliate links. Everyday Pie is a participant in the Amazon Associates Program. As an Amazon Associate I earn from qualifying purchases, at no extra cost to you.