Filled to the brim with juicy apples, blended with subtle hints of cinnamon and vanilla, this buttery and delicious Gluten-Free Apple Pie will be loved by everyone.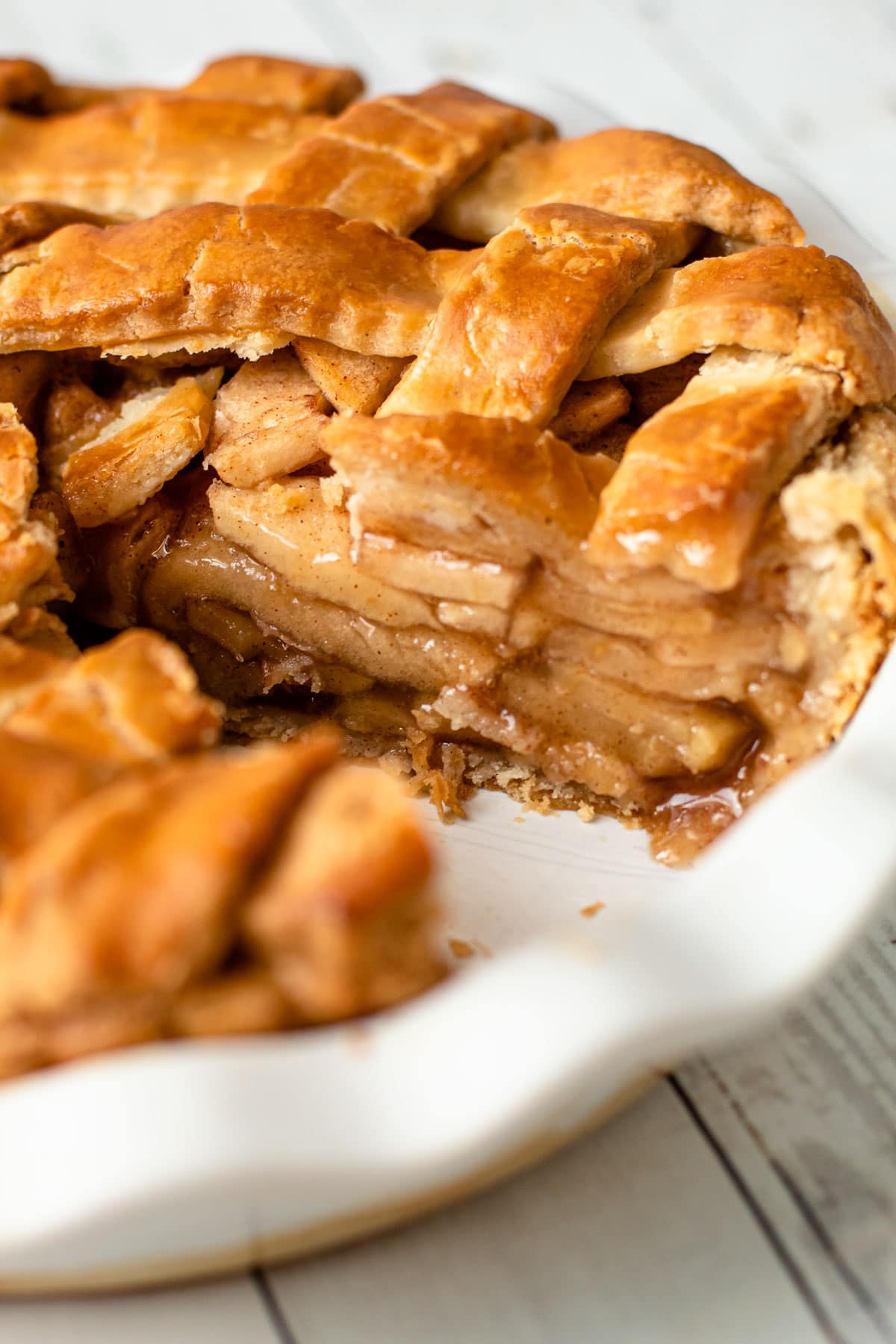 The Best Gluten Free Apple Pie
You'll never hear me proclaim that a gluten-free pie tastes exactly as one made from regular flour. Mostly because the gluten is in fact missing; therefore it will be different. But, it is possible to make a gluten-free pie that tastes amazing and can hold its own when compared to a pie made with traditional flours. Truly, that is the overall goal every time I set out to make gluten-free anything.
This Gluten-free Apple Pie does just that. The crust is crumbly and light with an amazing buttery flavor and the apple filling is as classic as you get: juicy and perfectly cooked with just the right amount of warm spice.
Also, if you are new to making gluten-free pies, I'm sharing a ton of tips below to make sure you have success with this recipe.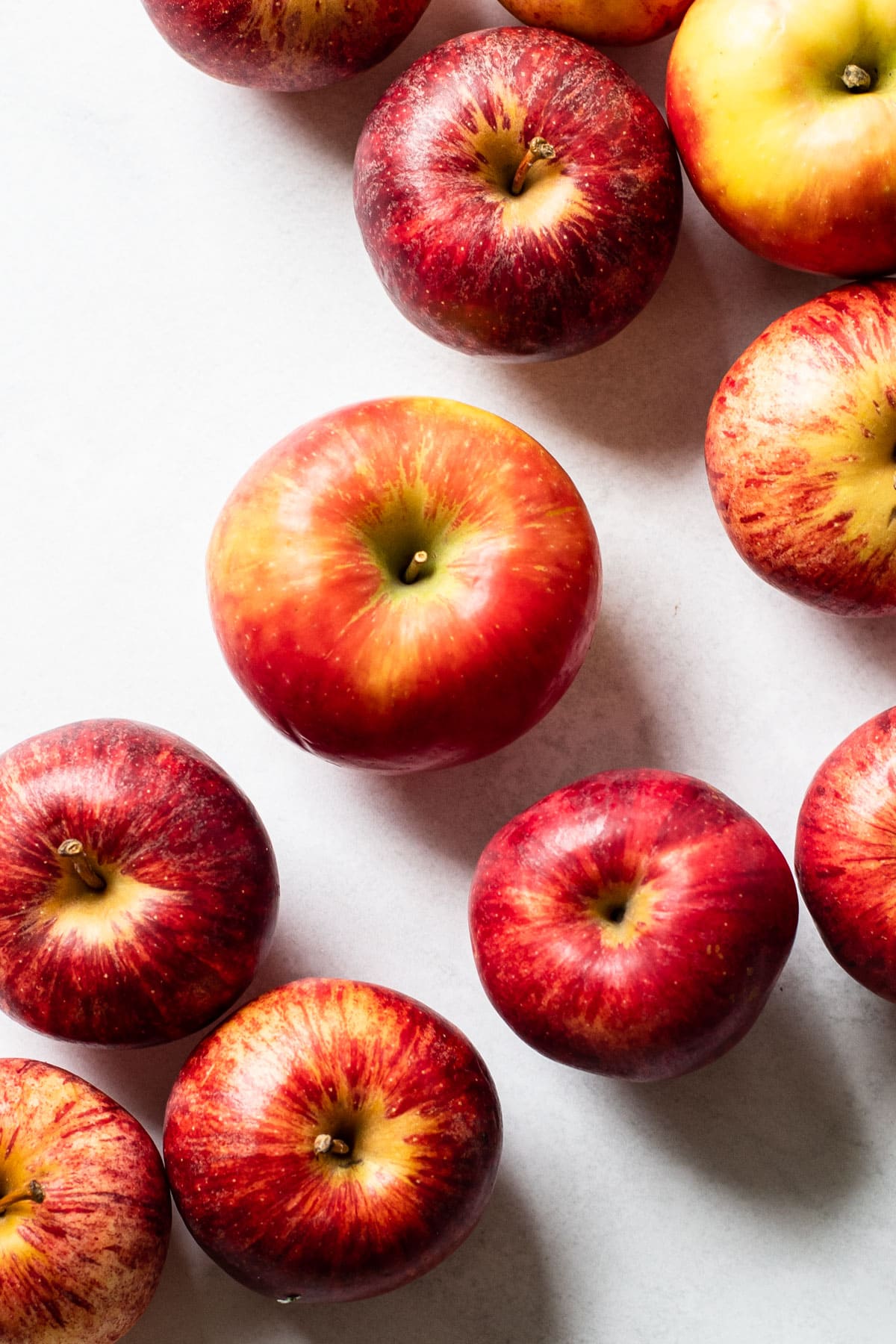 Ingredients Needed
Here is an overview of the ingredients needed for this recipe. The full recipe is listed below in greater detail.
baking apples (see below for my recommendations)
gluten-free flour (see below for recommendations)
butter
cream cheese
cornstarch
brown sugar + white sugar
cinnamon + nutmeg
oats
lemon juice
salt
vanilla extract
Tools Needed
Here is a list of some of the primary tools I use in this recipe. You won't necessarily choose to use them all, but they are exactly what I used. Any links may contain affiliate links.
pie dish
baking basics: bowl, spatula, sheet tray, measuring cups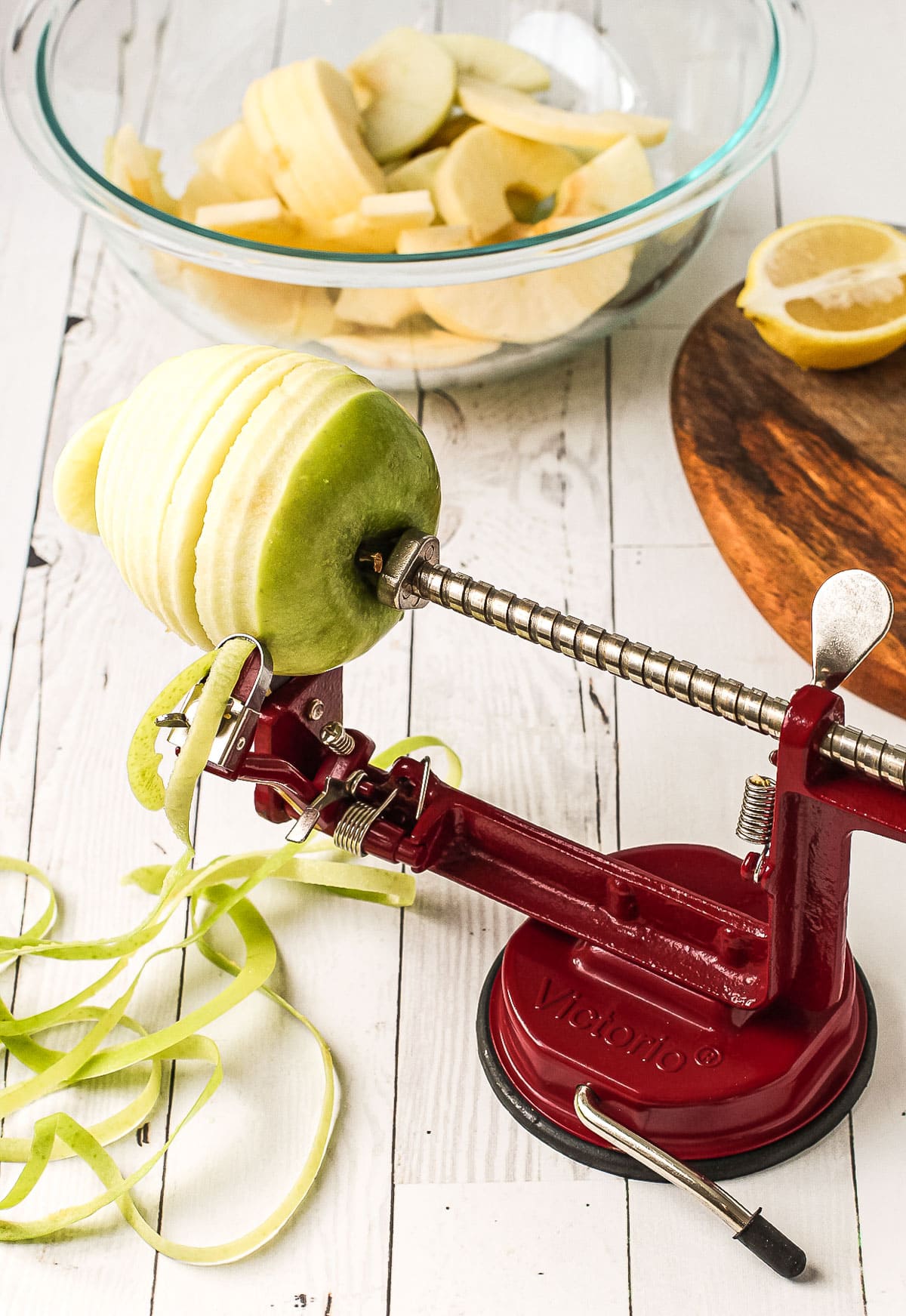 Let's Talk Gluten-Free Flour
Not all gluten-free flours are created equal. In fact, they vary greatly. This recipe calls for a 1-to-1 gluten-free flour blend. There are a few different brands out there, and I've used both Bob's Red Mill and King Arthur Flour cup for cup, or 1-to-1 flour blends. Look for a blend that says it will work as a complete swap for all-purpose flour.
I have not tried this with any other gluten-free flour besides the two listed above.
If you experiment with another type of gluten-free flour, I'd love to hear how it went for you.
Best Baking Apples
While all apples may taste delicious, they serve different purposes when it comes to baking and cooking. For an apple pie, you want to have an apple that can hold its shape, has a nuanced flavor and a slight tartness to break up the sweetness of the sugar.
Using a combination of apples is best because it introduces a few different types of flavors and textures to the pie.
My two favorite types of apples for any apple pie are Gala and Granny Smith apples.
Some other favorites are:
Cortland
Yellow Delicious
Braeburn
Pink Lady
Ginger Gold
Jonagold
What Makes Gluten-Free Pie Making Different?
If you are new to gluten-free baking, there are a few things you should know about before you attempt to make this gluten-free apple pie. If you aren't new, you still may find this useful!
The first thing I'd suggest is that you let go of any assumptions you might have about how to make pie because gluten-free dough just works differently than traditional pie dough.
The gluten-free dough actually tends to be easier to work with. In order to make the dough workable, you'll need to incorporate the butter fully into the flour. What that means is that the dough won't be as flaky. But, what you'll miss out on regarding flakiness, you make up for in relatively fuss-free dough. With fully incorporated butter, the dough has a consistency like play dough and is pretty easy to roll out.
Here's a bonus: it can also be rolled out right away. I've found it is quite easy to roll out the dough right after making it. Keep in mind that no gluten means no need to rest the dough to prevent too much gluten formation! Just make sure your butter isn't too soft. You'll know your butter has softened too much when the dough starts sticking and becomes difficult to work with. Chill it for about 10-15 minutes if this happens.
You can also roll it out later. If you chill the dough, you'll need to let it soften up slightly to make it easier to roll.
You can also check out this post about gluten-free dough which goes into more detail with tips and tricks.
Even though the dough is pretty easy to roll out, you still need to treat it gently! If you do tear a hole though, you can luckily just press it back together once it is in the dish.
You can re-roll the scraps many, many times. Same rule as above, no gluten means your dough won't get tough from rolling out more than once.
Make this dough in either the food processor or an electric stand mixer. I recommend using either of them--instead of mixing by hand--because it completely incorporates the butter into the dough without making it too soft.
How to Avoid a Sinking Apple Pie Filling
Apples have a ton of moisture. When the apples are cooked, they release their moisture and then shrink. When you bake an apple pie, naturally the apple filling will first puff up and then as it cools, it shrinks. That is why apple pies sometimes have a gap between the filling and the crust.
To avoid the filling from sinking too much there are a few tips to keep in mind.
First, you want to make sure your fruit is cut into semi-thin slices of apples that are all similar in size. Aim to slice your apples no bigger than ½" thick. I use this apple peeler (affiliate link), and I highly recommend it. It's worth the money and space in the kitchen, even if you only use it a few times a year.
Second, you can macerate the fruit before you begin to bake. Macerating the fruit in sugar helps draw out the moisture from the fruit, causing the fruit to soften and shrink before it enters the pie. This step alone will drastically reduce any gap between the crust and the filling with the fruit. A trick I sometimes use (that I learned from Rose Levy Beranbaum) is to let the apples macerate longer, then strain the juice into a pot and boil it down until it has slightly thickened. This will heighten the apple flavor and ensure you don't have a thin filling.
And finally, layer in your fruit. Instead of just pouring in apple slices haphazardly, you want to literally layer in the slices of apples and try to eliminate gaps between the slices. If there are large gaps between the apples, once they cook and soften that space will be filled in with the juices and cooked fruit and the pie will sink further.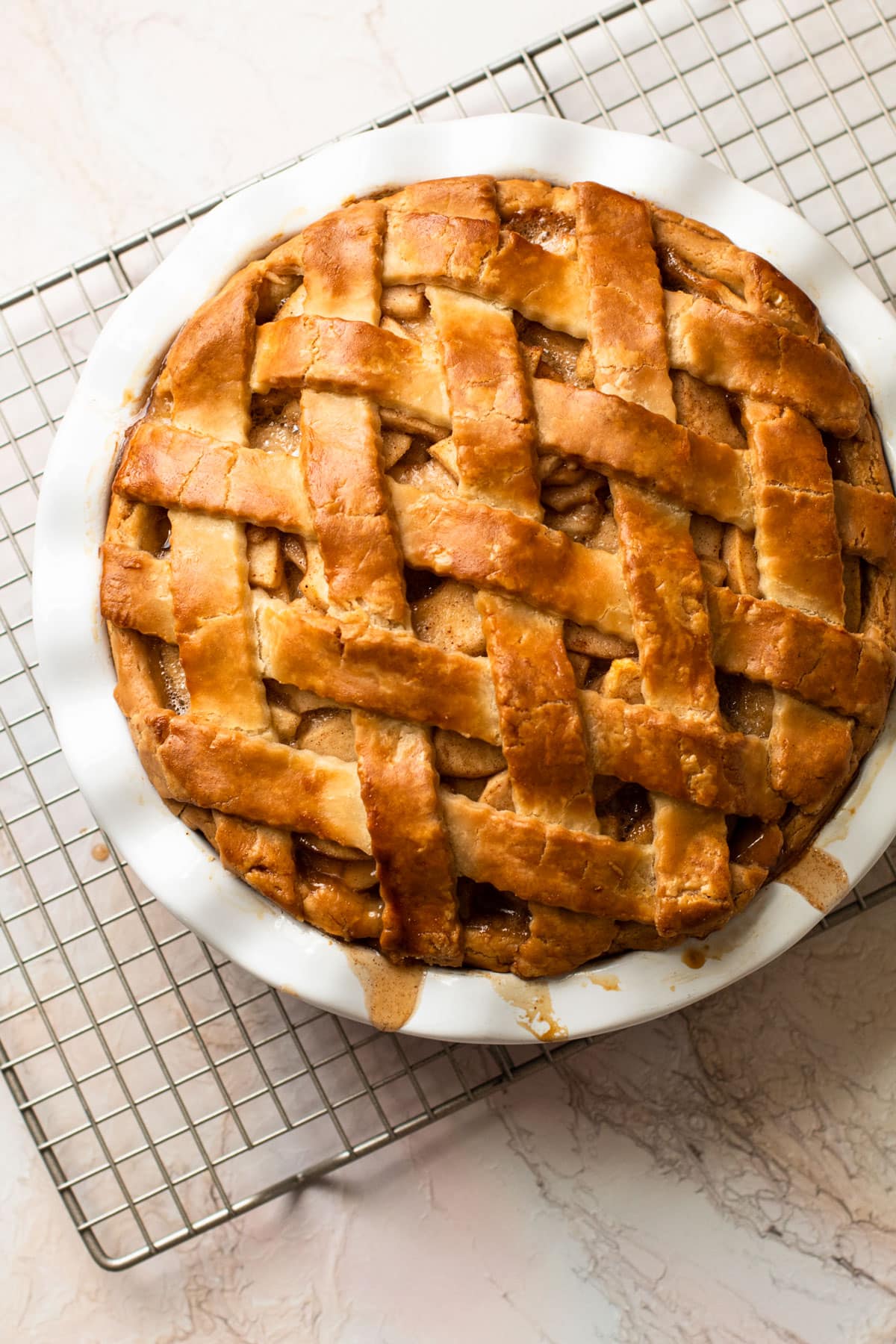 How to Tell that an Apple Pie Filling is Done
Ever have a watery apple pie? If you have, it's likely that the filling wasn't cooked long enough (or there wasn't enough thickening agent). This pie uses cornstarch to thicken. In order to activate, the cornstarch needs to be heated to a temperature close to boiling.
There are two main ways to tell when a fruit pie is done. The first is by sight. Look for the crust to be golden and crisp. More importantly, look for the filling to be bubbling from the middle of the pie. The bubbling doesn't need to be rapid but keep an eye out for at least 1 bubble while you are checking the pie. This ensures it has reached the proper temperature and the thickener is activated.
The best way to tell if your pie is cooked long enough in the middle is to probe the middle with an instant-read thermometer. I love my Thermapen (affiliate link) for this. The middle of your pie should reach a temperature of above 200ºF.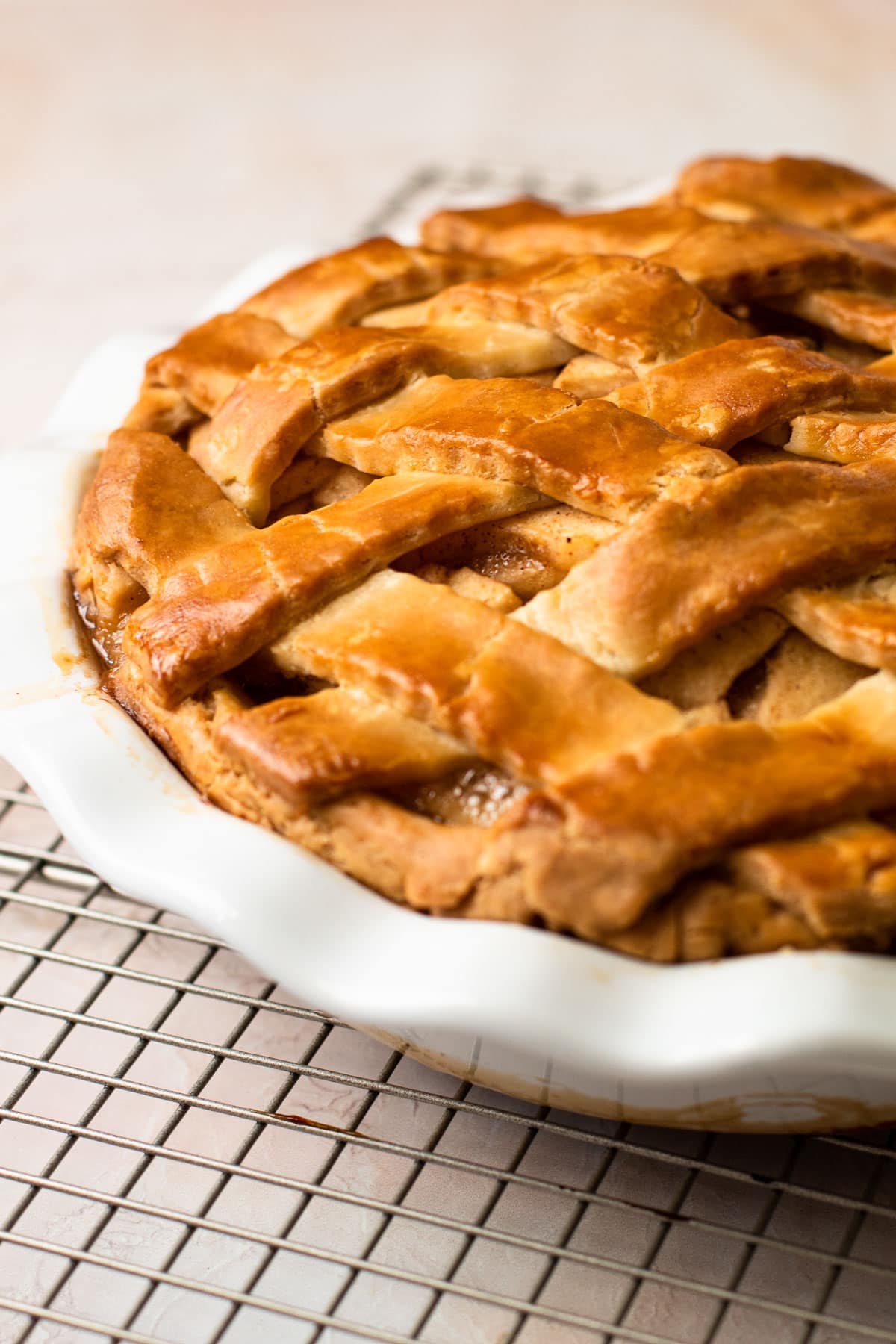 How Serve it and Store Leftovers
Serve this pie slightly warm or at room temperature. It can be served as is, with whipped cream, or a la mode with vanilla ice cream!
To store the pie, you can leave it at room temperature, covered, for 2 days. For longer storage cover and place in the refrigerator.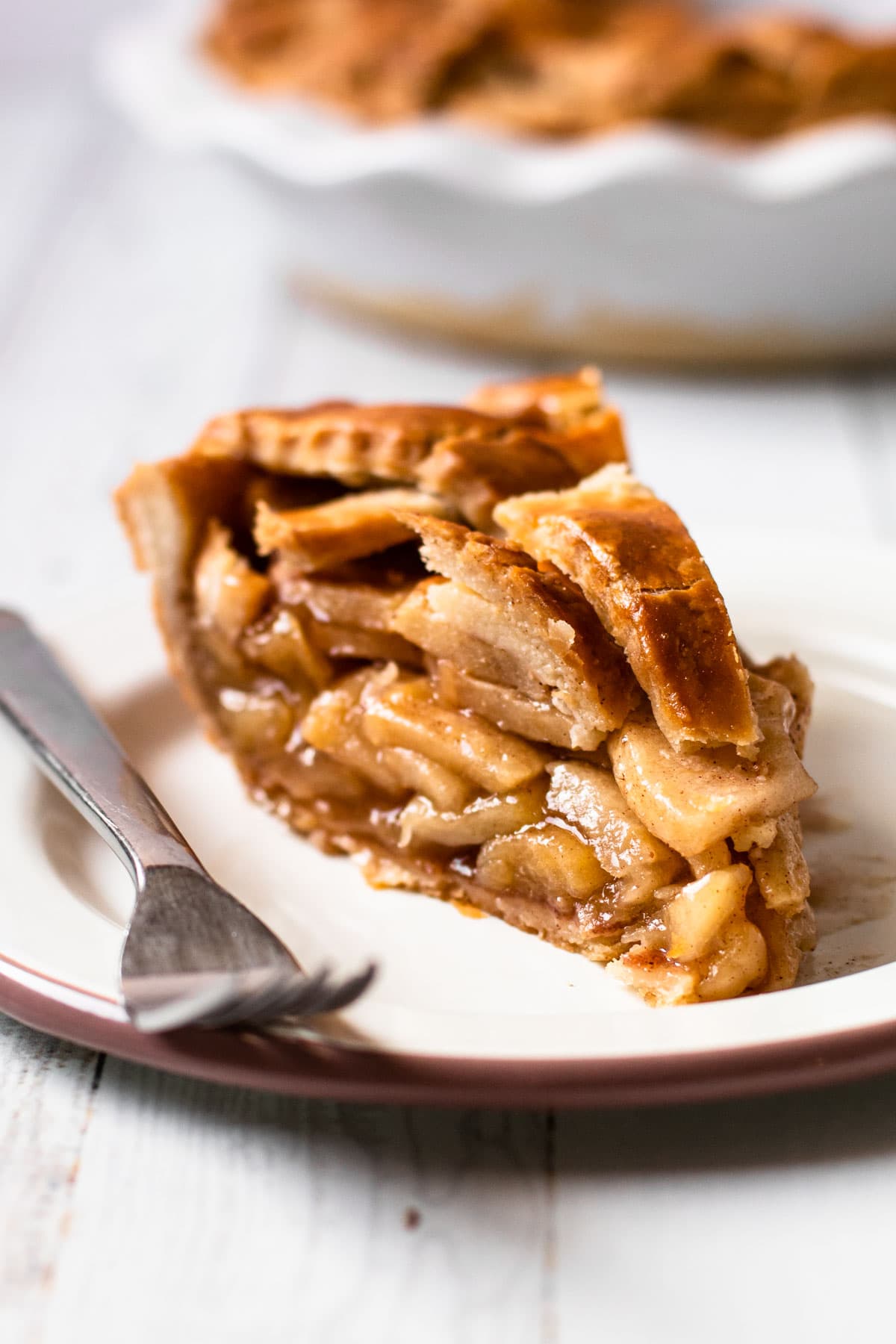 More Apple Recipes:
Print
Full Recipe
Gluten-Free Apple Pie
Filled to the brim with juicy apples laced with cinnamon and vanilla, this buttery and delicious Gluten-Free Apple Pie will be loved by everyone.
Author: Kelli Avila
Prep Time:

00:35

Cook Time:

00:60

Total Time:

1 hour 35 minutes

Yield:

8 slices

Category:

Sweet

Method:

Bake

Diet:

Gluten Free
For Gluten-Free Crust:
2

-

½

cups (

300 grams

) 1-1 gluten-free flour blend

½ teaspoon

salt

4 tablespoons

(

55 grams

) cream cheese, cubed

16 tablespoons

(

226 grams

) cold butter, cut into ¼" pieces

1 tablespoon

(

15 grams

) apple cider vinegar

⅓ cup

(

80 grams

) ice water
For Filling:
4

lbs. (about

9

) baking apples, peeled, cored and sliced thinly

1 tablespoon

lemon juice (about

half a

lemon)

3 tablespoons

(

21 grams

) cornstarch

⅓ cup

(

70 grams

) light brown sugar

¼ cup

(

50 grams

) granulated sugar

1 teaspoon

salt

1

-

½

teaspoon cinnamon

¼ teaspoon

grated nutmeg

1 teaspoon

vanilla

2 tablespoon

unsalted butter, cut into pieces
For Assembly:
Instructions
Make the Gluten-Free Pastry:
Add the gluten-free flour blend and salt to the bowl of a food processor and pulse to combine.
Add in the cream cheese and butter and pulse 7 times.
Add the vinegar to the water and with the motor running pour the water mixture into the flour. Continue to process the dough until it all forms together into a ball around the blade.
Remove the dough from the processor and divide the dough into two portions.
At this point you could roll out the dough immediately on a well floured surface, or you can store the dough in plastic wrap for up to 3 days in the refrigerator (or 3 months in the freezer).
Assemble and Bake:
Preheat oven to 400ºF.
Combine the sliced apples and lemon juice in a large mixing bowl. Add in the cornstarch, brown sugar, granulated sugar, salt, cinnamon, nutmeg and vanilla and mix together. Let sit until the apples have released some of their juices, at least 20 minutes.
Meanwhile, on a well-floured surface, roll out 1 gluten-free pie dough to an 11″ circle. Fit the pastry in a 9" pie plate, making sure to press the pastry into the sides and the bottom. Roll out the second pastry and slice strips to make a lattice, if desired, or leave whole to make a simple double-crust pie.
Place the macerated apple pieces inside of the pie crust, taking care to layer the apples together, leaving very little space in between the apple pieces. Pour any remaining apple juices inside of the pie pastry. Place the pieces of butter on top of the filling and then top the pie with a lattice, or top with the rolled out pie dough with a few slits or small shapes stamped out of it to let steam escape.
Brush the crust with an egg wash and sprinkle with coarse sugar, if desired.
Bake on the lower rack, for 55-65 minutes or until the pie reaches an internal temperature of above 200ºF, and the filling should be bubbling throughout. If the pie crust is browning too quickly, lightly cover with foil.
Let the pie cool about at least an hour, to let the juices set up.
Notes
Use a mix of baking apples, such as gala and Granny Smith.
Pie can be stored, covered, at room temperature for up to 2 days. For longer than 2 days, store in the refrigerator.
Not all gluten-free flours are created equal. In fact, they vary greatly. This recipe calls for a 1-to-1 gluten-free flour blend. There are a few different brands out there, and I've used both Bob's Red Mill and King Arthur Flour cup for cup or 1-to-1 flour blends. Look for a blend that says it will work as a complete swap for all-purpose flour. I have not tried this with any other gluten-free flour besides the two listed above.
Keywords: Gluten-Free Apple Pie
Some of the links on this page may be affiliate links. Everyday Pie is a participant in the Amazon Associates Program. As an Amazon Associate I earn from qualifying purchases, at no extra cost to you.