When fresh tomatoes are at their peak, make this Heirloom Tomato Galette. A homemade pie crust is wrapped around herby crème fraîche and juicy tomatoes, then baked with a sprinkle of cheese. Perfect for an appetizer or light dinner!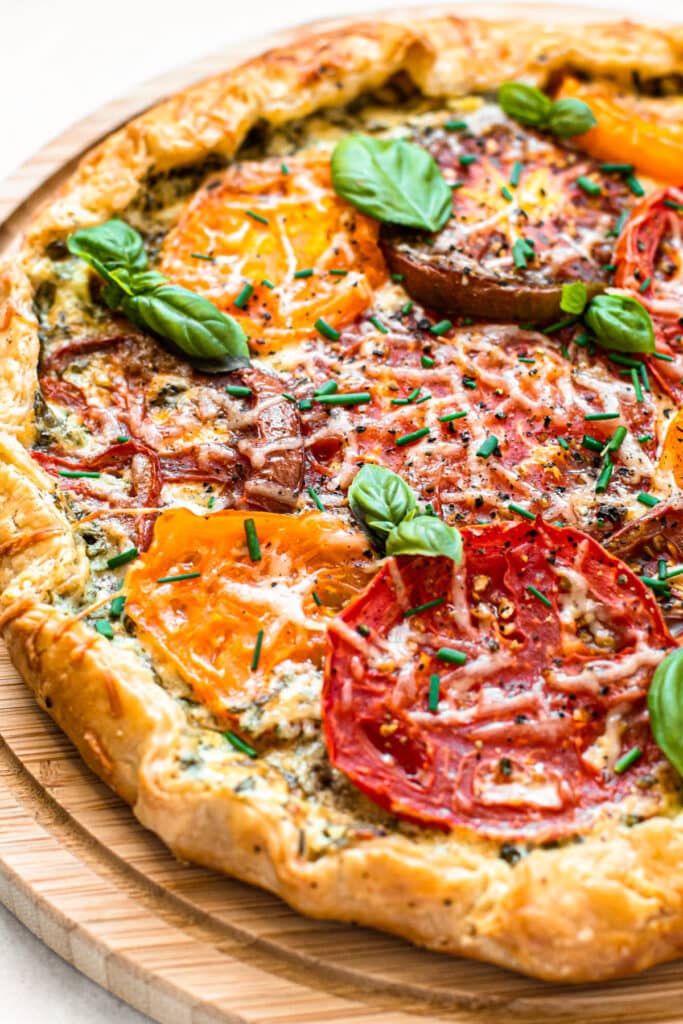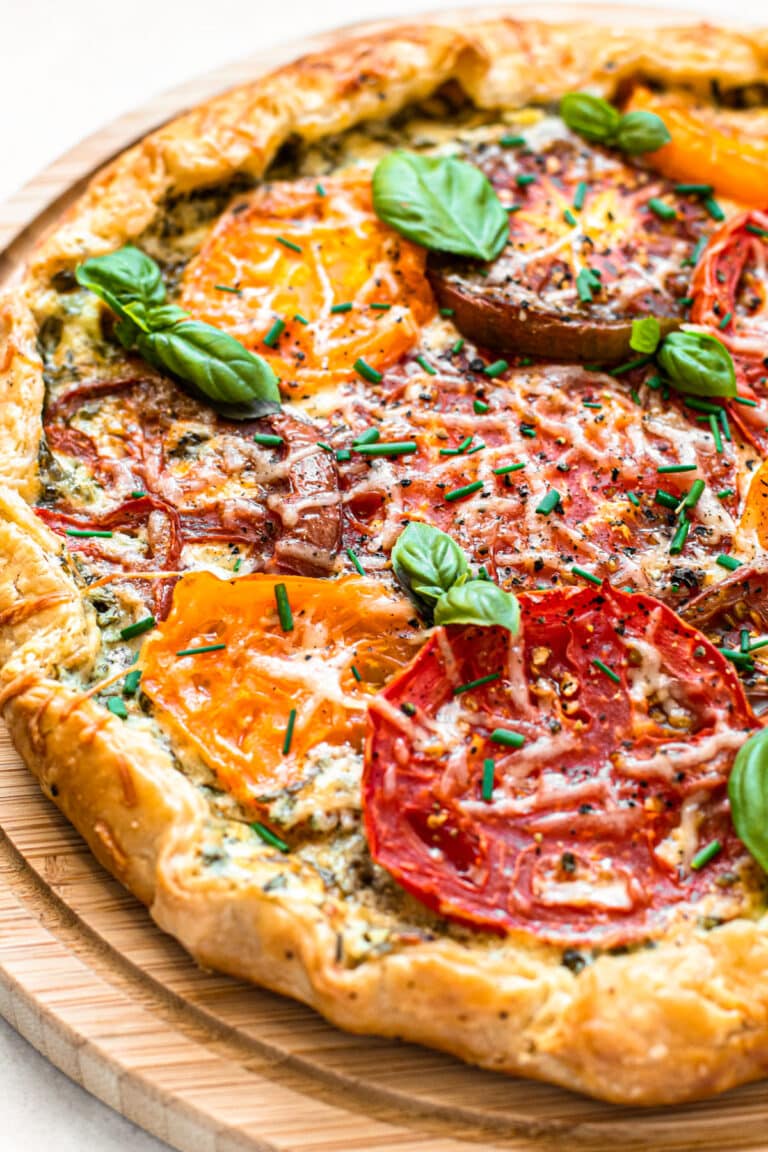 Herb and Crème Fraîche Tomato Galette
We can all agree that tomatoes on their own are near perfect. But you know what sends them over the edge? Wrapping them up in a flaky pastry, layered between herbed crème fraîche, sprinkled with savory cheese, and baked to perfection in a high heat oven. That's what! Seriously, this Heirloom Tomato Galette is the best little dinner pie to make at the end of the summer when those cools nights are starting to creep their way in, but you still want to savor the last drops of summer. So let's get to baking, shall we?
But first, what is a galette?
A galette is a simply a round pastry usually consisting of either a sweet or savory filling, wrapped up in a pie-dough-like-pastry. The name hails from France, but we all know and love the galette as basically a free-form pie!
Galettes are known for their rustic charm and the ease with which nearly anyone can turn out an instagram-worthy version of one, thanks to the utter simplicity required to make it. It is said, if you are intimidated with making a pie, start with a galette! (Though to be fair, you know you'll never hear me say that. Pie making is easy, and anybody can do it. That's my story, and I'm sticking to it!)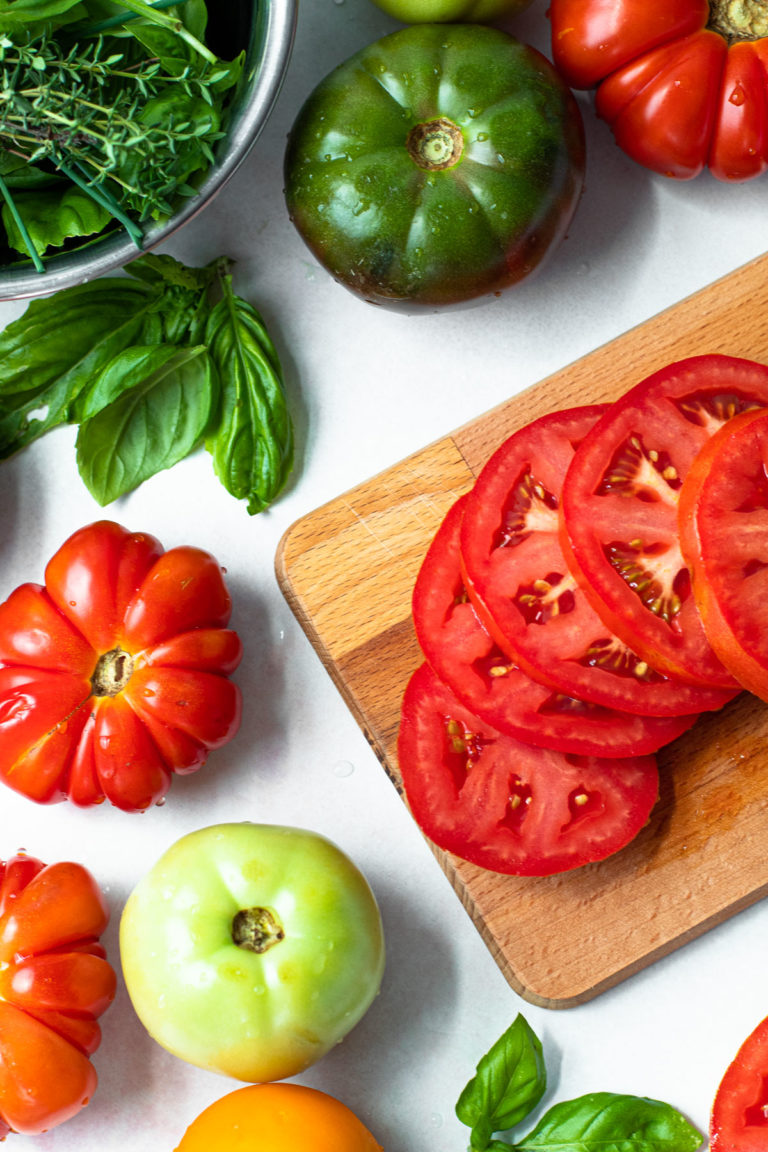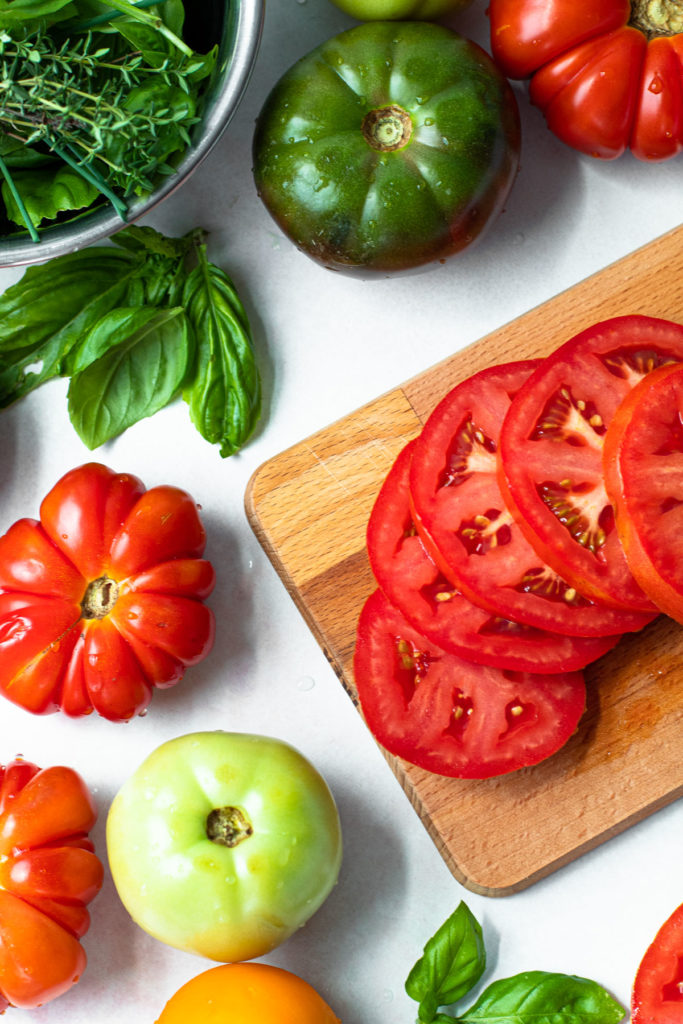 Let's Talk Tomatoes
Part of the beauty of this galette is the variety of color you'll have using those heirloom tomatoes. However, not using heirlooms isn't a deal-breaker. This galette will still be beautiful with just red tomatoes!
It's best to work with ripe but still firm tomatoes. If they're too soft and watery, that will reflect itself in the galette.
The tomatoes needed to be prepped before the bake. After slicing them into ¼" rounds, they need to be salted and drained for about 15-30 minutes. They might not release a ton of liquid at this point, but after they've been salted, they should be patted dry with a paper towel to trap any remaining excess moisture.
This step is essential to make sure your galette doesn't end up a soggy mess.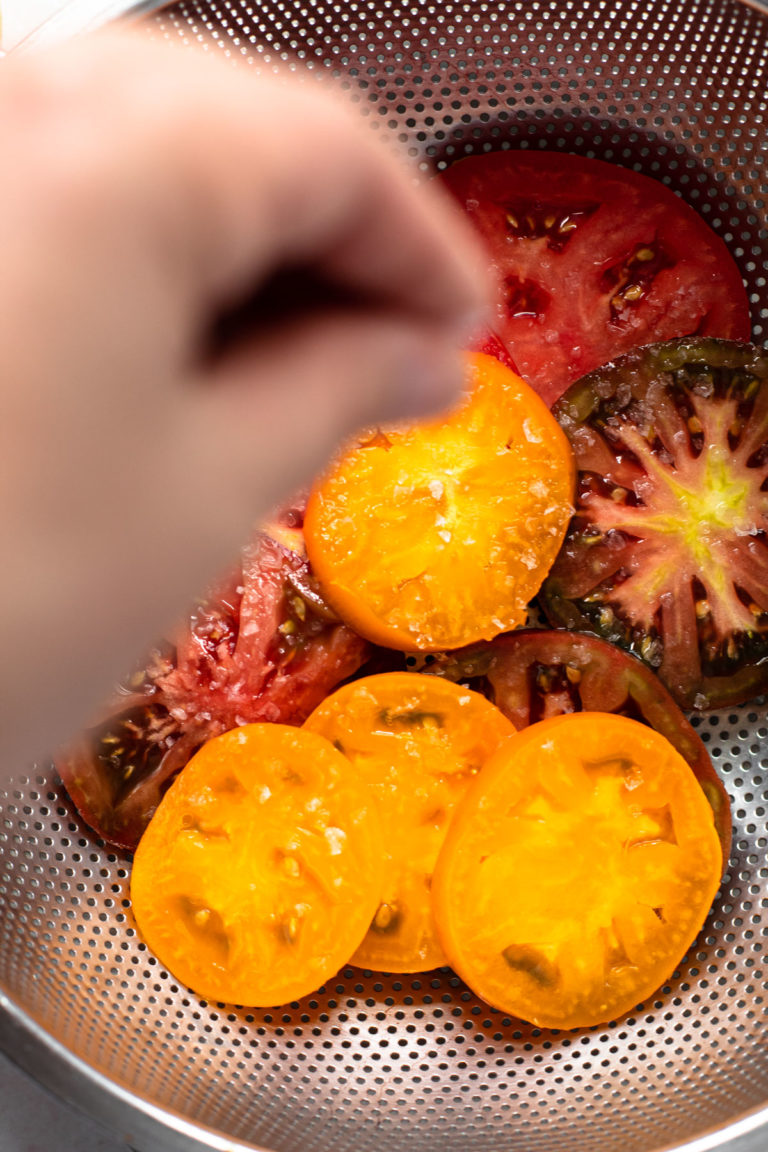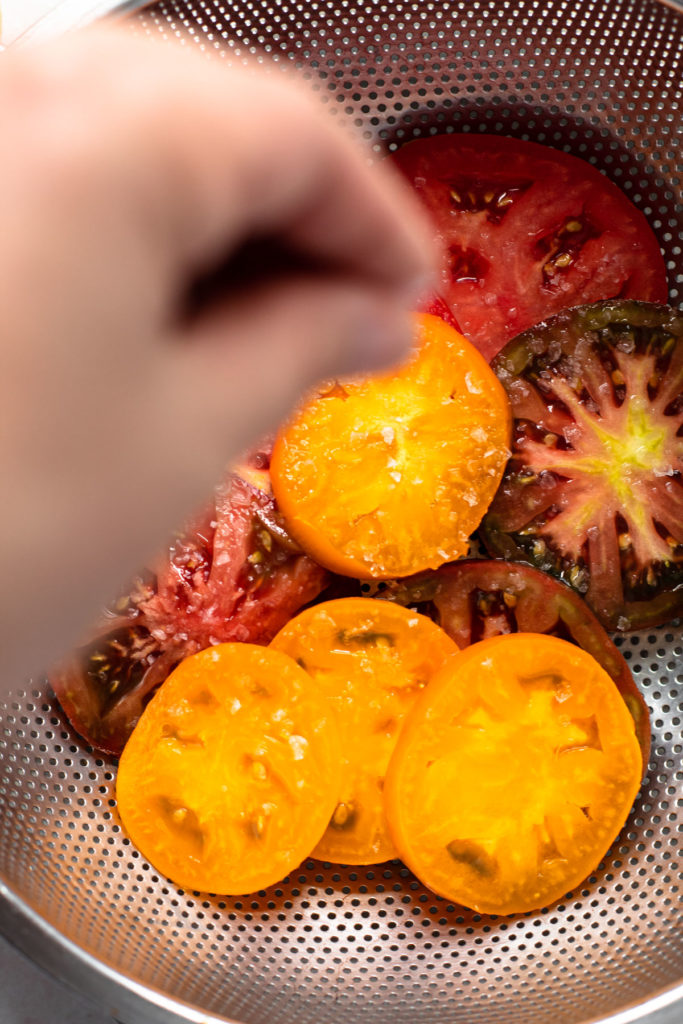 Cheese and Herbs and other Delicious Things
Don't start rolling your eyes when I tell you you need to buy a fancy cream that has it's origins from France. Crème fraîche is relatively simple to find in the grocery store, and the richness it provides as a counter to the tomatoes is worth it.
But if you don't feel like shelling out the high price for it (it's true, it is a bit expensive) you can make your own! All you need is cultured buttermilk and cream. Here is recipe for How to Make Crème Fraîche. Or...you can just spend the $4 and have it already made for you! Either way, don't skip out on it.
The crème fraîche goes underneath the tomatoes and is combined with a good bunch of herbs and cheese. I am leaving it pretty loose in terms of what herbs and cheese I'm calling for here, as there is great flexibility in this recipe depending on what you have on hand or what you like.
Think about what goes well with tomatoes! I've given suggestions in the recipe below of course, but do think of them as suggestions and be open to using what you have in your garden or what is available at your local store. As far as cheese, think about a harder type of cheese such as parmesan, asiago, gruyere, or pecorino Romano. An Italian blend will also work well.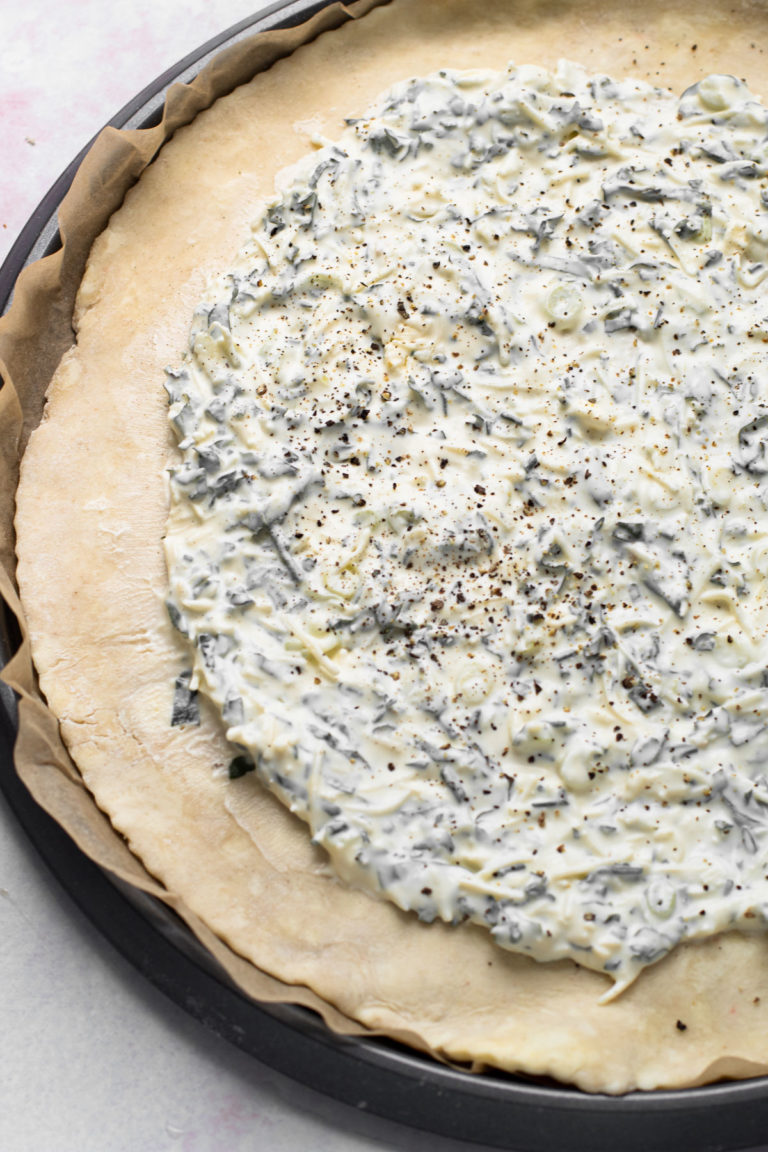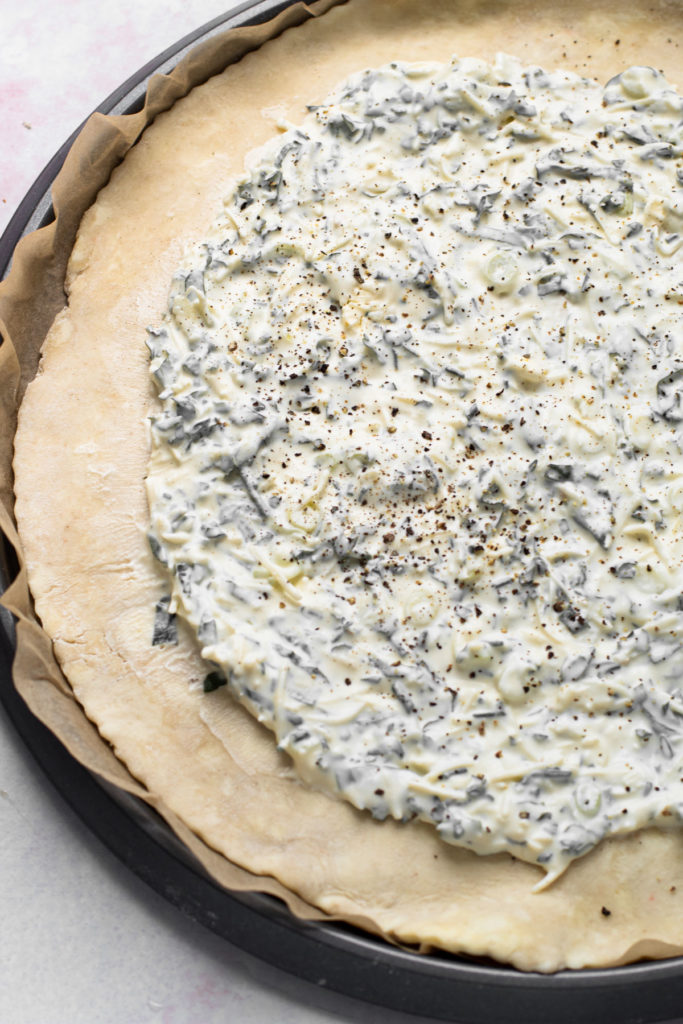 How to Form a Galette
I've got to be honest, I don't see much of a difference between making a pie and making a galette except for the fact that one is baked in a pie dish and one isn't. However, many people say they find making a galette less intimidating. I think the reason why those who are intimidated by making a pie and not by a galette is because a galette is viewed as very rustic and can be a little wonky and wobbly.
All this is to say, to form a galette you simply bring the sides of the pastry up over the edges of the filling and press or pleat them together. It doesn't need to be perfect, but you do want to make sure the pastry is securely in place on top of the edges of the tomatoes.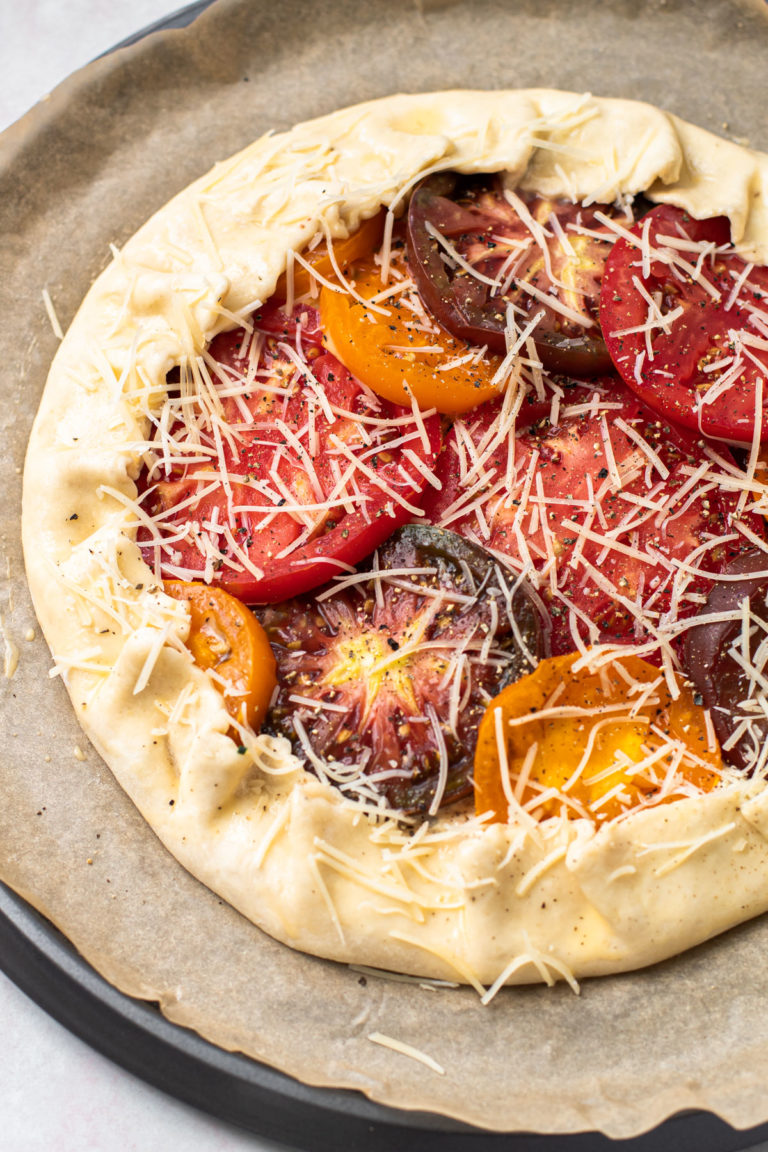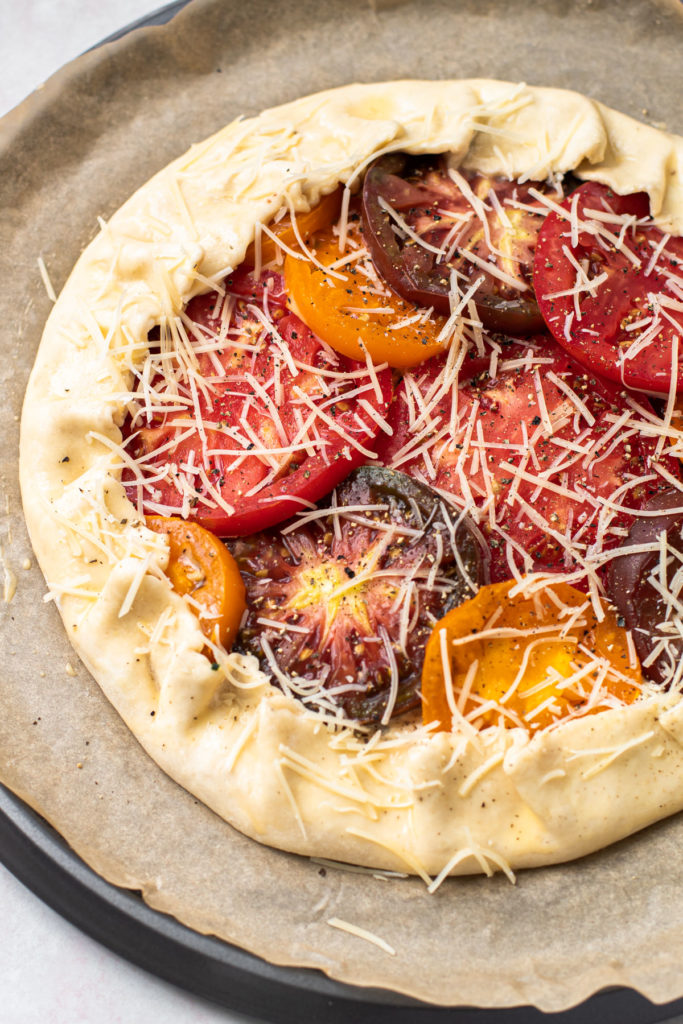 Tips for Making a Galette
Roll out your dough to a rough 13" circle. You do not have to make the circle exact, but I like measure and clean up the edges of my rolled out pastry with a pastry wheel to remove any jagged edges. This makes for a more uniform looking galette. If you prefer a more rustic galette, leave the pastry in it's rolled out state.
Make sure to leave a rough 1-½ to 2" border along the edge of the pastry to leave room for the fold.
For a more uniform pleat, use the same angle for each pleat that you make, and try to bring up the same amount of dough.
Make sure to brush it with an egg wash for that shiny golden sheen on the crust!
Chill your galette in the refrigerator before baking if your pie dough has become too warm while it has been formed. A warm pie dough means it could possibly collapse in the oven.
Similarly, make sure your oven is preheated. If the oven isn't at the correct temperature, the galette might not hold it's shape.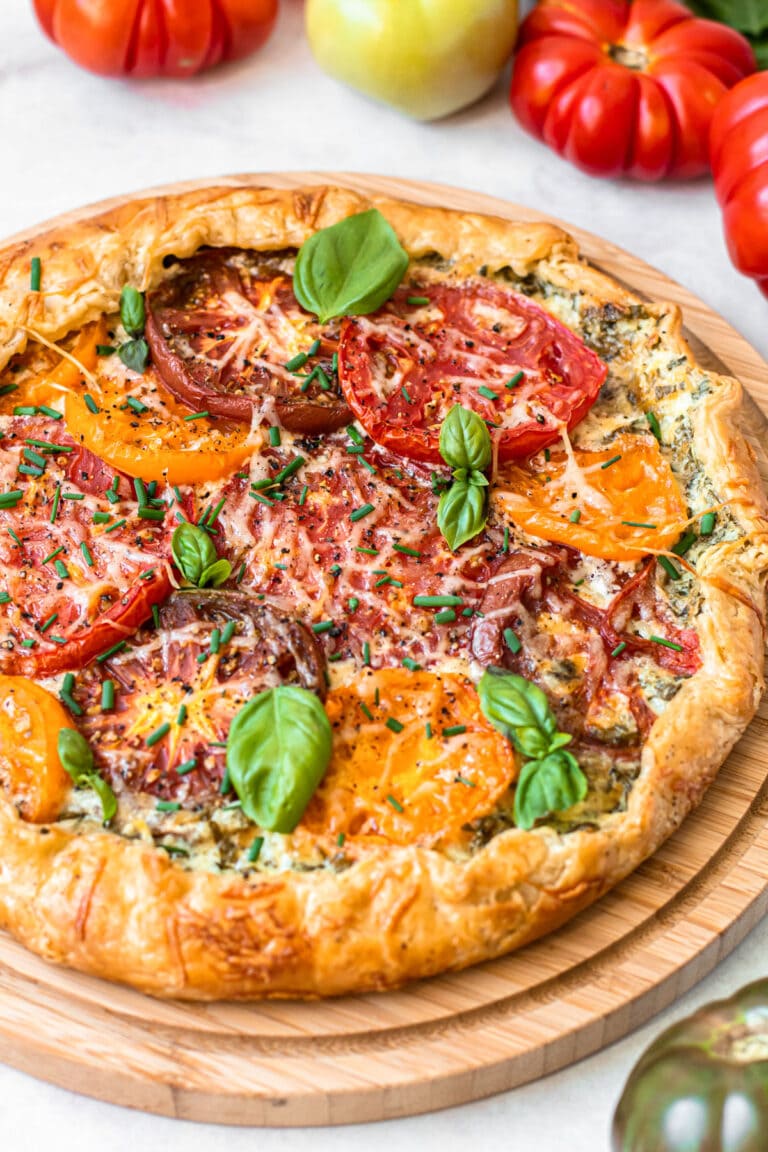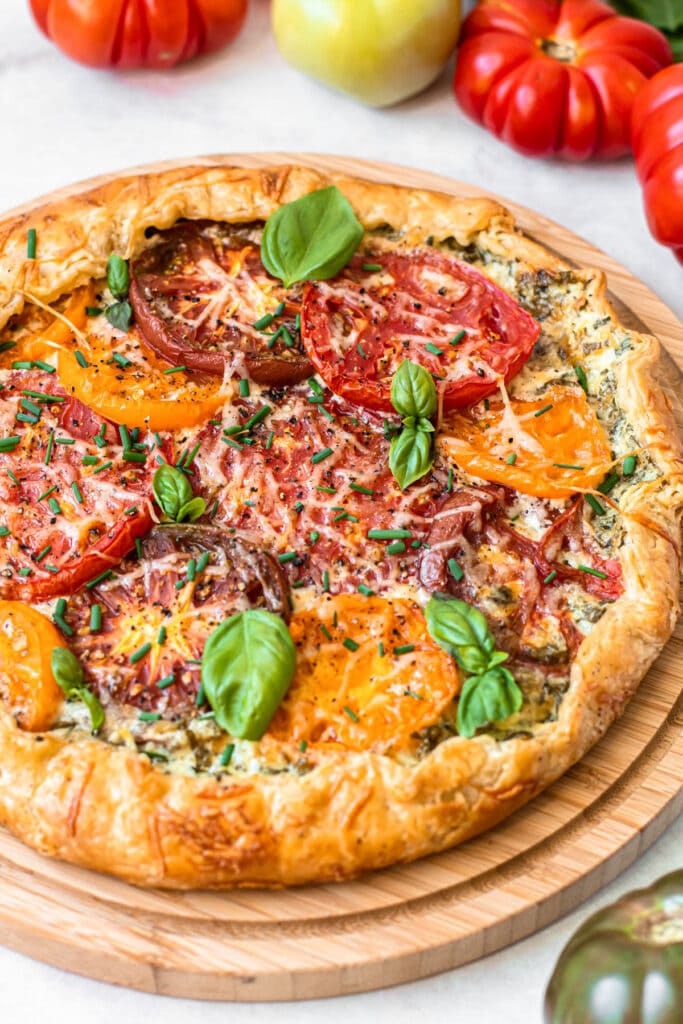 What kind of pastry should I use?
This recipe calls for a standard butter pie crust. You can use store-bought pie dough if you want, though truly homemade is best for this recipe. It's also easy to make this gluten-free, using this gluten-free pie dough.
Can I use something other than crème fraîche?
Yes, but I'll be sad for you! It's so good with the crème fraîche! However, it is definitely easy to swap it out with ricotta cheese, goat cheese or possibly even a whipped feta cheese!
How do I stop the galette from losing it's shape?
Make sure your dough is chilled and make sure your oven is pre-heated. Those are the best ways to prevent the crust from losing it's shape. Beyond that, try to make sure your pastry is well pleated together.
How long will this galette keep?
This tomato galette is best eaten fresh! If there are any leftovers, keep for 1-2 days and heat up in a toaster oven until the pastry is crisp again.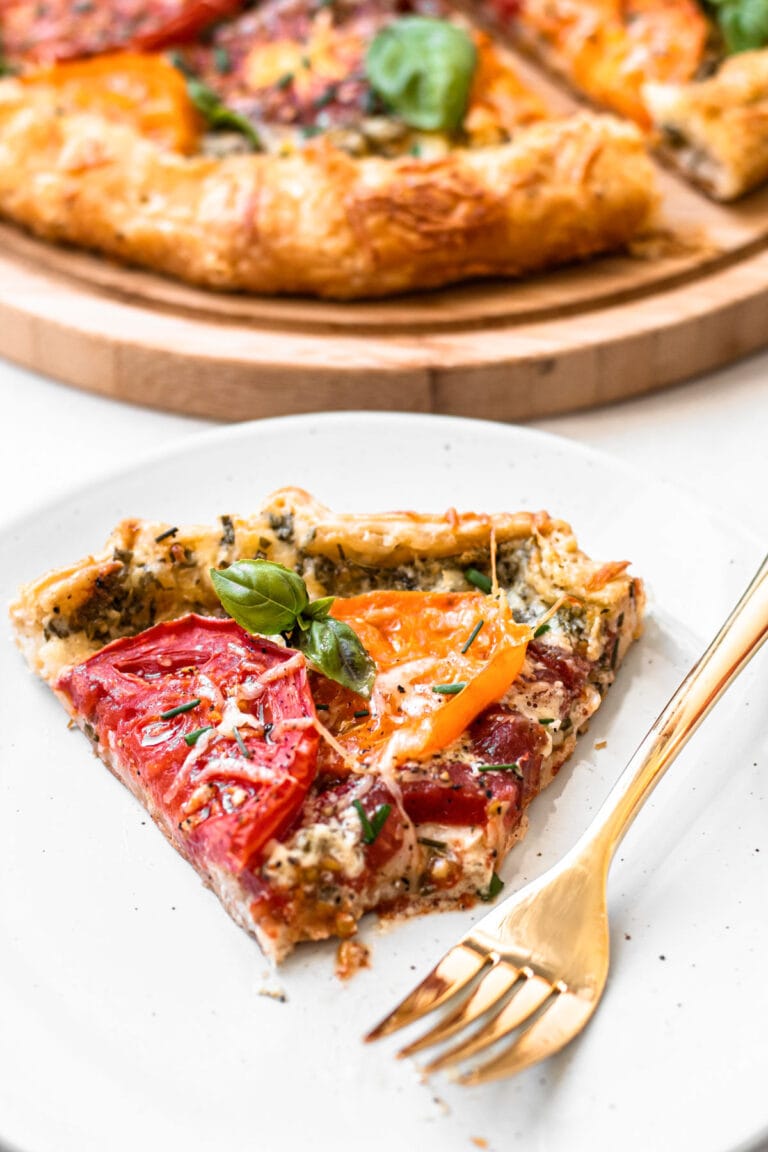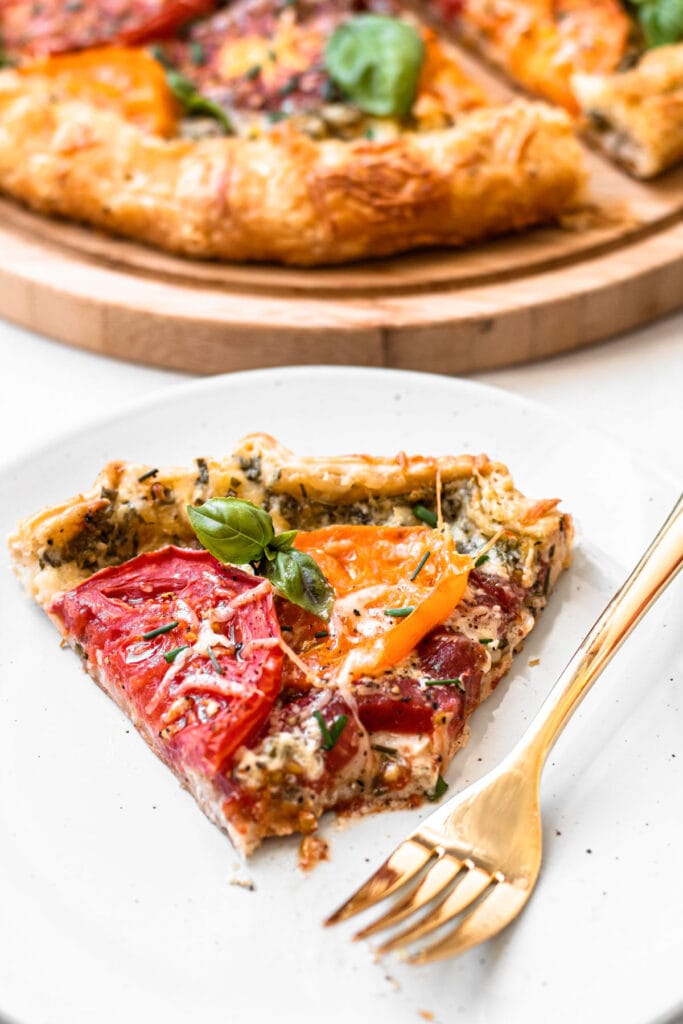 More Savory Pies
Print
Full Recipe
Heirloom Tomato Galette
When fresh tomatoes are at their peak, make this Heirloom Tomato Galette. A homemade pie crust is wrapped around herby crème fraîche and juicy tomatoes, then baked with a sprinkle of cheese. Perfect for an appetizer or light dinner!
Author: Kelli Avila
Prep Time:

00:15

Cook Time:

00:30

Total Time:

03:05 (includes chilling time)

Yield:

Serves 8

Category:

Galette

Method:

Bake

Cuisine:

Savory
1

(single) 9" pie dough (see note)

2

-

3

medium (about

20 ounces

) heirloom tomatoes

¾ cup

crème fraîche

½ cup

minced fresh herbs (such as basil, thyme, parsley, chives, or dill)

¼ teaspoon

sea salt

¾ cup

grated hard cheese (such as parmesan, asiago or gruyere), divided

2

cloves garlic, grated
Additional fresh herbs, for garnish
Instructions
Make pie dough, and let it rest at least 2 hours, or preferably overnight.
Preheat the oven to 400ºF and line a baking sheet with parchment paper.
Slice tomatoes into ¼" rounds and place inside of a colander. Sprinkle with a big pinch of salt and let them drain for 20 minutes. Transfer tomatoes to a paper towel and remove any excess liquid. Set aside.
Mix together creme fraiche, fresh herbs, salt, ½ cup grated cheese and garlic in a small bowl. Set aside.
Let the chilled pastry sit at room temperature for 5-10 minutes. Liberally flour a work surface, and roll out the dough to a rough 13" circle. Transfer dough to the baking sheet.
Spread creme fraiche on top of the pastry, making sure to leave a 1-½" border around the outside edge. Arrange the tomatoes on top of the creme fraiche.
Bring the edges of the dough over the top of the filling, pleating together as desired.
Brush the pastry with an egg wash and sprinkle with the remaining ¼ cup of cheese.
If the pastry has warmed up a lot, let the assembled galette chill in the freezer for 10 minutes.
Bake on lowest rack in the oven, until pastry is golden, about 30-35 minutes
Let cool for 5 minutes, sprinkle with additional fresh herbs and serve immediately.
Notes
The pie dough recipe linked makes enough for 2 galettes. You can just use 1 single pie dough for now, and save one for later.
Need a gluten-free crust? Use this Gluten-Free Pie Dough recipe. It makes enough for 2 galettes, or save the other 9" pie crust for another project.
Some of the links on this page may be affiliate links. Everyday Pie is a participant in the Amazon Associates Program. As an Amazon Associate I earn from qualifying purchases, at no extra cost to you.