This Chocolate Pie Crust is made in a food processor using only five ingredients and results in a cookie-like chocolate pastry shell perfect for sweet pies.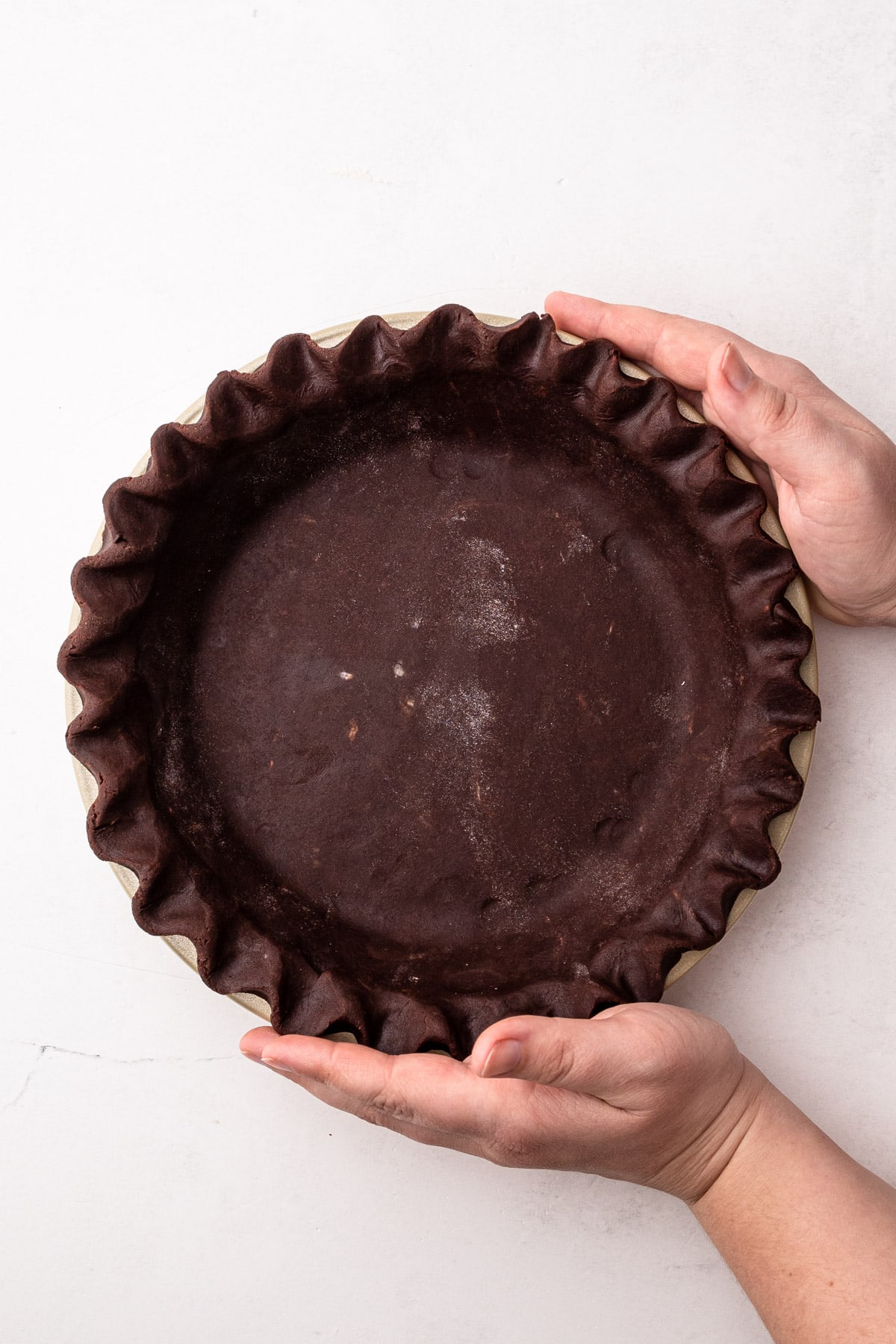 Sometimes it's fun to switch up the typical standard pie pastry and use something a bit more unique, like this chocolate pie crust. It's more elegant than an Oreo Pie Crust, but just as equally delicious. It's also much sturdier, making this more versatile with a wider variety of pies filling options.
This chocolate pastry is basically a chocolate cookie baked in a pie tin. It also comes together quickly in a food processor and requires only 5 ingredients. Doesn't get any easier than that!
So, let's get to making it, shall we? The text below offers tons of tips and helpful notes, or you can scroll to the bottom to grab the recipe and get started!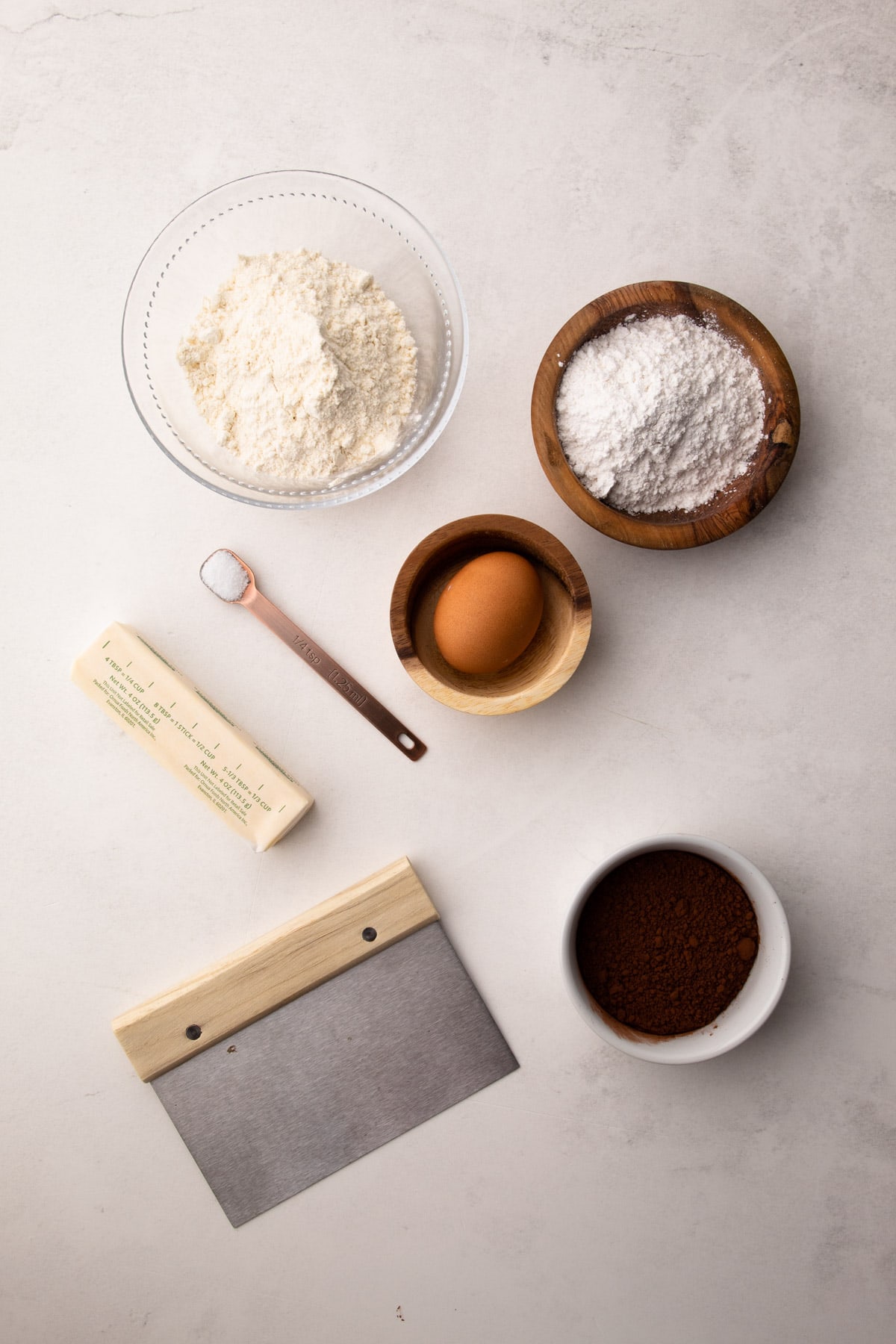 Chocolate Pie Crust Ingredients
Here is an overview of the ingredients, but be sure to scroll down for the full recipe.
all-purpose flour

cocoa powder

(either dutch or natural is fine)

powdered sugar

unsalted butter

egg
Useful Tools to Make this Recipe
Here is a list of some of the primary tools I used in this recipe. You won't necessarily choose to use them all, but they are exactly what I used here. Any links may contain affiliate links.
food processor (to make the pie dough) or a stand mixer
rolling pin
kitchen essentials: baking scale, bowls, measuring cups and measuring spoons, rubber spatula
I find making this recipe in the food processor to be the easiest method. It's done in a matter of minutes and the clean-up is minimal since it's all made in one bowl.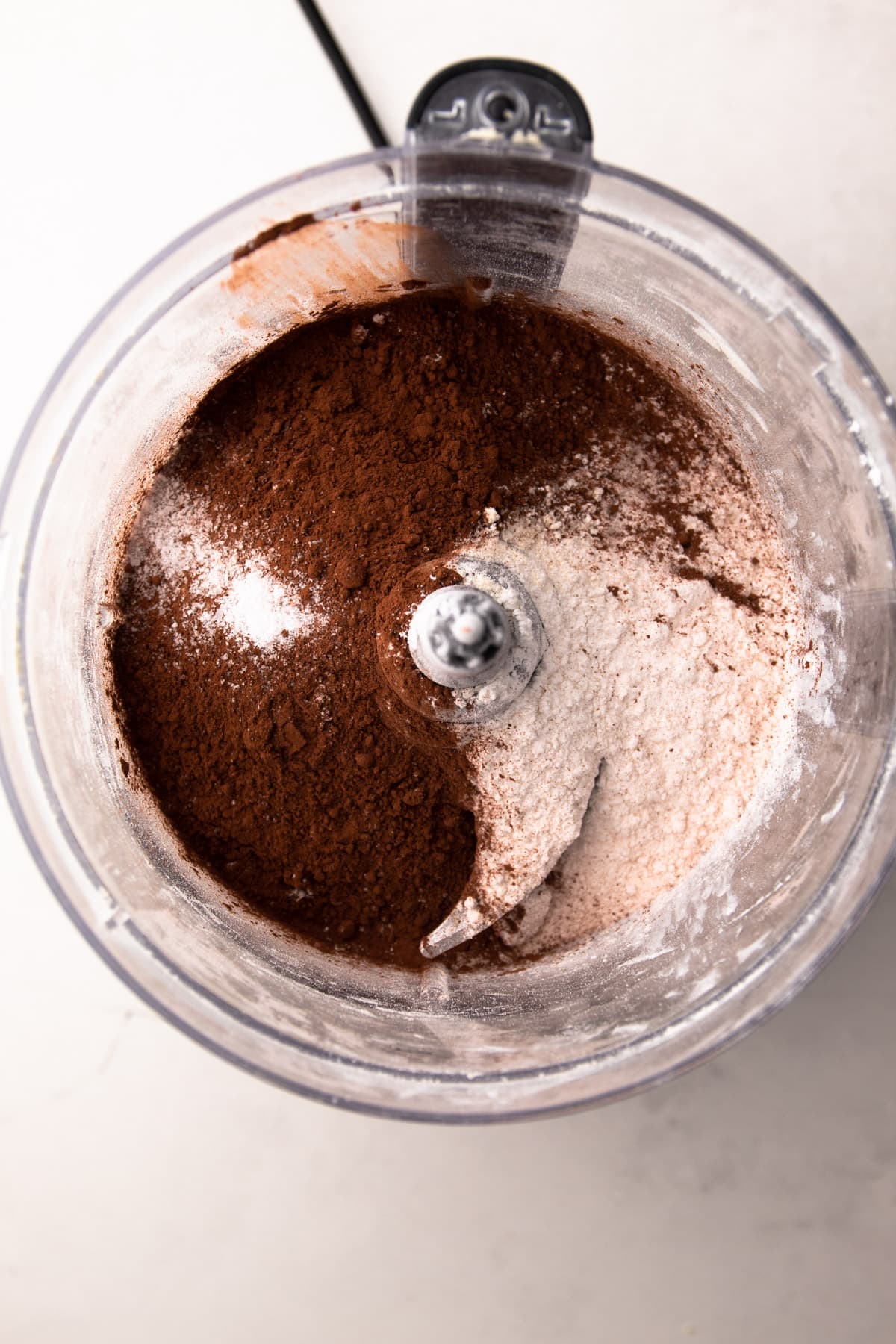 Recipe Overview
I hate to be that person but, I cannot comprehend why so many people are afraid of making a pie crust at home, especially when the recipe calls for making it in the food processor. It truly is easier than most people think.
The longest and most difficult part of making this recipe is simply measuring out the ingredients. Everything else is just a simple push of a button with the food processor.
Here is a simple overview of the steps to make the dough, with the full recipe being listed in more detail below:
Add the dry ingredients to the food processor. Pulse until they are well combined.
Add the butter and pulse until it's broken down into small pieces, no bigger than the size of a pea. Be careful not to over-process at this point. Over-processing would look like the dough forming into one ball.
With the machine, add the egg and process until the dough comes together.
Then stop! Processing it beyond this point will overwork the dough.
Unlike a flaky pie dough, you'll want the dough at the end to be one cohesive ball, without any large butter pieces remaining. If you do have a large piece of butter, it can create problems when rolling it out and baking. If by chance you happen to see any large pieces of butter after you've made it, you can fix it by smearing the butter into the dough, so no large chunks remain.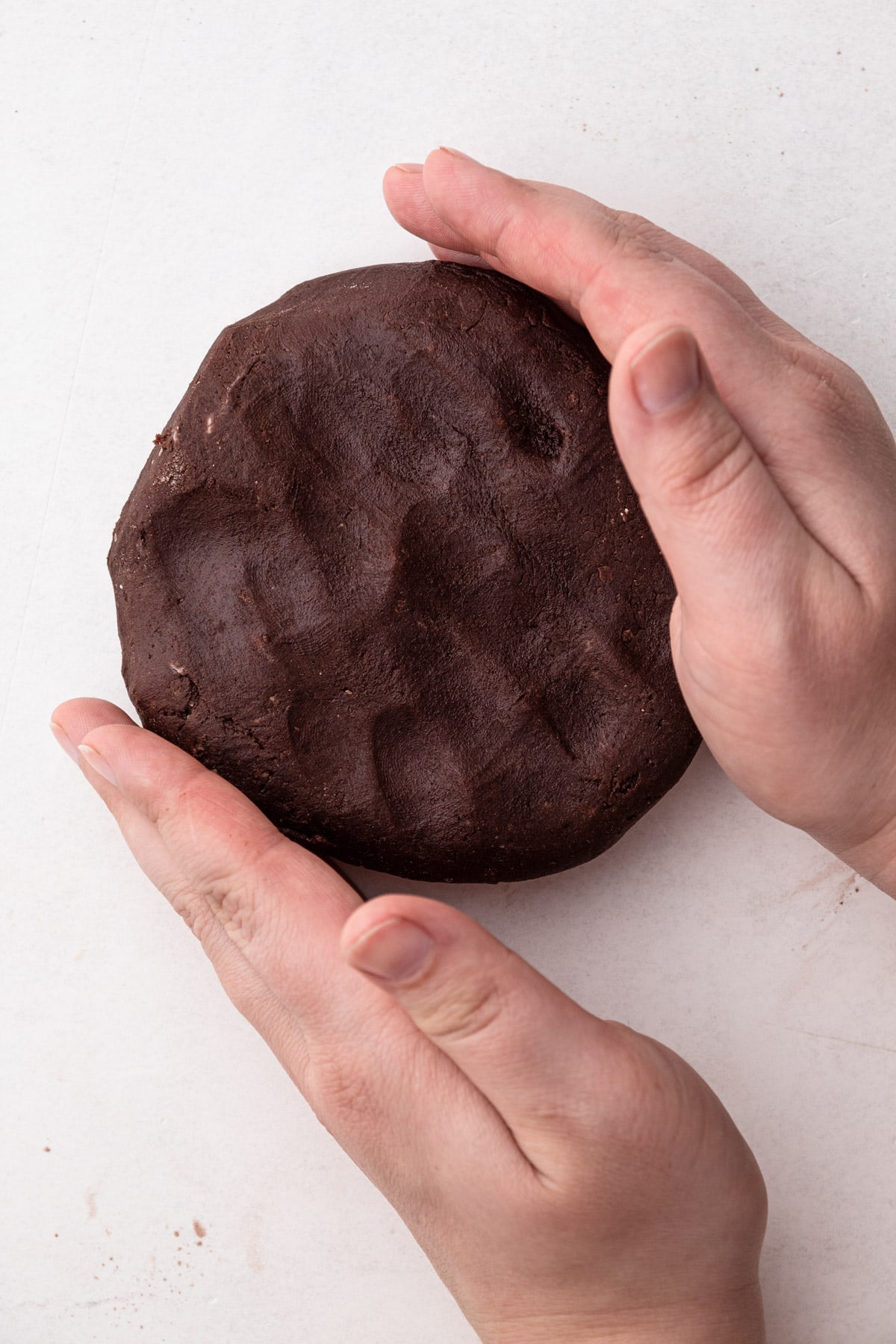 Making it Without a Food Processor
If you don't have a food processor, it can be made in an electric stand mixer. To make it, blend the dry ingredients first with the paddle attachment. Then add the butter, and mix on medium-low until the butter is mostly blended in. It should look somewhat sandy. Add in the egg and mix on low speed until it's completely combined, and then immediately stop. Do not overwork the dough.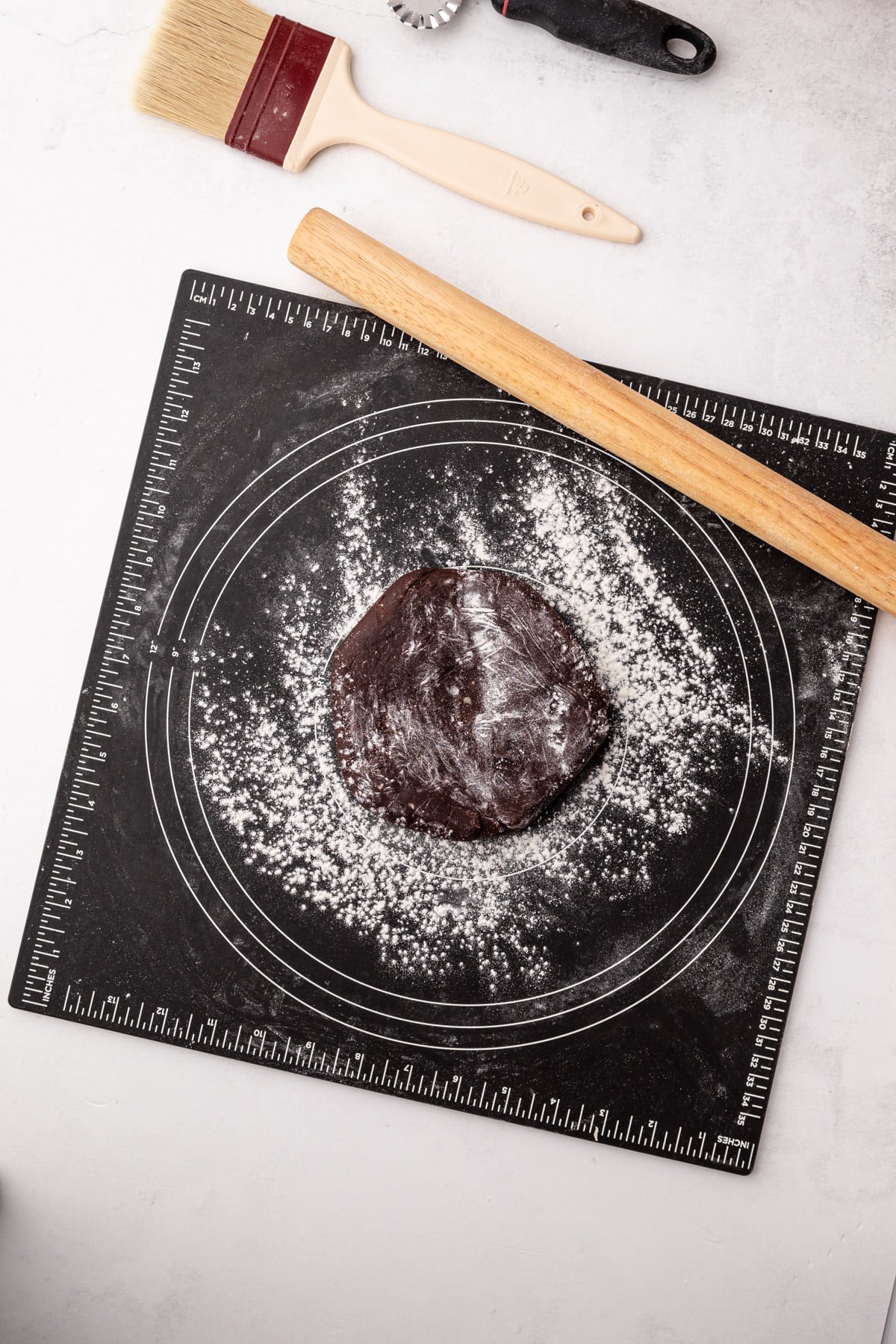 Tips for Rolling Out Chocolate Pie Crust
Chocolate pie crust has more sugar than traditional Flaky Pie Crust, so it tends to stick a bit more. You can roll it out between two pieces of plastic wrap (I wouldn't recommend parchment). Or you can flour it enough so it doesn't stick, but not so much that it's covered in excess flour. This is my preferred method.
Do make sure to brush off any excess flour so the chocolate pie crust doesn't bake up with splotches of white on it!
You could roll it out in cocoa powder if you were afraid of the white splotches, but I find this unnecessary so long as you don't excessively flour the dough and neglect to brush it off.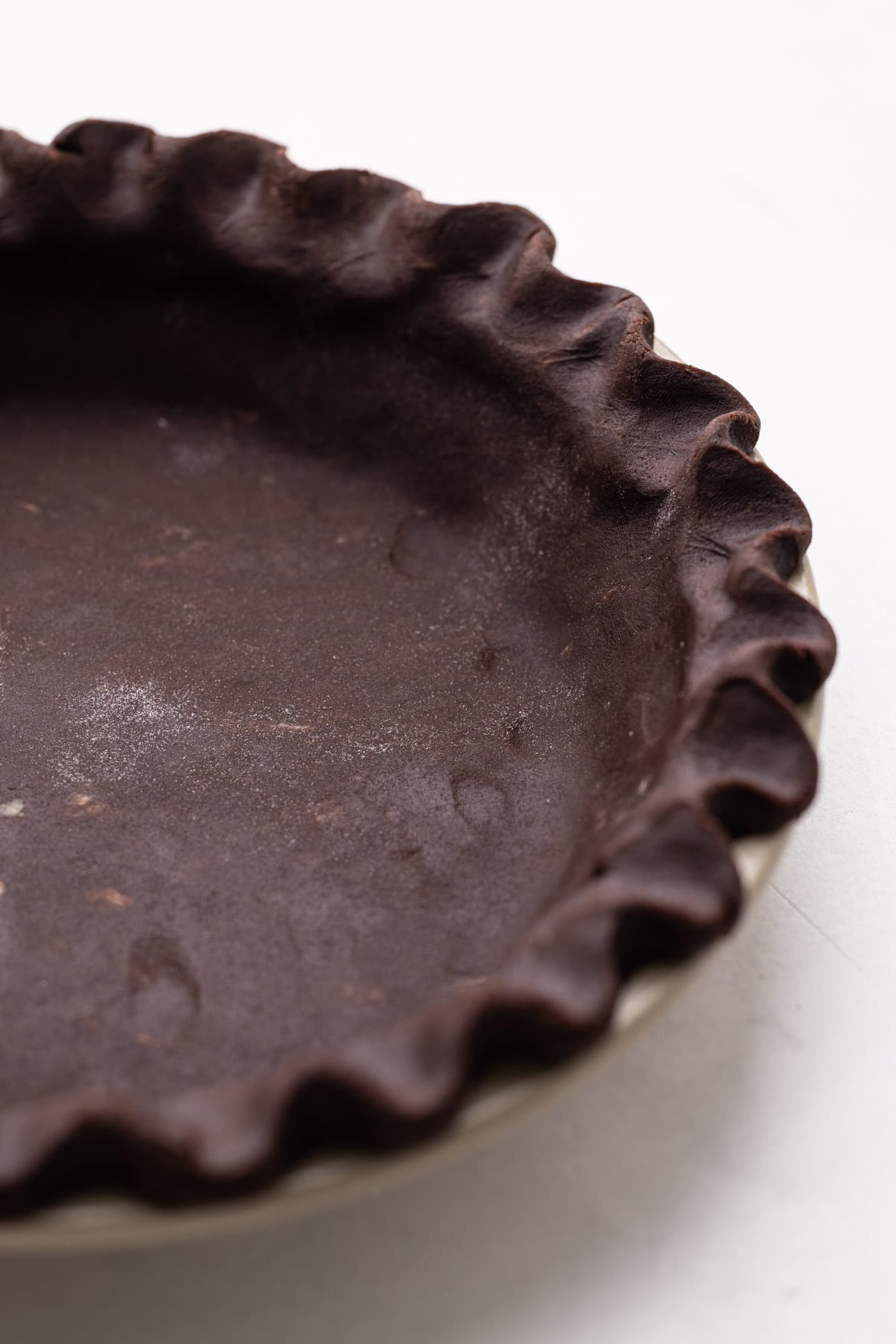 How to Use Chocolate Pie Crust
This chocolate pie crust goes pretty well with most styles of pies. It works equally well for a cream pie as a baked custard.
You can use it as a blind-baked pie shell, or you can bake a pie directly in the raw pastry. Reference the recipe of the pie (filling) you are planning to make to decide on how to bake it. Lastly, see more below on how to blind-bake this pie crust for explicit oven temperatures and timing.
How to Blind Bake this Chocolate Pastry
Blind baking means baking the pie crust without any filling in it. There are a few reasons you would need to blind-bake a crust, but the main one is that the pie has a no-bake filling. In that case, you'll need to fully bake the pie crust before adding in the filling.
If you are completely new to blind baking, check out this Blind Baking Guide I've created to teach you more about it.
Blind baking a chocolate pie crust is essentially the same as blind baking a regular flaky pie crust.
Start by rolling out the pie dough. Dock the pie crust with a fork all over the bottom so the steam escapes while baking (unless the recipe you are using for the pie filling does not instruct you to do this). Place the rolled-out pie crust in the freezer for 30 minutes while the oven preheats to 375ºF. To prevent the pie dough from slipping into the tin before it's fully baked, you'll want to weigh it down. Place a round piece of parchment inside of the crust. Add in some pie weights. I use dried rice and lentils that I reuse for a few years! This weighs it down just enough to prevent the pie dough from slipping or puffing up while baking.
Because there is sugar and cocoa inside the dough, it needs to be baked at a lower temperature than traditional flaky pie dough. Bake at 375ºF for 20 minutes. Remove from the oven, and remove the weights and parchment. Return it to the oven to finish baking, another 5 minutes or so for a par-baked crust, or 10 minutes for a fully baked crust.
The baked pie crust should be fully matte looking and dry to the touch.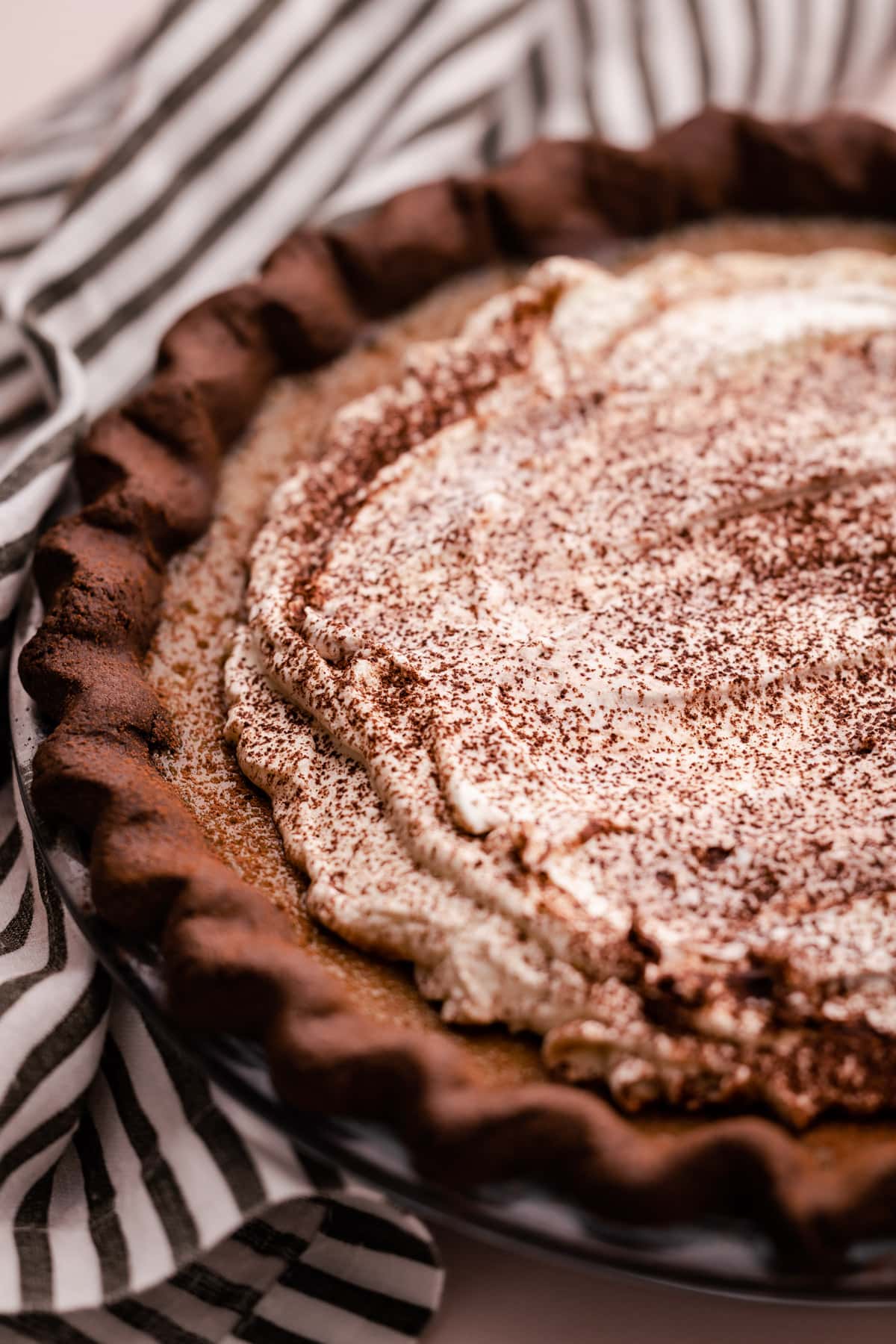 Recipes to Use with a Chocolate Pie Crust
I am so honored when you make a recipe from my site! If you make this Chocolate Pie Crust, please leave a comment and a star rating with your experience! If you have any questions about this recipe, feel free to comment here, too!
Print
Chocolate Pie Pastry
This Chocolate Pie Crust is a like a chocolate cookie baked in a pie tin! It's a chocolate variation on a classic Pâte Sucrée. Perfect for cream pies or custards!
Author: Kelli Avila
Prep Time:

00:10

Total Time:

00:10

Yield:

1-9" pie
1 cup

(120) all-purpose flour

¼ cup

(28 grams) unsweetened cocoa powder

½ cup

(56 grams) powdered sugar
pinch salt

½ cup

(113 grams) unsalted butter, cold

1

large egg
Instructions
Add the flour, cocoa powder, powdered sugar and salt to the bowl of a food processor.
Pulse until combined.
Add in butter and pulse 7 times.
With the motor running add in the egg and let process until the dough forms together into a cohesive ball.
Scrape the dough from the bowl and place in a piece of plastic wrap and form into a disk and wrap tightly.
Using a rolling pin roll the dough out until it stretches to the corner of the plastic wrap to ensure a tight seal.
Refrigerate for at least 2 hours, but preferably overnight.
Notes
Have a question or looking for tips? The text written above the recipe is always a great first place to start! This Chocolate Pie Crust was developed with love, and I always include loads of explanations, tips, step-by-step photos and technical advice shared before the recipe.
Weighing your flour is the most accurate way to measure. If you aren't going to weigh it, make sure to spoon it into the cup, and then level it off. If you scoop the flour out with the measuring cup and then level, it could change the outcome of the final product.
This ideal temperature to bake this pie is 375ºF. The exact temperature you will need will depend on if you are blind baking the pie crust, what type of filling you are using. The best guidance on how to bake this is to follow the instructions for the pie filling recipe you are using, with the knowledge that this pie crust can't be baked at higher than 375ºF or it will burn.
To make gluten-free, substitute in a 1-1 All-Purpose Gluten-Free Flour with xantham gum, such as 1-1 King Arthur Flour or Bob's Red Mill.
Keywords: chocolate pie crust
Some of the links on this page may be affiliate links. Everyday Pie is a participant in the Amazon Associates Program. As an Amazon Associate I earn from qualifying purchases, at no extra cost to you.