A creamy, decadent, maple sweet potato filling is baked in a gingersnap crumb crust to make for a delicious twist on a classic Southern Pie. This Maple Sweet Potato Pie is perfect served at any holiday gathering.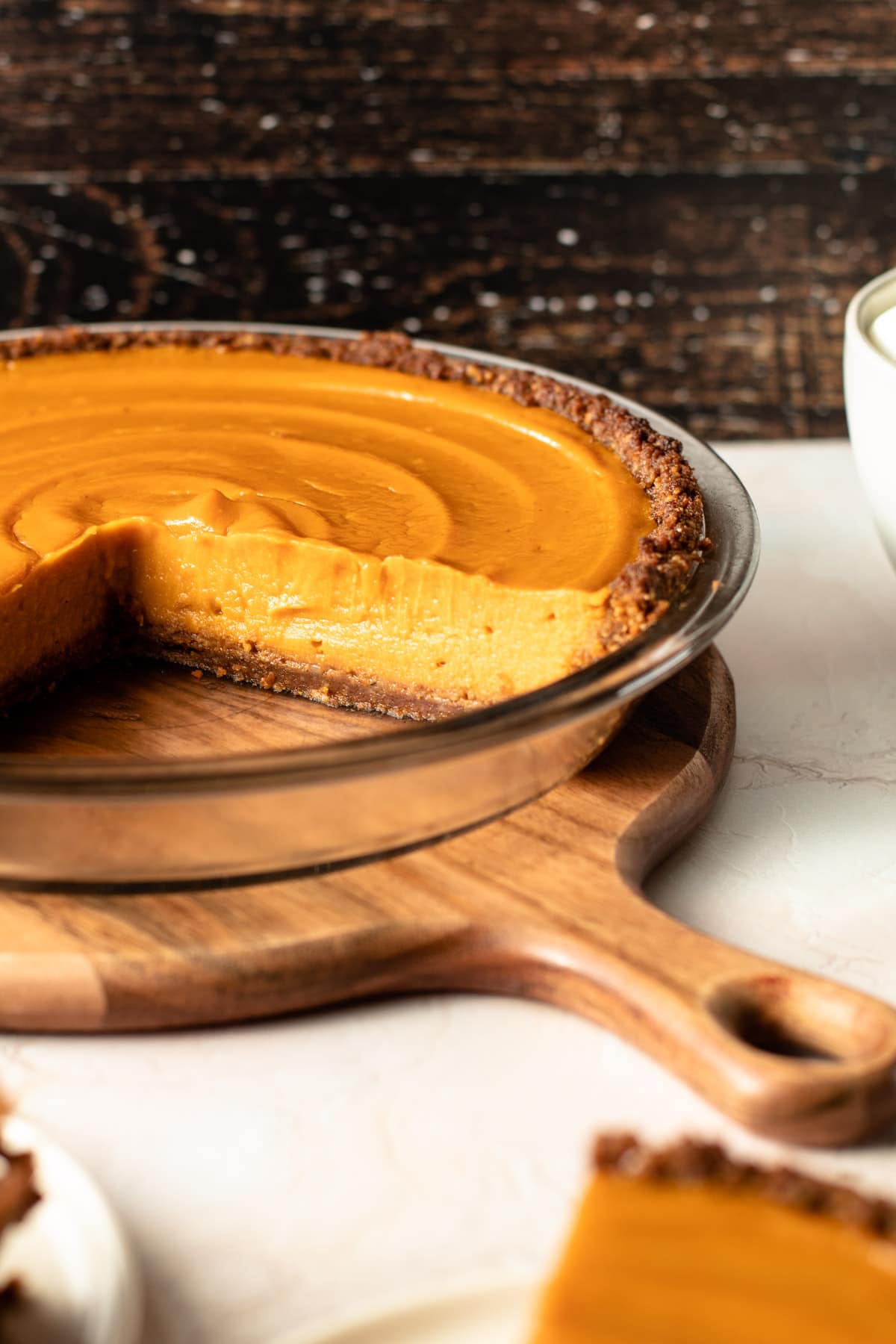 Sweet Potato Pie is an absolute classic American dessert. It's sweet and rich and happens to be one of my favorite pies. This Maple Sweet Potato Pie pays homage to the traditional classic version but is made with a slight twist: with a hint of maple flavor and baked inside of a crunchy gingersnap crumb crust.
This pie relies on roasted sweet potatoes to give it a deep flavor and pure maple syrup and maple extract (if you can find it) to add another exciting note to the finished product. Aside from the sweet potatoes roasting, it is a pretty simple and quick pie to make. Be sure to serve it with a big dollop of Maple Whipped Cream for dessert perfection!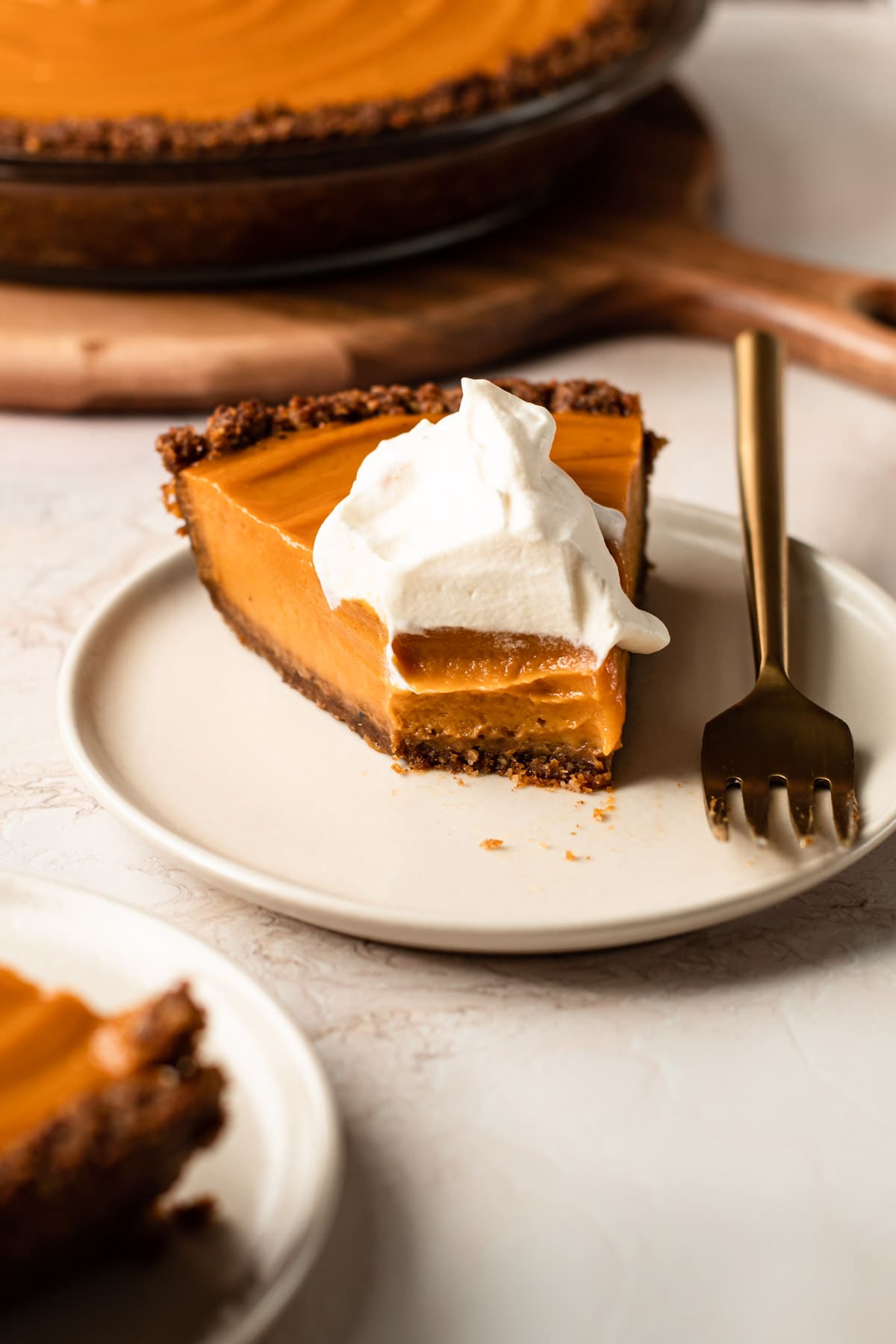 Sweet Potato Pie Ingredients
Here is an overview of the ingredients needed for this recipe. The full recipe is listed below in greater detail.
sweet potatoes (see below for details about what type)
maple syrup (make sure you are using real maple syrup here)
maple extract
gingersnap cookies
light brown sugar
spices: cinnamon, ginger, nutmeg and allspice
eggs
heavy cream
kosher salt
Tools Needed
Here is a list of some of the primary tools I used in this recipe. You won't necessarily choose to use them all, but they are exactly what I used here. Any links may contain affiliate links.
food processor
pie plate
medium pot
essentials: kitchen scale, measuring cups and measuring spoons, spatula, etc.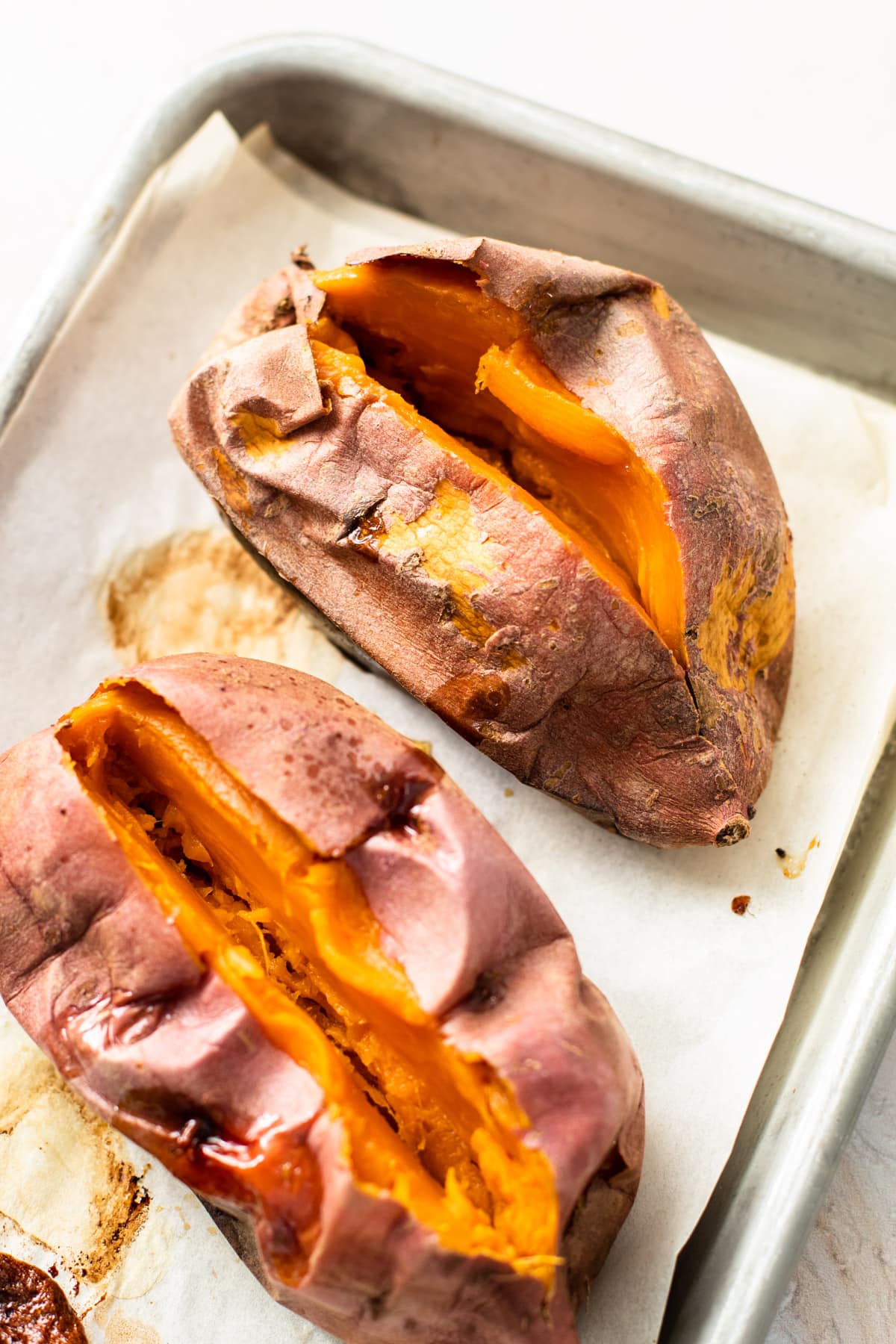 Let's Talk Sweet Potatoes
There are a lot of different varieties of sweet potatoes out there. This recipe is based on a traditional southern pie, so stick with the traditional sweet potato with the reddish skin and orange flesh. The three most common varieties, listed in order of preference, are:
Garnet sweet potato (sometimes labeled as Garnet yams)
Jewel sweet potato
Beauregard sweet potato (which is the most common variety in the US)
This recipe calls for roasting sweet potatoes. This is the most time-consuming method of cooking sweet potatoes, but it's worth it. It takes roughly an hour at 400 degrees to roast medium to large sweet potatoes.
This recipe calls for roasting them instead of boiling them because it results in the most flavorful and sweet puree. Roasting the sweet potato concentrates the flavor by evaporating the liquid and creating a nuanced flavor.
If you prefer to skip this step and boil the sweet potatoes, the recipe will still work but will be a little less flavorful. You could also theoretically use canned sweet potatoes, but I've never made it that way myself, so I'm not sure how much the flavor will change from the original intention of the recipe.
Sweet Potato Pie Crust Options
This recipe calls for a Gingersnap Crumb Crust, but there are several options you could use in place of it. Some additional options:
The gingersnap crumb crust is great because it's simple to put together, and it adds a layer of flavor and texture to the pie!
How to Make Sweet Potato Pie
This is a fuss-free recipe. Here are the steps for making it:
Roast the sweet potatoes.
Assemble and blind bake the gingersnap crumb crust.
Add cooled sweet potatoes to food processor and puree with maple syrup.
Add the remainder of the filling ingredients to the food processor and mix until smooth.
Pour the filling into the crust and bake!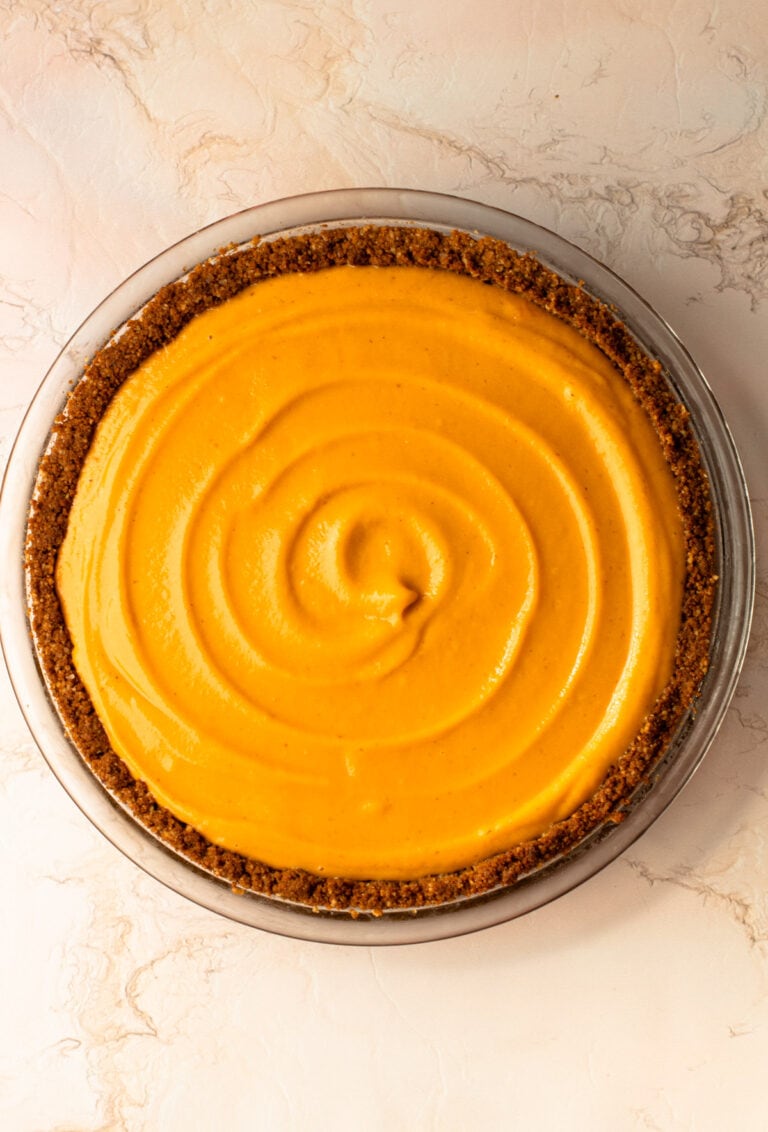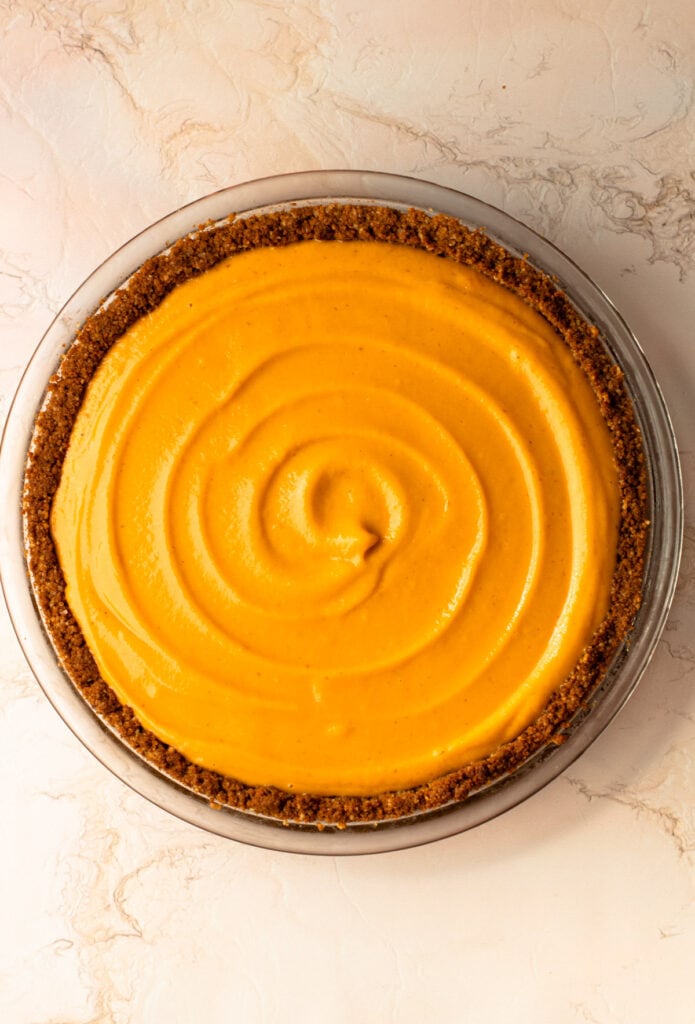 How to Tell When It's Done
A sweet potato pie has a pretty unique texture due to the starch in the sweet potatoes. However, this is a custard pie, so you need to pay special attention to avoid over-baking it. Over-baking the pie will result in large cracks in the filling, and if it's over-baked, it could curdle.
A sweet potato pie is done when the outer edges of the filling about 2" of the way in is set (it will puff up, have a dry top, and a slight change of color). The middle will still be slightly wobbly.
The pie will continue to set as it cools.
If you do crack your filling, it's not the end of the world! It's nothing a little whipped cream can't cover.
Make Ahead Options
This isn't a complicated or challenging recipe to make, but it's always helpful to know what steps can be done ahead of time.
The sweet potatoes can be roasted ahead of time. This can be done up to 3 days ahead. It is easiest to remove the skin from the sweet potatoes when they are still warm. Store the flesh of the sweet potato in the refrigerator.
You can also make the crust ahead of time. Store the assembled crust at room temperature up to 1 day ahead of time.
And, you could also assemble the filling up to 1 day ahead of time.
The entire pie can be made 1-2 days ahead of time, too.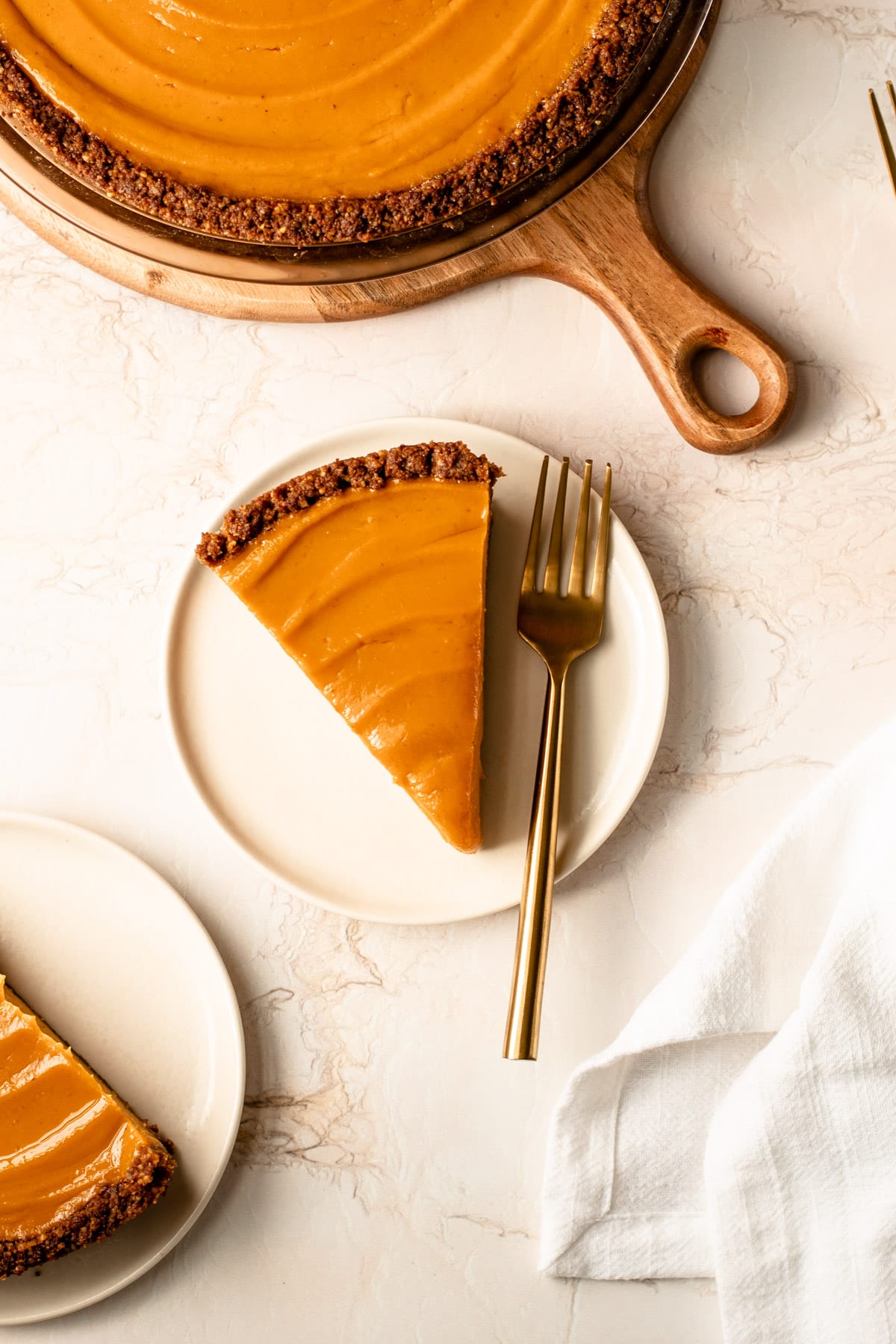 How to Serve It
This sweet potato pie can be served slightly warm or cold. However, it's easiest to slice when it is chilled.
If you wanted to serve it warm, it will be a little more delicate and you won't get super neat slices, but it will surely be delicious.
This pie is even better when served with Maple Whipped Cream, or simple whipped cream.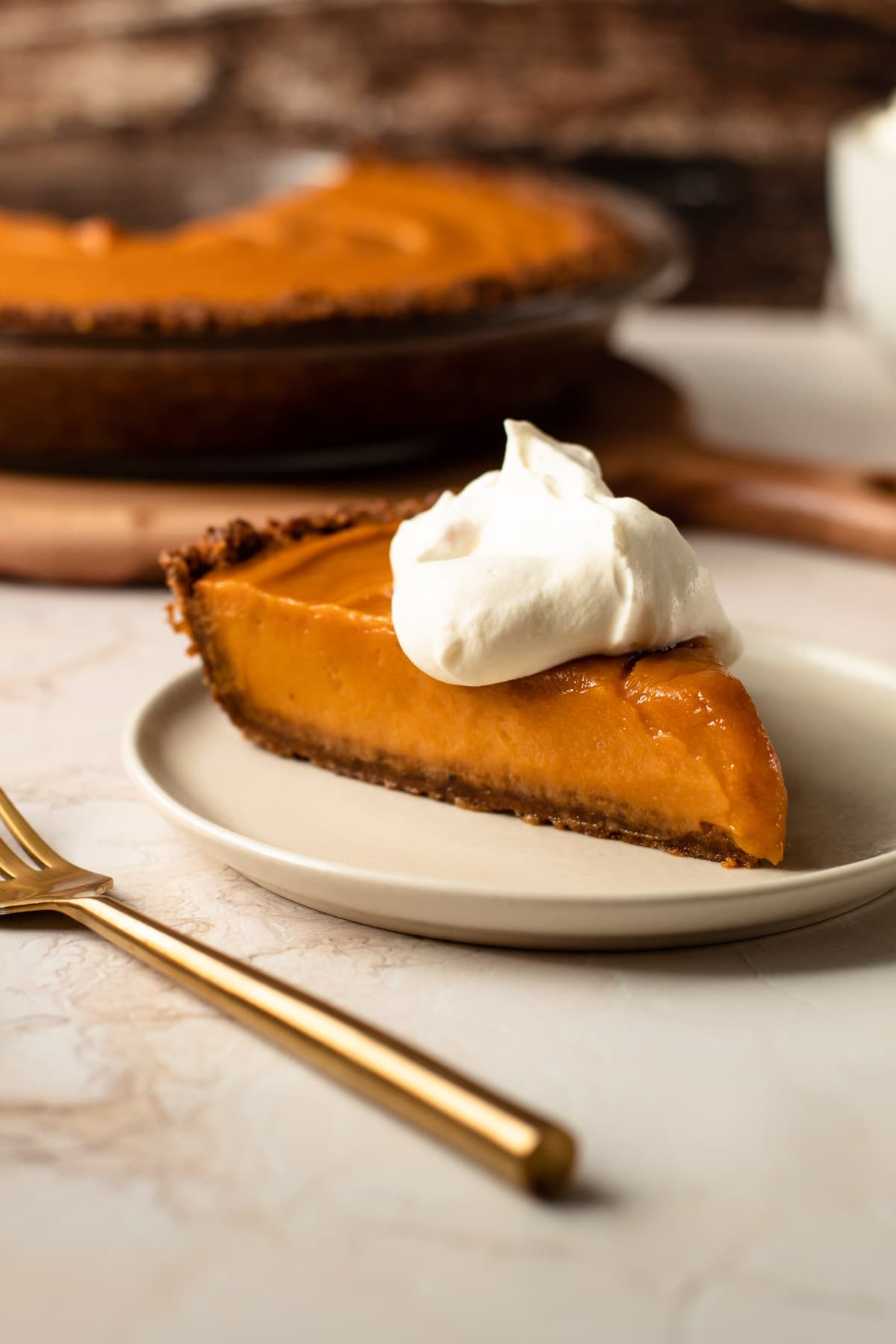 More Classic Pie Recipes:
I am so honored when you make a recipe from my site! If you make this Maple Sweet Potato Pie, please leave a comment and a star rating with your experience! If you have any questions about this recipe, feel free to comment here, too!
Print
Maple Sweet Potato Pie
A creamy, decadent, maple sweet potato filling is baked in a gingersnap crumb crust to make for a twist on the classic Southern Pie. This Maple Sweet Potato Pie is perfect served at a holiday gathering. Look for standard sweet potatoes for this pie, either Garnet, Jewel, or Beauregard. They can be roasted up to 3 days ahead of time.
Author: Kelli Avila
Prep Time:

00:10

Cook Time:

01:55

Total Time:

2 hours 5 minutes

Yield:

8 Servings

Category:

Sweet Pie

Method:

Bake
For the Crust:
8 ounces

(

226 grams

) gingersnap cookies

6 tablespoons

(

85 grams

) unsalted butter

¼ cup

lightly packed (

40 grams

) light brown sugar

½ teaspoon

ground ginger

½ teaspoon

cinnamon
Pinch kosher salt
For the Filling:
15 ounces

roasted sweet potatoes (about

2

medium sweet potatoes, see note)

½ cup

(

160 grams

) pure maple syrup

¼ cup

packed (

50 grams

) light brown sugar

¼ teaspoon

fresh grated nutmeg
Pinch allspice

3

large eggs

½ teaspoon

maple extract (see note)

½ cup

(

113 grams

) heavy cream
Instructions
Preheat the oven to 350ºF and set the rack in the center of the oven.
Place gingersnaps in a food processor and process until fine crumbs form.
Melt butter in a medium pot. Once melted add gingersnap crumbs, brown sugar, ginger, cinnamon, and salt to the pot and mix to combine.
Pour the crumbs into a 9" pie plate and start pressing the ingredients up the sides of the pie plate to form the edges first. Once the edges are formed, work the crumbs down to evenly distribute into the bottom of the pie plate and pack it down into an even layer.
Bake in the preheated oven for 8-10 minutes, until lightly golden and fragrant. Set aside.
Add sweet potatoes, maple syrup, and brown sugar to a food processor and puree until smooth.
Add in the nutmeg, allspice, eggs, maple extract, and heavy cream and pulse together until just combined. Be careful not to over-process it, as the cream can split.
Transfer the filling to the prepared pie crust and bake on the center rack for 35-45 minutes until the outer edges of the filling are set and puffed, but the center is still slightly wobbly.
Let the pie cool completely, storing it in the refrigerator.
Serve with maple whipped cream or simple whipped cream.
Notes
Have a question, or looking for tips? The text written above the recipe is always a great first place to start! There are always loads of explanations, tips, and technical advice shared before the recipe.
You want to have about 15 ounces (or a scant 2 cups) of roasted sweet potato. This is about 18 ounces of raw sweet potato. To roast a sweet potato, place clean and dry sweet potatoes on a sheet pan and bake in a 400ºF for 60-70 minutes, turning halfway through, until very tender.
Pure maple extract can be found in most grocery stores where the vanilla extract is. If your grocery store doesn't have it, it can be found on Amazon too. It isn't essential for this recipe, but I highly encourage its use because it bumps up the maple flavor in this pie.
Keywords: Sweet Potato Pie
Some of the links on this page may be affiliate links. Everyday Pie is a participant in the Amazon Associates Program. As an Amazon Associate I earn from qualifying purchases, at no extra cost to you.