Love your morning coffee fix? This No-Bake Caramel Macchiato Pie has all the fantastic flavor of that iconic espresso drink with a creamy coffee no-bake cheesecake filling and tons of homemade caramel swirled throughout.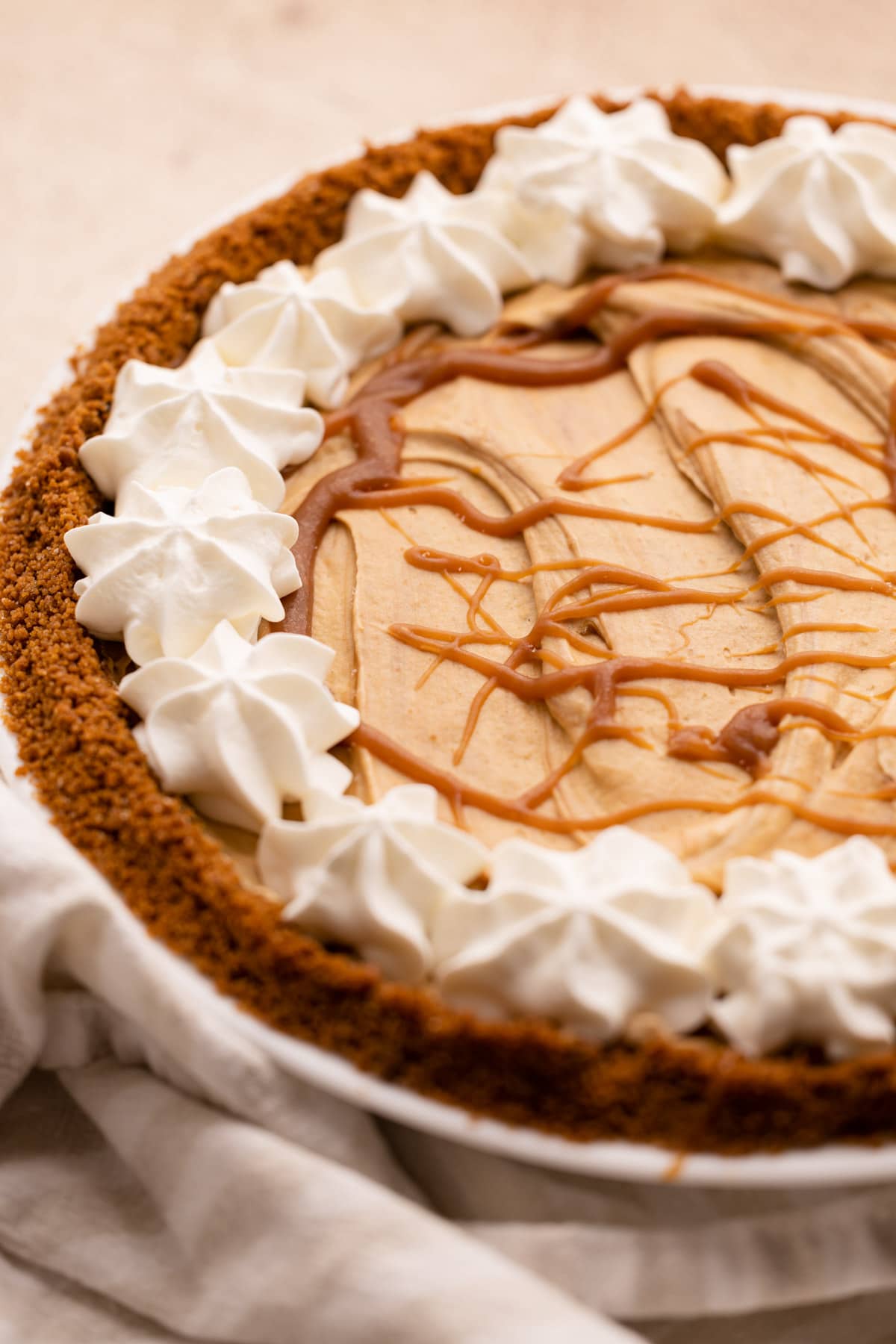 No Bake Caramel Coffee Pie
Having first experimented with this pie three summers ago, this has been on my "must publish" list for far too long! One of my favorite pies on this site is another Coffee Pie that takes the form of custard, so I decided to make a slightly different version, this time using a much easier method.
This Caramel Macchiato Pie is what is known as a no-bake cheesecake-style pie. It uses cream cheese and whipped cream to create a base layer that is easy to flavor however your heart desires. And of course, this no-bake coffee pie takes on the flavor of a caramel macchiato--sweet, creamy, and with a nice bite of caffeine.
This pie is easily made ahead of time and stashed away in the freezer for whenever you are ready to serve it. It's so perfect for those hot summer months when it simply feels like too much work to turn on the oven.
So, let's get to making it, shall we? The text below offers tons of tips and helpful notes, or you can scroll to the bottom to grab the recipe and get started!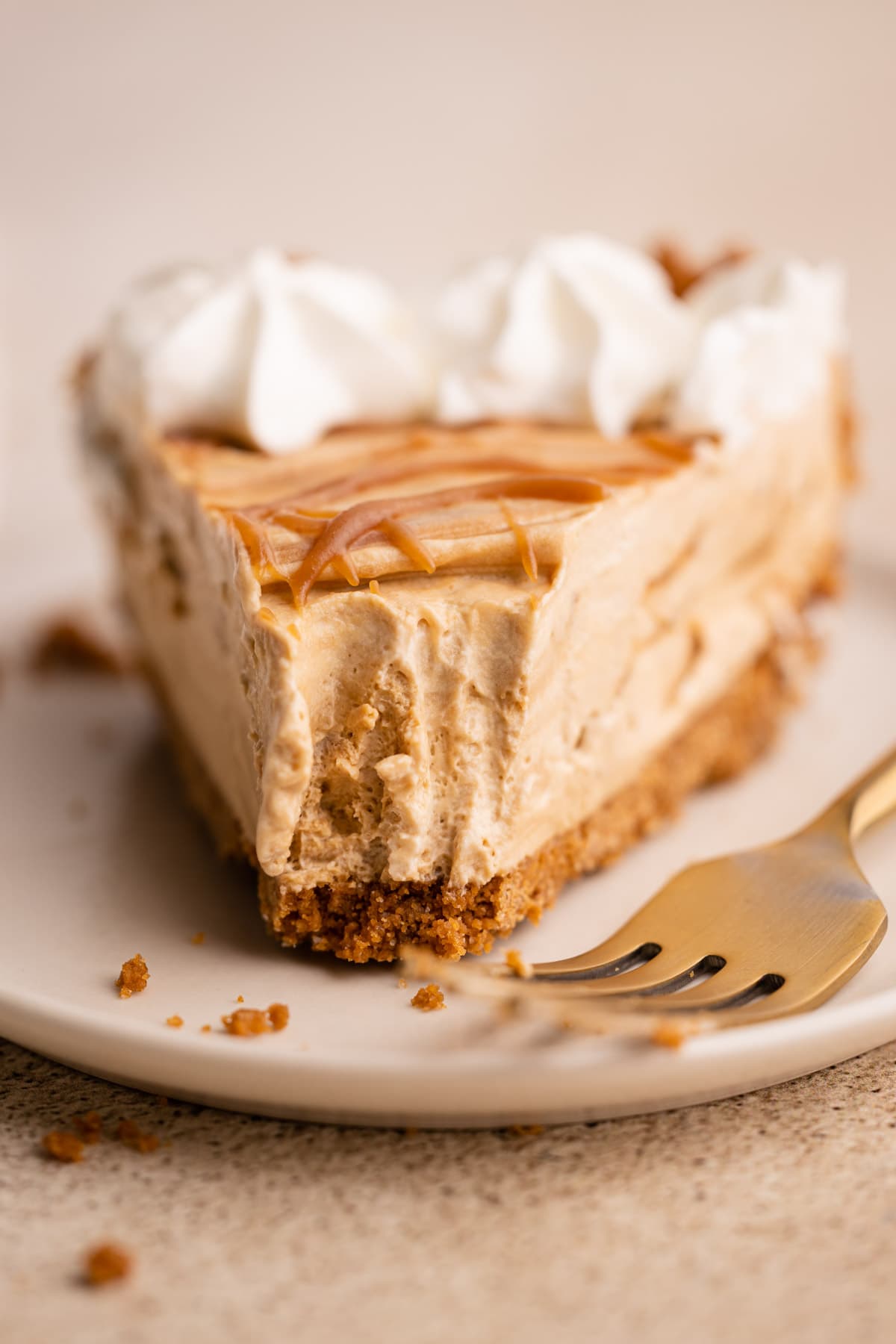 Ingredient Overview
Here is an overview of the ingredients needed for this recipe. The full recipe is listed below in greater detail.
instant espresso or instant coffee (see more on this below)
biscoff cookies (this is for the pie crust)
cream cheese
heavy cream
sugar
butter
salt
Tools Needed
Here is a list of some of the primary tools I used in this recipe. You won't necessarily choose to use them all, but they are exactly what I used here. Any links may contain affiliate links.
pot (for making the caramel)
kitchen essentials: measuring cups, measuring spoons, bowl, rubber spatula, etc.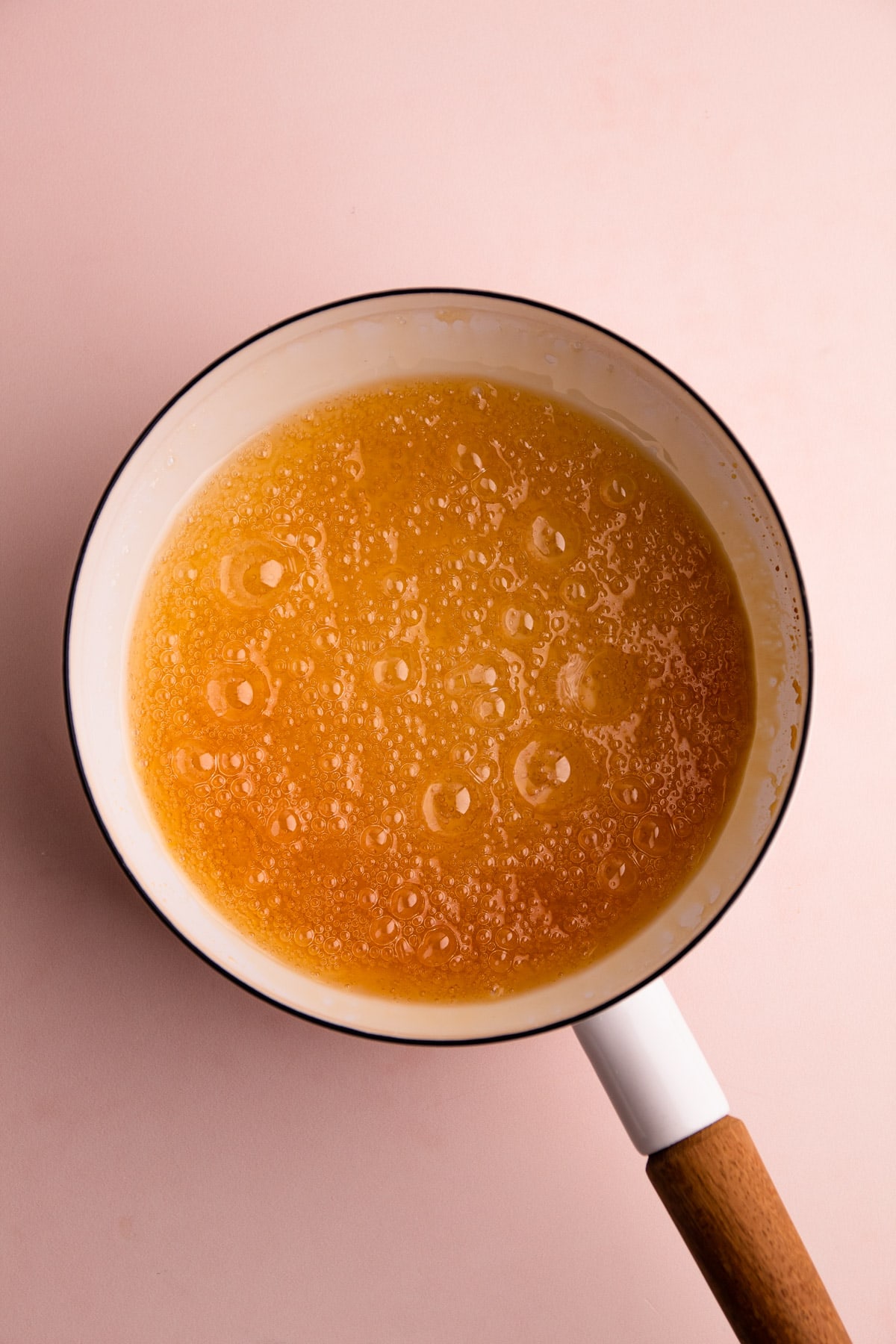 How to Make Caramel
Never made homemade caramel before? I recommend making it for this recipe!
It is made by cooking granulated sugar until it caramelizes---get why it's called caramel? Heavy cream and butter are whisked in, which helps keep the texture smooth and saucy. Lastly, a good caramel sauce should be finished with some salt to help balance it all out.
I won't lie; there are some tricks to success regarding caramel. But I wrote a recipe dedicated to caramel and all the tips I have for making it (as well as some easily avoided pitfalls too).
Can you buy premade caramel? Yes. Absolutely. But, it takes just about 10 minutes to make homemade caramel, so if you are up for it, I recommend going for it!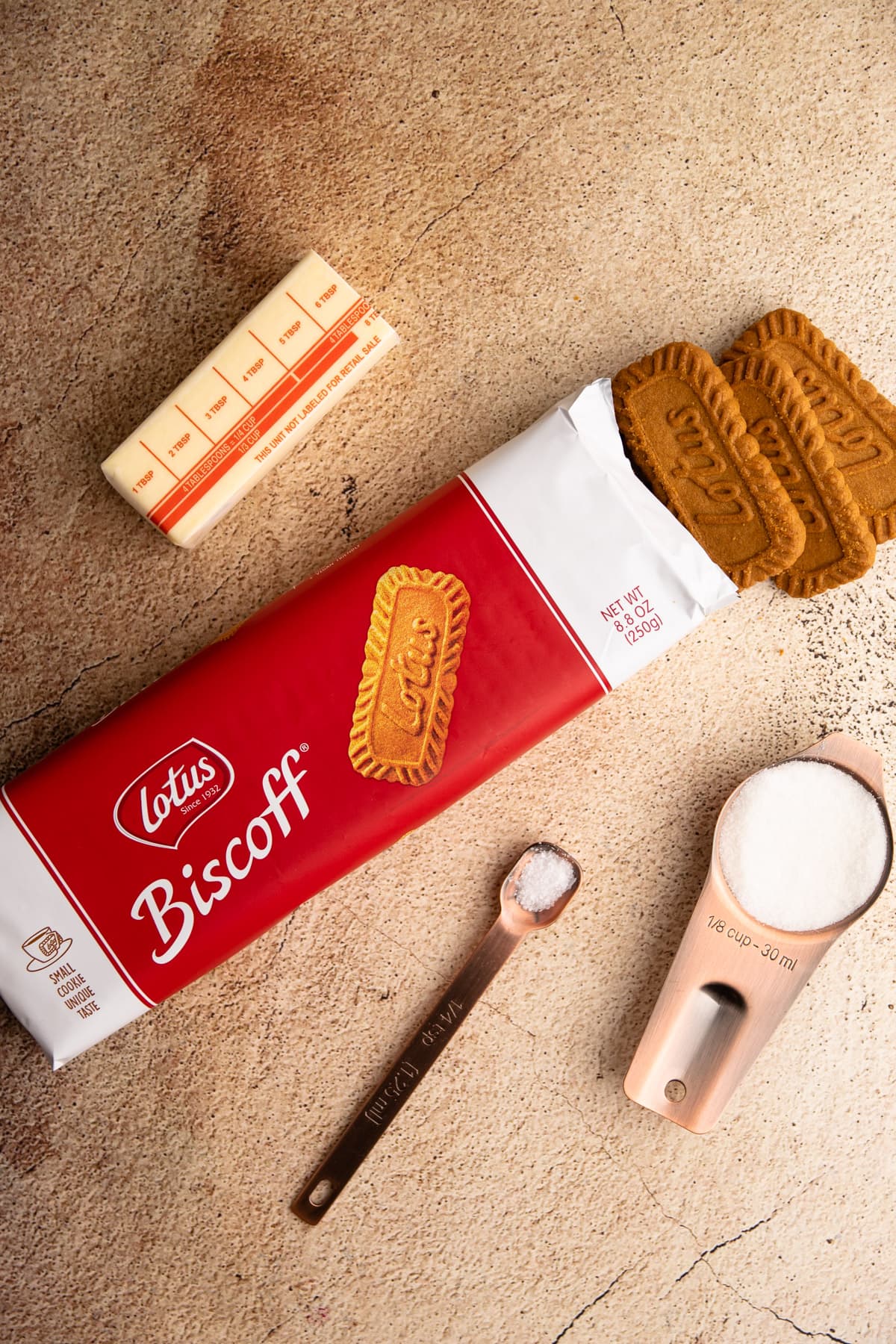 How to Easily Make the Pie Crust
This pie calls for a Biscoff Pie Crust. Biscoff cookies (aka speculoos cookies) are Belgian shortbread cookies with subtle caramel and warm spice flavor. They make a great cookie to crush and turn into a pie crust.
Crumb crusts are awesome because they don't require much work. They are also a great option because of the contrasting textures they lend to the pie, particularly when it comes to this creamy coffee filling.
There is a whole post dedicated to making a Biscoff Cookie Crust, so check that out if you aren't familiar with making one. However, all the instructions you need are listed in this recipe below.
You have two options for preparing this crust. You can par-bake it or freeze it.
Freezing the crust works because the melted butter becomes solidified and bonds the crust together. While freezing the crust is undoubtedly easier than preheating an oven and par-baking it, it is not as sturdy as the baked version. I only recommend freezing the crust if you will be serving your pie when very cold. Otherwise, you'll just find your crumb crust to be very crumbly! This isn't the end of the world, but it's worth mentioning.
Baking the crust will create a crisper bite with a slightly deeper flavor. I always par-bake my crumb crusts, even for no-bake pies like this one. However, it does require turning on the oven for 10 minutes, so it's understandable if you want to avoid this.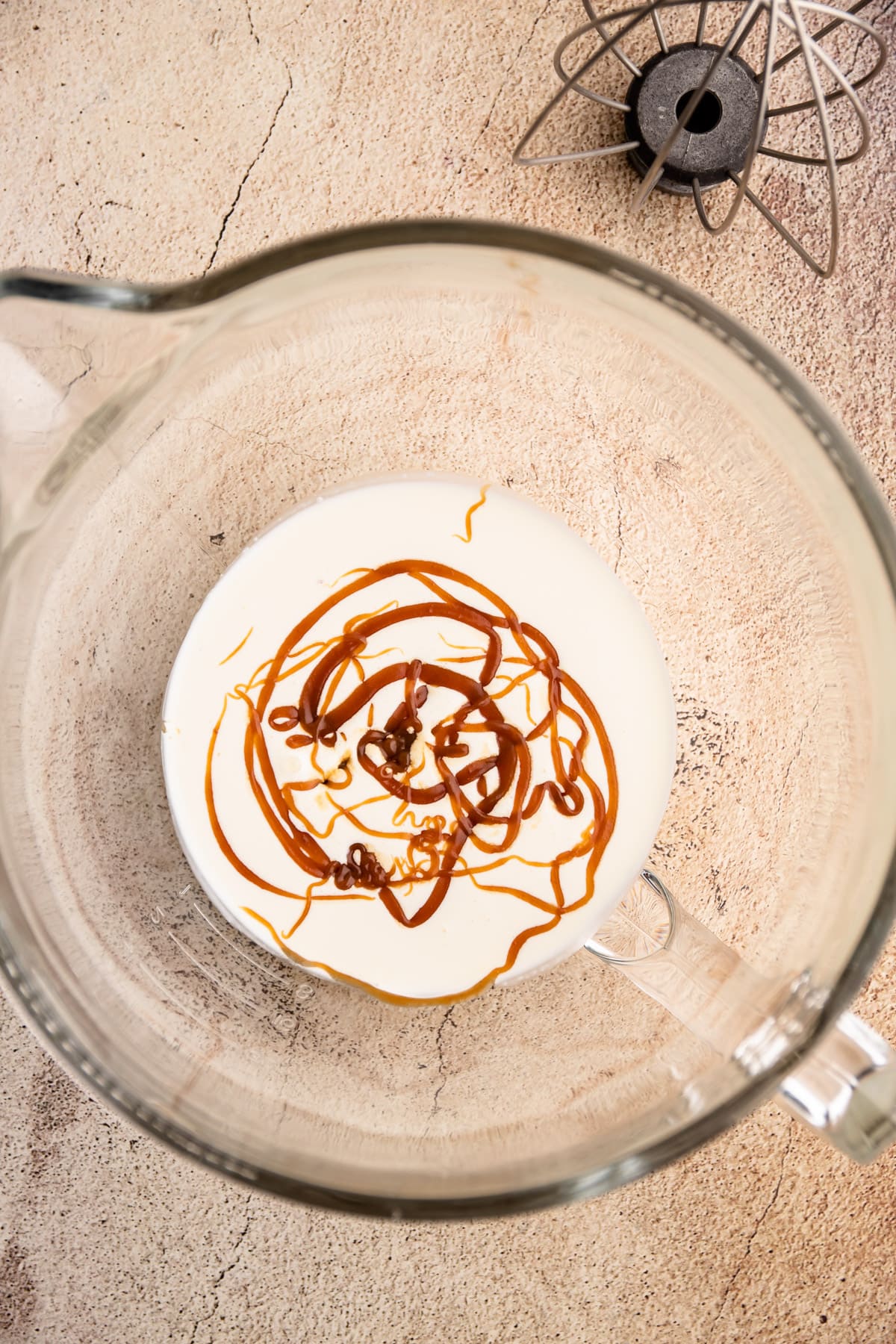 Overview of Steps
Caramel comes first! It only takes about 10 minutes to make, but it needs to chill slightly before adding it to the cold pie, so it doesn't melt the filling.
Move on to making the crumb crust. You have the choice of either par-baking the pie crust for 10 minutes in the oven, or you can freeze it to firm it up.
Next, get started on the filling. This no-bake pie uses cream whipped to stiff peaks to act as the stabilizer instead of gelatin or egg whites. This is my preferred method for making these no-bake pies because it has just the right texture and flavor.
To begin, whip the cream until stiff peaks form. "Stiff peaks" have formed when you pick up the whisk, and the whipped cream holds a peak without it moving at all. Once you've whipped the cream, remove it from the bowl and set it aside. In the now-empty bowl, whip the cream cheese, coffee, and sugar until it's completely smooth.
Next, fold a little of the whipped cream into the cream cheese mixture to lighten it. Then, add the remaining whipped cream to the bowl and gently fold it in, being careful not to deflate it.
Finally, assemble the pie. The caramel is layered in with the creamy coffee filling!
The assembled pie needs to be chilled in the refrigerator or the freezer to set up. It needs at least 4 hours of chilling time, but the overnight method is recommended for the perfect texture.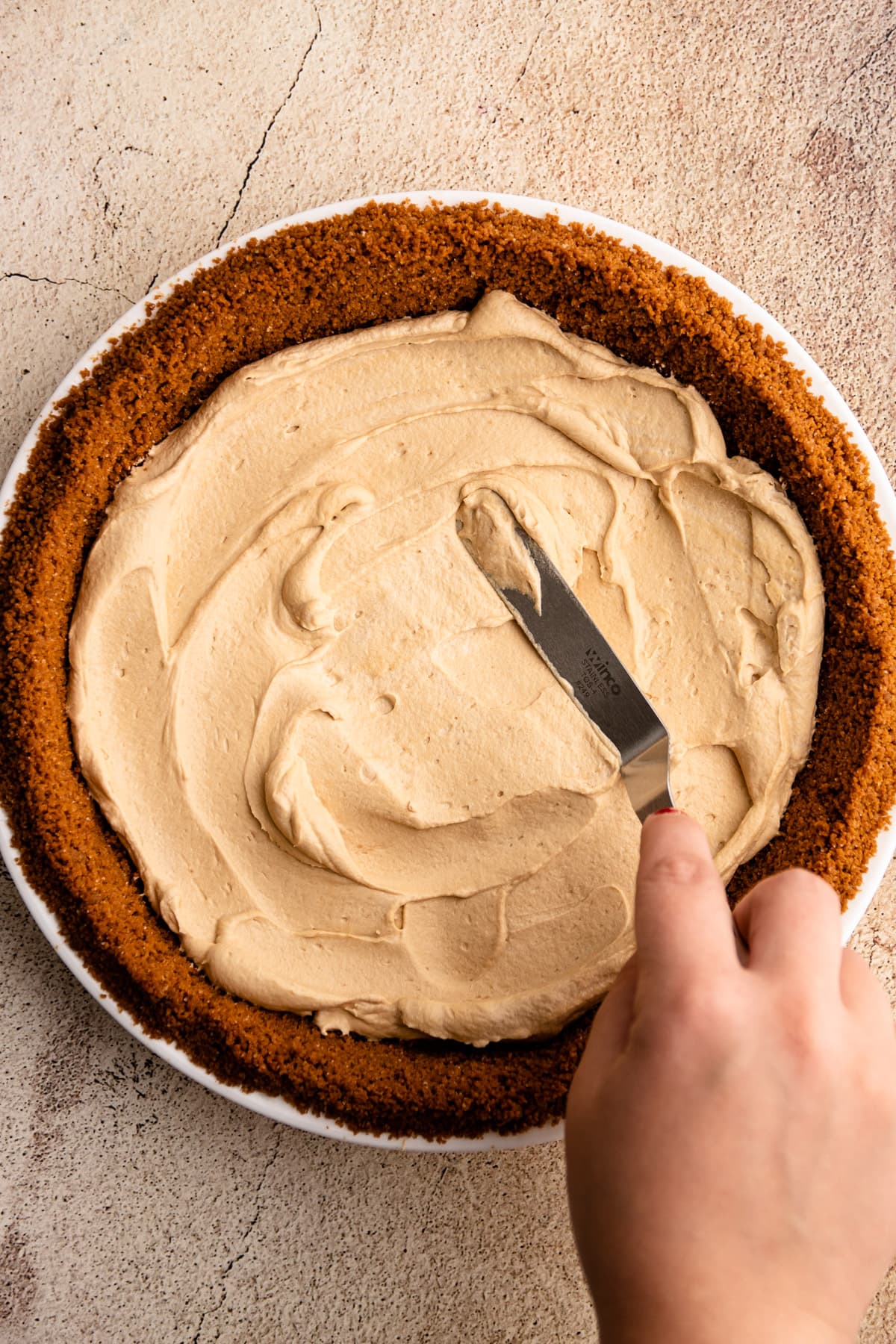 Decorating the Pie
Drizzle more caramel over the top to decorate the finished pie, and pipe or swirl on some additional whipped cream.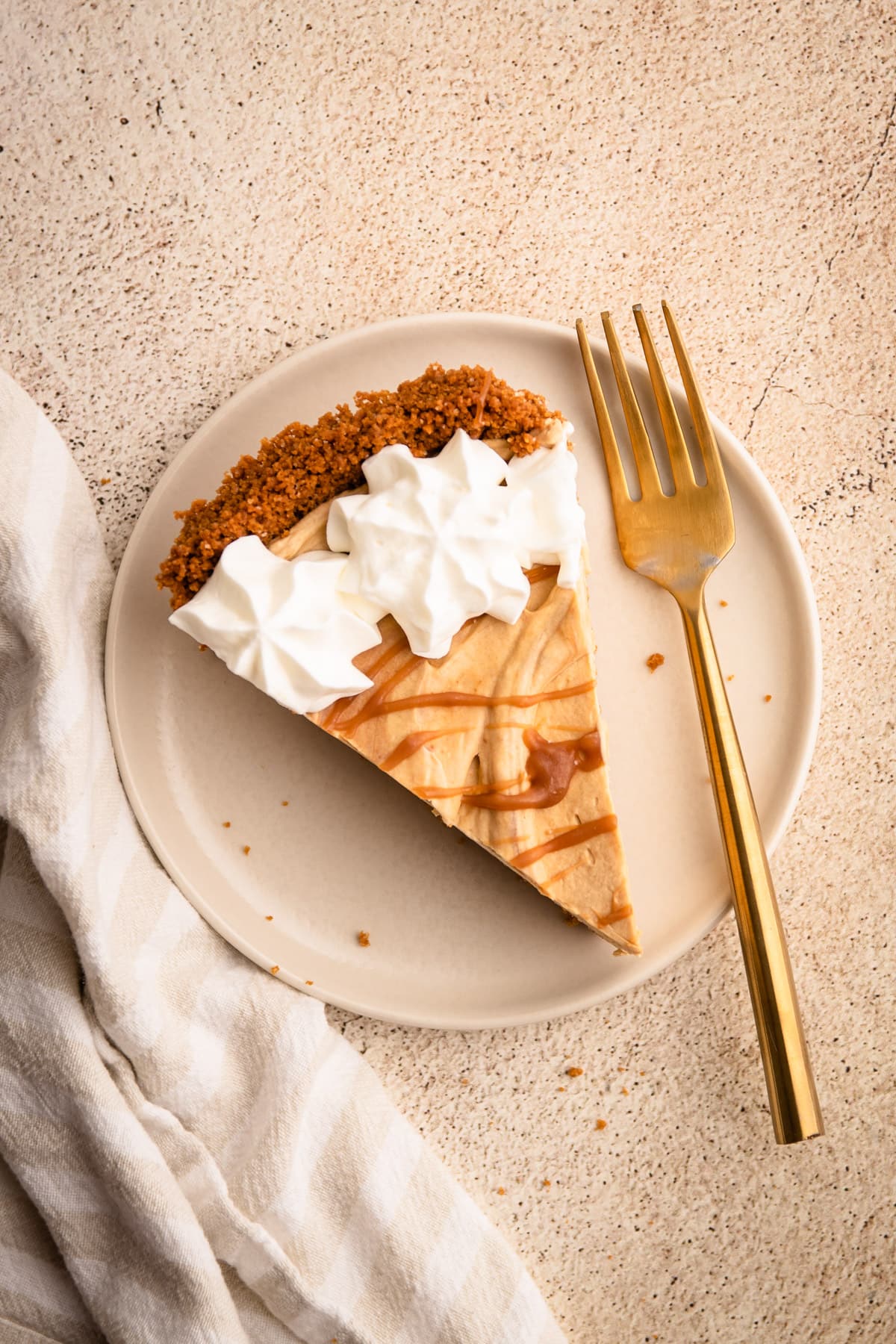 How to Serve It
This pie should be served very chilled. It can be made up to 1 day ahead of time if stored in the refrigerator or up to 1 month if frozen. Do not top it with any extra whipped cream until ready to serve.
If serving from the refrigerator, I recommend placing the pie in the freezer for 30 – 60 minutes before slicing it, though it's not essential. It just makes it easier to get neat-looking slices.
To serve from the freezer, let the pie sit at room temperature until it's easy to slice, about 15-30 minutes, depending on how warm your kitchen is.
More No-Bake Pie Recipes:
Print
Caramel Macchiato Pie
Love your morning coffee fix? This No-Bake Caramel Macchiato Pie has all the sweet taste of that iconic espresso drink with a creamy coffee no-bake cheesecake filling and tons of homemade caramel swirled throughout.
Author: Kelli Avila
Prep Time:

00:25

Chilling Time:

04:00

Cook Time:

00:05

Total Time:

04:30

Yield:

Serves 8-12

Category:

Sweet Pie

Method:

No-Bake
For Caramel:
¼ cup

water

1 cup

(

200 grams

) pure cane granulated sugar

½ cup

(

113 grams

) unsalted butter, cubed

½ cup

(

115 grams

) heavy cream

½ teaspoon

kosher salt
For Biscoff Crust:
2 cups

(

8 ounces

/

226 grams

) Biscoff cookie crumbs (about 29 cookies)

6 tablespoons

melted butter

2 tablespoons

granulated sugar
Pinch salt
For Filling:
2 tablespoons

instant espresso powder or 3 tablespoons instant coffee (see note)

1 tablespoon

water

1 cup

heavy cream

4 tablespoons

caramel

8 ounces

cream cheese, softened

⅓ cup

(

70 grams

) granulated sugar
For serving:
Instructions
Make Caramel:
Add water to a medium pot. Slowly stream in the sugar in an even layer. (This is to help dissolve the sugar without the need to stir). Turn on the heat to medium and let the dissolved sugar mixture cook undisturbed until it has come to a full boil. Let the mixture continue to cook, largely undisturbed. You can use a very clean whisk to gently stir around the mixture as it reduces to help it heat evenly. Cook until the sugar has caramelized, about 4-6 minutes total cooking time. You'll know it's caramelized enough when the sugar is a deep amber, and is fragrant.
Carefully and slowly, whisk in pieces of the butter, a few at a time. Once the butter is whisked in, slowly stream in the heavy cream. Carefully whisk it together, being mindful of the very hot bubbling mixture.
Once the cream is whisked in, bring the caramel back up to a boil, then shut off the heat.
Remove the caramel from the heat, stir in the salt and let it sit for 5 minutes in the pan to slightly cool. Then transfer it to a heat-safe container until you are ready to use in the pie. It can be made at least 7 days ahead of time
Make the Biscoff Crust:
Mix together the crumbs, butter, sugar and salt in a bowl.
Pour the crumbs into the pie plate and start pressing them up the sides of the pie plate to form the edges first. Once the edges are formed, work the crumbs down to evenly distribute them into the bottom of the pie plate. Then pack it down into an even layer using a flat bottomed cup or measuring cup.
If baking: Bake in a preheated 350º for 10 minutes. If freezing: freeze for 30 minutes for a no-bake pie option. See more about this in the text above. The crust can be made up to 1 month ahead of time if frozen.
Make the Filling:
Add the instant espresso and water to a small bowl and mix together until smooth. Set aside.
With a hand mixer or a stand mixer fitted with a whisk attachment, whip the heavy cream and 4 tablespoons of the prepared caramel until stiff peaks form. Set aside in a separate bowl.
Add the cream cheese, sugar, and coffee mixture to the now-empty bowl. Beat on medium speed until completely smooth, about 2 minutes.
Fold in ⅓ of the caramel whipped cream to the coffee cream cheese mixture with a rubber spatula by hand until it is completely combined.
Add the remaining whipped cream to the bowl and gently fold it in, being careful not to deflate it.
Transfer ⅓ of the coffee filling to the prepared biscoff crust. Smooth over the top. Drizzle over 2-4 tablespoons of caramel. Repeat two more times for a total of 3 layers of coffee filling and 3 layers of caramel.
Place the assembled pie in the refrigerator to set up. It needs at least 4 hours of chilling time, but preferably overnight (12 hours).
Right before serving, place in the freezer for about 30 - 60 minutes for perfect slices of pie.
Serve with whipped cream and additional caramel.
Notes
Have a question or looking for tips? The text written above the recipe is always a great first place to start! This Caramel Macchiato Pie was developed with love, and I always include loads of explanations, tips, step-by-step photos and technical advice shared before the recipe.
This recipe for caramel will make more than what you need for this pie. But, once you tasted the cooled caramel, you'll be glad it did! Use leftovers over ice cream, in your coffee or by the spoonful.
You are welcome to add more or less espresso/instant coffee to your pie. The amount listed is for a strong, but not overpowering coffee flavor. Add 1 tablespoons less for a more mild coffee flavor, or 1 tablespoon more for a more intense coffee flavor. I do not recommend serving this to children unless you use decaf espresso, as this is a high quantity of caffeine in this pie.
Keywords: Caramel Macchiato Pie, No Bake Coffee Pie
Some of the links on this page may be affiliate links. Everyday Pie is a participant in the Amazon Associates Program. As an Amazon Associate I earn from qualifying purchases, at no extra cost to you.