These homemade Cherry Turnovers feature perfectly sweetened cherries baked inside of flaky puff pastry; certainly better than anything you can buy at your local markets!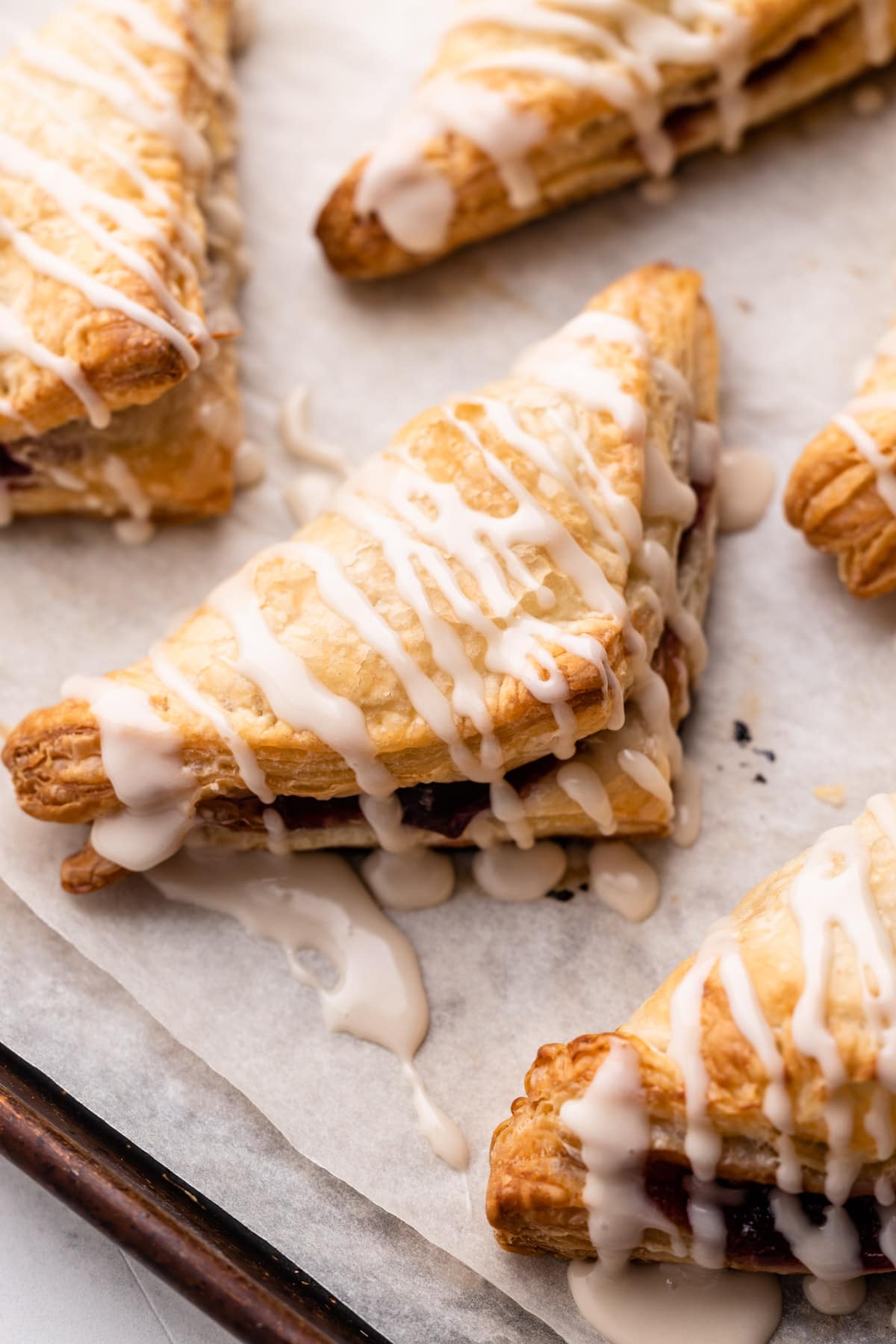 Homemade Sweet Cherry Turnovers
A perfect turnover should have a crisp flaky pastry, surrounding a jammy fruit filling, and optionally drizzled with a vanilla glaze (or sprinkled with coarse sugar). Miles away from anything you can buy at the store bakery, turnovers are the type of pastry that is worth the effort to make at home.
These Cherry Turnovers feature a homemade "quick" puff pastry and a sweet and juicy cherry filling. However, you can just as easily use store-bought puff pastry in a pinch.
While these are best enjoyed the day they're eaten, they can be prepared and frozen unbaked ahead of time, or even baked ahead of time and reheated before serving (more on that below).
Take advantage of cherry season and make these Homemade Cherry Turnovers, you won't regret it.
So, let's get to making it, shall we? The text below offers tons of tips and helpful notes, or you can scroll to the bottom to grab the recipe and get started!
More of a visual person? Check out the video of me making it below!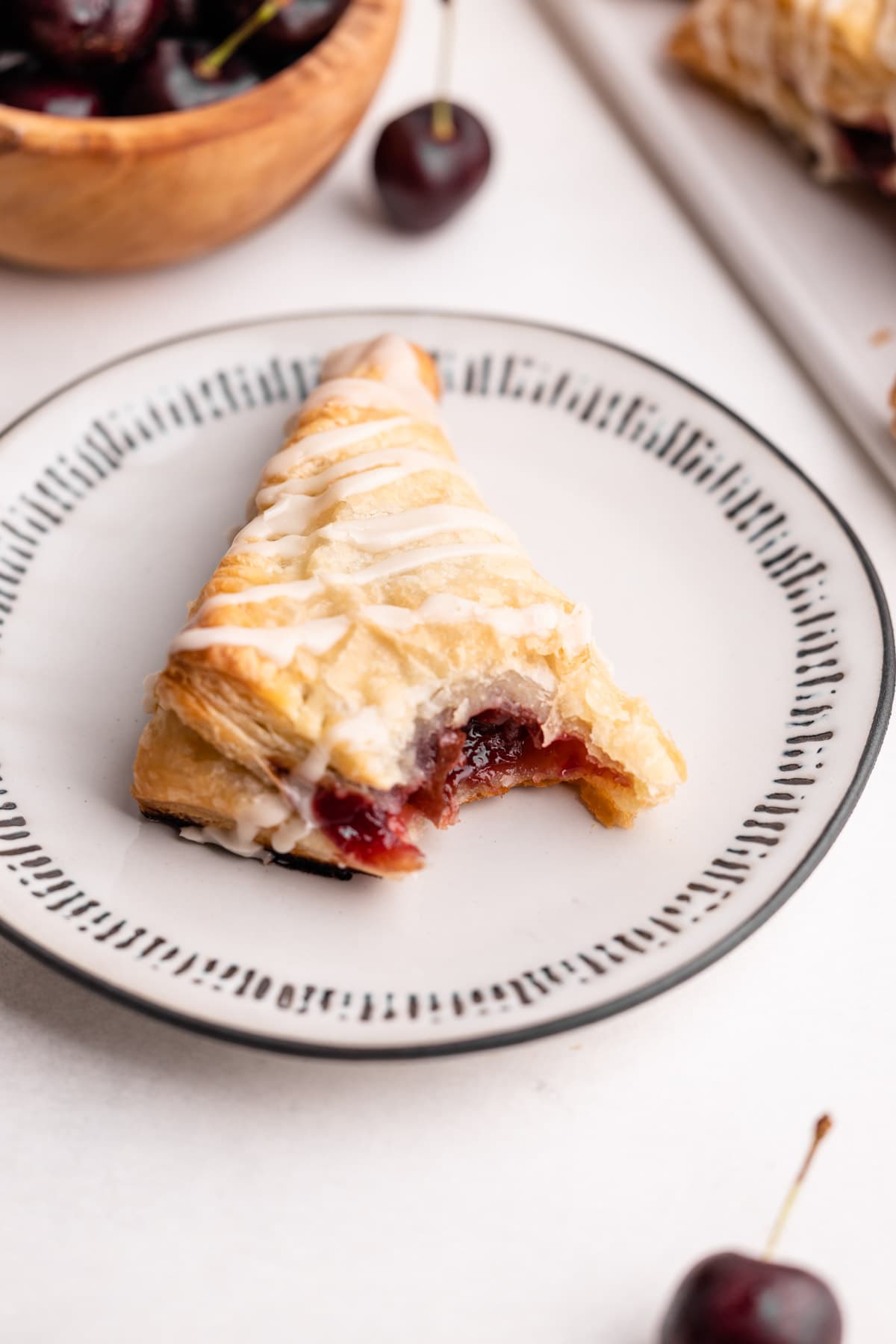 Ingredients Needed
Here is an overview of the ingredients needed for this recipe. The full recipe is listed below in greater detail.
sweet cherries (fresh or frozen)
granulated sugar
cornstarch
kosher salt
lemon juice
almond extract (this is optional, but encouraged)
butter
puff pastry (homemade or store-bought)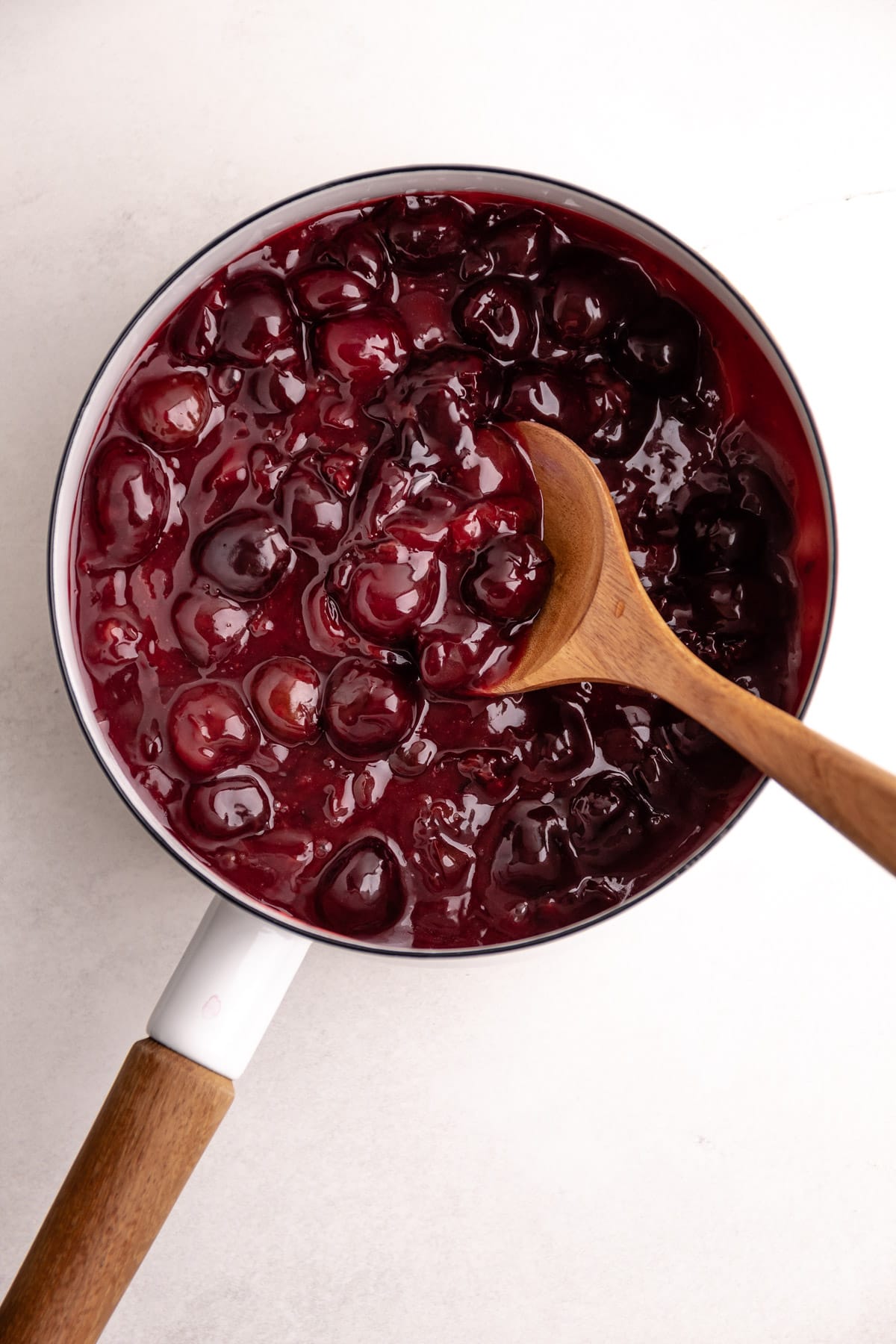 Type of Cherries to Use
There are quite a few types of cherries out there, and many of them will work for this recipe. Most cherries can be categorized as either sweet or sour/tart. This recipe calls for sweet cherries. The importance behind this is the amount of sugar called for is based on the cherries being sweet.
You can use fresh or frozen cherries. I love using frozen cherries because they're already pitted and taste just as good. But this recipe is great with fresh cherries too.
Want to make this recipe but have sour cherries? That's fine! You can use this recipe, but increase the amount of sugar to ⅔ cup. The recipe has all the notes you need to make the adjustment.
Useful Tools to Make this Recipe
Here is a list of some of the primary tools I used in this recipe. You won't necessarily choose to use them all, but they are exactly what I used here. The links may contain affiliate links.
stand mixer (only if you are making the puff pastry)
13"x18" sheet pan (also known as a half sheet pan)
rolling pin
cherry pitter (it's useful if you are using fresh cherries, but certainly not essential)
ruler and pastry wheel or sharp knife (to cut squares from the pastry)
pot (to cook the cherry filling)
kitchen essentials: baking scale, bowls, measuring cups and measuring spoons, rubber spatula
Overview of Steps
The exact number of steps needed to make this recipe really depends on if you are planning to make your puff pastry from scratch. More on this below. But here is an overview:
Make the puff pastry, and chill it.
Make the cherry filling and chill it.
Roll out and cut the puff pastry to 6 squares.
Assemble the turnovers.
Bake!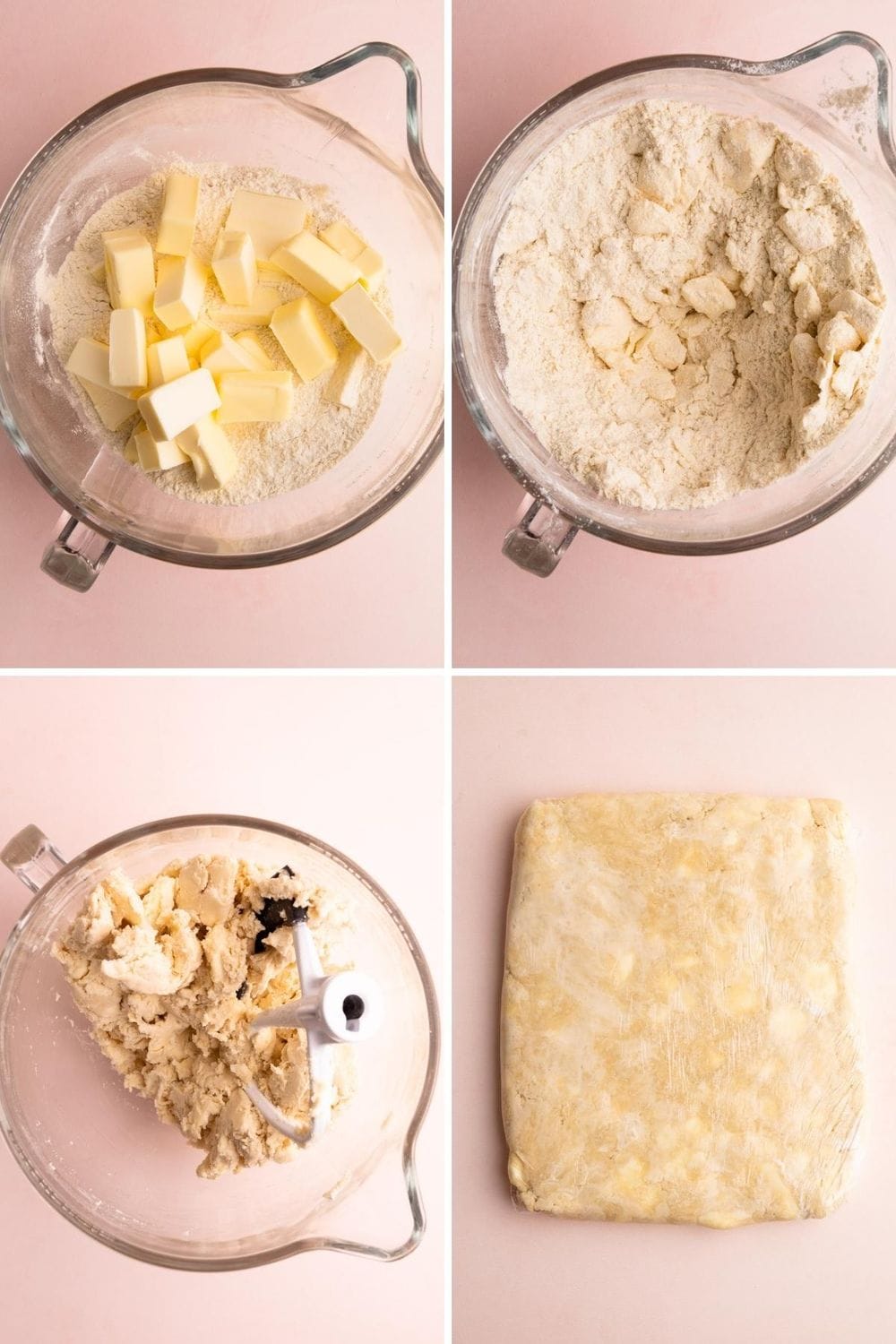 Let's Talk Puff Pastry
Puff pastry is a classic french pastry made by laminating butter in a dough repeatedly until the final pastry has many hundreds of alternating layers of butter and dough. Rough puff is a more streamlined version of it, that is less fussy but with extremely similar results.
Rough puff is made by laminating (or layering) an enriched butter dough that is very similar to pie crust, except that it's rolled and folded five times.
This cherry turnover recipe calls for rough puff, but if you wanted to make the classic puff pastry, you certainly could! The recipe makes 6 turnovers and uses only half the batch of the rough puff recipe. Save the other half for another pastry (or other flavors of turnovers!). You'll never be disappointed if you have puff pastry ready to go in your freezer.
Can you buy puff pastry at the store? You absolutely can. However, the turnovers will be a little bit smaller than the ones you can make with homemade rough puff. And, depending on the type of puff pastry you buy, the instructions for cutting the pastry squares might differ.
Purchased puff pastry typically either comes in one folded 14-ounce sheet, or it comes in two folded 8-ounce sheets.
The measurements listed in this recipe correspond with the use of my homemade rough puff recipe. If you have purchased puff pastry with 1 sheet, try to roll it out to slightly thinner to an 8"x12 rectangle and cut out 4" squares. If you are using puff pastry with two sheets, I suggest rolling out each sheet a little thinner and cutting them into 4 squares each, which will mean you will get 8 turnovers. See the notes of the recipe for more information.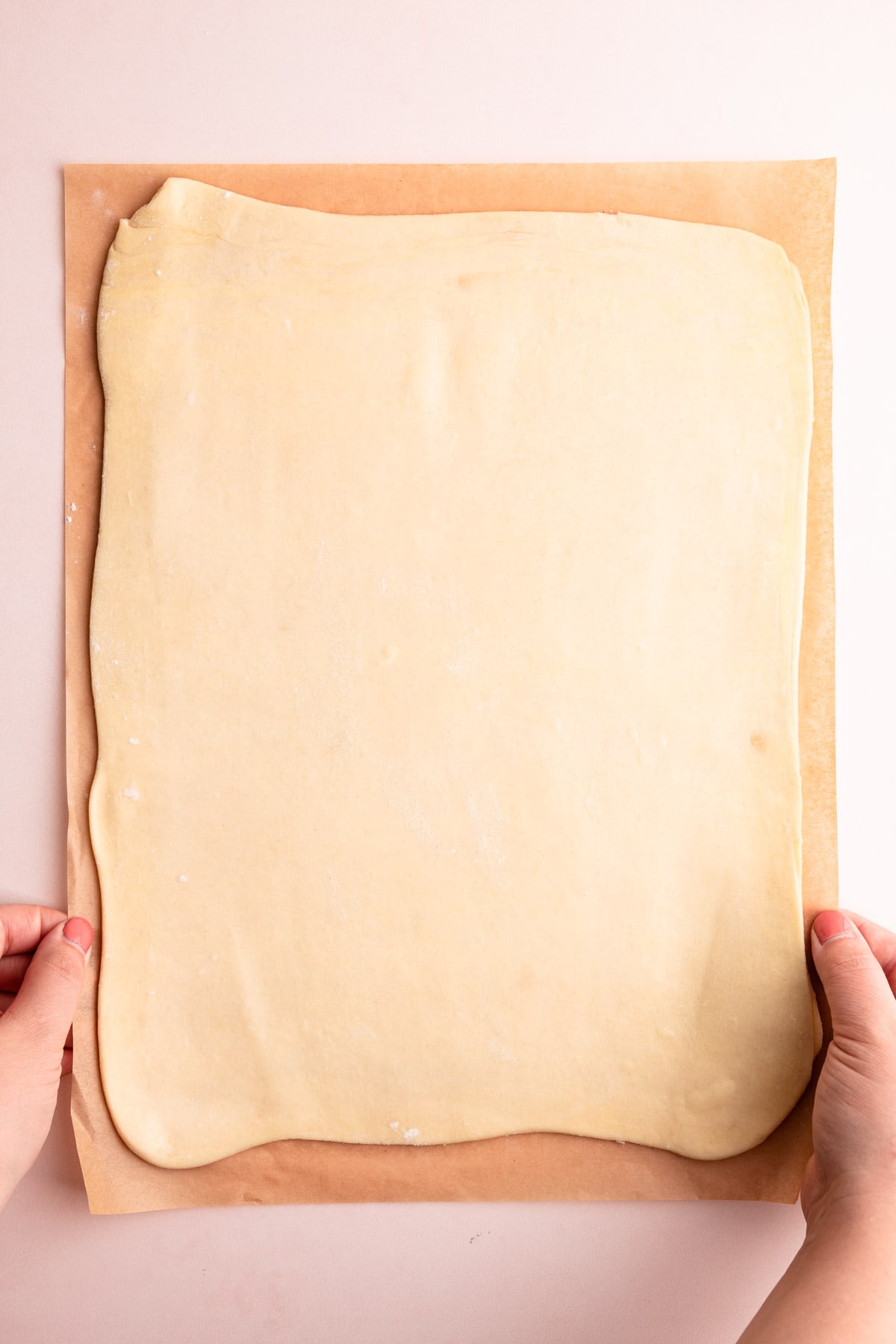 Making the Cherry Filling
Turnovers bake relatively quickly, which means there wouldn't be enough time for the filling inside to bake by the time the puff pastry has finished cooking. For this reason, the cherry filling needs to be cooked ahead of time.
Making the cherry filling is a very simple recipe. Essentially, cherries are mixed together with sugar, lemon juice, and cornstarch and then cooked. I wrote a whole post dedicated to making Cherry Pie Filling, so be sure to check that out for more tips. That linked recipe is a bit different as it uses sour cherries and it has different quantities, the process is the same as this turnover recipe.
Please note: The cherry filling must be completely cooled before filling the turnovers. Hot filling in butter-heavy pastry always equals a disaster. So plan ahead of time.
You likely will have some leftover cherry filling. You can enjoy any leftovers over ice cream or yogurt. It also freezes well.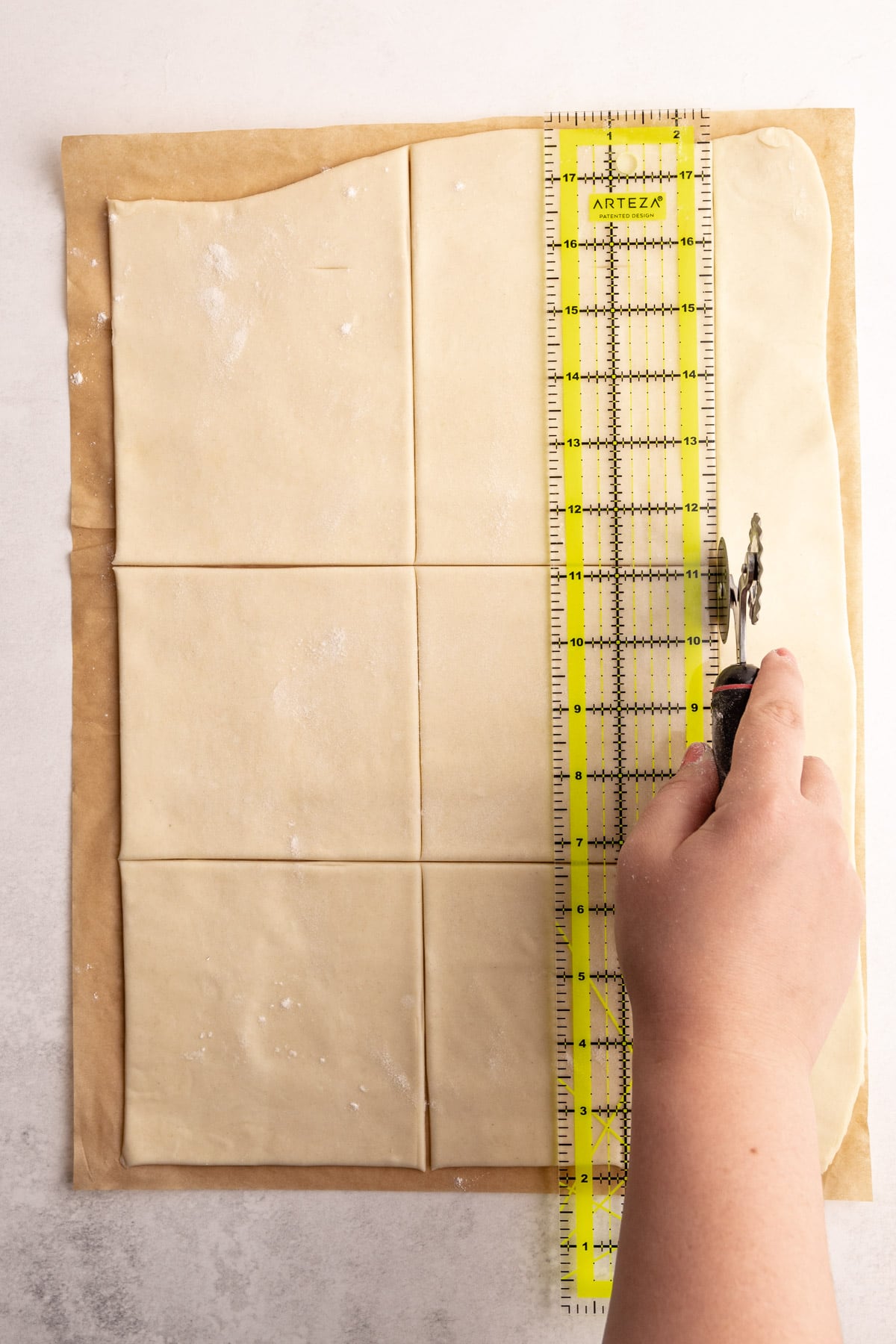 How to Form Puff Pastry Turnovers
Let me just start this off by sharing the puff pastry golden rule: if at any point your pastry is getting too warm, simply place it in the refrigerator or freezer to chill. Warm puff pastry is difficult and messy to work with.
Depending on what puff pastry you are using, you should have about six 4.5" squares of pastry to work with.
Filling the turnovers is a delicate balance of not overfilling them, and not under-filling them. If you find that you are having trouble closing the turnovers without the filling leaking out everywhere, then use less filling.
Here are a few tips I've picked up for successfully filling turnovers:
Make sure your pastry and filling are well chilled.
Puff pastry is delicate and can tear easily. Use a small piece of parchment to help move around the pastry so you don't have to handle it. Form the turnover on the parchment, and then when transferring the filled turnover to the sheet tray, do so on the parchment so you don't have to hold it with your own hands.
Use these three methods of sealing the turnovers: first press together the corners that firm the triangle, then seal it with a fork, and finally cut off the very edge of the sealed pieces. That final cut helps the puff pastry bake up properly, as well as helps it stay sealed.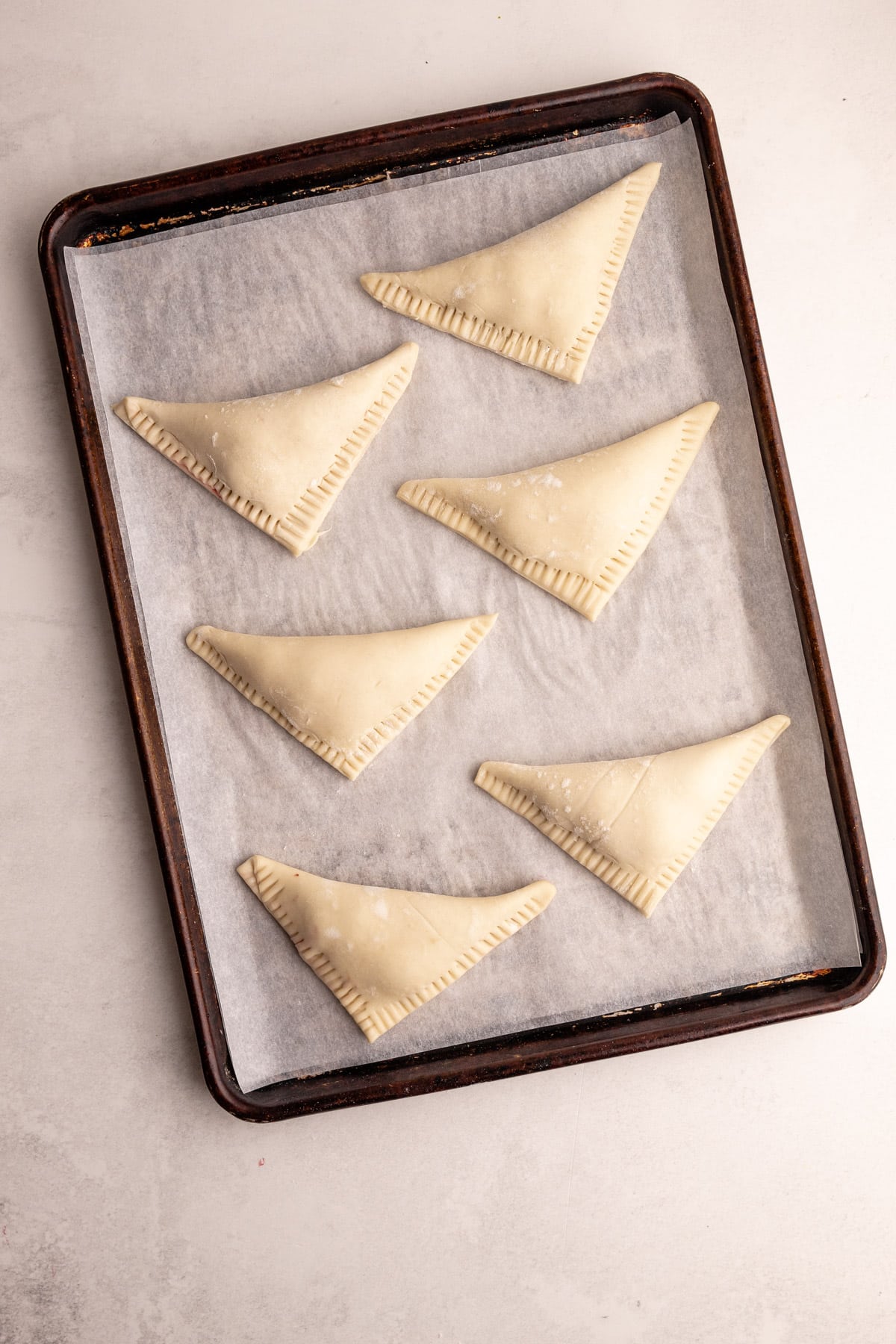 Cherry Turnover Baking Tips
Want your turnovers to bake up nicely? Then chill them before baking! The instructions list a bare minimum time to chill, but the longer the better.
Chilling the turnovers is useful for a few reasons.
The first is that it makes the puff pastry bake up higher. The second is that it helps the filling stay inside of the turnover, instead of spilling out during the baking. And finally, chilled puff pastry is less likely to bake up misshapen.
Because the filling is pre-cooked, I find it unnecessary to poke holes in the pastry to let steam escape. However, if you'd like to make holes in the pastry for aesthetic reasons, it's fine to do so.
To bake, pre-heat the oven to 400ºF and set a rack in the middle position in the oven. This small step will ensure the puff pastry bakes throughout but doesn't brown too much on the bottom.
The turnovers are done when they have puffed up, are golden brown all over, and the filling has started to peek out on some of them.
If you are baking from a very cold or frozen state, you may need to bake the turnovers for slightly longer than the instructions call for.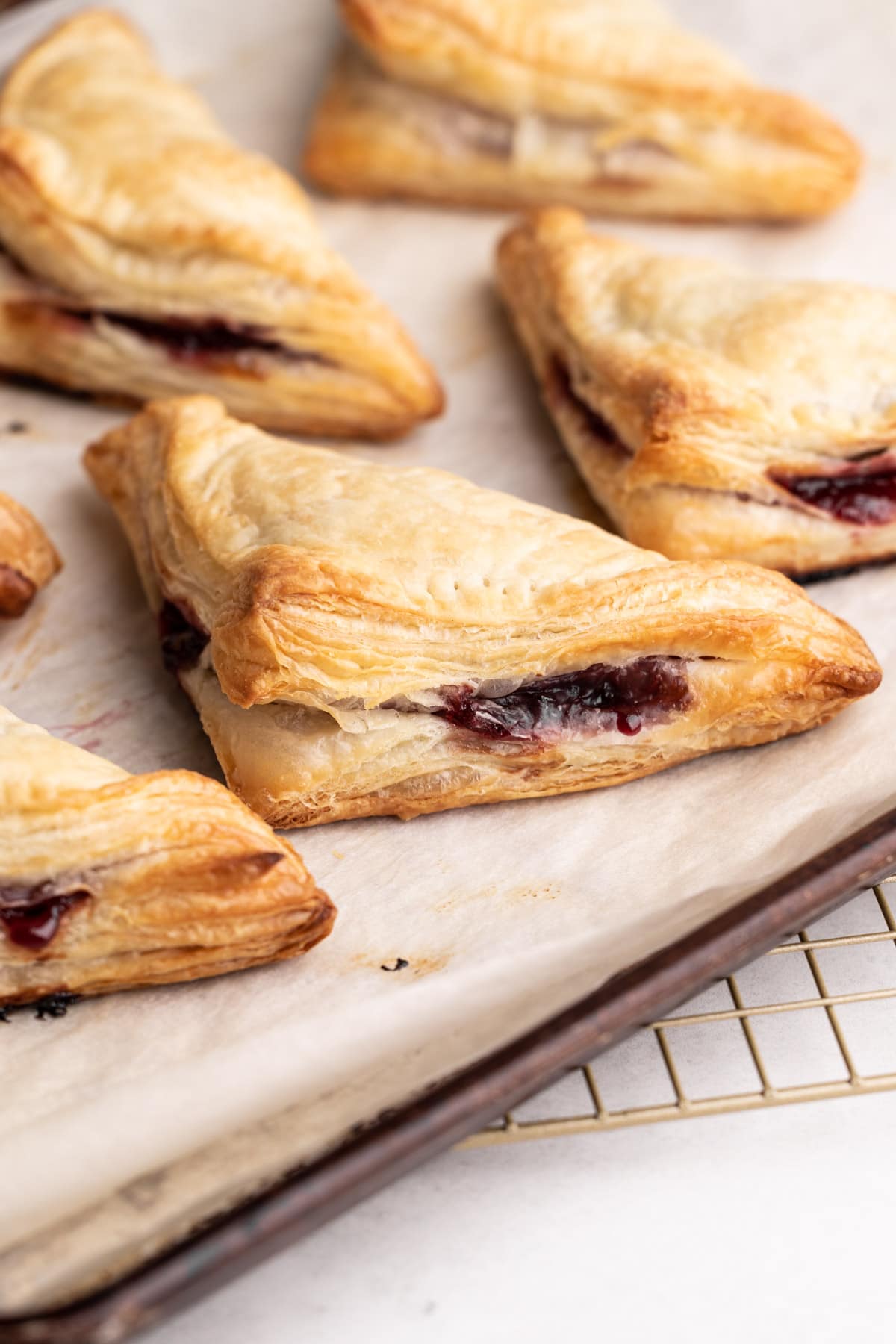 How to Store Them
These can be frozen, unbaked, for up to 3 months. Assemble the turnovers up to the point of baking, and then freeze them flat on a sheet tray for 24 hours. Then, transfer to a bag with as much air removed as possible. Freeze for up to 2 months.
The turnovers can be baked from frozen. Doesn't get much easier than that! Bake them as directed plus an extra 10 additional minutes or so.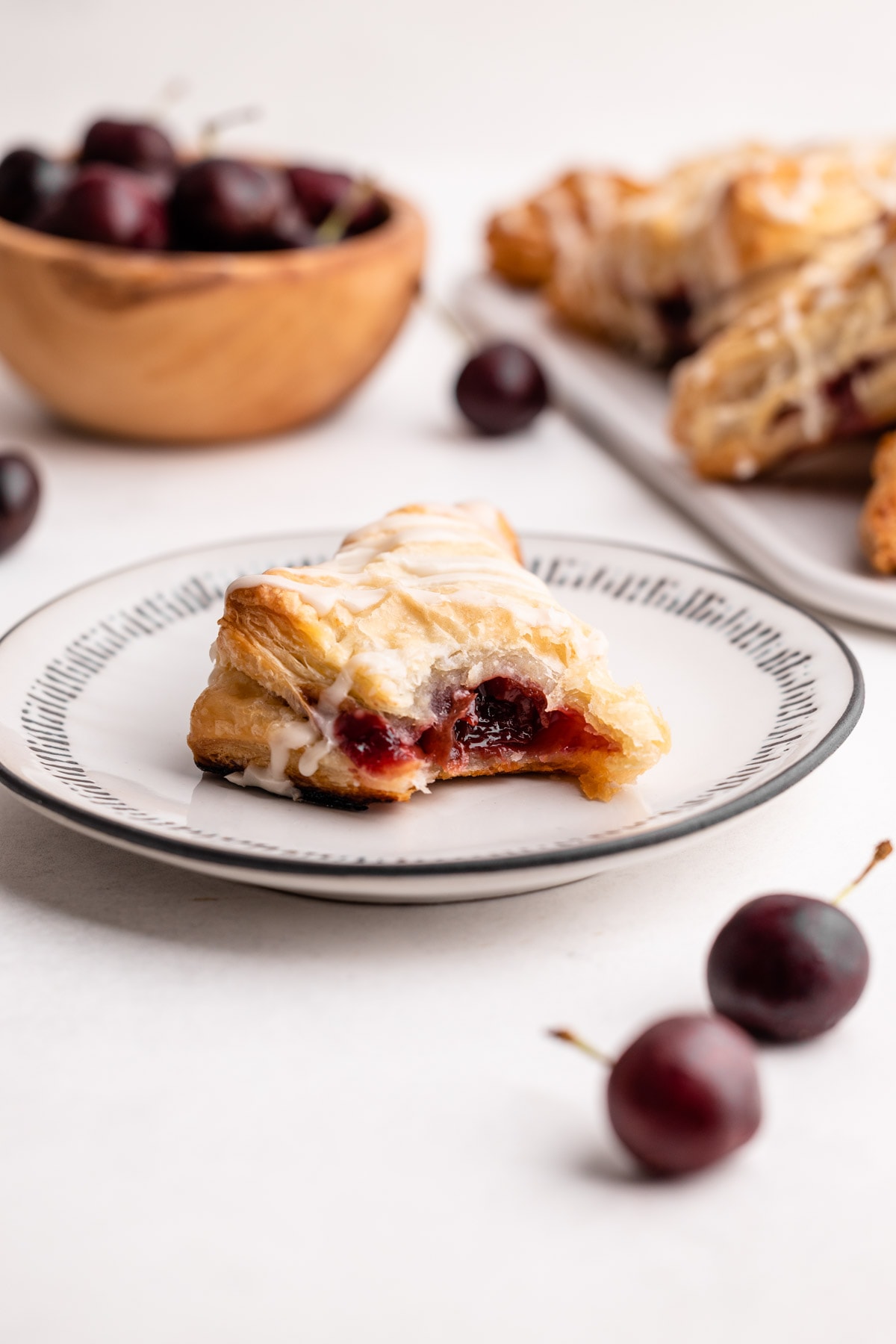 More Cherry Recipes
I am so honored when you make a recipe from my site! If you make these Cherry Turnovers, please leave a comment and a star rating with your experience! If you have any questions about this recipe, feel free to comment here, too!
Print
Cherry Turnovers
Please note: the cherry filling must be completely cooled before filling the turnovers. Hot filling in butter heavy pastry always equals a disaster. So plan ahead of time.
Author: Kelli Avila
Prep Time:

00:40

Cook Time:

00:25

Total Time:

01:05 plus chilling time

Yield:

6 turnovers

Category:

Pastry
Rough Puff Pastry, prepared, or (1) 14-ounce package puff pastry (see notes for guidance)

4 cups

(

20 ounces

) sweet cherries, pitted (fresh or frozen)

⅓ cup

(

70 grams

) granulated sugar

3 tablespoons

cornstarch

¼ teaspoon

kosher salt

2 tablespoon

lemon juice

½ teaspoon

almond extract
pinch sea salt

1 tablespoon

butter
Vanilla Glaze (optional)
1 cup

powdered sugar

3

-

5

tablespoons milk or water

1 teaspoon

vanilla bean paste or vanilla extract
Pinch kosher salt
Instructions
Prepare rough puff pastry (or buy) puff pastry. If you make it, you will only need half a batch. The remaining half can be frozen. Or you can double the filling for this recipe, and make 12 turnovers.
Add cherries, sugar, cornstarch and salt to a large bowl and toss to coat. Mix in the lemon juice. Let sit until the sugars have started to dissolve, about 10 minutes.
Transfer all ingredients to a large pot.
Turn the heat on to medium and cook, stirring frequently until the filling is bubbling throughout. If it isn't bubbling, then the cornstarch won't thicken and the filling will be runny. Turn off the heat and stir in almond extract and butter.
Pour into a shallow container and let cool completely (this will take several hours or overnight).
Fill a small container with cool water.
Line a 12x18" sheet pan with a piece of parchment.
Roll out the puff pastry (remember, you are only using half of the batch if you've made this rough puff recipe) to about ⅛" thickness, or about 10 by 15 inch rectangle. Cut out six 4.5" squares. (See note about using store-bought puff pastry)
Brush (or use your finger) a small amount of water on two sides of the dough. This helps it stick. Place about 2 tablespoons of chilled blueberry filling in the center. Fold one corner of the pastry over the filling to make a triangle. Press down on the edges to seal the two pieces together. Use a fork to make an indentation along the edges to further seal the pastry and to add a decorative touch. Finally, using a sharp knife, cut off just the very edges of the pastry. This helps ensure the puff pastry bakes up properly (see section for shaping puff pastry for more information).
Chill the turnovers in a freezer for 20 minutes, or in the refrigerator for 1 hour. This helps the turnovers keep their shape while they bake.
Meanwhile, preheat the oven to 400ºF.
Remove the turnovers from the freezer and bake in the oven for 25-30 minutes, or until the turnovers are lightly golden all over.
Let them cool slightly before transferring them to a cooling rack.
Meanwhile, make the optional glaze. Add powdered sugar, milk, vanilla paste, and kosher salt to a bowl and whisk together until smooth. Drizzle over the tops of the turnovers as desired.
Notes
This recipe was developed using half a recipe of homemade rough puff, which is roughly equivalent of one store-bought box of puff pastry. It was tested with store-bought puff pastry, too. Purchased puff pastry typically either comes in one folded 14 ounce sheet, or it comes in two folded 8 ounce sheets. The measurements listed in this recipe correspond with the use of my homemade rough puff recipe. If you are using store-bought puff pastry, the measurements might not work out exactly. If you have purchased puff pastry with 1 sheet, try to roll it out to 8" by 12" and cut out 4" squares. If you are using puff pastry with two sheets, I suggest rolling out each sheet a little thinner and cutting them into 4 squares each, which will mean you will get 8 turnovers. Fill them a little less than directed in the instructions above.
Want to make this with sour cherries? Increase the amount of sugar to ⅔ cup and decrease the amount of lemon juice to 1 tablespoon.
Have an additional question or looking for tips? The text written above the recipe is always a great first place to start! There are always loads of explanations, tips and technical advice shared before the recipe.
This recipe was developed with love and has lots of step-by-step photos in the post above the recipe card. Please check out those photos for a visual representation of how the recipe is made.
Keywords: Cherry Turnovers
Some of the links on this page may be affiliate links. Everyday Pie is a participant in the Amazon Associates Program. As an Amazon Associate I earn from qualifying purchases, at no extra cost to you.