This easy Zucchini Tart is made with puff pastry, Boursin cheese, and thin-sliced zucchini. It's simple to prepare but packed with flavor.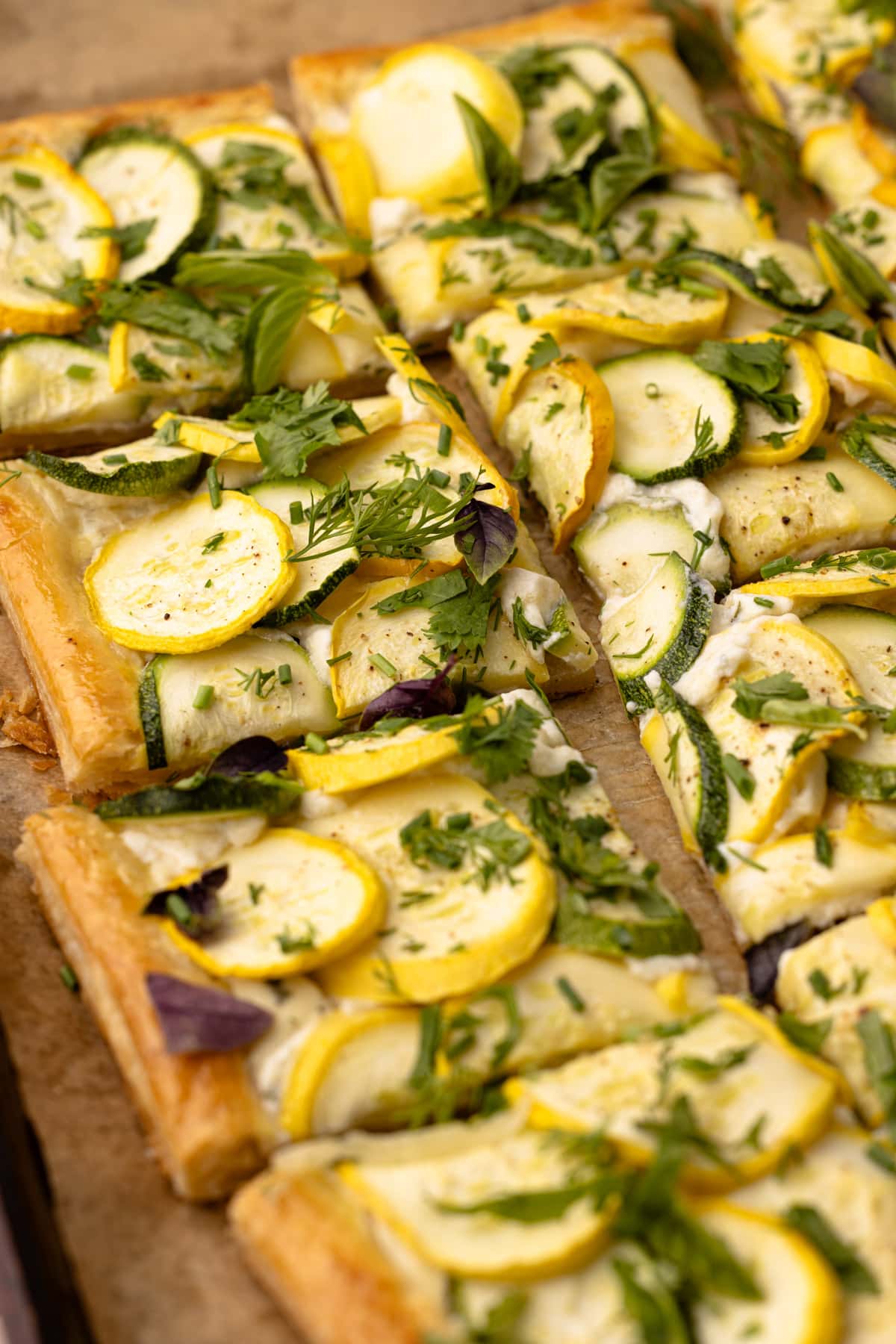 Jump to:
Don't let the simplicity of this recipe fool you: this tart is packed full of flavor thanks to the use of the cult-favorite store-bought Boursin cheese and a big pile of fresh herbs. This straightforward tart recipe can be prepared with either store-bought puff pastry or homemade rough puff pastry.
This tart (similar to this Zucchini Pie) is perfect for a light and easy dinner or lunch, or as an elegant appetizer!
This recipe was inspired by a pizza I've been making on repeat at home. Because my husband dislikes red sauce on his pizza (which always makes my Italian heart weep a little bit), I always make a second pizza with a white sauce. One pizza night, feeling a bit lazy, I decided to use Boursin cheese as a white sauce base, topped it with more cheese and zucchini, and baked it. My husband and I loved it so much that we have been making it weekly ever since.
As the summer has gone on and my pile of zucchini has grown, I've been thinking up new ways to recreate that delicious combination, and so far I've come up with this tart and a pasta version as well. Basically, I want to eat zucchini and Boursin as much as I can, and If you haven't tried it yet, I highly recommend giving it a go. I have a feeling you'll love it just as much as I do!
So, let's get to making it, shall we? The text below offers tons of tips and helpful notes, or you can scroll to the bottom to grab the recipe and get started!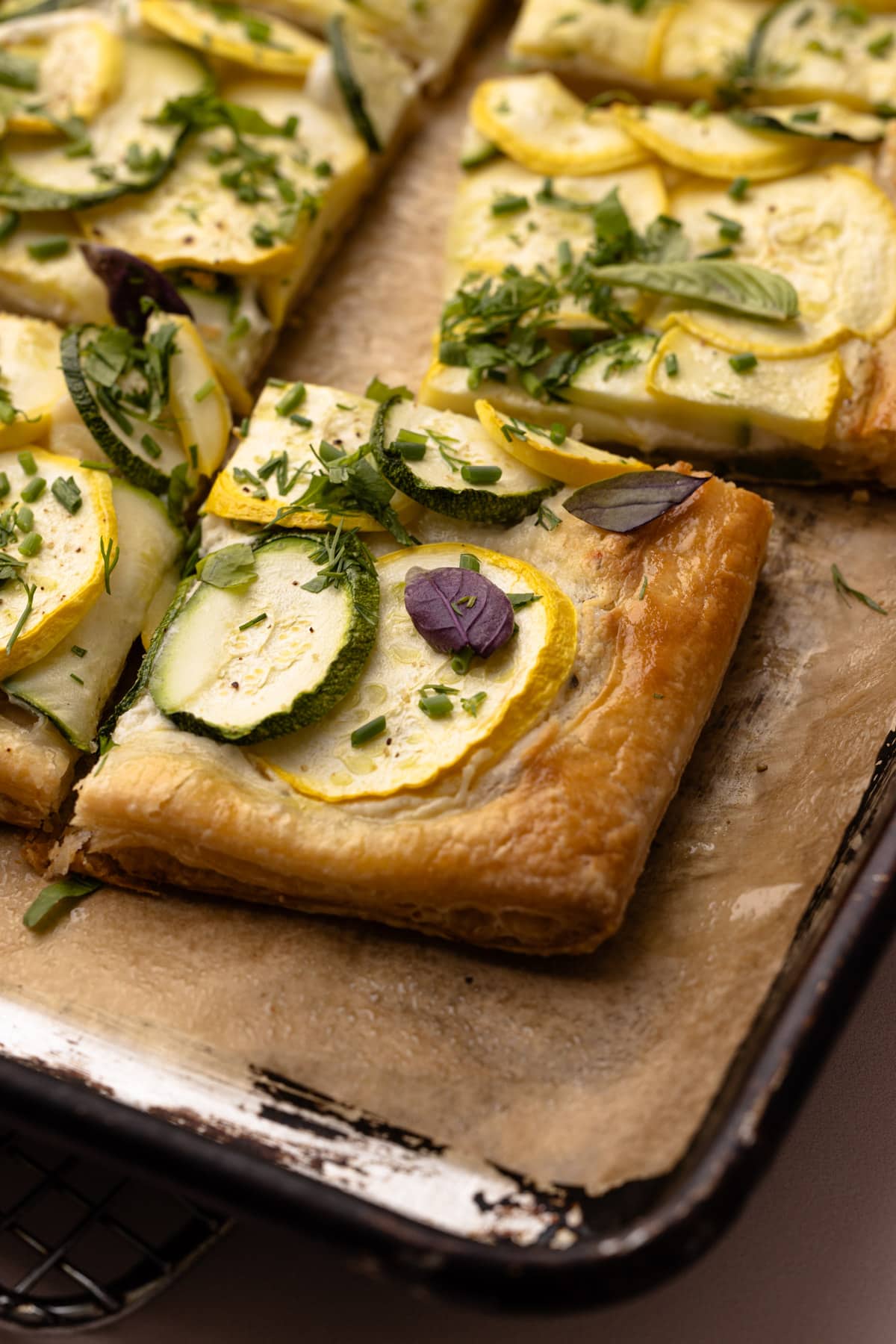 Ingredients Needed
Here is an overview of the ingredients needed for this recipe. The full recipe is listed below in greater detail.
store-bought puff pastry or homemade rough puff pastry
Boursin (This is a cheese spread that can be found in most grocery stores in the specialty dairy or cheese section. It comes in a few flavors, but the Garlic and Fine Herbs is the most common.)
heavy cream
zucchini and/or summer squash
grated Parmesan cheese (I've also made this with other grated hard cheese such as Pecorino, as well as shredded soft cheese like mozzarella, and they both work as well!)
good olive oil (something that you like the taste of is sufficient!)
fresh herbs (such as basil, dill, and chives)
Let's Talk About the Puff Pastry
My goal for this recipe was ease, so I wanted to make sure it worked with readily-available store-bought puff pastry.
Purchased puff pastry typically comes either in one folded 14-ounce sheet or two folded 8-ounce sheets. Please note: I haven't tried all brands, so your store-bought puff pastry may be different than this.
The instructions below are flexible to accommodate different sizes of store-bought puff pastry, so don't sweat it if the one you purchase is a different size or configuration. The important part is that it should be thawed in the refrigerator overnight and kept at a cold temperature during prep to ensure the integrity of the pastry.
Want to make your own puff? Go for it! In fact, the only reason I buy store-bought puff pastry anymore is if I need to test a recipe to ensure it works as intended. I much prefer to spend the time putting together a batch of Rough Puff for a few reasons:
It's so much cheaper to prepare it yourself. Store-bought puff pastry is expensive!
It's far superior, even if you splurge for a "high-quality" store-bought brand. Side by side, my homemade puff pastry rises much higher and tastes much better than anything commercially-made.
I enjoy making it!
Never made puff before? Rough puff pastry is made by laminating (or layering) an enriched butter dough that is very similar to pie crust, except that it's rolled and folded five times. My recipe yields enough for two tarts, so you can cut the recipe in half or have another pastry to use for something else.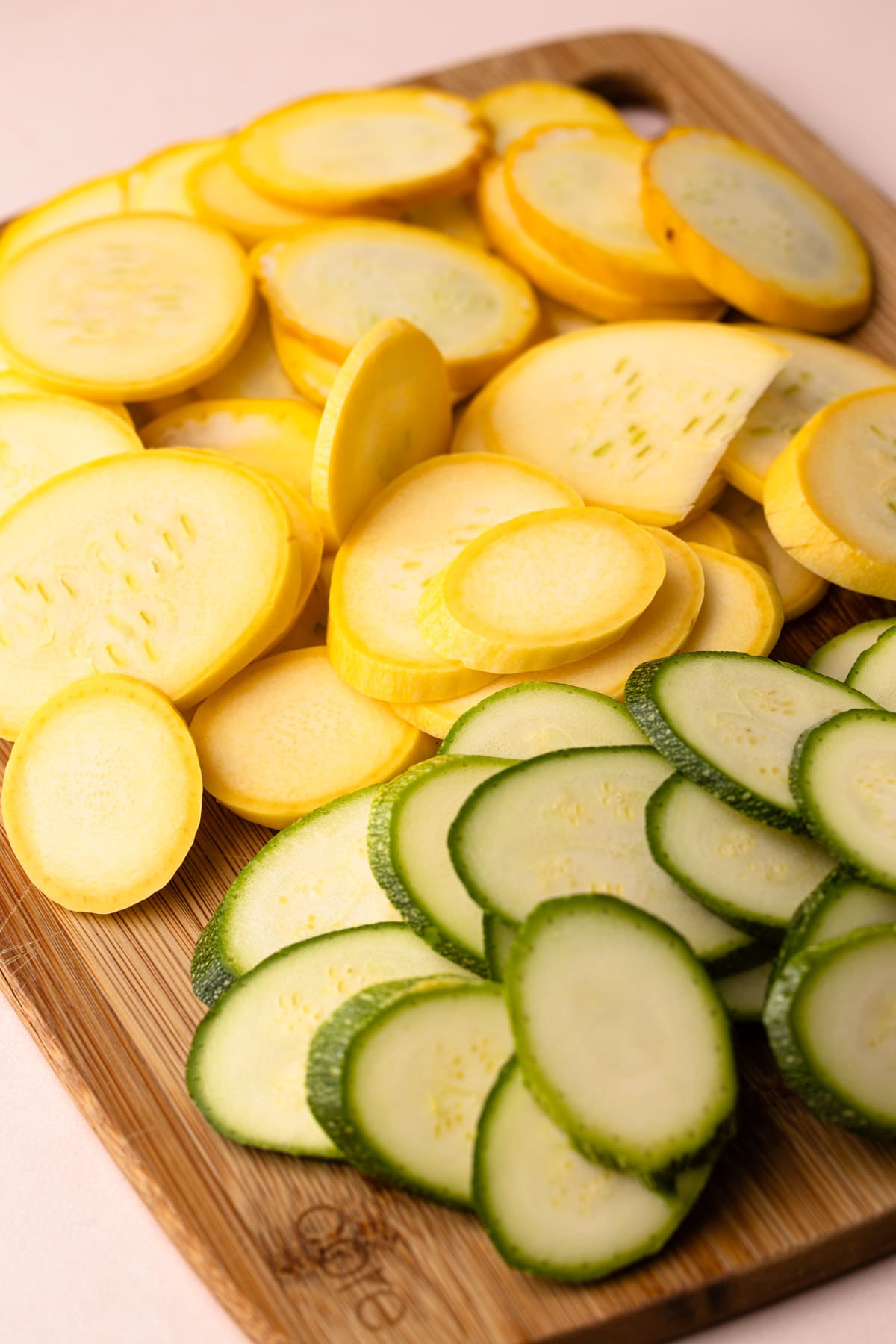 Preparing the Zucchini
You can use either zucchini or summer squash, or a combination of both.
To prepare the zucchini: Wash and dry them well, then slice them thinly. About ¼" to ⅛" thick is ideal, however exact thickness is less important than aiming for the slices to be roughly the same thickness. This ensures that they cook evenly and finish cooking at the same time.
The zucchini will be "shingled" onto the tart, with a slight overlap of the pieces. How you shingle them is up to you!
Be sure to liberally salt and pepper your zucchini before it goes in the oven, and drizzle a bit of good olive oil over the top right before serving.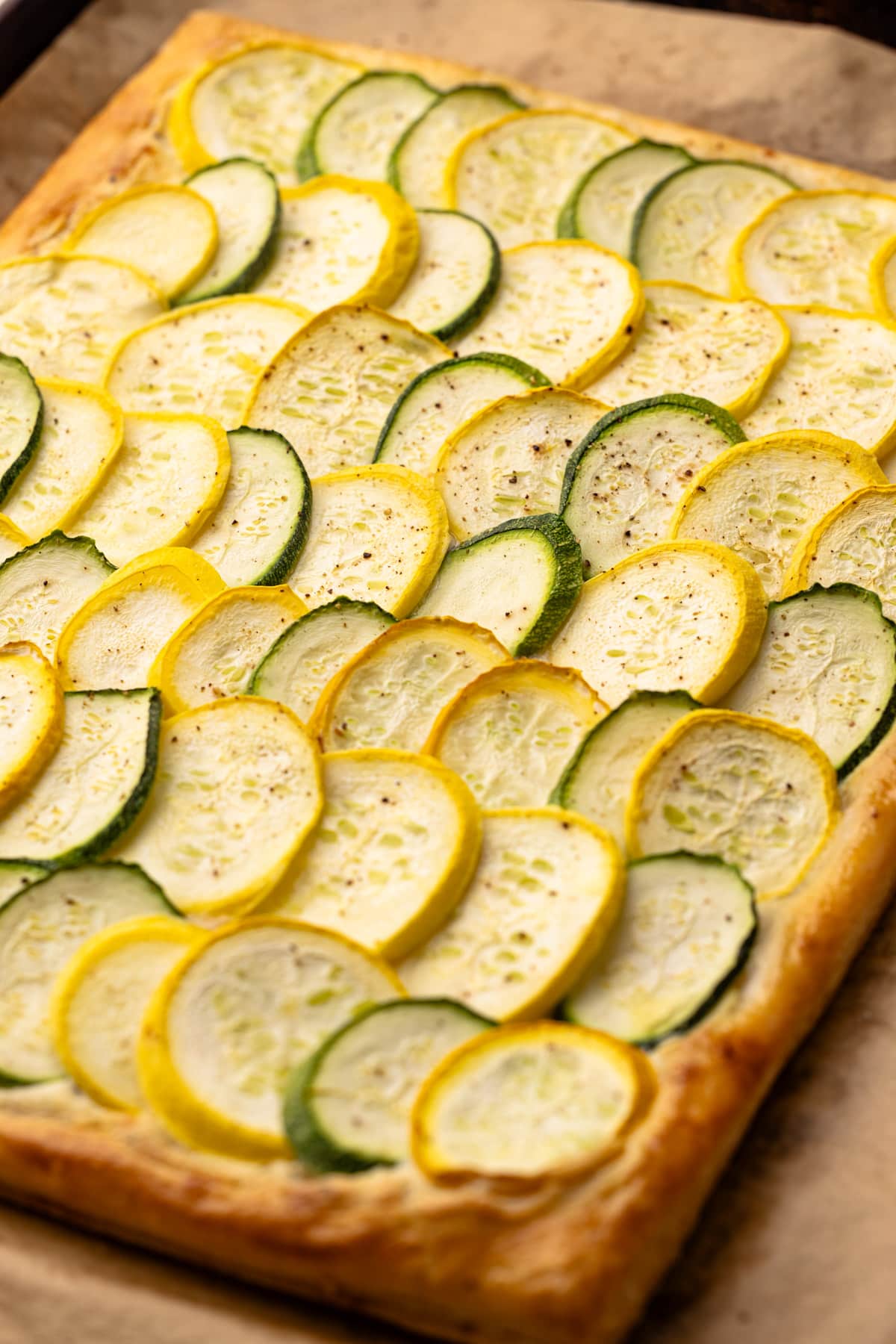 Tips for a Well-Baked Tart
Chilling the pastry before baking makes the puff pastry bake up taller. This is why the instructions call for placing the puff pastry in the refrigerator as you assemble the rest of the tart ingredients. Alternatively, it can also be placed in the freezer.
The instructions call for "docking" the middle of the puff pastry. This helps to prevent the middle part of the pastry from puffing up too much. However, sometimes the pastry goes rogue and still puffs up. If this happens, poke a hole in the pastry to let the trapped steam escape. Just be careful not to put your hand anywhere near the steam, as it will, of course, be hot!
To bake, preheat the oven to 400ºF and set a rack in the lower middle position in the oven. This small step of baking it in the lower part of the oven ensures that the puff pastry bakes through on the bottom, but the zucchini doesn't burn from the top.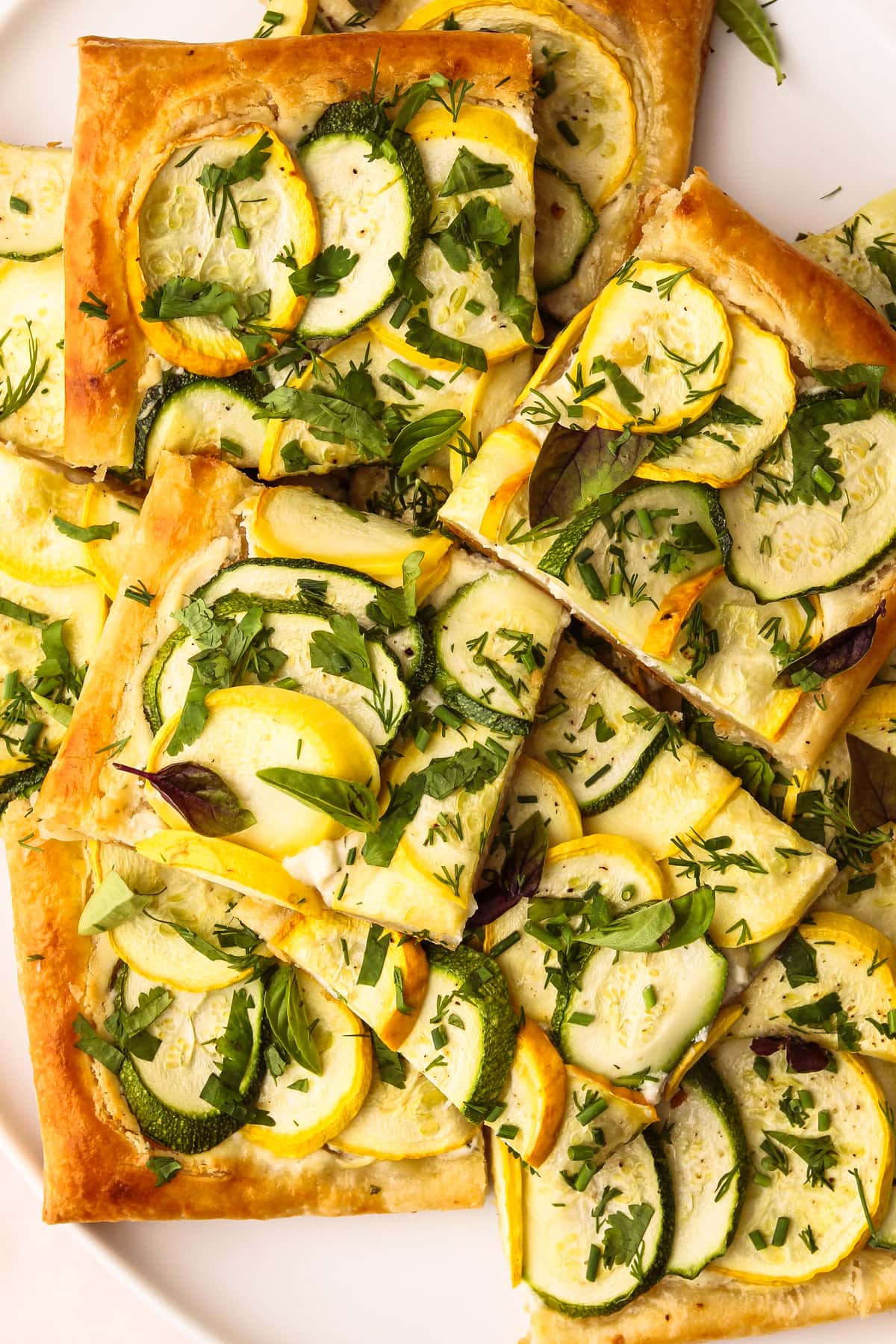 Step-by-Step Visual Overview
Here is a brief visual overview of the recipe (the full recipe is at the bottom of the article).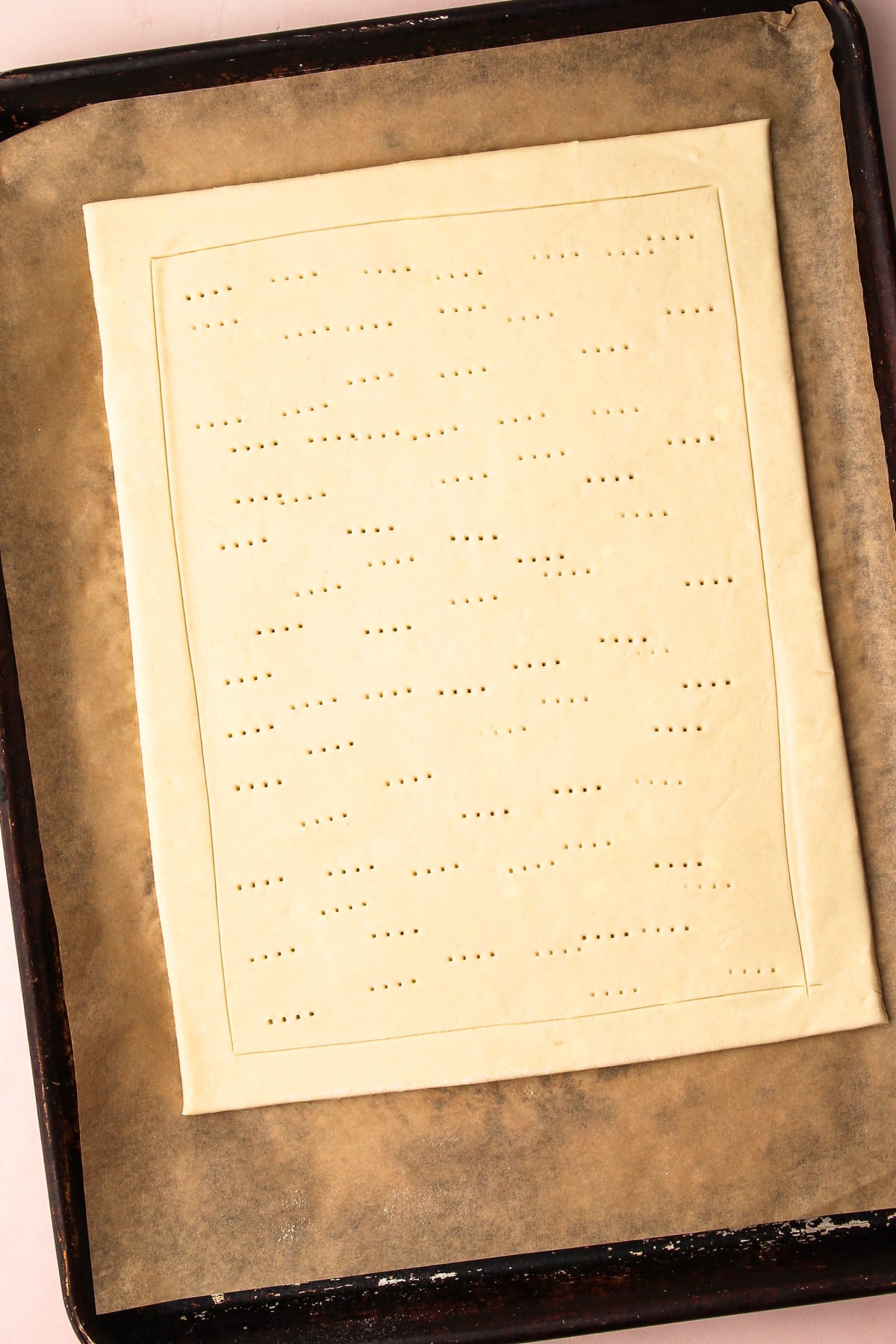 Step 1: Prepare the puff pastry.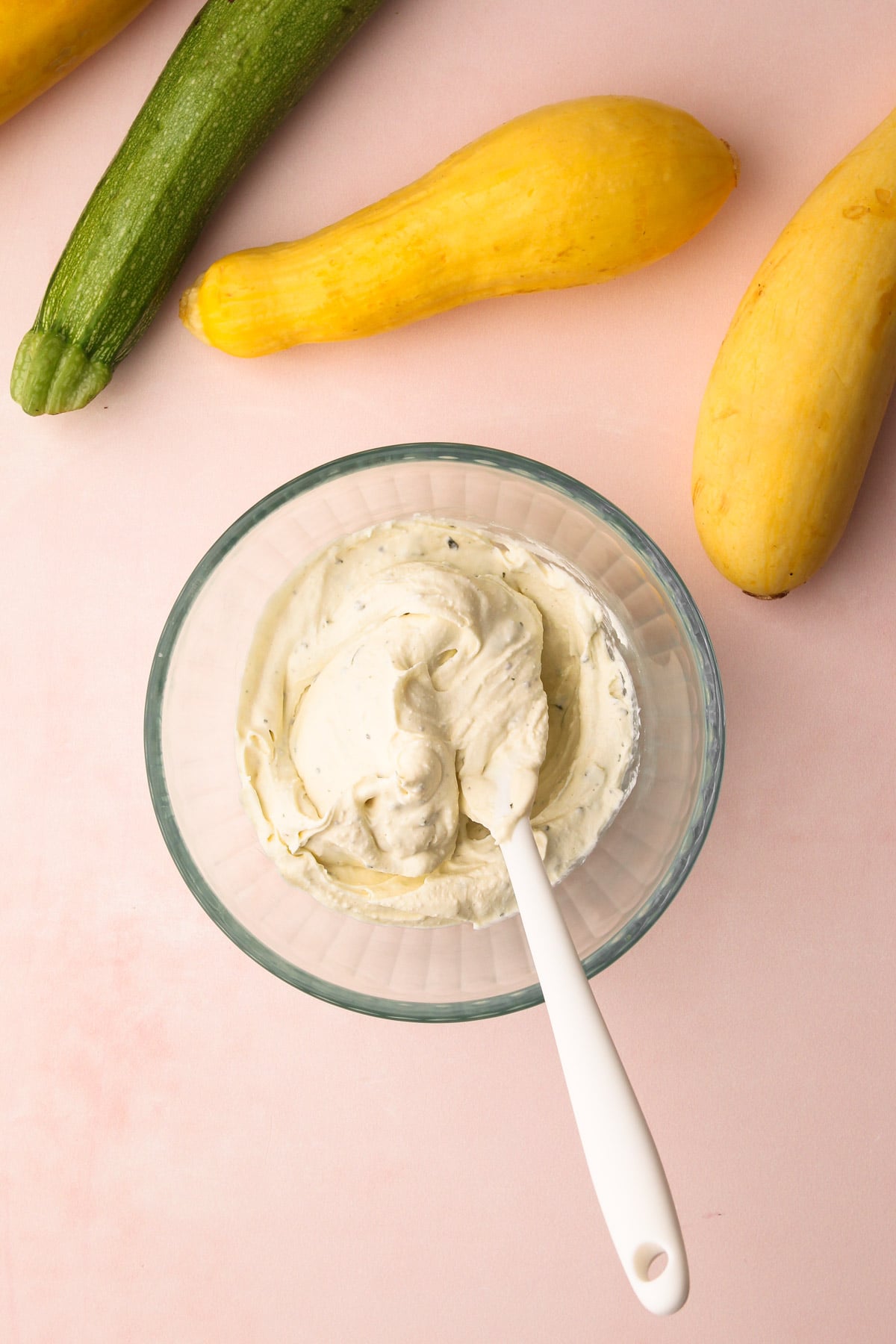 Step 2: Soften the Boursin until it's spreadable by mixing it with heavy cream.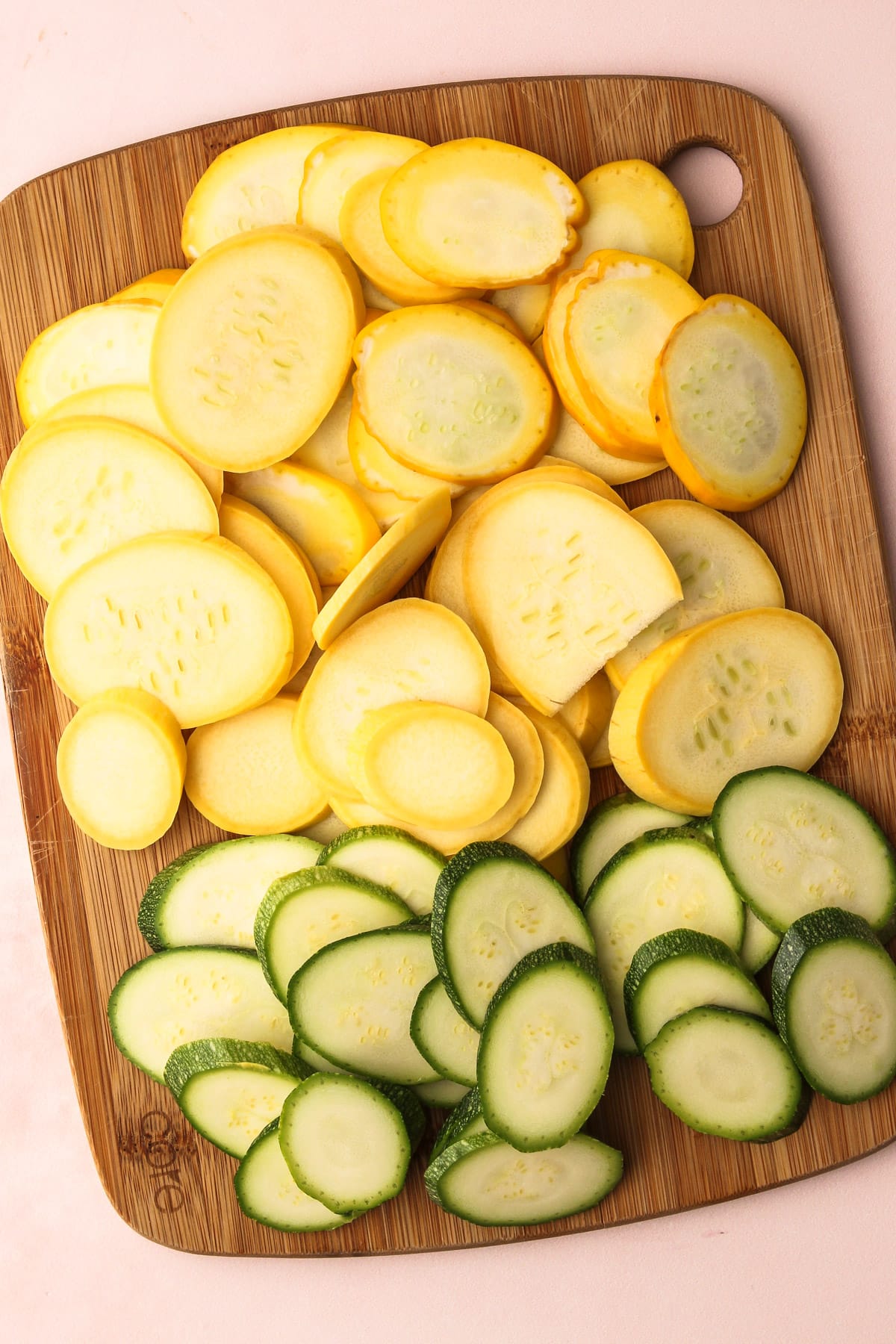 Step 3: Prepare the zucchini by thinly slicing it.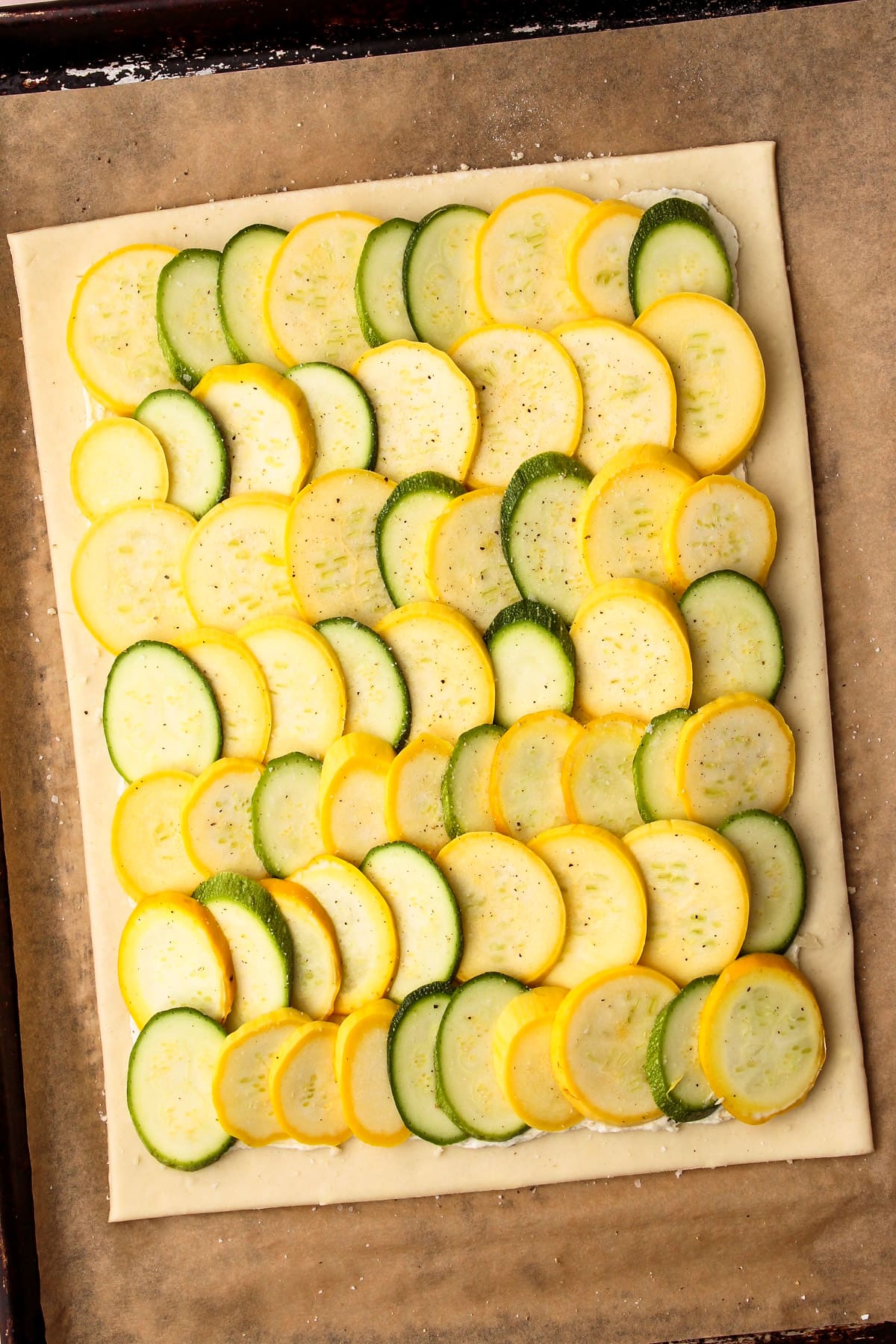 Step 4: Assemble the tart: Spread on the Boursin, add some Parmesan cheese, then shingle the zucchini.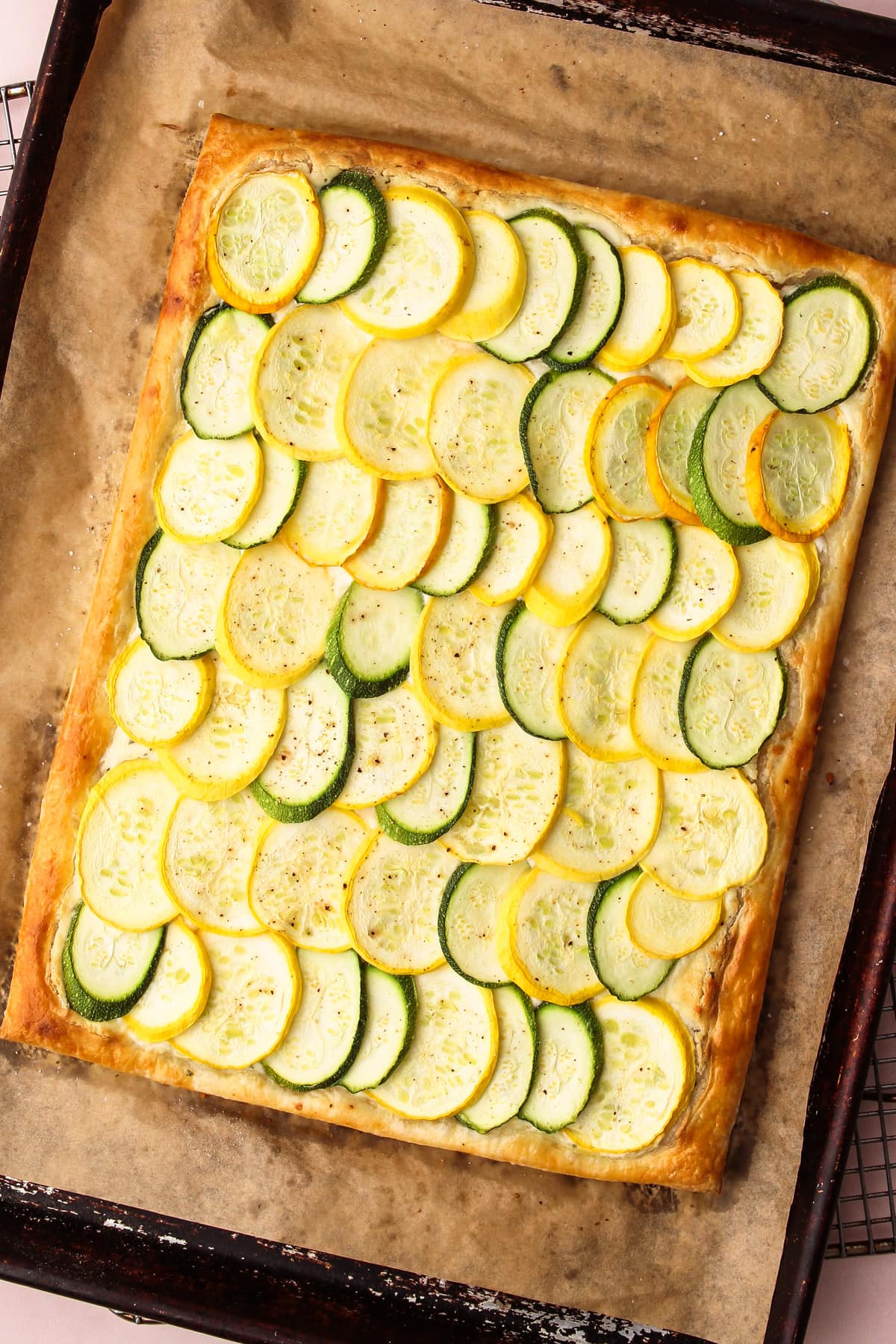 Step 5: Bake!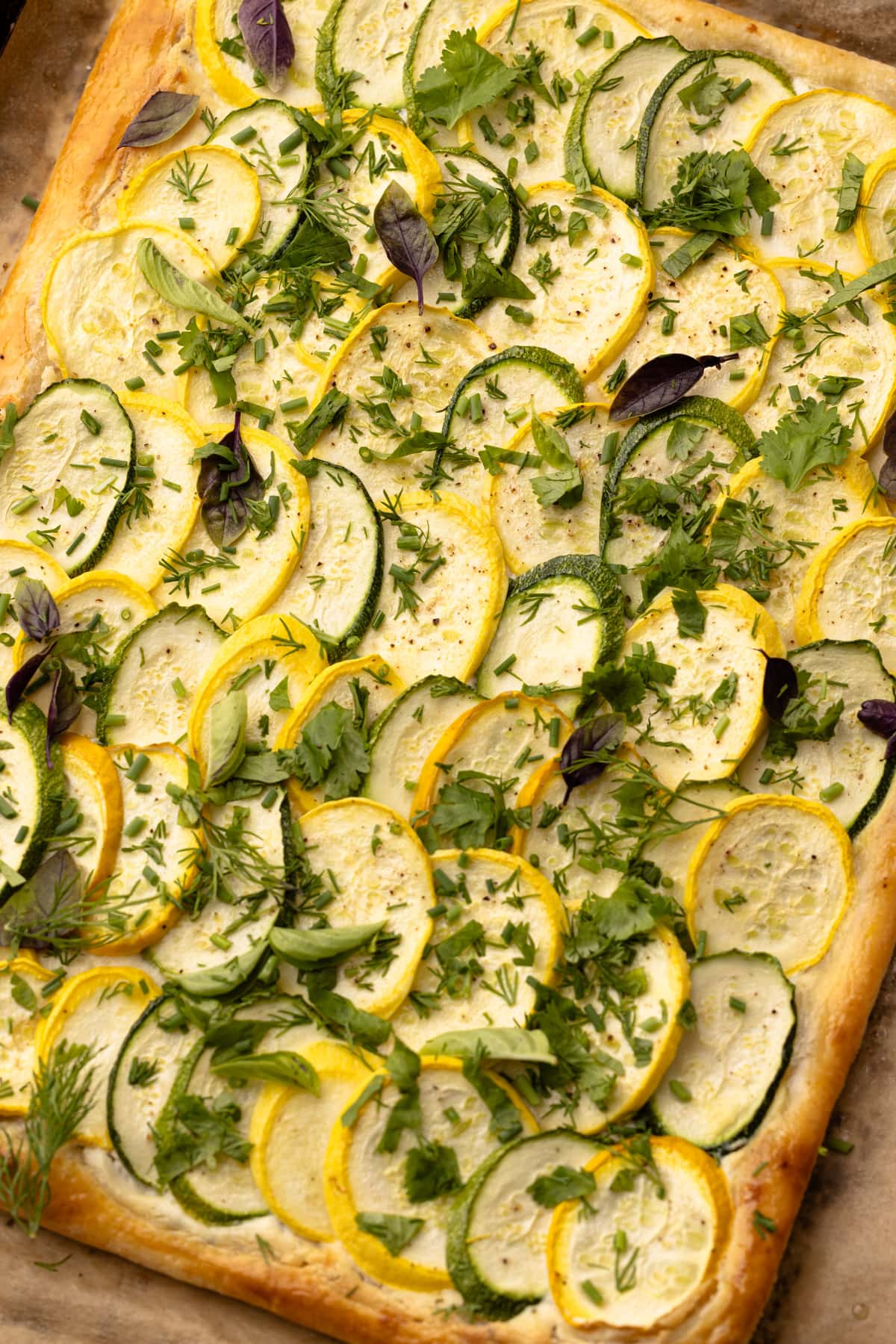 Step 6: Just before serving, top with some good-tasting olive oil and a shower of fresh herbs.
Serving the Tart
The tart should be served soon after it comes out of the oven. It should cool for a few minutes on a wire rack until it's no longer too hot to handle. Then drizzle with good olive oil and liberally sprinkle with fresh herbs.
What herbs you use is a personal choice, but a combination is great. I especially like a combo of basil, chives and dill. If you just have one herb, that's okay, too. Just don't skip out on adding fresh herbs, as it really helps this dish feel bright and summery.
Slice the tart into 12 or 16 square pieces and serve while it's warm or at room temperature.
Leftover zucchini tart can be stored in an airtight container for 1-2 days, and reheated in a toaster oven.
More Savory Pies
I am so honored when you make a recipe from my site! If you make this Easy Zucchini Tart, please leave a star ⭐️ rating with your experience! If you have any questions about this recipe, feel free to comment here, and tag me on Instagram!
Print
Full Recipe
Puff Pastry Zucchini Tart
This easy Zucchini Tart is made with puff pastry, Boursin cheese, and thin-sliced zucchini. It's simple to prepare but packed with flavor.
Author: Kelli Avila
Prep Time:

00:10

Cook Time:

00:20

Total Time:

30 minutes

Yield:

12 slices

Category:

Savory Pie

Method:

Bake

Cuisine:

American
1

(14 or

16

-ounce box) prepared puff pastry, or

½

recipe rough puff pastry

1

(5.2 ounce) container Boursin (Gournay cheese)

¼ cup

(

56 grams

) heavy cream

2

-

3

zucchini and/or summer squash, washed and sliced thin (about ¼" to ⅛" thick)

⅓ cup

grated Parmesan cheese (see note)

1

-

2

tablespoons good olive oil

½ cup

fresh herbs (such as basil, dill, and chives)
Salt and pepper
Instructions
Thaw or prepare your puff pastry. The recipe is flexible to work with either half a recipe of homemade rough puff (I highly recommend this) or 1 (14-ounce or 16-ounce) box of puff pastry. Preheat your oven to 400°F and place an oven rack in the lower-middle part of the oven. Line a baking sheet with parchment paper.
Roll out the thawed puff pastry sheet on a lightly floured surface to a rough rectangle about 8" by 12". Place it on the prepared baking sheet. If your puff pastry comes in two square sheets, create one large rectangle by brushing a bit of water on the edge of the puff pastry and then overlapping the pieces. Roll it out to adhere them together and create an even thickness.
Using a knife, score a 1" border around the puff pastry edge, making sure not to cut all the way through the pastry.
Use a fork to "dock" the middle part of the puff pastry.
Transfer the puff pastry to the refrigerator until ready to use.
Add the Boursin and the cream to a bowl. Using a spatula, mix the two together until it's a spreadable consistency.
Spread the Boursin mixture evenly onto the puff pastry, leaving the borders empty.
Sprinkle the Parmesan cheese on top of the Boursin, then arrange the zucchini slices on top in a shingle pattern. Sprinkle the zucchini with a big pinch of salt and pepper.
Brush the edges of the pastry with an egg wash.
Bake in the preheated oven for 20-25 minutes, or until the puff pastry is golden brown and the zucchini slices are tender.
Remove the tart from the oven and let it cool slightly on a wire rack.
Just before serving, drizzle the zucchini with good olive oil and sprinkle with chopped fresh herbs.
Slice into 12-16 pieces and serve warm or at room temperature.
Notes
Boursin cheese is available in most grocery stores and comes in various flavors, with Garlic and Fine Herbs being the most popular and the one I recommend here.
Feel free to swap the Parm with any other hard cheese you like. Mozzarella works well, too!
To get the zucchini ready, make sure to wash and dry them before slicing them into thin pieces. Aim for a thickness of ¼" to ⅛", but the most crucial thing is to slice them to a consistent thickness. That way, they will cook evenly and finish at the same time.
Slice the tart into 12 or 16 square pieces and serve while it's warm or at room temperature.
Leftover zucchini tart can be stored in an airtight container for 1-2 days and reheated in a toaster oven.
Keywords: Puff Pastry Zucchini Tart
Some of the links on this page may be affiliate links. Everyday Pie is a participant in the Amazon Associates Program. As an Amazon Associate I earn from qualifying purchases, at no extra cost to you.