Rigatoni Pie is a baked pasta dish that is not only stunning to look at, but also incredibly delicious. Rigatoni pasta is placed vertically in a springform pan, stuffed with an herby ricotta filling, topped with meat sauce and mozzarella cheese, and baked to absolute perfection.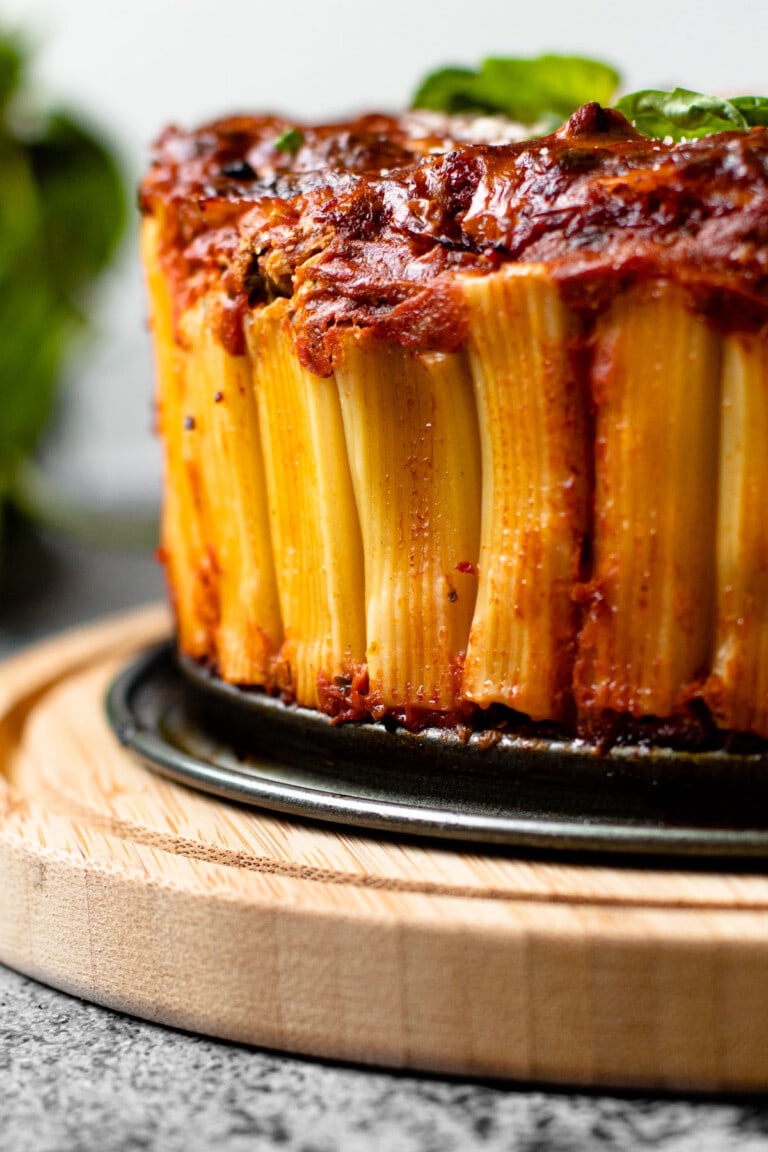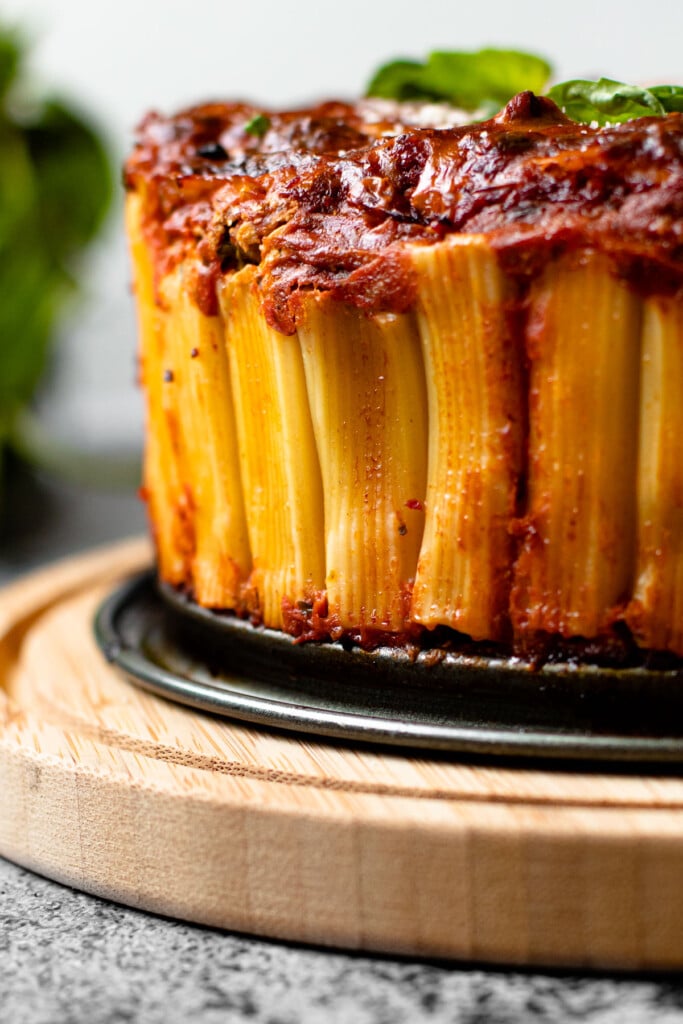 Rigatoni Pie
If you've never heard of a Rigatoni Pie, let me fill you in: This is basically a really pretty version of baked ziti. Only, made with rigatoni, and baked vertically. My version is stuffed with ricotta cheese--kind of like a lasagna--and layered with a meat sauce and mozzarella before heading off to the oven to bake into something truly magical.
The first question you might ask yourself when looking at this pretty spectacular looking pie is: is this hard to make? The answer is: not really. It's no more difficult than making lasagna. And, if you are thinking it is tedious to painstakingly place all the rigatoni vertical in a pan, I can say that I timed myself and it took me only 6 minutes. So, not a bad trade-off for a beautiful (and delicious) presentation!
Is Rigatoni Pie the same thing as Honeycomb Pasta?
Yes! Admittedly, I'm not on TikTok, but apparently, there was a version of Rigatoni Pie that went viral on TikTok and it was called Honeycomb Pasta. I'm guessing it was called this because the rigatoni when stood up looks like a honeycomb! In any event, whatever you choose to call this dish, it will be entirely delicious and an absolute crowd-pleaser.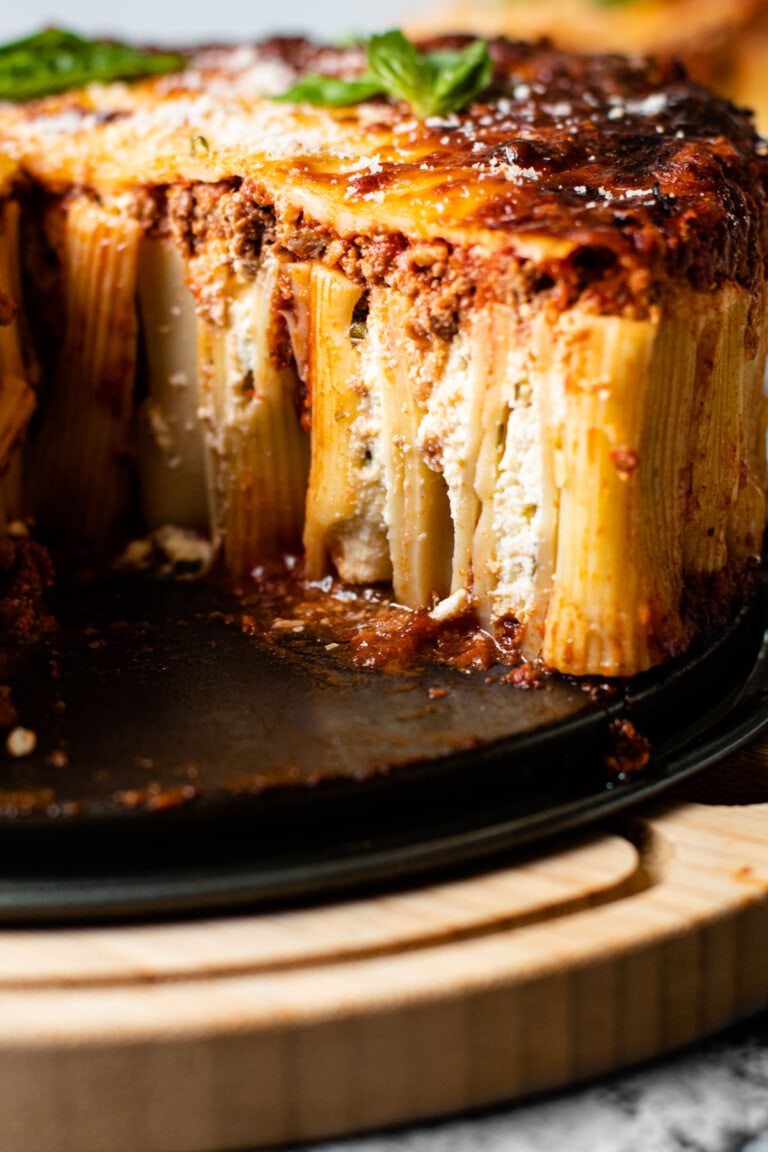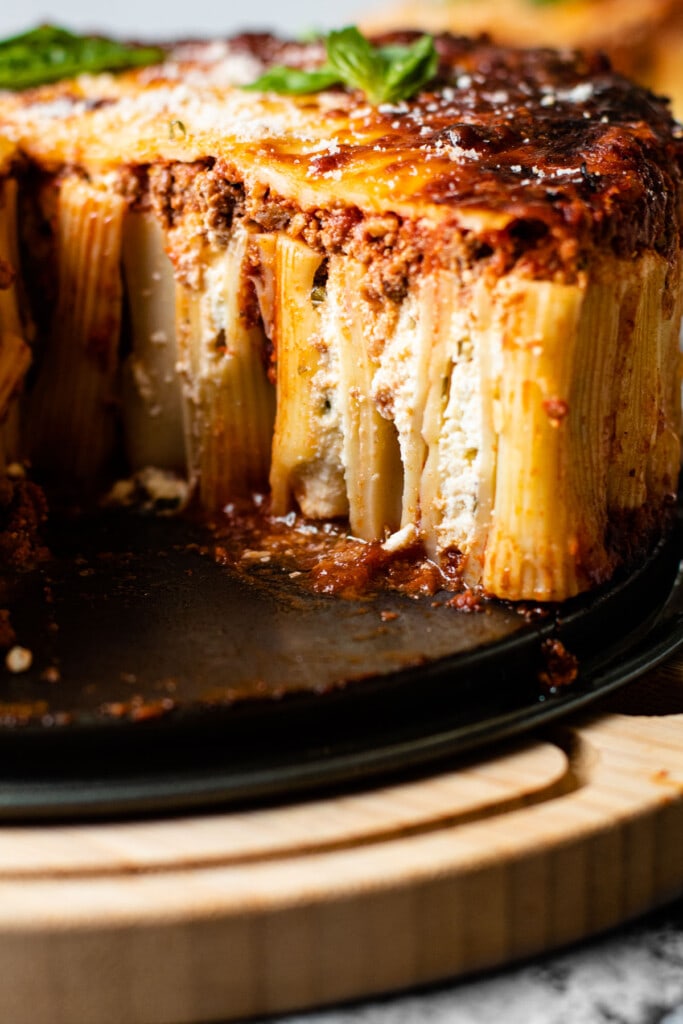 Main Ingredients for Rigatoni Pie
Here is an overview of the ingredients needed for this recipe. The full recipe is listed below in greater detail.
rigatoni pasta
tomato sauce
ricotta cheese + parmesan cheese + mozzarella cheese
ground beef and Italian sausage
herbs: dried Italian herbs + fresh Italian herbs
garlic powder + onion powder
egg
Useful Tools to Make It
Here is a list of some of the major tools I used in this recipe. You won't necessarily choose to use them all, but they are exactly what I used here. The links may contain affiliate links.
pastry bag or plastic storage bag (without an easy-fill bottom)
parchment paper
kitchen essentials: pots, bowl, whisk, spatula, etc
How to Make Rigatoni Pie
Here is a step-by-step overview of how to make this recipe. Keep scrolling for the full recipe with all instructions. This recipe takes about as much prep time as it takes to make a lasagna, due to the fact you have to assemble a few ingredients first, and then assemble the actual rigatoni pie. But, don't sweat it! The effort is definitely worth the final results.
Make a quick meat sauce.
Cook rigatoni, drain and rinse under cool water to stop it from cooking. You want the pasta to be al dente since it's going in the oven for another bake!
Mix together ricotta filling and place it into a piping bag or plastic storage bag. This makes it really simple to fill the rigatoni.
Assemble rigatoni pie (see below for some helpful tips).
Bake and enjoy!
Tips for Assembling a Rigatoni Pie
Don't be intimidated by assembling this, it's very easy to do. Start by being sure all of your pieces for the rigatoni pie are put together and prepared to be utilized. Don't start assembling it until everything is ready. Beyond that, here are some tips for a successful rigatoni pie:
Using a piping bag is easiest. It's best if you have a plastic one that you can either use a small enough piping tip that will fit inside of the rigatoni. No piping tip? Just snip the bag to a small opening so it can fit inside of the rigatoni.
If you don't have a plastic or cloth piping bag, you can use a plastic storage bag. However, it can't be one with an "easy-fill" bottom, since you need the edges of the plastic bag to be at a square angle. Fill the plastic storage bag and cut a very small opening on the corner to pipe the ricotta into the rigatoni.
Don't put oil on your pasta after it's been drained and cooled. I've found that having the pasta be a little bit sticky helps it easily stand up.
Use a parchment paper collar on your springform pan. I found out during a few test runs that lining the sides of my springform pan with parchment enables an easy release of the rigatoni pie. To line your springform pan with parchment: cut two long strips of parchment with the height slightly higher than the height of the pan. Lightly oil either the parchment paper or the spring form pan and place them inside.
Don't pack in the rigatoni too tightly. This allows for some space for the meat sauce to sink down in between, which gives it the right amount of sauce amidst the pasta.
How to Tell When Rigatoni Pie is Done
Because there is egg inside of the ricotta filling, it's important for the rigatoni pie to be thoroughly cooked. The best way to tell if anything in the oven is fully baked is to use an instant-read thermometer to check the temperature. The middle of the rigatoni pie should reach a temperature of above 165ºF to know that the egg ingredient is fully cooked.
If you don't have a thermometer, a good indication of when the pie is done is that the outside rim of the cheese has a baked appearance of bubbling and browning, and the middle of the pie has fully melted, and even started to lightly brown.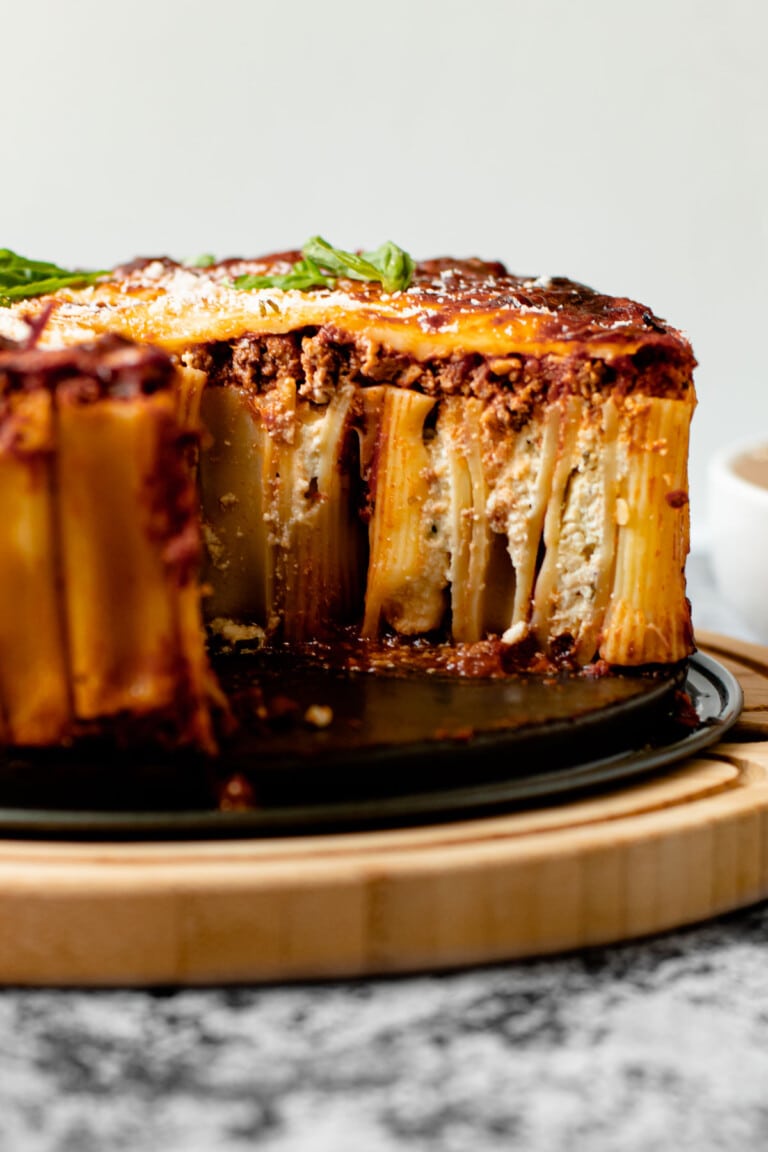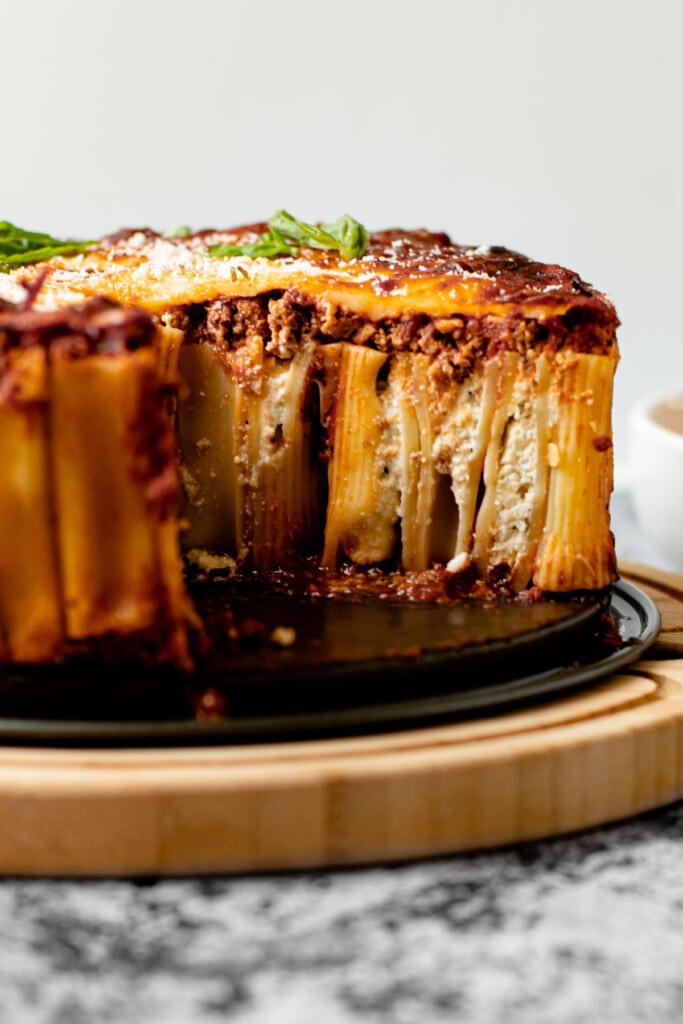 How to Serve It and Reheat It
Want to keep your rigatoni pasta standing up? Then you'll need to give it time to cool down, which is really no different than any other baked pasta dish. Rigatoni pie needs to cool for a minimum of 20 minutes. In my experience, I found that letting it cool for 30 minutes ensures it will keep its shape nicely when slicing.
This means you won't be serving it when it's steaming, but instead it will be pleasantly warm.
Serve the rigatoni pie with additional warmed meat sauce, and a sprinkle of basil or other fresh Italian herbs of parmesan cheese.
Can It Be Made Ahead of Time?
Honestly this pie taste better on day 3 and 4! Baked pasta dishes have a way of doing that. So I'm going to say that this whole dish can definitely be made ahead of time, and reheated in the oven. I'd suggest making it up to 2 days ahead of time. Reheat it covered with foil in a 350ºF until it's completely warmed through, which means baked above 135ºF.
Or, it can be assembled up until the point of baking, stored for up to 2 days, and then baked from the refrigerator. The baking will take significantly longer since the assembled pie will have been chilling. It might take up to 30 minutes more to bake.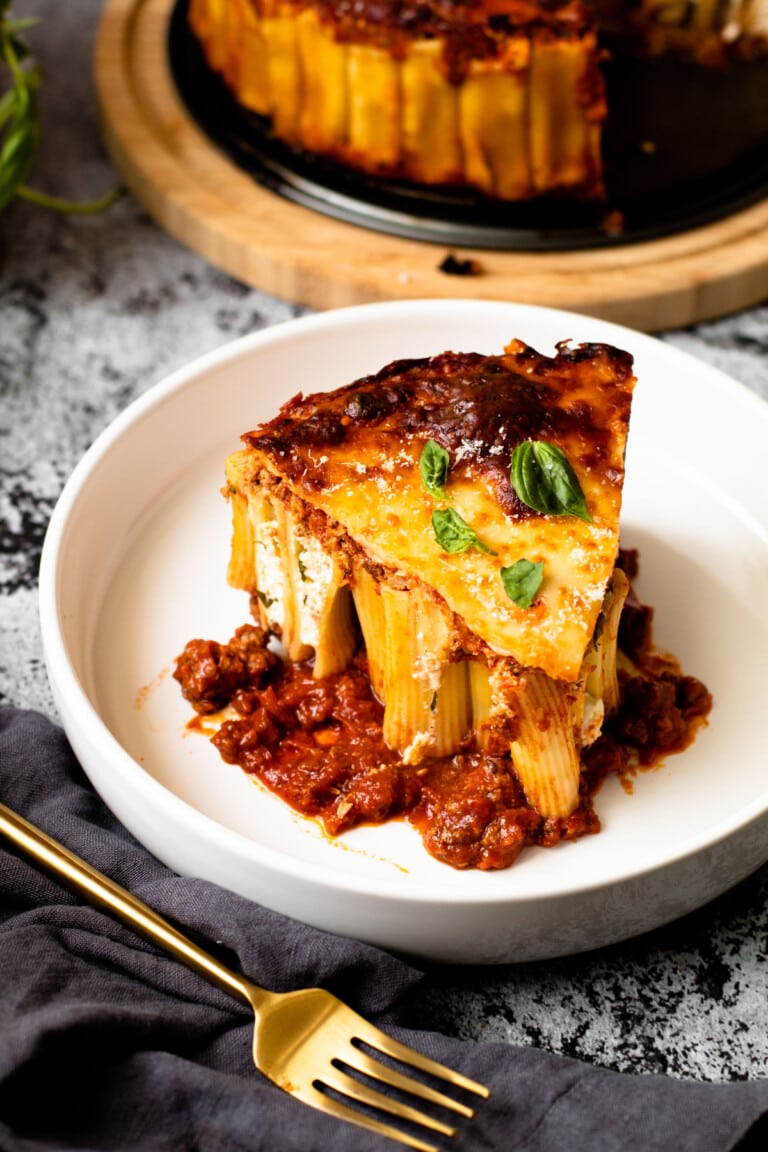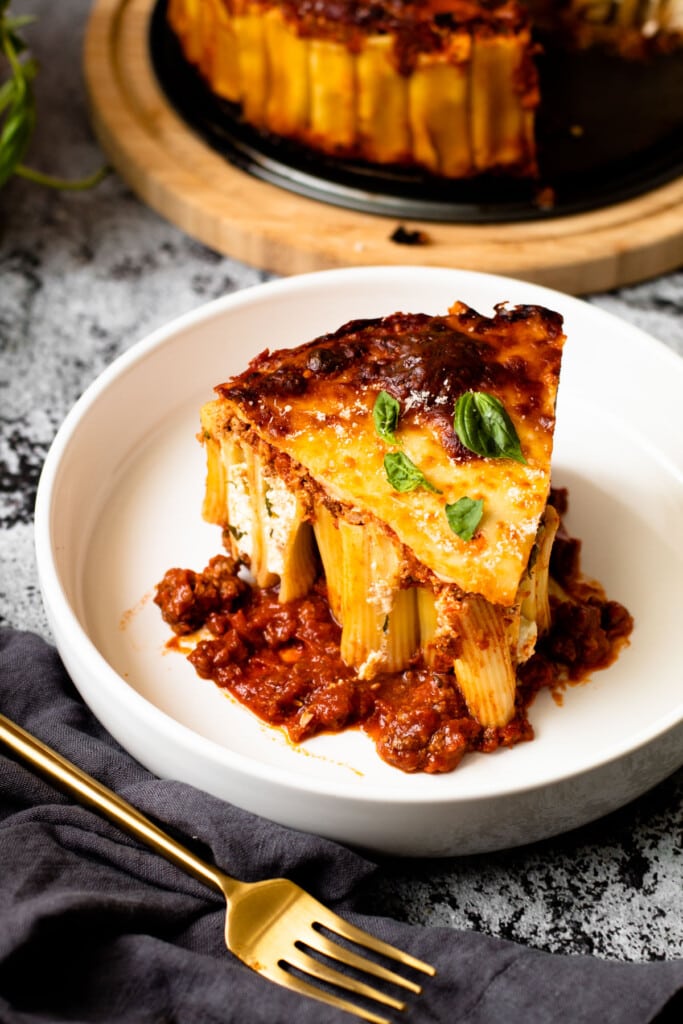 More Dinner Recipes:
I am so honored when you make a recipe from my site! If you make this Rigatoni Pie, please leave a comment and a star rating with your experience! If you have any questions about this recipe, feel free to comment here, too!
Print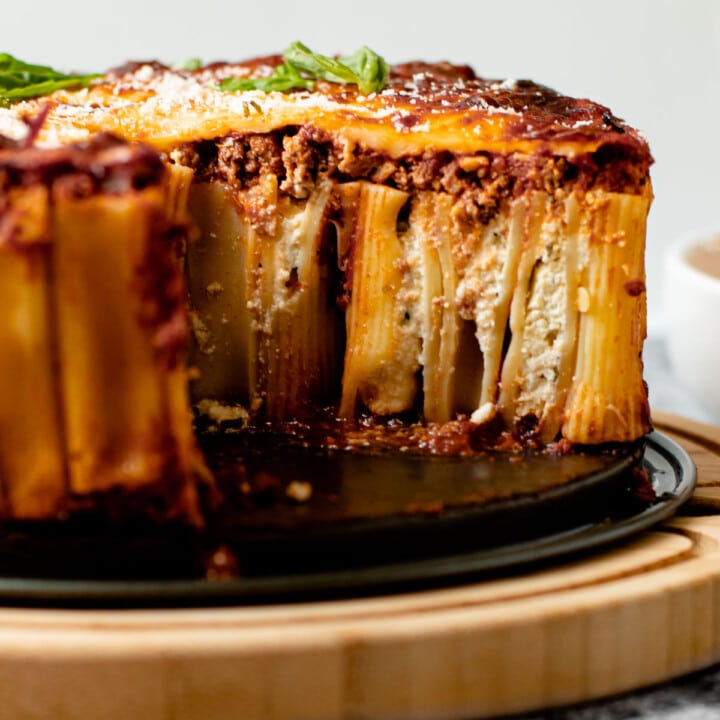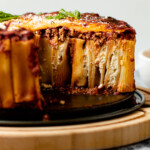 Ricotta Stuffed Rigatoni Pie
Author:

Kelli Avila

Prep Time:

00:20

Cook Time:

01:15

Total Time:

1 hour 35 minutes

Yield:

Serves 6-8

Category:

Savory Pie

Method:

Bake
---
Description
Rigatoni Pie is a baked pasta dish that is not only stunning to look at, but also so delicious. Rigatoni pasta is placed vertically in a springform pan, stuffed with an herby ricotta filling, topped with meat sauce, mozzarella cheese and baked to absolute perfection.
---
For Quick Meat Sauce:
1 teaspoon

olive oil

¼

pound ground sausage

1

pound ground beef

1 tablespoon

Italian seasoning

1 teaspoon

garlic powder

1 teaspoon

salt

½ teaspoon

onion powder

3 tablespoons

tomato paste

1

(28-ounce) can tomato sauce

1 cup

water
For Ricotta Filling:
1

(15 ounce) container ricotta cheese

1

egg

½ cup

grated parmesan cheese

2 tablespoons

minced basil or other Italian herbs (or

1 tablespoon

dry)

½ teaspoon

salt

¼ teaspoon

black pepper
For Assembling:
16 ounces

rigatoni pasta

2 cups

shredded mozzarella
Fresh parmesan, for serving
Basil, for Serving
---
Instructions
Pre-heat oven to 400ºF and rub olive oil on the bottoms and the side of a 9" springform pan and place on a rimmed baking sheet. Cut two long strips of parchment paper slightly taller than the height of the springform pan and line the sides of the springform pan. This makes it easier to unmold the pasta dish at the end, and this step is optional.
Heat oil over medium heat in a large dutch oven. Once hot, add ground sausage and beef and cook until no pink remains, about 7 minutes. Add Italian seasoning, garlic powder, salt, onion powder, and tomato pasta and stir. Cook for 1 minute, until fragrant. Then add in tomato sauce, and water to combine. Bring the sauce to a boil, reduce the heat to simmer, and loosely cover the pot. Continue to simmer the sauce, stirring occasionally, while you assemble the rest of the ingredients, which should be about 15-20 minutes. The sauce should be thickened.
Prepare ricotta mixture: Add ricotta, egg, parmesan, herbs, salt and pepper to a bowl and mix together until fully combined. Transfer ricotta filling to a plastic piping bag either with a piping tip smaller than the whole of the rigatoni pasta, or a plastic storage bag with a small hole snipped off of the end. 
Meanwhile, cook the pasta: Bring a large pot of salted water to a boil. Do not add oil. Add rigatoni and cook, uncovered, until the pasta is al dente—about 2 minutes less than the package instructions state. Drain the pasta through a colander and rinse with cool water until it is no longer hot.
One by one, stand up the rigatoni pasta in concentric circles in the prepared springform pan. Pack them so that they all stand up vertically on their own, but not so tightly that there is no space at all between them.
Fill each rigatoni tube with just enough ricotta filling to reach the top. Place 1 cup of meat sauce on top, and smooth it over with a spatula so that the sauce fills in the gaps in between the rigatoni. Place another 1 cup of meat sauce, and smooth it over. Top with 2 cups of mozzarella cheese.
Lightly oil a piece of aluminum foil, and loosely cover the top of the springform pan.
Bake in the center of the oven for 35 minutes. Remove the aluminum foil and continue to bake until the cheese is bubbly and golden on the outer edges and beginning to darken in spots towards the center. The middle of the rigatoni pie should have reached an internal temperature of at least 165ºF.
Let the pie cool for at least 20-30 minutes before unmolding.
To unmold, run a knife around the edges of the pie. Unsnap the springform pan and carefully remove the sides of the pan. If the rigatoni pie is still steaming hot, wait a bit longer to cut in to keep the structure of the pie intact.
Slice and serve with warmed additional meat sauce, and garnish the pie with additional parmesan cheese and fresh herbs.
---
Some of the links on this page may be affiliate links. Everyday Pie is a participant in the Amazon Associates Program. As an Amazon Associate I earn from qualifying purchases, at no extra cost to you.