A list of 24 unique and amazing Savory Pie Recipes perfect for any meal from breakfast, appetizers, dinner, and everything in between.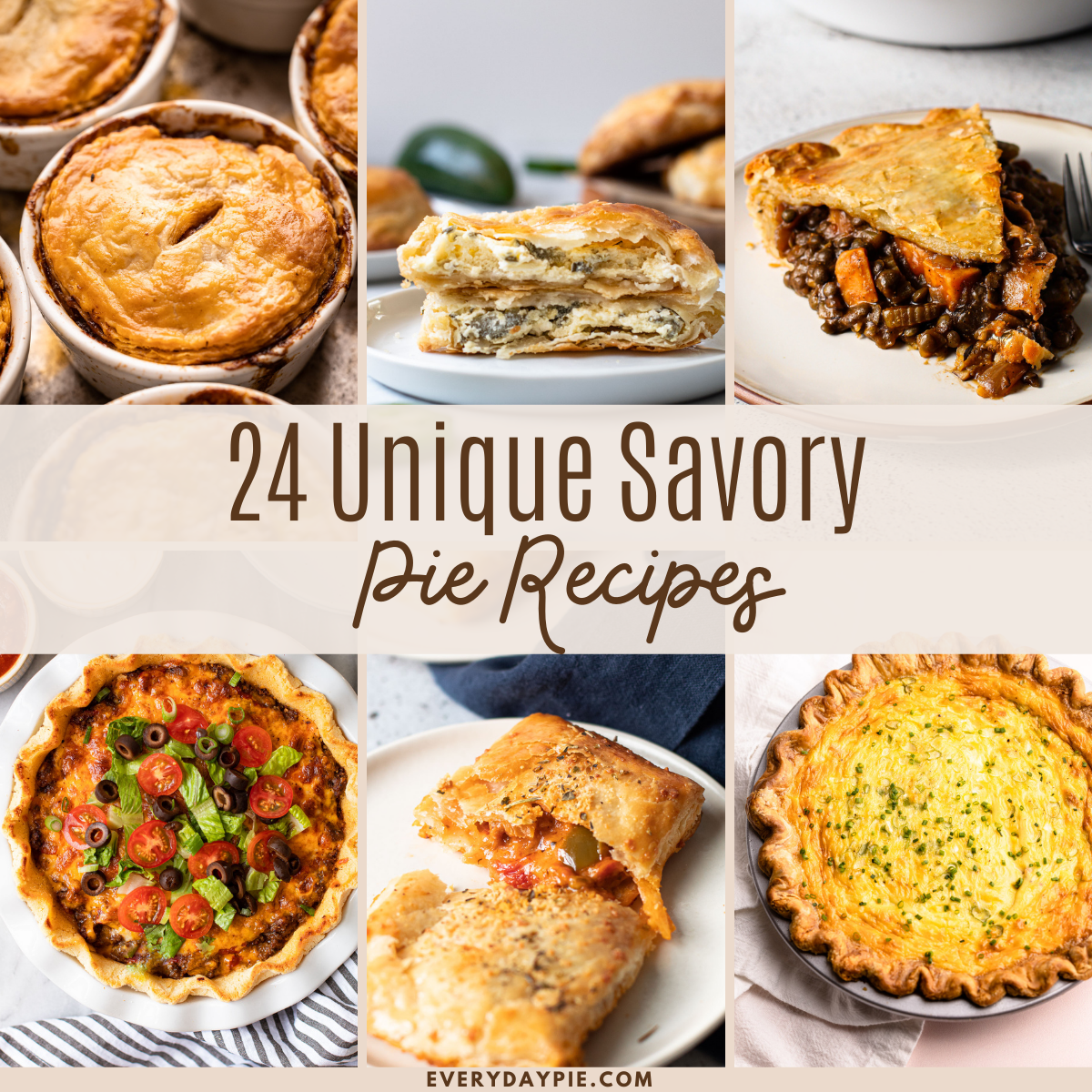 As somebody who runs a pie website and pie social media channels, I can say that sweet pies tend to have that wow-factor that makes a person stop short of their tracks. However, when it comes to actually eating a delicious pie, as a former pie business owner I can say that a good savory pie is the one that keeps customers coming back for more.
Savory pies--ranging from meat pot pies to delicious hand pies--are perfect to serve as apps, breakfast lunch or dinner! They can make a great vegetarian main dish at a feast, or a perfect light lunch.
I'm sharing a list of all of my best savory pie recipes. Go ahead and bookmark this page for the next time you need an amazing savory pie recipe!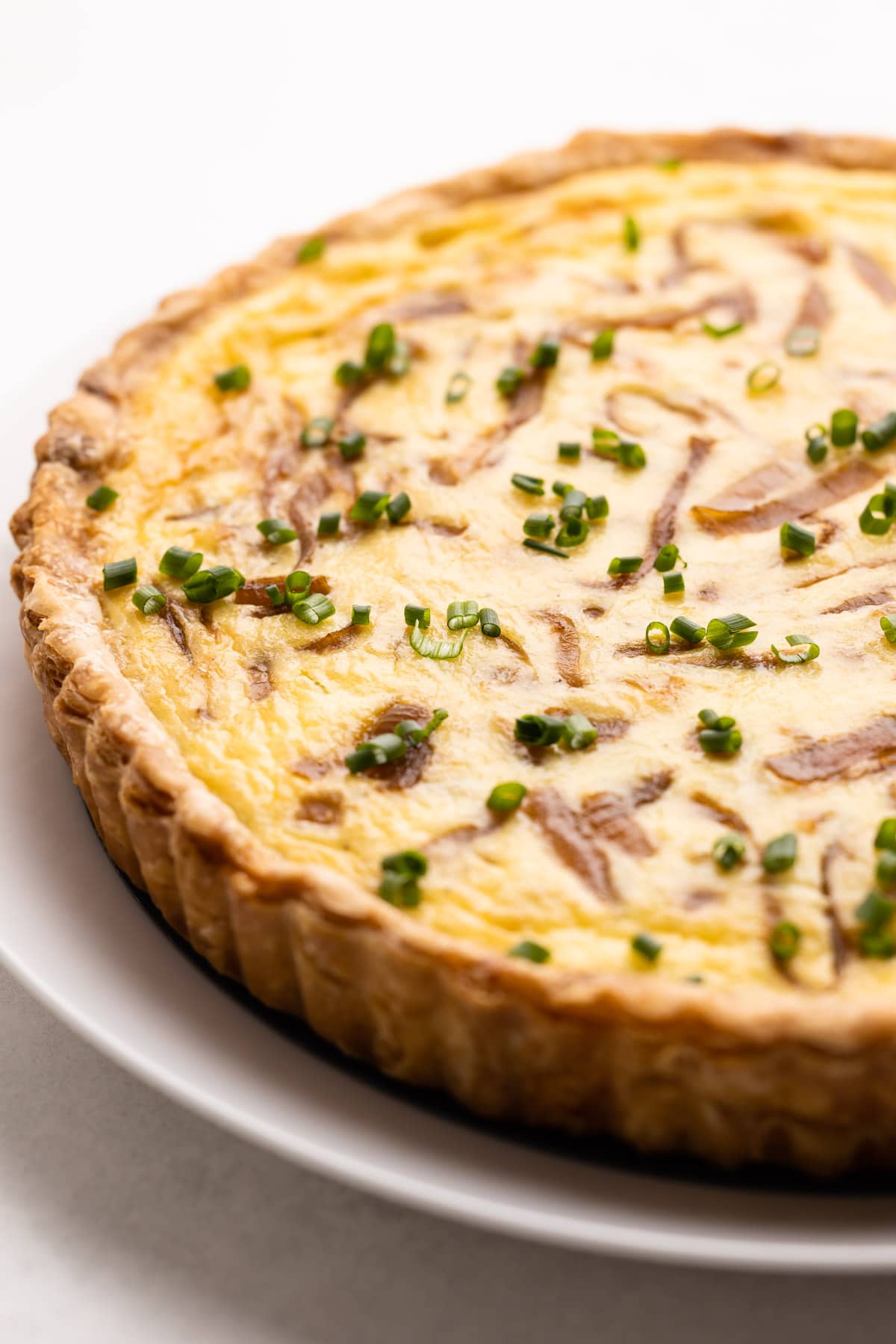 Made with eggs, gruyere, and jammy sweet onions, this Caramelized Onion Quiche is a rich and flavorful savory pie perfect for any meal of the day, and any day of the week.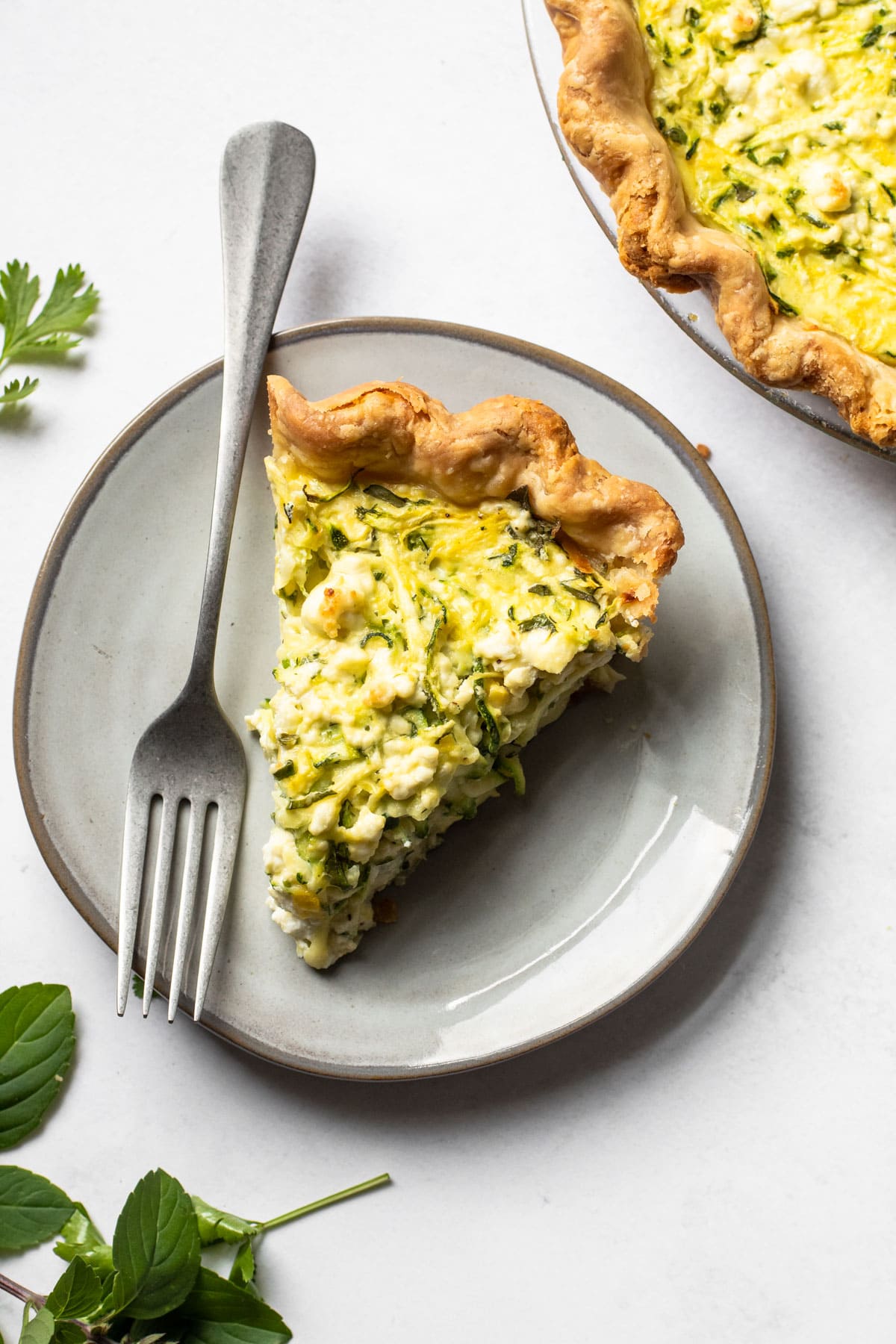 A savory Zucchini Pie with Goat Cheese and Herbs is the perfect way to use up all of that fresh summer zucchini. This pie makes for a great light dinner when paired with a salad, but also shines as the perfect brunch addition, or an appetizer to serve at a party.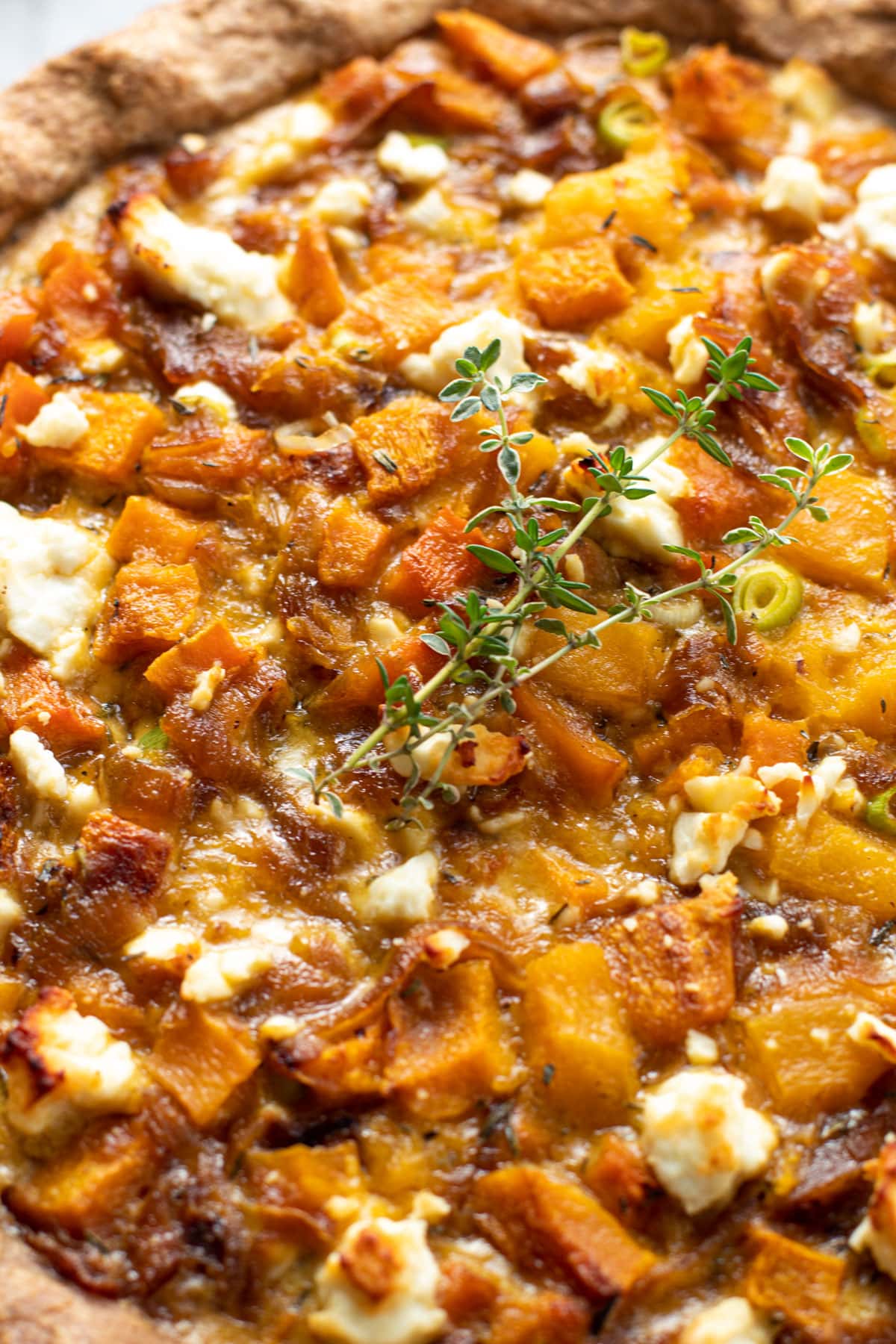 This Savory Butternut Squash Pie with Caramelized Onions and Feta is bursting with flavor! It's one of those pies that you take a bite out of and just marvel at how flavorful it is. It's sweet, it's savory, and salty and should absolutely be your next baking project!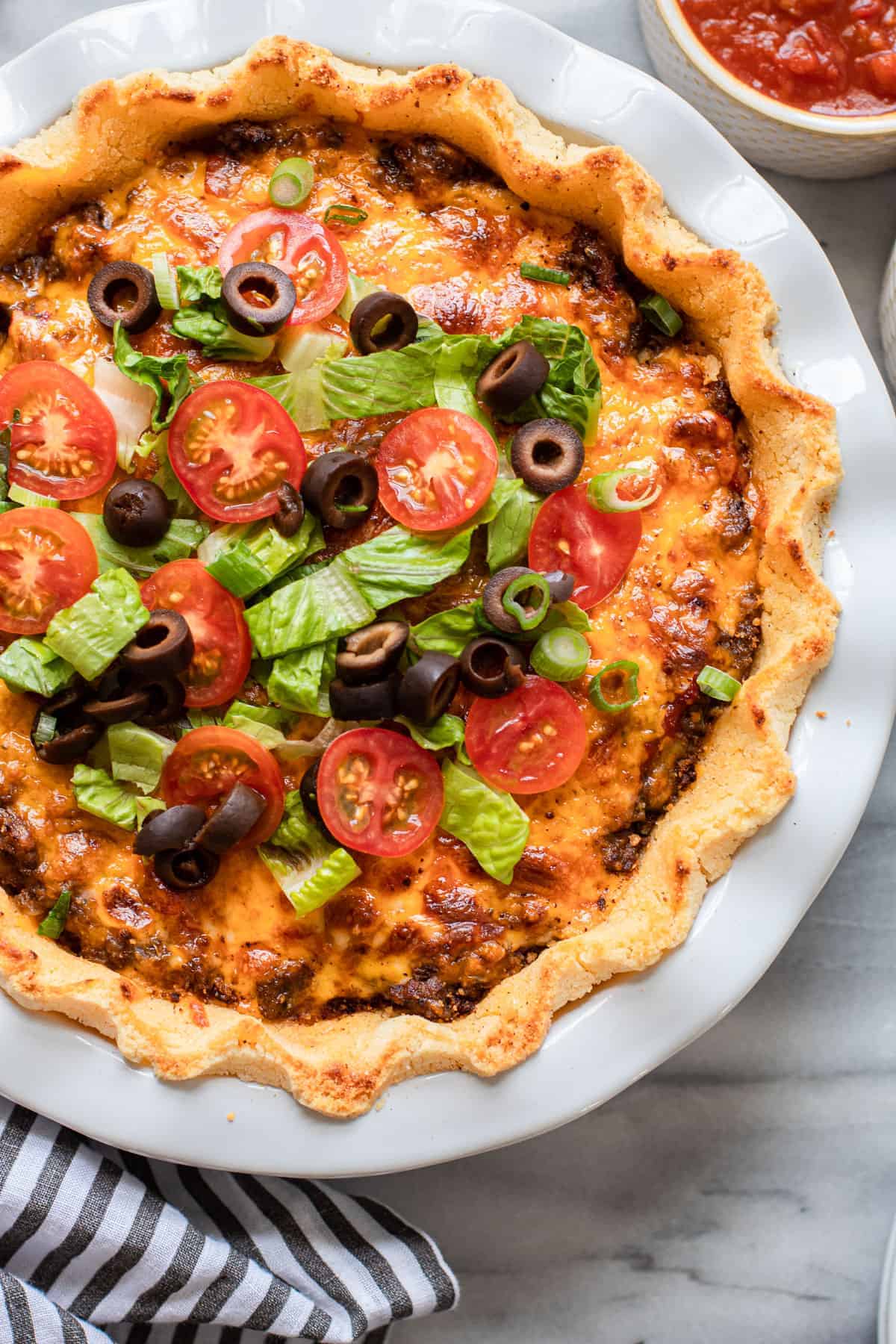 This Beef Taco Pie is like a combination between a classic (American) taco and a tamale. The crust is made of a masarepa dough, then filled with a classic beef taco mixture and ooey-gooey melted cheese, and lastly, topped with all of your favorite fixings!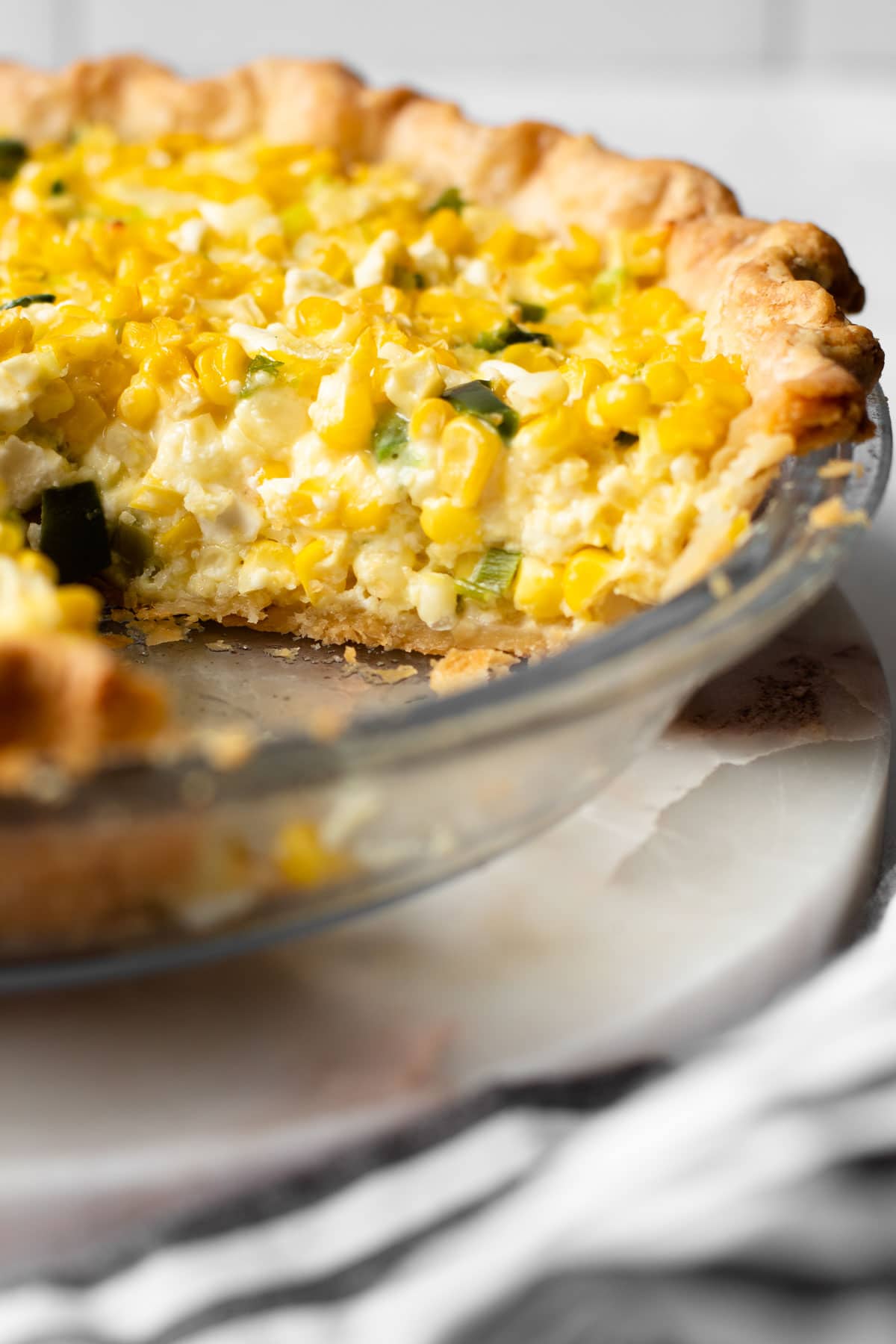 This Corn Pie with Hot Pepper and Feta is the ultimate summer savory pie! With sweet summer corn in abundance, it's the perfect brunch or dinner pie.
This vegetarian Lentil Pot Pie features hearty lentils, mushrooms and sweet potatoes in an umami-packed gravy, all baked inside of a buttery double pastry.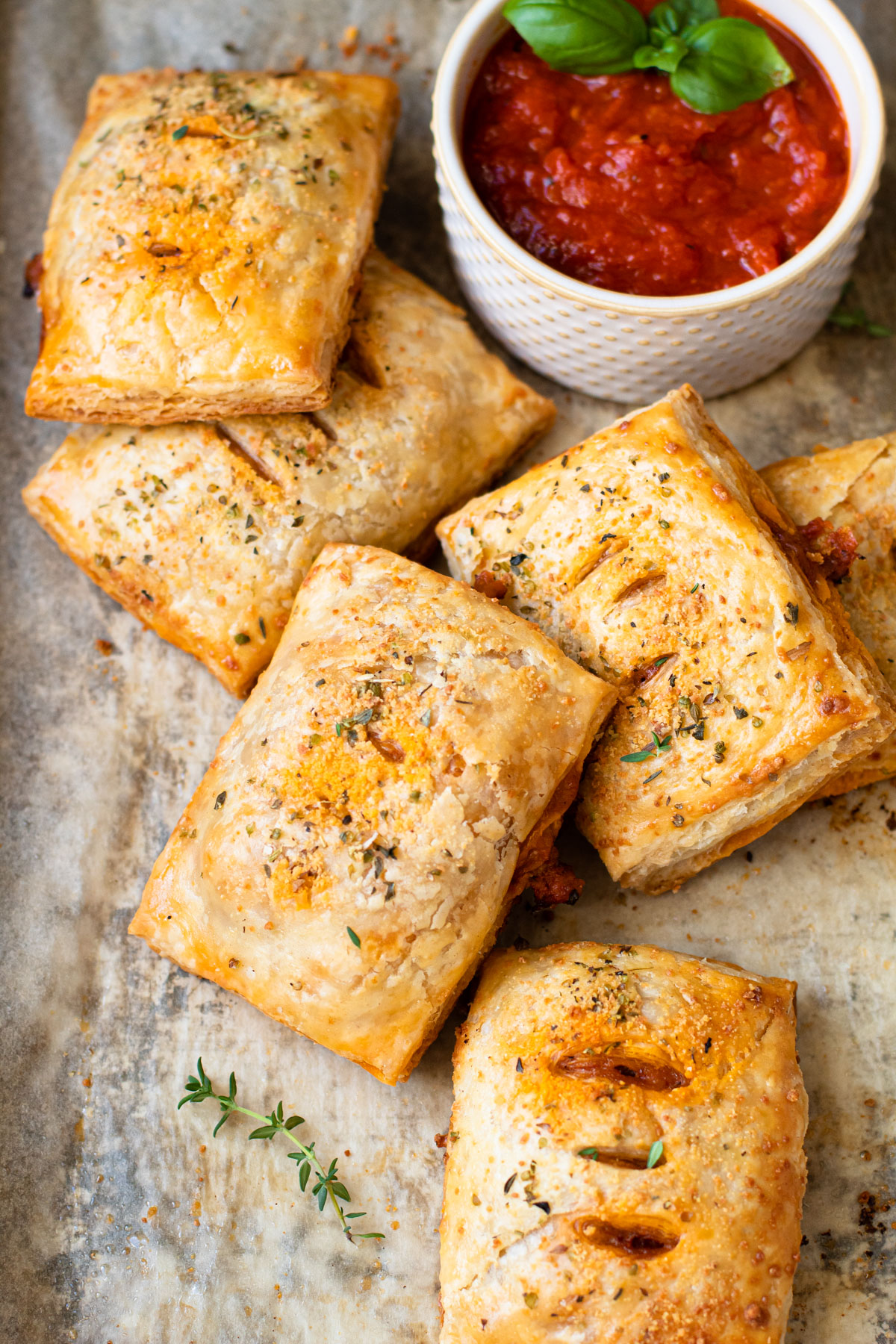 A rich supreme pizza filling is sandwiched between flaky pie dough, sprinkled with parmesan cheese and Italian seasoning and then baked to perfection; it makes for a flaky iteration of pizza night! Supreme Pizza Hand Pies work just as well for dinner, or even for a fun lunchbox treat for the kids.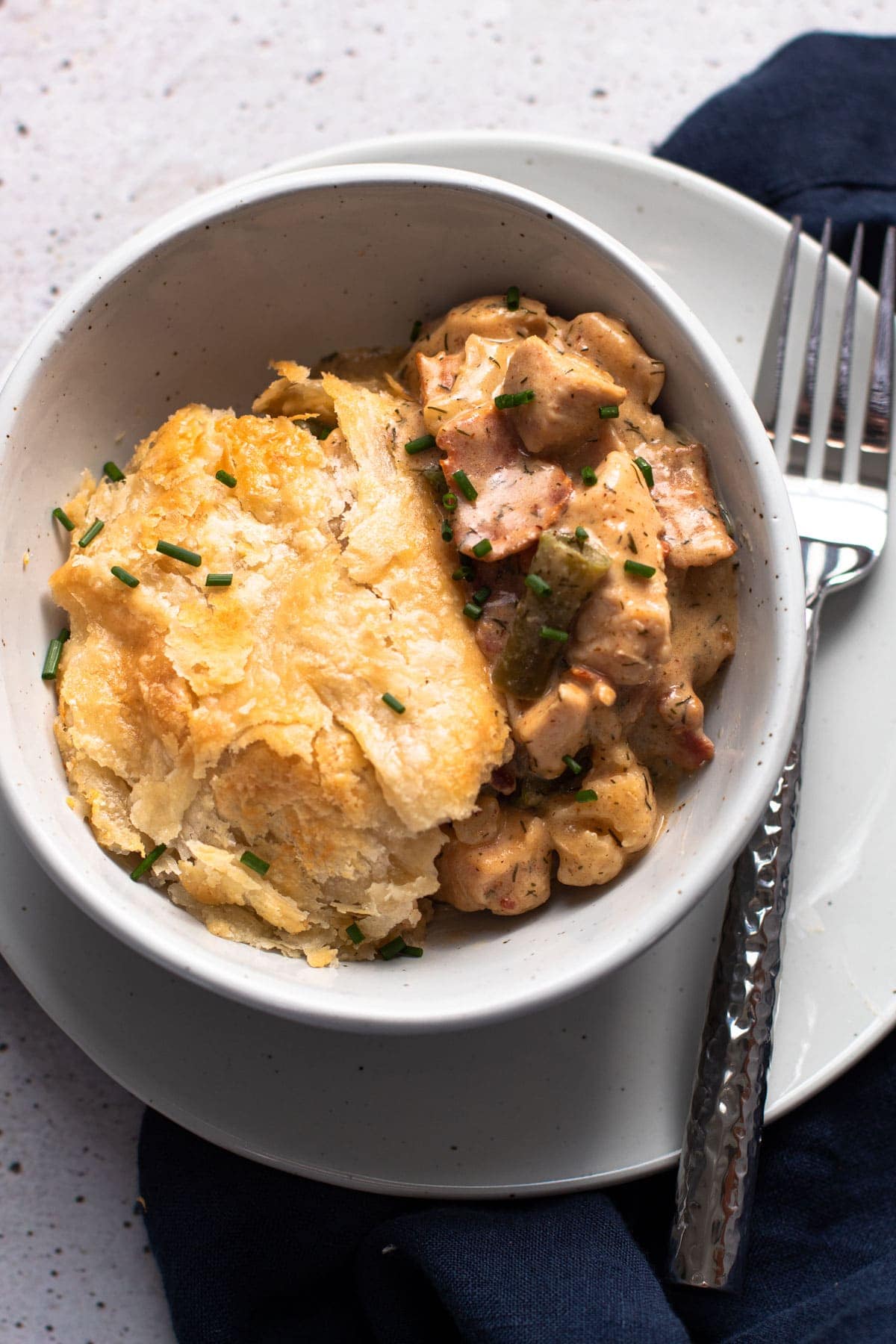 Comfort food to the max, this Chicken Bacon Ranch Pot Pie is made from a handful of real wholesome ingredients, a homemade ranch spice blend and the flakiest top crust ever. Everyone is going to love this one.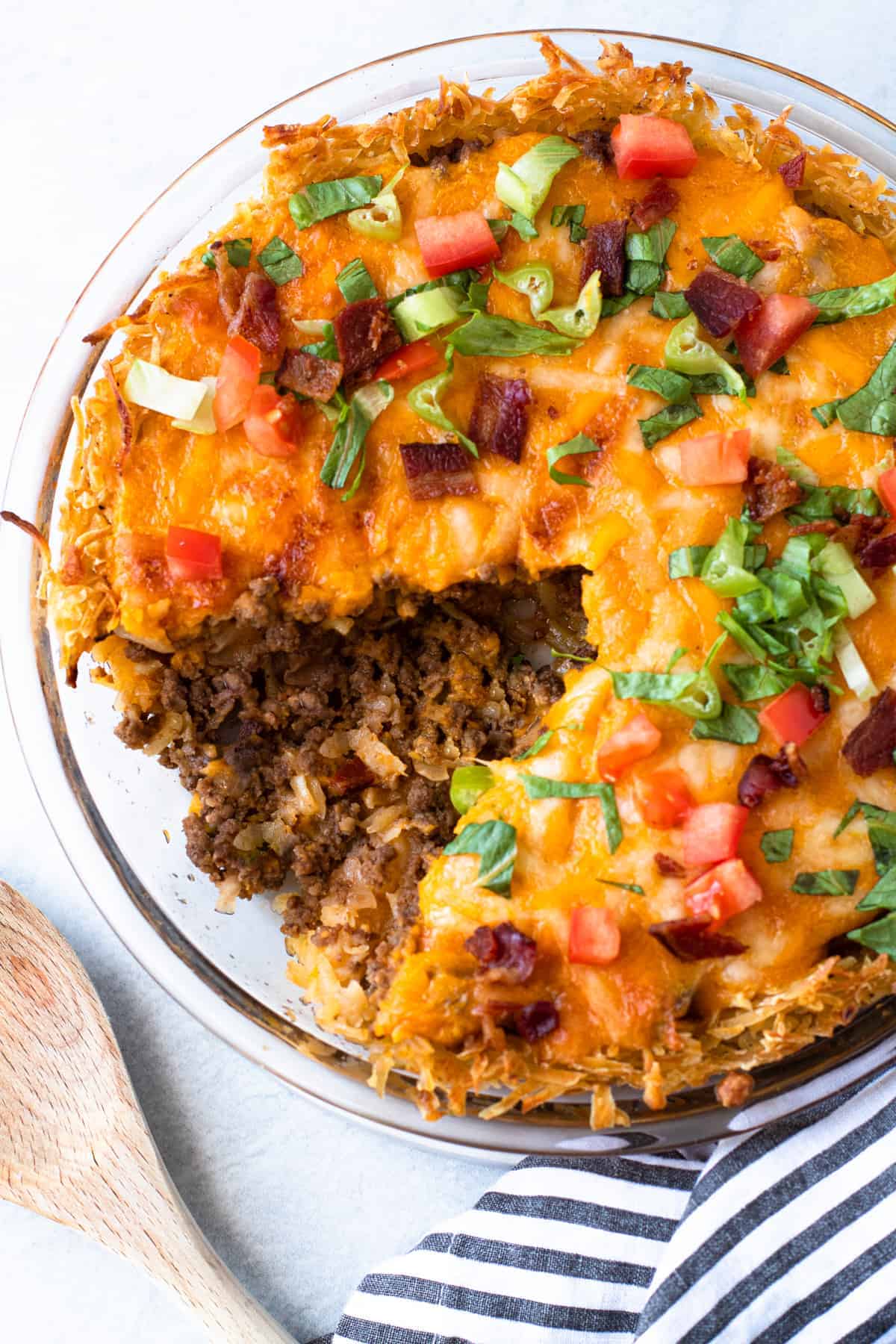 Cheeseburger Pie is a new twist on an old American classic. Perfectly seasoned ground beef smothered in a cheese sauce made with a hidden veggie and baked in a shredded potato crust. Leave the grill out of it; let your oven do all the work for the taste of this backyard cook-out in pie form!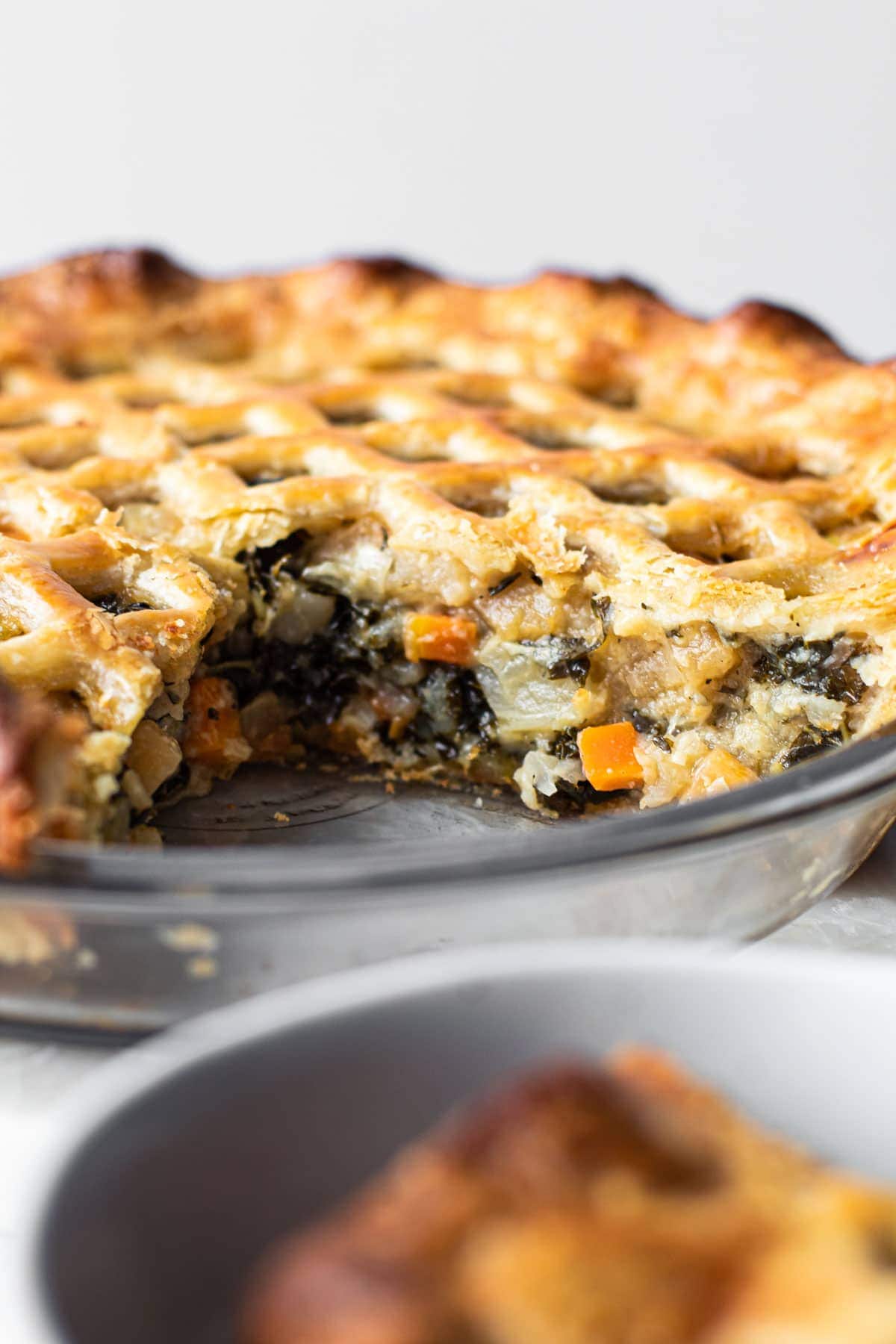 A cozy dinner if there ever was one, this Winter Vegetable Pot Pie is made with root veggies and kale in a vegetarian gravy and baked up inside a double pie crust. Each warm bite will help melt away the chill of winter.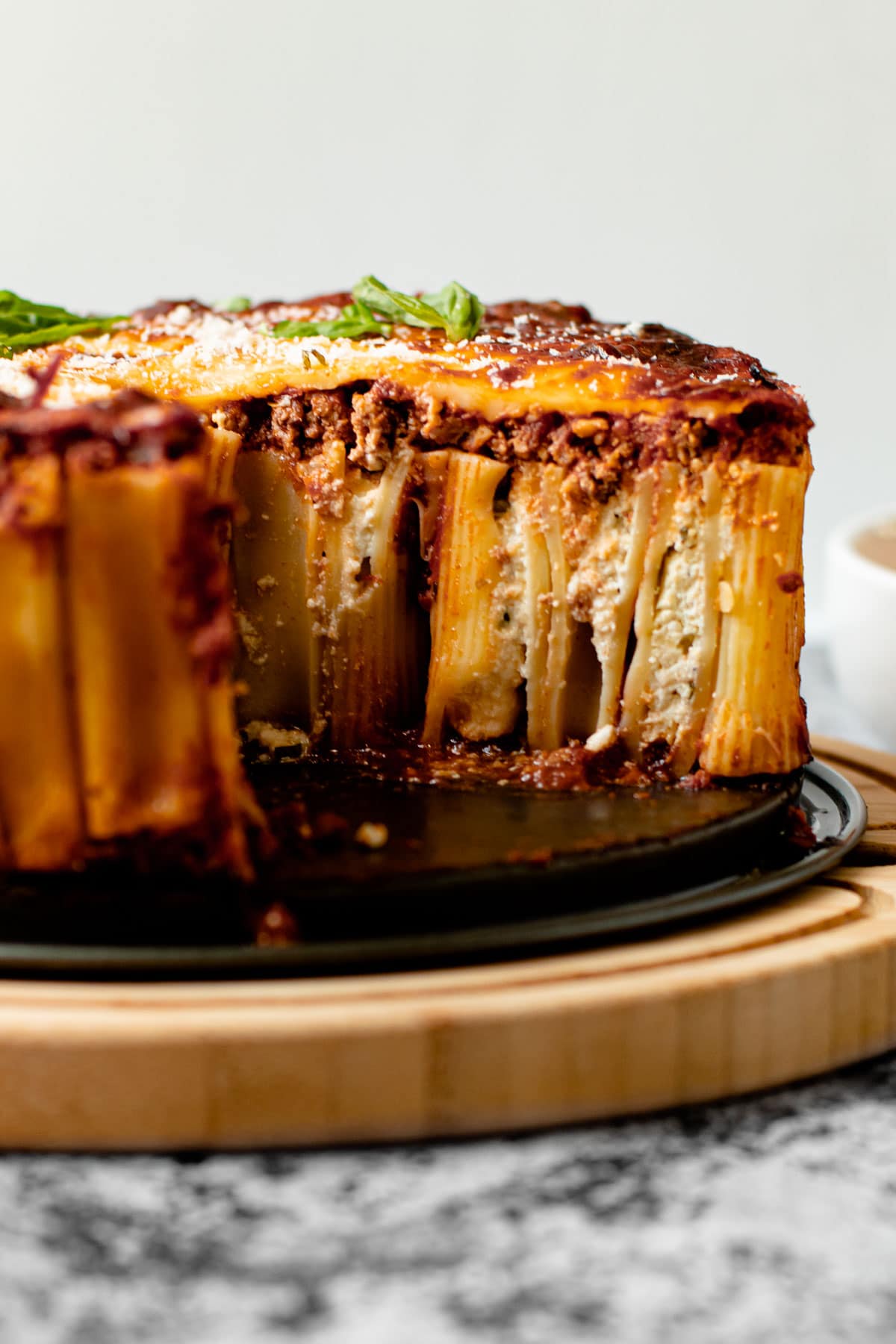 Rigatoni Pie is a baked pasta dish that is not only stunning to look at, but also incredibly delicious. Rigatoni pasta is placed vertically in a springform pan, stuffed with an herby ricotta filling, topped with meat sauce and mozzarella cheese, and baked to absolute perfection.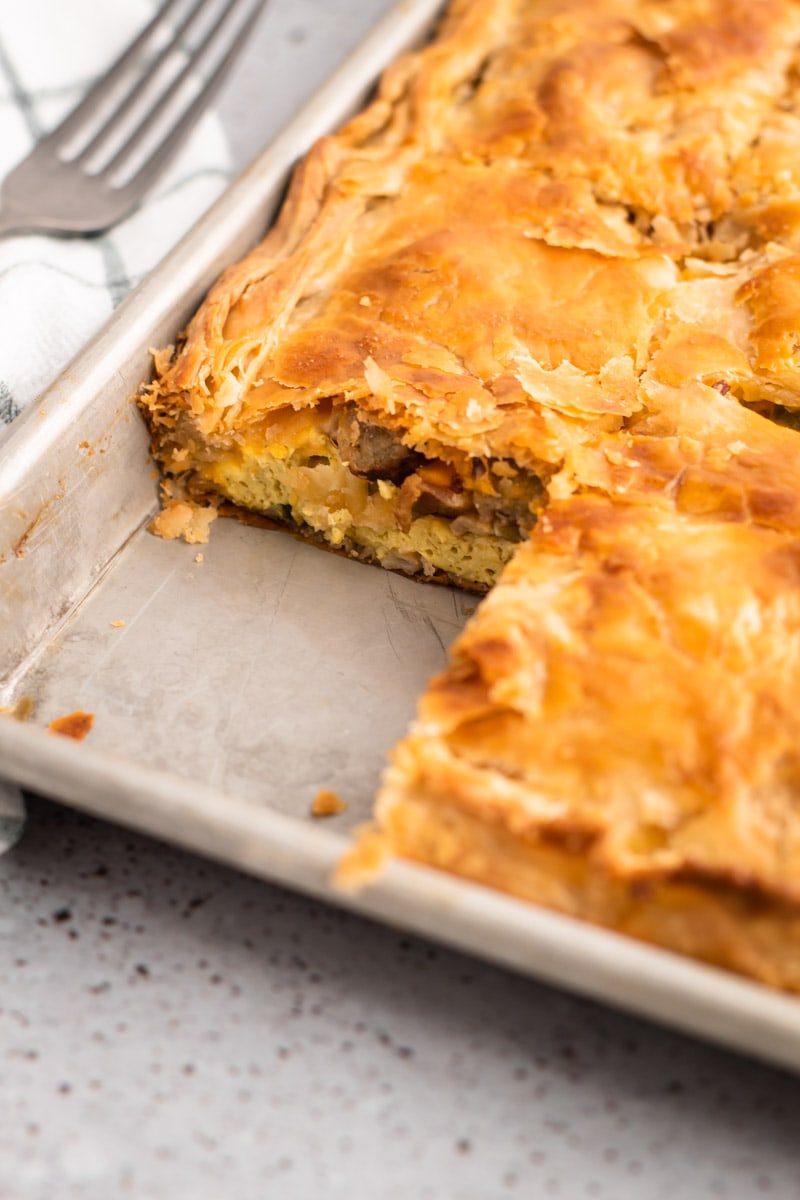 Meant to serve a small crowd, this double-crust Breakfast Slab Pie is filled with scrambled eggs, cheese, meat, and veggies and perfectly baked in a buttery flaky crust.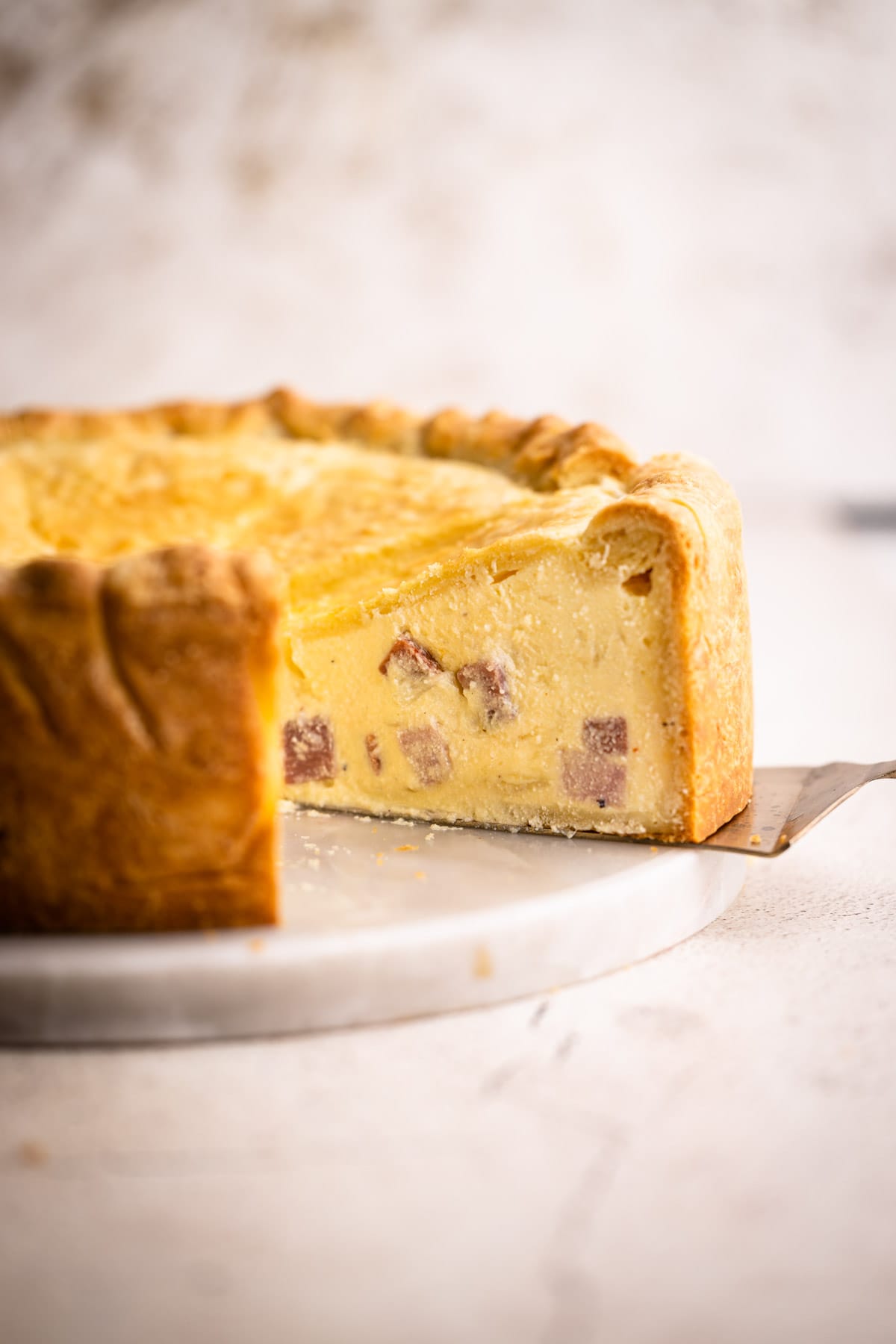 This Pizza Rustica recipe has a creamy ricotta filling studded with Italian deli meat and cheese all baked inside of a buttery double crust. Typically served on Easter, but not exclusively, this Savory Ricotta Pie is sure to be the star of the show at any meal.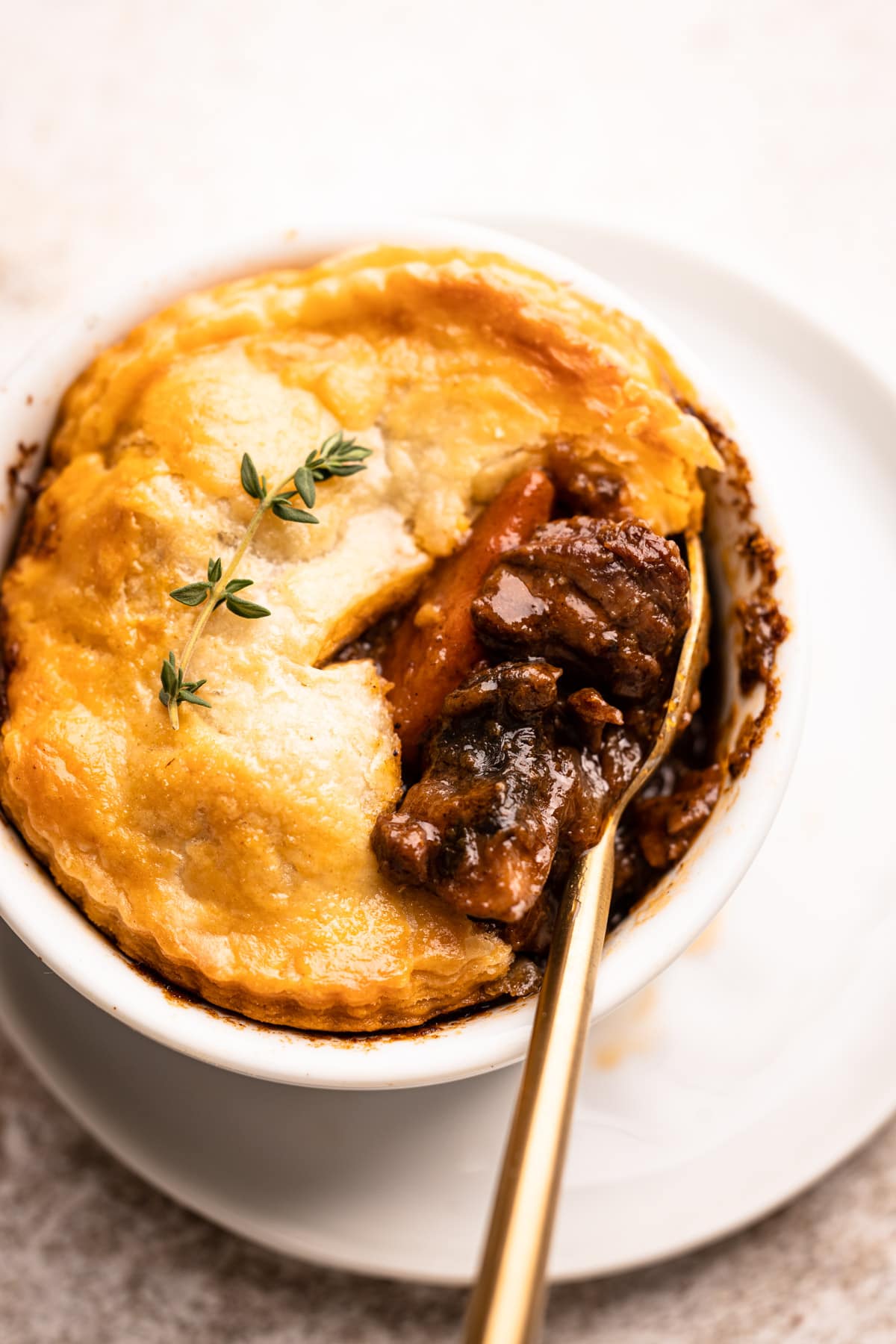 Rich Guinness braised beef is baked under a flaky pie crust to make for the ultimate dead-of-winter meal. This Beef Pot Pie can be made in four single servings or as one whole pie.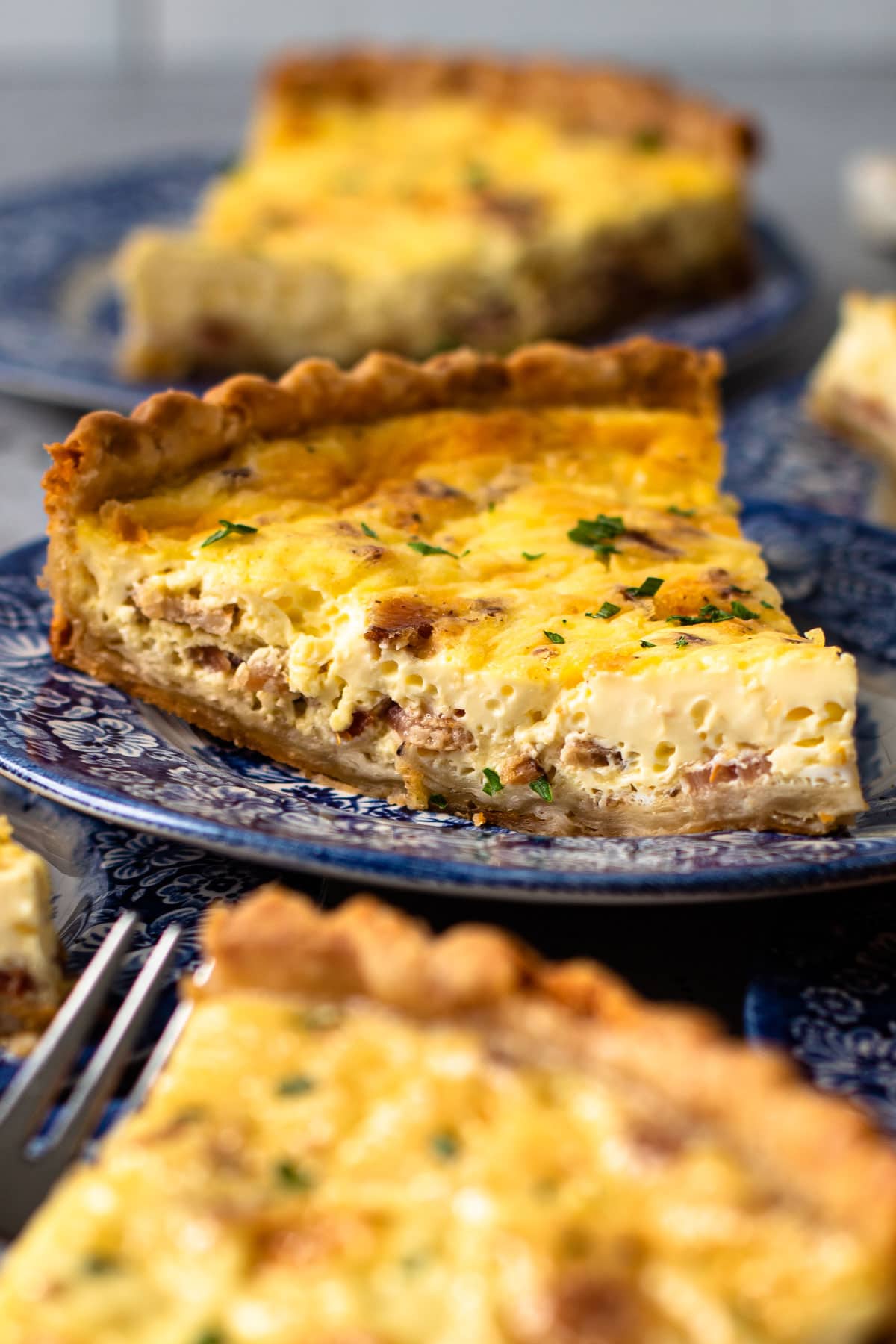 A classic French dish, Quiche Lorraine is a rich and flavorful custard featuring cheese and bacon in a crisp and buttery pastry. Breakfast, lunch, or dinner; this meal will have everyone coming back for more, no matter what time of day.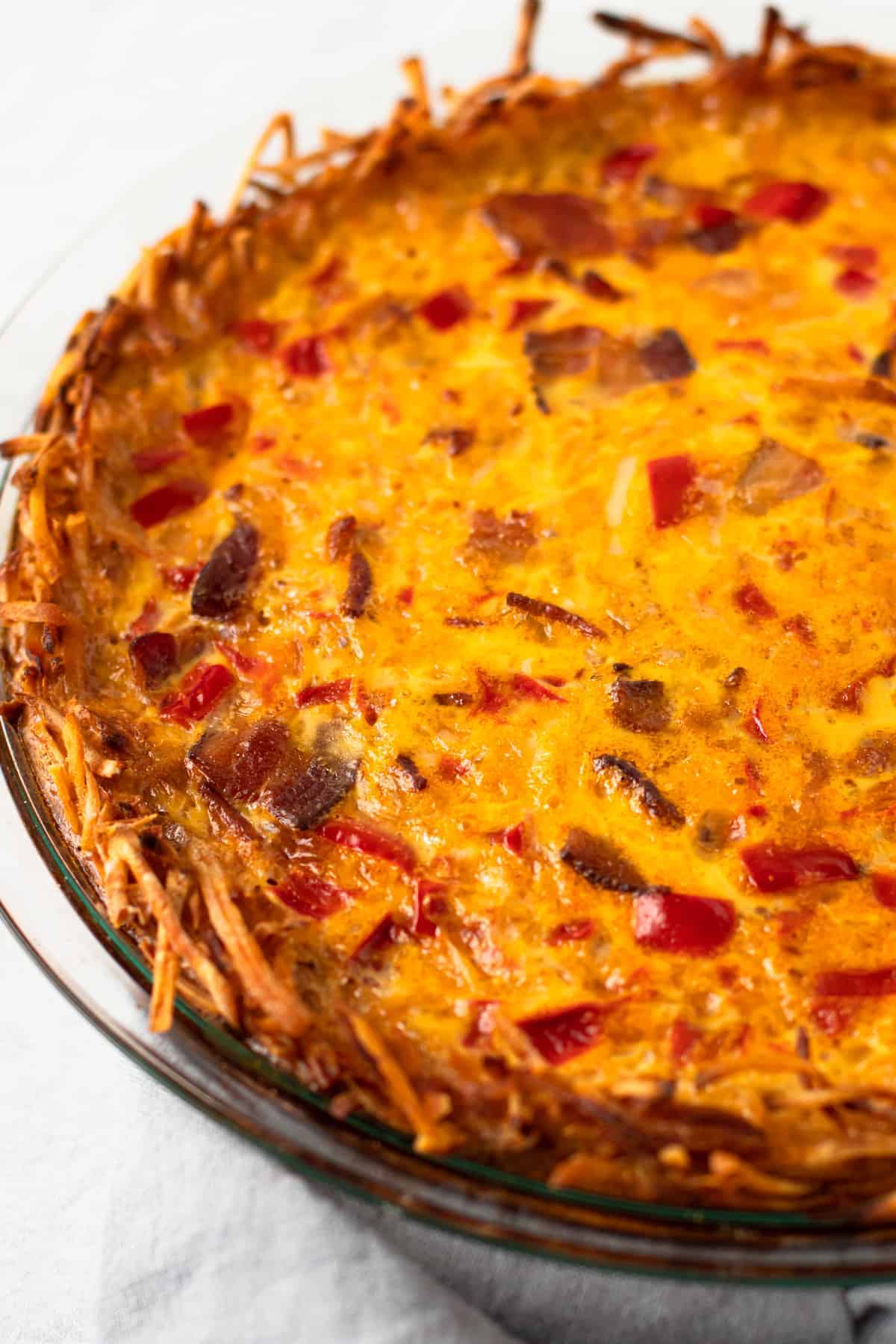 Bacon Egg and Cheese Breakfast Pie
This Bacon, Egg and Cheese Breakfast Pie starts with a crust made from hash browns and then filled with bacon, bells peppers, eggs and cheese. It's hearty, wholesome, and delicious; perfect for a special weekend brunch or meal prep for the week!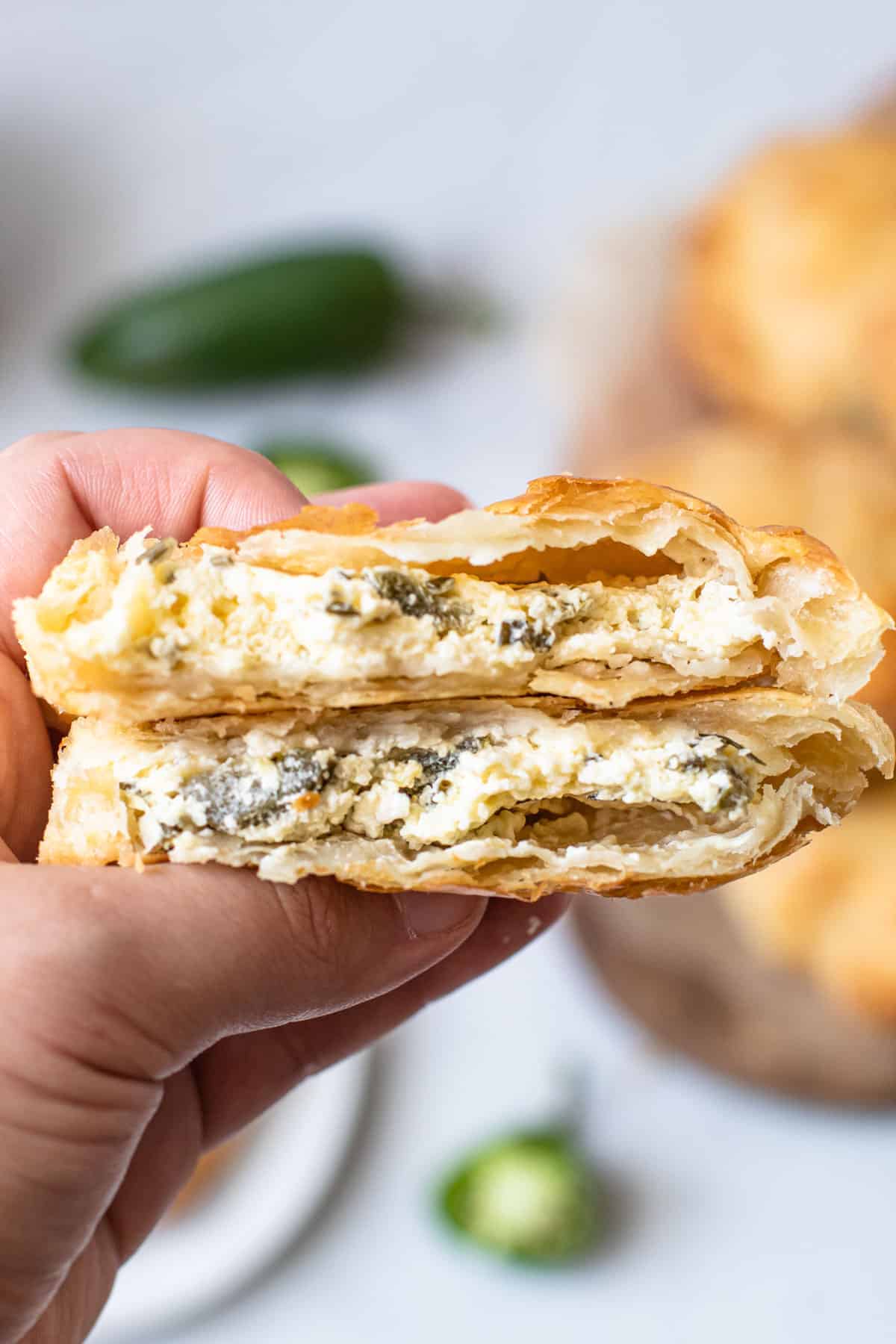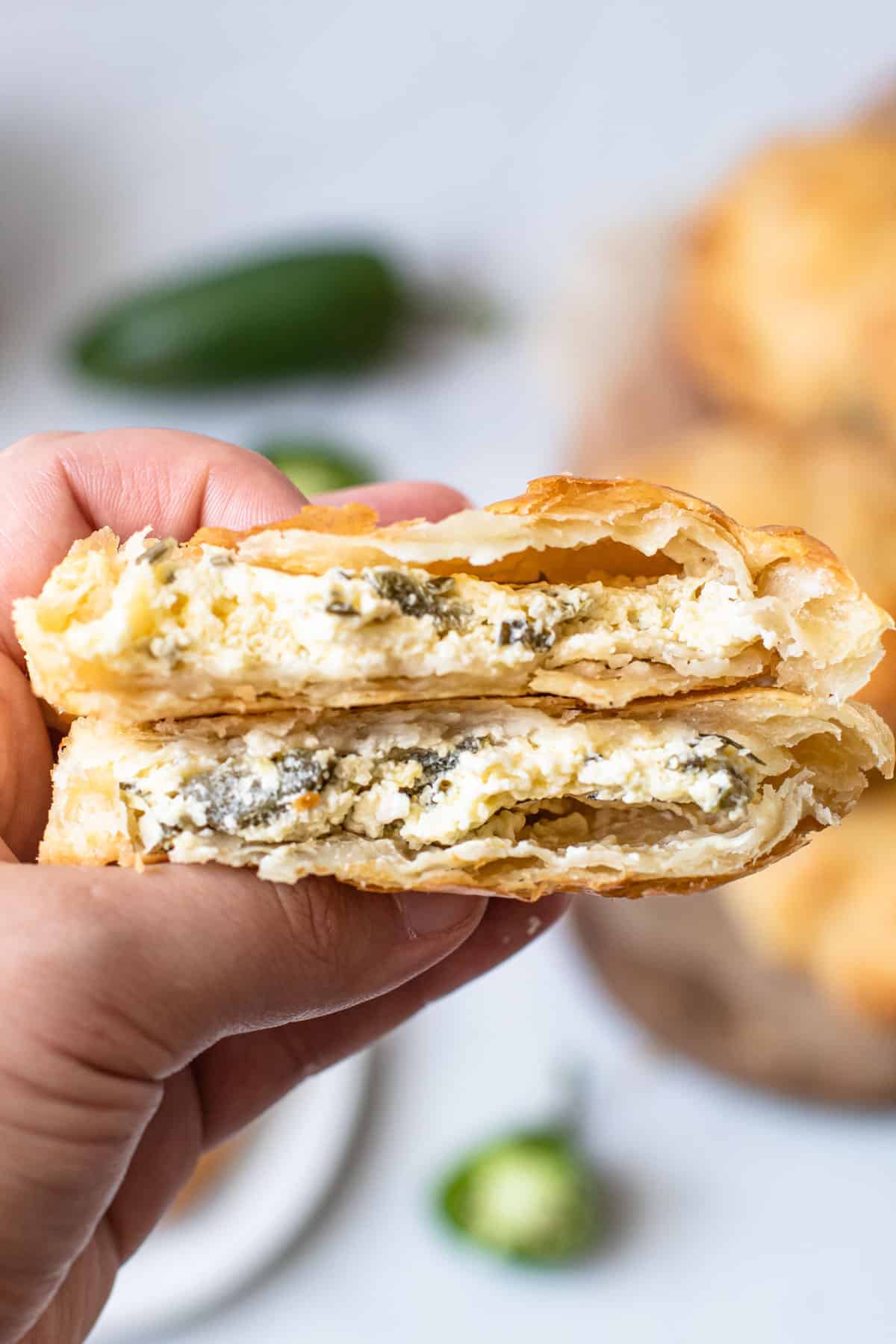 Sometimes, the biggest flavors come in the tiniest packages, and these Jalapeño Popper Hand Pies prove just that. A creamy cheese filling is blended with pickled jalapeños and herbs and baked inside of the flakiest pastry; this is sure to be a crowd-pleaser. Make some for now, and freeze the rest for later as an easy lunch or dinner option.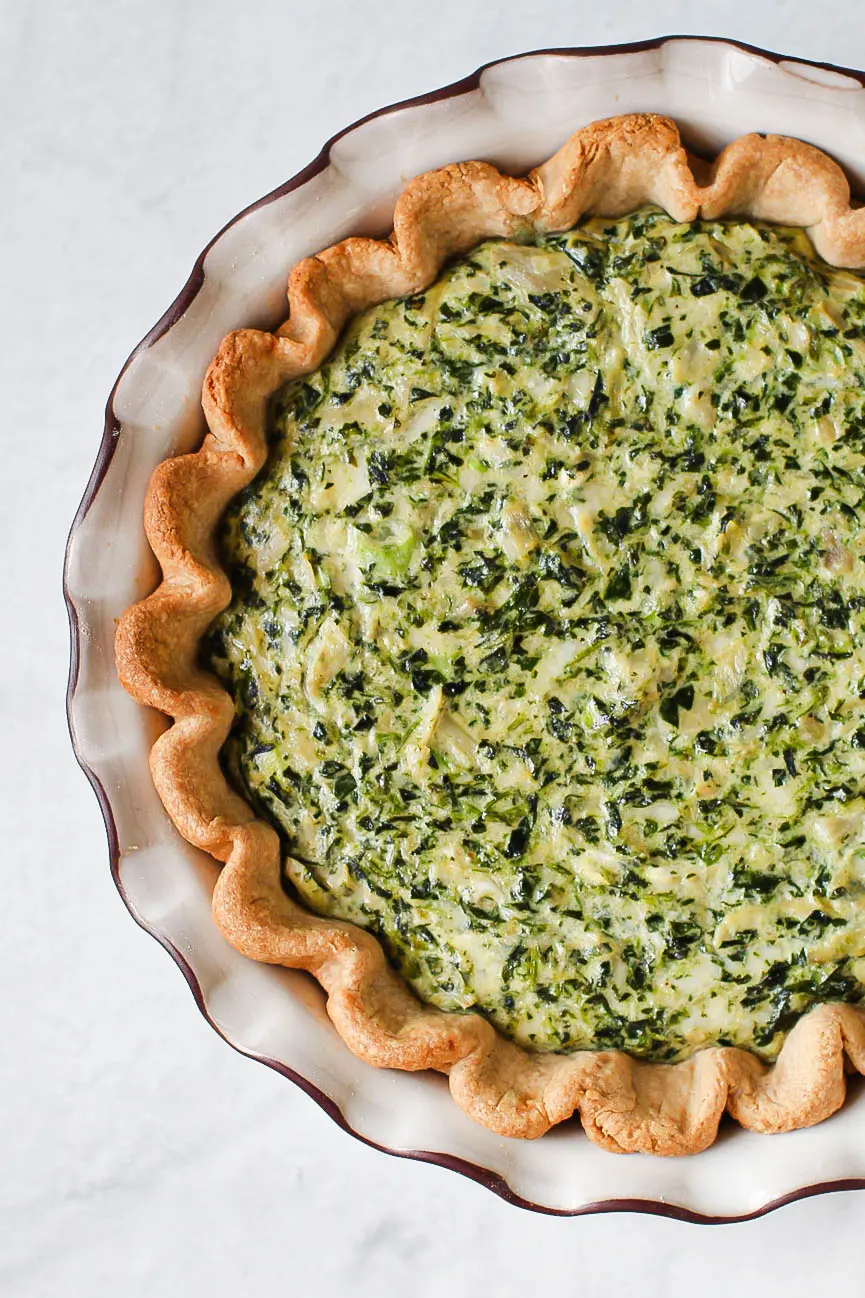 If you love hot spinach and artichoke dip, you are going to love this pie! This Spinach Artichoke Quiche is cheesy, warm and so, so delicious. It's packed with that classic dip flavor, then baked inside a hearty whole wheat pie crust.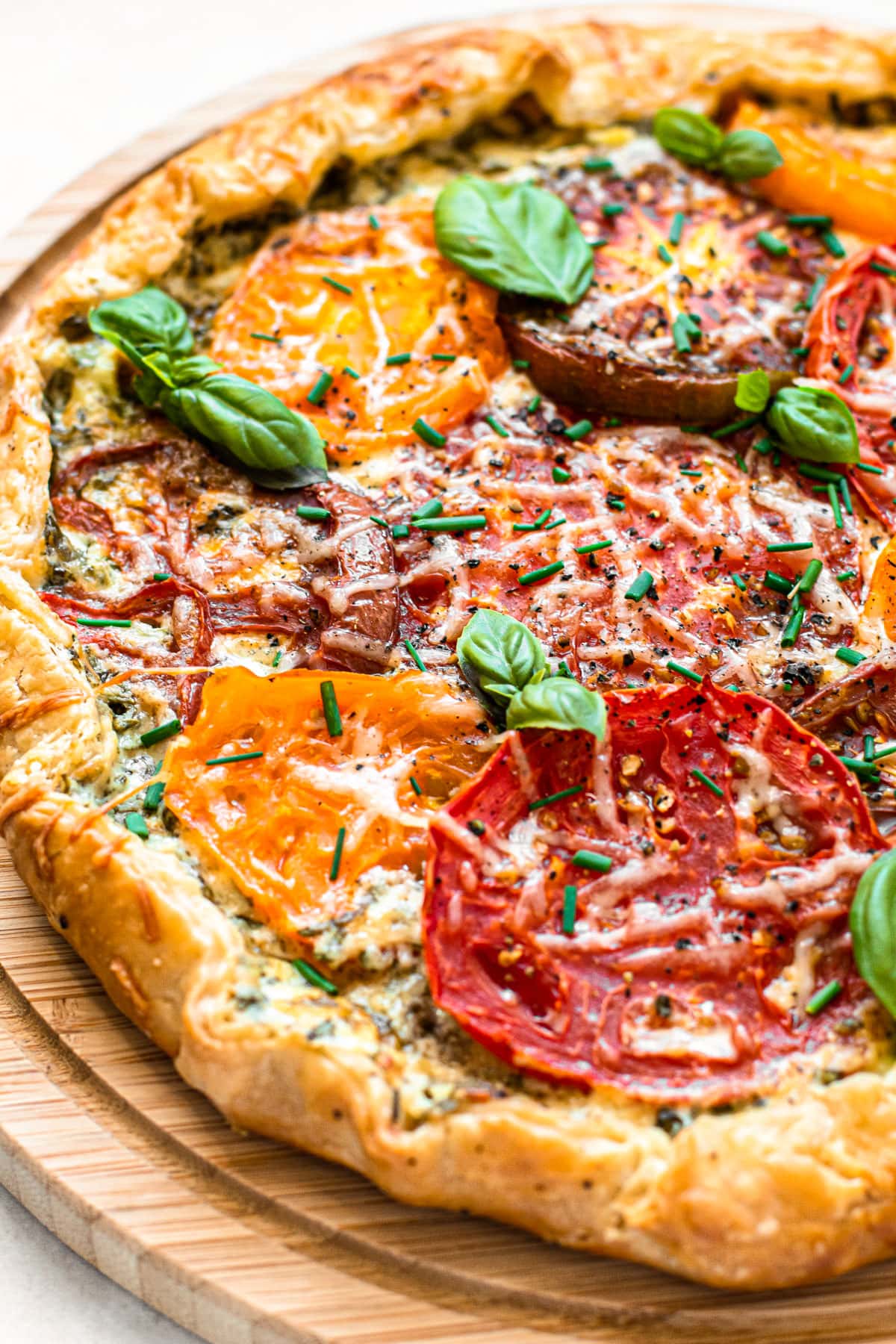 When fresh tomatoes are at their peak, make this Heirloom Tomato Galette. A homemade pie crust is wrapped around herby crème fraîche and juicy tomatoes, then baked with a sprinkle of cheese. Perfect for an appetizer or light dinner!
These Turkey Hand Pies are handheld comfort food! Savory turkey pot pie filling packed with leftover turkey and encased in the flakiest pastry. Make some for now, and freeze the rest for later as an easy lunch or dinner option.
There absolutely is no better combination than broccoli and cheese! This Broccoli Cheddar Quiche is the perfect pie to serve for your next brunch, make-ahead lunch or dinner. With a creamy quiche filling, stuffed with broccoli and melty cheddar, this broccoli pie aims to please and can make a broccoli lover out of just about anybody.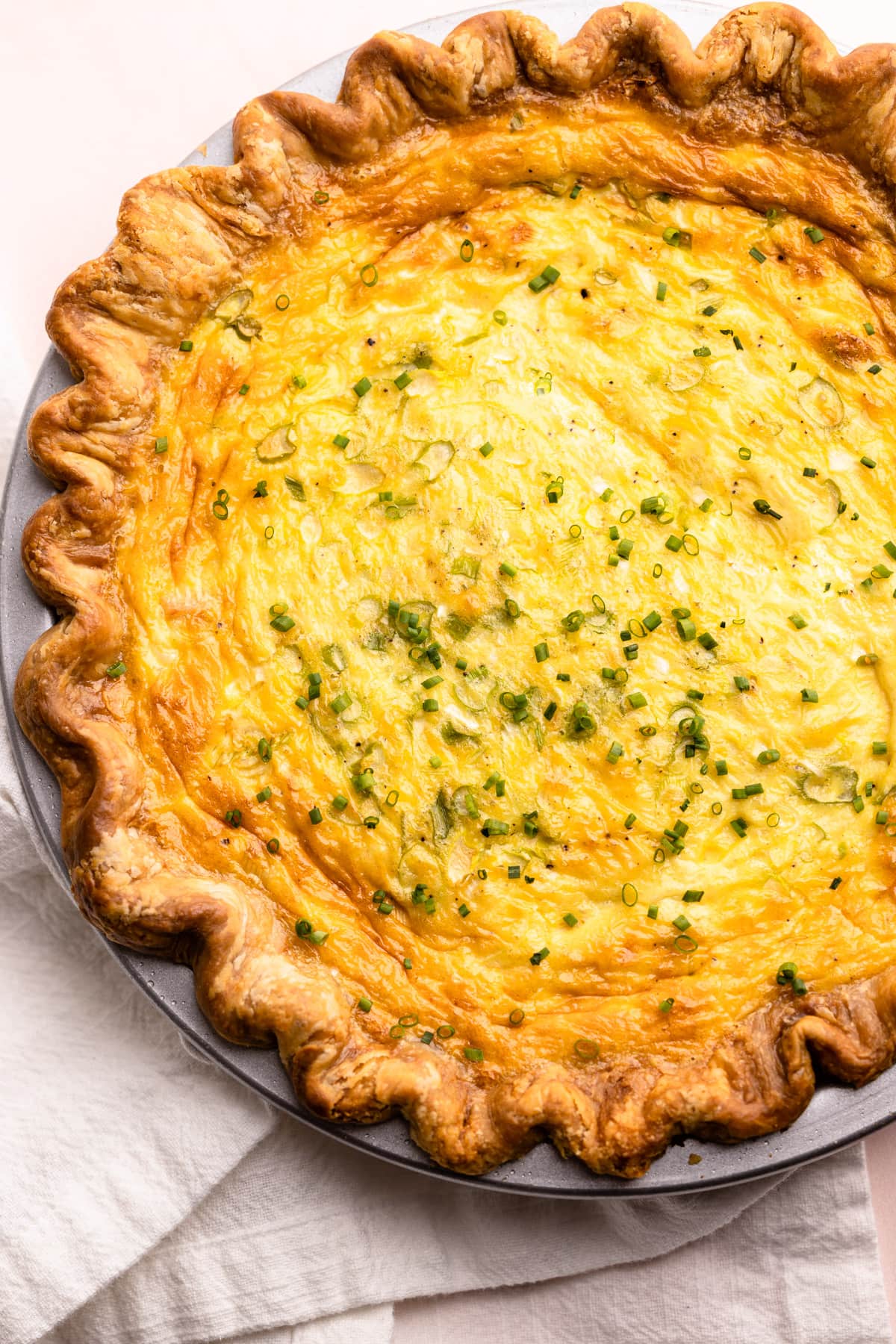 Made with just a handful of ingredients, this Ham and Cheese Quiche is an easy go-to dish for your next brunch, make-ahead lunch, or dinner. This quiche is also a great way to use up that leftover ham from a holiday feast.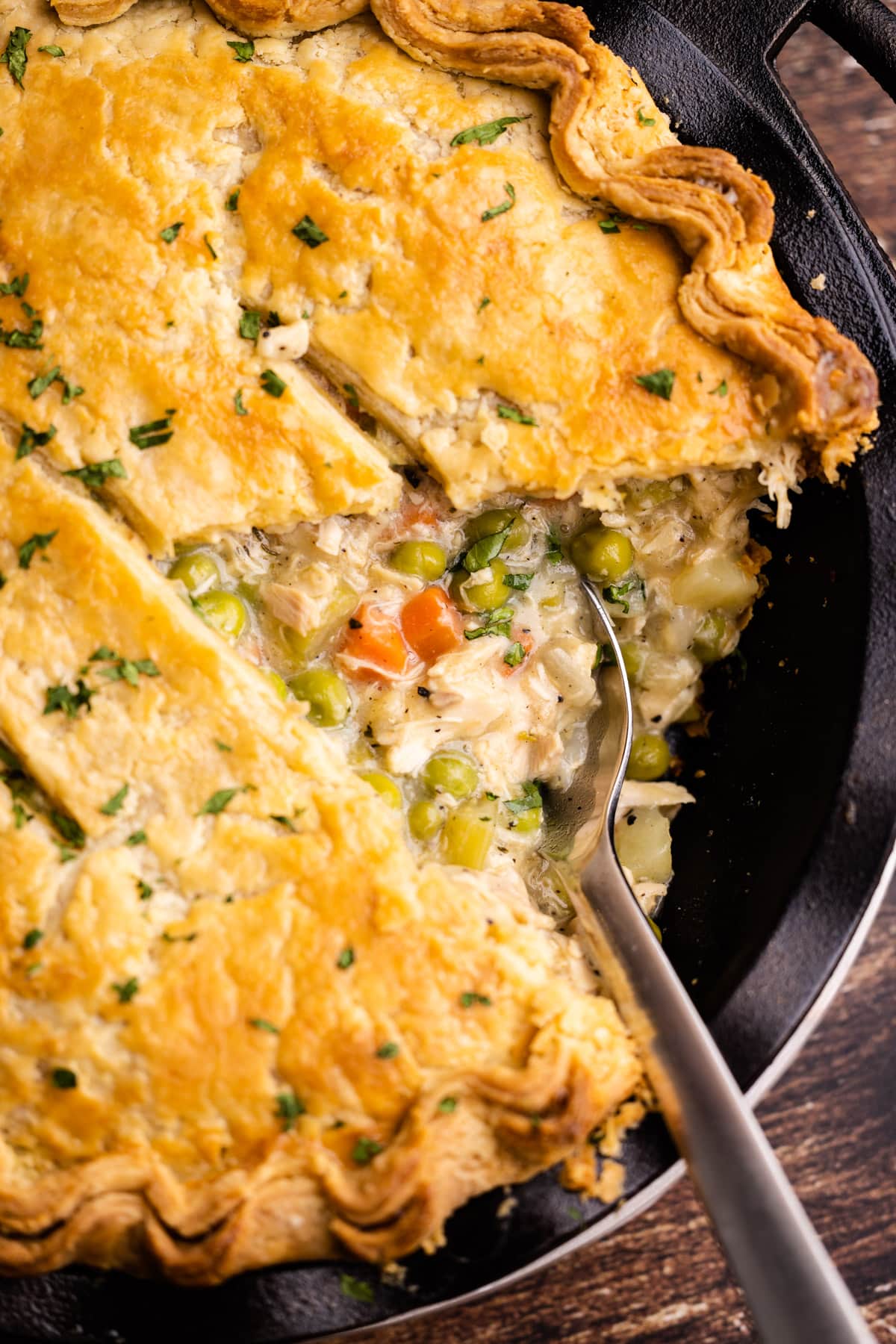 And last but not least, the most iconic savory pie... Chicken Pot Pie! This classic version showcases tender veggies and rotisserie chicken in a light and savory gravy, baked inside the most delicious, buttery double pie crust. Each comforting bite will warm you from the inside out.
Some of the links on this page may be affiliate links. Everyday Pie is a participant in the Amazon Associates Program. As an Amazon Associate I earn from qualifying purchases, at no extra cost to you.