The creation of Everyday Pie feels like the most natural thing in to the world to me today. However, if you had told me two years ago that I wouldn't be on the path to opening up a brick and mortar bakery (a dream I held for so long), I would not have believed you. A year ago, I was diagnosed with "life threatening" food allergies that changed everything. It took time to come to grips with this change; and at times, it still feels like a cruel twist of fate. After much trial and error, as it is with most life changing situations, I am now finally able to embrace this new path I've had to take.
the first pie I ever baked
The first pie I ever baked was a strawberry rhubarb pie. I don't remember much about it, other than the fact that the recipe came from a Bon Appétit magazine. I was inspired to bake it because it was that very precious moment in time in the Northeast when the end of rhubarb season collides with the beginning of strawberry season and the mash up of these flavors is almost religious. I can't remember if I made my own pastry, but I distinctly remember the transformative experience of eating a slice of homemade pie. Homemade pie beats out all other pie.
Pies are the ultimate iconic American pastry and one that brings so much happiness to those who are served one. Early on I recognized that if you showed up to a party with a pie, everyone lit up with joy. A homemade pie has an almost mystical quality, as if by magic it came together. When done right a pie can be just as nuanced and amazing as the best French pastry and I became instantly hooked on baking them after that first one.
my professional development
I discovered my love for cooking and baking towards the end of my studies for my undergraduate degree. I was battling some deep depression and anxiety and I won't sugarcoat it: cooking saved me. I spent the last year and half of my degree spending time between classes, and cooking everything I could. I was really terrible at first: food and cooking wasn't very important to me growing up so I was starting from scratch, but I steadily improved.
After I graduated college, instead of going back for another degree in culinary school (even though I would have liked to), I decided to find a Chef who would be willing to train me and take me under their wing to teach me the ropes of professional cooking. I trained in the Boston restaurant industry for a few (incredibly hard but also rewarding and educational) years before moving on to focus on baking. While I deeply loved cooking, I found professionally baking to be more my speed.
During this time I began working for a restaurant that had only pie on the dessert menu. They were purchasing their pies from a local farm, but for an extremely high price. But more importantly for me, I knew these pies lacked the personal touch of a "homemade" pie. I convinced the chef / owner to let me make some pies for the team to show them that what I could make would be so much better than what was being served. I brought in a Lemon Meringue and a Pumpkin, and they were sold. From then on out I was the pie maker. I was lucky enough to be able to witness from my space in the open kitchen people enjoying the pies I baked with love, and it was so gratifying. I moved on to a few other bakeries after that, but I'll always remember the days I spent baking pie in that restaurant with gratitude.
how my business started and ended
I stepped away from the industry to raise my daughter, Lilia, and shortly after that my son Joaquin came along and I found myself with two kids well under 2. At that moment, I didn't see it as a possibility for me to make it back into the baking world professionally while still being the mother I felt compelled to be, which at the time meant present for every moment.
Eventually, as they grew, I had to find a way back into baking. I decided to open my first business: Shoofly Pie Baking Co., a pie delivery service in the Boston area. I'll always be be proud of what I built up from nothing. I ran that business for a whirlwind year and a half before needing to take a winter off to regroup. It had grown organically in popularity and I need to rethink how I could nurture it and begin building a path to a real life bakery. The original plan was to return back in the spring with pie deliveries made out of a rented space, but the universe had other plans for me.
A cruel twist of fate
During my winter break from baking I was diagnosed with a severe wheat, barley and rye allergy. Also known as an allergy to all of the gluten flours, as well as Baker's Asthma. Now this didn't come out of the blue. I had suspected it for a long time, and had been ignoring the obvious symptoms of it for years. In fact, I had symptoms my whole life that are easy to look back on and see now. But the symptoms slowly started to get worse after the birth of my son and with the start of my home pie business. Eventually, it reached the point that my eyes were swelling shut multiple times a week, and one awful night my throat began to close up after trying some raw dough. I couldn't bear the thought of being allergic to something that brings me life to work with but it reached a point where I couldn't ignore it anymore. It felt like such a cruel twist of fate that I could be allergic to doing something I considered essential to my being.
I won't lie, this rocked my world for a good while. I told only those immediately surrounding me for many months because I didn't know what it meant for me, or my baking. Unfortunately at that point, running the pie business was no longer sustainable. I could not be surrounded by raw flour anymore, at least not in the large quantities that I was before. But I HAD to keep making pies. Baking runs deep as to who I am, and I had to find a way to continue to do it.
why I started Everyday Pie, despite all the signs telling me to stop baking
The path to get to this website was not linear. I was lost for a while, figuring out how to bake with flour safely, or if I honestly even could bake at all. But over the last year I've been working this all out. I figured out that I could wear gloves and a mask when working with flour, and be extra careful about keeping the flour dust down, and cleaning up really well. And with that came the idea that this website could be the answer. I have to keep baking, and I have to keep baking pies. I feel compelled to do it, and since I can no longer bake large quantities of pies to feed people, the next best thing is to create small batches of perfected pies and share the resulting recipes so you all can make your own pies.
This site will share equal parts recipes containing regular wheat (gluten) and also gluten-free. While I will still taste small quantities of wheat recipes when needed (or quite frankly when they are JUST that delicious that they are worth the consequences), I now personally have to be largely wheat free so I also have been creating gluten-free pies. Honestly, I'm the most reluctant gluten-free person you'll ever meet.
But in the end my allergy ended up being a blessing in disguise. What makes this website, and these recipes unique is that it is the best of both worlds: I still love baking with wheat and have so much knowledge to share about working with it. But I've also discovered amazing gluten-free flours that are worth working with, whether you have an allergy or intolerance to gluten or not. The gluten-free recipes I've created in the last year will be beloved from all, and I can't wait for you to try them.
Thank you for reading my story. And thank you for visiting this site. Please don't hesitate to reach out if you have any questions about any of the content on my site!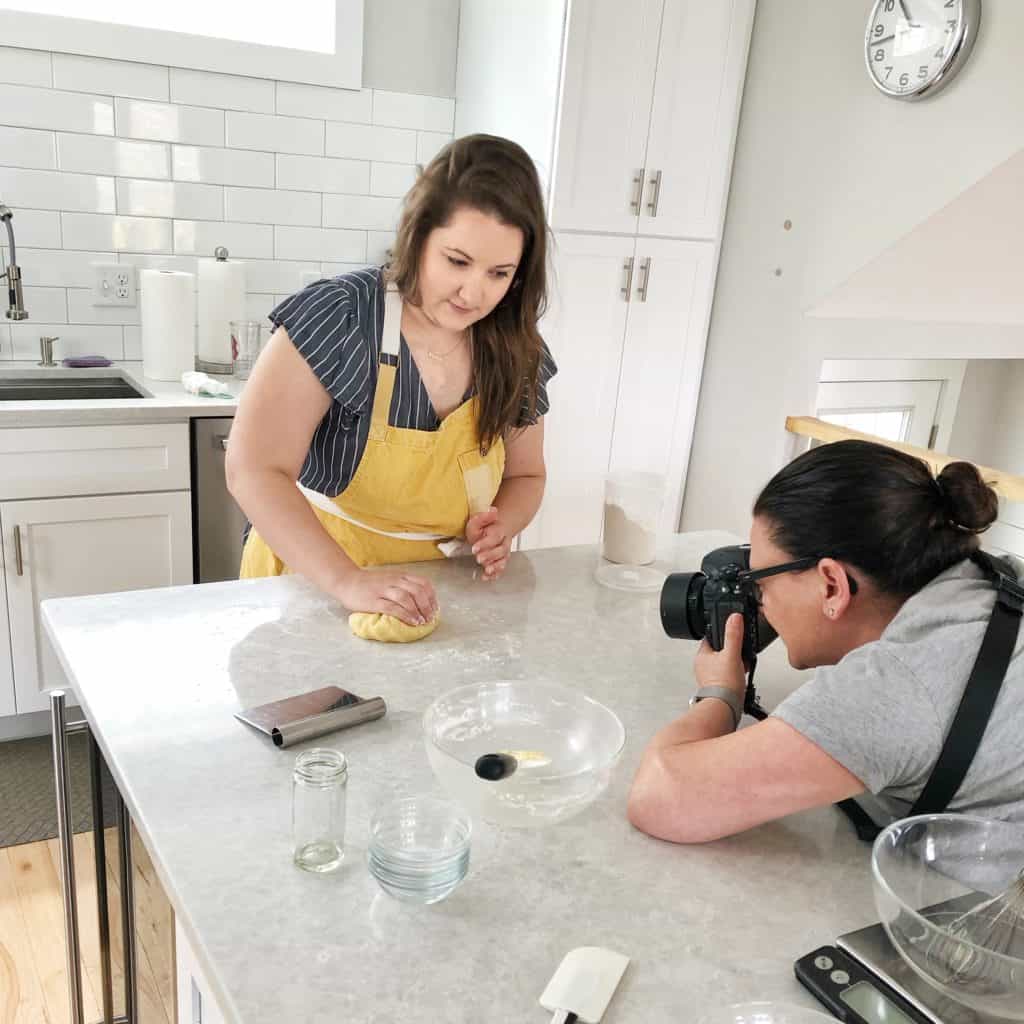 Some of the links on this page may be affiliate links. Everyday Pie is a participant in the Amazon Associates Program. As an Amazon Associate I earn from qualifying purchases, at no extra cost to you.